Nobody adopts accidentally. You might get pregnant accidentally, but you're sure not adopting accidentally. Sometimes - facing the mountain of paperwork, interviews, medical exams, background checks, etc., you wonder if you're ever going to adopt at all, or if someone 100 years from now is just going to stumble across your withered corpse hunched over a stack of paperwork clutching a blue-inked pen with your eyes forever frozen scanning the horizon for a notary.
A tiny fraction of that paperwork is a lengthy written personal evaluation done in preparation for a social worker visit. Keith is not keen on questions more personal than, "What's your name?" So imagine his delight when - in October, 2004 (Julia came home in May, 2006) - he and I each had to answer literally 18 pages of questions like, "Describe why you are not satisfied with yourself" and "What are your three main fears or concerns?" - all before our first social worker visit.
I had never before had any meaningful contact with a social worker. I'd met a few social work majors in college - generally people whom (to me) seemed to be trying to compensate for majorly messed up home lives of their own by trying to fix everyone else's. But here I was in October, 2004, chasing dust bunnies and mentally preapring for whatever else I might be asked by whom I pictured to be an 80-year-old drone in bi-focals and corrective shoes, eager to peer under my couch cushions.
Instead - our agency (Buckner) sent us Jennifer, a super-friendly, well-organized social worker from Ft. Worth, who specializes in adoptions. One of the first phrases out of her mouth, "I don't care about your dust bunnies. And I don't even look under my own couch cushions." I knew I liked her right then.
Jennifer did the required pre-placement family visits before Julia arrived home in May, 2006, as well as the required post-placement visits (monthly for six months, then on the year marks.) We actually looked forward to them.
Today was huge for us. Today was our last required post-placement visit. We're coming up on the three-year mark of Julia's adoption, and that's the last post-placement visit required by the Russian government. Jennifer flew in to ask a few more questions, check out the house, talk to all of us (individually and together) and share a pizza.
Everyone in the home has to be interviewed alone. Rachel told me later, "Mom, I told her how you beat me every night."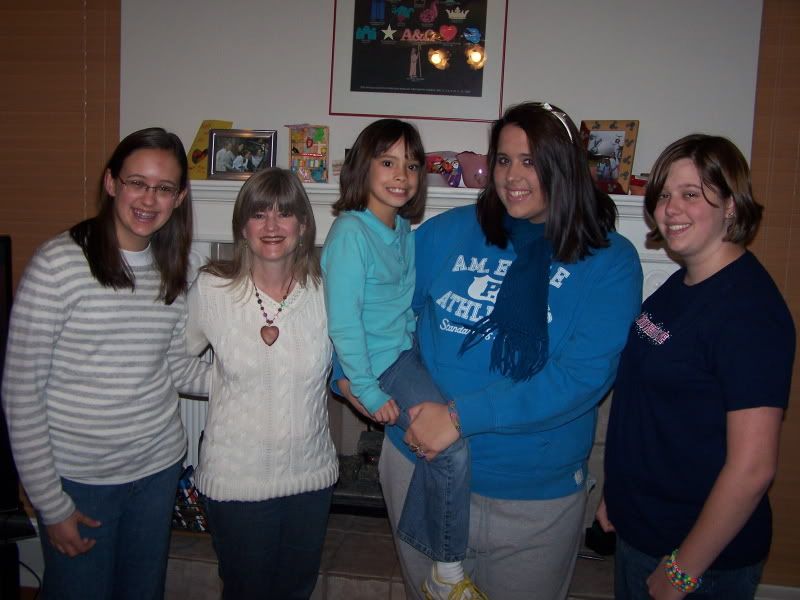 When we started in 2004, Jennifer was taller than Lois and Hannah. Not so much now.
So as soon as Buckner files this last report, stick a fork in us, we're officially "done" with what we owe the Russian government.
Of course, we'll never be "done" with what we owe Buckner. And everyone who helped us bring Julia home, like Jennifer - with whom I want to be friends for a long, long time.
But in the meantime - it feels good to be "done."