The purses.....the Talavera.....the dresses.....they were calling to us. "C'mere, girls....c'mon.....come back to see us....special price, just for you....best price for you, lady....come in, come in..."
So we answered the call this Spring Break weekend and headed to Progresso, just across the border in the all-important Rio Grande Valley area of South Texas that supplies most of our fruits and vegetables. And knock-off Prada bags. Keith found us a strict maximum-of-five-guests motel room for $89/night (including breakfast) so by packing light, stopping at Wal-mart to replace the pajamas he forgot, eating breakfast in shifts, sneaking in an air mattress and quickly shoving Julia in the closet or behind a sister whenever staff was around - we managed two nights in one room pretty darned economically.
I really push the girls to take securely-closing backpack purses. Leaves your hands free to signal, "That's too much!" The bridge between the U.S. and Mexico seems a lot shorter earlier in the day, when you're not toting 10 lbs. of Talavera and the morning breeze is still blowing.
Some of my happiest memories are of wandering Laredo with Judy and Sarah, and later with Keith and the girls - but no more. Drug lords have destroyed Laredo for decent people, including tourists, as they have with so many other border towns. While the girls were distressed at the soldiers manning armored vehicles and automatic weapons at the entrance to Progresso - I found them - and the signs scattered about that explained their presence - vaguely comforting. Maybe the Mexican government is serious about keeping criminals from taking over Progresso. They were certainly searching enough cars for drugs - and that's on their side of the border, apart from the checks on the U.S. side.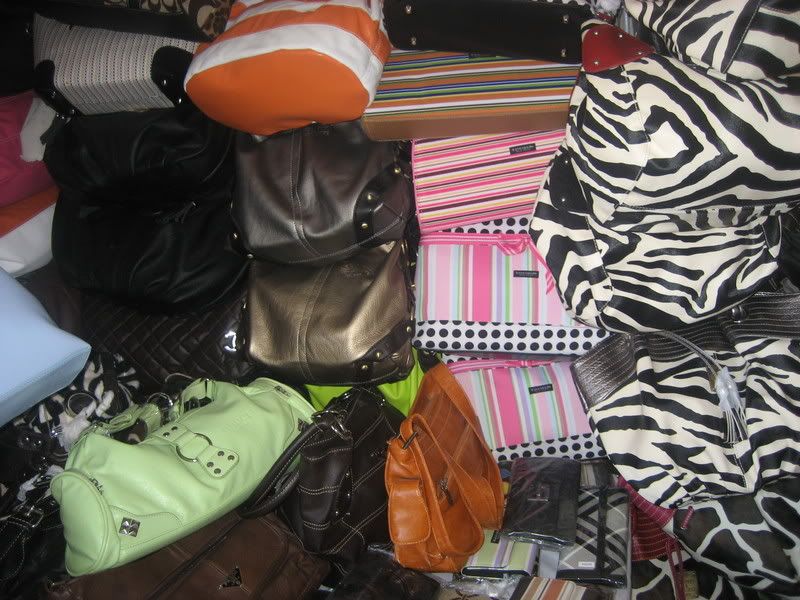 Rachel, Lois, Hannah and I all bought new purses. Prada, Chanel, Dooney & Burke and D&G were the most prevelant. - some Kate Spade - even a few Juicy, though they were way too high ($75) because of scarcity. Good quality, though, I'll say that. Our purses' average cost was about $20, with matching wallets going in the $5 - $10 range.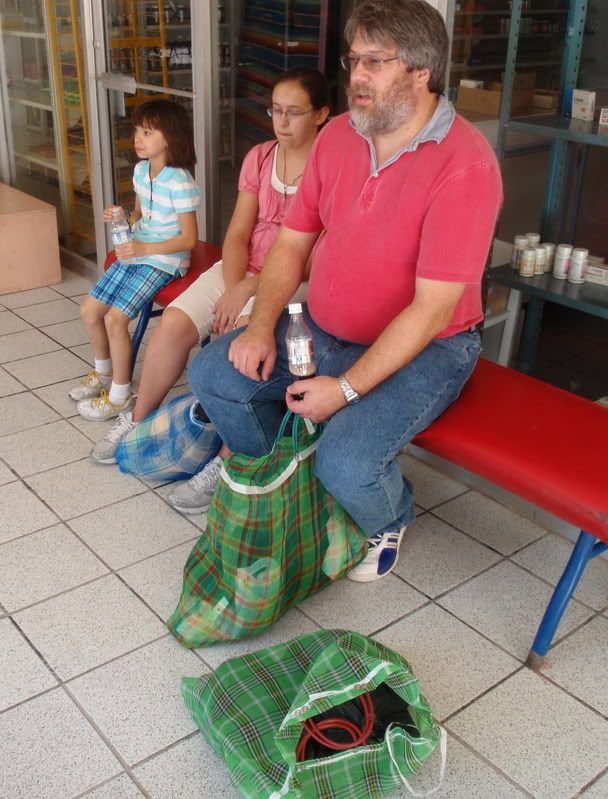 The heroes of any shopping trip in Mexico: Plastic-webbed shopping bags. They sell for about $1 - $2@. We've had ours at least 15 years, maybe longer - I'm not sure they can be destroyed. You can tell the experienced shoppers on the bridge walking over because they bring their own.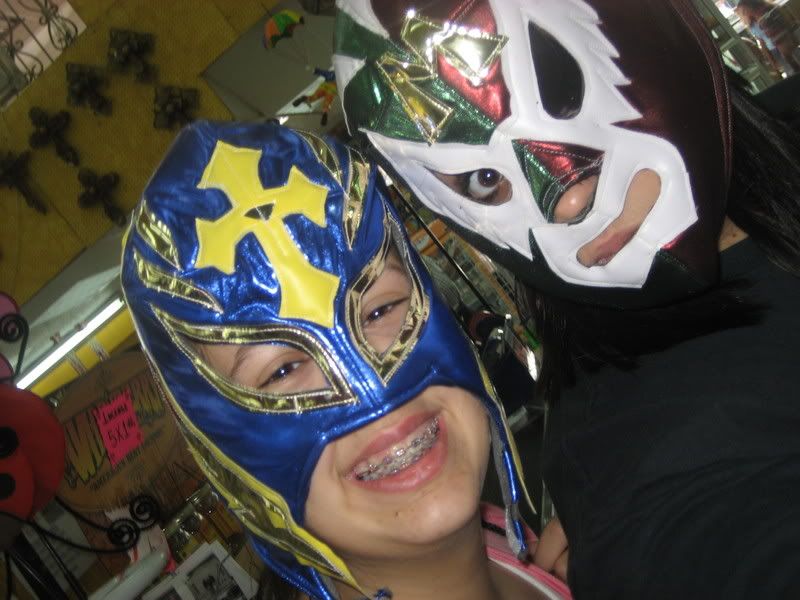 Hannah and Rachel, who lamented, "My lips wouldn't fit." Personally - not knowing whose lips had been masked before - I wouldn't have even tried it on.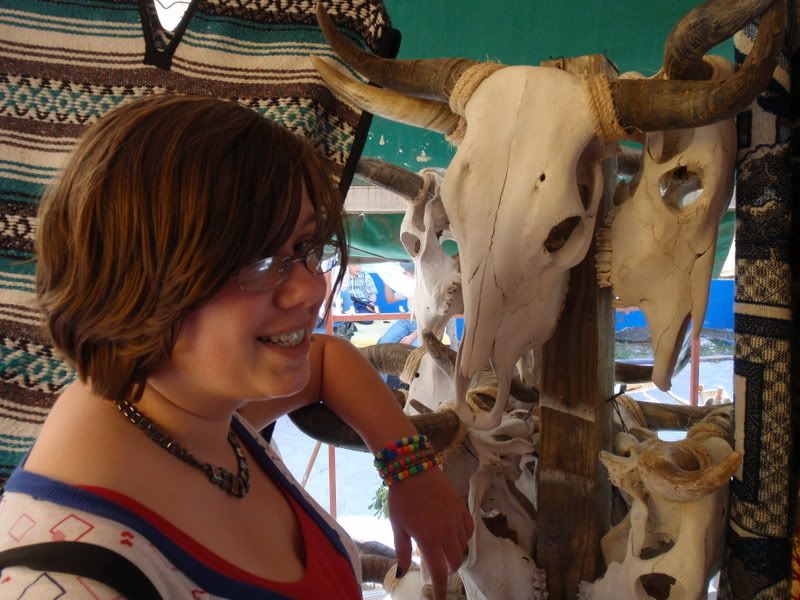 Question: "For my room?" Answer: "No."
Keith will - from time to time - catch a scene like this and mutter, "Stinks around here," meaning, "She's so spoiled." I generally respond, "What's your point?"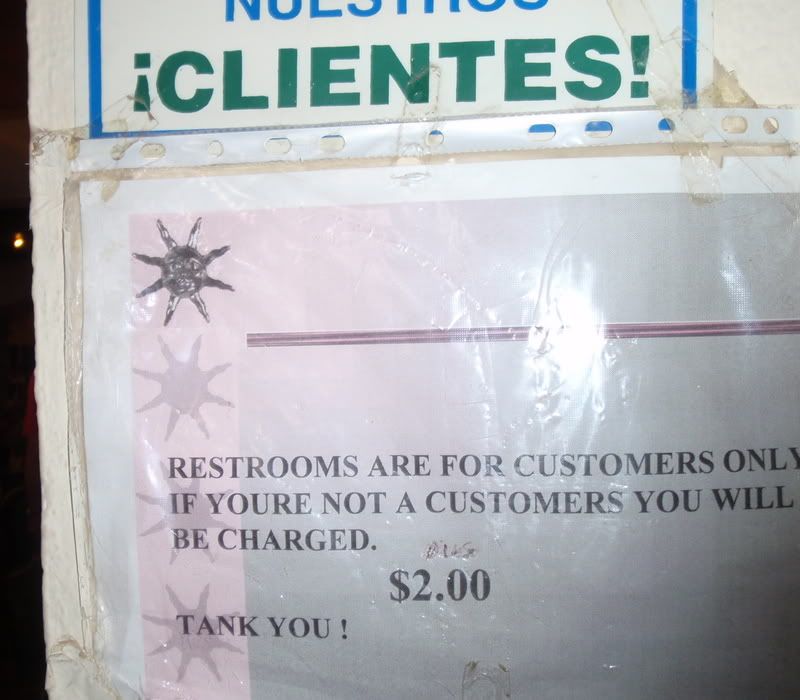 Lunch time! And tank you, too!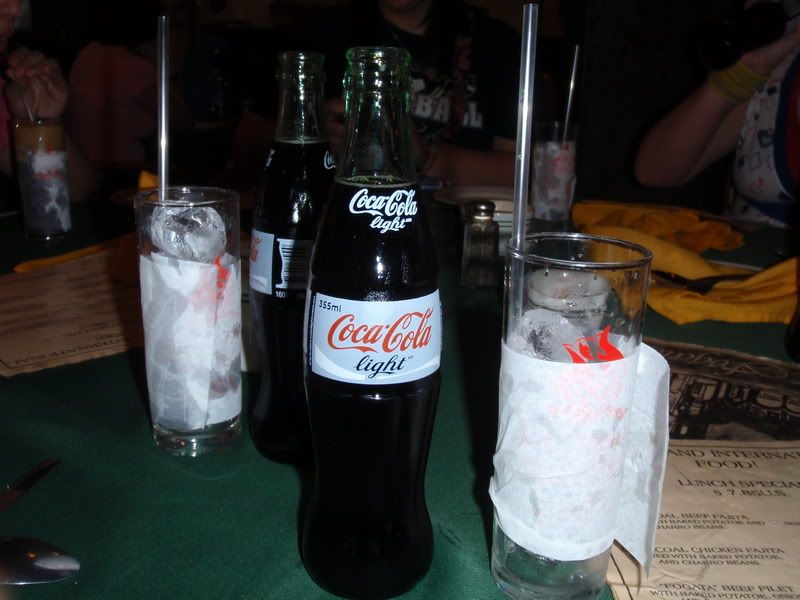 A cold bottle of Coca-Cola Light - the best! Fun to have a bottle instead of a can. Filtered ice cubes, of course - we always ask. Unfiltered could mean a very, very long night in el bano.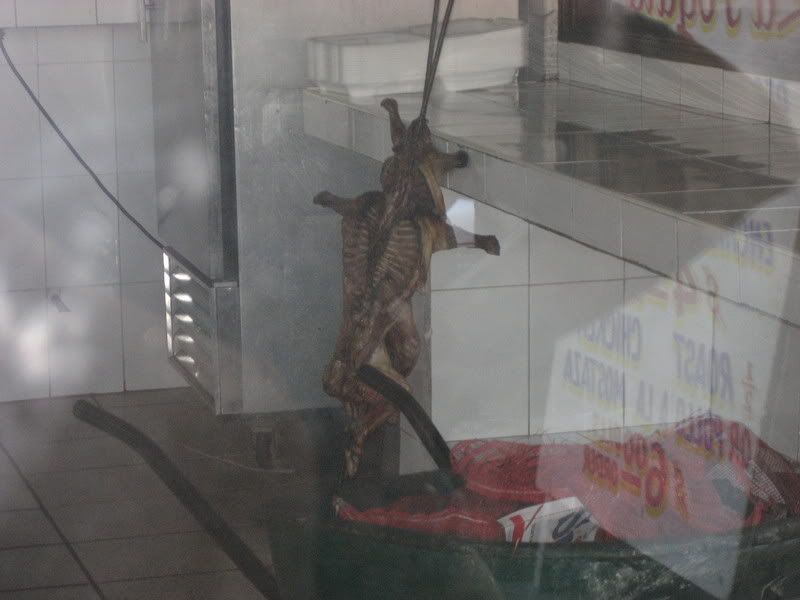 Cabrito, we think. Which we didn't order.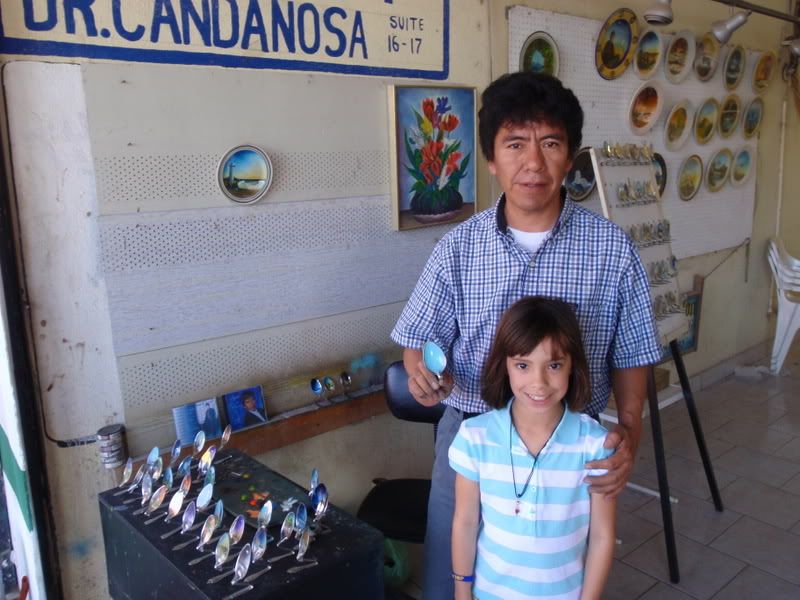 Julia was fascinated by this artist hand-painting scenes on the bowls of bent spoons and even asked to have this picture taken with him. I'm going to count the silverware when we unload the dishwasher tonight.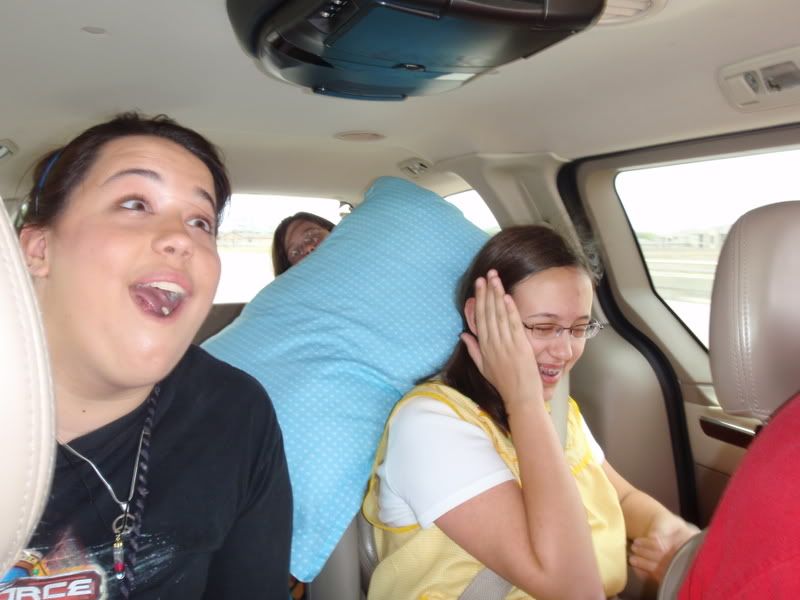 Car Wars. When you're trying to turn attention away from the fight you just started, break into "Jesus Loves Me" at top vocal capacity.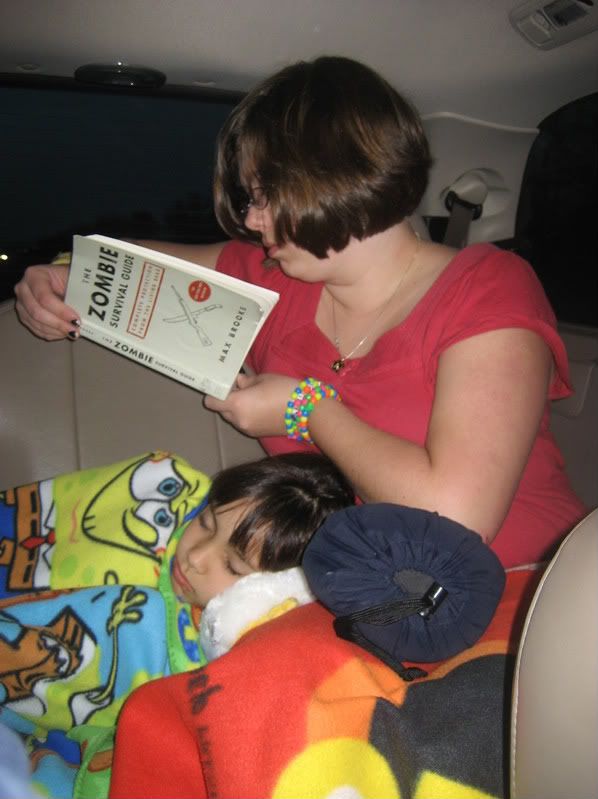 Lois can read in a moving vehicle, an activity guaranteed to have the rest of us reaching for the plastic bags. She's re-read the "Zombies Survival Guide" in preparation for the 2010 release of "World War Z," which she and I intend to see opening night. We both belong to Lost Zombies and maybe this summer, we'll finally make our own video to post. We meant to last summer, but what with battling the Solanum virus and all....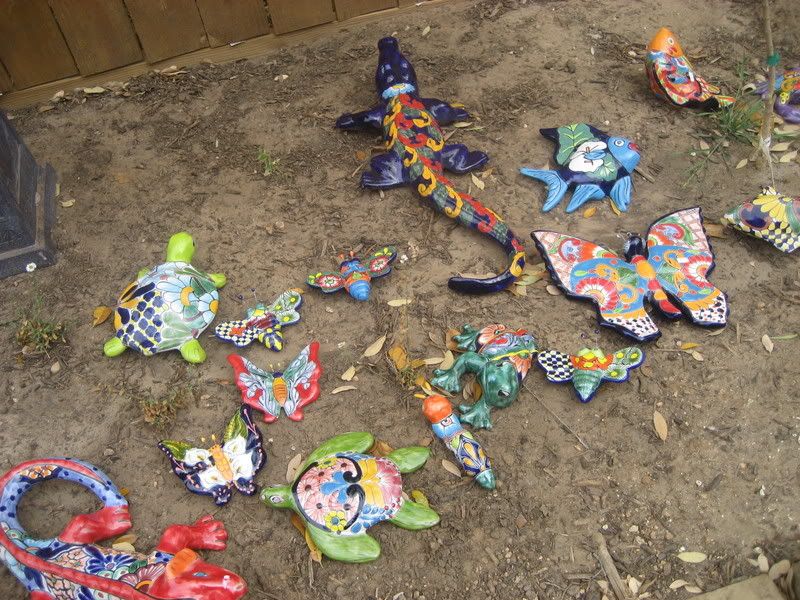 Home again! And Talavera critters waiting to join the herd on the back fence. The alligator was almost as challenging to tote across the bridge and pack for the ride home as was the snake five years ago. We bought two cheap ($3@) blankets, strictly for packing.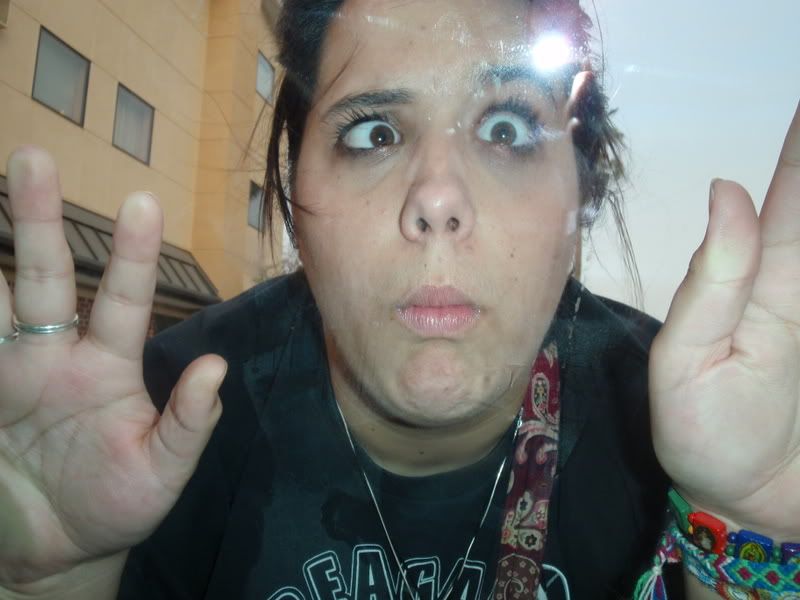 Hasta la vista, Progresso - see you next year?!