Julia turned nine years old today - big fun!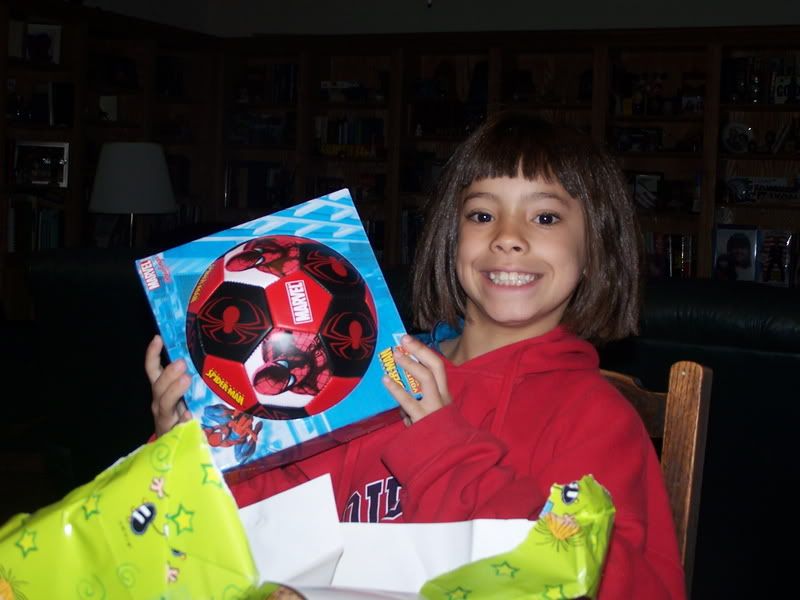 So bowling's not her thing, okay? A Spiderman soccer ball from the Edwards was taken out of its packaging the minute we got home from church. It's being kicked around by the kids in the cul-de-sac as I type.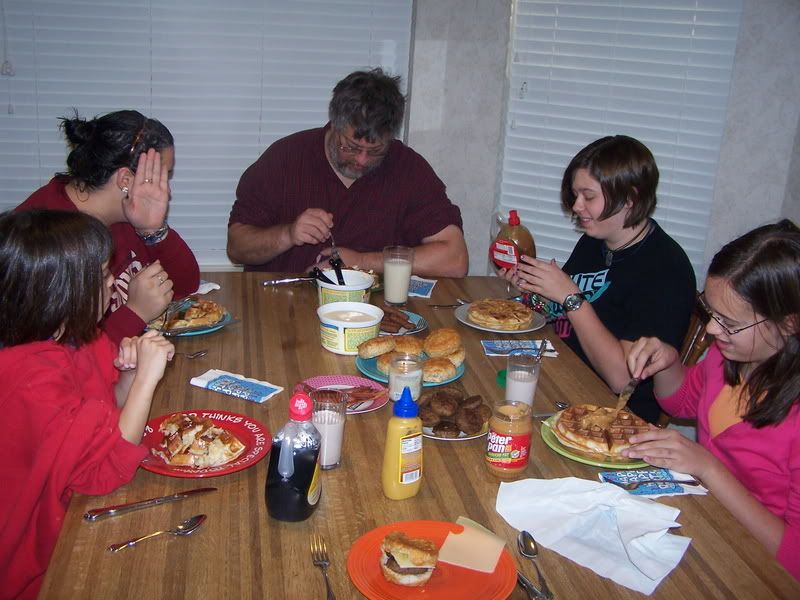 Dad's waffles for breakfast - ummm! Plus a sausage'n'biscuit for me, who cannot stand sweets in the morning. We went to late church so we'd have time to eat and clean up. Rachel - sans make-up - must, of course, hide her face like a felon.
Birthdays call for the red "You Are Special" plate (thanks again, Paula, for replacing the one we broke two years ago!) That's Rachel's oversized University of Houston sweatshirt Julia's wearing. She's taken to wearing one of Rachel's sweatshirts every night over her pajamas. Interestingly, having newly-adopted kids wear your clothes is a strategy for aiding attachment, according to the best adoption book I ever read, "Attaching in Adoption" by Deborah Gray. No, Rachel is not her parent, but Keith and I knew from the get-go that it was as important for Julia to attach to her sisters as it was to us because we were a unit when she came home. So I am not threatened by her wearing Rachel's sweatshirt instead of mine, or sitting in Rachel's or Lois' lap in church instead of mine. We all know I'm the maternal unit around here.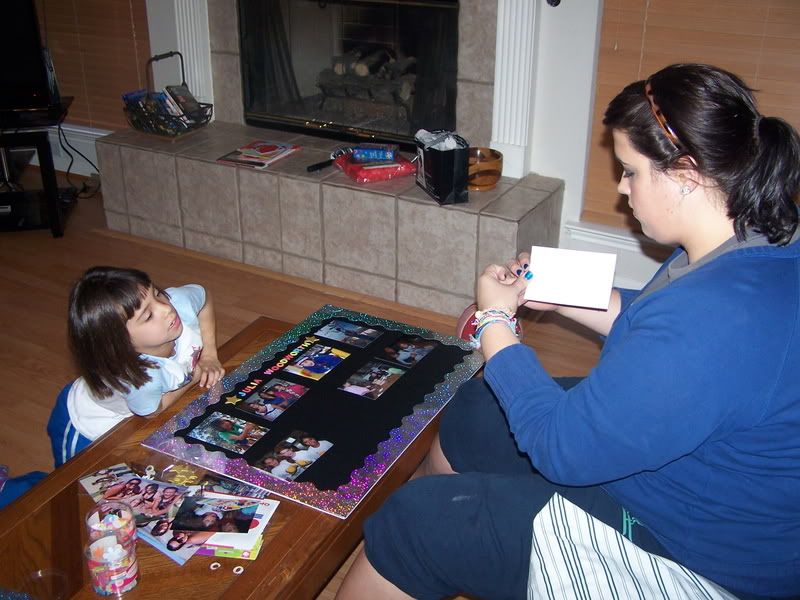 Elementary-age kids get to take turns being "Star Students" at school, with the teachers often timing their Star week near their birthdays. Julia is Star Student in her class this coming week. Thankfully, Rachel is crafty and offered to work with her on her Star Student board. (I am allergic to glue guns.) After Julia selected the pictures to use and composed the captions, she said, "This is taking forever. How about I go outside and play while you finish?"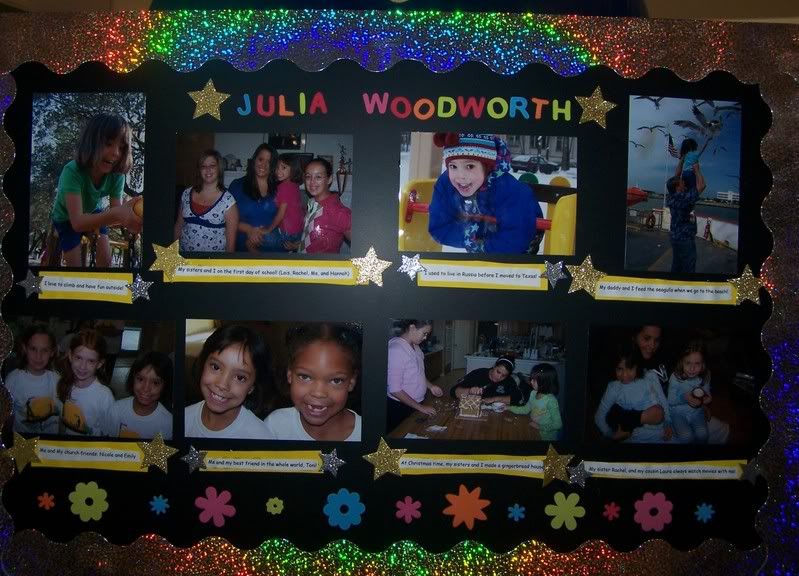 A work of art with pictures of her family, neighbors, church buds and cousin Laura. Plus my favorite picture of her in Russia - in the blue jacket and stocking cap, on the playground across the courtyard from the orphanage. The kids could see it, but were not allowed to play there. She was so happy to get to climb on the equipment. For me - that picture is her 'baby picture," and I treasure it. I took it on February 15, 2006, the day after we met her - almost three years ago, I can't believe it.
Tonight, she goes on her birthday date with her Daddy. She'll undoubtedly pick Chinese food (egg drop soup), and then to pick out her family gift (which I'm betting is a Star Wars sword.) Thursday, I'm reading a story to her class and taking donuts for an after-lunch treat. Then Friday, we're having her "High School Musical" birthday party with the neighbor kids.
My birthday was yesterday. Rachel asked me, "Mom, don't you feel you get shorted with one of your kids' birthdays the day after yours?" No! I love it. Gives us one more thing to share. Which is what families do, doncha know?