Every now and again, glimpses of my pre-maternal life pop up and startle me. Like, I'll find myself car dancing to Bruce Springsteen. Or I'll buy a can of biscuits without a coupon. Experiences my mom would call "wild hairs."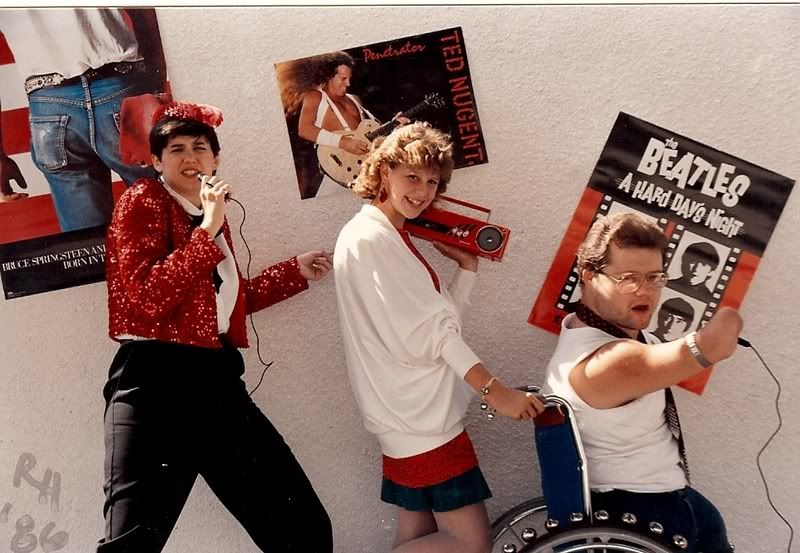 Red sequined jacket and The Boss on the boom box - definitely not maternal. But a great "Jingle Bell Rock" Christmas card picture with Sarah and David in 1986. Note the bells on David's wheels. He used to say, "Hair is just entertainment." You can't see my wild hair here - a 6" pink-bleached rat tail. My boss Vicki would gulp hard every time I sauntered into the Southwestern Bell Comptrollers building wearing my matching hot pink jelly sandals.
The girls and Keith will tell you - I'm the mean one who is always trying to balance the paychecks with the mortgage payment, car payment, insurance, etc. As Keith says, "We'd have more money if you didn't fritter it away on bills."
Three times at Sam's this holiday season, I fingered - then replaced - certificates for a local spa entitling the bearer to a hair shampoo and cut, microderm abrasion treatment, facial, massage and make-up application - for $45. I kept thinking how much fun it would be to do with Rachel, Lois and Hannah. How we don't have that many more years with all of them at home. Then I would (responsibly) remind myself of fall expenses not fully paid for. And sigh. And walk away to check the clearance corner in the back of the store. (Remember that when you're shopping there!)
Fast forward to riding the bus home my last day of work before the hoildays. Only 10 of us - very unusual - and mostly women chattin' it up instead of taking our afternoon naps. One of my bus buds decribed buying certificates for her mom and sisters, and how much fun they were going to have using them. That did it. I told Keith, "I'm going to get them tomorrow." I surprised the girls on New Year's Day.
We used the first today - for lovely shampoos (with heavenly scalp massages) followed by haircuts.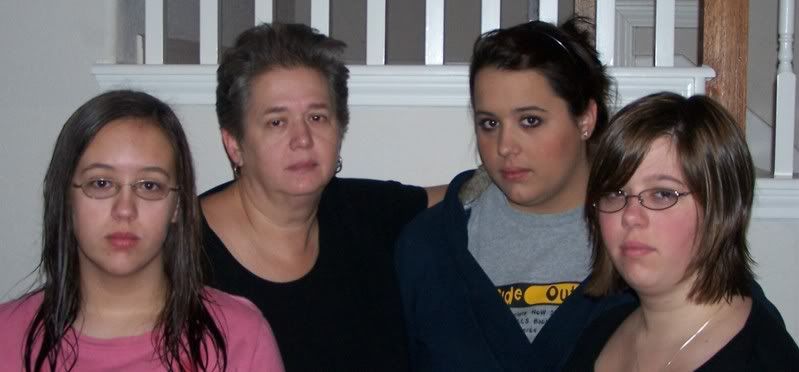 BEFORE: Rachel told us, "Frown, like they do in all the 'before' diet ads." All we need are numbers under our chins.


AFTER: Rachel, Lois and Hannah have Keith's thick, shiny hair. Hannah went for layers which were Texas-big-hair-poofy before we we traipsed through the grocery store. I just wanted mine shorter. ("Mom, you've wasted a salon cut.") Rachel got her hair thinned with side bangs. Lois got a "semi-dramatic concave bob," which sounds like something you get if you fall off a trampoline - but it looks really cute.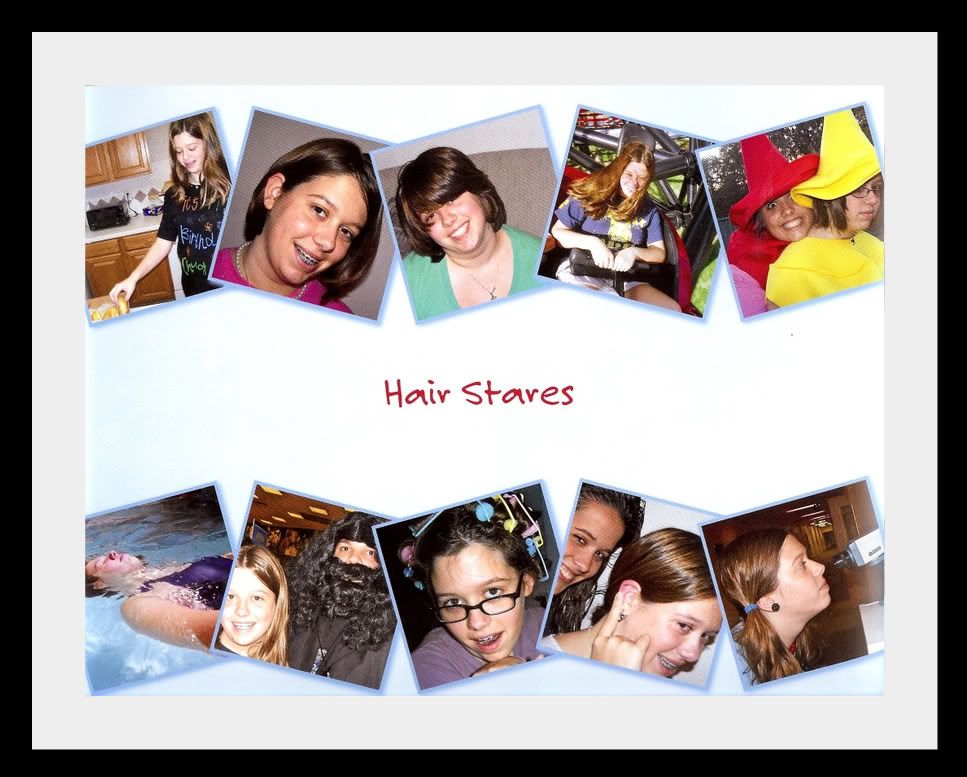 Over the holidays, I (finally!) completed photo albums for each daughter, the first since Julia came home. I devoted a page in Lois' book to her ever-changing locks. "Am I the only person in this family who will ever do anything different with her hair?"

Rachel had a great idea for using the make-up applications - we'll go get them the afternoon of her high school graduation. I'd planned to take that day off anyway. As for the massages, microderm abrasians and facials...well, we're not sure right now. We'll use them sometime this year when we are just feeling crazy.
You know - just having a wild hair.