I've taken a vacation day to clean up and organize after a week of Samaritan's Purse box packing. Not that I need to.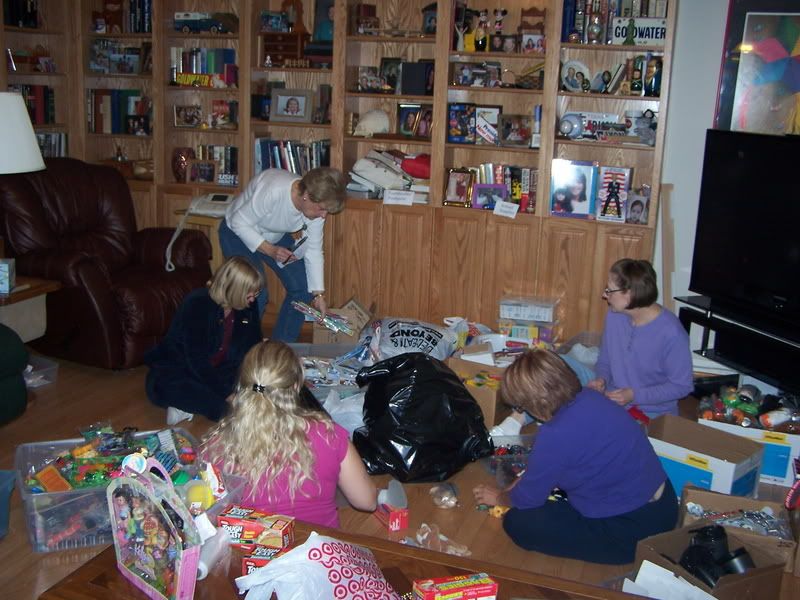 The fabulous
Women on Wednesdays
bible study class to which I belong came over to stuff knitted caps and Beanie Babies into Ziploc bags, remove toothpaste tubes and Matchbox cards from their boxes, etc. Johnnie, Marcie, Dorothy, Dana, Amy, Midgy, Linda and Melinda: Maybe we should study Proverbs next, like, 17:17 - "Friends always show their love." Because you are and you do.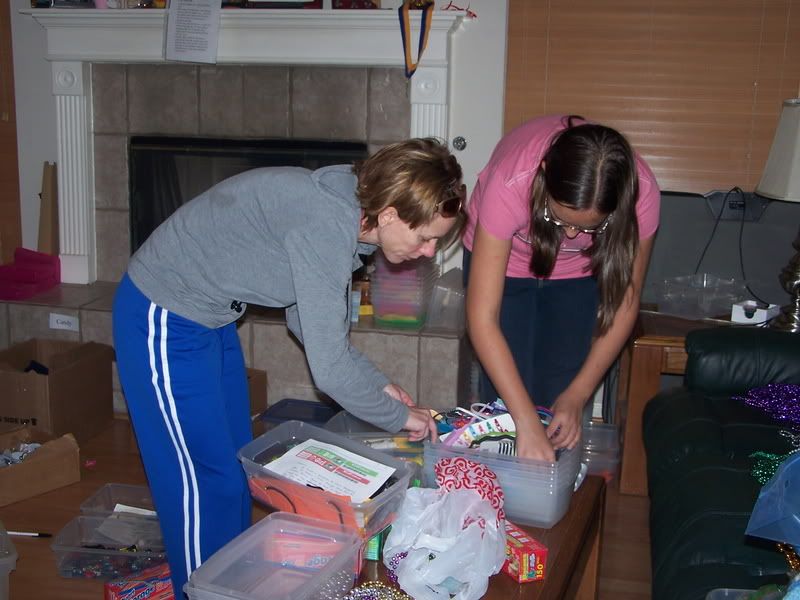 AT&T friend Renee has donated toys, shipping money and packing time for years. She and Hannah made sure boys ages 2 - 4 were represented in our batch of boxes.
That's a tough age to fill. Renee thought of what her son Arthur would like to receive; Hannah considered her cousin, Sweet Baby James. You pack a better box when you have an image of a child opening it - plus it's easier to pray for that child.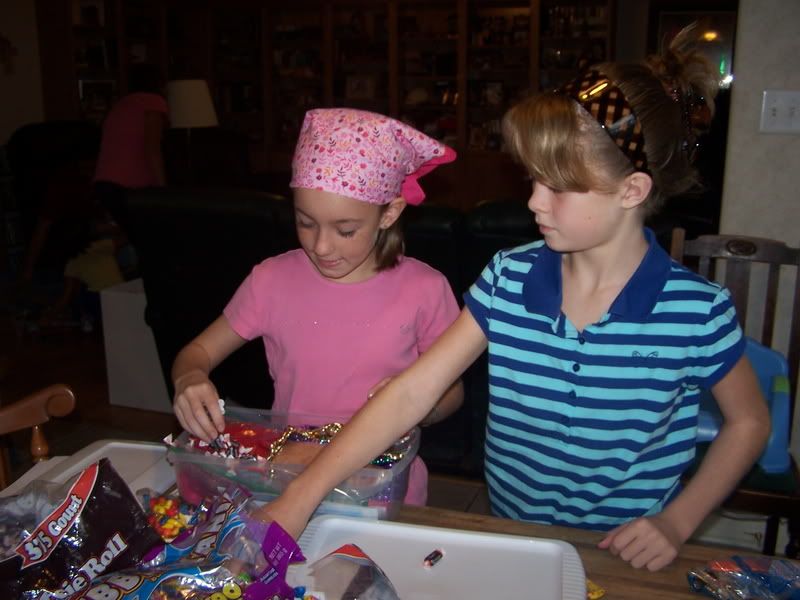 Renee's daughter Allison (left) had years of packing experience to offer as on-the-job training to her friend Hailey (right) . Haley's mom discovered that shipping funds can be
donated online
and denoted with pre-printed packing labels - love it! Too cool, Haley - come back next year!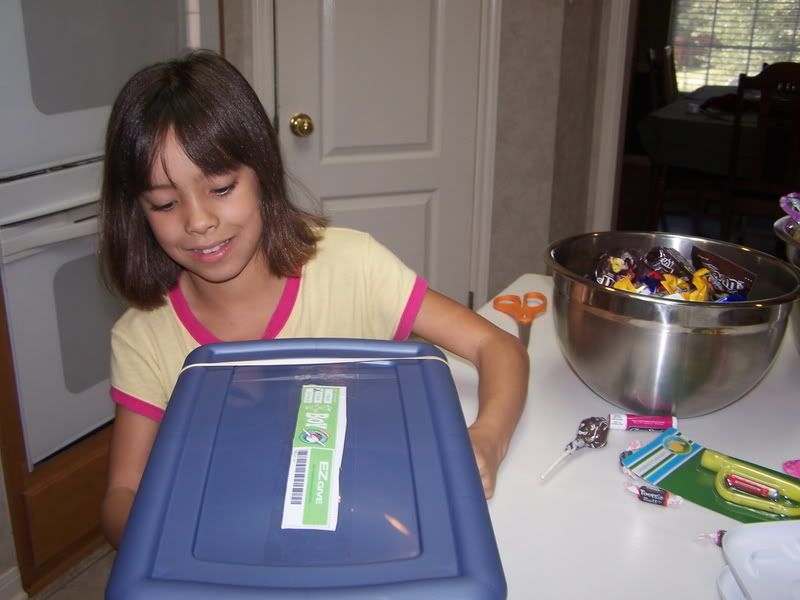 Julia was way, way more into the boxes this year. "Can I help? What can I do? Is this for the kids?" Rachel, Lois and Hannah all noticed and complimented her enthusiasm.

2006 - ummm

, every other question was, "Can I have this?"

2007 - better,

and she was real help - but she still asked for a few things for herself. 2008 - she didn't ask for a darned thing, and was a serious help, especially twanging rubber bands around the finished boxes. I am always entertained by people - always without children - who want to talk about how "naturally generous" or "inherently good" kids are. They are not! They're born totally selfish - that's how they survive as infants/toddlers....and in orphanages, too. They have to be taught to share by example and by doing.



Our box breakdown for 2008:



Ages 2 - 4 5 - 9 10 - 14




Boy

4

30

13

boxes




Girl 5 21 10

boxes



Yes, that's only 83 boxes - fewer than last year - which greatly disappointed the girls. And - truthfully - me a bit, too. But we've never aimed for a number.

Never.

We could have eked out several more boxes with just "stuff" but they wouldn't have been good boxes. We don't send junk. That box is a child's whole Christmas. They're going to be good. We trust that the 83 kids that get these boxes are the ones we were supposed to do them for.

"Firsts" this year:
- More boys' toys than girls' toys! Hooray for Happy Meals!
- A tote bag of some sort in every box, thanks to Shelley-the-online-coupon-shopper.
- A knit cap in every box, thanks to Keith's mom's flying needles.
- No skimping on lip balm, thanks to the 75% off sales at the Target Dollar Spot.
- Amazingly, wonderful friends donated all the shipping costs, plus some to spare. Keith and I were stunned by this generosity. I mean, jaw-dropped, "Are you sure?" bug-eyed kind of stunned.

While she was packing, Renee commented on how the box "inventory" changed year to year. Some years more school supplies, or gloves, or toys, or whatever. That's true. I'm never sure what we have until I start dragging it out. I know what I've bought, but I'm never sure what's in the boxes that show up at my desk or on my doorstep. So, while we're getting ready to pack, it's like Christmas for us, too - opening boxes of gifts. Being surprised. Ooo'ing and ahh'ing and picturing how it'll be used. Sharing the excitement of gift-giving.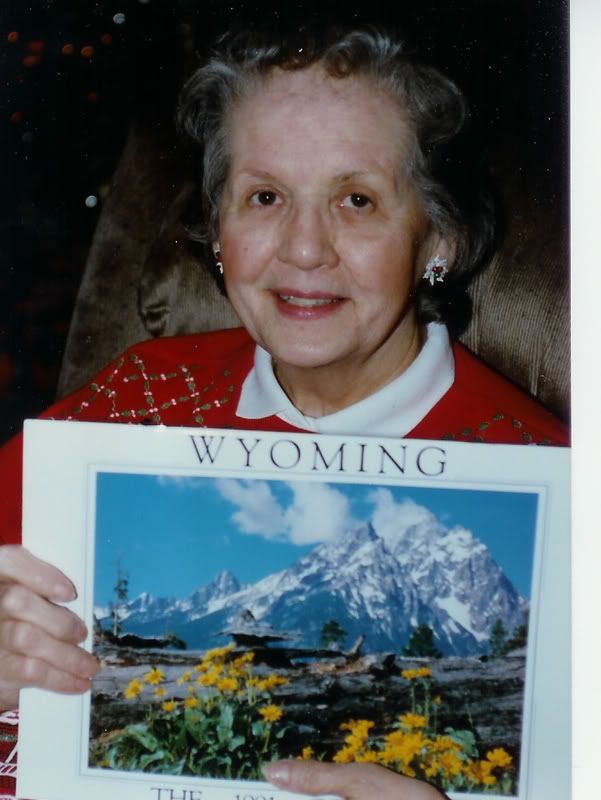 My mom Wyoming at Christmas, 1997

.

I always gifted her with Wyoming state schlock. My favorite was a hideous purple shot glass I found at a garage sale. She was a strict teetotaler. That shot glass now rests atop her bible in my den.



My mom always made us sit at the kitchen table Christmas night and write our thank you notes.

If you gave toys, money or time, please consider this your thank you note. It's not handwritten, but it is full of gratitude. And sealed with a prayer 83 times.