I've long said, "You can eat off my floors." That's not the same statement as "My floors are so clean, you can eat off them."


You might look in my kitchen and think, "Ugh. Mess."





My spice rack....oh, how I'd love to have them all in alpha order and grouped by sweet/savory. Never gonna happen. My middle name should be "Monk."




Or peek in the breakfast room, and think, "Yuk. More mess."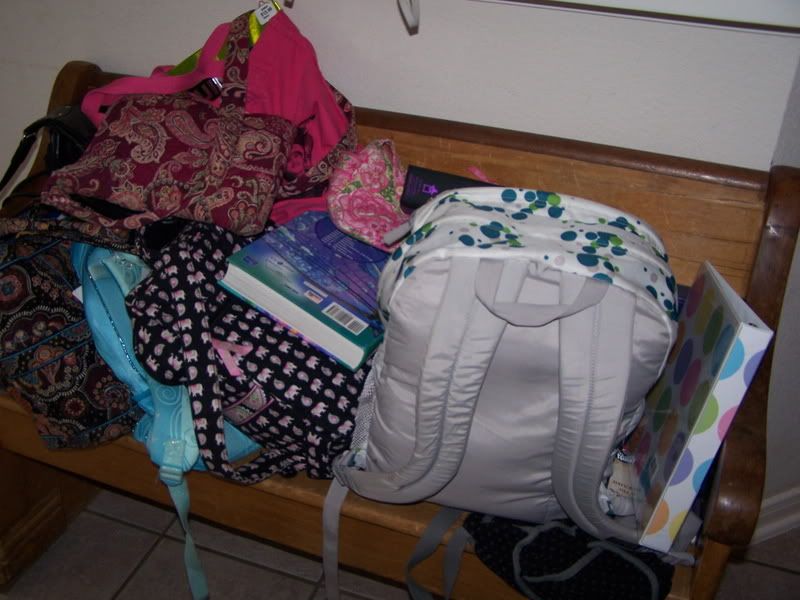 The church pew we bought when we were expecting Rachel. It held diaper bags for years. Now it holds jumbled backpacks, sweatshirts, purses and school books.



But walk a few steps into the den, and you'll

really

see some mess.

Hannah and I dragged out the year's accumulation of Samaritan's purse stuff today, getting ready to pack boxes as soon as the Halloween candy goes half-price next Saturday. Oh. My. Gosh. Lip balm, toothbrushes, knit caps, silverware sets, school supplies Happy Meal Toys - thanks to generous friends, we've got it goin' on.


Yes, it's a mess. But a happy one. I put away all the Halloween decorations, except the kitchen dish towels, the breakfast plates and the pumpkins the girls painted at
Fiesta Texas.
We need the room!