We've just returned home from a week at the beach - always the highlight of our summer. This is Julia's third time for a real vacation, so she knew what to request (sugared cereal), what to bring (crackers for the ferry ride) and what to expect (lots of uninterrupted family time.)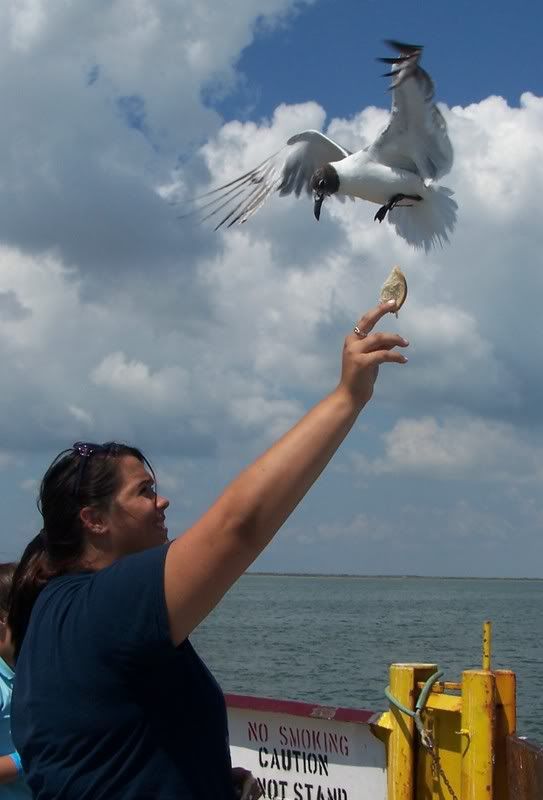 The ferry ride from Galveston to Bolivar is part of the whole experience. We have driven the long way'round to Crystal Beach via I-10 when we've had to do so - but it's sure not as much fun as spotting dolphins and feeding the sea gulls.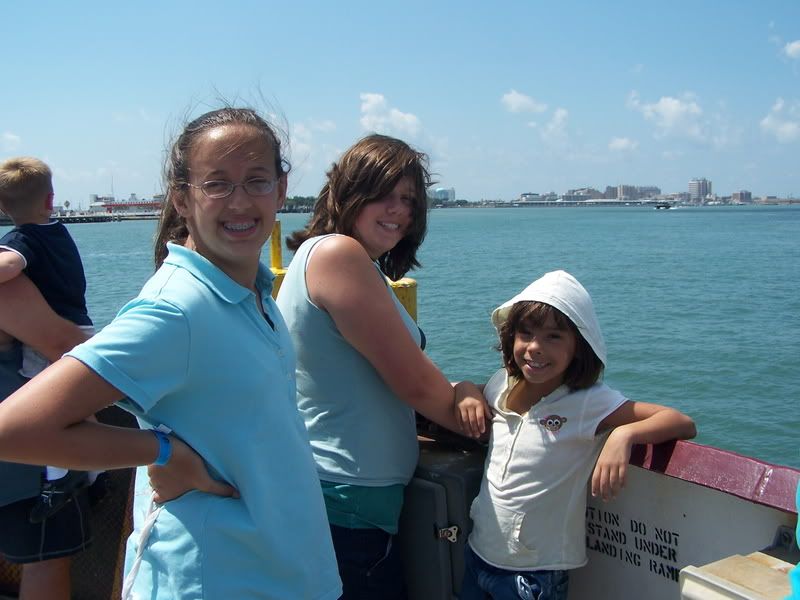 Our neighbors just returned from a cruise out of Galveston, and we passed a huge Carnival ship. Julia ran to the front of the ferry to get a better view. Gulls can only be fed from the back of the ship to prevent aerial decorations on the dozens of cars.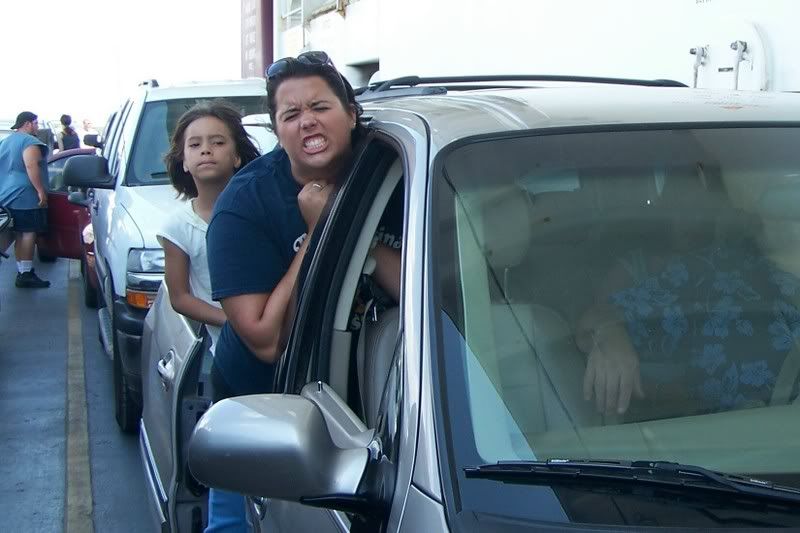 That last handful of chipotle cashews - ummm - not so wise.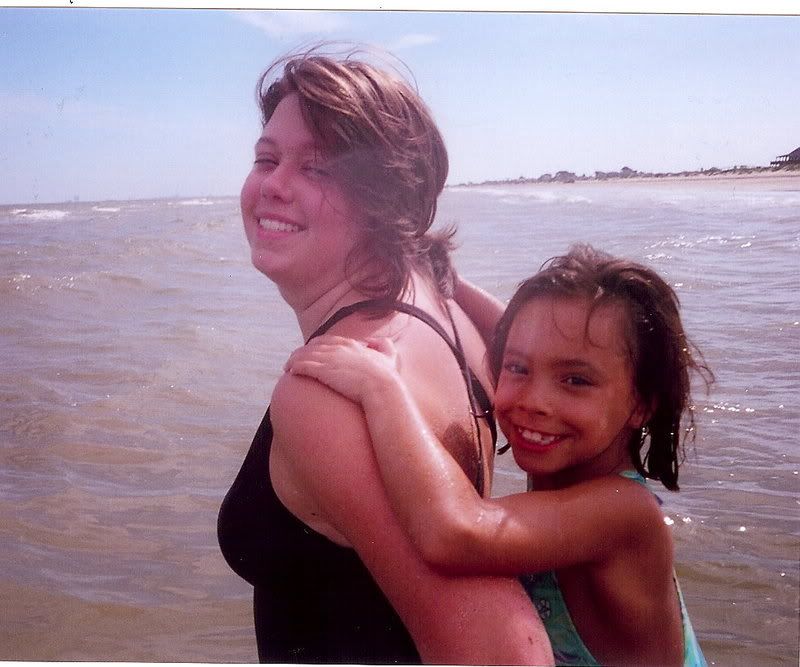 We've caught hundreds of "herminy crabs" in a day on past trips, but this year, the most we ever contained in a sand zoo was 11. Hannah prefers to hunt in the traditional squatting method, while Rachel gets on her elbows. Julia runs them to shore.


Sarah brought Laura (in her lap) and Sweet Baby James down to splash. Hannah and Julia are spending this week with her family, wihch proves Sarah is brave as well as beautiful.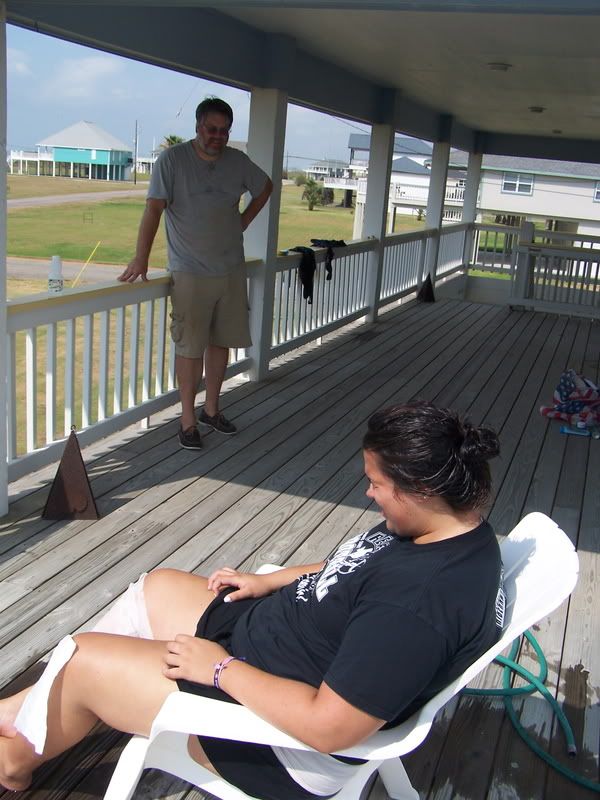 Rachel and Keith usually swim out pretty deep. This year Rachel met a jellyfish, just below both of her knees. Recommended treatment: Poured vinegar, followed by vinegar compresses (phew!) and leg shaving.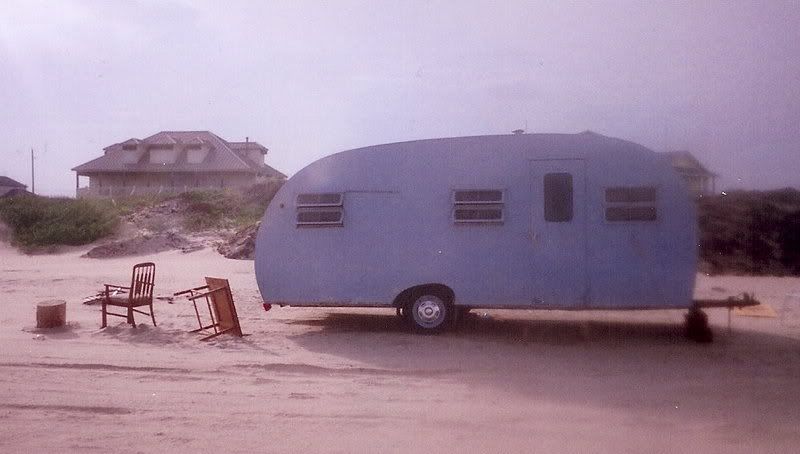 The home of the friend in which we stayed is part of an absolutely gorgeous beach front neighborhood, separated from the gulf by a gated walkway. This smelly, rusting trailer was parked just outside the walkway on the public beach. As the girls and I watched from the water, a muscle-shirted guy with plenty'o'tats and drooping cigarette pulled up and pasted a notice to the door. (Rachel named him "John Jimminy Bing Bang.") As soon as he pulled away, Rachel and I dashed to read it. "To the County of Galveston - DIBS!!! If this is an anbandoned trailer, I'd like to claim it. Please call....." Rachel and I dared to peek inside. A torn up counter - empty booze boxes - a tiny radio with aluminum foil on the antenna. And disgusting smells. "DIBS???" We were having trouble picturing exactly what "DIBS" would get you. After lunch and naps, we were back in the water when John Jimminy and a few of his tatt'ed friends arrived with a bigger truck to haul it away. Watch for it to reappear in a trailer park near you. Say "howdy" to John Jimminy for us, ya hear?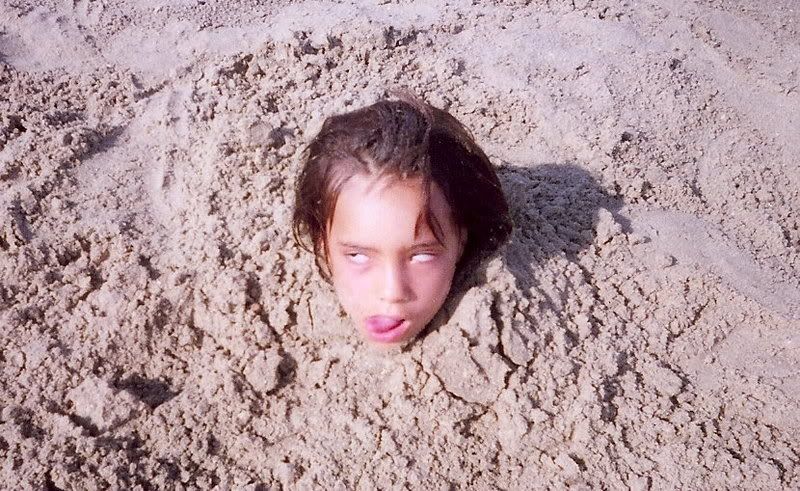 Just trying to help Julia get ahead.
Quotes from the dunes:
Lois, explaining why I had to be her biological mother: "I'm so much like Dad, and you're the only woman who could stand to be with him."
Rachel, commenting on Julia's tears shed over some injustice: "Ohhh, they're salty! Too much beach!"
Lois, with a hearty sigh that no one was endorsing her suggestions for games to play: "My leadership skills are going to waste."
Rachel, noting that we did not stay long when we dropped her off at the Edwards' Pearland home to visit this week: "You know, you could have just kicked me out of the car and not said anything. Like the baby Moses policy."
And finally -
Rachel, after several minutes of sibling fighting in the car: "Dad is counting backwards from a million and Mom is singing hymns. We may have gone too far."
Maybe. But the beach - ahhhh, the beach was just far enough.