My brother David said it best crunching a mouthful of popcorn during a rerun of

Twilight Zone:

"TV is a member of my family." Oh sure, I wanted to immediately retort, "TV is just trash." But I couldn't quit spit the words out. Because reality was and is - I

like

some of that trash.





David with his favorite member of the familiy - our first color TV which I bought working at Remco TV Rental in college. For years, we snuck into the den on Friday nights to watch "The Midnight Special," carefully avoiding the squeaky floor boards as I would slowly shut the pocket door, giving it a little palmed boost over the sticky spot. We held our breath as the tube fired up with that distinctive crackle. If Mom didn't wake up for that - we were good. Wolfman Jack looked so much cooler in 25" of glorious color.



One of my happiest childhood memories is of the 1965 evening

Lost in Space

debuted. My mother - who kept us on very short leashes - made our favorite dinner of fried chicken, mashed potatoes and peas. With chocolate chip ice cream for dessert - on a school night! And we got to eat in front of the TV for the first time ever.



Hearing "Danger, Will Robinson!" makes me taste bits of frozen chocolate swirling on my tongue in creamy goodness.

Sarah used to spend most Friday nights with me when I had an apartment. She and her friends got to eat what they wanted and watch what they wanted - as long as they didn't wake me up.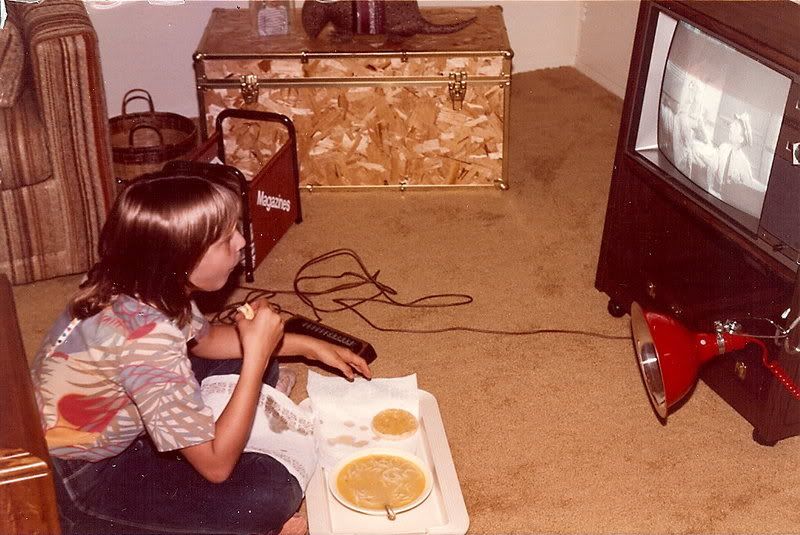 Chicken noodle soup with Barney Fife - does it get any better? Today Sarah-Stay-At-Home-Mother-Of-Two is a fan of "Desperate Housewives."



Fast forward to today. I don't have much time to watch TV, which is ironic since AT&T U-verse provides our living. (And if you don't have U-verse you should check your availabilty and ping me to order it right now. This instant. Hurry up.) So I'm picky about what I watch. HD - don't really care. But I won't watch commercials - we DVR most everything.

The girls and I curl up to watch The Office, which I know they will find even funnier if/when they join the lovefest that is Corporate America.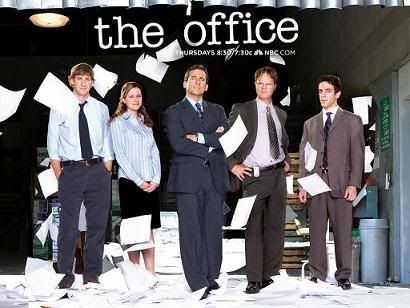 "The Dinner Party" is our favorite episode. Sometimes Rachel or Lois will just look at me and recite, "I don't care what they say about me. I just want to eat. Which I know is a lot to ask. For a dinner party." My favorite character is Stanley who said, "It's like I used to tell my wife. I do not apologize unless I think I'm wrong. And if you don't like it, you can leave. And I say the same thing to my current wife and I'll say it to my next one, too."



Rachel and I chase everyone younger out of the room when we've got a new Big Love

recorded. We don't have to chase Keith - he huffs out on his own, rightfully condemning it as pure trash. He's so right. Yes, he is. As his first wife - I agree completely. With a bowed head. And a respectful nod.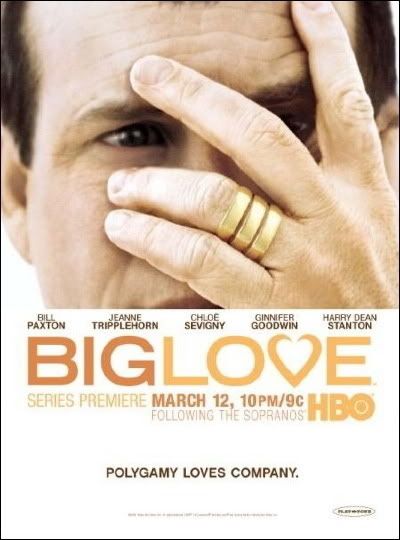 No one should watch this filth. Absolutely not. Turn it up, Rachel. Ohhh, go back. Is that Barb? Give me the remote.



When Julia was so sick last fall, I commiserated to my friend Sharon - who got us watching House- that I wished we could take Julia to him.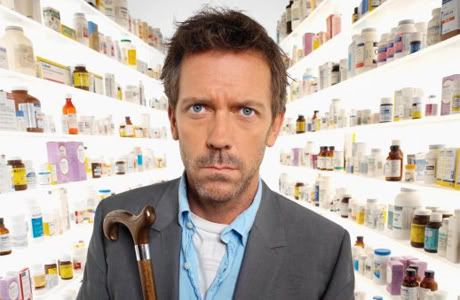 We all like House. Watching it with Julia is challenging. "Why is that woman crying? Why does he take those pills? What happened? Who is that man?" Ummmm.....Jules. "Power Rangers" is on in the den, I'm sure.



Keith, Lois and I are anxiously awaiting new Heroes episodes. Hiro is a rush. But personally - Nicki's whining and whipping hair gets on my nerves and I'm hoping Skylar sucks out her brain - what little there appears to be of it.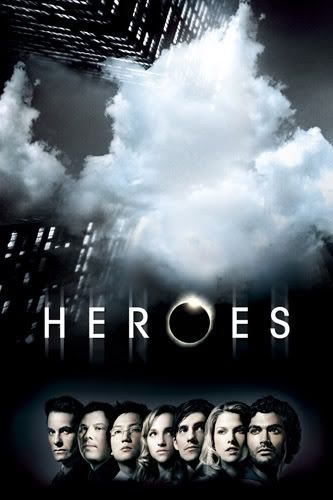 Save the Cheerleader!



Now Keith has me hooked on the History Channel's Ice Road Truckers.
We've got to find the first season to rent. There's so much more I want to know about these bearded, speech-bleeped hulks. What about their families back home - and where is home? They cross themselves - are there any churches in these icy wastelands? What do they eat? And who cooks it? How do they get cell phone signals? And - morbidly - whose turn is it to plunge a rig below the ice?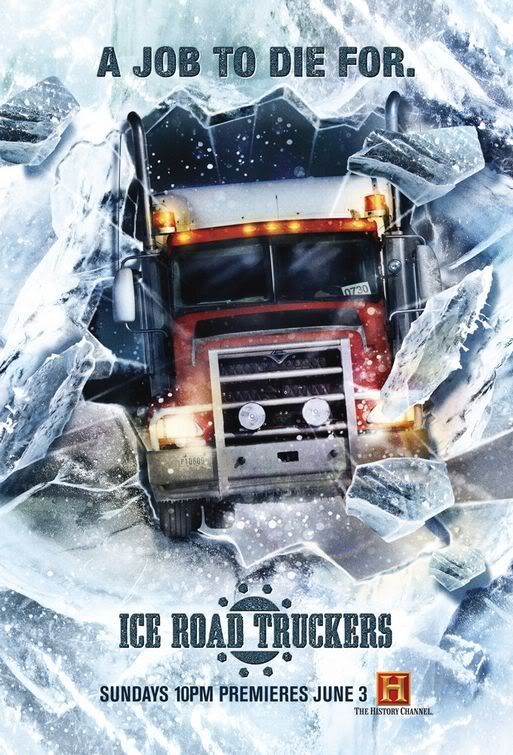 A cool show in the hot summer, eh?

We don't use programmable parental controls. The girls know what is and isn't appropriate to watch. I promised them years ago that if I ever caught them watching something they weren't supposed to, they lost the right to watch TV without me present. And I don't watch

My Super Sweet 16

or

Degrassi

.

Some of our favorite evenings as a family are what we call "Family Movie Night" - a junk food dinner in front of the TV with a movie we all want to see. Our last one was "Enchanted." We chomp meatballs, egg rolls, pot stickers, queso, etc. in the den, plopping down on the furniture and girls' Disney floor pillows. I usually spring for too-expensive diet root beer in bottles, which we all like to gulp. We do several of these evenings during the holidays when we unbox the Christmas movies,and at the end of the season, Family Movie Nights are often recounted as a highlight.





Family Movie Nights...eating in front of the TV - not good, I know. But somehow - I think even my mom would approve.



A few weeks after David died, I was struggling with a migraine, as well as mourning him deeply. I feel asleep in my recliner and experienced one of the most vivid dreams I've ever had. I dreamed I was half-asleep on Mom's scratchy old couch, positioned, of course, in front of the TV. David did his flip-thing from the floor to the couch, gouging me in the ribs as he so often did. As I struggled to open my eyes, he smiled hugely at me and said, "Hey, what's the matter with you? Why are you so sad? Bec - I've only changed channels."

Maybe TV is a member of my family, too.