Thursday, August 14, 2008
Viewer's Choice of Titles
(Please Comment Your Choice)

Rachel and Hannah's Ulta-cellent Adventure

or Mamma Mia (I've Become)
or The True Story of My Lipstick



Posted at 07:46 pm by beckyww
Permalink
Sunday, August 10, 2008
One night last week, Julia crawled in bed with me and went to sleep in the crook of my arm, the top of her head nestled under my chin. and her arm resting across my chest. Keith woke us when he was ready to turn in. Before I resigned her to the nearby guest room, I stared at her face for several long seconds, soaking in its features and marveling not only at how peaceful she looked, but also how we got here - to a place that Julia would snuggle next to me to sleep.
Keith and I have known lots of adopted people, including some of our dearest friends and family members. But....they were all adopted as babies. Infants. Or - as we continually read the desires of potential adoptive parents on the user boards - "as young as possible."
That is so,
so
different
from adopting a six-year-old.
Rachel, Lois and Hannah never questioned my authority. When I told them, "Pick up those Legos or I'm throwing them away," they knew I possessed the authority to do what I said (and I pitched the Legos, too, BTW, the morning after I next stepped on one in the dark.) When I shot a blistering look across a church pew or a restaurant table, they snapped-to or faced the certainty of punishment. They might not have liked or agreed that they needed that punishment - but my God-given authority to met it out was never challenged.
Neither did I have to prove my love. Practically every breath of baby Rachel's was documented, photographed and shared with half of Houston. I laid on my left side in a hospital bed for 34 days to give Lois that critically-needed time to cook. During her 37 days in the NICU, I rocked and sang to her for hours daily (Keith said she would know the entire Baptist hymnal before she went home.) And Hannah - well, Hannah slept on my chest in my old recliner at least half of the nights of her first two years with her near-constant ear troubles. She would wake and fuss; I would soothe her, medicate her, whatever and we'd both drift back into a too-light sleep. Rachel, Lois and Hannah have always known that I loved them. I pray they always will.
But what did Julia know? She saw two big, funny-talking people coming from somewhere outside of St. Pete to take her away from every person and every thing she knew. She was told to call us "Mama" and "Papa," which she did - but what did it really mean? In retrospect, I think perhaps the bravest act I've witnessed in my life is her
walking out of Children's Home #47 wtih us.
She really didn't know what was ahead for her. But she put on those Old Navy jeans and light-up tennies and out she strode.
I give major kudos to
Buckner
(our agency) for insisting we prepare ourselves to adopt a school-age child. I have spoken and emailed with too many parents whose agencies did nothing to help them prepare. They read nothing - no books, no magazines, nothing. They spoke to no one who'd done it - they drew on no other family's wisdom., or asked the magic question, "What do you wish you had done differently?" They didn't join user boards - and I've said all along that we learned as much from the user boards as we did from
Buckner.
Their agencies didn't push them to engage an international adoption doctor to evaluate the child. Their agencies took a check - the couples took a child - Lord love them, now they've got that child.
When I talked to families that had done this, I got to where I could tell in the first two minutes if it was going to be a "yes, it was hard, but we're so glad we have him/her" or "it's been a disaster, it's destroyed our family" story. I heard plenty of both. And based on what we heard from those families, and the books, and the magazines, and our social worker, and the user boards - we got as equipped as we could be. Perfectly equipped? No. But equipped. With the sites on Fetal Alcohol Syndrome bookmarked on our laptop with which we traveled, and with which we sent pictures and video to our chosen International Adoption doctor. With a blanket we slept with for weeks to leave with Guanna-to-be-Julia on trip #1, so she would remember our smell (which is the most powerful sensual marker for children.) With toys to measure her skills, and a notebook to trace her feet for the shoes we needed to bring. With a list of questions to ask the orphanage director and orphanage doctor.
And - most useful - techniques to use to bring her closer to us. Because we needed them.
Julia didn't love us when she met us. Neither did we love her, other than in a sense of agape love. We loved the
idea
of her and were confident we could come to truly love her. But our first two weeks (in Russia) were not easy. In fact - she totally rejected me. My authority and my love (fake it till you make it) were forcefully and flagrantly dismissed. Keith was a man - both a novelty in orphanage life and an authority figure in Russian life. She took to him right away, including pushing away other children who got too close to him. But me? She was used to dealing with women and - as she has shared in bits and pieces - she hadn't always been treated well by them.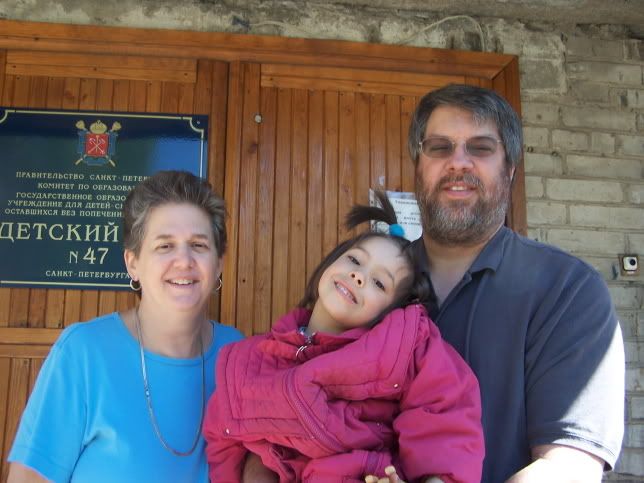 The day after court - May 11, 2006. Notice she is totally leaning on Keith. And away from you-know-who.
Julia wanted nothing to do with me. It took a 90-minute, screaming, back-arching holding session in the hotel room one afternoon until she would relax against me. (We knew of holding therapy from the books, and from other parents.) I sang hymns the entire time, not because they meant anything to her, but because they kept me from getting mad. At the end of that 90 minutes - when she lay spent in my arms, sweaty, red-faced, totally exhausted - our relationship began to improve.
Adoption is complete when the judge signs the papers. Attachment, however, takes time. The books say about two years for a school-age child. Keith and I think her attachment really cemented last fall, when she was so sick, after about 16 months home.
I can't speak to attaching to adopted infants, never having done that. But I can speak to attachment with an older child. To me, older child attachment is a lot like marriage. There's the ceremony. And then comes reality. Reality is that you're in a relationship with another person, including all their strengths and struggles. And both of you get to choose. You can accept each other's position in the family - or not. You can love each other - or not. But
both of you
get to choose. No one person has all the power. You're not Burger King. You don't get to have it your way.
When Julia leaps onto Keith for a tickle - when she asks Hannah to play a game, or Lois to watch a video, or Rachel to go swimming - and, yes, when she snuggles up against me and goes to sleep - she is choosing.
When I soak in her little face as she sleeps - I see those choices. And I sleep better, too.
Posted at 05:17 pm by beckyww
Permalink
Thursday, August 07, 2008
Keith's made pulled pork twice on
his Egg
this summer, both times to the rave reviews of eager diners. It was such a hit with our
Sunday School class
- we've deemed crunching on the crispy crust a spiritual experience.
Here's how to reach the next level of Nirvana: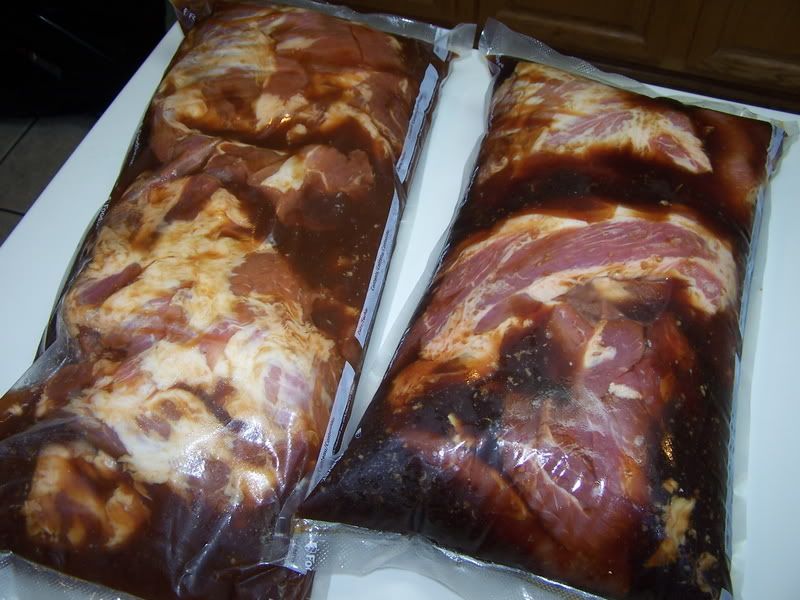 Four pork shoulders from Costco - about $53. Keith trimmed and cryo-vac'ed them in pineapple juice, t
eriyaki, ginger
and garlic for 28 hours.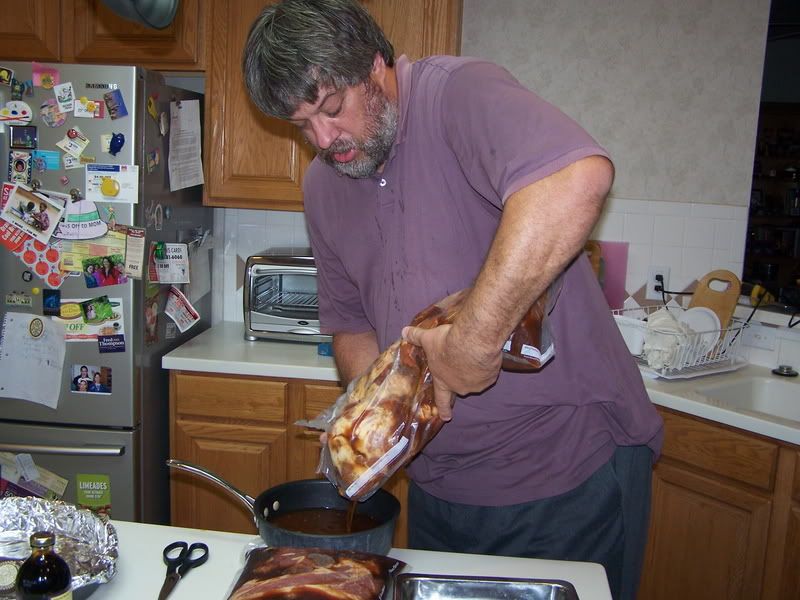 Now let's pour the pineapple juice marinate into a sauce pan, to be reduced (boiled) for meat sauce later.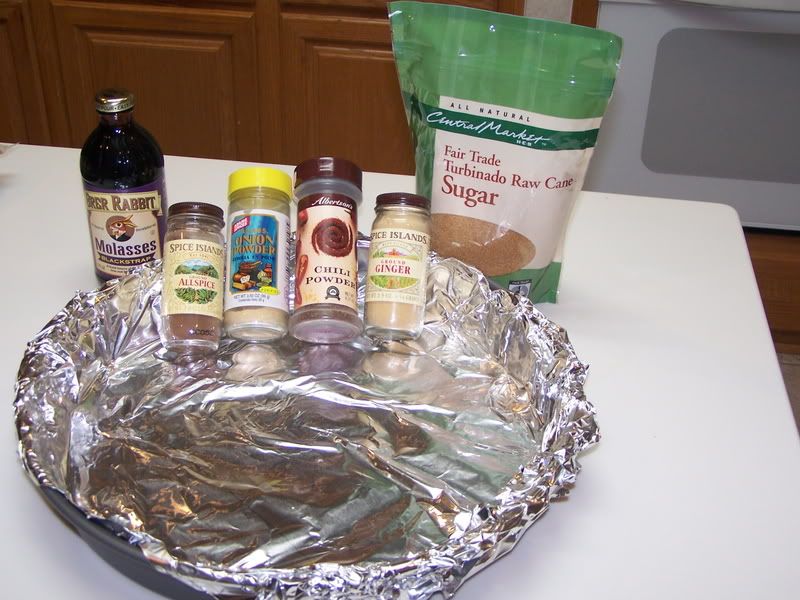 A foil-lined drip pan, to be filled with water while the meat smokes. And requisite seasonings including Allspice, Garliic Power, Chili Powder, Ginger, Turbinado sugar and Molasses. Not pictured: Kosher salt, because it took so long to find in the hurricane that is our pantry.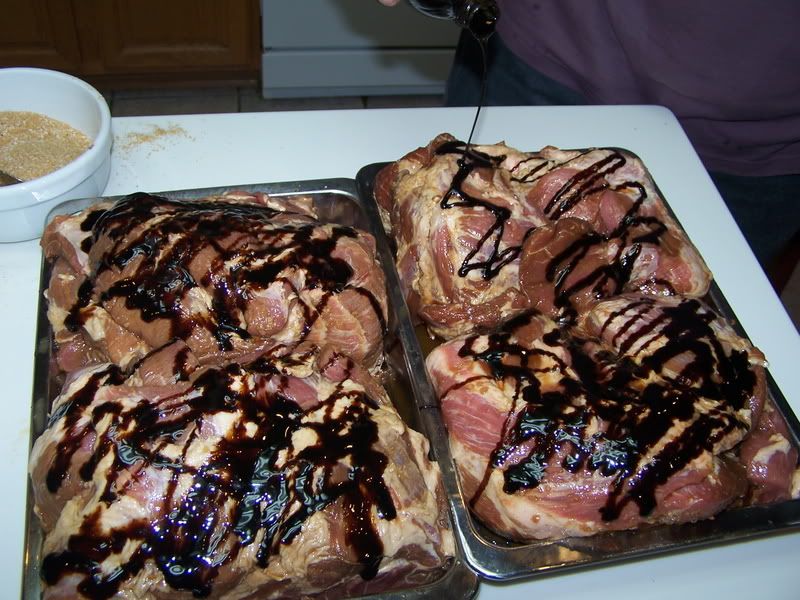 Drizzle molasses on those formerly piggly wigglies.....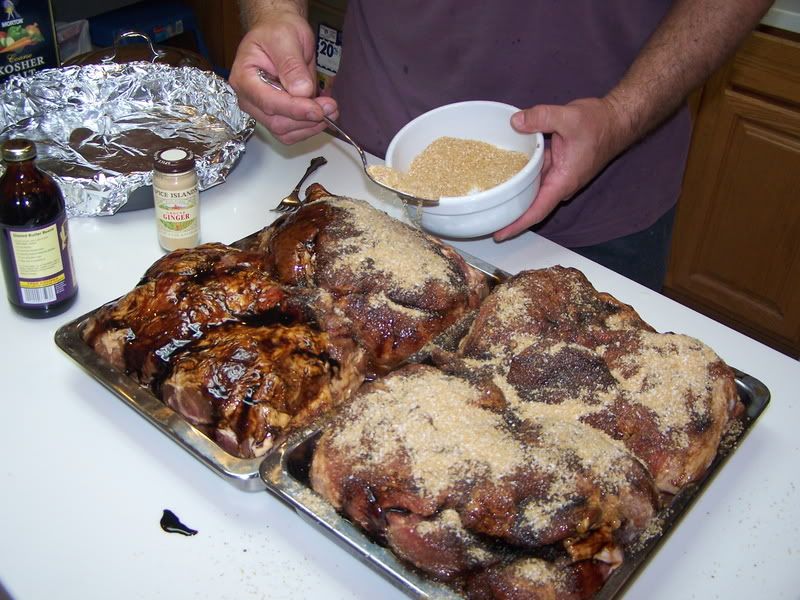 ....then cover them with the combined dry seasonings. Be generous.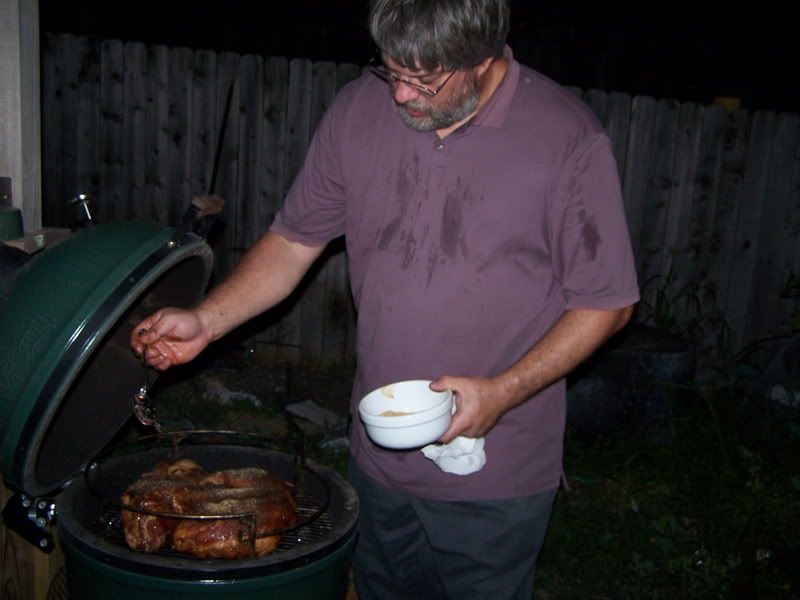 Now get them outside and
on the Egg,
which should be about 220 degrees. Put that water-filled pan under them to keep the pork moist and catch the dripping fat. And re-sprinkle with dry seasonings as necessary.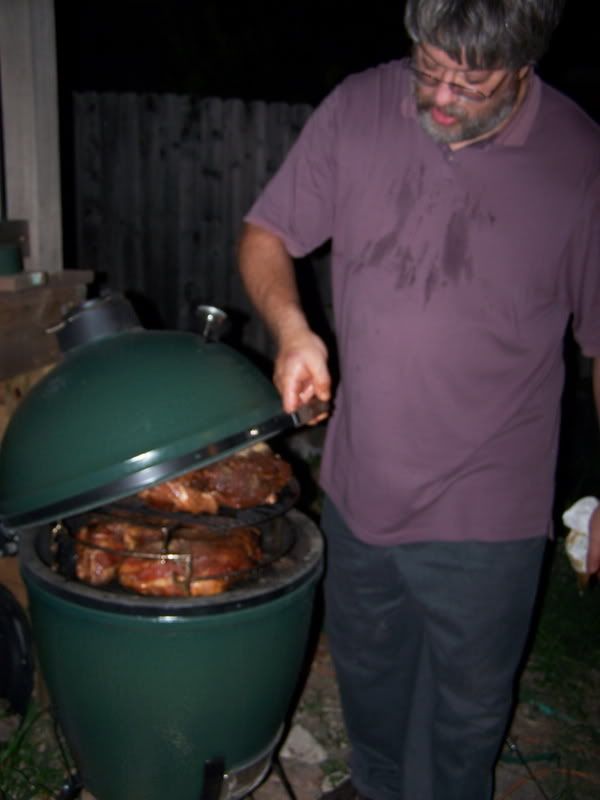 Four pork shuolders will just fit - 2@ layer. And use your own shoulder to close the top of the Egg.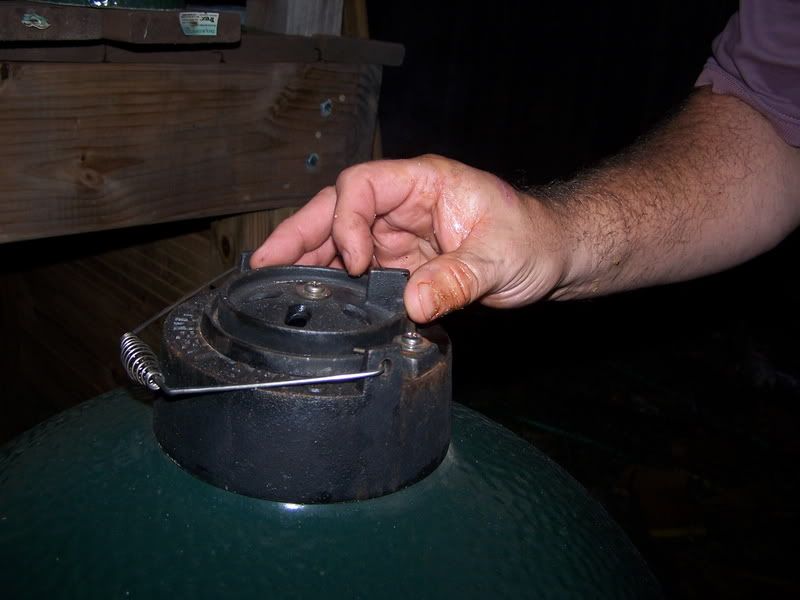 Vent that Egg - gotta have air for the slow-burning fire.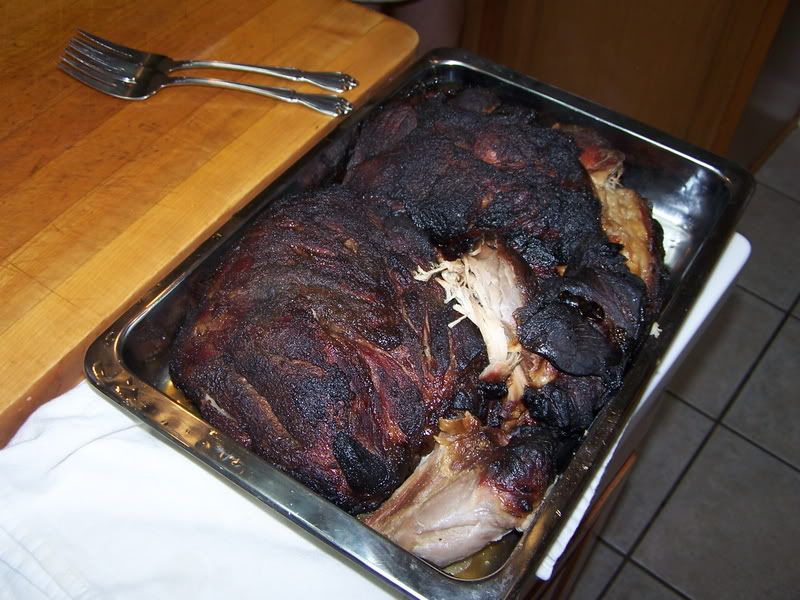 Seventeen hours later - the deliciousness that is Egg'ed pork, soon to be pulled pork with the help of elbow grease powering flashing tines. The fat has dripped out, leaving a sweet, crunchy crust hugging tender, moist meat. For extra goodness, swirl pulled pork in barbecue sauce - or better yet - the spicy marinate, now reduced into a syrupy glaze. Everybody wants a pull of that tangy crust between their teeth. Yummy!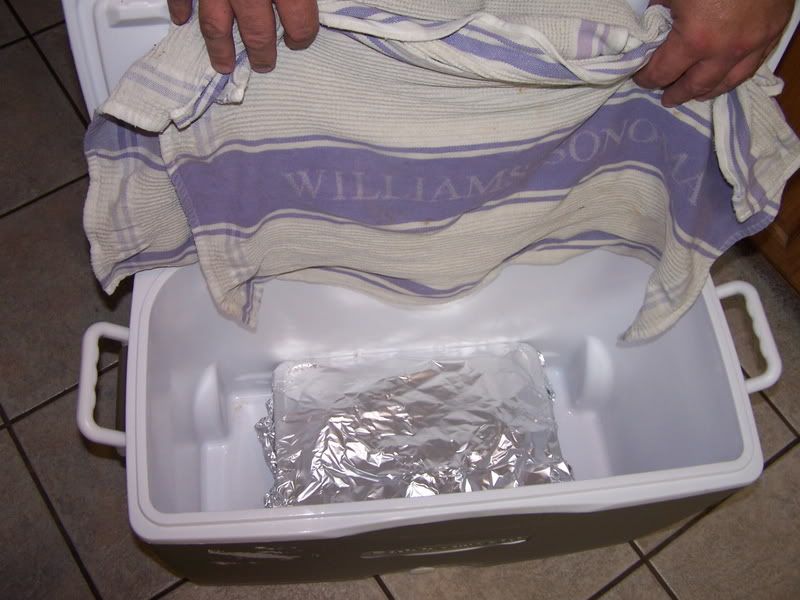 Transport in foil-wrapped pans, with layers separated by dish towels in a cooler. Assuming there's any left after everyone pulls and samples.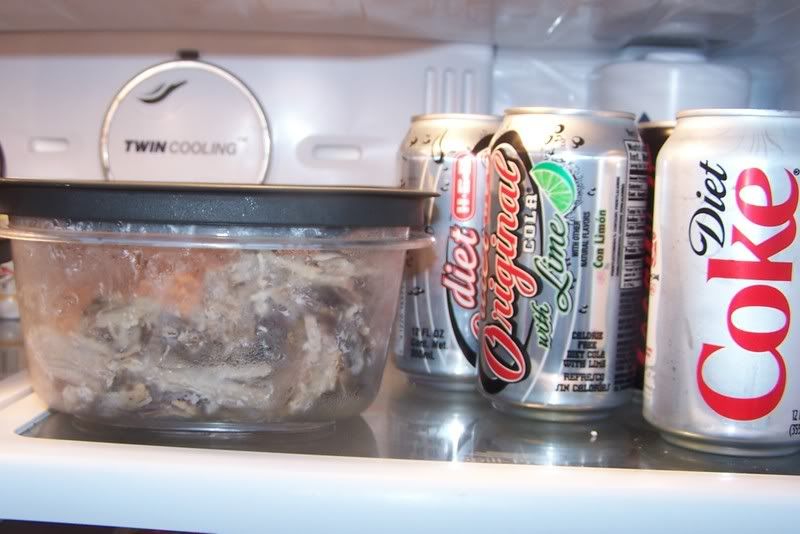 Five days later - this pitiful container holds all that remains of that porky goodness. We store it dry, and add the spicy (reduced) marinate before heating.
I'm hungry now.
Posted at 04:32 am by beckyww
Permalink
Tuesday, August 05, 2008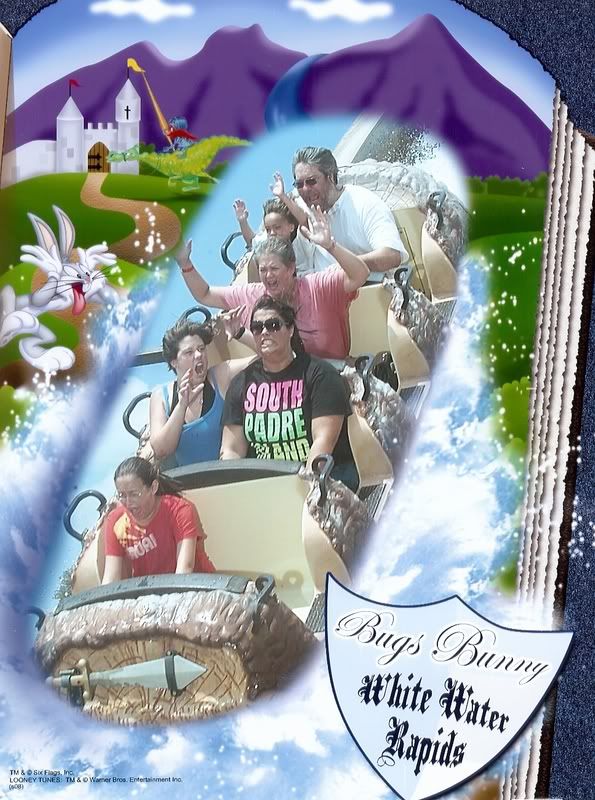 My Favorite Ride
- I'm not as brave as Julia, who is now tackling
Boomerang
- solo, or with Lois. I am content to wave. While I cower.

Better than peeling on pantyhose.
Better than sweating on the bus.
Better than cube farming.
Better than plodding on summer homework assignments.
Better than housework.
Better than yardwork.
Yes.
Better. Way, way better.
Posted at 05:14 pm by beckyww
Permalink
Sunday, August 03, 2008
Lois, somberly explaining to Julia that to get to eat at Chipotle tonight, she first had to go to church with the rest of us: "Jesus comes with the chips, Jules."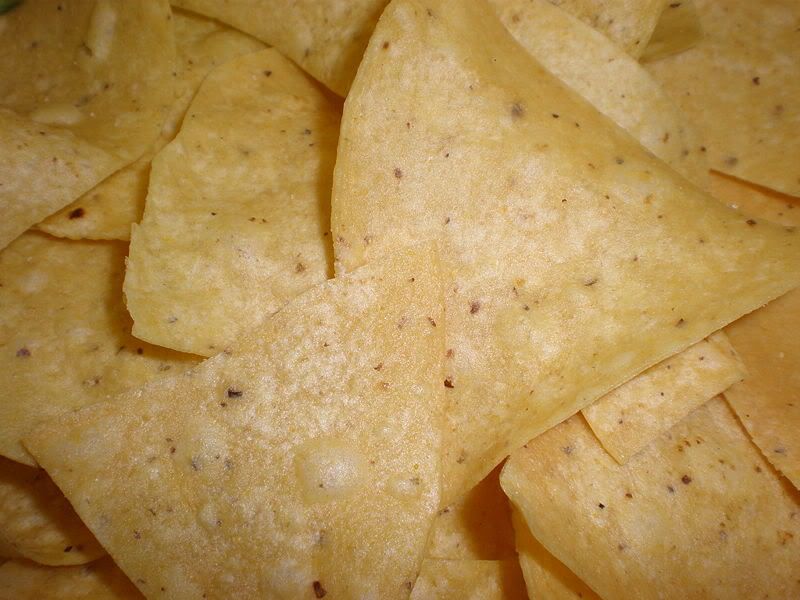 "Gracias, dios."
Posted at 07:09 pm by beckyww
Permalink
Friday, August 01, 2008
You're the Gourmet Around Here, Eddie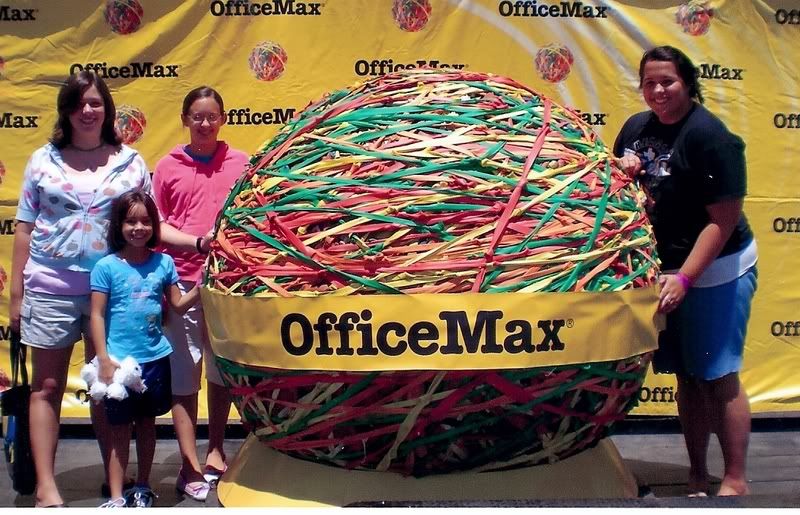 The world's largest rubberband ball bounced into San Antonio this week.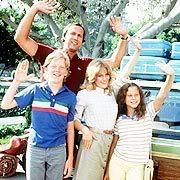 All I could think of was the Griswolds, enjoying their cross-country drive to Wally World in the old family truckster. Or as Clark said, "Hey, hey easy kids. Everybody in the car. Boat leaves in two minutes....or perhaps you don't want to see the second largest ball of twine on the face of the earth, which is only four short hours away?"


Yes, summer vacation is wrapping up. It's time to start thinking "school supplies." The girls are going shopping next week.
Maybe I'll have them grab me some Hamburger Helper for Cousin Eddie and Keith to grill.
Bye now. Enjoy these last weeks of no bedtime and dinner at the pool.


Posted at 06:30 pm by beckyww
Permalink
Sunday, July 27, 2008
The cousins! The cousins!
My great niece Laura and Julia each refer to their cousins in the collective, as in, "When are the cousins going to get here?" Or, " Is that from the cousins?" Usually, they are referring to each other's nuclear families but this weekend, they had two more cousins mixed in - Josh and Miriam, my brother David's children. We congregrated at our house for fajitas, movies and way too many Bucee's kolaches.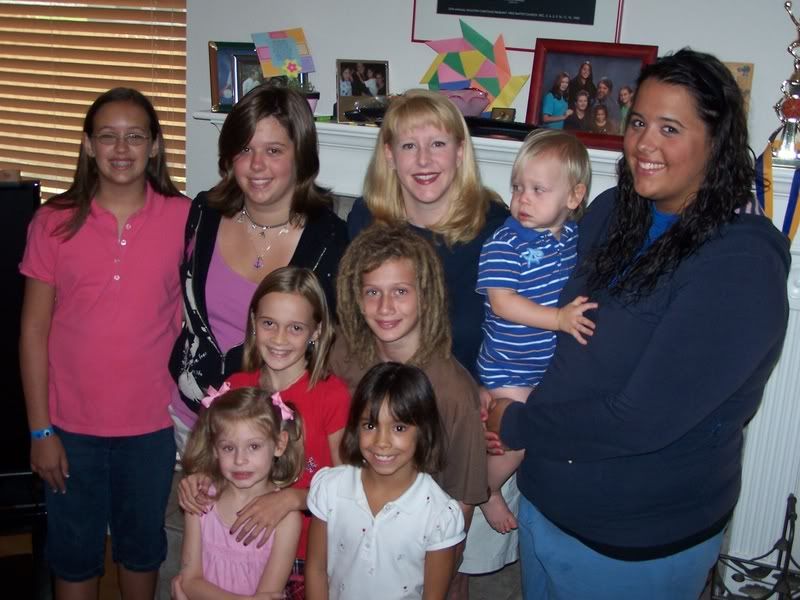 Back Row (l-r) Hannah (12) and Lois (14); Sarah; Rachel (17) holding James (18 months) Middle Row: MIriam (11) and Joshua (13) Front Row: Laura (4) and Julia (8). We rarely get to see Josh and Miriam, so the weekend was extra-special.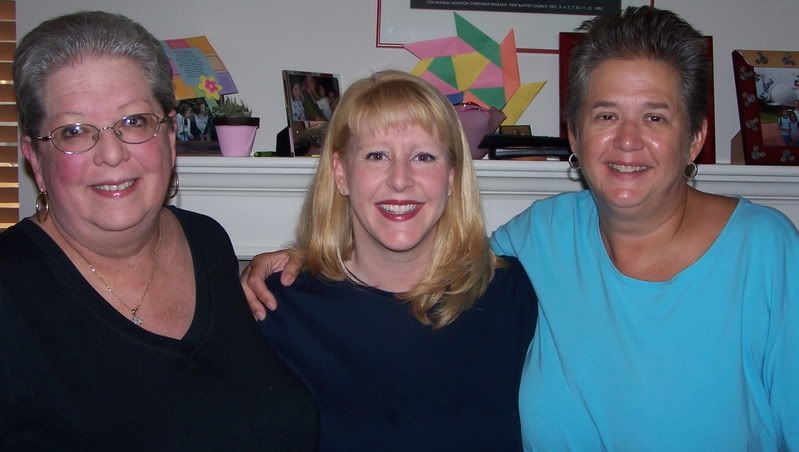 Judy, Sarah and Me - Producers of most of those good-lookin' chilluns. Our genetic mojo must be very, very strong.

I always loved being with my cousins, most of whom still live in Indiana. I ate my frist McDonalds hamburger with Kathy and Kevin. Dick slammed my still-deformed thumb in a car door as we played "Cops & Robbers." Barb got us tickets to ELO - but then darn if we didn't misread the concert date on the tickets (it was the night before.) Sue played piano at our wedding. Terry and I got so badly sunburned at Galveston that she was counted AWOL at Ft. Sam Houston. Julie snags us the deals on Vera Bradley, and nobody makes us feel more welcome than Joyce.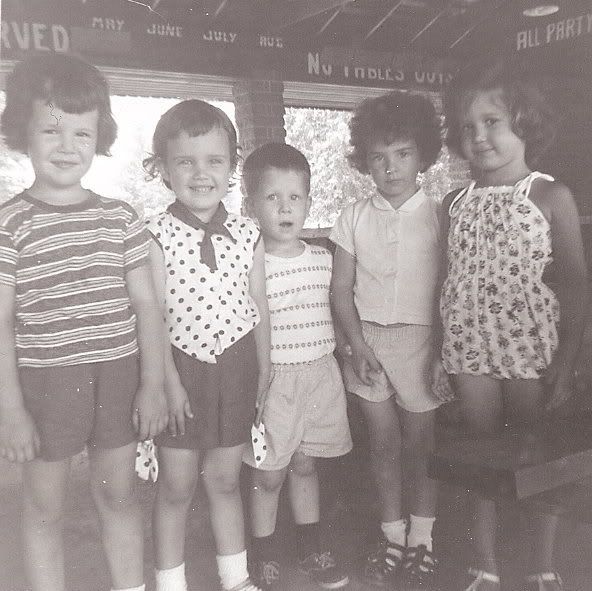 1959 - Kathy (stockbroker); Sue (music teacher); Kevin (entrepreneur); Terry (medical admin); Me (AT&T droid). Can't wait to see what this next generation does.
I love it that Sarah invites my girls to spend a week with her each summer, and that they are so eager to accept. When my little muffin James holds wiggles his arms for some Rachel smooches or Lois snuggling - I can't help but smile. When Laura and Julia start fighting, I remember Aunt Nevada whipping around from the front seat commanding, "Girls! Stop it!" At least once a month, my Hannah Marie finds something at Costco or Target she thinks her cousin Laura Marie needs for membership in "The Marie Club," which includes Aunt Judy (Marie.)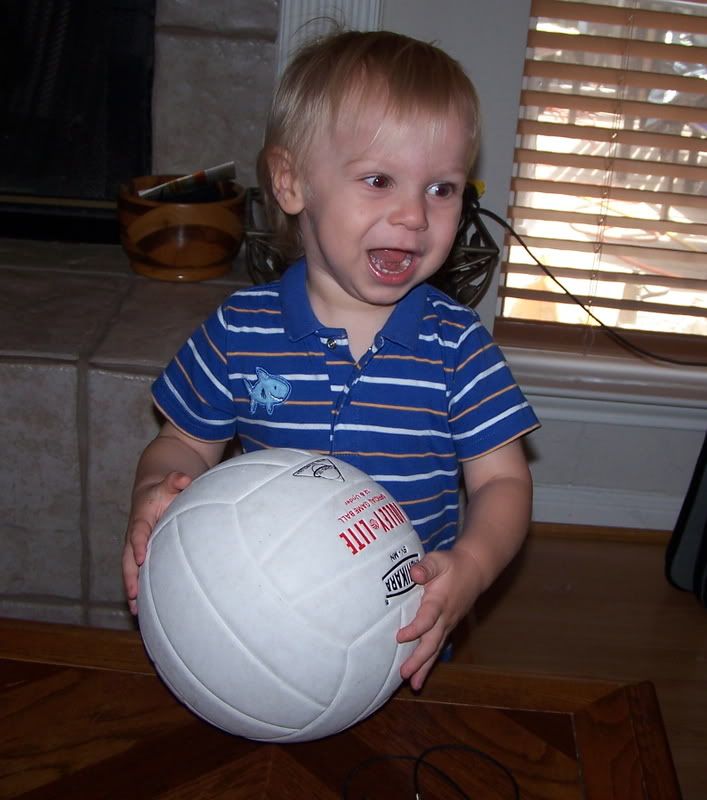 Having cousins is a ball!
Tonight, we're all split up again. - Judy's family back to Houston; Josh and Miriam on their way to their grandmother's house out-of-state.
I hope sometime soon Julia asks, "When are the cousins coming back?" My answer will be, "Whenever they want to."
Posted at 04:49 pm by beckyww
Permalink
Thursday, July 24, 2008
Our church celebrated its 50th anniversary last Sunday. What a happy, happy day. When Shearer Hills people say "church family" - it's for real. Naturally, I had to take a few pictures of such an occassion. And threw in a 4-minute slide show, too, which I think turned out well. So here it is.
Yes, I know, I agree, Rachel could have done better. But she was in Houston. So I was on my own.
Posted at 08:22 pm by beckyww
Permalink
Saturday, July 19, 2008
We've just returned home from a week at the beach - always the highlight of our summer. This is Julia's third time for a real vacation, so she knew what to request (sugared cereal), what to bring (crackers for the ferry ride) and what to expect (lots of uninterrupted family time.)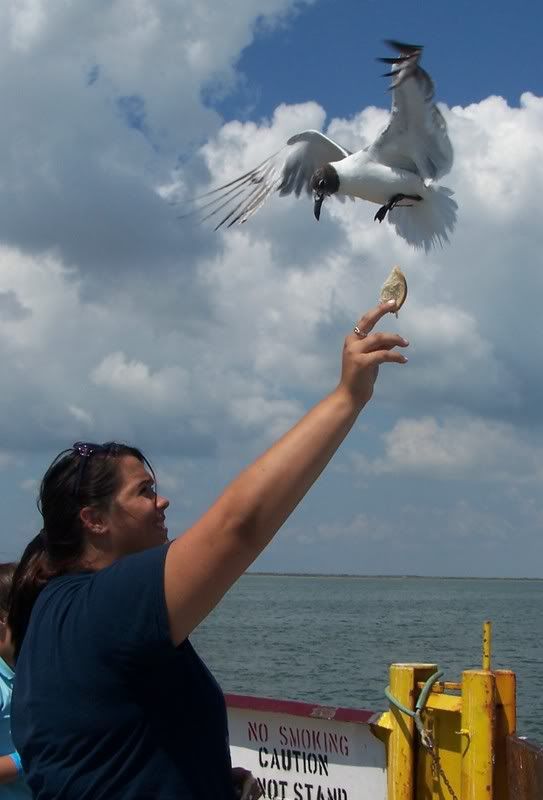 The ferry ride from Galveston to Bolivar is part of the whole experience. We have driven the long way'round to Crystal Beach via I-10 when we've had to do so - but it's sure not as much fun as spotting dolphins and feeding the sea gulls.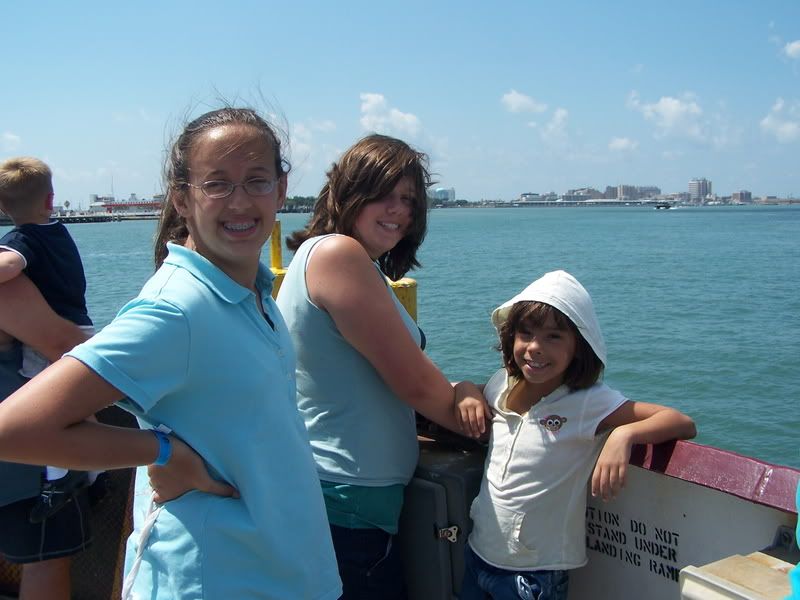 Our neighbors just returned from a cruise out of Galveston, and we passed a huge Carnival ship. Julia ran to the front of the ferry to get a better view. Gulls can only be fed from the back of the ship to prevent aerial decorations on the dozens of cars.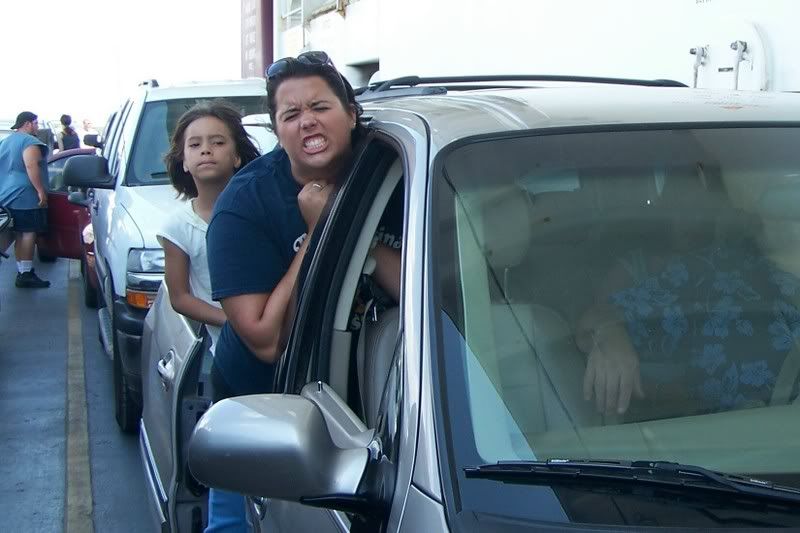 That last handful of chipotle cashews - ummm - not so wise.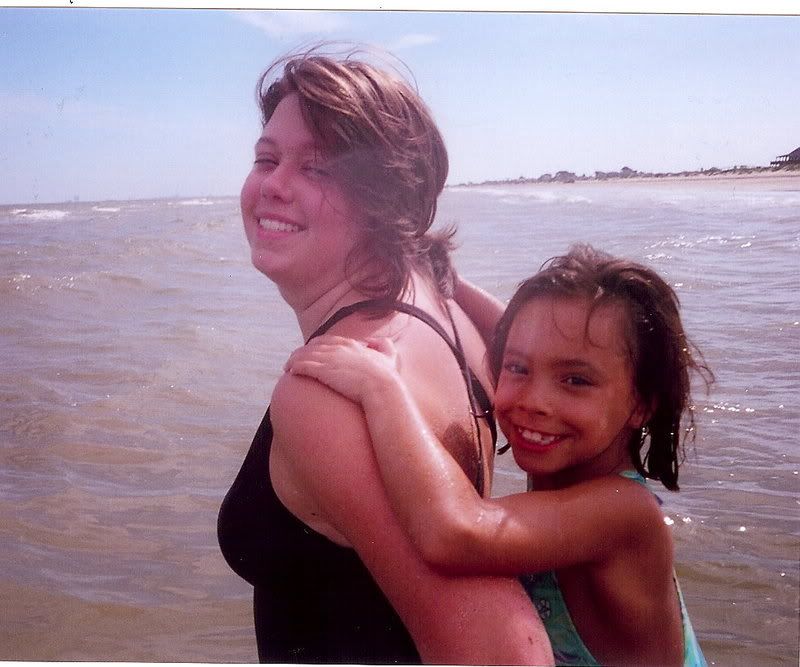 We've caught hundreds of "herminy crabs" in a day on past trips, but this year, the most we ever contained in a sand zoo was 11. Hannah prefers to hunt in the traditional squatting method, while Rachel gets on her elbows. Julia runs them to shore.


Sarah brought Laura (in her lap) and Sweet Baby James down to splash. Hannah and Julia are spending this week with her family, wihch proves Sarah is brave as well as beautiful.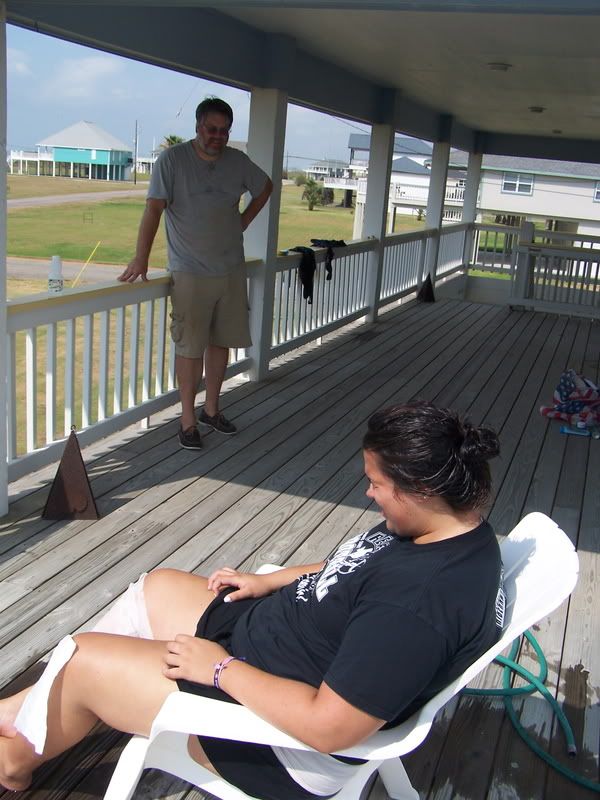 Rachel and Keith usually swim out pretty deep. This year Rachel met a jellyfish, just below both of her knees. Recommended treatment: Poured vinegar, followed by vinegar compresses (phew!) and leg shaving.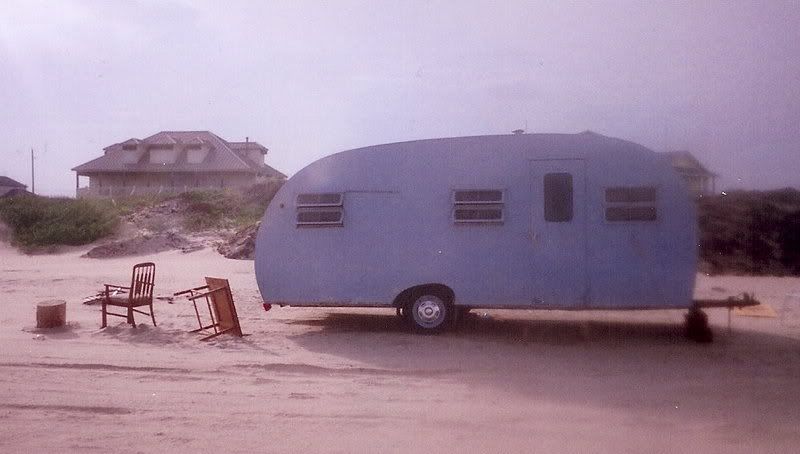 The home of the friend in which we stayed is part of an absolutely gorgeous beach front neighborhood, separated from the gulf by a gated walkway. This smelly, rusting trailer was parked just outside the walkway on the public beach. As the girls and I watched from the water, a muscle-shirted guy with plenty'o'tats and drooping cigarette pulled up and pasted a notice to the door. (Rachel named him "John Jimminy Bing Bang.") As soon as he pulled away, Rachel and I dashed to read it. "To the County of Galveston - DIBS!!! If this is an anbandoned trailer, I'd like to claim it. Please call....." Rachel and I dared to peek inside. A torn up counter - empty booze boxes - a tiny radio with aluminum foil on the antenna. And disgusting smells. "DIBS???" We were having trouble picturing exactly what "DIBS" would get you. After lunch and naps, we were back in the water when John Jimminy and a few of his tatt'ed friends arrived with a bigger truck to haul it away. Watch for it to reappear in a trailer park near you. Say "howdy" to John Jimminy for us, ya hear?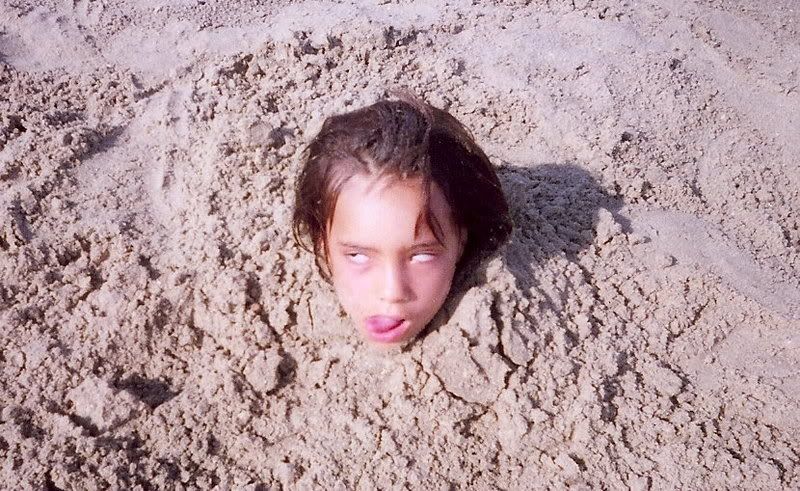 Just trying to help Julia get ahead.
Quotes from the dunes:
Lois, explaining why I had to be her biological mother: "I'm so much like Dad, and you're the only woman who could stand to be with him."
Rachel, commenting on Julia's tears shed over some injustice: "Ohhh, they're salty! Too much beach!"
Lois, with a hearty sigh that no one was endorsing her suggestions for games to play: "My leadership skills are going to waste."
Rachel, noting that we did not stay long when we dropped her off at the Edwards' Pearland home to visit this week: "You know, you could have just kicked me out of the car and not said anything. Like the baby Moses policy."
And finally -
Rachel, after several minutes of sibling fighting in the car: "Dad is counting backwards from a million and Mom is singing hymns. We may have gone too far."
Maybe. But the beach - ahhhh, the beach was just far enough.
Posted at 11:42 am by beckyww
Permalink
Saturday, July 12, 2008
My brother David said it best crunching a mouthful of popcorn during a rerun of
Twilight Zone:
"TV is a member of my family." Oh sure, I wanted to immediately retort, "TV is just trash." But I couldn't quit spit the words out. Because reality was and is - I
like
some of that trash.
David with his favorite member of the familiy - our first color TV which I bought working at Remco TV Rental in college. For years, we snuck into the den on Friday nights to watch "The Midnight Special," carefully avoiding the squeaky floor boards as I would slowly shut the pocket door, giving it a little palmed boost over the sticky spot. We held our breath as the tube fired up with that distinctive crackle. If Mom didn't wake up for that - we were good. Wolfman Jack looked so much cooler in 25" of glorious color.
One of my happiest childhood memories is of the 1965 evening
Lost in Space
debuted. My mother - who kept us on very short leashes - made our favorite dinner of fried chicken, mashed potatoes and peas. With chocolate chip ice cream for dessert - on a school night! And we got to eat in front of the TV for the first time ever.

Hearing "Danger, Will Robinson!" makes me taste bits of frozen chocolate swirling on my tongue in creamy goodness.

Sarah used to spend most Friday nights with me when I had an apartment. She and her friends got to eat what they wanted and watch what they wanted - as long as they didn't wake me up.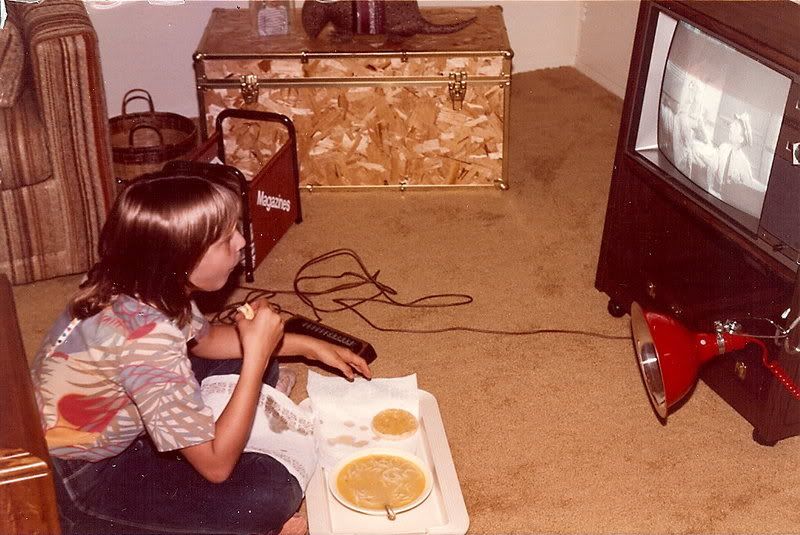 Chicken noodle soup with Barney Fife - does it get any better? Today Sarah-Stay-At-Home-Mother-Of-Two is a fan of "Desperate Housewives."
Fast forward to today. I don't have much time to watch TV, which is ironic since
AT&T U-verse
provides our living. (And if you don't have U-verse you should
check your availabilty
and ping me to order it right now. This instant. Hurry up.) So I'm picky about what I watch. HD - don't really care. But I won't watch commercials - we DVR most everything.
The girls and I curl up to watch
The Office
, which I know they will find even funnier if/when they join the lovefest that is Corporate America.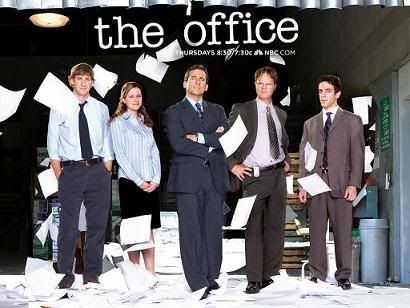 "The Dinner Party" is our favorite episode. Sometimes Rachel or Lois will just look at me and recite, "I don't care what they say about me. I just want to eat. Which I know is a lot to ask. For a dinner party." My favorite character is Stanley who said, "It's like I used to tell my wife. I do not apologize unless I think I'm wrong. And if you don't like it, you can leave. And I say the same thing to my current wife and I'll say it to my next one, too."
Rachel and I chase everyone younger out of the room when we've got a new
Big Love
recorded. We don't have to chase Keith - he huffs out on his own, rightfully condemning it as pure trash. He's so right. Yes, he is. As his first wife - I agree completely. With a bowed head. And a respectful nod.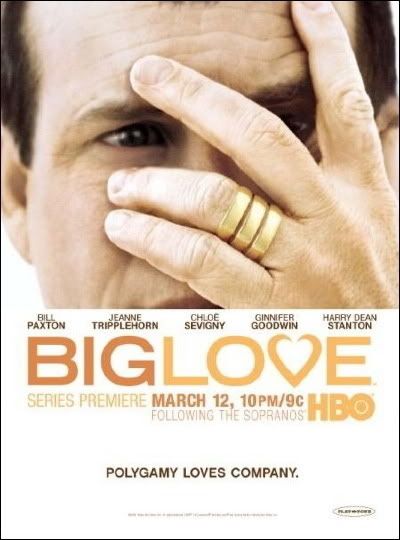 No one should watch this filth. Absolutely not. Turn it up, Rachel. Ohhh, go back. Is that Barb? Give me the remote.
When Julia was so sick last fall, I commiserated to
my friend Sharon
- who got us watching
House
- that I wished we could take Julia to him.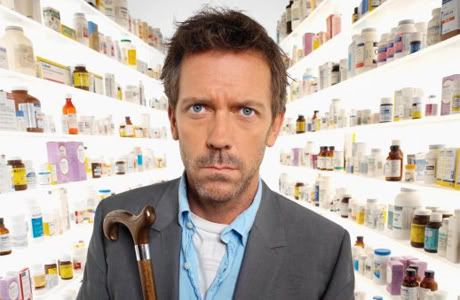 We all like House. Watching it with Julia is challenging. "Why is that woman crying? Why does he take those pills? What happened? Who is that man?" Ummmm.....Jules. "Power Rangers" is on in the den, I'm sure.
Keith, Lois and I are anxiously awaiting new
Heroes
episodes. Hiro is a rush. But personally - Nicki's whining and whipping hair gets on my nerves and I'm hoping Skylar sucks out her brain - what little there appears to be of it.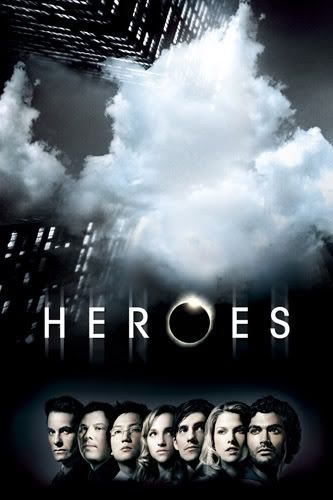 Save the Cheerleader!
Now Keith has me hooked on the History Channel's
Ice Road Truckers.
We've got to find the first season to rent. There's so much more I want to know about these bearded, speech-bleeped hulks. What about their families back home - and where is home? They cross themselves - are there any churches in these icy wastelands? What do they eat? And who cooks it? How do they get cell phone signals? And - morbidly - whose turn is it to plunge a rig below the ice?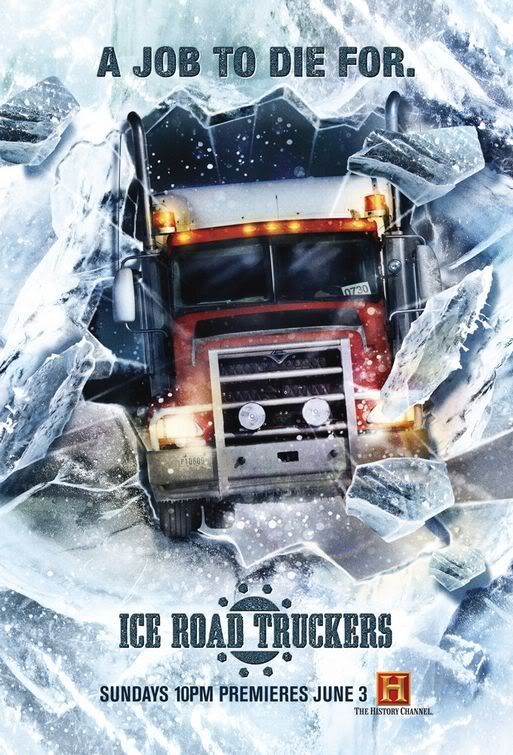 A cool show in the hot summer, eh?


We don't use programmable parental controls. The girls know what is and isn't appropriate to watch. I promised them years ago that if I ever caught them watching something they weren't supposed to, they lost the right to watch TV without me present. And I don't watch
My Super Sweet 16
or
Degrassi
.
Some of our favorite evenings as a family are what we call "Family Movie Night" - a junk food dinner in front of the TV with a movie we all want to see. Our last one was "Enchanted." We chomp meatballs, egg rolls, pot stickers, queso, etc. in the den, plopping down on the furniture and girls' Disney floor pillows. I usually spring for too-expensive diet root beer in bottles, which we all like to gulp. We do several of these evenings during the holidays when we unbox the Christmas movies,and at the end of the season, Family Movie Nights are often recounted as a highlight.
Family Movie Nights...eating in front of the TV - not good, I know. But somehow - I think even my mom would approve.
A few weeks after David died, I was struggling with a migraine, as well as mourning him deeply. I feel asleep in my recliner and experienced one of the most vivid dreams I've ever had. I dreamed I was half-asleep on Mom's scratchy old couch, positioned, of course, in front of the TV. David did his flip-thing from the floor to the couch, gouging me in the ribs as he so often did. As I struggled to open my eyes, he smiled hugely at me and said, "Hey, what's the matter with you? Why are you so sad? Bec - I've only changed channels."
Maybe TV is a member of my family, too.
Posted at 08:02 am by beckyww
Permalink