Today we delivered our shoeboxes for Operation Christmas Child, a ministry outreach of Samaritan's Purse. We always thank our friends and announce how many boxes we dropped off, but this year I wanted to go into more detail. The boxes are a major undertaking for our entire family, only possible because we are surrounded by compassionate friends.
So if you've been one of the folks who's donated - see what your gift endured on its way into a shoebox and ulimately into the hands of a grateful child.
The girls and I shop for the boxes all year. We spot $1 T-shirts at Old Navy? We buy all they have. $.24 calculators at HEB - grab 'em, Rachel. $.11 index cards at Target - fill the cart! Generous AT&T friends shop, too, and hand it off to me. I just keep piling it in the guestroom closet. Nothing thrills me like getting a box of $.25 (75% off Target Dollar Spot) jump ropes from Diane, or beads from Lisa or socks from Jennifer, or - wow! - a box of unopened Happy Meal toys. The shoeboxes don't have to be identical. Onesies-twosies are just great. Samaritan's Purse collected more than 7M shoeboxes last year - you know there's plenty of variety!
The very best news is when a friend tells me, "Gosh, you know, we decided to do our own boxes this year, so we can't send you anything. Sorry." Love that!
I was always - and still am - reluctant to ask for money. I don't mind taking a deck of cards or pens picked up at a trade show (what are you really going to do with that stuff - you know?!), or clearance stuff that friends buy. Several friends, though, said, "You know, I'm never going to shop for anything. Let me help with shipping." This year, generous friends gave $212 toward shipping costs of $665 ($7@ box), and we deeply appreciate it. I know - and they know - the only "thanks" they get on this earth is pitifully small, because the children who get these boxes can't express it to them.
Before we ever pack a box - lots of prepatory work has to be done.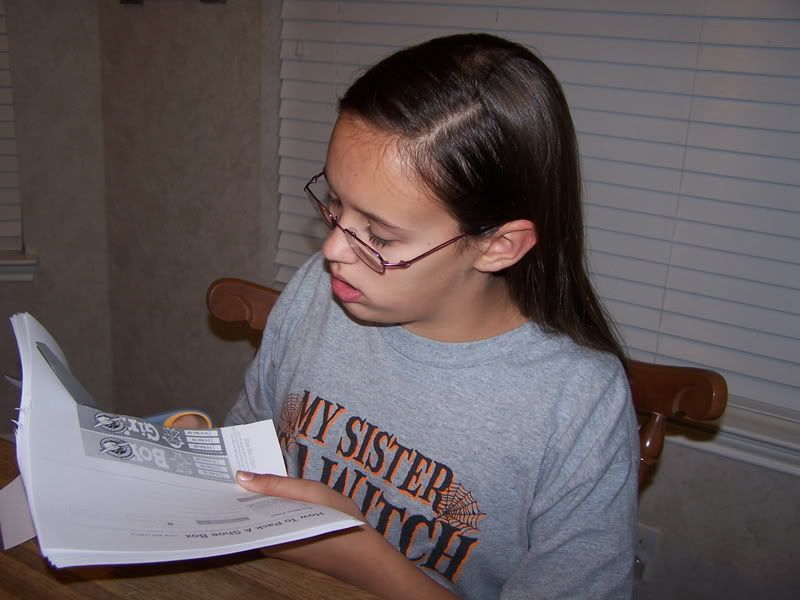 The labels for the tops of the boxes designate gender and age range (2 - 4 years, 5 - 9 years, 10 - 14 years.) The labels have to be copied and trimmed. I was fascinated years ago to learn that clergy order these boxes for children by age and gender. It's not just a shotgun "send a bunch of boxes to Lower Gurgistan" approach. The millions of shoeboxes are requested for specific children. We didn't make boxes for "Girls Aged 5 - 9." We made boxes for Katya, and Dasha, and Oxana.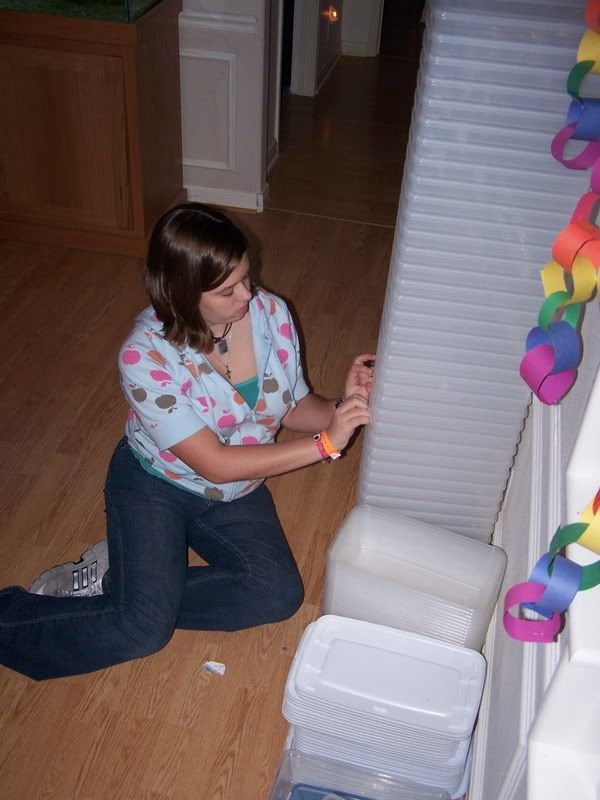 We use plastic shoeboxes so the container itself becomes part of the gift. Friend Ann gave us 2 cases (20@) from tje Container Store this year - the nicest boxes we've ever, ever had. All the exterior labels have to be peeled off - a great job for someone with strong fingernails.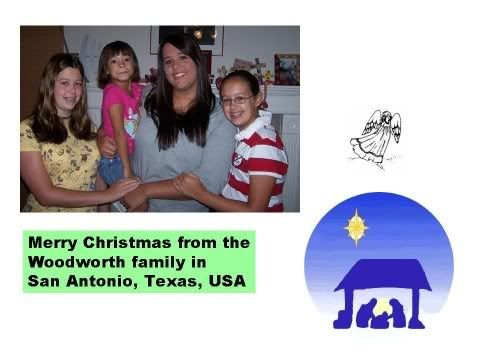 Samaritan's Purse encourages you to insert a personal note in each box, so the child knows from whom - and where - it came. It's not ego for the giver - it's fun for the recipient. I've learned to prepare a picture-of-girls-with-city/state/country-and-nativity-art Powerpoint, save it as a jpg and have Sam's or Costco spit out several dozen prints for cheap. So - one of these type of prints go into each box. I order them a few weeks out, guessing at a quantity and knowing I can get more made in a few hours for about $.17@.
We separate everything into labeled piles/boxes - like, "Girls' Toys," or "Teeth," "Pens/Pencils," "Crayons," or "Paper." Separating and organizing takes as long as does packing.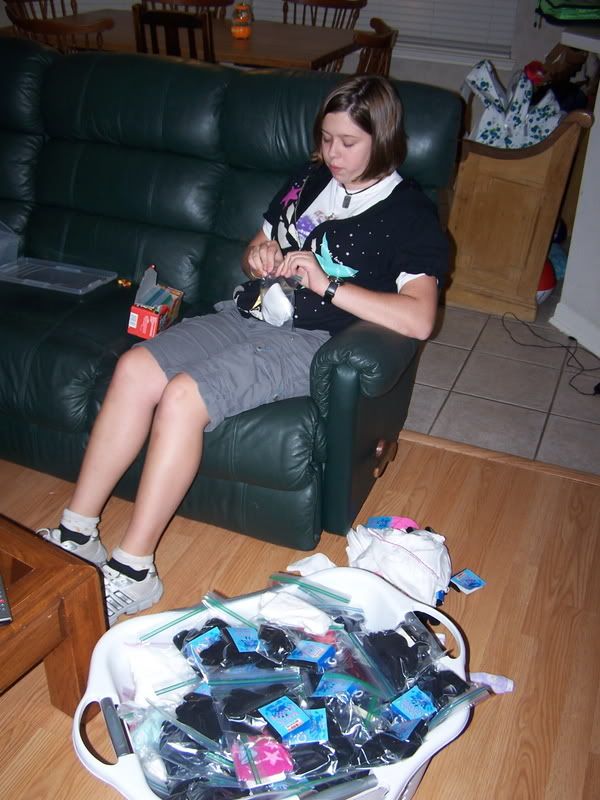 Watching TV? That's a great time to individual zip bag 100 pairs of gloves from friends Mary Anne and Lisa. We zip bag ever piece of cloth - gloves, undies, socks, shirts, whatever. Keeps ithe cloth clean, and compresses it.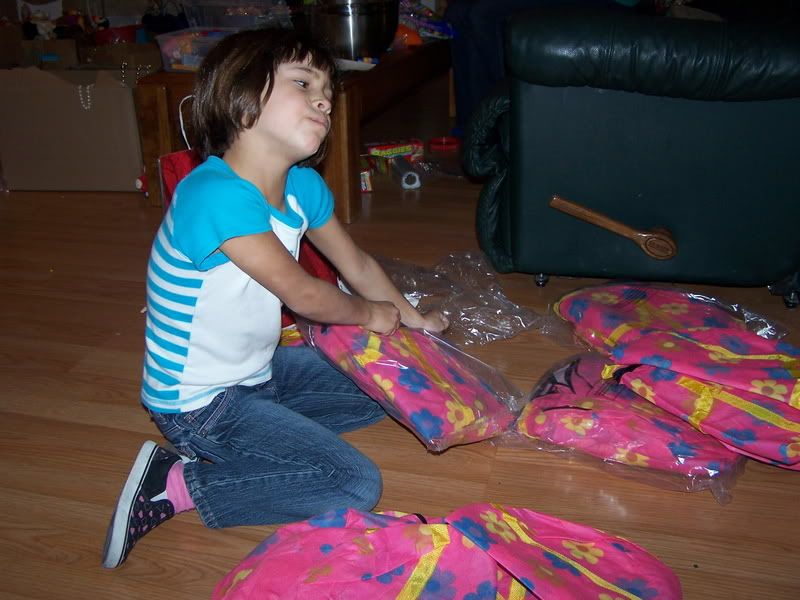 Seventy-two tote bags from Shelley had to be unpackaged, too, then neatly stacked for individual insertion into each girl's box. Everybody can help, even if it's just to walk around the room and pick up trash. Julia was a lot more into it this year. The concept of giving something away was more familiar. In fact, several times this year she spotted toys she wanted to buy "for the kids." Now the fact she might have wanted one, too, well.....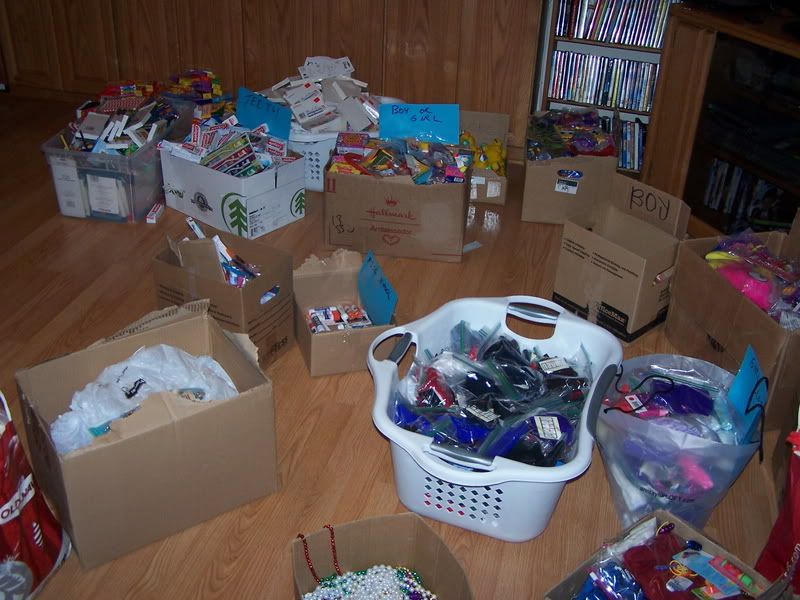 Eventually, the den looks like this - what we call "the store," as we walk around and fill the boxes.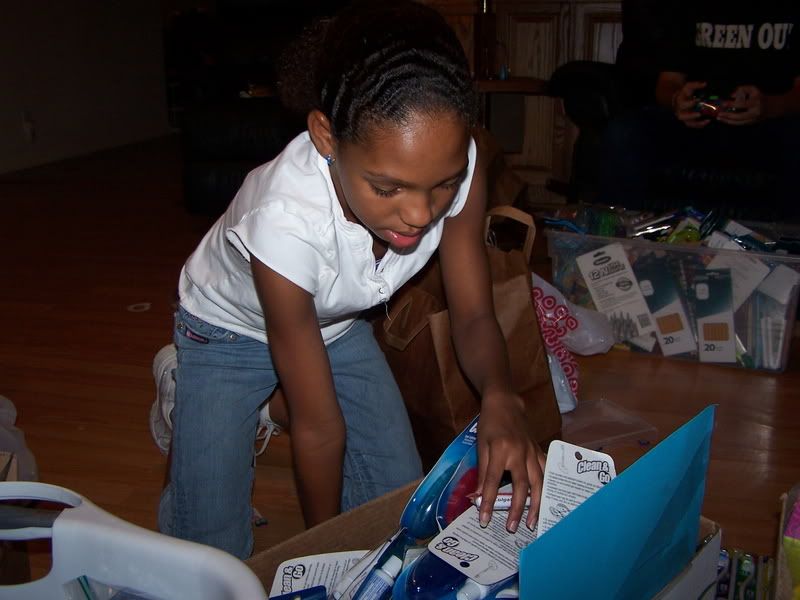 Excess packaging from toothpaste - gotta go. Neighbor (and great helper) Aminah tackled the tooth products from friend Barb. We think every box has to have at least one toothbrush and toothpaste. Most years, we've had to go out at the last minute and buy several sets- but not this year.
We can't actually pack boxes until after Halloween. We need the half-price candy. Even with several donations of leftover Halloween candy from friends, we still bought $70 worth - hence, why we wait until the after after Halloween to buy it! We have learned that Smarties are just great, as are thin Tootsie Rolls, jaw breakers, Jolly Ranchers, and bubble gum balls - they fill little holes so nicely. Flat lollipops are very handy for a top box layer. Can't use chocolate - it melts.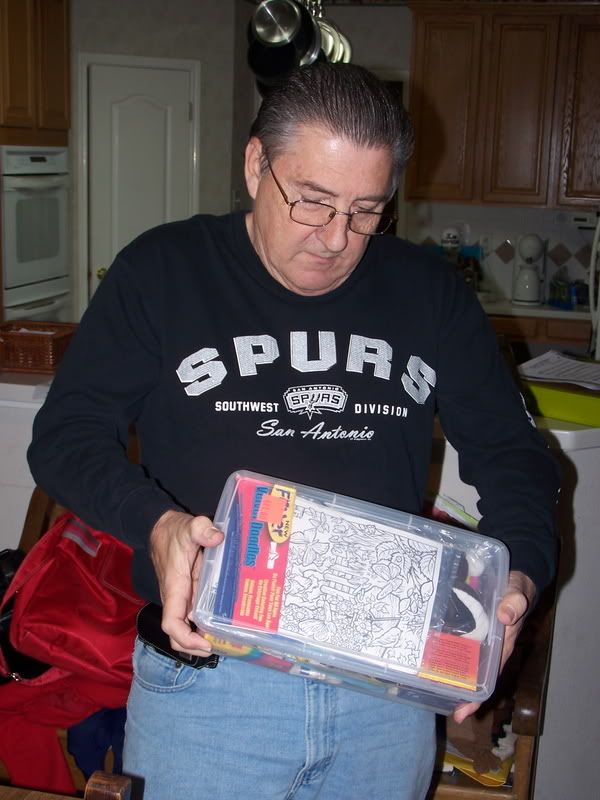 Finally - ready to pack! Friends Curtis (pictured) and Dorothy came over Friday night to help, and quickly learned the order: Picture in the bottom of the box to start. Tote bag in every girl's box. Toothbrush, paper, toothpaste, pens/pencils/crayons in every box. Add on the clothing items and misc. stuff, and pile it higher than you think you need. Go to a quiet spot - pour it all out and begin arranging in earnest. Beads and candy go in the holes and along the top as you pack - and you keep looking at the sides as you pack to ensure you got all your holes filled. No rattles! Novices always want to put in too much candy. More experienced packers know to get everything else possible in there first, then add candy - which may be exciting to receive for the first few minutes, but won't last. The boxes cost $7@ to to ship, and are given in Jesus' name. We don't send rattling boxes of junk. Period.
I should have gotten pictures of friend Renee with kiddos Arthur and Allison who were over Saturday morning to pack for the second year. They bring their own toys and leftover Halloween candy and pay shipping on their boxes. In fact, Allison contributed an extra $5 from her allowance. Renee closely supervises Arthur and Allison while they pack to ensure a quality box, and it's delightful to hear Allison and Arthur ponder and ultimately select the best gift combinations for their offerings.
Yes, kids can work on boxes - that is one of the most appealing aspects of Operation Christmas Child. But only older kids with pre-packing experience can fill boxes solo. Like everything else of import with children, shepherding is required, and experience matures the child into the job. A shoebox is likely to be a child's entire Christmas. That's a sobering reality we discuss frequently while packing. Doing boxes is fun, but it's not a game. Yes, we want to finish, but it's not a contest.
Finally finished packing - 95 boxes!
Ages 2 - 4 Ages 5 - 9 Ages 10 - 14
Boys 5 17 13
Girls 14 40 6
But stick a fork in us? Nope. Not quite done! The boxes have to get to church now.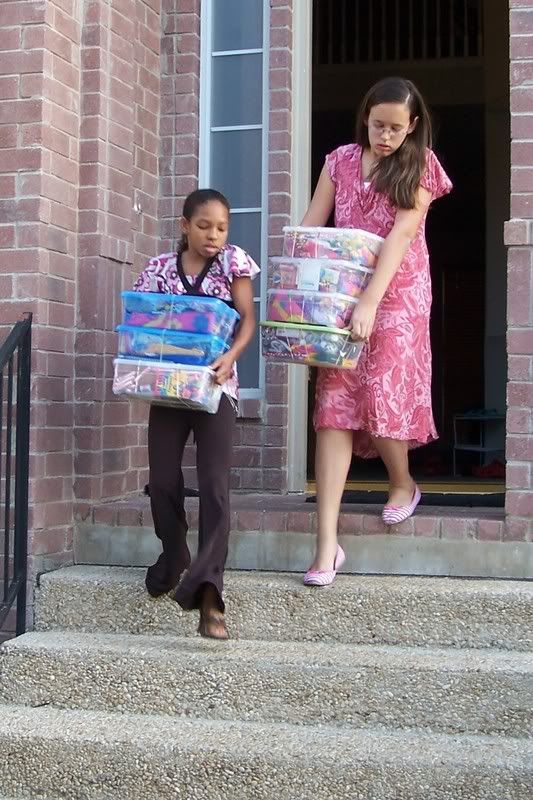 Watch your step, girls! The boxes have to be carried outside and stacked...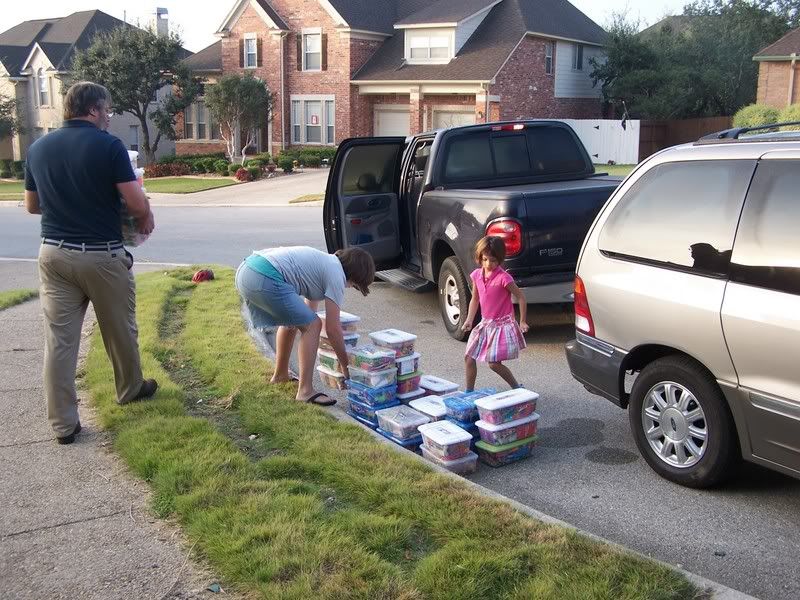 ...to be loaded in the van and the truck.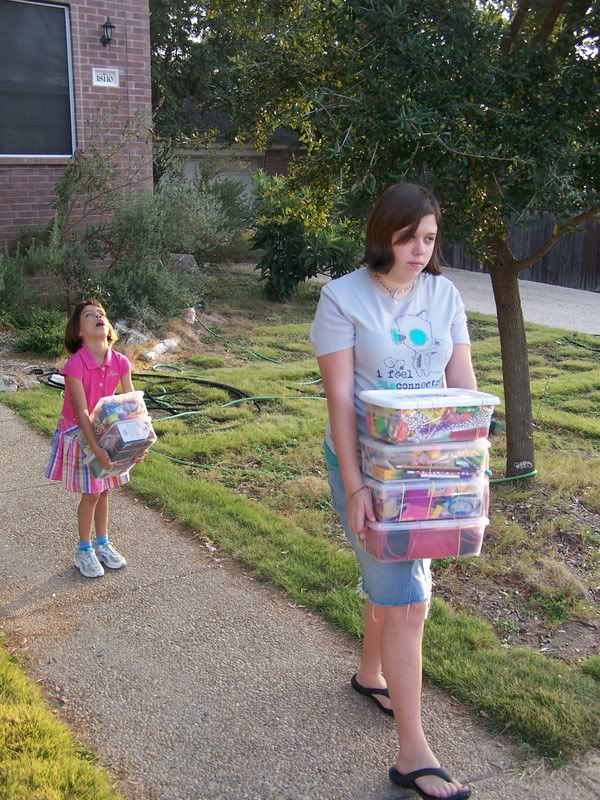 "More? You gotta be kidding me!"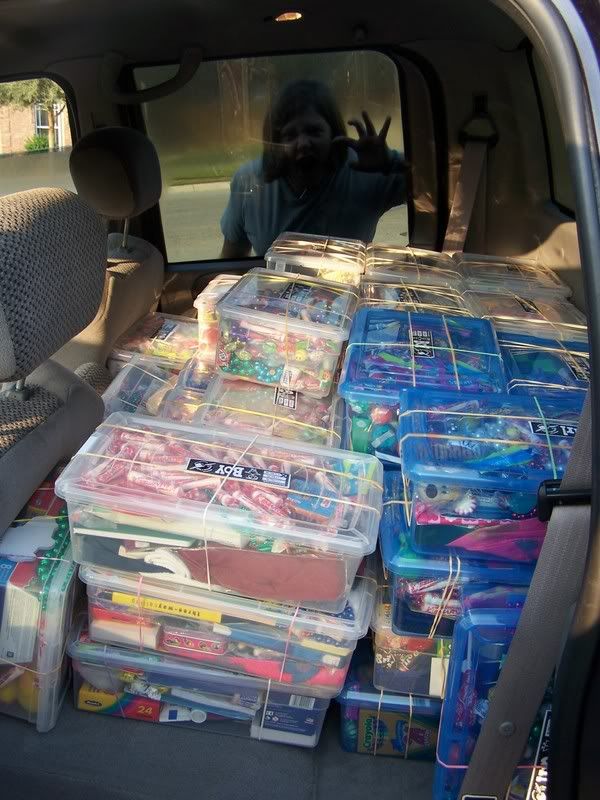 About half in the truck, and about half in the van. The kids....ummm....may have to ride on top.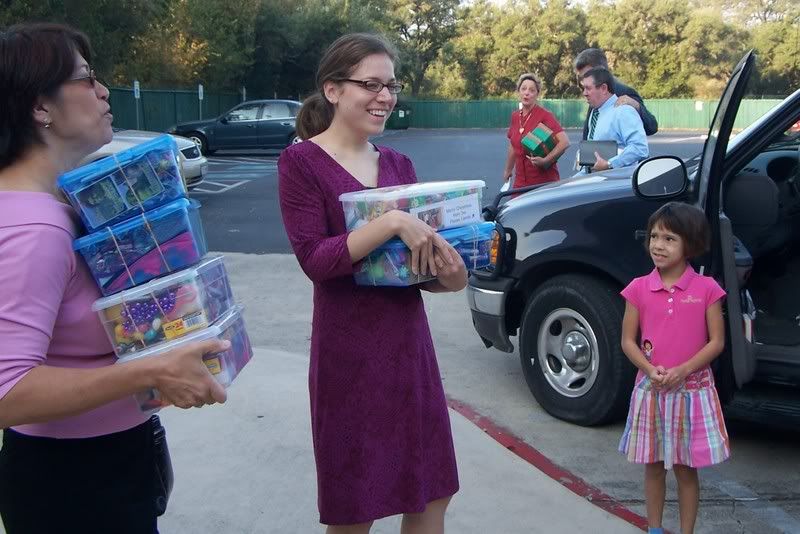 At church, friends - like our sainted babysitter Catherine and her mom Liz - helped unload.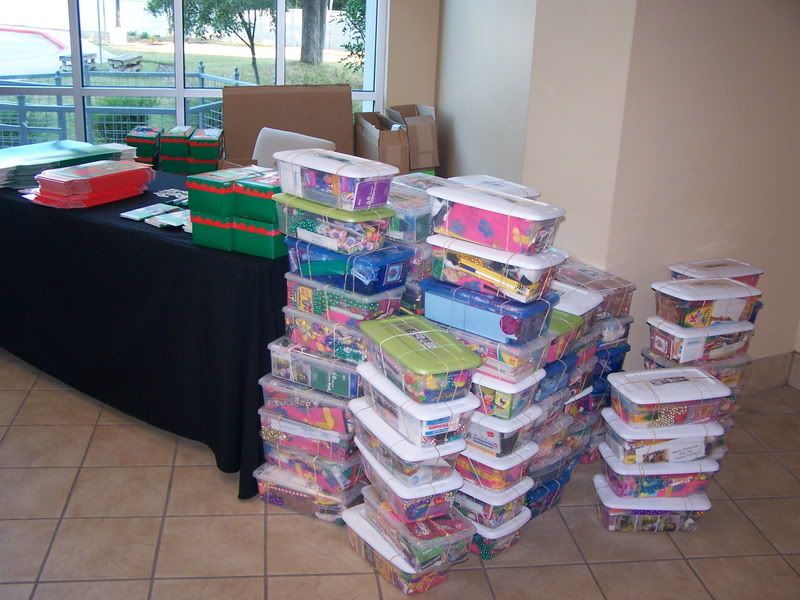 Boxes - delivered. Whew! From here, they'll go with the other Shearer Hills' boxes to Randolph Air Force base for examination (too many crazies in this world) and shipping to one of six Operation Christmas Child processing centers. From there....God only knows. (no sarcasm intended) We always pray that our boxes get to the children that God would have to receive them, so....while packing, if we feel genuinely led to put in two packages of crayons instead of one, or maybe some unusual item for that age group or whatever - well, we do just that.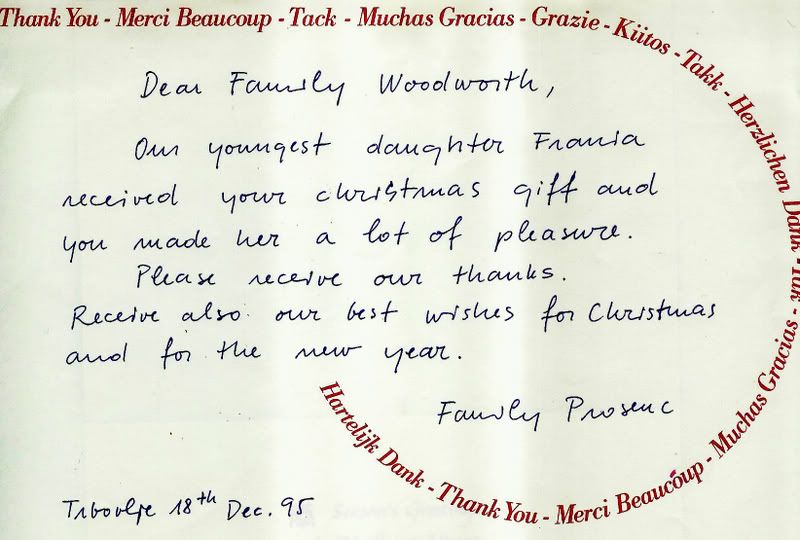 We've never known to whom our boxes were given, other than this one in 1995. But in 1995, I was still inserting our personal Christmas cards, complete with return address - which is how the Family Prosenc in Trbovlje, Slovenija was able to thank us. I treasure this note, but it also makes me feel a little badly. The children who get these boxes are desperately poor, and I hated to think of the family spending postage money to thank us - in English, no less. After 1995, I made sure not to include our return address. Putting in a note or card was never about being thanked anyway. It was about adding excitement to the gift.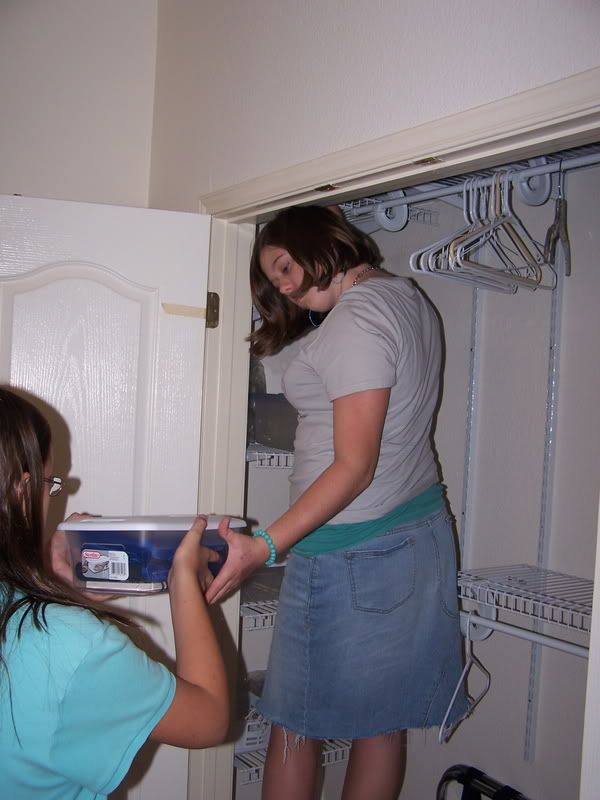 Last step. Any "leftovers" go back in the guestroom closet for next year. Sure, we could fill more boxes with leftovers...but they wouldn't be good boxes. So we never aim for a number. Never. I truly doubt we will have 95+ next year, because we won't have two huge boxes of sample promo items from my friend Bud, nor 100 pairs of gloves nor 72 tote bags or whatever. But I am not worried about it. We'll do as many as we are supposed to do and they'll go to the children that are supposed to receive them. And if that is one (like we did in 1994) or 10 (like we did in 1999) or 71 like we did in 2005 - that's fine. It's not about the number. It's never been about the number.
You know how things sometimes just drift around and eventually tie together in your life? Keith and I were interested in adoption very early in our marriage. Between Rachel and Lois in 1992, we tried unsuccessfully to get a child out of Serbia/Bosnia. I read a tiny 2" story in the Houston Post (Algore had yet to invent the internet) that Samaritan's Purse was the only private relief agency allowed in Bosnia. I figured "Franklin Graham" had to be Billy's son, and therefore probably operated in North Carolina. I called Directory Assistance - got a listing - called it and got their address. I wrote Franklin Graham a letter, asking for his intervention in our effort and to my utter amazement, he called me at work. He sounded just like his daddy, btw.
Frnaklin Graham told me Serbian national pride was such they'd rather the children die that winter than be adopted out, and if we really wanted to help, to send money for food and blankets. So we did. And that got us on their mailing list. Operation Christmas Child started in 1993, but that was a crazy year for us with preemie Lois. Our first box in 1994 was - ummmm - a hurried and expensive little affair, because I did no planning.
So here we are. We never did get a child from Serbia, but we did get one from nearby Russia. And now she's packing boxes, too.
And that - like each of her sisters and the 95 shoeboxes they packed - is a gift for which I am thankful.