Tuesday, November 07, 2006
Stick a fork in us, we are done! Thanks to generous friends, we filled 70 plastic shoeboxes for Samaritan's Purse this year. The girls and I agreed - We had the best "stuff" for ages 2 - 4 and ages 10 - 14 that we've ever had. Every box is completely filled - no rattles, no holes.
This was, of course, Julia's first year to pack a shoebox, and the process was...ummmm...."interesting" for her. She started off wanting every toy for herself. Then she edged into compromising - "Mama, just three. Just three toys." I repeatedly explained that these boxes were for children who had no toys while she had many toys, only to have her counter with, "Yes, but I don't have this toy." Eventually, she got into the swing of packing, with the occassional surreptitous sneaking of especially tasty leftover Halloween candy.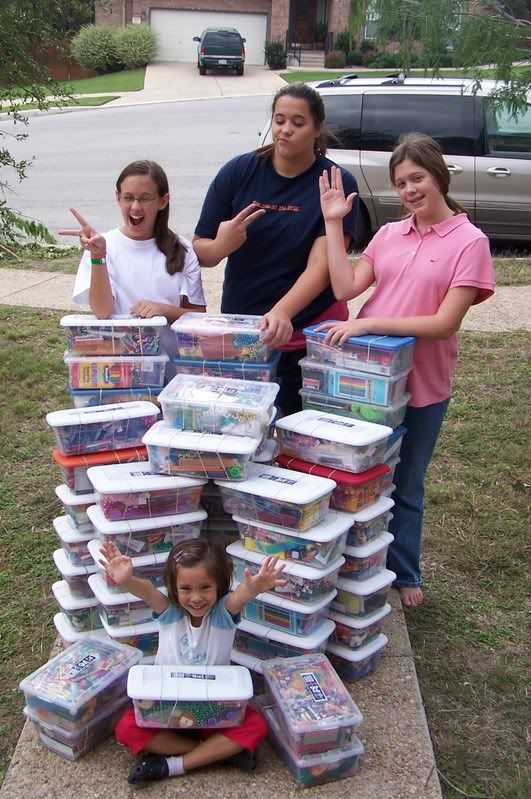 Where will these boxes go? We don't know, but we prayed for them to make children happy. We know that one made it to Bosnia in the mid-90's.
In addition to working on boxes this weekend, we went to cheer for Lois - 10th Chair Alto in the Region Choir workshop and subsequent performance. Though the choir was filled with 250 of the best middle school voices in south Texas, naturally I could distinguish Lois' resonating alto when they sang, "Let There Be Peace on Earth, and Let It Begin With Me."
So North Korea is still flexing its nuclear muscles. Loved members of our church are still dodging bullets in Iraq. Putin continues to rebuild the Iron Curtain decree by decree. We're still enduring everything short of a body search to board a plane. Everything we drive and live in is alarmed. I walk with my keys in my hand in parking lots, and constantly count noses when we're out and about.
But let there be peace on earth.
And let it begin with me.
Posted at 04:49 pm by beckyww
Permalink
Sunday, November 05, 2006
Other than a neighbor girl, Julia has her first-ever friend over today - Julie, from her kindergarten class. She asked for Julie to be able to come over, and I was only too happy to make that happen. Making friends is a huge social step for Julia.
They are leaping and twisting behind me right now, playing Vampire Power Rangers. Now, Rachel was a huge Power Rangers fan. I consider myself fairly PR fluent, and I don't remember any Vampire Power Rangers. I certainly don't remember any PR feathered attire. Goes to show how bad my memory is, I suppose.
Juia is the Red (Vampire) Power Ranger; Julie is the Yellow (Vampire) Power Ranger. Can you tell?
Julia misses her friends in Russia, particularly her friend "Jeema." This week, she looked at me earnestly and said, "Mom, you need a boy." Startled, I responded, "Julia, I have four daughters. What would I do with a boy?" She raised her eyebrows and responded coquettishly, "You would like Jeema." I told her I hoped Jeema had a family of his own now. And I hope he does. Or at least some other friends who can touch him with their hands as well as hold him in their hearts.
I've been thinking a lot about my friends this week, too, as the girls and I have started filling Samaritan's Purse boxes for this year. I think about the friends who brought gifts to my 50th birthday party. Friends who have helped with shipping - shopped the clearance aisles - friends in Houston, Dallas and Austin who have mailed boxes here - friends who came over yesterday to pack - firends who asked their dentists for much-needed toothbrushes and toothpaste. Friends whose children saved their unopened Happy Meal toys all year for children that would be happy with any meal.

And when I think about those friends, I think: Wow. You're not the Red Rangers or the Yellow Rangers, but you are most certainly powerful. Because you're touching the Julias and Jeemas all over the world.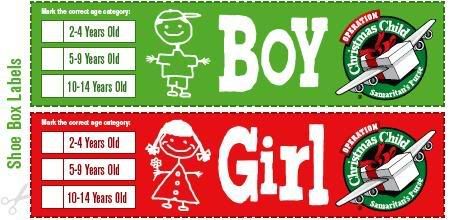 It's not too late to pack a shoe box! And I must get back to packing ours.
Posted at 01:14 pm by beckyww
Permalink
Tuesday, October 31, 2006
Rachel the Superman Impersonator, Lois the Vampire, Hannah the Devil and Julia the cheerleader are now roaming the streets of the Glen of Stone Oak, extorting candy from the neighbors.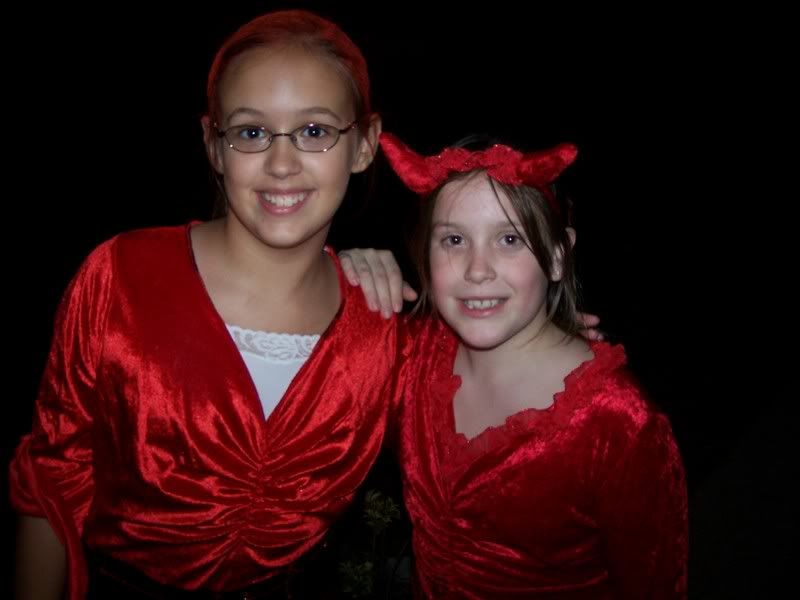 A devilish fashion emergency! Hannah's friend Torie knocked on our door similarly attired.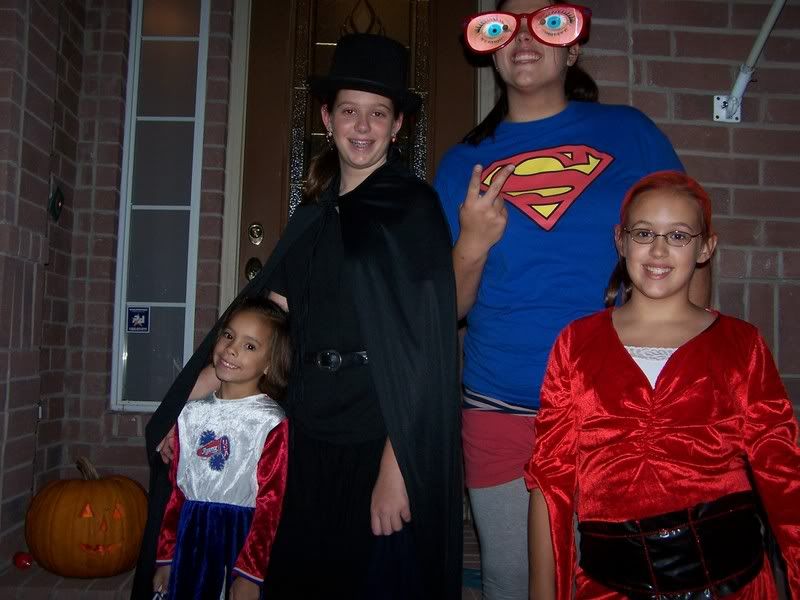 "When you get to my door, tell them Boris sent you."
Personally, I'm still trying to get past the trauma of having had to dress as Fred Flintstone when I was in the fifth grade because it was the only costume that fit.

Halloween.....Yabbbaa Dabbbba Dooooo!
Posted at 04:23 pm by beckyww
Permalink
Saturday, October 28, 2006
Our church hosts an annual Fall Festival - not a Halloween carnival, mind you - on the Friday preceding October 31. It's a ton of cotton candy-spun fun for everyone. Adult Sunday School classes staff game booths for the little cowboys, farm animals, angels and super heroes, with every child the winnah of a handful of candy.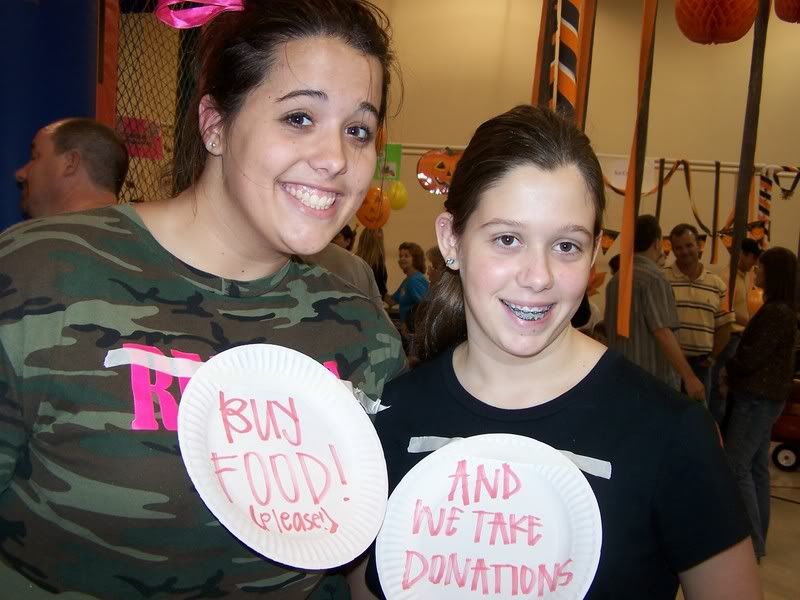 Our church youth sell Fall Festival junk food, with profits going into their individual camp funds. Next year, Lois will be going to youth camp, too. Cha-ching, cha-ching, she and Rachel will be working every fundraiser. You can...ummm....take that to the bank.
Even American-themed cheerleaders need to eat. Most cupcakes contain colors not occurring in nature - sort of like spray-on hair colors.
Eye can't believe this is candy.
The Fall Festival really puts us in the mood for Halloween. I won't open our Costco-sized bag of candy until the big night, because, amazingly, I've noticed when opened early, it tends to "evaporate." (Special note for San Antonio friends: If you have leftover non-chocolate candy that you don't want, and you can give it to me before Saturday, 11/4, we will happily include it in our Samaritan's Purse boxes. I'm going to have to go to Wal-Mart and buy a ton of it Thursday or Friday.)
Rachel, Lois and Hannah will be accompanying Julia on her first trick or treat night. She chose an American cheerleader costume, after we steadfastly refused to consider Spiderman and Superman. We think the pom-poms finally sold her. We know when she figures out she gets candy by knocking on a door, that doors will be knocked!
So who knows who might be knocking on your door Tuesday night, hmmmm?
Posted at 02:19 pm by beckyww
Permalink
Sunday, October 22, 2006
Here Comes The Bride - Twice
Our clan - or parts of it - attended two weddings yesterday (Saturday), a first for us.
Keith and Lois attended the mid-day nuptials of his AT&T friend Jerral at a small Baptist church while I managed the homefront in preparation for our evening soiree.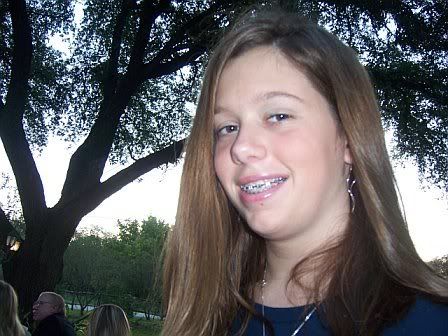 Hannah accused Lois of accompanying Keith to the mid-day wedding to get out of helping unload groceries. Any truth to that? Ummm...maybe.
I had everyone napping when Keith and Lois arrived home in the late afternoon. I knew we'd be out late for the outdoor wedding of David and MIss Melinda, one of Hannah's favorite former Sunday School teachers. The girls and I have been living vicariously through their wedding plans.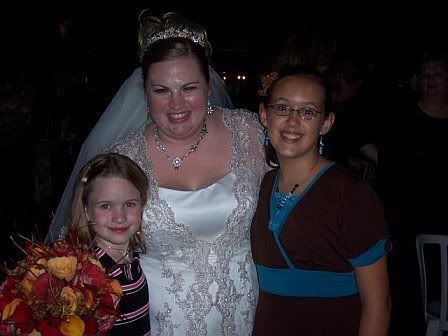 Best friends Bailey and Hannah distributed programs at Miss Melinda's outdoor wedding. They made their jewelry the night before at Hannah's early birthday party. We do Hannah's (12/1) and Lois' (11/28) birthday parties in October because of so many conflicts during the holidays.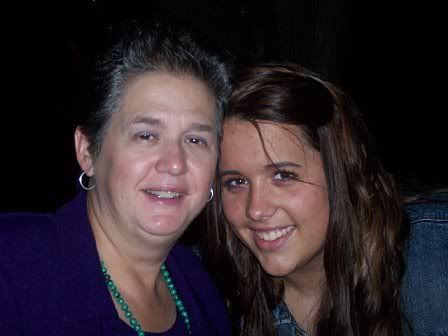 Rachel has largely replaced me as the family photographer. Fine by me. She is way more talented than her mother, and she knows it. As she told me last night, "Mom, sometimes I see bits of creativity in you, but most of the time, no." (sigh)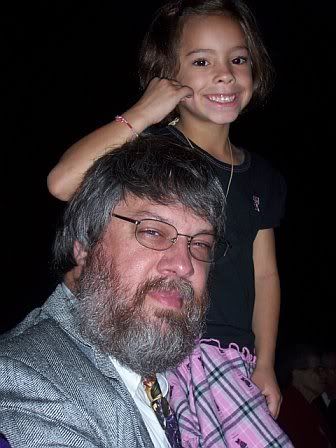 Sitting in the last row of an outdoor wedding and you're only 42" tall? No problem! Climb up on the shoulders of 6'5" Papa. Great view.
I know one day it'll be our girls getting married. I hope their work friends and church family come to rejoice with them. Rachel mentally selects and changes her bridesmaids monthly. Lois says she wants some kind of "flamethrower action" instead of traditional candles. Hannah offers a running fashion commentary on every wedding dress and and accessory she sees. This was Julia's first wedding, so, no plans from her just yet.
Keith says when they're all married off, we're moving and not leaving a forwarding address. Ha! What he doesn't know: I've already started naming our grandchildren.
Posted at 02:39 pm by beckyww
Permalink
Friday, October 13, 2006
Sneezy, Grumpy, Bashful, Dopey, Doc....Abba & Beast?
I live by a long-standing rule which I espouse with fervor:
I DO NOT DO MAINTENANCE ITEMS THAT DON'T CALL ME "MOMMY."
I don't do indoor plants.
I don't do yard work.
And I certainly don't do animals.
I don't even like animals. I really don't. Unless they're sauteed with some butter and a little garlic.
I spotted an animal here last night, though, scurrying behind Keith's chair as I related the surprising news that Rachel and Lois had pierced their own ears' cartilage. I thought it was a mouse. Keith suspected the truth and summoned Rachel to our bedroom to explain, and catch the rodent. We heard a rambling, disjointed story about how she was keeping this dwarf hamster overnight for a friend and somehow it got out blah blah blah blah, nose growing by the moment.
Over the course of 24 hours, the bizarre truth has emerged.
A friend of Rachel's gave her two male dwarf hamsters three weeks ago. She and Lois had been keeping them in shoeboxes in their rooms. The first Sunday they had them, they took them to church - in their purses - and showed them off to their Sunday School classes (sworn to secrecy.) Rachel assured me they were "really careful" while they played with them in the sanctuary, during worship.
If I had known that - they would have met Jesus in person as soon as I could have snatched them up by their carefully-straightened hair.
They moved the shoe boxes around to wherever they thought I wouldn't be, including depositing them in the attic one weekday when I was home all day. It's a wonder the hamsters didn't cook. (And together, they wouldn't make one good bite.)
On the way home from Costco, I was thinking of where we could turn them out. There are still a few empty lots around. But as I walked in the house, Julia ran to greet me, breathless with excitement, chattering a mile a minute and clutching little "Beast."
They played the Julia card.
(sigh)
I guess we have two dwarf hamsters now.
And still four girls that call me "Mommy."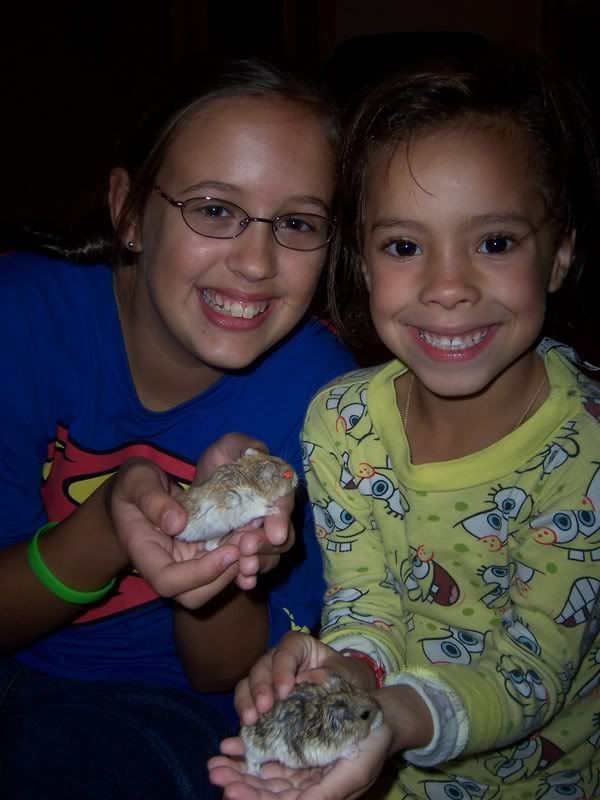 Hannah holding Abba; Julia holding Beast - named, as Rachel says, for his "fearsomeness."
Posted at 08:21 pm by beckyww
Permalink
Thursday, October 12, 2006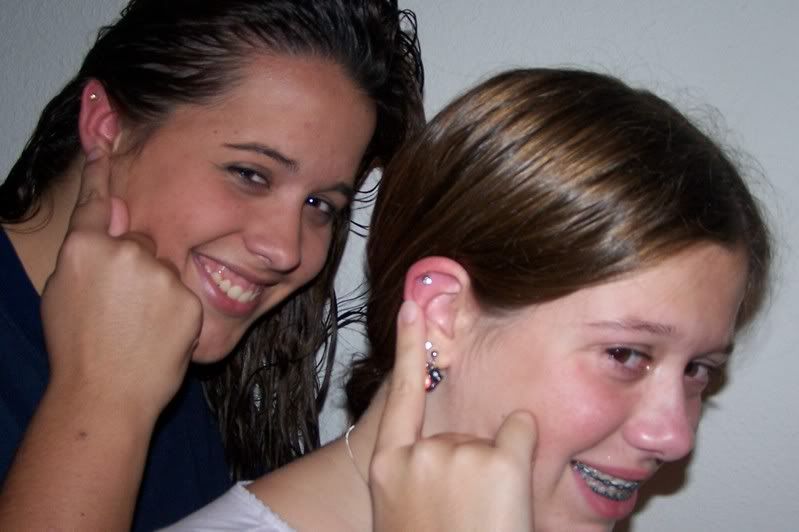 Rachel - The child who screamed and backed herself into a corner of the pedi's office when she had to have blood drawn.
Lois - The child whom I had to physically restrain for a penicillin shot.
Fast forward.
No, no, they'd never do something like talk their daddy into taking them to the beauty supply store for "new brushes" and instead sneakily purchase a two-poke cartilage piercing kit. Oh no. Not them.
More holes in their heads.
Just what we need.

Hey - Anybody got any sense down there?
Posted at 07:37 pm by beckyww
Permalink
Monday, October 09, 2006
Putting the "Social" in "Social Worker"
Our sainted social-worker-from-Dallas - Jennifer - has visited Julia monthly since shortly after we arrived home. Soon we go to annual visits for four years. The girls were out of school today, so I took a day off work and we met Jennifer for lunch in Round Rock.
I'd never had contact with a social worker before Jennifer, so, even after plenty of online reading and talking to other adoptive parents, I didn't really know what to expect during our 2004 day-long home study. Would she run a white glove over our shelves? Would she notice that many of Keith's shirts are not....ummm...pristine? What would she think of our Barry Goldwater memorabilia? Our autographed-by-the-pilot photos of Bock's Car? The emulates-a-central-office towering (and often teetering) collection of hardware, boxes and unidentifiable metal objects by the front door? Or the pond-in-progress?!
What would she think, omigosh, what would she think?!
Turns out....nothing. If she even noticed, no mention went in our 12-page home study I never detected a raised eyebrow or heard shocked gasp. She asked all five of us lots of questions, but none about our housekeeping or decorating. She didn't peek under the beds to pet the dust bunnies, nor did she check the expiration dates on pantry items. Whew!
Jennifer will be (formally) checking on Julia's progress for four years. We hope to stay in contact a lot longer than that.
Today Jennifer watched Julia reject the macaroni & cheese she'd ordered in favor of a buttered biscuit, plus clown around with her sisters. Jennifer asked Julia questions about school; Julia was more interested in showing her the Fiesta Texas label on her new T-shirt.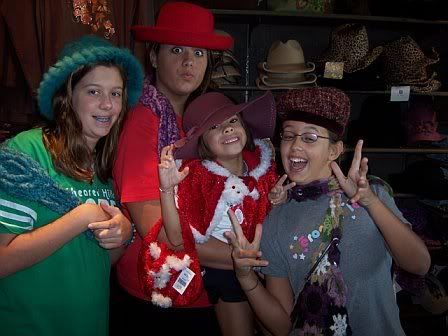 So if you buy anything to wear at the Cracker Barrel in Round Rock, let me suggest you wash it before wearing.
The girls and I decided to rummage the outlet mall in San Marcos on the way home. Rachel's ever-ready camera documented our venture.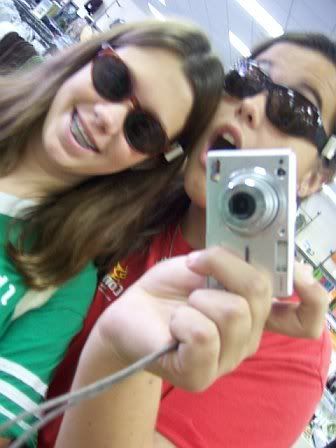 Lois and Rachel were such bright shoppers at Old Navy, they had to wear shades. We picked up $.69 flip-flops for Hannah and half-price T-shirts for all.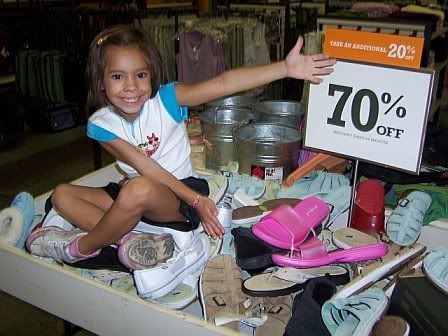 Put your personal shopper to work directly in the Eddie Bauer clearance bin! My prize find of the day: $12 mesh tennies to replace my current pair that is literally falling apart.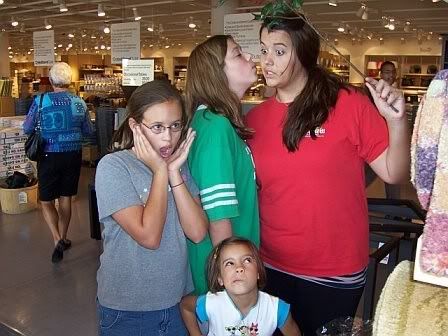 A k*ss under handheld mistletoe at Crate & Barrel. I loved Crate & Barrel in Houston, and the outlet I once visited in Dallas. But on today's visit, we got nothing more than pictures.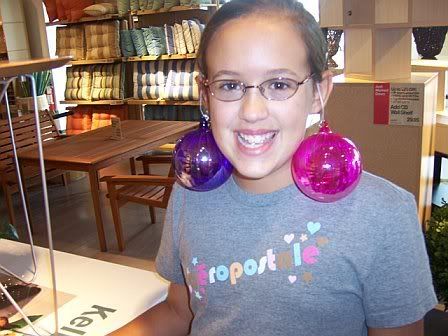 'Ears to Christmas tree ornaments...sleigh bells ring, are you listening?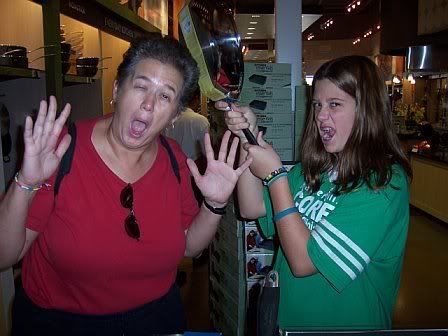 "Bad Mommy, bad - dragging us into this overpriced and snooty Calphalon store. Why is that dude with the name badge following us around?"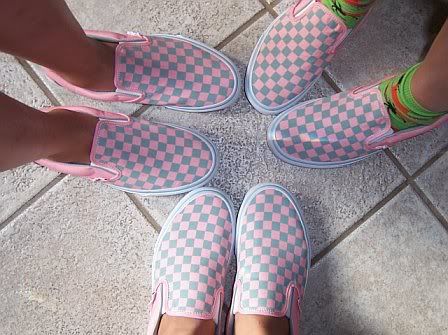 (clockwise from left) Hannah, Lois and Rachel purchased identical pairs of greatly reduced Vans Off the Wall™ for school wear at Hot Topic. Don't be impressed by Lois' oh-so-fashionable Halloween socks - she wears them year-round.
Thanks, Jennifer, for giving us an excuse to hit the outlet mall!
Posted at 05:39 pm by beckyww
Permalink
Saturday, October 07, 2006
Overcast day? Check. Season passes? Check. Drink mugs? Check. Coupon books? Check. Okay, girls, we're off to Fright Fest!
The girls and I - plus Rachel's friend Sisa - enjoyed Halloween-themed Fiesta Texas today. It's our "last hurrah" there for year (unless the rumored Winter Wonderland materializes.) I am a lot more generous at Fright Fest than I am during the rest of the year. We got all out, using season pass coupons for the race track, funnel cakes and a dart game (because we really need one more stuffed animal). I adorn my wrist with a drink band and we tank up all day long. We browse through the half-off, end-of-season T-shirts, hoping for some fabulous fashion find. I wave to the train passengers, sing along with any broadcast music and generally embarrass my childen until we're all tired, stinky and ready to try to remember where we parked.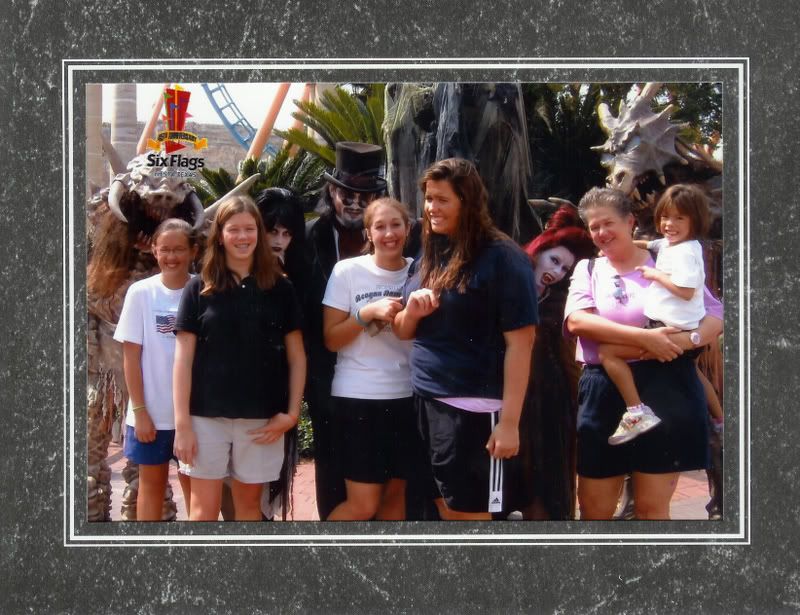 (l - r) Monster Mash, Hannah, Lois, Vampira, Mayor Slayer, Sisa (Rachel's friend), Rachel, Mrs. Frankenstin, Moi, Julia. Rachel nicknamed the Mayor Slayer "Chester the M*lester" because he kept touching her neck intoning, "Don't be afraid, my dear. Don't be afraid."
Fright Fest is a mental demarcation point for me. When we drive home, I know The Busy Season is soon to begin. Before New Year's Eve, we'll have Lois' birthday, Hannah's birthday, our wedding anniversary, more volleyball season for Lois plus basketball season for Hannah and Lois; school choir programs (and various choral competitions) for Rachel, Lois and Hannah; two more social worker visits for Julia two weddings to attend, and at one of which Hannah has a part; Parent Dedication for Julia, plus whatever else is going on at church; ortho appointments for Rachel and Lois plus an ortho exam for Hannah, with dental appointments for all. Packing and delivery of our Samaritan's Purse boxes*. Add two full-time jobs, Thanksgiving, Christmas and stir.
But for today - before The Busy Season gets swirling - we were plenty content to raise our arms and make silly faces for the camera on Bug's White Water Rapids.
Before we left, we bought our tickets for next year. Because the thought of a San Antonio summer without the water park is way more scary than Fright Fest.
*San Antonio Friends - If you have leftover non-chocolate Halloween candy that you don't want, we would love it for our Samaritan's Purse boxes. Gum, hard candy, taffy, licorice, gummies, suckers - any of that kind of sweet stuff. Just no chocolate, because it melts. We're packing Saturday, November 4.
.
Posted at 02:38 pm by beckyww
Permalink
Monday, October 02, 2006
The Actress Formerly Known As Rachel - Part Dos
So I had nothing to do with this.
Other than that whole giving birth thing.
Posted at 08:18 pm by beckyww
Permalink