Sunday, October 12, 2008
We're skipping church this morning. Everyone is either going out of town (Keith and Hannah), or too tired (the rest of us.) What better way to acknowledge my sin than by blogging about our boo-tiful day yesterday?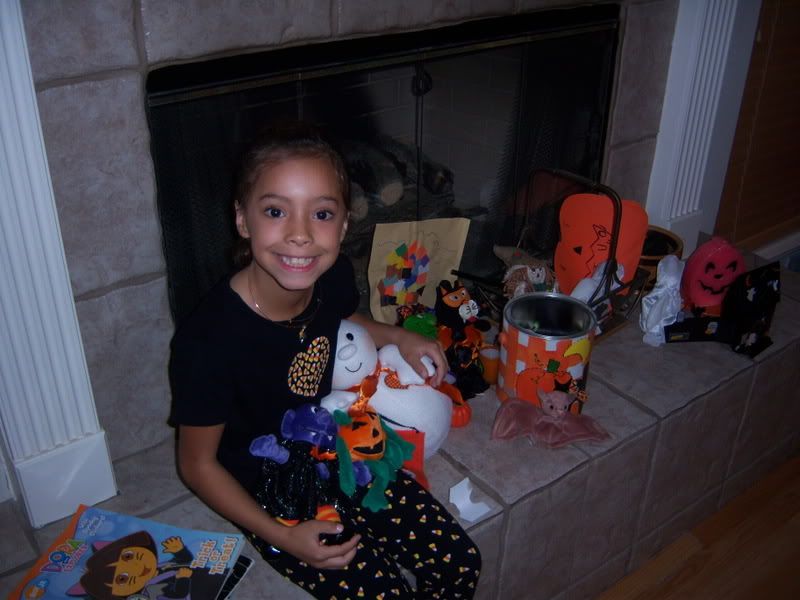 I've always admired folks who decorate beautifully. People like my sister can take knotted string, an apple core, broken spaghetti and crusty spray paint and create a stunning centerpiece in 10 minutes. I am not one of those people. I keep Rubbermaid boxes jammed under the stairs and spread the contents around the fireplace. The orange-topped boxes contain memories of Halloweens past - kids' crafts, Beanie Babies, stuffed animals and a few books. This is Julia's third Halloween home, and she was thrilled to discovered I'd kept some of her kindergarten and first grade crafts to display.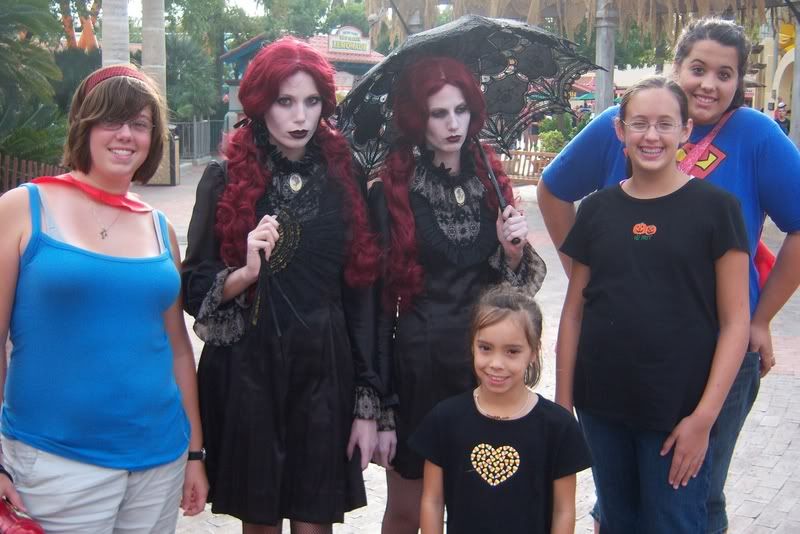 We headed to Fiesta Texas for
Fright Fest, and opened the gates at noon. Didn't leave until 9 p.m., which is why everyone is overtired today. Of all the characters roaming, I liked these ghastly twins the most. They never smiled. I took their stony countenance as a challenge, - kind of like the visitors who taunt the guards at Buckingham Palace, hoping to crack a smile. Nope. Shortly before we left, a ghoulish "convict" screamed and chased Rachel at least 100 yards through the Old West area. Her Superman cape was flying - her mouth was hanging open screaming back - her feet were flying, all while clutching the pumpkin she'd painted hours earlier. I have not laughed so hard in months. I hurt, I laughed so hard. People applauded, and I heard, "Man, that belongs on You Tube!"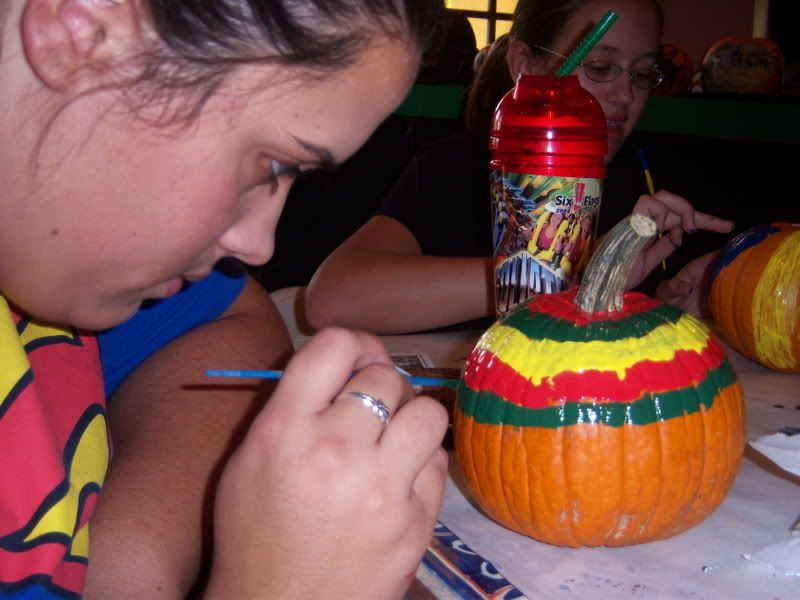 I don't play the Frugal Maternal Unit at Fright Fest. The girls feign great shock when I allow each to have her own soft drink, and I spring for extras like pumpkin and cookie painting. Rachel chose a "rasta" theme for her pumpkin. Lois - Lestat the Vampire. Hannah - a Hannah Montana theme.
Julia - a vampire with a sword in its head. (Child psychologist, anyone?) They're now gracing the fireplace mantle.
No, no, I won't save them for next year.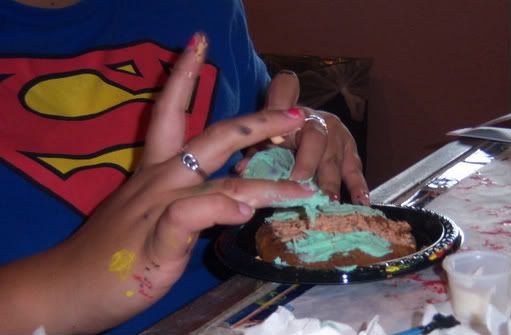 Rachel's cookie tasted a bit like paint. She's not sure why. Yes, she's a senior this year. And can vote next year. Comforted by that, are you?
Posted at 06:48 am by beckyww
Permalink
Friday, October 03, 2008
My brother David and I were always were fascinated by sci-fi. Anything odd. Futuristic. Will Robinson was our hero, and Rod Serling our mentor. We always wanted to know what was just down the hall and around the corner....in the Twilight Zone.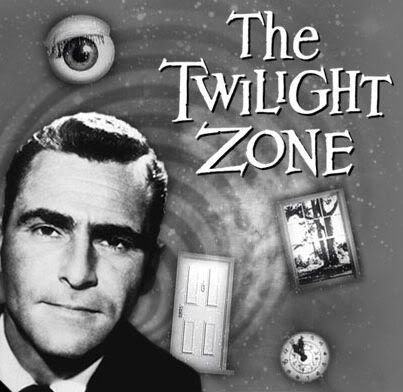 Mom dissed Rod as "just plain weird." which, of course, made the show that much more appealing.
I think that early ingestion of sci-fi inspired us to be forwarding-thinking, at least occasionally. Well, sometimes. Okay, rarely. Anyway...
I worked at Remco TV Rental through my five years at the University of Houston. I started as a "gofer" but because the company was rapidly expanding, I got to grow with it and try my hand at all sorts of marketing, HR and sales ventures. After the owner discovered I loved to read, he started flipping pamphlets, magazines and books on my desk with a "give me a one-pager" command. Oh. My. Gosh. Talk about throwing me in the brier patch! I was thrilled. I devoured stacks of opinions and studies about the future of television which - interestingly enough - was often tied to the future of telecommunications.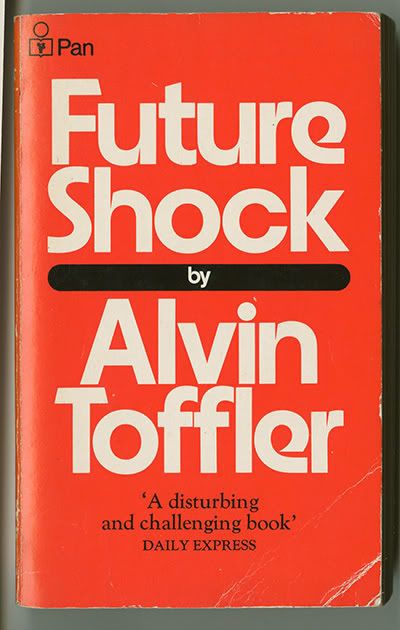 Future Shock was the first non-textbook, non-Bible I'd ever highlighted.
After graduation, I interviewed with several companies, and had offers from a few. But even though the jobs were what I wanted to do - write, create, organize - I couldn't get excited about them. I didn't care about insurance. Or personnel recruitment. Or mining. My reading convinced me that at some point in my life, there would be one telecommunications device in the home. TV -
with me
- would be part of it.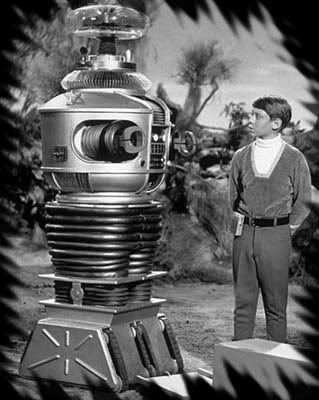 Danger, Will Robinson! Don't go to work in an industry you don't care about.
Al Gore hadn't invented the internet yet. I couldn't have told you "IP" from "Dr. Smith," but I knew that someone would build it, and we'd come.
I eventually interviewed with Southwestern Bell, and started there in 1979, just hoping to be some part of what I knew would come. Sometime. Somewhere in telecomm. It didn't come in 25 years of Training, Finance, External Affairs, Marketing, Sales Support, Sports & Events, Advertising or Online. But darned if it didn't emerge through a hand-picked team (including me) working on a new product called
U-verse
, a marriage of TV, internet and voice. The techies throw up when I say this, but to me, it's TV over the internet. And it's way cooler than anything else out there. And
I know
it's the way TV is going to be in the future.
Keith works on U-verse, too, and this week was happy for both of us as
Total Home DVR
launched in San Antonio. We were up early to check it out, with Keith snatching remotes and verifying our ability to record then watch in any room. The girls shared our excitement, so Rachel made this video. Yes, it's goofy. But so is she.
Posted at 08:59 pm by beckyww
Permalink
Sunday, September 28, 2008
I can tell we're back to normal, post-Ike. Why? Because I'm hearing, "It's not fair."
I've noticed when we have a mission as a family - when ministering to evacuees, or
filling Samaritan's Purse boxes
, or working in Vacation Bible School, or whatever - I don't hear "It's not fair" so often.
Julia's learned the "It's not fair" mantra from her sisters. She's grown a bit more (hooray!), so we've dug out the put-away, larger-sized clothing, and made a trip to Wal-mart for necessities. While at Wal-mart, I heard "It's not fair" when denying her a new DS game, Halloween bedroom slippers and a bag of circus peanuts.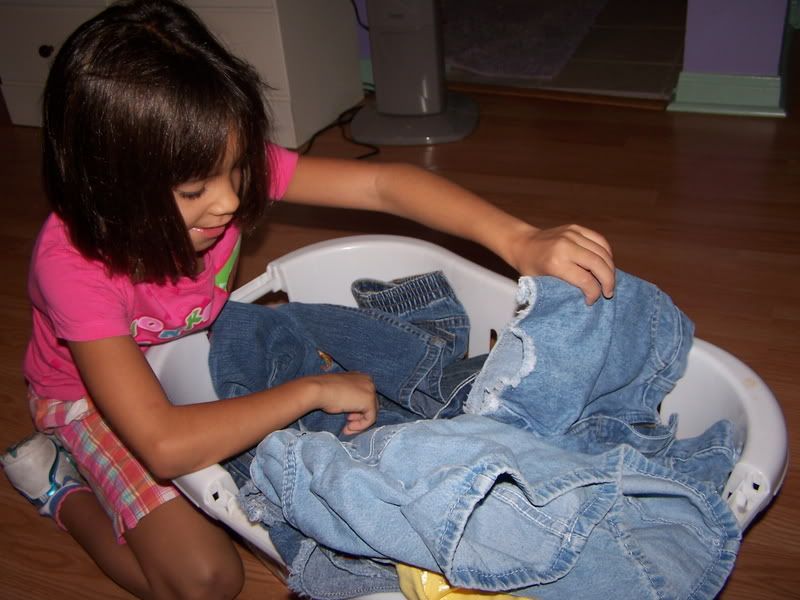 So thankful for friends with daughters who wear larger childrens clothing. There's such a size gap between Hannah and Julia - I'm not saving anything of Hannah's.
After we got home, I heard "It's not fair" from her sisters when asking them to stand at the stove and brown hamburger, take out the trash, carry in groceries and empty the dishwasher. When they dare tell Keith "it's not fair," he chants in a gravel-y voice, "Life is not fair. My dad is so mean." Then generally ladles on another chore. So he hears it less often.
These two weeks, we've had gas in our cars, air conditioning in our house, hot food on our plates and tap water in our glasses - unlike our friends and family in Houston. Not fair! There is no hole in our roof, nor dead fish rotting in our chain link fence, nor sand piled in our den, nor downed trees blocking our streets. Not fair!
When Julia says, "It's not fair" - Keith and I often exchange a quick, bemused look. No, life isn't fair. That's why she's here instead of in
Children's Home #47
.
Because "fairness" - while often desired - is not always something for which to be thankful.
Posted at 12:20 pm by beckyww
Permalink
Tuesday, September 16, 2008
Hurricane Ike.
There's the news.
Then there are the stories.
The story for my family:
Sarah, Joe and their two kiddos arrived Sunday from Pearland. Their power is now back on, so they're returning tomorrow. (Theirs is one of the few homes with power, because they're on a grid with some nearby businesses.) They've lost some fencing and have a hole in their roof. They have plenty of bottled water at home but - to be safe - they'll also take some from here. They'd tossed their fridge and freezer contents before they left.
My brilliant niece Sarah and her family arrived Sunday from Pearland. She's fixing spinach lasagna for dinner tonight. No, you cannot borrow her.
Sarah's hubby Joe supervised the 'hood in the cul de sac.
As far as I'm concerned - they can stay forever.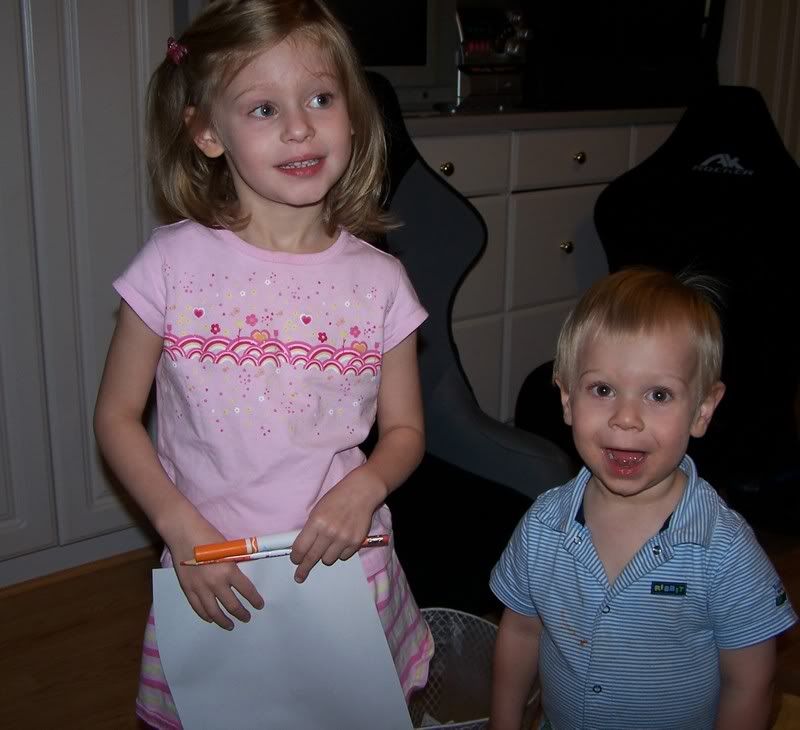 I'm practicing grandparenting on my great niece and nephew, Laura and James. My kids will tell you I'm a much better aunt than I am a mother.
My sister Judy and her husband Carl have no power. No home damage. They have a generator for their fridge and freezer which will run as long as their gas holds out. They've been sleeping on their patio to catch the breeze, which is great - until the mosquitoes start hatching. They have plenty of bottled water and food stuffs.
Keith's parents have a hole in their roof, and are also missing fencing. No power. Emptied the fridge and freezer. We are hoping they'll come here as soon as they find a temporary fix for the roof. Keith's brother Bruce - no power - also home repairs needed.
We've heard from a few friends. Thank God - no one hurt. But our good friends the Edwards in Pearland have a huge section of roof torn away, and their second story is threatening to collapse. They've gone to family in Beeville. Sandi has always made us so welcome and been such a good friend for so long.
My dear friend Konen who has generously loaned us her
Bolivar beach house
for a week each summer these many years found that abode on a google earth map. She thinks the house itself is standing, but is missing the deck at minimum. That's all she can really tell, and they're not allowing anyone into Bolivar yet. Bolivar was hit hardest of all communities. Most of it is simply not there. We have had some of our happiest memories as a family in that beach house. Grilling chicken sandwiches at the end of a sand-filled day. Watching the fireworks from the deck. Feeding the sea gulls on the ferry. I know the house itself is just "stuff" and I am thankful Konen's entire family is safe but still - it makes me sad to think it's so heavily damaged.
Saddest to me of all - I read in an email from the pastor of Westbury Baptist, which we used to attend, this news of my growing-up church in Houston:
The news isn't so good for a sister church. I heard from a fellow minister that SW Central Church of Christ suffered major storm damage. Keep those folks in your prayers. If you have time and the ability to volunteer to help them, your help would be appreciated.
I left a message at the home of that "fellow minister." Prayer they're getting right now. Wish it was more.
We've called other friends but gotten no answers. If anyone in Houston is reading this and we've not communicated - please "comment" below and tell us what's happening. And remember -
the door here is always open.
And that's our story.
I wish it was the end. But it's not. Because rebuilding Houston and the lives in it is going to take time.
Posted at 02:36 pm by beckyww
Permalink
Friday, September 12, 2008
Keep Moving, Ike - Keep Moving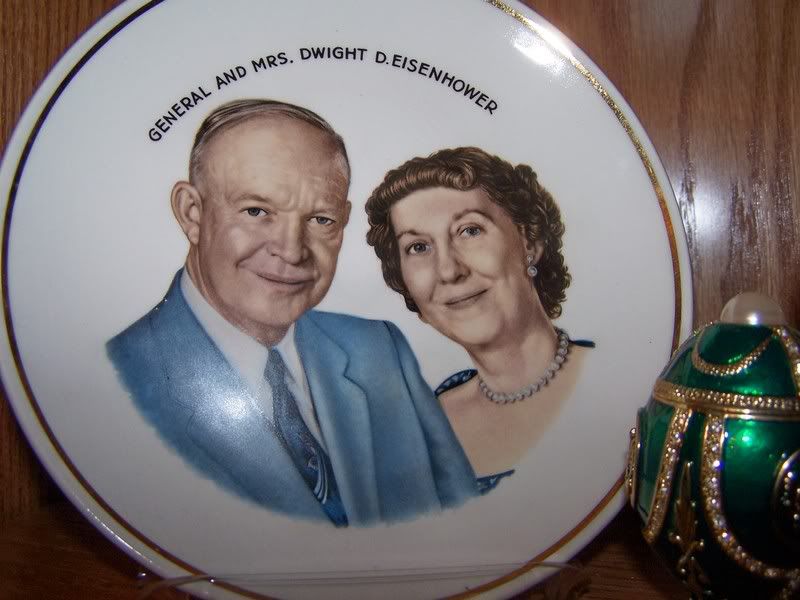 Sure, I like Ike - and this commemorative plate I bought in an estate sale.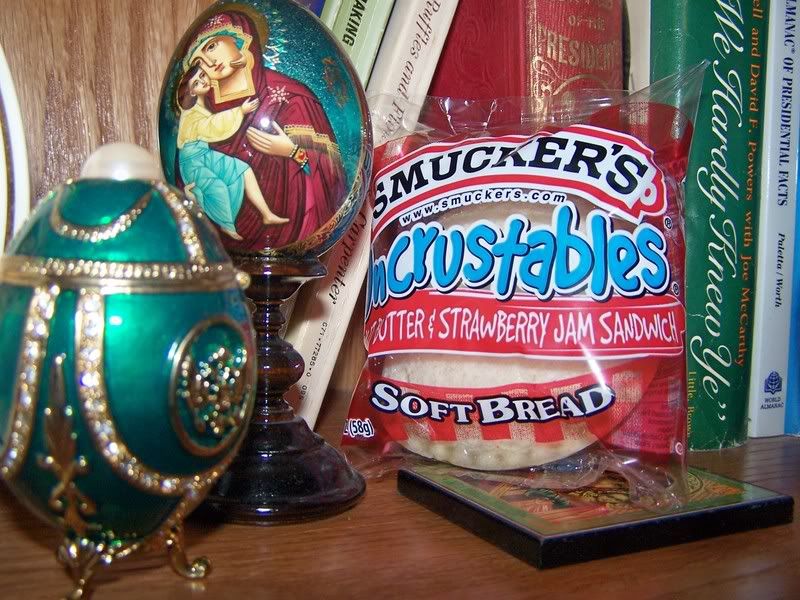 Though I was surprised - when taking this picture - to discover a near-exploding Uncrustable of unknown ownership hiding in plain site on the same shelf.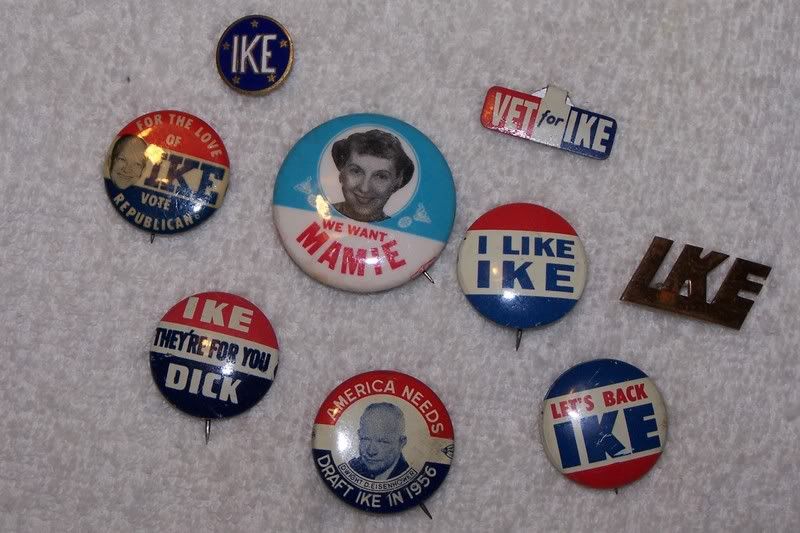 I like my Ike campaign buttons. I used to wear a item from my collection each day when I was younger, and always an Ike button on my birthday since he was President when I was born. A George Wallace button was sure to get me dismissed from jury duty, while my prize "No Third Term" pin brought puzzled looks from most. A poll worker tried to keep me out of the voting booth in 1984 because of my "JFK for the USA" black and white flasher. I solemnly broke the the news to her: President Kennedy was dead and therefore I wasn't promoting his run for office.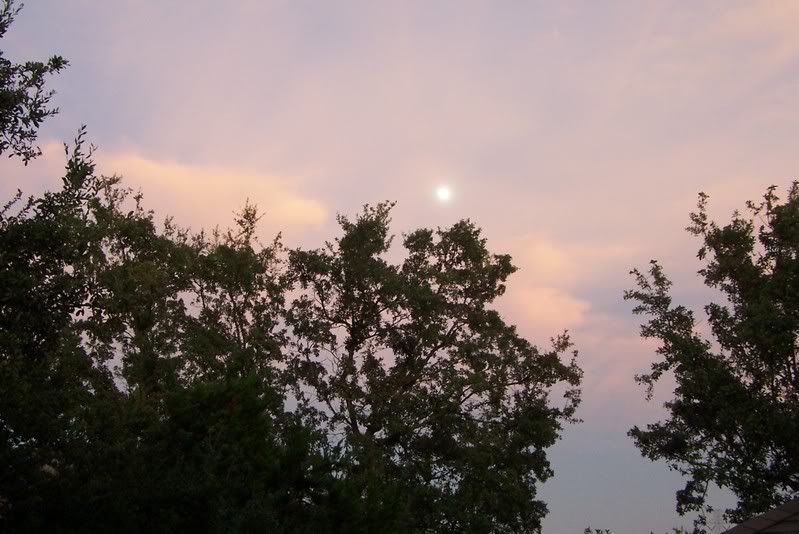 We have what Lois called an "Ike Sky" tonight. The air is heavy in San Antonio. As are many hearts.
Yep, sure, I like Ike - except for this week. Like much of the rest of Texas, we're sweating it out for our friends and family in Ike's path. Sarah's family is riding it out at Judy's house with some of Carl's extended family, and Keith's folks are staying in their house. If the power's out for days, our families will come here. We've got air mattresses, and Pizza Hut delivers.
Our church
is operating a special needs shelter again, so I've spent a lot of time online and on the phone this week. Our church family is amazing. Truly. To do what they do for strangers - well, it's humbling to be a member of this spiritual family. Keith, Rachel and Lois are napping right now, so they can go up and work the 12M - 6 a.m. shift.
We know Ike is a
bad
one. What we want is a
quick
one. Come on through Galveston and then Houston, Ike. Okay. We know you're coming. But keep moving, buddy. Don't stall. Don't stand still and keep dumping water on the unending miles of concrete. Just keep moving, Ike.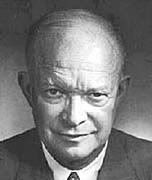 Move it!
Posted at 06:14 pm by beckyww
Permalink
Thursday, September 04, 2008
My brother David used to say, "This world is not built for one-offs." He would have known, being born with no arms or legs. His entire 42-year life was a dogged march of legless steps through narrow doorways in the gaping view of even more narrow minds.
I was five years old when David was born, the perfect age to enjoy a noisy, interactive doll. You can believe this or not. I never really saw him as different until a hot afternoon when I was maybe eight years old and we were playing shirtless somewhere with a full-length mirror. From the corner of my eye, I caught a mirrored reflection of him with his right arm stub and left arm flipper reversed, and it startled me. I gasped and reasoned, "That's why. That's why people point and stare."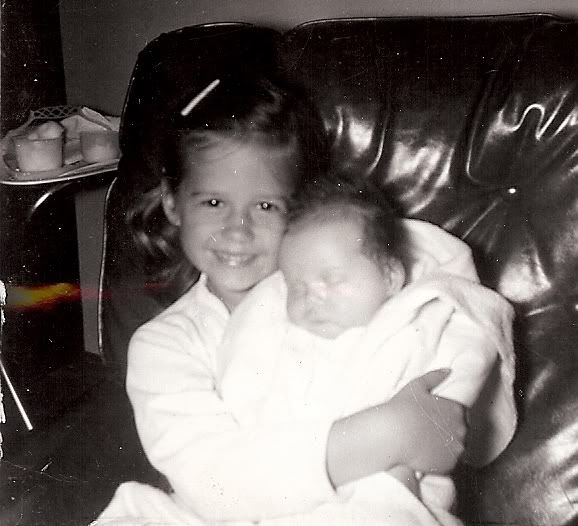 I was never big on dolls, except this squirmy one. Who later used to lick his one partial finger and swipe my glasses.


Having David affected our entire family. Every day of his life. And beyond. In many, many ways, not the least of which was that we could accept one-offs. People that were different - well, we might or might not like them. But we could accept them. Our range of experiences and associates was broader, even though our opportunities were him were more limited. I couldn't, for example, fit his wheelchair through the doors of most restaurants in Houston, but when we dressed for the midnight "Rocky Horror Picture Show" viewings, we'd share popcorn with whatever stoned patron plopped down next to us. (Muttering, "Hey, man, great costume....")
I've noticed time and again that people up close and personal with one-offs have a different attitude than those that haven't had that experience. They can't be too comfortable or complacent, and they are more willing to acknowledge responsibility to others. They know -
they know
- how fast circumstances can change. The car crash. The stray germ. The extra chromosone. The fluke circumstance. And yes - the baby. One minute you've got a nursery decorated and can't stop thinking of those cute little outfits and the next minute - you've got the human life nobody expected and in the dark hours of harsh truth, nobody would have chosen.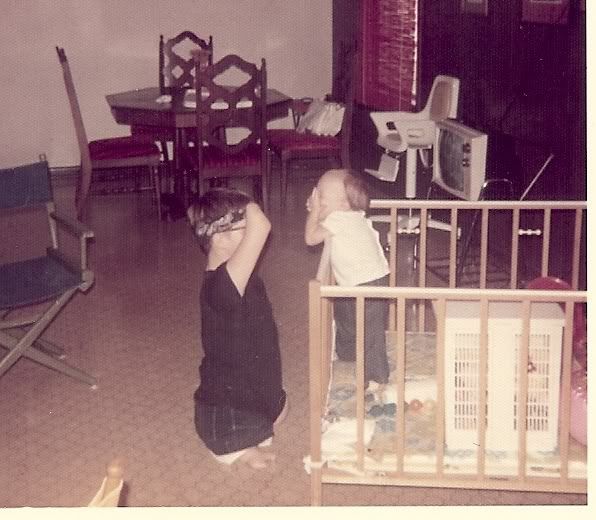 David playing peek-a-boo with toddler niece Sarah, who is 36 years old today with two toddlers of her own.
I think experience with one-offs - perhaps more than any single experience - defines who a person is, and what a person could be.
We high-fived as we cheered through Sarah Palin's speech last night. Loved every minute. I knew what she meant when she said, "To the families of special-needs children across this country, I have a message. For years, you sought to make America a more welcoming place for your songs and daughters." Yes, we tried. When Mom battled HISD to permit David and his classmates to eat lunch in the cafeteria and be allowed on the playground - she was trying. When Judy lugged David on her hip into every store in Sharpstown mall - she was trying. When Carl took him deer hunting - he was trying. When Keith picked him up for innumerable holidays - he was trying. When I pitched a fit with Southwest Airlines who wanted to refuse him entry on a plane - I was trying. I have friends with children who - God love them - have to try and try every day after grinding day.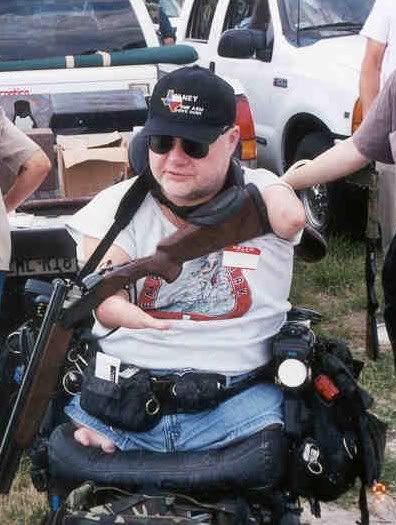 A no-armed, armed one-off...tread lightly....


I watched Sarah Palin's kids closely last night. Their hesitant smiles. Their clasped hands. Their straight-ahead eyes. Their neat clothes and crisp haircuts. Their interaction with each other. Dad handing their baby brother off to the youngest daughter. Oh, that baby brother.
I'd bet a buck that baby brother is going to define Sarah Palin's older children far more than will their mother's job.
She'll be vice president for a season.
He'll be their brother forever.
Posted at 01:52 pm by beckyww
Permalink
Sunday, August 31, 2008
As Hurricane Gustav whips toward shore, Baptist Family Services is assisting in the evacuation of the most vulnerable citizens in its projected path. Friday night, our
church
went on alert to begin staffing for the arrival of special needs evacuees. We knew they'd be from the Golden Triangle area (Beamont-Orange-Port Arthur), but we didn't exactly "who" or how many. Or - it turns out - actually when they'd arrive. Staffing for the shelter for Hurricane Katrina in 2005 was the first time I ever totally exhausted a cordless phone battery. Luckily, we'd replaced ours only last week.
Keith and Rachel were at the church from 11:30 p.m. last night until 11 a.m. this morning. The buses and ambulances begin arriving around 7 a.m. When I saw Keith for the first time today (around 8:15 am.). he was "glowing" in the heat and humidity of traffic control/unloading in the parking lot.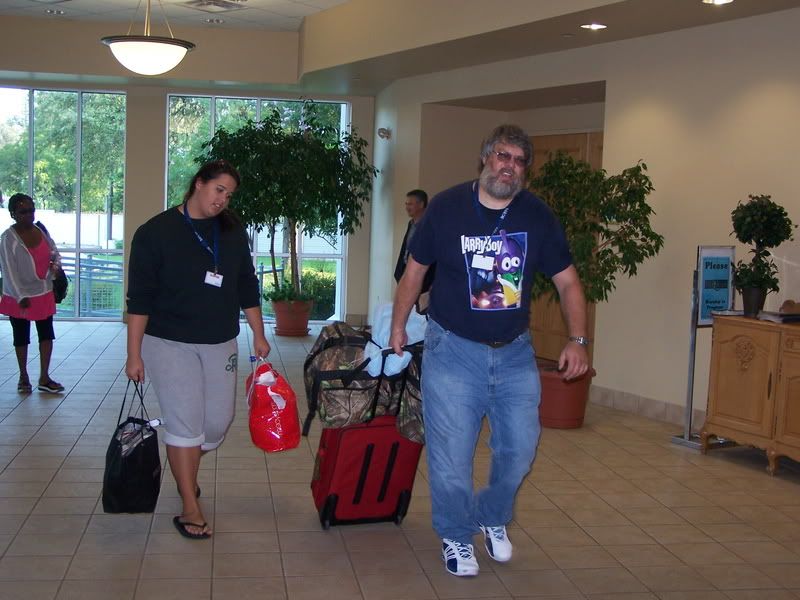 The church lobbywas a constant hub for unloading guests, luggage, linens, meals, medical supplies, etc.
Police officers assisted with security and confused guests. Oxygen tanks had to be wheeled out to fire trunks to be refilled.
The city health inspector ran his white glove around. The youth - who are meeting in the gym because of construction - were milling around, waiting for the sanctuary to be emptied from worship so they can have Sunday School. I had to pop into the sanctuary a few times to grab some young, strong arms and backs to help carry medical equipment and hot meals. So somehow....this sign...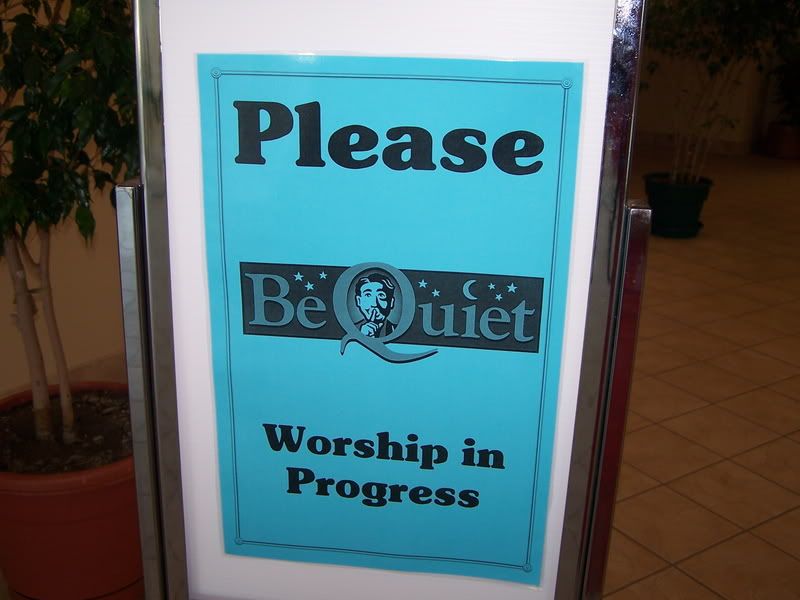 .....just cracked me up.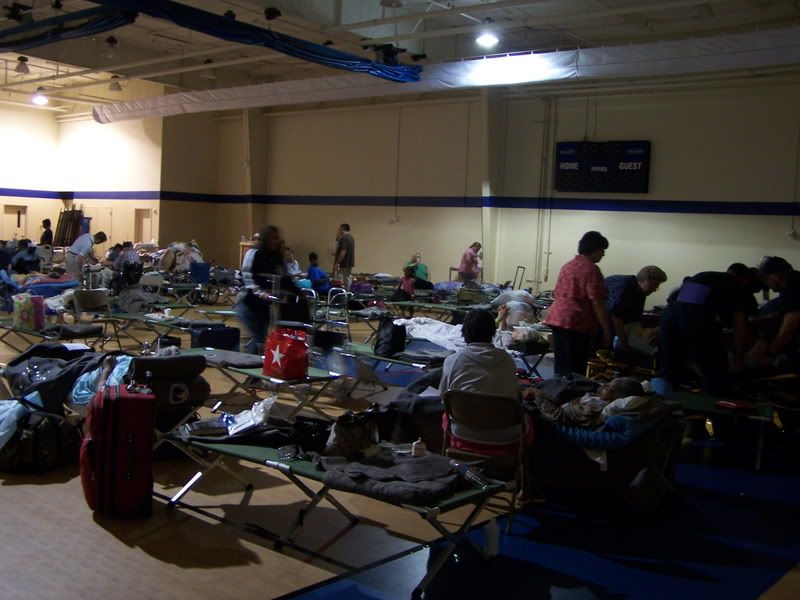 I've watched my girls play endless games of basketball in this gym. I've attended umpteen dinners and banquets in this gym. I've taken hundreds of pictures of youth events and VBS in this gym. But I have never seen this gym put to better use, or been prouder of our church family in it.
Matthew 25: 37 - 40: "Then the righeous will answer him, 'Lord, Lord, when did we see you hungry and feed you? Or thirsty and give you something to drink? When did we see you a stranger and invite you in, or needing clothes and clothe you? When did we see you sick or in prison and go to visit you?' The King will reply, 'I tell you the truth. Whatever you did for the least of these brothers of mine, you did for me.'"
Here is what I have noticed when asking people to help with something that is going to inconvenience them, or put them out of their comfort zones.
Really, really busy people are going to hmmm and hawwww for just a few seconds, maybe scrunch up their faces and look off in the distance. Maybe purse their lips and shut one eye. And then they're going to say something like, "Ummmm...yeah. Okay. I can make Thursday work. Put me down."
Other people are going to tell you their life story. Slowly. Culminating with excrutiating rabbit trails to "no." Which you knew when they started. Because pretty much, it's the same people that scrunch their faces and the same people that want to tell you their life story. Every time.
Not a fair judgment? Maybe not. Maybe so.
But it
is
what I've noticed.
Posted at 12:40 pm by beckyww
Permalink
Monday, August 25, 2008
I'm still in denial. This is the first day of the new school year, and there's a high school senior living here. How did that happen?!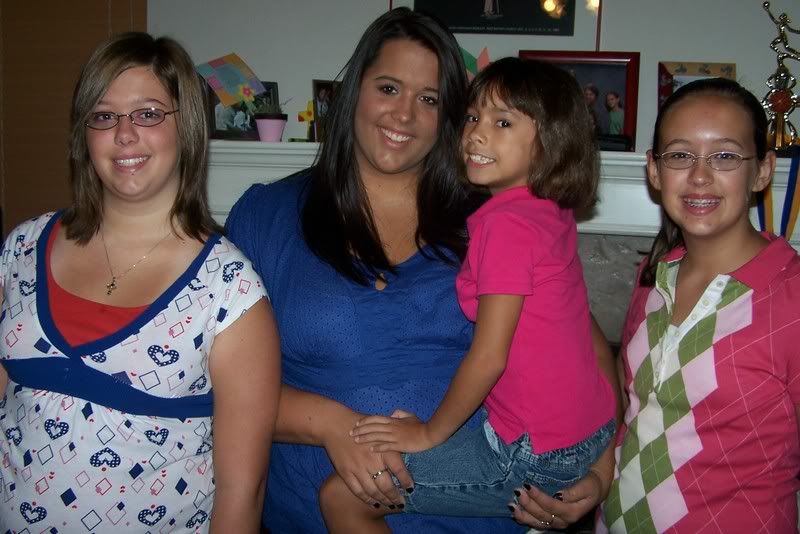 Lois - 9th grade (now w/glasses); Rachel - 12th grade; Julia - 2nd grade; Hannah - 7th grade. Julia wanted to wear her new blue school spirit shirt, but Rachel talked her out of it. "Julia, only dorks wear school spirit shirts the first day. Do you want the cool kids to turn you over into a trash can?" She gets lots of guidance.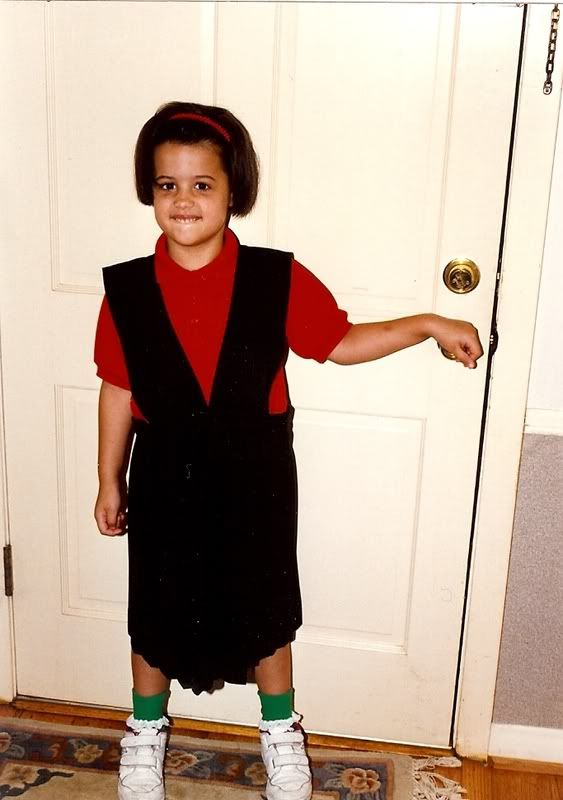 Rachel's first day of kindergarten in 1996. I cried. She didn't.
Lois got "a little lost" her first day in (the huge) high school. Rachel started her after-school job and, "It's work." (imagine that) Julia is coincidentally sitting next to the daughter of Ukranian natives and "Mom, she speaks Russian. Real Russian." Hannah started homework the minute she got home.
Rinse and repeat for the next nine months.
Posted at 05:06 pm by beckyww
Permalink
Thursday, August 21, 2008
Denial. Not just a river in Egypt.
School starts Monday.
I'm in total denial.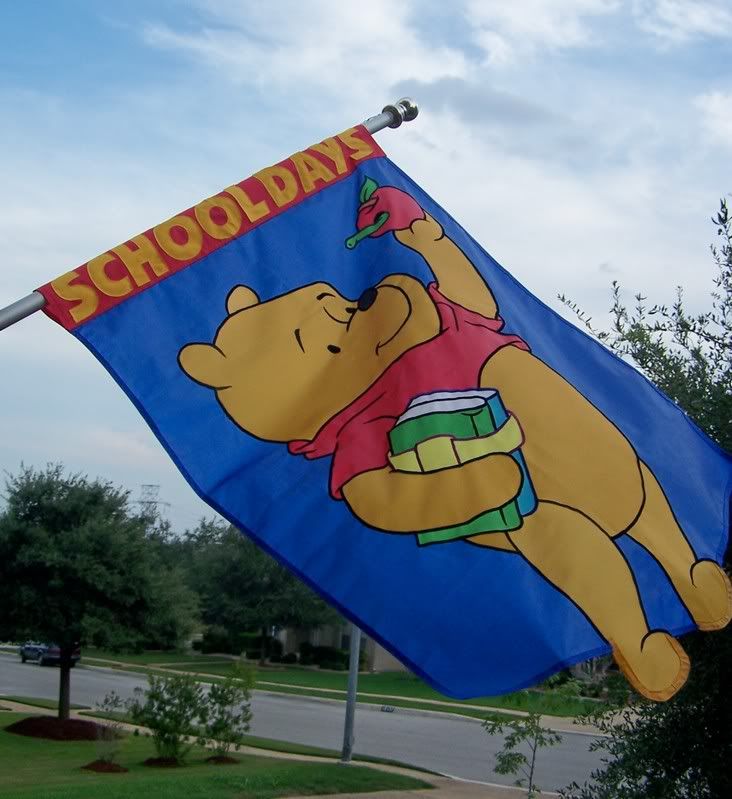 Yeah, Pooh. We know.
No more sleeping until 6 a.m. No more "just make two lunches and out the door." No more wondering where all the traffic is. No more shutting our door at bedtime because I really don't care who's still up and who's not. And no more quick dinners at the pool.
I took Julia to her school open house tonight. We did lots of hugging. Lots of labeling. And I brought home the first batch of dreaded school forms.
My return address labels are ready.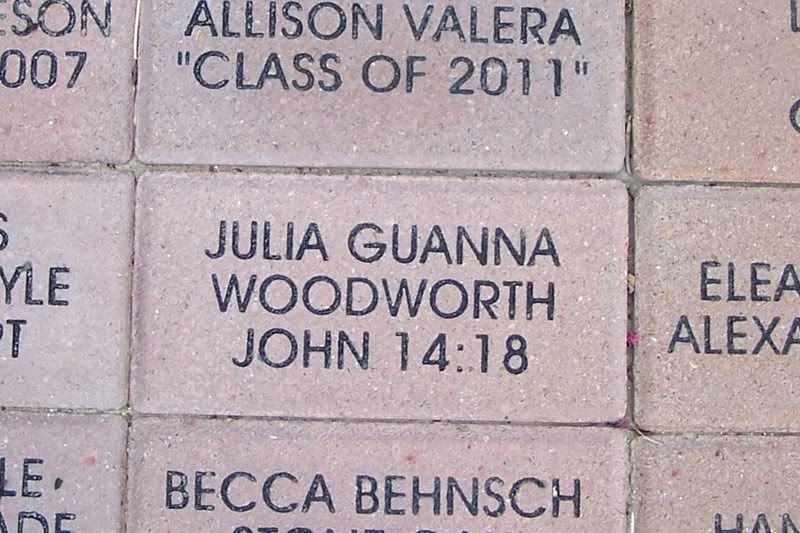 Julia's brick in the school entryway was laid over the summer. Moses' fellow
Hebrews were forced
to make bricks.
Joshua's army marched
and brought down Jericho's wall of bricks.
Paul described Jesus as a cornerstone.
So we decided years ago our school bricks would offer a biblical reference. Like Jesus' promise in John 14:18 - "I will not leave you as orphans. I will come to you."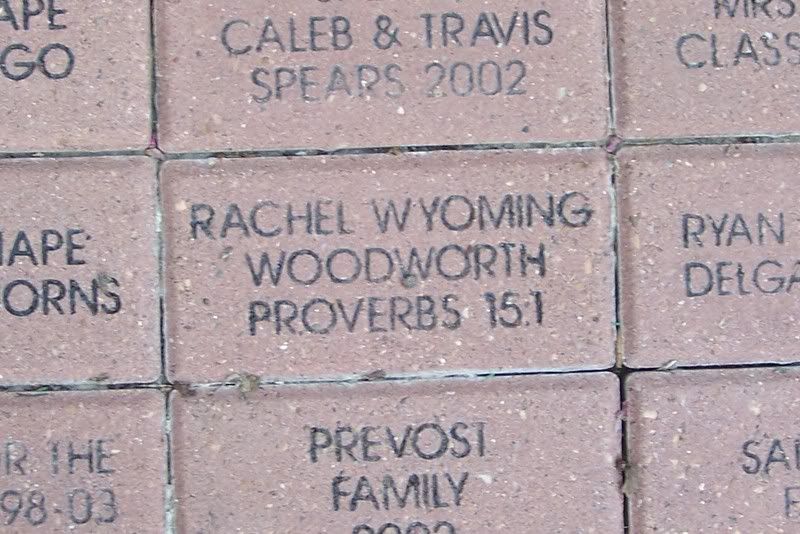 Rachel selected a very prophetic verse for her brick in 2001 - "A gentle anaswer turns away wrath, but a harsh word stirs up anger." She must have realized she was going to turn into a teenager one day and that I'd need to be reminded of this verse over and over. And over. Again.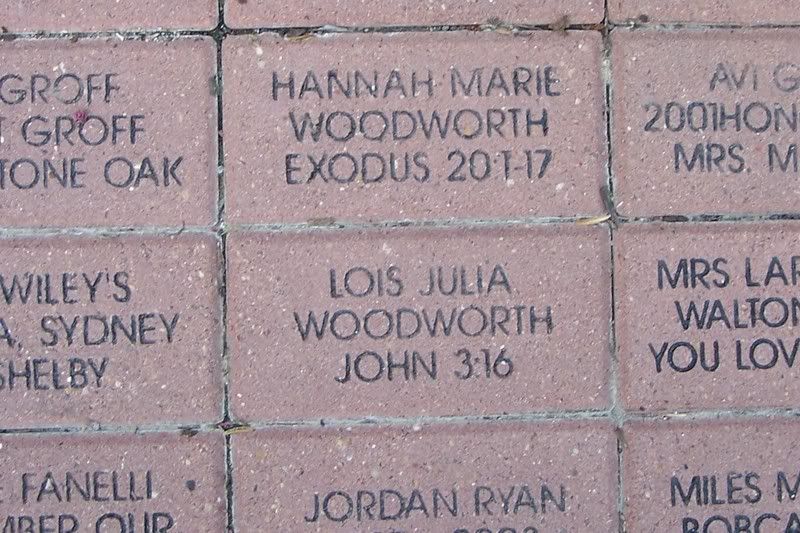 Lois is always one for the basics so in 2001 she chose - "For God so loved the world that he gave his only begotten son that whomsoever shall believe in him shall not perish but have everlasting life." Hannah selected the 10 Commandments. I remember when the girls had to memorize them for Pastor's Pals. The first four - relationship with God. #5 - relationship to parents. #6 - #10 are all those darned sins, which Hannah was having trouble memorizing in order. So she, Lois, Rachel and I formed a conga line and danced into church that Sunday night chanting, "Murder! Adultery! Steal! Lie! Covet!" They all got 'em right.
Tomorrow it's off to Fiesta Texas for one more day of water park fun.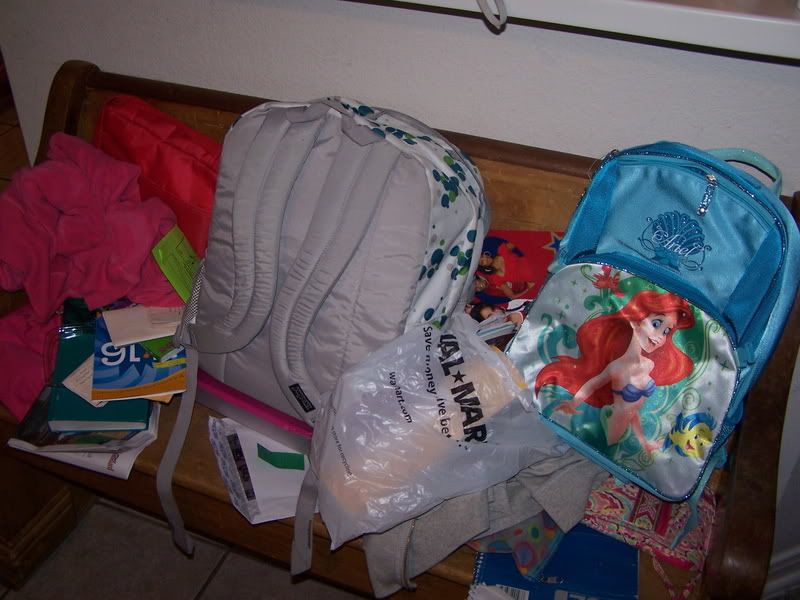 "Get thee behind me, school supplies!" 1st Rebecca 8:21
Posted at 05:20 pm by beckyww
Permalink
Tuesday, August 19, 2008
Rachel and Lois asked to hold a church youth girls slumber party. to welcome the incoming 7th graders - including Hannah - into their tribe. For some reason, I said "yes." The "party" part - yeah - I saw that. The "slumber" part - ummm - I missed it.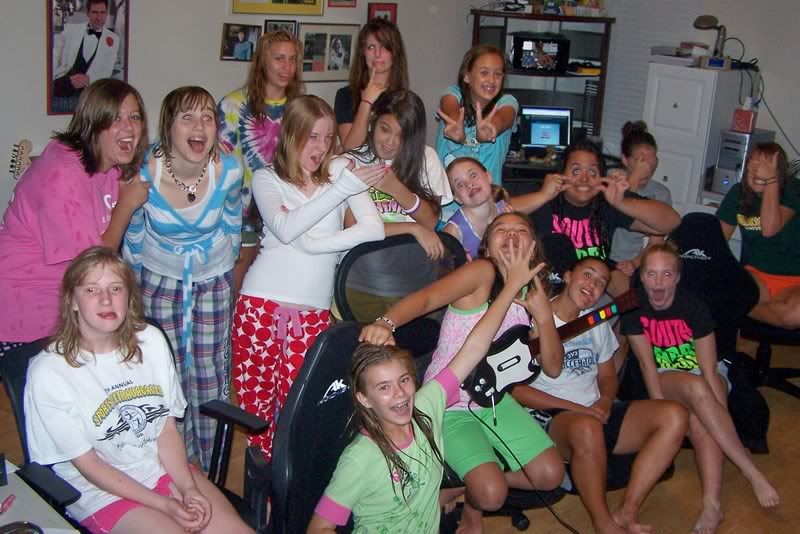 Sixteen girls, plus Julia. Most arrived in their swimsuits to invade the neighborhood pool. Remarkably - with all the clothes and junkola scattered about, only one item was left - a really nice blue striped beach towel. It's my door prize if no one claims it.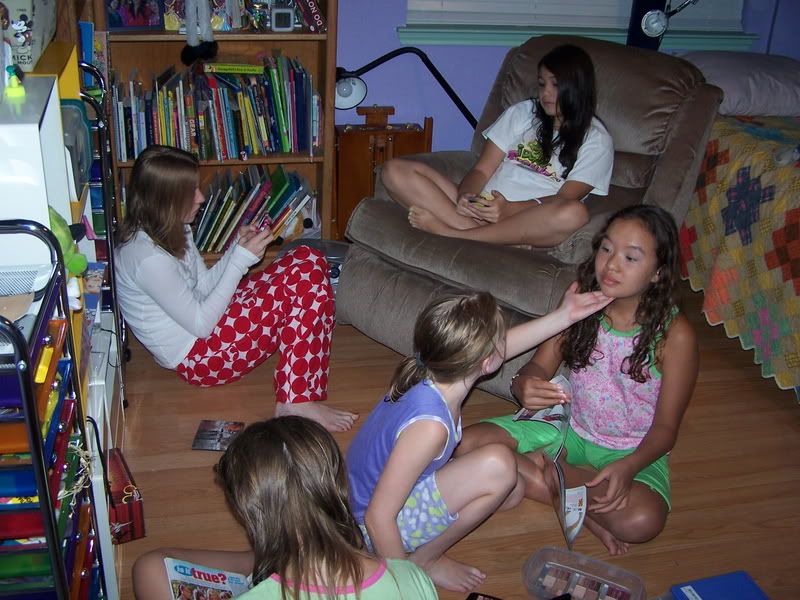 Youngest in Hannah and Julia's room for Make Up 101. Hannah's collection is less impressive than is Rachel's (thankfully.) They called Radio Disney often enough (estimated 200+ calls) that they actually made it on the air, as announced by the screaming herd of girls that crashed into our bedroom at 2 a.m. to shout about it. Keith muttered "Daughters," rolled back over, and promptly returned to sleep as I sat with the sheet clutched in my clenched fists and my heart pounding wildly, glad I took my bedtime blood perssure meds.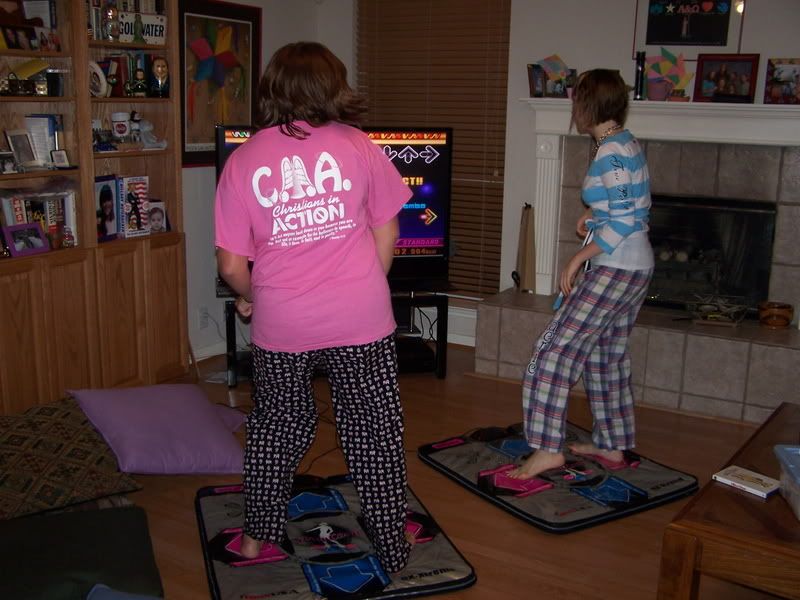 Dance, Dance Revolution for PS2 is the best money we ever spent. Our game is about five years old and how the mats have lasted is beyond me.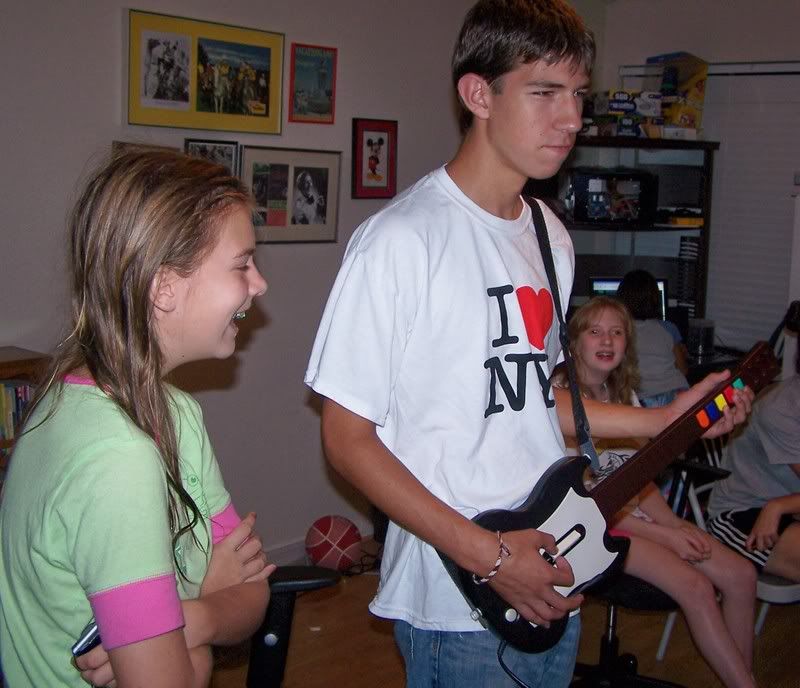 Joey - one of my faves - stopped by for some Guitar Hero action. Alas, poor Joey's house was wrapped in the wee hours - imagine that. Naturally, our high school girls knew nothing about it, sainted vessels that they are. Joey is the pastor's son, and I'm pretty sure that means whomever wrapped their house is going to hell.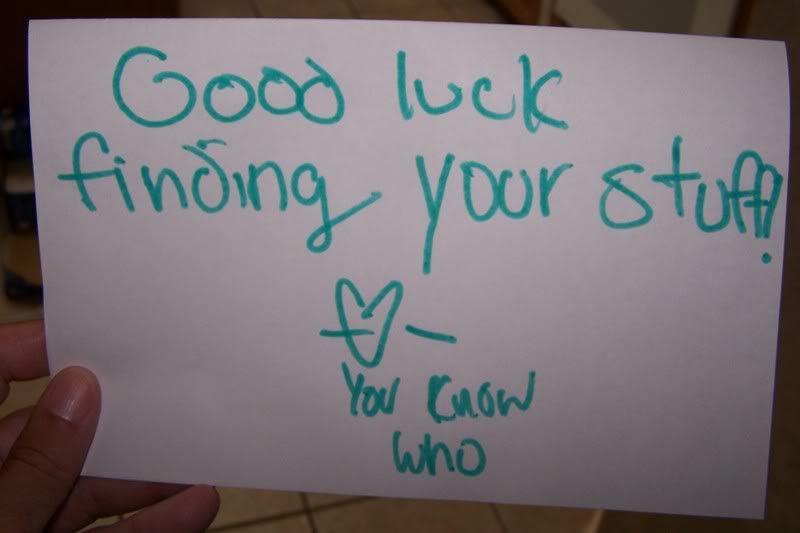 While the high school girls were "somewhere" - the younger ones hid all their stuff in retalliation for not taking them along. To wherever they went. Ahem.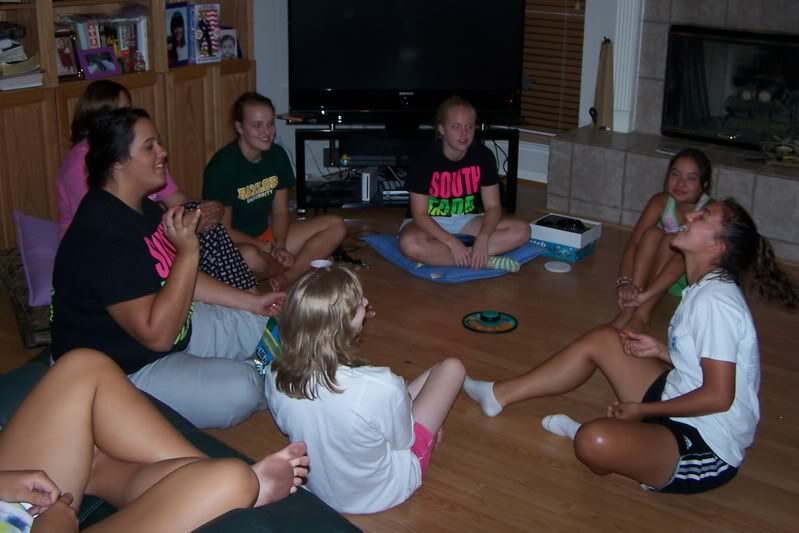 Throwing M&M's into each other's mouths - don't say these girls aren't skilled. And many can vote next year! What a comfort!


This coming weekend is Promotion Sunday at
church
where the kiddos move up a grade to match what they'll do in school the next day. For the incoming 7th graders, it's especially meaningful as they leave the children's department and move into Youth. Our children's minister started a neat tradition of parents collecting cards and notes of encouragement for their kiddos, to be given to them their last Sunday in the children's department. If you sent one to Hannah - thank you - she got hers on Sunday. And no, she wouldn't let me read them because, "Mom, they're private!" (sigh) So I can't find a pithy paragraph to share. However, I made her this card, so I can darn well share that.
I scanned photos of Hannah through the years at
church
stuff
and used
Shutterfly
to make her card. We moved to San Antonio and joined Shearer Hills when she was barely four. It's a shame I didn't have a picture of her licking the handrail of the balcony staircase, or bending over on the landing to flip her hem singing, "Shake Your Booty."


Slumber parties are rights of passage - just like promoting into another grade. Or trying make-up. Or wrapping houses. And as Keith and I hid out in our bedroom, watching snatches of
Ferris Bueller's Day Off
-
well, Ferris said it best. "Life moves pretty fast. If you don't slow down and look around, you might miss it."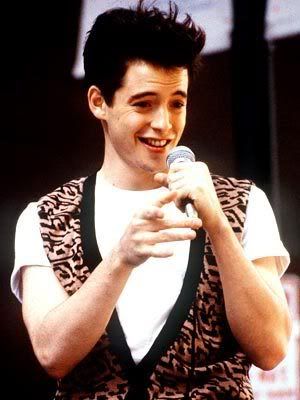 Danke schoen, Ferris - you are so right!
Posted at 05:20 pm by beckyww
Permalink