Monday, October 08, 2007
Keith is a big e-bay buyer/seller so boxes on our front porch are common. But a box from Nickelodeon? And addressed to Lois? The whole family was standing by for the opening.
Turns out Lois is one of 50 second-place winners in the Nickelodeon Anime contest. They run two contests - one for live action cartooning, and one for still anime. She's one of 50 #2's in the still anime category. Each contestant submitted drawings and a story as an idea for a new anime cartoon.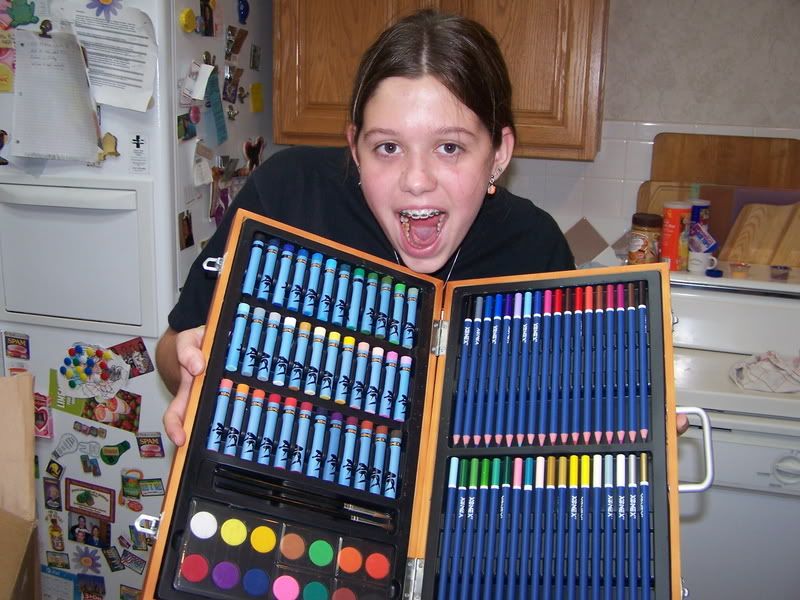 Along with a 3-D T-shirt, viewing glasses and notepaper, she got this stuffed art case....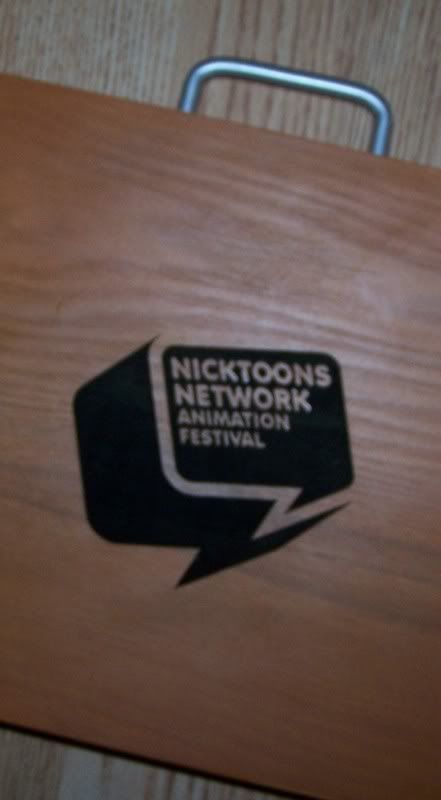 ...with a nifty Nicktoons Network Animation Festival wood cut logo on the exterior.
Lois told me about her entry because she needed a catalog mailing envelope and postage. I'm very interested in her artistic talent because I have absolutely none. In my 20's, I even read and performed the exercises with "Drawing from the Right Side of the Brain," and all I got in return was charcoal and ink stains on my hands. I have no artistic talent. Neither does Keith. Yet she - effortlessly - cranks out sketches all the time, on everything - church bulletins, notebook paper, grocery lists - you name it, she adorns it.
One wall of her room, filled with her favorite notebook sketches.
So here are drafts of what she submitted. I was impressed enough at the time to scan them. I wish I'd scanned the all the final versions, but I'm a bad mother.
Meet Jamie, a teenage girl supposedly born without a left arm (mystery looming). She's lonely and teased often at school. Mom is dead; father is not supportive. (Note: Their entire lives, my girls have played games revolving around dead mothers. Like with dolls, "Let's pretend the mother is dead." I watch my back around here, I tell. you.) Jamies uses music composition - like her "Cloudy Melody" tune - for emotional release.
Meet Lieirose (lie-rosk), Jamie's guardian angel who looks like a teenager but is thousands of years old. He often appears in a cloud. The Council (other guardian angels) is angry with Lieirose for failing to protect Jamie at birth (more mystery) and because he's appeared directly to her (big no-no.) The Council has branded Lieirose with the "Mark of the Traitors." They've also covered his mouth and nose to muffle screams during punishment.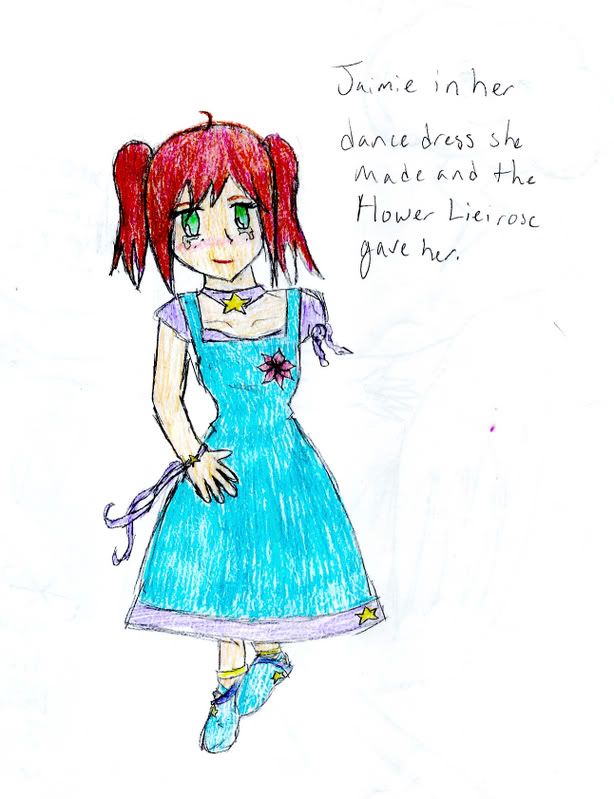 Jamie in a final sketch, which I did think to capture - in her handmade prom dress with a corsage from Lieirose, which he offered "from a secret admirer." She attended the prom dateless but a bit cheered by Leirose's gift.
As Lois told me the story, I was more and more engrossed. How did Jamie lose her arm (really?) Is her mother truly dead (sigh?) From what does she draw the inspiration for her music? Whom else has Lieirose protected, and what was their fate? And the father - why is he so disengaged?
Unless Nickelodeon chooses to develop the story, we may never know.
Lois needs to win a few cash prize contests so she can buy her mother - her living mother - some really nice gifts, don't you think?
Posted at 06:37 am by beckyww
Permalink
Friday, October 05, 2007
The normal, the routine, the expected
Julia continues to improve and our lives are drifting toward "normal" now. We're not there yet, and we won't be for awhile. But "normal" is looming.
I like normal. I like calendars and lists and plans. I like clear return address labels at the ready. The normal - the routine - the expected - it's all good.
Because I'm no longer anchored to a rocking chair comforting a whimpering child, I've had time to do a favor for a friend and write a series of short pseudo-blogs promoting Austin as the site of the February 2008 Telecom Pioneer Assembly.
I had to poke around online for topics and material. Google is my friend, returning thousands of hits to Austin-related topics. This a link, that a link, everywhere a link link....all very normal, routine and expected - until I popped this one: http://www.adapt.org/freeourpeople/aar/nga04/17sat/17report2.htm and read,
"Also moving, was spreading the ashes of two brethren that had passed away."
That sentence took my breath away. Those were my brother's ashes. Judy and I had given them to the organization in which he was so active (ADAPT) at their request in 2004. They asked to scatter them at a national ADAPT "action" where disabled people chain themselves to fences, charge police officers with their electric wheelchairs and the like. As Judy replied to me when I forwarded the request, " I find the whole idea TOTALLY APPALLING AND UTTERLY TASTELESS. Not to mention --- Well, words truly fail me. David would love it." So true, Judy, sooooo true. And he would have loved the whole "native American tradition....spreading the ash mixed with tobacco" stuff, too. The more chanting, drama and pagentry, the better.
David and me 30 years ago this month. Judy must have taken this picture because Mom always cut off our heads.
So in the midst of the normal - the routine - the expected - a very unexpected jolt. Like a phone call in the middle of the night. Or spotting a celebrity in Target.
I'd never seen this web page before nor knew any specifics about the event, so naturally I bookmarked it - like I normally do for something to which I plan to return. Because even with a few bumps and jolts - I do like to - want to - plan to - return to normal.
Posted at 08:31 am by beckyww
Permalink
Saturday, September 29, 2007
Many thanks for the pings, cards and calls to Julia. Her neurologist and opthalmalogist are both "amazed" at her recovery. After an unexpected three days flat on her back at home required to heal her still-leaking spinal tap puncture, she returned to school. She's still seeing double, and will be for awhile. Two Hannahs, two Loises, two Rachels ---- omigosh, frightening!
I used to love to read scary novels. I had to finish The Shining on my Remco lunch breaks - couldn't read it at night. Cujo reinforced every feeling I ever had about dogs. And The Stand - I even devoured the 25% longer uncut version. Twice.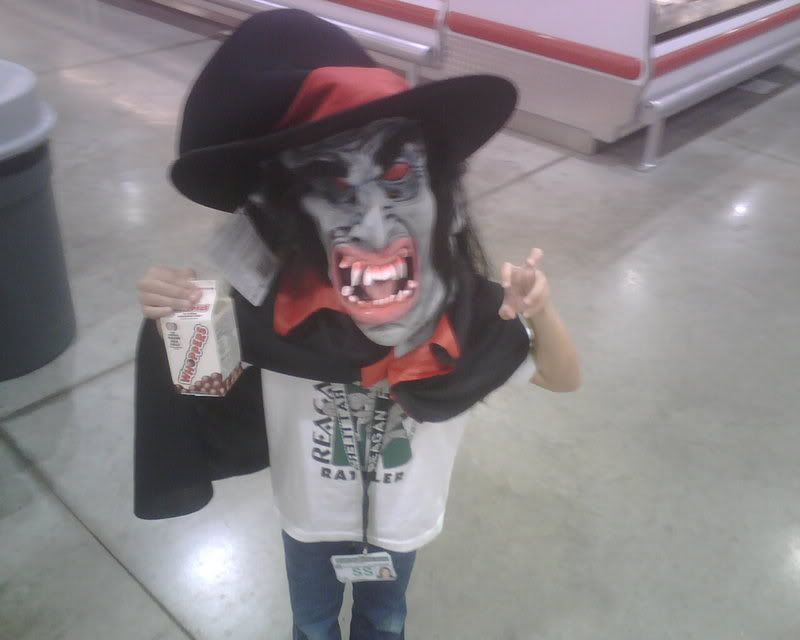 Never know what you might jump out at you at Costco....
Now the too-friendly stranger in a parking lot frightens me more than a smeared REDRUM. Rabid clerics chill my blood, not rabid dogs. And a spectral virus decimating the world holds no importance compared to the one that crawled up my child's spine.
In Stephen King's introduction to Danse Macabre, he said people asked him, "How can you write this stuff?' And his reply was, "How can you read it?"
I think I would answer, "Because it's not as scary as the world we live in."
Completely blown away by:
The Altar and the Door
By Casting Crowns
Posted at 06:43 pm by beckyww
Permalink
Sunday, September 23, 2007
We've been through a rocky few weeks with Julia, who's been battling a still-undefined virus that penetrated her spinal column. After several difficult procedures at Methodist ER on Wednesday, then three days of hospitalization at Baptist (denomination switchers that we are) Hospital, we think she is finally on the mend. She's home as of this morning to a house caught up on laundry and with food in the fridge, thanks to Sarah coming in from Houston Friday.
Julia will be on meds for awhile, and wearing an eye patch for a few weeks (or months), and may have to have a few painful, necessary evils performed... but those are trivial inconveniences compared to other outcomes.
As Keith and I hunched over her ER bed Wednesday attempting to digest the possibilities and probabilities looming, he said, "Boy, I wish I didn't know now what I didn't know then."
Yes. Exactly. Exactly. When Julia started getting sick a month ago, I didn't know anything about "bilateral sixth nerve palsy." And I wish we hadn't needed to learn about it last week.
I was stunned when we were told baby Lois would be premature. A preemie? Us? No way. No one in my family had ever had a preemie. I always skipped right over those sections of the pregnancy books, smug in the certainty that crazy stuff like that applied to "other people.". And suddenly - in the midst of trying to keep two jobs, rear a two-year-old and prevent me from hemorrhaging - Keith and I became those "other people," furiously reading about how to delay her birth, and what to expect after it occurred - information I never, ever wanted to have. I wanted a Gerber baby.
When Judy and I could no longer manage to keep our mother in her home, we started researching assisted living centers. I would physically and emotionally clench as we visited sites, gasped at horror stories and evaluated cost models. I didn't want to know anything about this depressing stuff. No! I wanted my mom in her own home, where I could plop down in the comfy chair by the kitchen and talk the latest Nero Wolfe or James Mischner.
Time after time in life - like everyone else - I've been forced to learn what I never wanted to know.
As Mick Jagger sang, "You can't always get what you want. But if you try sometimes you just might find - you get what you need."
Right now, I find myself thanking God for two things: First, I thank God all four of our girls will be sleeping at home tonight. Second, I thank God for the things I do not know. Because I can't always get what I want. And only God knows what I need.
Posted at 07:20 am by beckyww
Permalink
Monday, September 17, 2007
Shutterfly - one of my favorite sites - has a pretty cool little ap out there now:
(To confirm the suspicions of more observant friends: Yes, that's Julia's cropped facial shot from the Power Rangers entry below.)
Right now, this virtual adventure (spread by viral marketing - appropriate) is about the only activity in which you'll see her. She's had some kind of virus/weirdness that has slowed her down for almost three weeks. The rest of the family is fine. And she seems to be getting better. So I am hoping her next "Alphabet Adventure" will be back in class, because she's missed a week.
ABC - I prefer "A Bright Child" to "Another Batch'o Crud."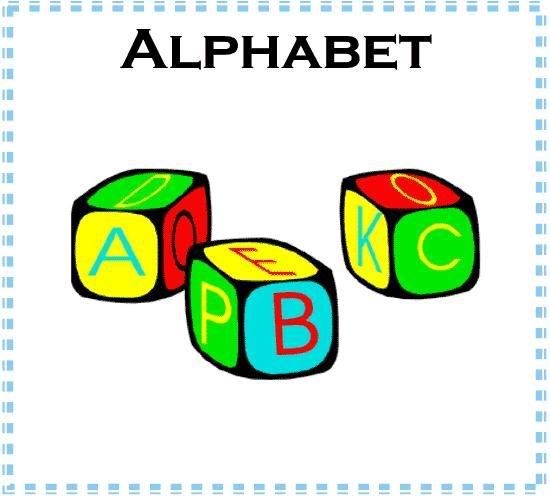 Posted at 02:30 pm by beckyww
Permalink
Tuesday, September 11, 2007
Are You Smarter than a First Grader?
See Julia.
See Julia in her pink Power Ranger jammies.
See Julia watch Power Rangers on AT&T U-verse TV.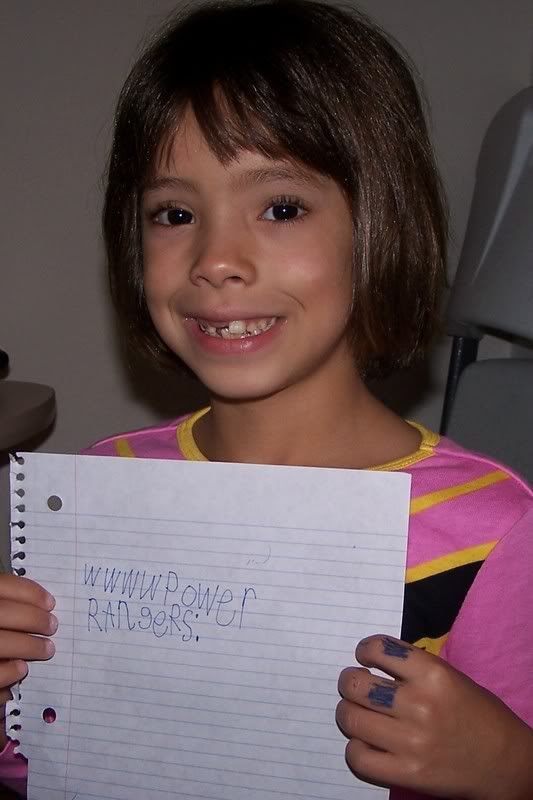 Self-taught remote control expert...this is definitely Keith's daughter....
Stop, Julia, stop! Use the remote to stop Power Rangers and write down the URL you saw displayed.
Run, Julia, run! Run upstairs and enter the URL on Hannah's computer.

Tell, Julia, tell! Tell your (surprised) mom all about it.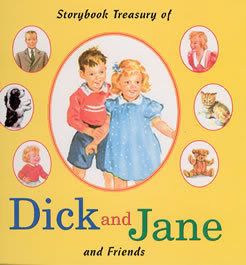 Dick and Jane have nothing on you.
Posted at 07:27 pm by beckyww
Permalink
Sunday, September 09, 2007
When our kids are not feeling well, they generally sleep in our guestroom - the bedroom next to ours where the "sick bell" (a wedding gift of my parents') can be easily heard in the wee hours. The sick bell rests atop a side table constructed by my great grandfather from a barn beam. Also there: An clear acrylic cover over a Kleenex box featuring my mom's favorite pictures. She decorated the box cover herself in 1973, and it sat by her bed on this very side table until it came to my house in 1998.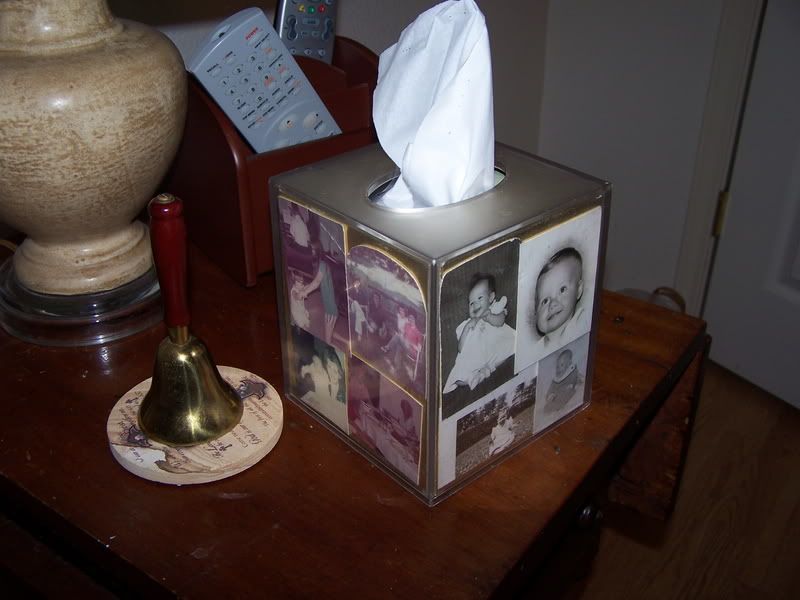 Rachel and I are allergic to everything. I don't want to hunt for a "tissue." I want a box of Kleenex within arm's reach all the time.
Julia's been sleeping in guestroom lately as we've both been fighting a cold - the gift that keeps on giving. Last night, she asked about this box - and its pictures - for the first time. We addressed her questions photo by photo as she turned the box in her little hands. That pretty baby really is Aunt Judy. Yes, my brother's arms and legs were sort of "broken." No, I don't remember what kind of birthday cake it was. Yes, my hair used to be very long.
After we'd discussed all 15 pictures, she quickly flipped the box from side to side, pointing to everyone except my Aunt Mary, Judy, Carl and Sarah, saying, "Dead. Dead. Dead. Mommy - where are they?" So we talked about heaven, and whom I expect to see there including Julia herself because - as I explained - one day, I hope to hear her say that she, too, believes in Jesus.
She pondered that for a moment and then whispered in a small voice, "Jesus is not in a box."
I was tempted to reach for one of those Kleenex.
Posted at 11:04 am by beckyww
Permalink
Monday, September 03, 2007
Summer is over (sigh.)
And - A big shout out Happy 35th Birthday tomorrow to my brilliant niece Sarah.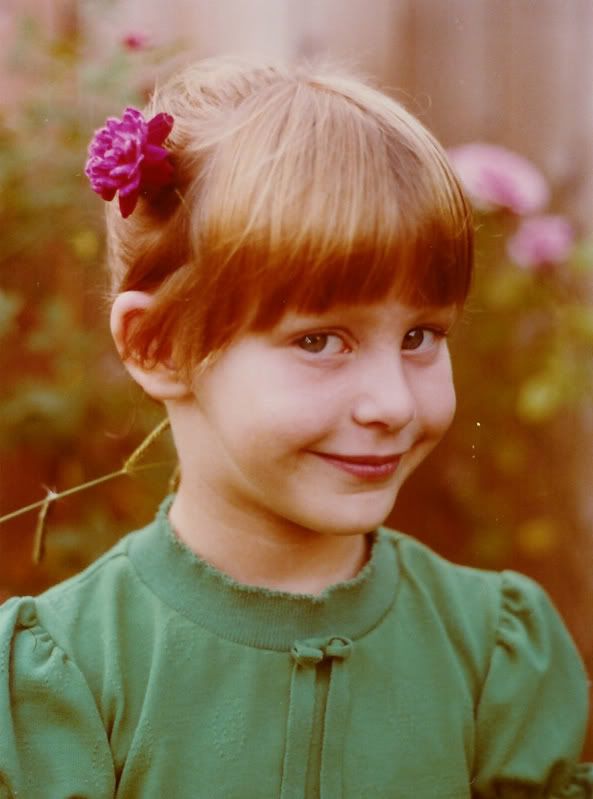 She still looks just like this - at least to me.
Posted at 06:44 am by beckyww
Permalink
Wednesday, August 29, 2007
Non-profits and government are the sole bastions of Stone Age administration with whom I interact. Any other organizations, vendors, etc. - you give them piece of information once, and they then sort, slice and dice it as needed. Smart ones then tailor communications and offers to you, based on the information you provide.
Schools - which are part of government - are not among those "smart ones."
The first few evenings of the school year, I count on spending at least one hour per child on nothing but administrivia, re-appending the same information manually that I have offered year after year, child after child, with no option to verify, create or submit online, just mindless hours of drone work. Most of this information does not change and requires me to scurry around the house checking innoculation records, our Yahoo! family calendar, our home phone list, etc.
My joy is boundless.
Here are three words that make the process more bearable:
CLEAR ADDRESS LABELS
There are my favorite "motherhood tip." I often give the labels as baby gifts. They have saved me scores if not hundreds of hours in 16 years - at school, at church, at Scouts, in the doctor's office, at trade shows - everywhere.
I keep a roll for each child and myself in my desk upstairs, in my admin drawer in the kitchen and in my desk at work. I keep several for each child and myself folded and tucked in my wallet. When I am anywhere that I am required to append name/address/phone number for any of us - I whip them out and slap them down. I don't care if I have to stick 10 on one piece of paper. If someone is irritating enough to ask me to repeat a name 10 times, a sheet fulla labels with full name/address/phone number is their problem.
The trick is to have them the labels you need them. If you don't have them handy, you won't use them, and then you're stuck trying to cram your child's name, address and phone number onto the 2" line on the hideous blue form you can barely read anyway.
When I sit down to do the mountain of kids' school forms, I assemble:
- Clear, block-print return address labels w/home phone number for each of us
- Good black pen, checkbook, reading glasses, home phone list (ours is six single-spaced typed pages), stapler, paper clips. Scissors would often be helpful, but the urge to use for them other than their intended purpose is too great.
- Cordless phone for reaching daughters secreted in their rooms to inquire, "What is your advisor's name?" or "Do you want a Green Out shirt?"
- Wastebasket for 90% of it.
- Diet Coke early in the evening; red wine when the air turns blue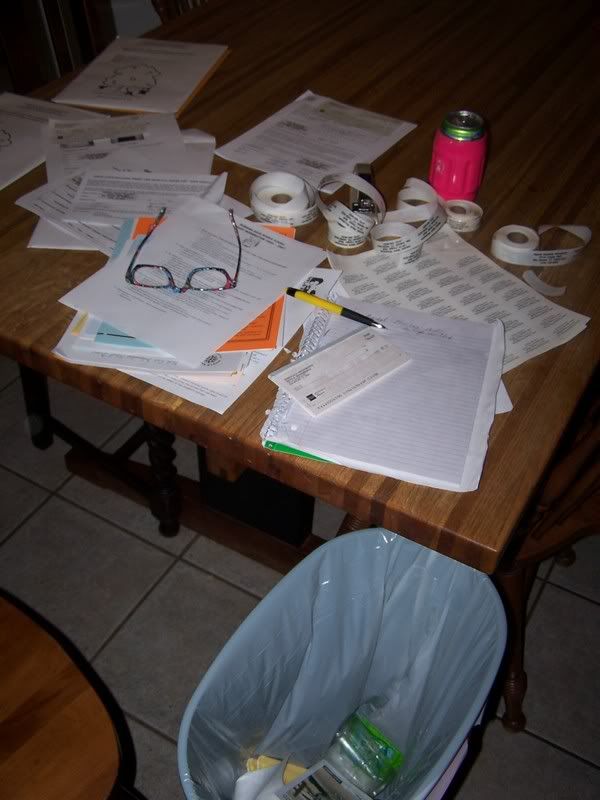 The kitchen becomes mysteriously deserted as I begin to wade through the administrivia swamp. Everybody knows to stay outta my way. In addition to the full NEISD packet'o'stuff per child, Rachel also brought home a separate 16-page envelope just for choir. My first check of the evening was for $70 for Lois' "not mandatory but strongly encouraged" choir outing - with nine pages of information to complete. Yes - nine pages for one outing. I am so proud Lois has done well in choir. I love hearing the Bush Middle School choir. The teacher is one of the very best I've ever known. I don't begrudge the $70 at all. I want Lois to go on the outing. But nine pages of questions I've answered year after year? GeeeeeROAN!
At the end of the evening, I eventually survey a completed packet (or packets) for each child, plus a stack of loose papers with dates circled when I then take upstairs and enter on our Yahoo! family calendar, and often our calendars at work. Usually a few emails to teachers are required, too.
This year I slapped down 182 clear return address labels. I wrote 11 checks totaling $349. I posted 15 dates to calendars, and sent three emails to teachers.
I have long believed motherhood is less about ooey-gooey professions of devotion than it is about day-to-day management. I spend at least 10 hours on maintenance (washing, transporting, nursing, cooking, cleaning, shopping and admin'ing) for every hour of way-more-fun quality time. Everything I do to reduce time spent on maintenance is more time available for quality. So I really think three little words like this:
CLEAR ADDRESS LABELS
are sticky expressions of three little words like this:
I LOVE YOU
I'm off to rummage through backpacks and shoulder bags, gathering up the next batch of admin. In the meantime....three other little words....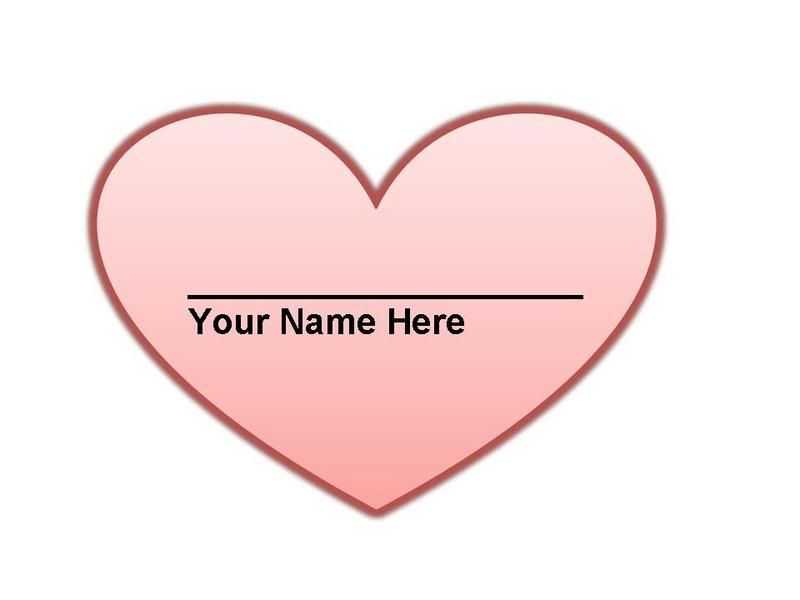 Posted at 06:43 pm by beckyww
Permalink
Monday, August 27, 2007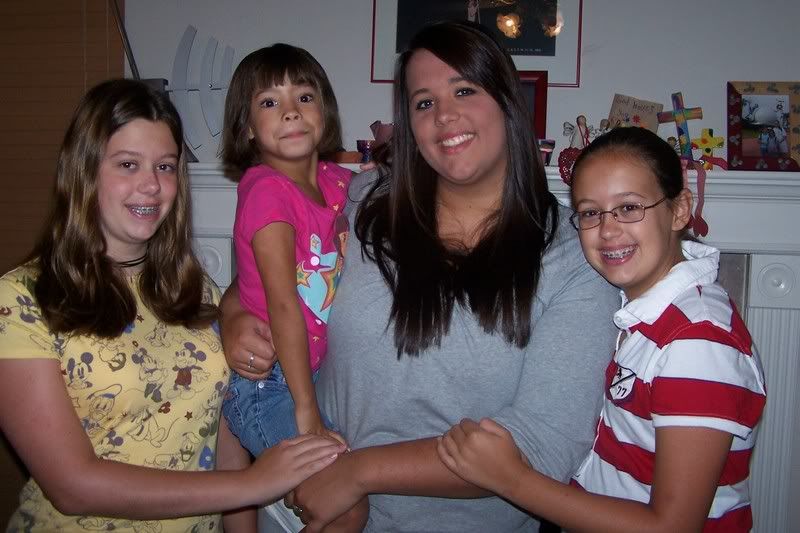 Lois - 8th grade; Julia - 1st grade; Rachel - 11th grade; Hannah - 6th grade
First day of this new school year! Their pencils are all sharpened. Their lunch accounts are funded. Everybody got new clothes and a backpack - though I found out Friday afternoon Hannah won't get to use hers, at least for school. Sixth graders get lockers, but are not allowed to carry backpacks because they get books for school and home. We made a rushed trip to Academy for a Dickes shoulder tote for transporting homework.
Hannah and Lois will get one year together in middle school. Julia had last year in elementary school with Hannah, but won't be in school with a sister again. Makes me a little sad - but I am so thankful she and Hannah were together last year.
Julia chose a Dora the Explorer shirt for this important first day, and ate her scrambled eggs from the Dora the Explorer plate using themed utensils. When Rachel asked (in jest) if she could use the plate and utensils, Julia replied, "No. You do not look like Dora, Rachel." Word!
The girls' excitement offsets my - ummmmmmm - lack of enthusiasm for the amount of parental self-discipline the school year requires. But hey - We've been doing it for 11 years, and we have only 11 more to go. So.....
Posted at 05:53 am by beckyww
Permalink