Saturday, July 19, 2008
We've just returned home from a week at the beach - always the highlight of our summer. This is Julia's third time for a real vacation, so she knew what to request (sugared cereal), what to bring (crackers for the ferry ride) and what to expect (lots of uninterrupted family time.)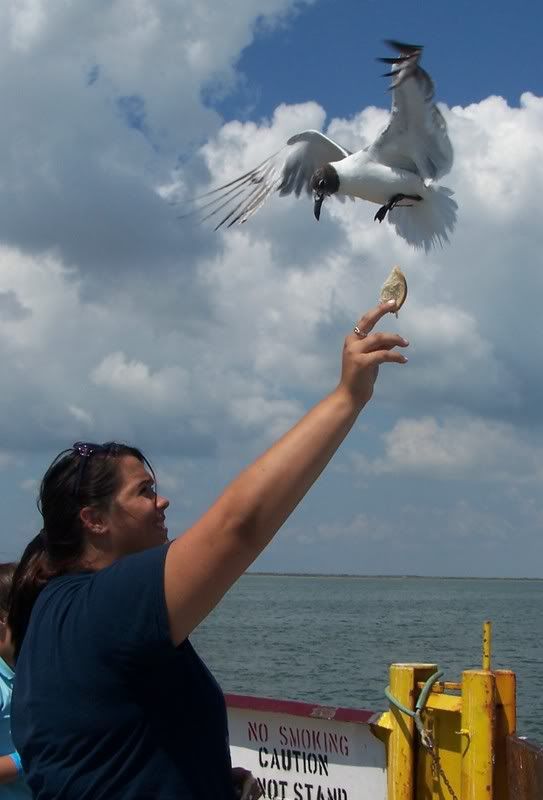 The ferry ride from Galveston to Bolivar is part of the whole experience. We have driven the long way'round to Crystal Beach via I-10 when we've had to do so - but it's sure not as much fun as spotting dolphins and feeding the sea gulls.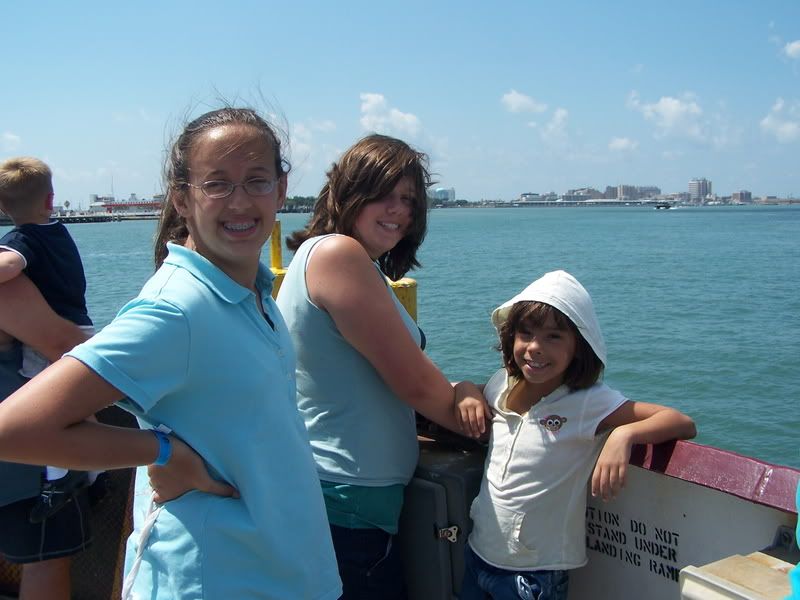 Our neighbors just returned from a cruise out of Galveston, and we passed a huge Carnival ship. Julia ran to the front of the ferry to get a better view. Gulls can only be fed from the back of the ship to prevent aerial decorations on the dozens of cars.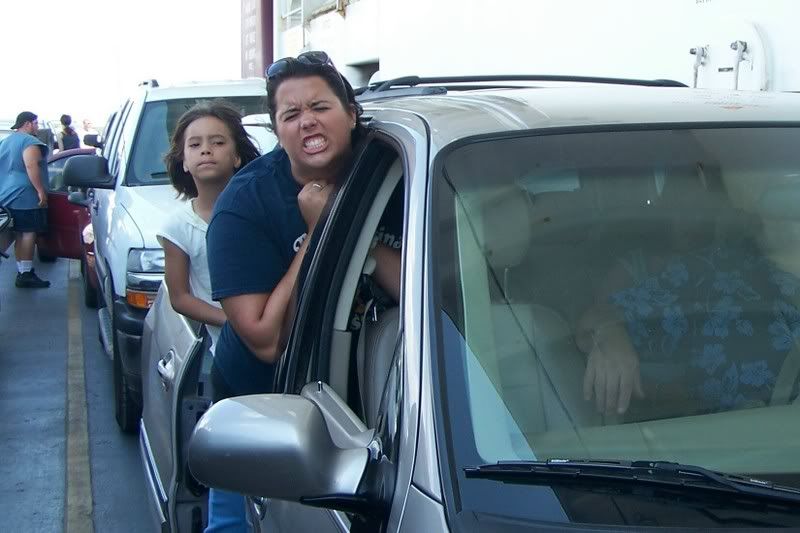 That last handful of chipotle cashews - ummm - not so wise.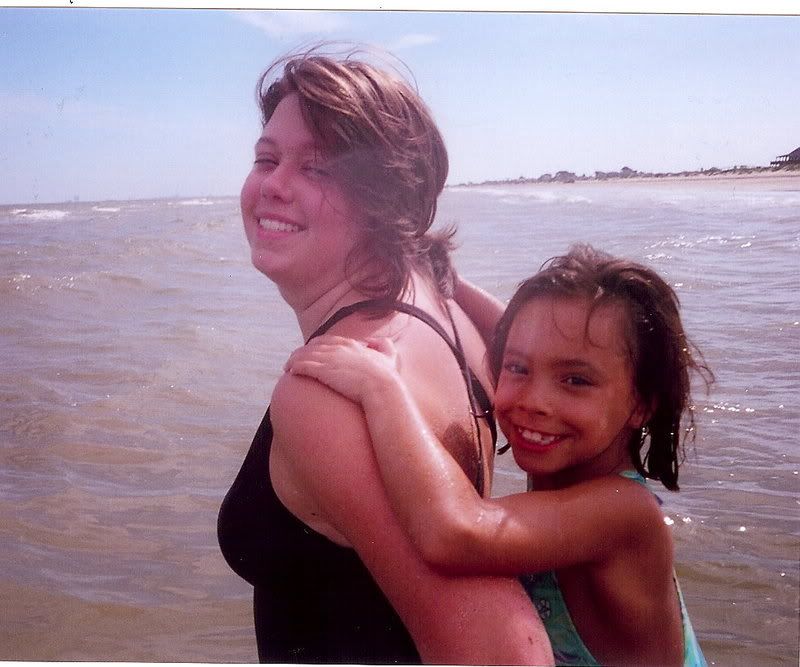 We've caught hundreds of "herminy crabs" in a day on past trips, but this year, the most we ever contained in a sand zoo was 11. Hannah prefers to hunt in the traditional squatting method, while Rachel gets on her elbows. Julia runs them to shore.


Sarah brought Laura (in her lap) and Sweet Baby James down to splash. Hannah and Julia are spending this week with her family, wihch proves Sarah is brave as well as beautiful.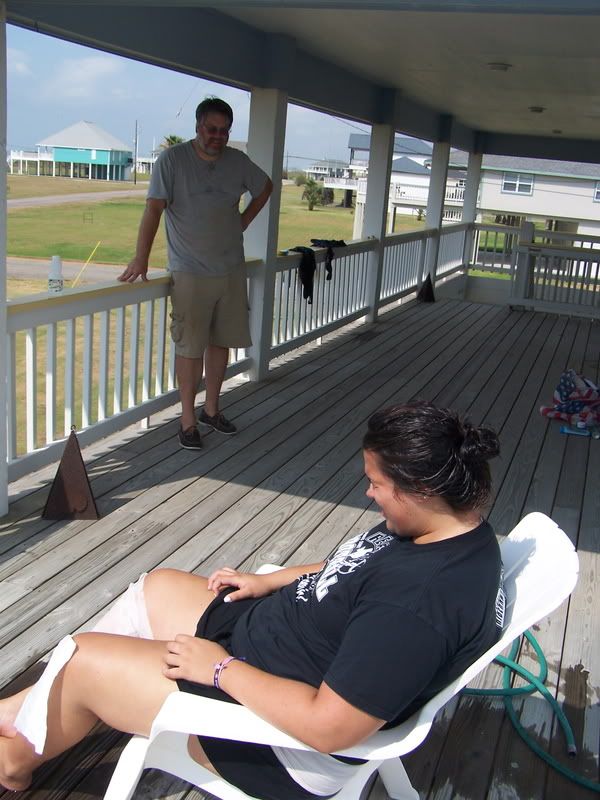 Rachel and Keith usually swim out pretty deep. This year Rachel met a jellyfish, just below both of her knees. Recommended treatment: Poured vinegar, followed by vinegar compresses (phew!) and leg shaving.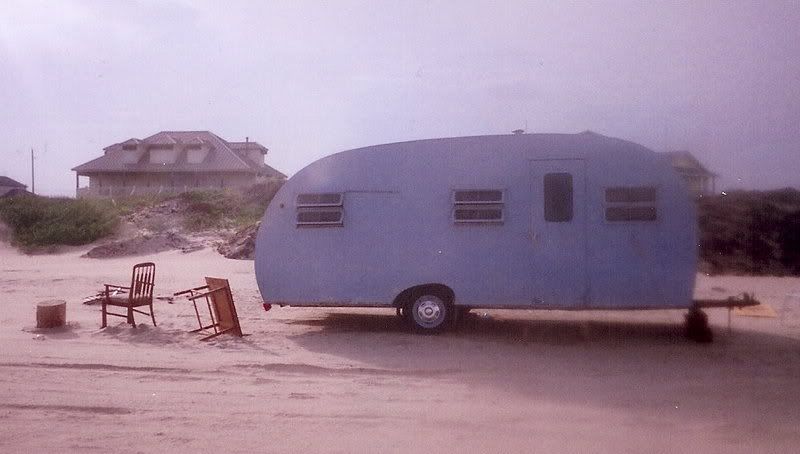 The home of the friend in which we stayed is part of an absolutely gorgeous beach front neighborhood, separated from the gulf by a gated walkway. This smelly, rusting trailer was parked just outside the walkway on the public beach. As the girls and I watched from the water, a muscle-shirted guy with plenty'o'tats and drooping cigarette pulled up and pasted a notice to the door. (Rachel named him "John Jimminy Bing Bang.") As soon as he pulled away, Rachel and I dashed to read it. "To the County of Galveston - DIBS!!! If this is an anbandoned trailer, I'd like to claim it. Please call....." Rachel and I dared to peek inside. A torn up counter - empty booze boxes - a tiny radio with aluminum foil on the antenna. And disgusting smells. "DIBS???" We were having trouble picturing exactly what "DIBS" would get you. After lunch and naps, we were back in the water when John Jimminy and a few of his tatt'ed friends arrived with a bigger truck to haul it away. Watch for it to reappear in a trailer park near you. Say "howdy" to John Jimminy for us, ya hear?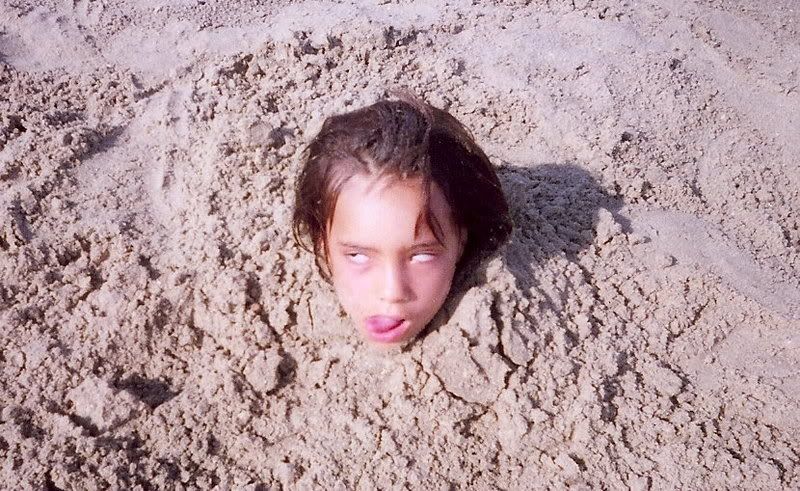 Just trying to help Julia get ahead.
Quotes from the dunes:
Lois, explaining why I had to be her biological mother: "I'm so much like Dad, and you're the only woman who could stand to be with him."
Rachel, commenting on Julia's tears shed over some injustice: "Ohhh, they're salty! Too much beach!"
Lois, with a hearty sigh that no one was endorsing her suggestions for games to play: "My leadership skills are going to waste."
Rachel, noting that we did not stay long when we dropped her off at the Edwards' Pearland home to visit this week: "You know, you could have just kicked me out of the car and not said anything. Like the baby Moses policy."
And finally -
Rachel, after several minutes of sibling fighting in the car: "Dad is counting backwards from a million and Mom is singing hymns. We may have gone too far."
Maybe. But the beach - ahhhh, the beach was just far enough.
Posted at 11:42 am by beckyww
Permalink
Saturday, July 12, 2008
My brother David said it best crunching a mouthful of popcorn during a rerun of
Twilight Zone:
"TV is a member of my family." Oh sure, I wanted to immediately retort, "TV is just trash." But I couldn't quit spit the words out. Because reality was and is - I
like
some of that trash.
David with his favorite member of the familiy - our first color TV which I bought working at Remco TV Rental in college. For years, we snuck into the den on Friday nights to watch "The Midnight Special," carefully avoiding the squeaky floor boards as I would slowly shut the pocket door, giving it a little palmed boost over the sticky spot. We held our breath as the tube fired up with that distinctive crackle. If Mom didn't wake up for that - we were good. Wolfman Jack looked so much cooler in 25" of glorious color.
One of my happiest childhood memories is of the 1965 evening
Lost in Space
debuted. My mother - who kept us on very short leashes - made our favorite dinner of fried chicken, mashed potatoes and peas. With chocolate chip ice cream for dessert - on a school night! And we got to eat in front of the TV for the first time ever.

Hearing "Danger, Will Robinson!" makes me taste bits of frozen chocolate swirling on my tongue in creamy goodness.

Sarah used to spend most Friday nights with me when I had an apartment. She and her friends got to eat what they wanted and watch what they wanted - as long as they didn't wake me up.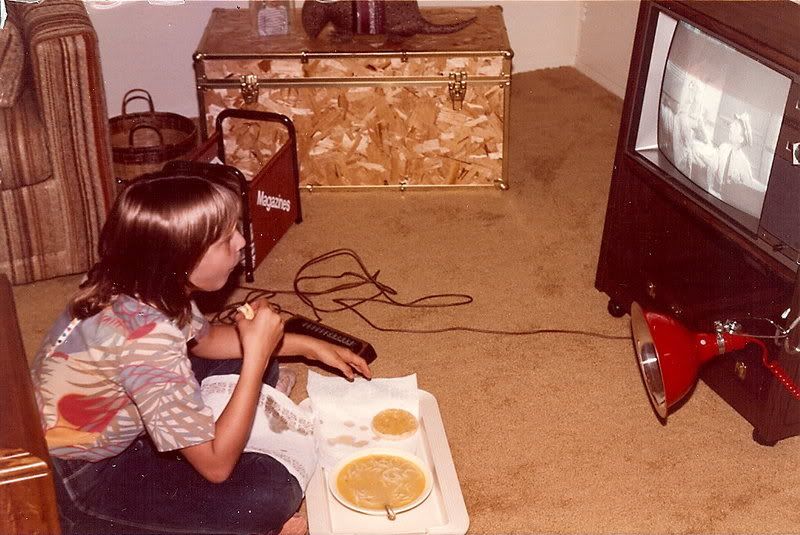 Chicken noodle soup with Barney Fife - does it get any better? Today Sarah-Stay-At-Home-Mother-Of-Two is a fan of "Desperate Housewives."
Fast forward to today. I don't have much time to watch TV, which is ironic since
AT&T U-verse
provides our living. (And if you don't have U-verse you should
check your availabilty
and ping me to order it right now. This instant. Hurry up.) So I'm picky about what I watch. HD - don't really care. But I won't watch commercials - we DVR most everything.
The girls and I curl up to watch
The Office
, which I know they will find even funnier if/when they join the lovefest that is Corporate America.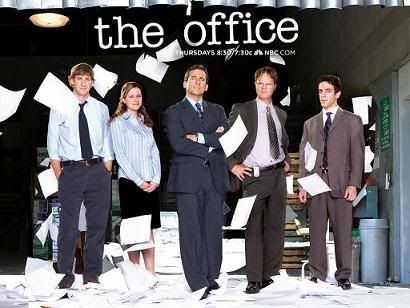 "The Dinner Party" is our favorite episode. Sometimes Rachel or Lois will just look at me and recite, "I don't care what they say about me. I just want to eat. Which I know is a lot to ask. For a dinner party." My favorite character is Stanley who said, "It's like I used to tell my wife. I do not apologize unless I think I'm wrong. And if you don't like it, you can leave. And I say the same thing to my current wife and I'll say it to my next one, too."
Rachel and I chase everyone younger out of the room when we've got a new
Big Love
recorded. We don't have to chase Keith - he huffs out on his own, rightfully condemning it as pure trash. He's so right. Yes, he is. As his first wife - I agree completely. With a bowed head. And a respectful nod.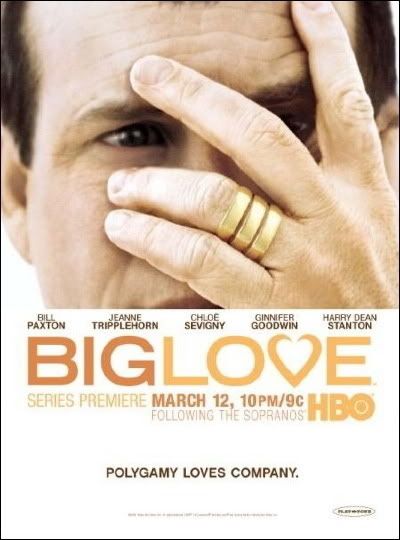 No one should watch this filth. Absolutely not. Turn it up, Rachel. Ohhh, go back. Is that Barb? Give me the remote.
When Julia was so sick last fall, I commiserated to
my friend Sharon
- who got us watching
House
- that I wished we could take Julia to him.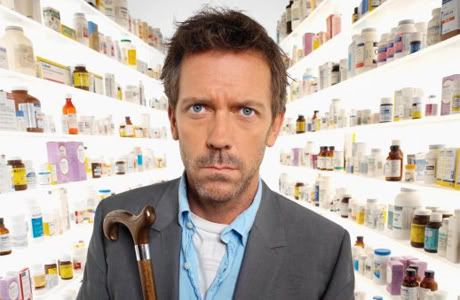 We all like House. Watching it with Julia is challenging. "Why is that woman crying? Why does he take those pills? What happened? Who is that man?" Ummmm.....Jules. "Power Rangers" is on in the den, I'm sure.
Keith, Lois and I are anxiously awaiting new
Heroes
episodes. Hiro is a rush. But personally - Nicki's whining and whipping hair gets on my nerves and I'm hoping Skylar sucks out her brain - what little there appears to be of it.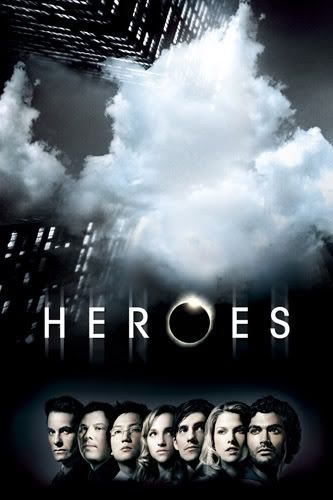 Save the Cheerleader!
Now Keith has me hooked on the History Channel's
Ice Road Truckers.
We've got to find the first season to rent. There's so much more I want to know about these bearded, speech-bleeped hulks. What about their families back home - and where is home? They cross themselves - are there any churches in these icy wastelands? What do they eat? And who cooks it? How do they get cell phone signals? And - morbidly - whose turn is it to plunge a rig below the ice?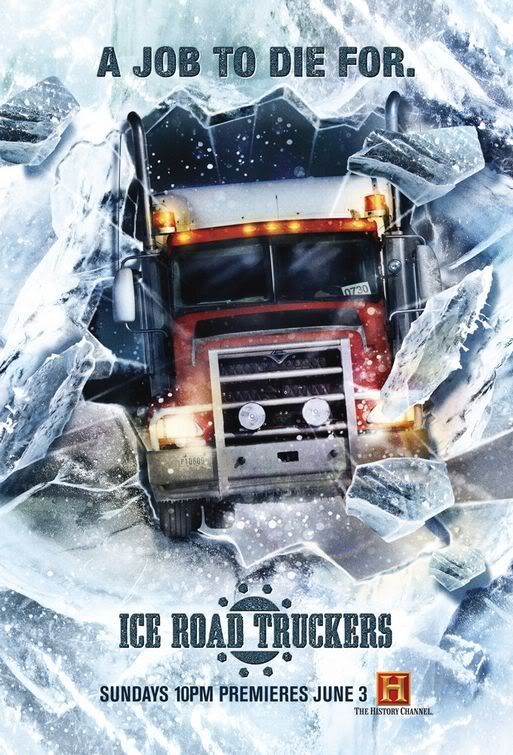 A cool show in the hot summer, eh?


We don't use programmable parental controls. The girls know what is and isn't appropriate to watch. I promised them years ago that if I ever caught them watching something they weren't supposed to, they lost the right to watch TV without me present. And I don't watch
My Super Sweet 16
or
Degrassi
.
Some of our favorite evenings as a family are what we call "Family Movie Night" - a junk food dinner in front of the TV with a movie we all want to see. Our last one was "Enchanted." We chomp meatballs, egg rolls, pot stickers, queso, etc. in the den, plopping down on the furniture and girls' Disney floor pillows. I usually spring for too-expensive diet root beer in bottles, which we all like to gulp. We do several of these evenings during the holidays when we unbox the Christmas movies,and at the end of the season, Family Movie Nights are often recounted as a highlight.
Family Movie Nights...eating in front of the TV - not good, I know. But somehow - I think even my mom would approve.
A few weeks after David died, I was struggling with a migraine, as well as mourning him deeply. I feel asleep in my recliner and experienced one of the most vivid dreams I've ever had. I dreamed I was half-asleep on Mom's scratchy old couch, positioned, of course, in front of the TV. David did his flip-thing from the floor to the couch, gouging me in the ribs as he so often did. As I struggled to open my eyes, he smiled hugely at me and said, "Hey, what's the matter with you? Why are you so sad? Bec - I've only changed channels."
Maybe TV is a member of my family, too.
Posted at 08:02 am by beckyww
Permalink
Monday, July 07, 2008
Warning: This blog is rated "PG" - for "Pretty Gross"
This weekend, Julia threw up for the first time since she's been in San Antonio. I hardly had time to think about her. Another family member was ill. And - being the devoted mother that I am - I was more worried about him.
Remember Keith got me a
Roomba and a Scooba
for Christmas? I love them still. In fact, Rachel asked me, "Mom, if the house were on fire, who would you save first?" I just leaned over and patted the cool, shiny metal of my dear Roomie, quietly recharging on his docking station.
But this weekend, Roomie hiccup'ed. He would vacuum for a moment, then quit. What was wrong? I racked my brain. I faithfully dump his dust catcher and scrape off his little filter with every use. His cleaning brush had only a few strands of hair wrapped around it, as I'd used a knife to saw that rope last week. I knew he was fully charged. Tearfully, I cradled him in my arms, then laid him gently in Keith's lap. Keith's hands disappeared inside as he told Roomie to "cough."
Look what Keith found packed in Roomie's poor "innards" -
Hair, dust and I-don't-wanna-know. This funk didn't come out of his filter or his dust catcher. This mess was jammed in poor Roomie's tummy.
Joyfully, I returned Roomie to his appointed rounds. But no. He still wasn't well. So Keith did some reading on i-Robot user boards and discovered another possible cause. Alas - surgery was in order.
Posted at 04:46 pm by beckyww
Permalink
Wednesday, July 02, 2008
When we met
Guanna-to-be-Julia in February, 2006,
she told us she liked dolphins - amazing, since she'd never seen a real one, and also since Lois has always been fascinated by them. When we returned to her in May, 2006, we brought a dolphin necklace for her and each of her friends. Shelley and John picked us up at the airport, bringing her a
stuffed dolphin
to clutch on the eye-popping 20-minute drive to her new "dom," where her sisters anxiously waited to meet her.
It didn't take Julia long to realize the billboards, tray liners, TV commercials, etc. were telling her there were dolphins in San Antonio. After a local author read his book about Sea World to her school last year - she was hooked. "Mom, we need to go there." She's asked at least once a week for more than a year to visit Sea World.
Monday, I finally took Hannah and Julia to Sea World. Seeing her face there reminded me of taking two-year-old Rachel to see Barney at the Natural History Museum in Houston. The looks were of joy and wonder - I couldn't help but be happy, too, even with all the "whale spit" on my clothes.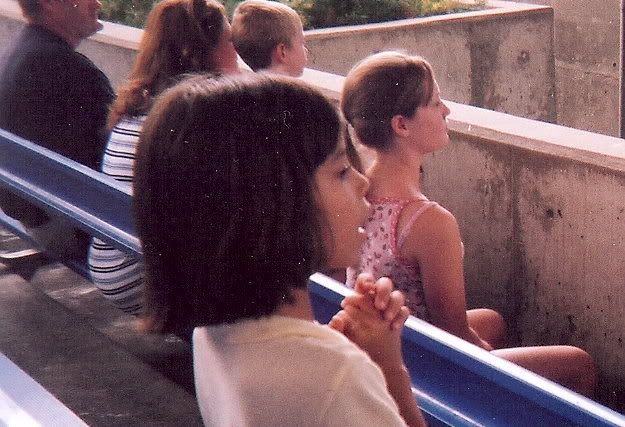 Open mouth. Clasp hands. Wait a moment and point excitedly crying, "Look! Look!" Shamu is the big draw at the park but the dolphins absolutely captivated her.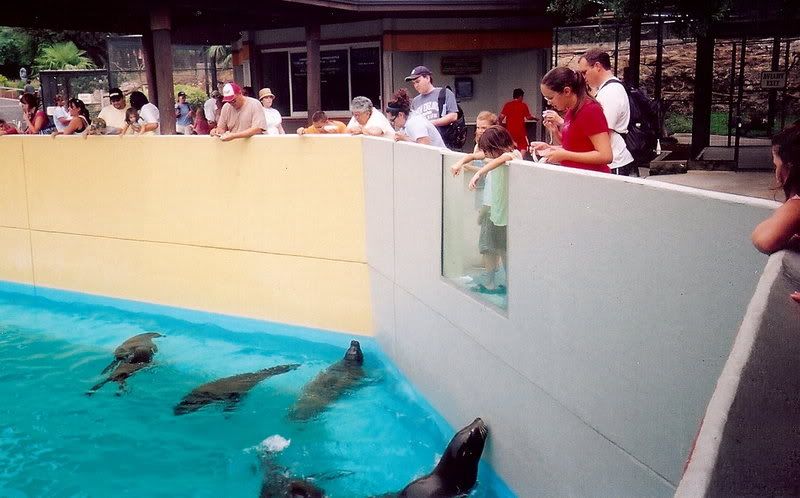 We feed the Sea Lions enough fish to make me glad I'd visited the ATM. Julia and Hannah barked to each other for awhile afterward. Me? They'll tell you I bark all the time.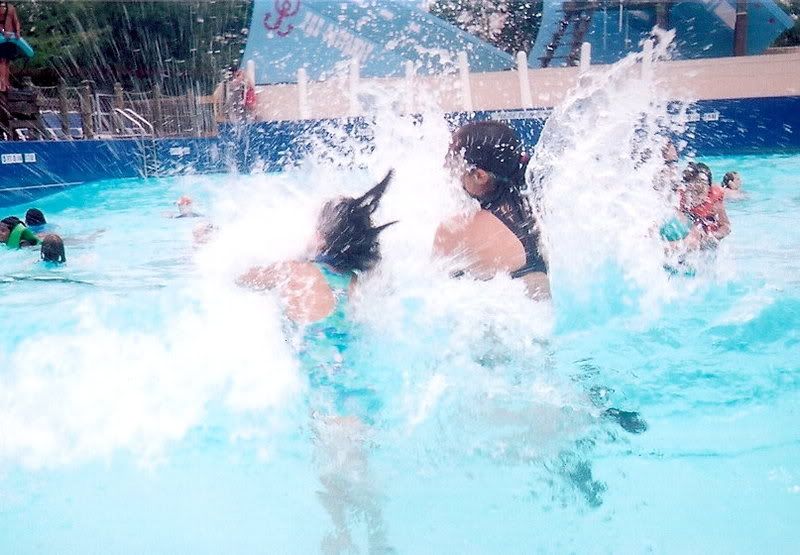 Afternoons routinely break 100 degrees here. Yeah for the wave pool!
New dolphin googles, anyone? "Mom, these are cool."

The child is fearless. In addition to all the water stuff, she and I went on Journey to Atlantis, and she did the 15-story drop, 65 mph Steel Eel roller coaster by herself. As in alone. As in neither of us wiith her. I promised God in 1998 that if he would let me off the roller coaster I was on at Fiesta Texas, that I would never ride another. Promise intact to date.
So this is how an eight-year-old former resident of Children's Home #47 in St. Pete, Russia, came 6,000 miles to splash the day away with dophins and whales native to seas from the four corners of the globe.
See, world? You're getting smaller all the time.
Posted at 08:26 pm by beckyww
Permalink
Saturday, June 28, 2008
Many thanks for your calls and emails about this breaking news story....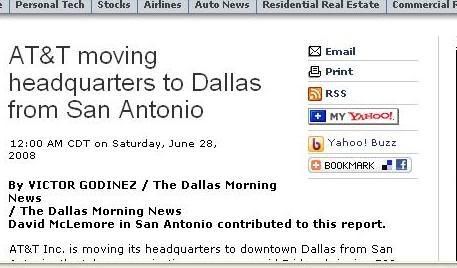 The Q's were a'firing at the office yesterday
,,,,but I am happy to report we are not moving. Rachel is now a senior. I called her at church camp to make sure she and Lois understood before they happened across the story (I'm sure that's what they're doing at South Padre - scouring the papers, watching CNN, discussing current events, that sort of thing.) Her question: "Well, if we did have to move, you'd just let me live with a friend, right?" Ummmm. No.
We like San Antonio. We love our
church family
, and our schools and the friends we've made. The Fiesta Texas water park and our neighborhood pool keep the summers bearable, and there's nothing more beautiful than the River Walk at Christmas. No, you can't get fresh sushi 24 x 7 here, but there's a lot less filth, noise and vulgarity as opposed to bigger cities. I was the one who fought moving for years, and yet it's turned out to be such a good move for our family. I'd move again if we had to - but I sure don't want to. And I sure don't want to move anywhere bigger.

I've been with AT&T 28 years and nine months as of today. It's been a wild ride, especially 1983 - 1984 with Divestiture (the same time as "Ghostbusters" - hence the shirts - I'm the one on the left), Hurricane Alicia, the three-week strike and Southwestern Bell's first layoffs ever. None of the jobs I've had since 1997 even existed when I joined the company in 1979. And
U-verse
- which Keith and I both work on now - is a whole new bag'o'tricks. I worked at Remco TV Rental through five years of college (slow learner) , often reading/summarizing books and journals for the owner. I became convinced that eventually, one telecommunications "thing" would exist in the home. That's why I went to work for AT&T instead of Prudential Life, a headhunter, a local book publisher or some oil company whose name I can't even remember.
U-verse is it.
Well, the start of it. It's in its infancy. But it's growing up fast, and I think it will become the new norm for TV/voice/data. I truly do.


My hope is our next move is to our scaled-down retirement house. Keith and I love to walk houses under construction, or sign in with phony names at local open houses (so the realtors don't keep bugging you) just to get ideas. We want an outdoor fireplace on a good-sized patio. I want a gynormous closet to store best-quality air mattresses to use when my 28 grandchildren (all named "Rebecca") come to visit. I want to be within easy striking distance of a college, because there are serious bible classes in my future.
But we can't go anywhere now.
After all.
How would we pack the pond?!
Posted at 08:08 am by beckyww
Permalink
Sunday, June 22, 2008
Making
Operation Christmas Child
(OCC) shoeboxes used to be just a fun thing for our family. Then it all morphed into a tradition - making boxes is our
big annual holiday activity
. OCC recently asked me to be its local volunteer media director for 2008, and I agreed, thus proving Keith and my friend Vicki correct about the glaring red "S" (for "Sucker") on my forehead.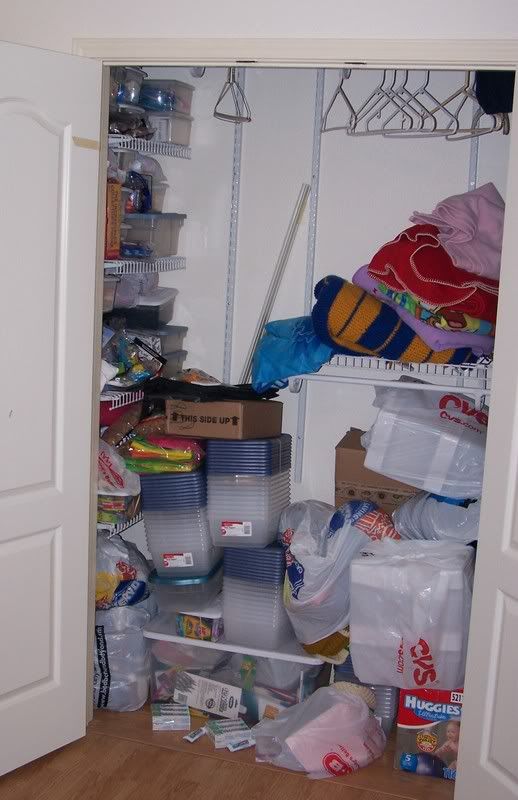 The unretouched view of our guestroom closet - jammed with box stuff. Julia and Hannah would each like their own bedroom, but I've been reluctant to separate one into the guestroom, largely because it means finding another place for all this stuff we buy through the year. This is Texas - it can't be stored outside. I'm thinking I might try buying the gynormous Rubbermaid boxes I've seen at Target and stacking several in the gameroom, but that solution presents its own logistical challenges. (sigh) I'll eventually figure it out. Right now, the closet holds: Plastic boxes from Shelley, beads from Lisa and Dorothy, a ton'o'Target 75%-off stuffola that Sarah and I snagged after Christmas '07, assorted leftovers from last year, plus Matchbox cars and bubble gum purhcased with free shipping thanks to
slicksdeals.
In training Saturday, I learned:
- Many contributors now use plastic boxes, and finallyyyy - Samaritan's Purse is trying to reach a joint marketing agreement with a supplier, probably Rubbermaid.
- There's a national partnership in the works for them with Chick-Fil-A, and K-Love Radio - both favorites at our house.
- The most commonly-observed use for the plastic boxes? Children use them to haul water. It's a weight they can handle.
- Each of our boxes contains at least one clothing item (socks, underwear, knitted cap, shirt, whatever) and I've never stressed about sizes. I figure that's God's job to sort out, plus, if the recipient can't wear it, I'd bet he's standing next to a child who can. I've also never stressed about cold weather clothing items going to hot weather countries, and vice-versa. The OCC officials told us that knitted caps and gloves are much treasured in tropical countries because the cap keeps a child's head from being sunburned, and the gloves protect his hands while working in the fields.
- A six-year-old boy in Russia got a box a few years ago, but had to be coaxed to open it after telling his orphanage director, "I don't care about the box. All I want a family." His box contained the usual toys, school supplies and candy, plus a picture and mailing address for the donating couple. The orphanage director wrote them. Correspondence led to a visit - and eventual adoption. His box contained his parents.
- The adult son of a couple in West Virginia died of diabetic complications. His parents discovered two boxes he was working on and now- years later - are responsible for thousnds being completed.
- Though 7,689,726 boxes were distributed last year, pastors are begging for millions more. Remember - these boxes are not "shotgunned" out to the world. Individual pastors request boxes for individual children. Asia alone can use 1M more. In Afghanistan, they need to doube from 20K to 40K. Ditto for Georgia (Russia) - want to double their 120K. Pastors in India have more opportunity than ever before to reach children - and they need hundreds of thousands more. This pressing need has driven 2008's theme - "1 MORE - FOR ME."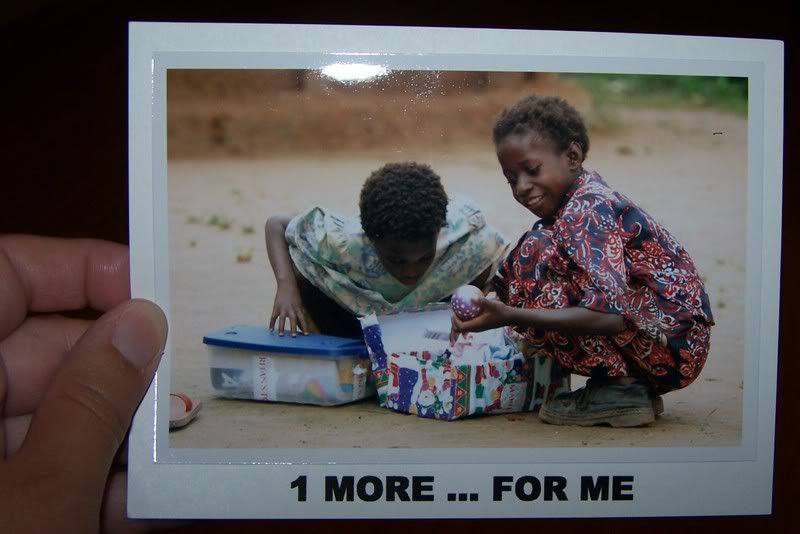 Every volunteer in training was given one of these visual reminders yesterday. Mine is going on our fridge.
OCC leaders told us for many families, involvement is a three-step process - Activity, followed by Tradition, and finally Mission. I think we've arrived at "Mission," though saying so sounds self-righteous and arrogant.
After
six weeks in India
and two trips to Russia, I don't have to be convinced of the need for shoeboxes. All I have to remember are the excited little faces from
Children's Home #47
when Keith started bringing out toys and treats. As the children lined up, we could see their anxious eyes glued on the Ziploc bags - "Will I get a Matchbox? Will I get a pencil? Is there one for me?"
We don't aim for a number of boxes to complete at home. We never have. We do as many as we are supposed to do. Though this year - as we haunt the clearance caps at Target, grab the after-Halloween candy and start stripping the packaging from toothpaste tubes, a number will be buzzing around my brain - the number "1."
One More - please,
just 1 MORE - FOR ME.
Posted at 02:15 pm by beckyww
Permalink
Saturday, June 14, 2008
I stayed up later than Keith last night. By the time I went to bed, Hannah was asleep on an air mattress in our room, and Julia was curled up against Keith in our bed. I just crawled in next to her, marveling at her beautiful little face framed by the blue pinstripes of Keith's pajamas.
I thought: I've loved Keith for all kinds of reasons, but never more than when I think that he could take another man's child and make her his own. Not
like
his own. Or
with
his own. But
his own
. He belongs to her.
My relationship with my own father was not as cozy. For years, I was angry and bitter about our gurgling in an emotional and moral sewer with him. And fancied myself nothing like him. But now I know
I am
like him. When I fume at any kind of delay - when I can do math in my head and recite obscure facts at will - when I am a poor loser and a worse winner - when I arrange the currency in my billfiold facing-the-same-way-by-denomination - when I refuse to emphathize and chafe to organize - when I make a list (and occassionally laminate it) - I am John Hoffman's daughter.
You can't deny DNA. No matter what - Rachel, Lois and Hannah are Keith's daughters. Just like I am my father's daughter. Julia is the biological daughter of a man on the other side of the world. But Keith is Daddy - right here, right now. He belongs to her. And while attachment is a journey, it appears to us that she is choosing to belong to him, too.
Father's Day meant nothing to me until we had Rachel. Because Father's Day really ought to be called "Daddy's Day." Who your father
is
really can't be denied. That's all about DNA. But who you call "Daddy" - that's a choice. Your daddy can't just belong to you. You have to belong to him.
Happy Father's Day, guys. And more especially - Happy Daddy's Day.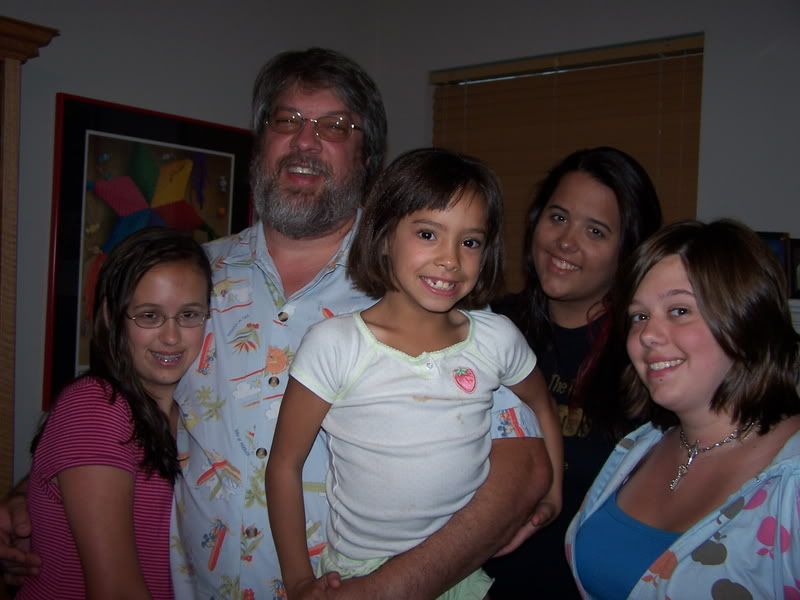 They belong together! Hannah, Keith, Julia, Rachel and Lois.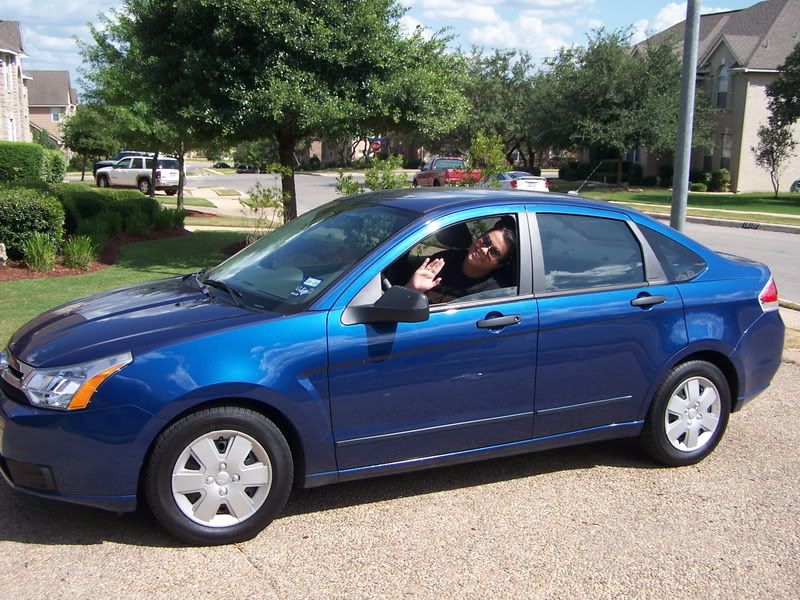 A Happy Birthday shout out to
our eldest, who turned 17 yesterday. How did that happen?! Her new address is: 2008 Ford Focus, San Antonio, TX.
Posted at 06:22 pm by beckyww
Permalink
Wednesday, June 04, 2008
No more pencils, no more books
But still a blog at which to look.
And now a word from our sponsor, which would be me. This child was speaking only a handful of English words two years ago.
Happy Summer Vacation to all tomorrow! Except Keith and me. Who will be back on the bus at o'dark 30. (sigh)
Posted at 05:17 pm by beckyww
Permalink
Thursday, May 29, 2008
Our school year is almost over. Never have I been more glad to see one end, largely because of the stress of coordinating a carpool to our middle school when we lost bus service. Keith and I fought the loss of bus service with the school board, but "The Man" won this battle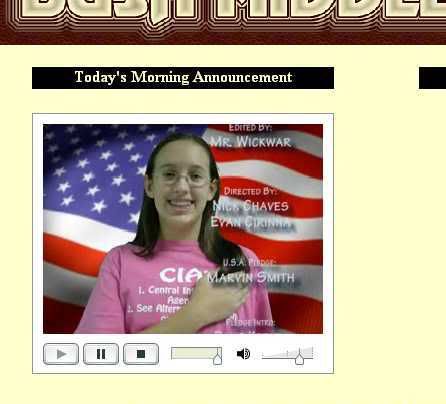 Hannah on the school web site, making the morning announcements. I've started working on transportation for her next year and I

think

I've got it handled - thanks, in part, to Rachel's being able to drive.
With both of us working downtown, how exactly were we supposed to get two middle schoolers w/30-lb. backpacks to and from a school 1.86 mi. up and down hill on a too-narrow sidewalk edging a way-too-fast road? I pinged neighbors, tried to hire a high school driver, offered to trade stay-home moms food and babysitting for rides, etc. Nothing was working, and I was at wit's end as I hurried into the elementary school open house early last September. I ran into an old friend - Linda - recently retired from AT&T who said, "You look upset!" And it all poured out. Linda said she could help. And I said, 'Linda. You don't want to do that. You have your own first-grader. And you should be enjoying retirement." She insisted.
I couldn't work out consistent transportation, so, each week I hobbled together a car pool schedule from church friends, neighbors, Keith, me....and Linda. Every week, I'd ping her to ask, "How are you looking for next week." And she'd tell me the days she could and couldn't help.
So what can I do for Linda, who has put herself out week after week for my family? Who relieved so much of my stress? Who has been nothing but cheerful and helpful, constantly reassuring me that "she understands?"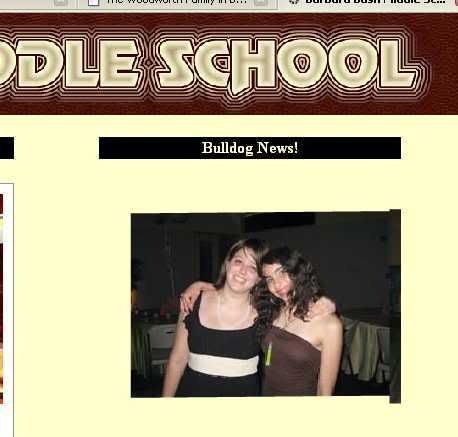 Lois - featured on the school website at the 8th grade dance. She's had a terrific middle school experience with honors classes, awards, choir achievements, etc. Next year - on to high school!
Linda wants nothing from me. I can't "pay" her for her time - her gas - her car depreciation.
I can't "pay Linda." But I can "pay it forward." I never read the "Pay It Foward" book or saw the movie, but I understand the concept. I think I heard it first doing my own bible memory work as child,
"Love your neighbor as yourself."
And that whole
"Do unto others as you would have them do unto you."
thing.
So often, the girls and I have talked about being "Jesus with skin on." I'm thinking Linda has been "Jesus in the black Suburban."
Need something from me? This is a good time to ask. Because I've had a whole school year example to remind me to pay it forward.
Posted at 05:02 pm by beckyww
Permalink
Tuesday, May 20, 2008
Grab the hand of the person next to you. Close one eye. Squint with the other. And watch this.
Posted at 03:16 pm by beckyww
Permalink