Sunday, June 22, 2008
Making
Operation Christmas Child
(OCC) shoeboxes used to be just a fun thing for our family. Then it all morphed into a tradition - making boxes is our
big annual holiday activity
. OCC recently asked me to be its local volunteer media director for 2008, and I agreed, thus proving Keith and my friend Vicki correct about the glaring red "S" (for "Sucker") on my forehead.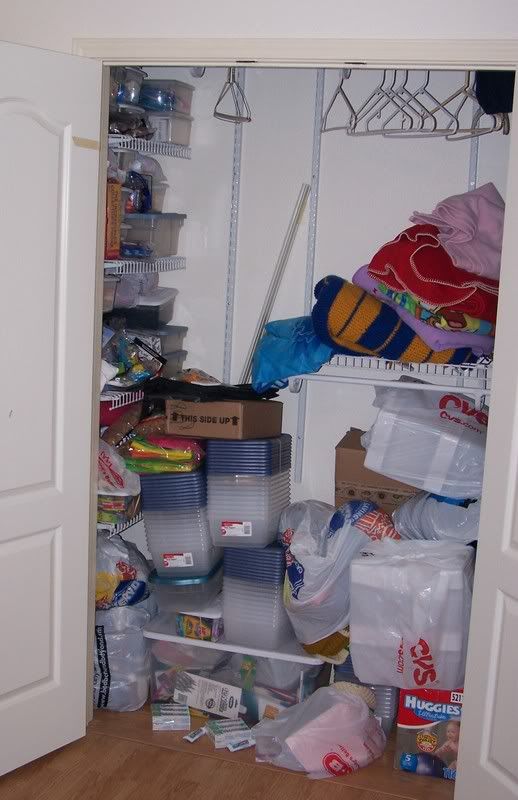 The unretouched view of our guestroom closet - jammed with box stuff. Julia and Hannah would each like their own bedroom, but I've been reluctant to separate one into the guestroom, largely because it means finding another place for all this stuff we buy through the year. This is Texas - it can't be stored outside. I'm thinking I might try buying the gynormous Rubbermaid boxes I've seen at Target and stacking several in the gameroom, but that solution presents its own logistical challenges. (sigh) I'll eventually figure it out. Right now, the closet holds: Plastic boxes from Shelley, beads from Lisa and Dorothy, a ton'o'Target 75%-off stuffola that Sarah and I snagged after Christmas '07, assorted leftovers from last year, plus Matchbox cars and bubble gum purhcased with free shipping thanks to
slicksdeals.
In training Saturday, I learned:
- Many contributors now use plastic boxes, and finallyyyy - Samaritan's Purse is trying to reach a joint marketing agreement with a supplier, probably Rubbermaid.
- There's a national partnership in the works for them with Chick-Fil-A, and K-Love Radio - both favorites at our house.
- The most commonly-observed use for the plastic boxes? Children use them to haul water. It's a weight they can handle.
- Each of our boxes contains at least one clothing item (socks, underwear, knitted cap, shirt, whatever) and I've never stressed about sizes. I figure that's God's job to sort out, plus, if the recipient can't wear it, I'd bet he's standing next to a child who can. I've also never stressed about cold weather clothing items going to hot weather countries, and vice-versa. The OCC officials told us that knitted caps and gloves are much treasured in tropical countries because the cap keeps a child's head from being sunburned, and the gloves protect his hands while working in the fields.
- A six-year-old boy in Russia got a box a few years ago, but had to be coaxed to open it after telling his orphanage director, "I don't care about the box. All I want a family." His box contained the usual toys, school supplies and candy, plus a picture and mailing address for the donating couple. The orphanage director wrote them. Correspondence led to a visit - and eventual adoption. His box contained his parents.
- The adult son of a couple in West Virginia died of diabetic complications. His parents discovered two boxes he was working on and now- years later - are responsible for thousnds being completed.
- Though 7,689,726 boxes were distributed last year, pastors are begging for millions more. Remember - these boxes are not "shotgunned" out to the world. Individual pastors request boxes for individual children. Asia alone can use 1M more. In Afghanistan, they need to doube from 20K to 40K. Ditto for Georgia (Russia) - want to double their 120K. Pastors in India have more opportunity than ever before to reach children - and they need hundreds of thousands more. This pressing need has driven 2008's theme - "1 MORE - FOR ME."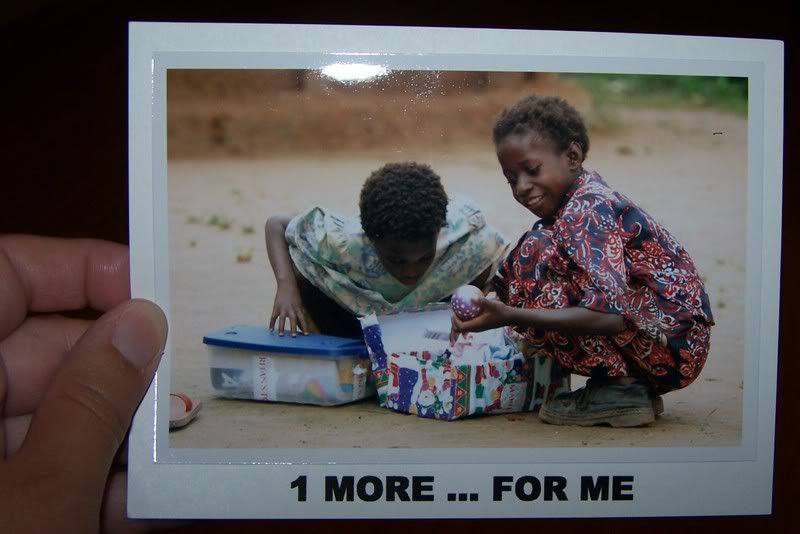 Every volunteer in training was given one of these visual reminders yesterday. Mine is going on our fridge.
OCC leaders told us for many families, involvement is a three-step process - Activity, followed by Tradition, and finally Mission. I think we've arrived at "Mission," though saying so sounds self-righteous and arrogant.
After
six weeks in India
and two trips to Russia, I don't have to be convinced of the need for shoeboxes. All I have to remember are the excited little faces from
Children's Home #47
when Keith started bringing out toys and treats. As the children lined up, we could see their anxious eyes glued on the Ziploc bags - "Will I get a Matchbox? Will I get a pencil? Is there one for me?"
We don't aim for a number of boxes to complete at home. We never have. We do as many as we are supposed to do. Though this year - as we haunt the clearance caps at Target, grab the after-Halloween candy and start stripping the packaging from toothpaste tubes, a number will be buzzing around my brain - the number "1."
One More - please,
just 1 MORE - FOR ME.
Posted at 02:15 pm by beckyww
Permalink
Saturday, June 14, 2008
I stayed up later than Keith last night. By the time I went to bed, Hannah was asleep on an air mattress in our room, and Julia was curled up against Keith in our bed. I just crawled in next to her, marveling at her beautiful little face framed by the blue pinstripes of Keith's pajamas.
I thought: I've loved Keith for all kinds of reasons, but never more than when I think that he could take another man's child and make her his own. Not
like
his own. Or
with
his own. But
his own
. He belongs to her.
My relationship with my own father was not as cozy. For years, I was angry and bitter about our gurgling in an emotional and moral sewer with him. And fancied myself nothing like him. But now I know
I am
like him. When I fume at any kind of delay - when I can do math in my head and recite obscure facts at will - when I am a poor loser and a worse winner - when I arrange the currency in my billfiold facing-the-same-way-by-denomination - when I refuse to emphathize and chafe to organize - when I make a list (and occassionally laminate it) - I am John Hoffman's daughter.
You can't deny DNA. No matter what - Rachel, Lois and Hannah are Keith's daughters. Just like I am my father's daughter. Julia is the biological daughter of a man on the other side of the world. But Keith is Daddy - right here, right now. He belongs to her. And while attachment is a journey, it appears to us that she is choosing to belong to him, too.
Father's Day meant nothing to me until we had Rachel. Because Father's Day really ought to be called "Daddy's Day." Who your father
is
really can't be denied. That's all about DNA. But who you call "Daddy" - that's a choice. Your daddy can't just belong to you. You have to belong to him.
Happy Father's Day, guys. And more especially - Happy Daddy's Day.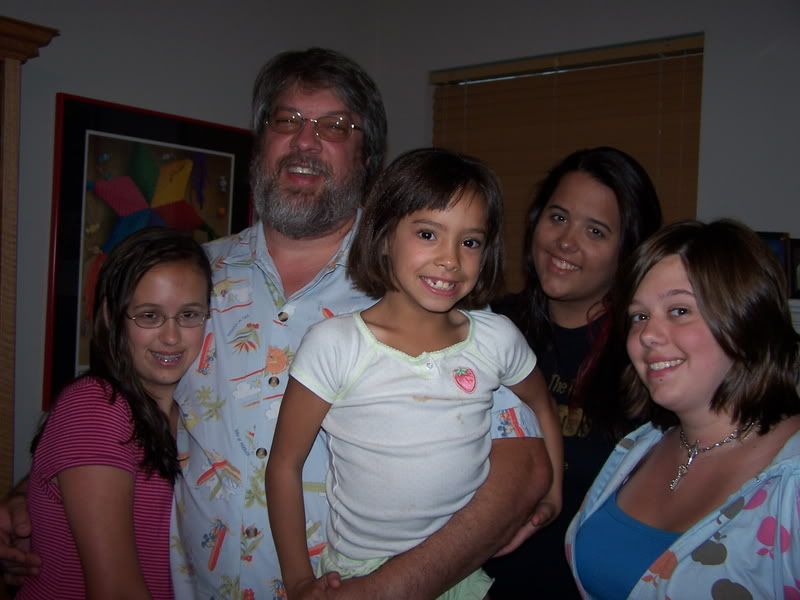 They belong together! Hannah, Keith, Julia, Rachel and Lois.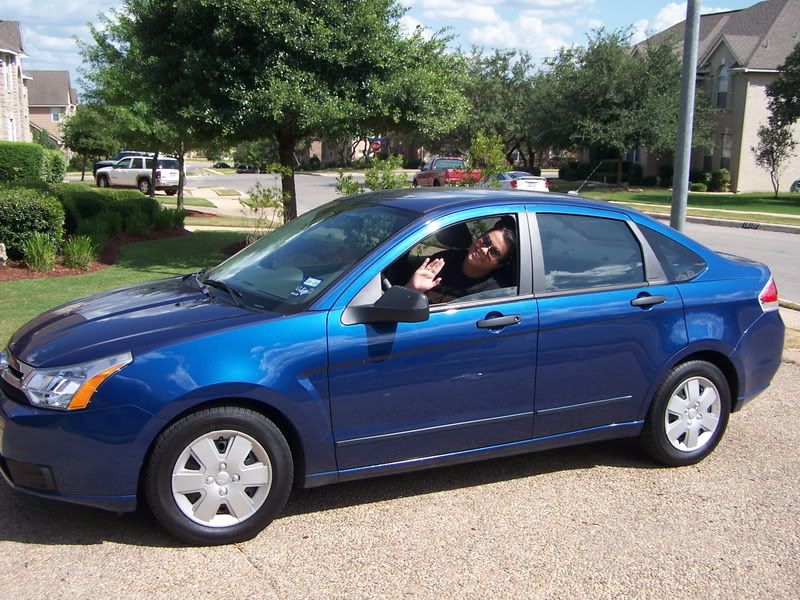 A Happy Birthday shout out to
our eldest, who turned 17 yesterday. How did that happen?! Her new address is: 2008 Ford Focus, San Antonio, TX.
Posted at 06:22 pm by beckyww
Permalink
Wednesday, June 04, 2008
No more pencils, no more books
But still a blog at which to look.


And now a word from our sponsor, which would be me. This child was speaking only a handful of English words two years ago.

Happy Summer Vacation to all tomorrow! Except Keith and me. Who will be back on the bus at o'dark 30. (sigh)


Posted at 05:17 pm by beckyww
Permalink
Thursday, May 29, 2008
Our school year is almost over. Never have I been more glad to see one end, largely because of the stress of coordinating a carpool to our middle school when we lost bus service. Keith and I fought the loss of bus service with the school board, but "The Man" won this battle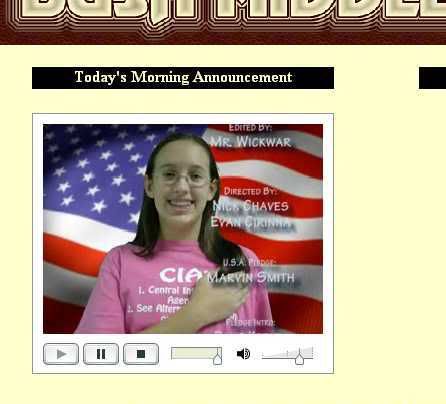 Hannah on the school web site, making the morning announcements. I've started working on transportation for her next year and I

think

I've got it handled - thanks, in part, to Rachel's being able to drive.
With both of us working downtown, how exactly were we supposed to get two middle schoolers w/30-lb. backpacks to and from a school 1.86 mi. up and down hill on a too-narrow sidewalk edging a way-too-fast road? I pinged neighbors, tried to hire a high school driver, offered to trade stay-home moms food and babysitting for rides, etc. Nothing was working, and I was at wit's end as I hurried into the elementary school open house early last September. I ran into an old friend - Linda - recently retired from AT&T who said, "You look upset!" And it all poured out. Linda said she could help. And I said, 'Linda. You don't want to do that. You have your own first-grader. And you should be enjoying retirement." She insisted.
I couldn't work out consistent transportation, so, each week I hobbled together a car pool schedule from church friends, neighbors, Keith, me....and Linda. Every week, I'd ping her to ask, "How are you looking for next week." And she'd tell me the days she could and couldn't help.
So what can I do for Linda, who has put herself out week after week for my family? Who relieved so much of my stress? Who has been nothing but cheerful and helpful, constantly reassuring me that "she understands?"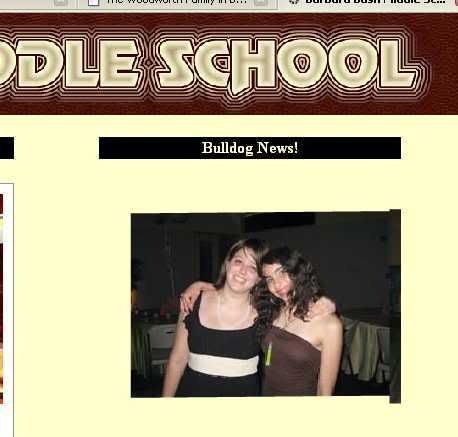 Lois - featured on the school website at the 8th grade dance. She's had a terrific middle school experience with honors classes, awards, choir achievements, etc. Next year - on to high school!
Linda wants nothing from me. I can't "pay" her for her time - her gas - her car depreciation.
I can't "pay Linda." But I can "pay it forward." I never read the "Pay It Foward" book or saw the movie, but I understand the concept. I think I heard it first doing my own bible memory work as child,
"Love your neighbor as yourself."
And that whole
"Do unto others as you would have them do unto you."
thing.
So often, the girls and I have talked about being "Jesus with skin on." I'm thinking Linda has been "Jesus in the black Suburban."
Need something from me? This is a good time to ask. Because I've had a whole school year example to remind me to pay it forward.
Posted at 05:02 pm by beckyww
Permalink
Tuesday, May 20, 2008

Grab the hand of the person next to you. Close one eye. Squint with the other. And watch this.



Posted at 03:16 pm by beckyww
Permalink
Sunday, May 18, 2008
Best Friends Are We, My Sister(s) and Me
We celebrated our second Sisters Day today, remembering May 18, 2006, when Julia came home.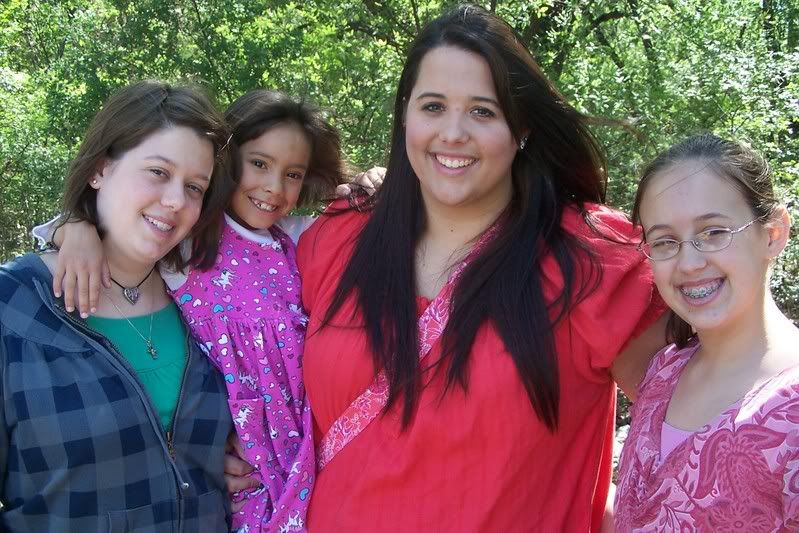 After
church this morning,
we headed out for an entire day of fun stuff - no chores, no rushing, nobody else with us.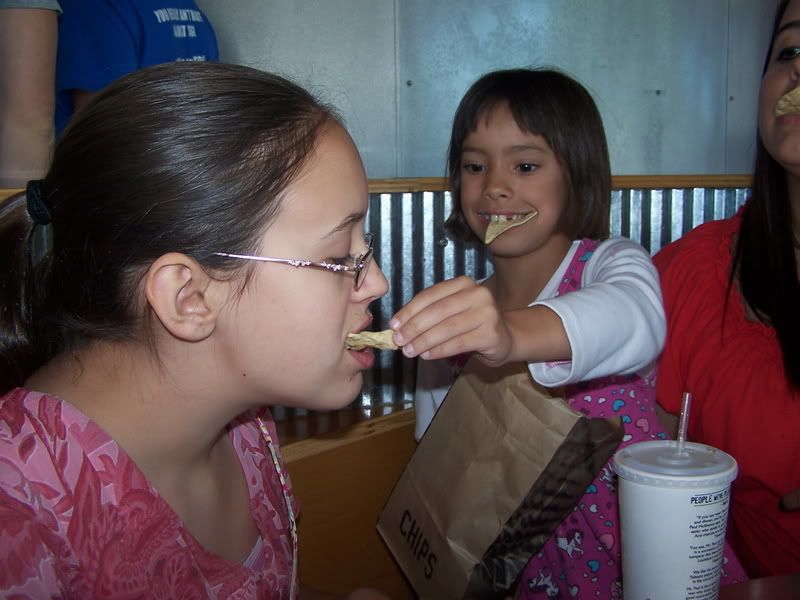 Lunch at Chipotle's, the favorite of Rachel and Julia. Julia searches the chips for the most salty ones and keeps those for herself. Her sisters are welcome to the dregs. I told the girls that today - because it was such a special occassion - we could get soft drinks, too, instead of just water, which resulted in many smart remarks and exclamations of shock from the back seat. Keith commented, "That's really sad."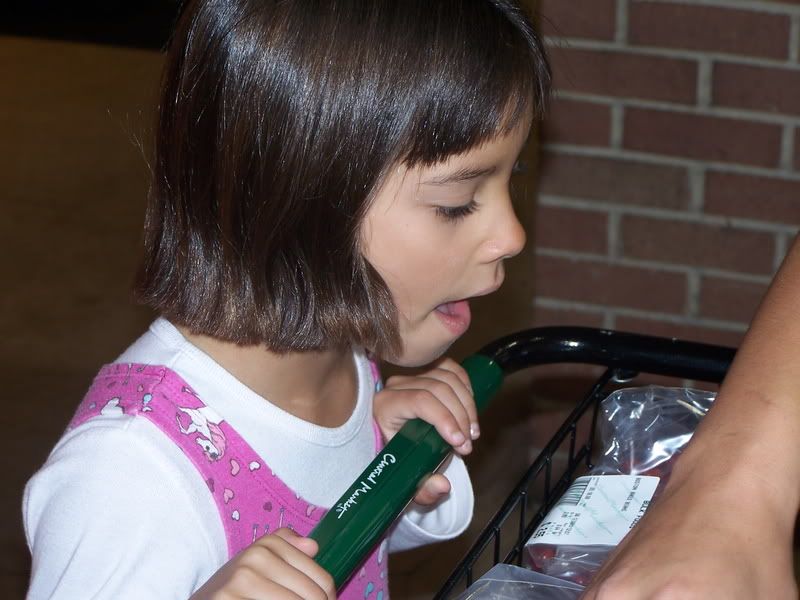 Next - Off to Central Market for movie snacks. Real junk. Lots of it. Everybody picking out two things - sweetned nuts, candied ginger, chocolate, all manner of horrific consumables. I drew the line at Julia's request for a candy necklace, not wishing to see "juice" running down her neck.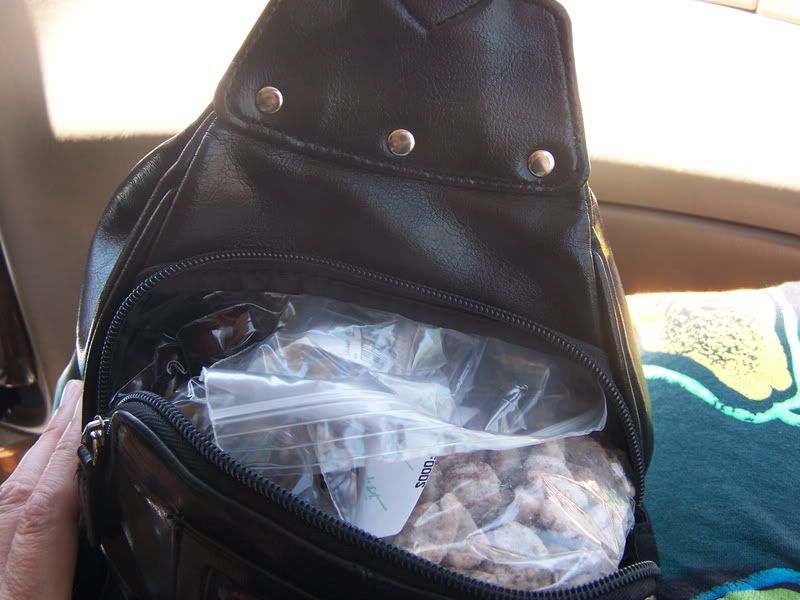 Why every mom needs a generously-sized purse. "Prince Caspian" was a really good movie, especially viewed betweem chomps of praline pecans. Keith, Juliia and I watched the first "Chronicles of Narnia" between Zurich and Dallas two years ago. Julia remembers seeing it, and always gets excited when she sees any Narnia merchandise. After the movie - a trip to Borders, and dinner at Chili's, and home again....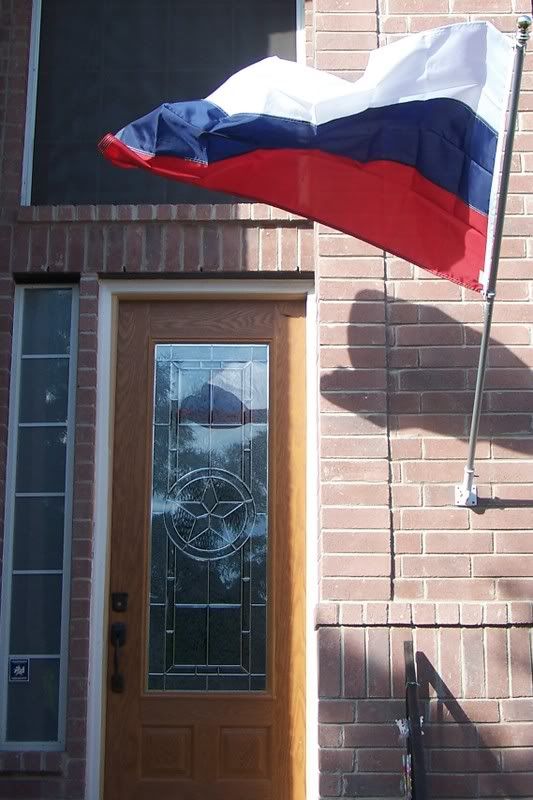 ...to admire our gorgeous Russian flag We're probably the only people in the neighborhood who know what it is. And with all the retired military around us - that's just as well.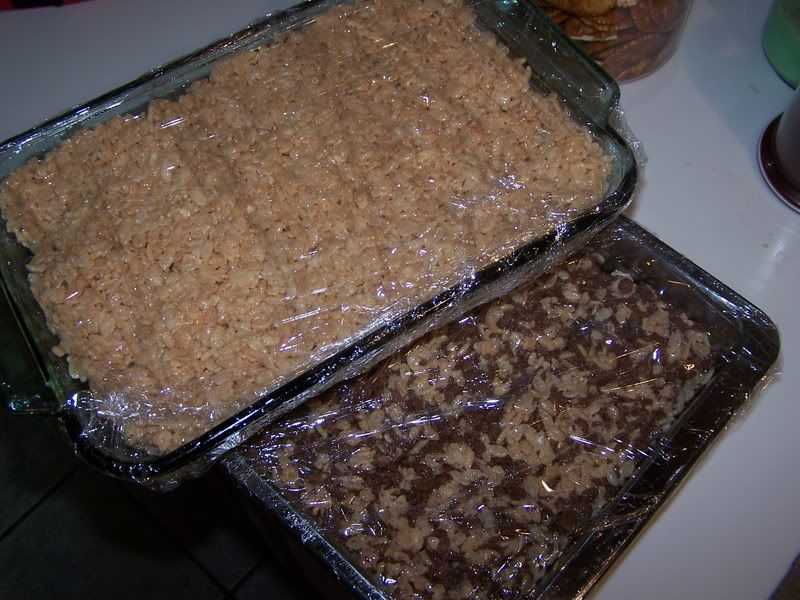 We were too sugared-out to even try the Rice Krispie Treats Hannah and I made yesterday. Note the "choco-nilla" variety created with Cocoa Pebbles and regular Rice Krispies. There's always tomorrow. Once they're cut, they won't last long.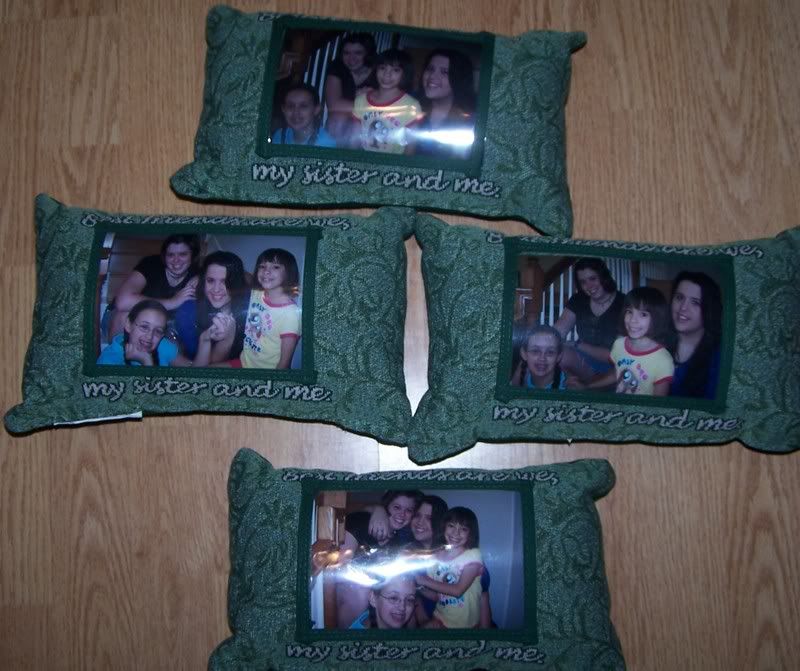 For gifts: Each sister got a couch pillow printed, "Best Friends Are We - My Sister and Me" flanking a photo insert sleeve Each pillow held a slightly different pose of the same basic picture - the other three sisters placing their hands on the sister who was getting the pillow The girls had no idea why I was asking them to pose those ways on Good Friday. But they're used to my "just one more" pleas.


A requirement of Rachel's U.S. History class is for each student to create a three-minute movie about an American hero who personally impacted the student's life. Rachel created this gem yesterday - yes, the text slides and transitioning need some editing and yes, it needs to be tightened a bit to make the three-minute mark - but darn! I thought this was good. Showed some real thought. And creativity. And true personal impact. And what perfect timing with Sisters Day! I didn't want to wait to post the more polished version I know is coming.


Way to go, Rach! You made this one for the Gipper.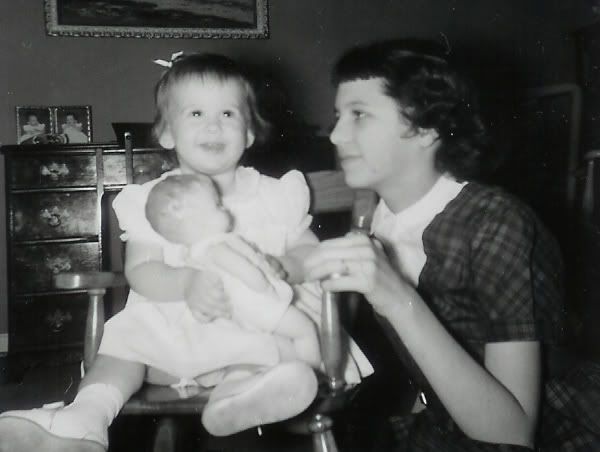 Happy Sisters Day to Sisters Everywhere!
Posted at 05:33 pm by beckyww
Permalink
Tuesday, May 13, 2008
I am never going to mes school.
Two years ago today, we were
bumming around Moscow
, enjoying the sites, waiting for the round of Embassy chores required to bring Julia home. The night before, Keith had captured this image of her asleep on the train between St. Pete and Moscow. It's still the screen saver on his cell phone.
Oh how she loved "machinas" - cars. And this train. And the following week - the planes at the airport. Anything with a motor that moved. She used to sing a little song about machinas.




Yesterday, I asked her to bring me the keys to my "machina" and I got a 'Huh?" in response.
Fast forward to today. Her first-grade teacher (the sainted Ms. Jones) sent home her daily journal because her work was so good.
Translation: "I would have made it to school, but I did not want to go to school. Instead I went to my cousin's house. I went to my cousin's house. While I was walking I saw a fox. The fox said, 'Mmm? The rabbit looked good to me.' Then the fox took the rabbit. He took the rabbit home. He tied the rabbit on a rope. The rabbit told the fox to go to a store and he did go there. The rabbit got away. He ran home and told his mom, 'A fox almost ate me. I am never going to miss school.'"


That's an original story. Her language skills - both oral and writing - are on par with other first graders, and her teacher is confident she'll pass the tests required for second grade. Is she academically where Rachel, Lois and Hananh were in first grade? No. But neither were Rachel, Lois and Hannah where she was physically and emotionally for their first six years.
Funny thing about education. There's what you learn in school - like how to spell "fox" in your journal. And then there's what you learn out of school - to run like a fox to show that journal to your daddy.
We are rapidly approaching our second annual Sister's Day celebration - May 18,
the day Julia came home.
The last two years have certainly been an education for all six of us. An education with not only what Julia has learned at school, but also what all of us have learned at home. Julia wrote, "I am never going to mes school," and I support that - because now she is not missing a family.
Posted at 04:28 pm by beckyww
Permalink
Sunday, May 11, 2008
I said, "I do not like Green Eggs and ham
I do not like them with the fam
I do not like grilled asparagi
And steak and pizza and apple pie
I do not like them with a fork
I do not like them - you're a dork.
I do not like Green Eggs and Ham
I do not like them with the fam."
Keith said "Try them. You will see.
How good aparagi can be
And steak and pizza and apple pie
You will like them - so will I."
So I tried them Mother's Day
And added Romaine - ohhhh, say
It was soooo good
I wolfed a bowl
And left the table very full.
I do like the Green Eggs, you see
And all they cook for the fam and me
I do like the heat to stay outdoors
And cooking spills kept off my floors.
I do like Green Egss with the fam
I bet I would like Green Eggs with ham.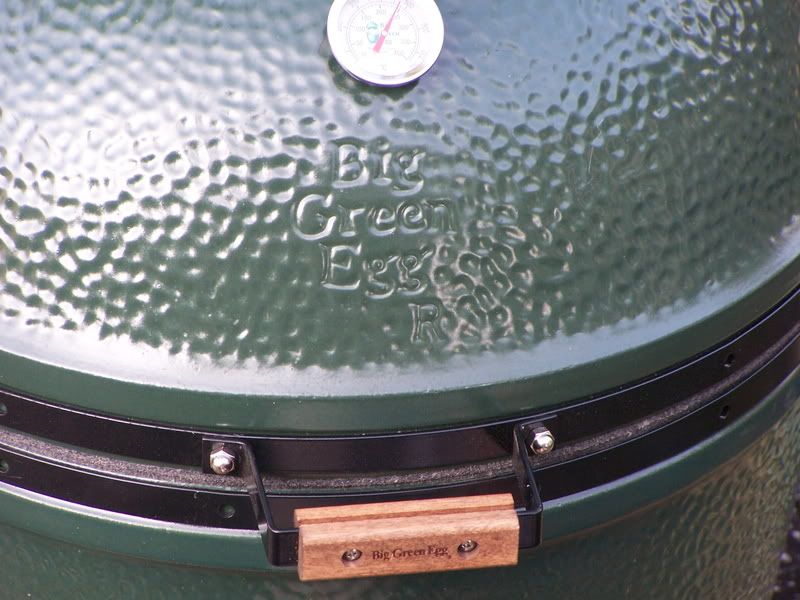 Have you ever heard of the
Big Green Eggs
- gynormous ceramic cookers for smoking, grilling and baking? Me neither - till Keith watched one too many cooking shows. He's wanted one for years and finally got one yesterday at an
EggFestival
in Austin. Big Green Eggs are basically a cult following for many, with user boards, cooking competitions, websites, cookbooks and fanatics who travel cross-country from EggsFest to Eggfest.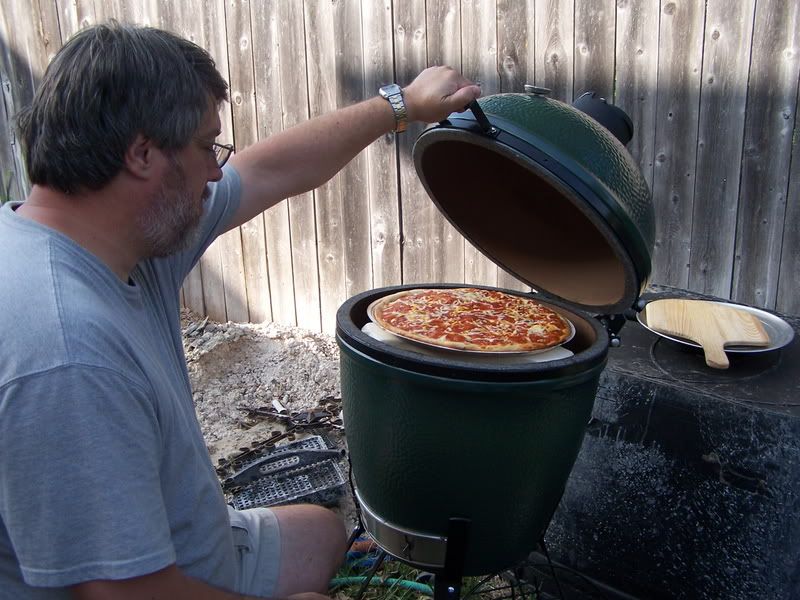 For Mother's Day lunch, we had steak, asparagus and Romaine (yes - lettuce), all grilled on the Egg, plus a few more mundane items done inside. Keith brushed the Romaine leaves with olive oil and spices before a quick grilling and omigosh, ithey were so good. Reminded me of the wilted lettuce my mom used to make. For dinner - baked pizza and.....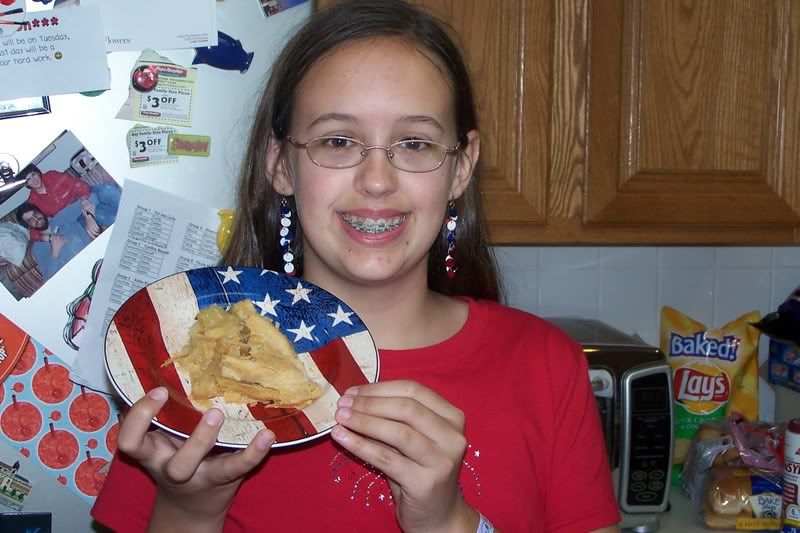 ....baked apple pie (Thanks, Hannah!), served on my new plates from Keith. Because you can never have too many plates. At least that's what

I

think. The girls groan at my dish weakness, and try to shoo me past store displays. Keith is more tolerant of my addiction.


Posted at 05:25 pm by beckyww
Permalink
Monday, May 05, 2008
Keith and I hosted our church's 7th and 8th grade boys for their annual Disciple Now weekend for the 5th year....at least I think it's our 5th year. The rivers of Dr. Pepper run together in my mind.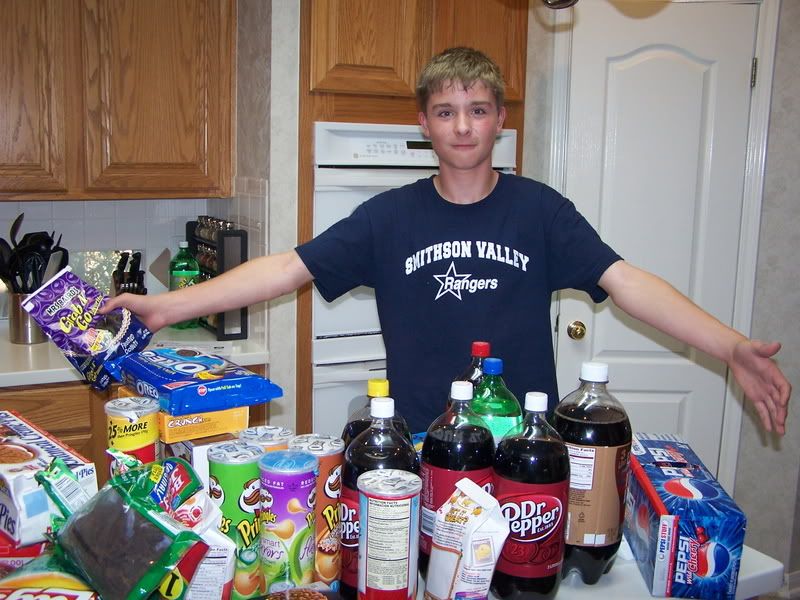 How many bottlrd of Dr. Pepper are required for seven middle school boys and one leader for Friday night - Sunday morning? The answer: Several. And snacks. Don't forget the snacks. Our kitchen island was covered, with more on the dining room buffet. The faces of Little Debbie and the Pringles man were everywhere, as the boys stood grazing through the snacks.

Blake - the handsome Little Leaguer standing above - made the mistake of going to sleep first Friday night. His thoughtful friends borrowed Lois' nail polish to decorate his toenails. Saturday night - they did his fingernails. Regretfully, the nail polish remover was...ummm...."misplaced."


Bible lessons centered on Proverbs 4:23 - "Above all else, guard your heart, for it is the wellspring of life." The lessons are designed for the kids - but they made me think as I stood in the kitchen, cleaning up. I always wonder if I have a future son-in-law in the room.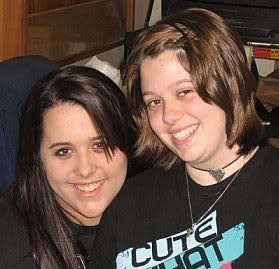 Rachel and Lois were at their own host homes, but met for community service work at Christian Assistance Ministries. The 40+ teens spent 2.5 hours organizing donations of food and clothing for needy San Antonians. Teenagers - organizing and cleaning a room- who knew?!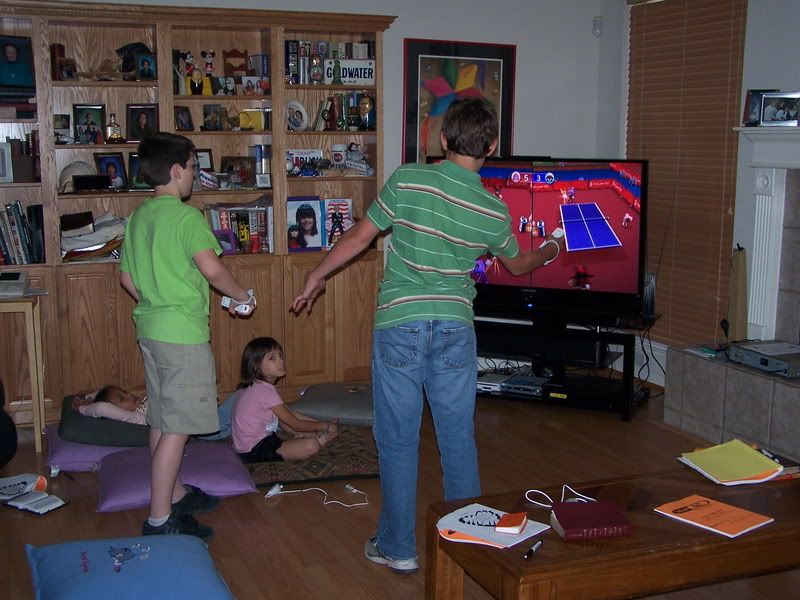 Between bible lessons and community service work - time for a little wii action. Stand up, boys, and work those nunchucks. Notice Julia, patiently waiting to play the winner - and she beat him.


The highlight of the weekend for me: The Sunday morning debut of the Shearer Hills Baptist Church Youth Ensemble, which has been discussed for months but called to action on Thursday night before Disciple Now started Friday night. Wow - talk about Allegro! All six teens were chairs in UIL region choir last year. I'm partial to the two altos on the right, adding that beautiful harmony. Revelation 14:3 tells us we'll sing a new song in heaven. That's a promise

I

want to stand on - with Keith and our girls right beside me.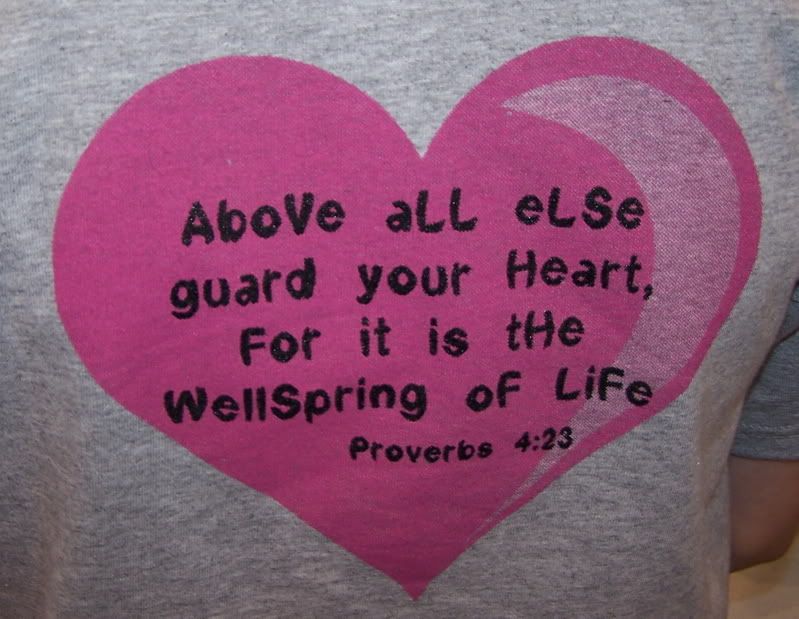 Hey Boys - See You Next Year!
Posted at 07:13 pm by beckyww
Permalink
Friday, May 02, 2008
Last night at Costco, Julia skated up as I was grazing on cheese samples and reached for a bite'o'brie. The sample matron frowned and said, "Not without your mom saying it's okay." Julia looked at me - I turned to the matron, raised my hand and said, "That would be me. It's fine." Julia grabbed her snack and pushed off on her Heelys, leaving a surprised matron staring at me with eyebrows raised.
After all......how could such a cute little skater girl belong to an old, gray hag like me?
Julia was home less than a week when we went to the pediatrician for a check-up. A friendly mom in the waiting room asked me, "Are you her grandmother?" Ummmm...no. When Keith and I took her to ER last fall, the nurse asked, "Are you mom or grandma?"
Sigh.
Not having Rachel until I was 35, I was used to being the only first grade mom who had trouble getting up from the tiny chairs in the classroom. But now I have AARP offers being delivered with Nick, Jr. magazine.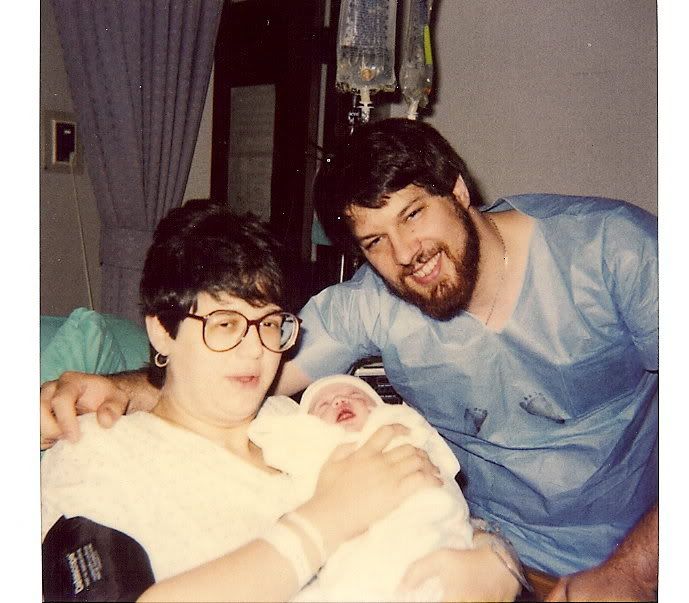 Baby Rachel's first picture, almost 17 years ago. Yeah, we looked younger! But as Indiana Jones said, "It's not the years. It's the mileage."
I suppose I should feel badly about having an 8-year-old at age 52. Embarrased maybe. I could dye my hair. Lose 50 lbs. for that new, hip wardrobe. Run to the plastic surgeon in my sports car. Watch endless episodes of "Desperate Housewives." Try to make myself look 30. Or even 40.
But I don't feel badly. And I'm not embarrassed. I just am what I am.
I have a good virtual friend from the user boards (Votemom) who also has a 44-year age difference between herself and her two two-year-olds from Russia. She also has three bio teenagers. I know she gets as tired as I do. Sometimes people think she's crazy, like they do me. And maybe we are. But we agreed: You're going to be doing
something.
I mean, your whole life, you're going to be doing
something
.
You might as well do something that matters.
So offer me a hand when my joints are creaking after squatting in the school hallway to admire a mural. When you see my gray hair, know that many of them popped up while we fretted about court dates and getting 10 days waived and leaving three kiddos back home. Don't smirk at my reading glasses - they help me admire those beautiful works of art on our fridge. And know that sometimes, when I'm rocking Julia, I fall asleep, too.
Because I have to be doing
something.
And to me - those things matter.
Posted at 04:09 pm by beckyww
Permalink