Sunday, May 03, 2009
When Rachel, Lois and Hannah are practicing for school or church choirs, I like them to open their bedroom doors so I can listen. That's pure selfishness on my part. I have nothing to contribute to their efforts. They're 100X better than I ever was.
When practicing "Shut De Do," Hannah was amazed I knew the song. I had to tell her: I used to harmonize this one in Tuesday night sings and Thursday night devos. My friend Donnette and I sang it along with
Acapella
at a city-wide gathering. Baby, I know how to "shut de do."
So leave yours open when you practice. Mom loves it.
Posted at 11:03 am by beckyww
Permalink
Wednesday, April 29, 2009
Deep in the Heart of Textes
You know I contribute to an AT&T blog about
working moms and cell phones
? Which the girls think is hysterical, since they are so much more techy than am I.
But here's something even I use (though Rachel's the one who told me about it) - Cha-Cha. 242-242, texted on your wireless phone to get answers to questions. Last's week's CalmCoolConnected post about Cha-Cha generated numerous email questions to me, plus (at last count) 16 of the comments that I so desire. I live for comments. I love comments. I want to marry comments. So please - if you go watch this little video clip - click the "Comments" link, scroll to the bottom, and "Leave A Reply." They're why I get up in the morning.
Here's the clip:
Learn About Cha-Cha
And here are questions I've been asked:
What's the catch? They have to charge something.
They do. But they charge their advertisers, not you (the textor.)
Is it really free? Or, as Rachel say, "Free 99!?"
As long as you have a texting plan on your phone.
Will they start spamming me with all sorts of ads?
Not according to
their privacy policy.
We use cha-cha all the time and so far - no weirdness.
Who actually answers the questions?
I suspect folks in a call center far, far away. I would not pursue "Cha-Cha Specialist" as a career choice.
Are their answers any good?
For us they have been. I've not asked the meaning of life or anything like that.
Guess what? I asked Cha-Cha what a
penguin, boot, train, whale and piano
have in common!
Me too. And I got the same answer you did: "Black and white." Which tells me the puzzle must be really old, because not all boots and trains are black now. But at least - mystery solved. Or as solved as it's likely going to get. Where's Nancy Drew and Nero Wolfe when you need them?
Can you call Cha-Cha?
You
can
call
1-800-2-cha-cha
but we don't. In fact, I'm not sure my kids would know how - you know, that whole "talking on the phone" thing they used to do. I'm not sure Rachel, Lois or Hannah actually speak words now, other than, "I need...." and "She took...."
Is Cha-Cha 24 x 7?
They say they are but I can't verify it because I'm not.
I don't have AT&T Wireless. Will Cha-Cha work with my service?
(sigh) Yes. But you should
get
AT&T Wireless. And you should call or ping me so I can hook you up. Do it now. Operators are standing by.
I have another very handy texting trick that I'm saving for another day. You're going to want to know it. So.....
Posted at 07:10 pm by beckyww
Permalink
Wednesday, April 22, 2009
Hannah was inducted into the National Junior Honor Society tonight, as were 170 other 7th and 8th graders at Bush Middle School. To my amazement (and gratitude), they finished in an hour. I'm considering this a dry run for Rachel's high school graduation in June, when I'll make sure every family member has at least one book or a DS Lite with fresh batteries in-hand for the duration. Her class has 650+ upcoming graduates. So maybe we'll also pack water bottles and snacks. And blankets. And jammies.



Posted at 07:15 pm by beckyww
Permalink
Sunday, April 19, 2009
I've purchased a package of 10 plastic hangers every Saturday for the last six weeks. That's 60 hangers. Today I yelled from the utility room, "I need hangers. Lots of hangers." Silence. Then a few sputtering, "I don't have any." "No extras in my closet."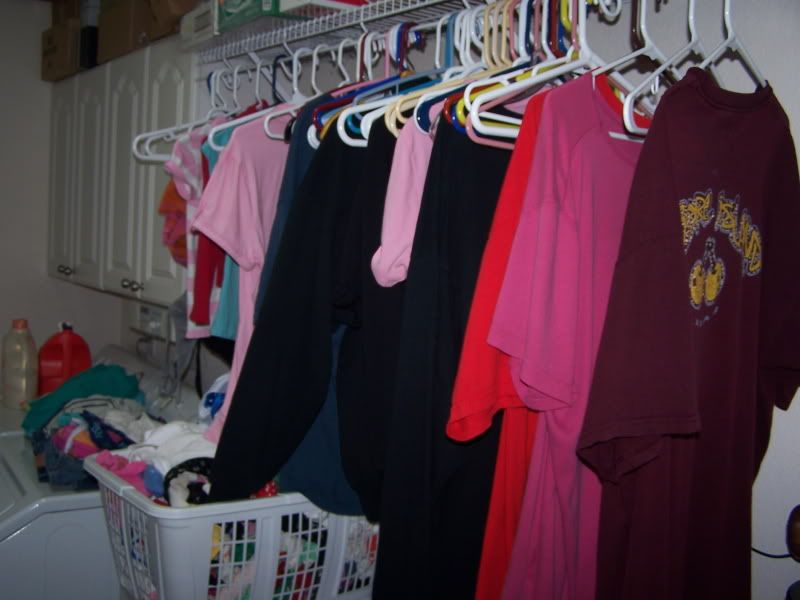 I wonder where they go. I added 60 hangers to the (undoubtedly) hundreds already in the house.
I cooked six lbs. of hamburger after lunch today (which was - surprisingly - burgers) to freeze in two-lb bags. Most of our favorite recipes begin, "Brown two lbs. of lean ground beef" - and in the evening, there's time only to assemble, so I cook the meat ahead. And what do I find but an empty snack box.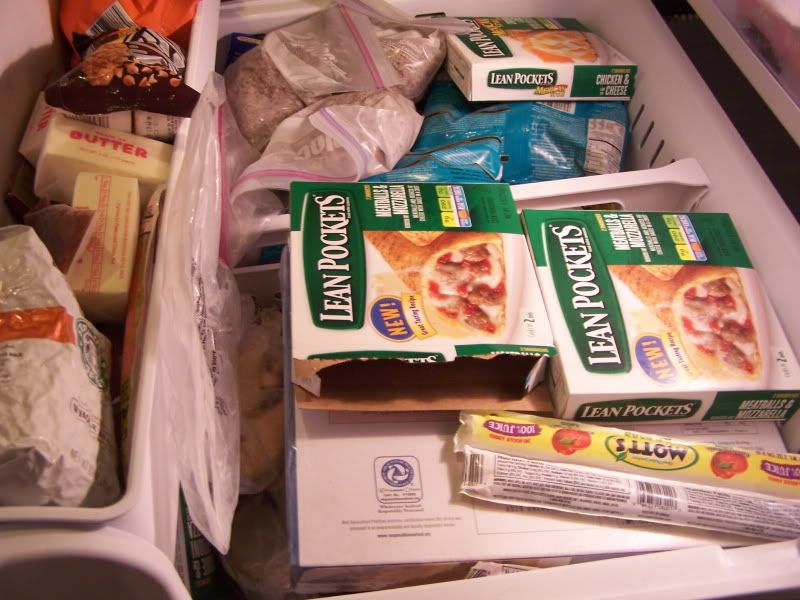 I wonder who puts an empty snack box in the freezer? I'm suspecting it's the same person who puts empty Pringles cans back in the pantry.
And leaves 1/2 of one pretzel in the jar on the counter.
Rachel and Lois have gotten me hooked on
Fail Blog
, which I now peruse about once a week. Every day for two weeks, I've stared at this page from a child's workbook, wondering what a whale, piano, penguin, train and boot have in common. At first I thought "five letter words" - whale, piano, train, oops, "penguin" and "boot" blow it. Then I thought maybe it was some first vowel pattern, like tr
a
in, p
e
nguin, p
i
ano, b
o
ot....oops, "whale" blows it. Then I thought color pattern - black and white piano keys, black and white penguin, black and white whale...oops, the train and boot blow it. Then I thought "track," like maybe it's a player piano with music on a track, the boot and the penguin leave tracks, the train runs on a track..but what about the whale? I even googled the words, and found others have posted their frustrations with deciphering the pattern.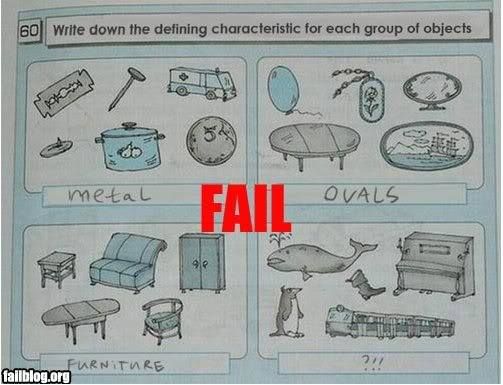 So what's the pattern for the bottom right box? I am not getting it. And it's bugging the heck out of me.
And I wonder why it bugs me so much, too.
Wishing you a wonder-ful week....and please let me know if you figure out the pattern. Then I can go back to fretting about hangers and snack boxes.
Posted at 01:55 pm by beckyww
Permalink
Thursday, April 16, 2009
Just in case you were wondering what Ted Nugent sounds like when he's playing the National Anthem at the home of Texas liberty - the Alamo.
Posted at 08:00 pm by beckyww
Permalink
Saturday, April 11, 2009
Easter weekend. And that means...
.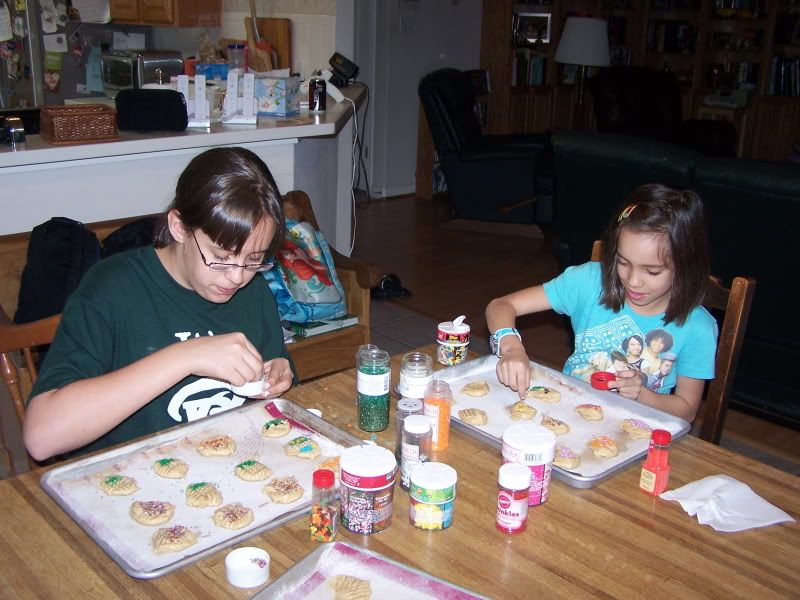 Lots and lots of cookies on Friday, with an assortment of sprinkles which - for some reason - included Batman and Sponge Bob. Had to finish the cookies before Saturday because Saturday means....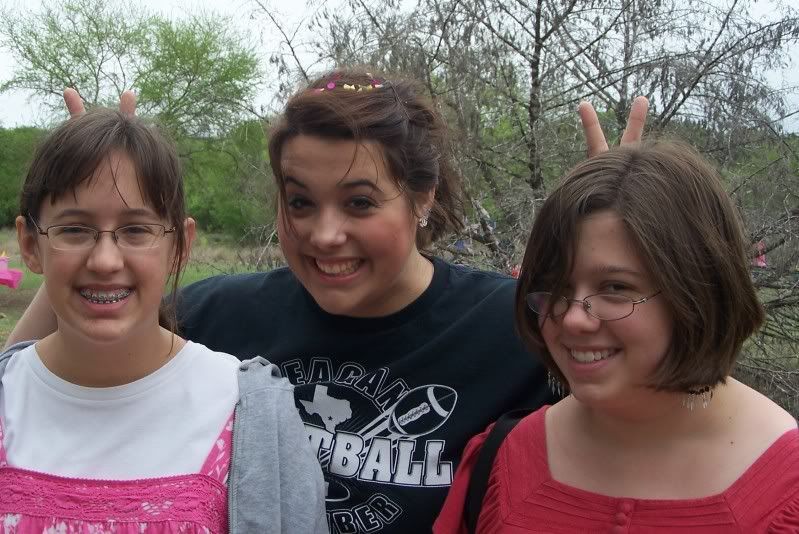 The church
Easter Egg hunt, with three goofy, bunny-eared hiders. While they were hiding plastic eggs (to be counted and redeemed for candy post-hunt), the little kids were busy which means....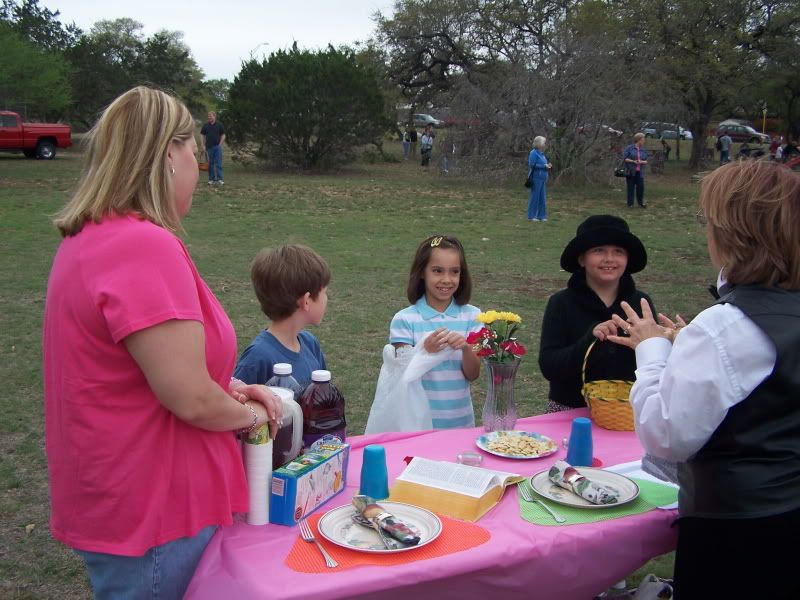 Learning about Jesus' last days, including the Last Supper and after which means...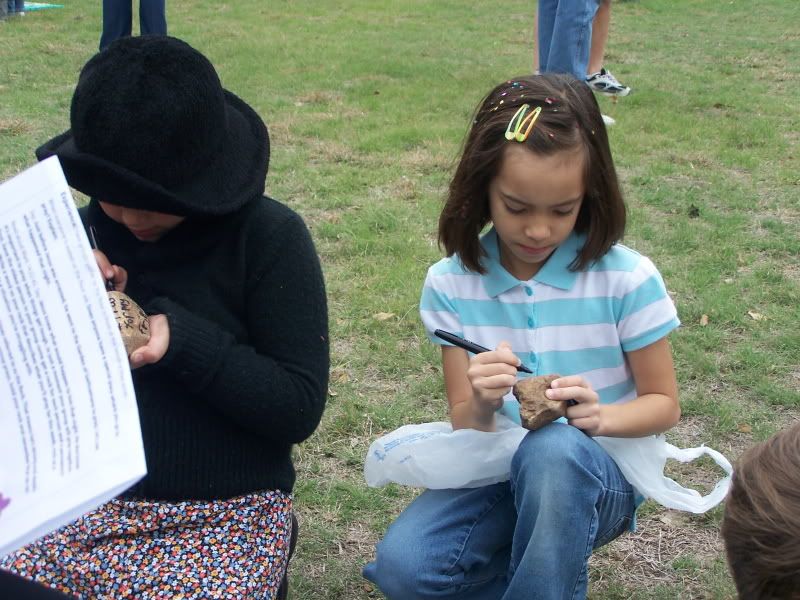 Praying the garden of Gethsemane, and writing the name of someone you pray for on a rock.
After several serious lessons are reviewed, it's time for a little fun and that means....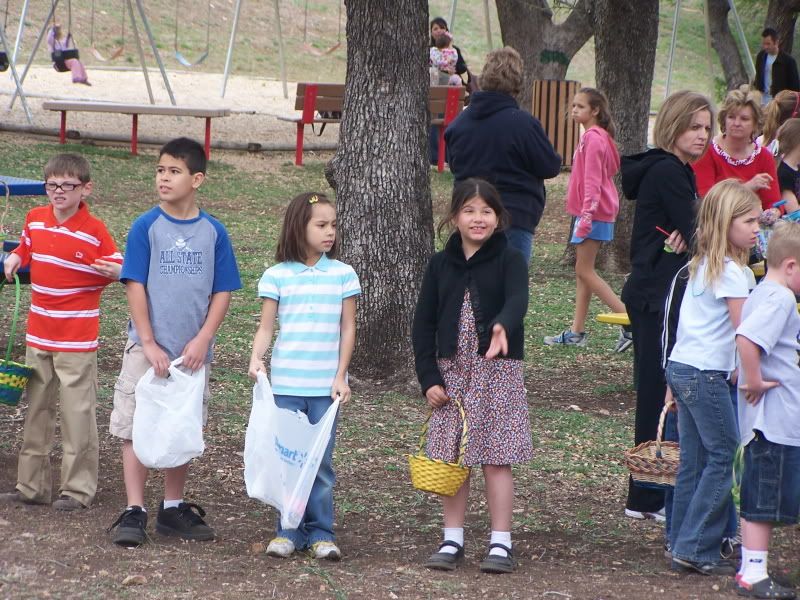 Lining up for the egg hunt. Julia has a basket but chose a plastic grocery bag because it's less likely to spill. Get ready...get set....and that means...

Go! Julia found a wooden egg, too, which got her a special Easter game as a surprise. And now it's almost time to leave, and that means....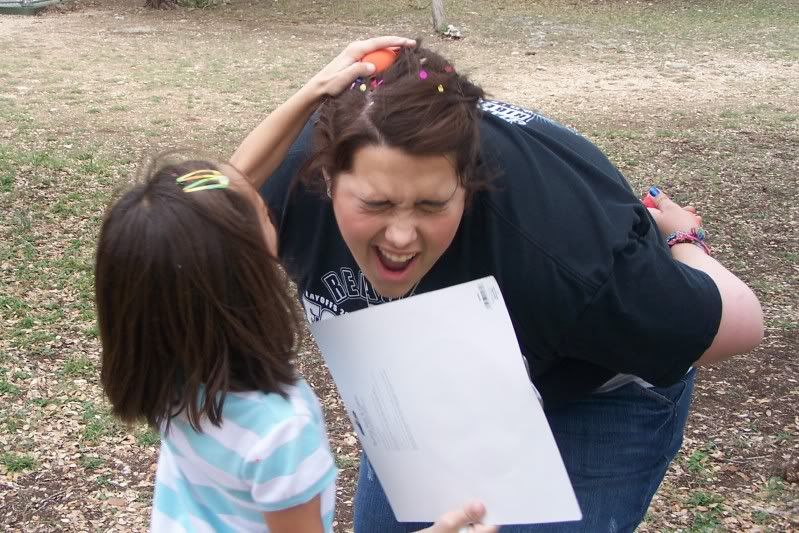 A little parting gift for a big sister. "Rachel - I need to show you something." Rachel fell for it - and got a headfulla cascarones for her naievte.



So Saturday is almost over. And that means it's time for Sunday.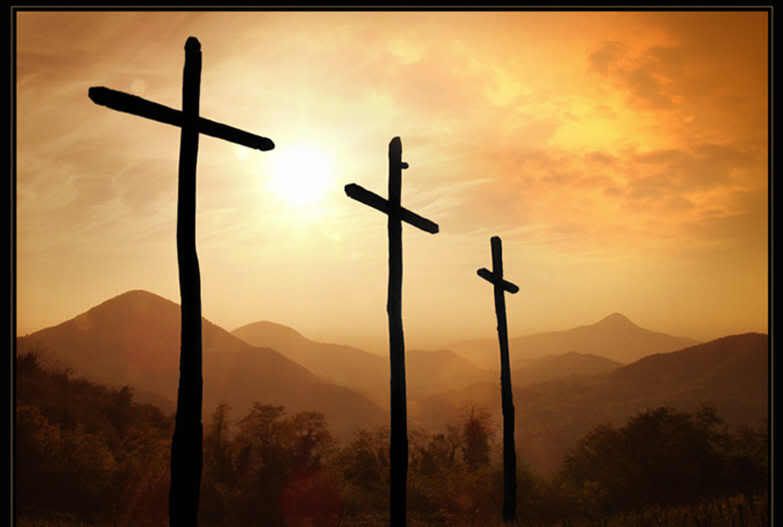 Please, Lord, do not ever let me forget the cross and the empty grave amidst all the fun and frolic.

Because that's what Easter really means.


Posted at 01:35 pm by beckyww
Permalink
Saturday, April 04, 2009
Here's some randomness on Serendipity Saturday. Nothing relates or really makes sense. Sort of like real life.
You will recall my progeny
dissing my 20+-year-old
lipstick last year. Today Rachel bought me a new lipstick, a gift which I accepted because my treasured lipstick case finally broke. So I will be utterly gorgeous at church tomorrow. Don't sit near us - I'll be such a vision of loveliness, your thoughts will not dwell on spiritual matters.
Posted at 03:32 pm by beckyww
Permalink
Sunday, March 29, 2009
Our church
recognized Julia and 40 other kiddos this morning for their "Pastor's Pals" bible memory work. With each grade level, the requirements are more stringent. For second grade, Julia
memorized the 10 Commandments
, the greatest commandments and a regular verse. When Rachel, Lois and Hannah were doing this, they always hoped the children's minister would add
John 11:35
to the list of eligible verses. Ummmm.....no.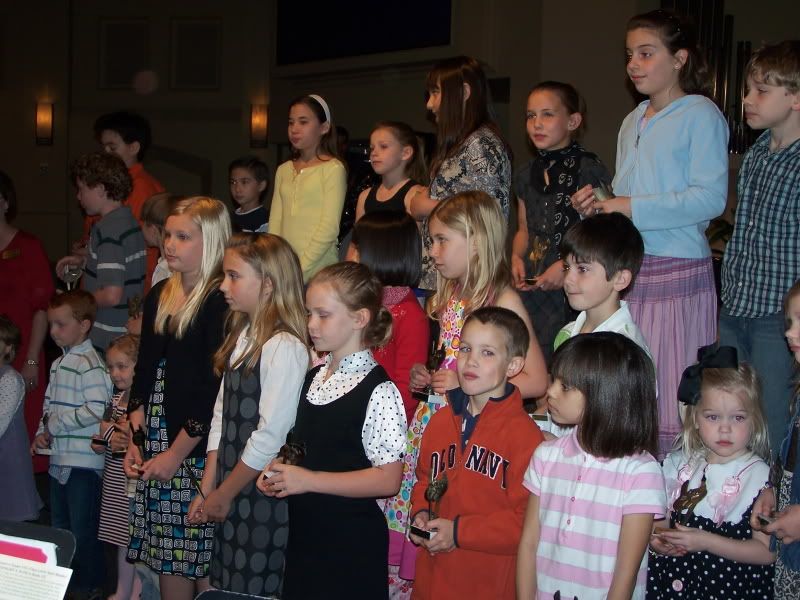 That's my girl - bottom row, second from the right When I go to heaven, God's giving me her beautiful glossy hair.

After church, the children's minister treated all the Pastor's Pals to Incredible Pizza. Rachel, Hannah and I went along for fun. Julia tried to act "cool" and distract me while Rachel seruptitiously salted her already over-salty mac'n'cheese, thinking Mom was too dumb to notice. Fail!

Rachel and Hannah demo'ed their mad hoop skills in quest for more tickets. Rachel gaves hers to Julia, who receemed them for a ball and some manner of tongue-dying candy. Hannah is now the proud owner of a gynormous Hannah Montana pencil.


Julia and I continue to slug away at a children's story bible every night. She gets so excited when she recognizes a story, or relates a story to what she's heard in Sunday School. Two weeks ago, I casually mentioned I was worried about something. Julia immediately scolded me with, "Mom, we're not supposed to worry. We're supposed to pray." When we started the read the story of Jonah traveling to Ninevah via whale gut, her face lit up and she stabbed the page telling me, "Mom, I know this story, Jonah wanted to get away from the Lord, but he couldn't - because God is everywhere." Well, yes. Yes He is.
I know many people would scoff at Pastor's Pals and bible story books. After all - bible story books are diluted, they're not the pure Word of God. And why should kids be bribed/rewarded to learn scripture? The knowledge itself should be its own reward. And I could have argued that position, too - before I had kids. And before I had a child that didn't hear a single bible story until she started learning English at age six.
Reality is that Pastor's Pals and bible story books are venues not only to teach Julia about God, but also to make me examine what I truly believe myself. If my faith is so etheral and jargon-packed that I can't explain it to a child...well, then, I really don't know what I believe. I just know the pretty words to spit up and hope no one challenges my pablum.
Julia told me at Christmas, "You are my Jesus teacher." But she's wrong about that. She's the one who's teaching me..
Posted at 02:18 pm by beckyww
Permalink
Sunday, March 22, 2009
Episode 9 of "A Man and His Pond"
The water is 60 degrees now. So the koi can be fed.

Notice the reflection at the water's edge. I am going to have fun with my waterproof Olympus this summer!


Posted at 05:36 pm by beckyww
Permalink
Thursday, March 19, 2009
Go Ahead. Try This at Home.
Julia is practicing to participate in the American Heart Association's
"Jump Rope for Heart."
Those whooshes you hear? Watch carefully. Those are "double unders." She's twirling the rope under her
twice
for each jump.
Posted at 05:09 pm by beckyww
Permalink