Sunday, May 11, 2008
I said, "I do not like Green Eggs and ham
I do not like them with the fam
I do not like grilled asparagi
And steak and pizza and apple pie
I do not like them with a fork
I do not like them - you're a dork.
I do not like Green Eggs and Ham
I do not like them with the fam."
Keith said "Try them. You will see.
How good aparagi can be
And steak and pizza and apple pie
You will like them - so will I."
So I tried them Mother's Day
And added Romaine - ohhhh, say
It was soooo good
I wolfed a bowl
And left the table very full.
I do like the Green Eggs, you see
And all they cook for the fam and me
I do like the heat to stay outdoors
And cooking spills kept off my floors.
I do like Green Egss with the fam
I bet I would like Green Eggs with ham.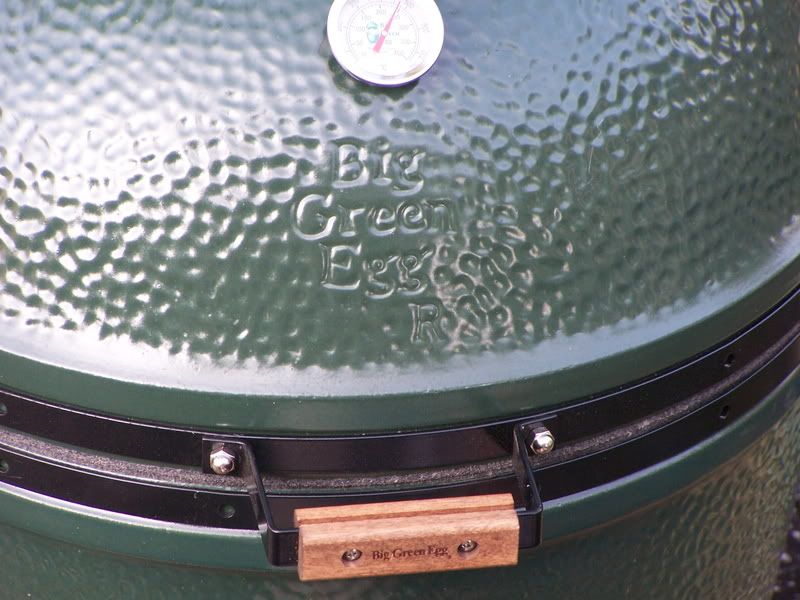 Have you ever heard of the
Big Green Eggs
- gynormous ceramic cookers for smoking, grilling and baking? Me neither - till Keith watched one too many cooking shows. He's wanted one for years and finally got one yesterday at an
EggFestival
in Austin. Big Green Eggs are basically a cult following for many, with user boards, cooking competitions, websites, cookbooks and fanatics who travel cross-country from EggsFest to Eggfest.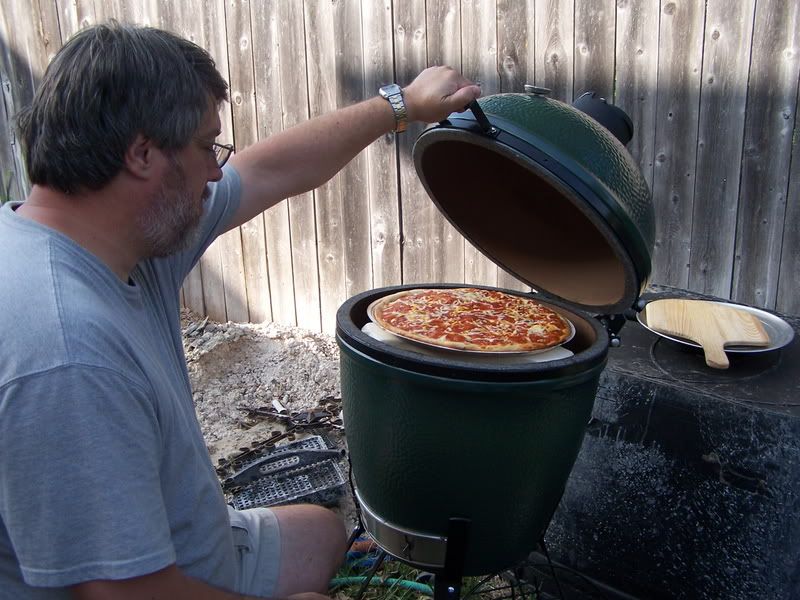 For Mother's Day lunch, we had steak, asparagus and Romaine (yes - lettuce), all grilled on the Egg, plus a few more mundane items done inside. Keith brushed the Romaine leaves with olive oil and spices before a quick grilling and omigosh, ithey were so good. Reminded me of the wilted lettuce my mom used to make. For dinner - baked pizza and.....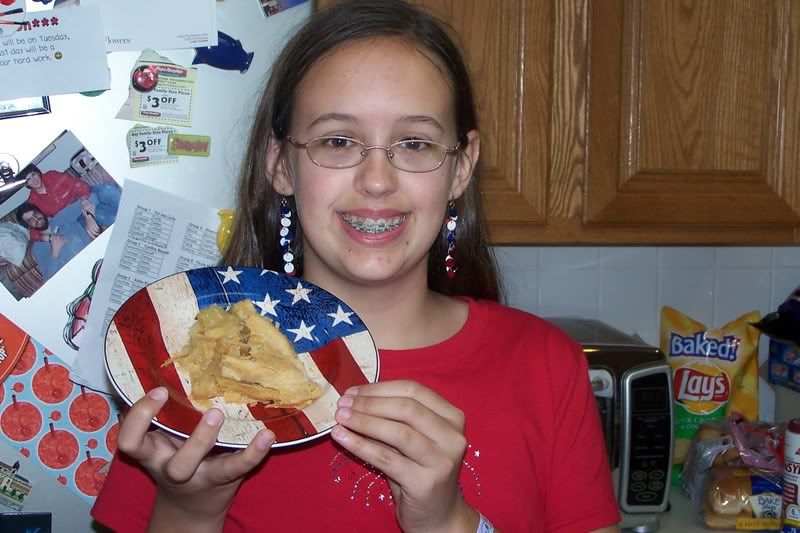 ....baked apple pie (Thanks, Hannah!), served on my new plates from Keith. Because you can never have too many plates. At least that's what

I

think. The girls groan at my dish weakness, and try to shoo me past store displays. Keith is more tolerant of my addiction.


Posted at 05:25 pm by beckyww
Permalink
Monday, May 05, 2008
Keith and I hosted our church's 7th and 8th grade boys for their annual Disciple Now weekend for the 5th year....at least I think it's our 5th year. The rivers of Dr. Pepper run together in my mind.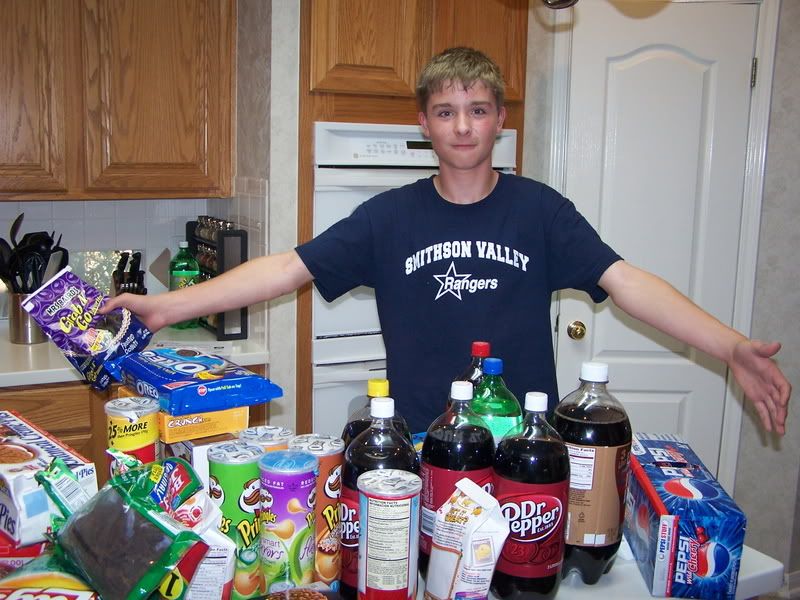 How many bottlrd of Dr. Pepper are required for seven middle school boys and one leader for Friday night - Sunday morning? The answer: Several. And snacks. Don't forget the snacks. Our kitchen island was covered, with more on the dining room buffet. The faces of Little Debbie and the Pringles man were everywhere, as the boys stood grazing through the snacks.

Blake - the handsome Little Leaguer standing above - made the mistake of going to sleep first Friday night. His thoughtful friends borrowed Lois' nail polish to decorate his toenails. Saturday night - they did his fingernails. Regretfully, the nail polish remover was...ummm...."misplaced."


Bible lessons centered on Proverbs 4:23 - "Above all else, guard your heart, for it is the wellspring of life." The lessons are designed for the kids - but they made me think as I stood in the kitchen, cleaning up. I always wonder if I have a future son-in-law in the room.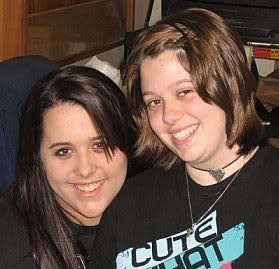 Rachel and Lois were at their own host homes, but met for community service work at Christian Assistance Ministries. The 40+ teens spent 2.5 hours organizing donations of food and clothing for needy San Antonians. Teenagers - organizing and cleaning a room- who knew?!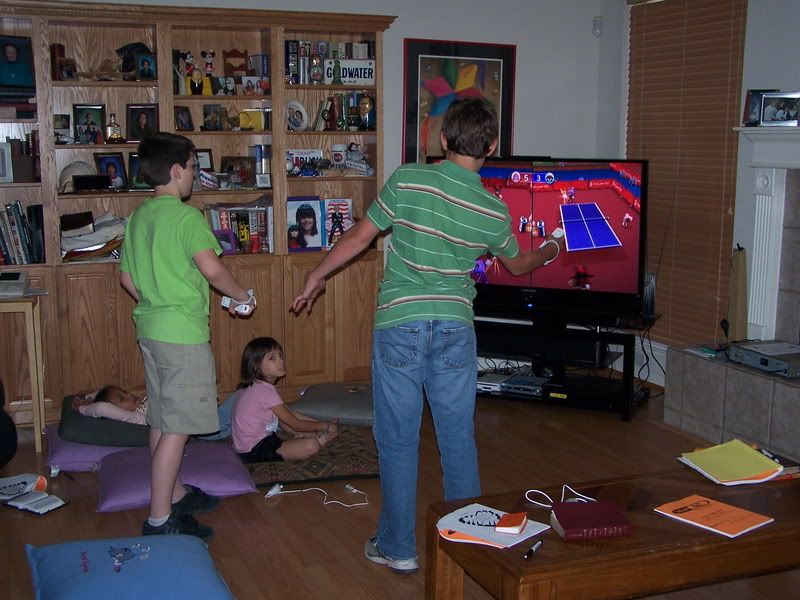 Between bible lessons and community service work - time for a little wii action. Stand up, boys, and work those nunchucks. Notice Julia, patiently waiting to play the winner - and she beat him.


The highlight of the weekend for me: The Sunday morning debut of the Shearer Hills Baptist Church Youth Ensemble, which has been discussed for months but called to action on Thursday night before Disciple Now started Friday night. Wow - talk about Allegro! All six teens were chairs in UIL region choir last year. I'm partial to the two altos on the right, adding that beautiful harmony. Revelation 14:3 tells us we'll sing a new song in heaven. That's a promise

I

want to stand on - with Keith and our girls right beside me.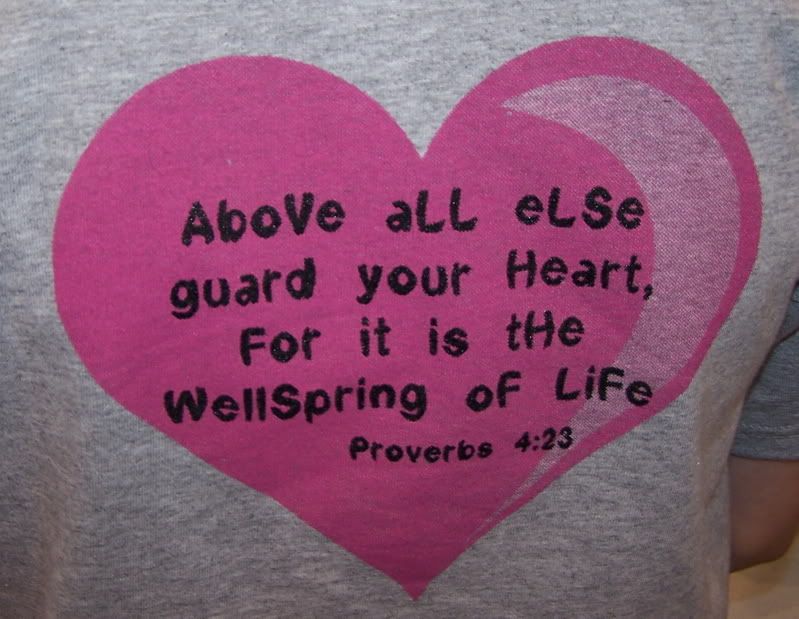 Hey Boys - See You Next Year!
Posted at 07:13 pm by beckyww
Permalink
Friday, May 02, 2008
Last night at Costco, Julia skated up as I was grazing on cheese samples and reached for a bite'o'brie. The sample matron frowned and said, "Not without your mom saying it's okay." Julia looked at me - I turned to the matron, raised my hand and said, "That would be me. It's fine." Julia grabbed her snack and pushed off on her Heelys, leaving a surprised matron staring at me with eyebrows raised.
After all......how could such a cute little skater girl belong to an old, gray hag like me?
Julia was home less than a week when we went to the pediatrician for a check-up. A friendly mom in the waiting room asked me, "Are you her grandmother?" Ummmm...no. When Keith and I took her to ER last fall, the nurse asked, "Are you mom or grandma?"
Sigh.
Not having Rachel until I was 35, I was used to being the only first grade mom who had trouble getting up from the tiny chairs in the classroom. But now I have AARP offers being delivered with Nick, Jr. magazine.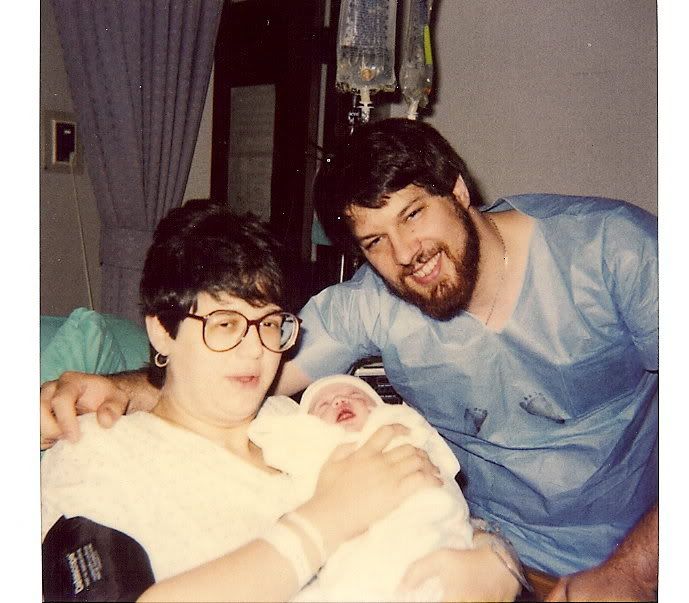 Baby Rachel's first picture, almost 17 years ago. Yeah, we looked younger! But as Indiana Jones said, "It's not the years. It's the mileage."
I suppose I should feel badly about having an 8-year-old at age 52. Embarrased maybe. I could dye my hair. Lose 50 lbs. for that new, hip wardrobe. Run to the plastic surgeon in my sports car. Watch endless episodes of "Desperate Housewives." Try to make myself look 30. Or even 40.
But I don't feel badly. And I'm not embarrassed. I just am what I am.
I have a good virtual friend from the user boards (Votemom) who also has a 44-year age difference between herself and her two two-year-olds from Russia. She also has three bio teenagers. I know she gets as tired as I do. Sometimes people think she's crazy, like they do me. And maybe we are. But we agreed: You're going to be doing
something.
I mean, your whole life, you're going to be doing
something
.
You might as well do something that matters.
So offer me a hand when my joints are creaking after squatting in the school hallway to admire a mural. When you see my gray hair, know that many of them popped up while we fretted about court dates and getting 10 days waived and leaving three kiddos back home. Don't smirk at my reading glasses - they help me admire those beautiful works of art on our fridge. And know that sometimes, when I'm rocking Julia, I fall asleep, too.
Because I have to be doing
something.
And to me - those things matter.
Posted at 04:09 pm by beckyww
Permalink
Tuesday, April 22, 2008
We're Off to See the Musicals
When I'm singing in the shower, I sound just like Linda Ronstadt. If I were a cleaner person, I could be famous, I'm sure.

(sigh)

Last weekend, I didn't have to do much singing. Everyone else was doing it for me.


Posted at 02:52 pm by beckyww
Permalink
Monday, April 14, 2008
A few weeks ago, Julia and a neighbor girl were playing ball inside and managed to break a glass. I'd told them to play outside - I specifically told them to take that ball outside - I'd told Julia to place her glass in the sink. I knew that if they kept bouncing that ball inside, it wasn't going to end well. And it didn't. I rushed downstairs to face two sheepish little girls toeing the glass shards, each accusing the other of the offense.
(sigh) I knew what would happen. And I began to deal with the broken glass, hoping they might learn to listen, and thankful neither was hurt.
We're coming up on our second "Sisters Day," celebrating the day Julia came home. We are incredibly blessed to have her as a daughter and sister. At this time of year, my mind always wanders back to St. Pete and Children's Home #47 remembering how nervous, excited, scared and thrilled we were to finally call her "ours," recognizing the long attachment journey had just begun.
Many times on adoption boards, or in conversation, or on other blogs or whatever, adoptive parents will totally gloss over the challenges of attachment by saying, "Oh, little X was meant to be part of our family. God had this planned all along." And everyone nods and smiles. Except for me. Because more and more often lately, I cringe at attributing adoption to God's perfect will.
I don't think God engineers births to satifsy the needs of adoptive parents. I don't think God looks down from heaven and says, "Oh, yeah - the Smiths - they really want a baby. Let me make sure Maria over here supplies an infant for them." Or, "Little orphan Ivan - I'm going to banish his tiny, shivering body to the icy sewers of Moscow for a few years, preparing him for the Williams."
No. No. I do not believe the need for adoption is part of God's will. Neither do I believe that limbless or blind children are part of God's will. Or that cancer or AIDS is God's will. Or that lives snuffed out in car crashes are God's will. Or that young girls brualized by nuts in a religious compound is God's will.
When I read Genesis - before the fall of man - I see a perfect place. Family is together in communion with God. When I read Revelation - after Christ returns - I see a perfect place. "No tears" and constant worship, we're promised.
But here we are. Stuck in the middle. And as a race, we're not really good at obeying our Father, any more than Julia and our neighbor girl are always good at obeying me.
I think God knows what's going to happen before it happens - but I don't believe He causes everything to happen. I don't think He gives cancer to toddlers or crashes vanloads of families. I thnk those things happen because we live in an imperfect world that Satan walks - for now. We have the free will to decide how we're going to act and react with the circumstances we're dealt. And when we make poor or immoral choices - they have consequences. Sometimes those consequences breathe. And cry. And long for the comfort of a parent.
Those consequences are like the shattered pieces of Julia's glass, broken by errant children who chose not to obey. The shards are no less real because we created them instead of God. They explode, arcing in a wide, dangerous swath, their overlooked remnants bouncing, lying in wait to cut again and again.
Surveying the broken pieces - God's perfect wisdom can be evidenced, if we ask for it. Laying it on parents' hearts that their families aren't complete. Matching empty, aching arms to squirmy little bodies. Giving workers the energy, intelligence and determination needed to overcome the myriad of adoption barriers each family faces. Nudging others to offer finanical help, or words of encouragement. Creating a family not born of flesh, but forged with the fire necessary to craft those broken pieces into a work of art, and a work in progress.
When I have been at my most low - when I have been broken - I have learned the most about He who created me - what I was supposed to do - whom I really was and am and could be. That learning has been painful at best and near debilitating at worst, with flashes of insight sparkling like broken glass along the empty corridors of long, dark nights.
I have learned - I know - I am Julia's mother. Not because it was ever in God's most perfect plan for me to be so. But because Jehovah - the one Sovereign Diety of what was and is and will be - is also the God of broken pieces.
Posted at 04:03 pm by beckyww
Permalink
Thursday, April 10, 2008
Texas, our Texas, all hail the mighty state!
State Nickname: The Lone Star State
State Capital: Austin
State Bird: Mockingbird
State Tree: Pecan
State Flower: Bluebonnet
State Song: "Texas, Our Texas"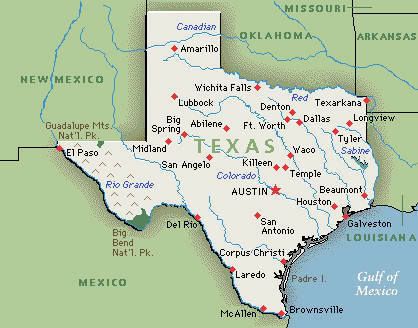 State Bruise?
This one on the back of my right leg, which has invited whistles, comments and questions from numerous guests of Costco, Wal-mart, HEB and Chick-Fil-A.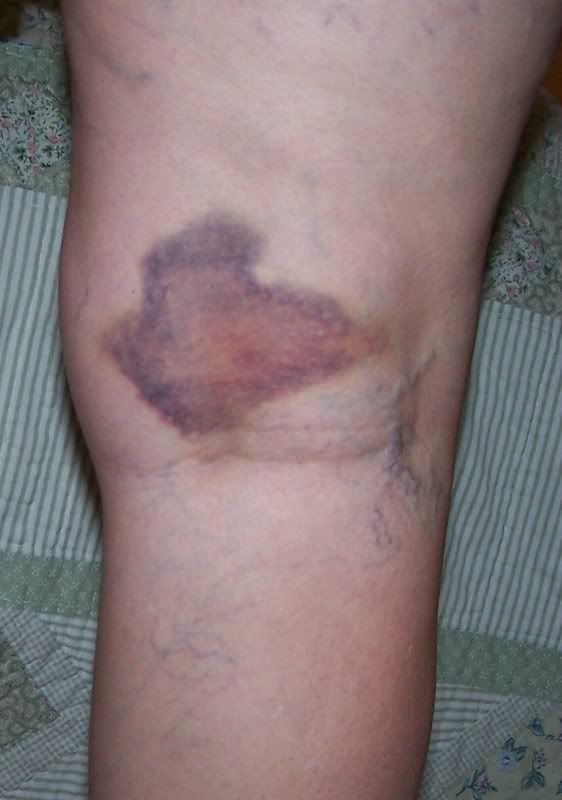 God bless you Texas! And keep you brave and strong,
That you may grow in power and worth, throughout the ages long.
Uhhh - yes. But here's hoping this bruise and my horrific cold both decrease in power before the ages long. Sneeze. Cough. Oucchhh!
Posted at 05:41 pm by beckyww
Permalink
Saturday, April 05, 2008
Kids. They make you do nutty things. Like when your eight-year-old brings home a school flyer for a 5K "Run for Cover" to raise funds for a playground shade and you say "Sure." What was I
thinking?!
I'd never done a charity run in my life!
But now I have - with Julia and Hannah. Hannah consented to hang back with me, I suppose to call 911.
I finished. And I wasn't last. I'm taking great pride in that. And surely I am to be commended for pulling in front of the little girl with leg braces, and the woman huffing with toddler twins in a double stroller.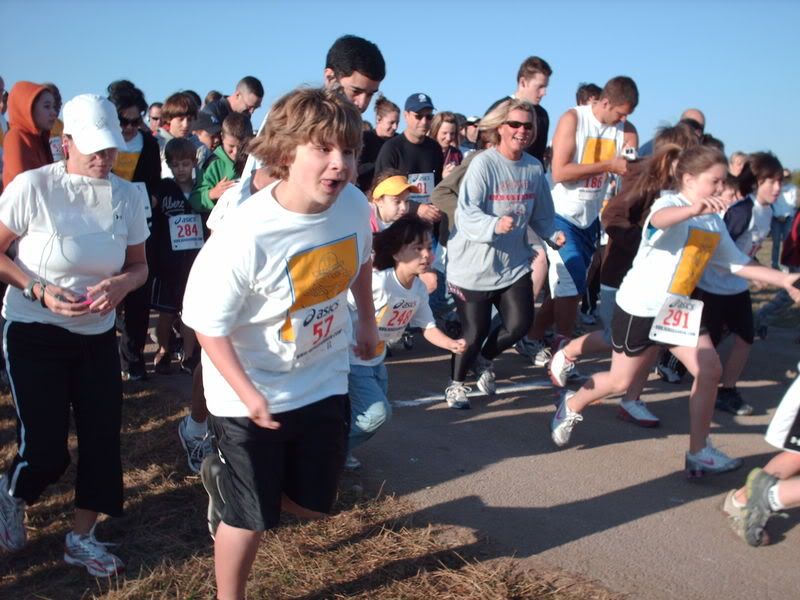 And they're off! The runners went first, followed by joggers, followed by plodders (that would be me.) There's Julia in the middle. She finished

first

among the first grade girls, running almost all the way. We did three loops so she periodically waved as she flew by, encouraging me to "come on!"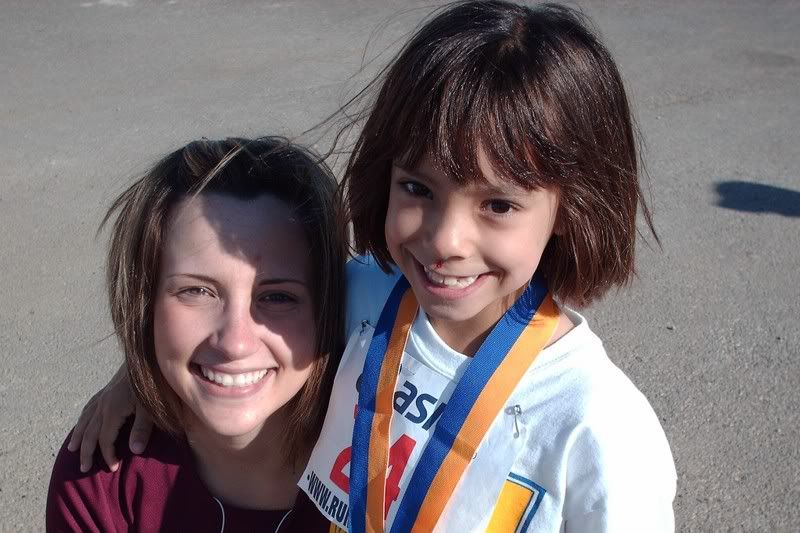 Medalled Julia and her teacher - (the sainted) Ms. Jones - ran abreast most of the race. Ms. Jones is, I believe, 12 years old and wears a size 0. She has perfect skin, gleaming teeth, lovely handwriting and an infectious laugh. Putting those facts aside - I really like her.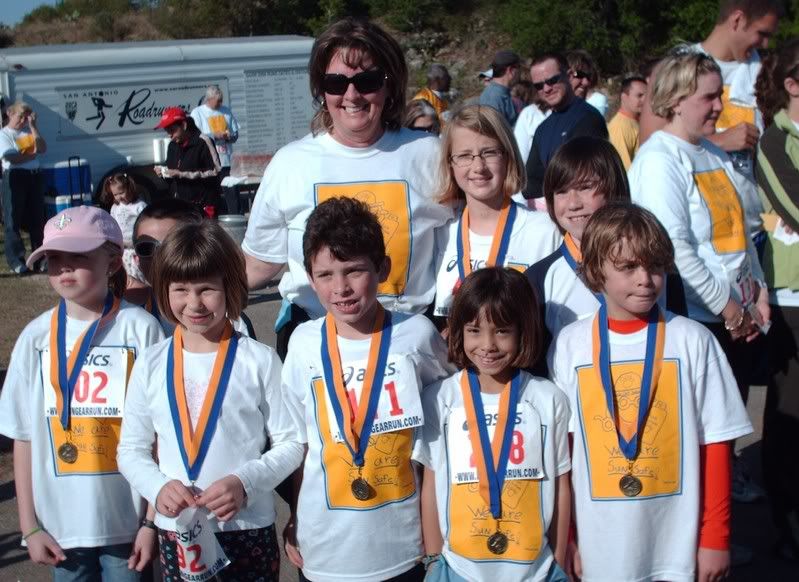 Principal Terri Chidgey with Stone Oak Elementary winners. Ms. Chidgey has long amazed me with her leadership, organization and compassion. I think school principals today have more responsibility than the heads of many corporations. I don't remember much about my elementary school principal except once she tried to stop me from running in the hall with my hand over my mouth and I - ummm - "decorated" her.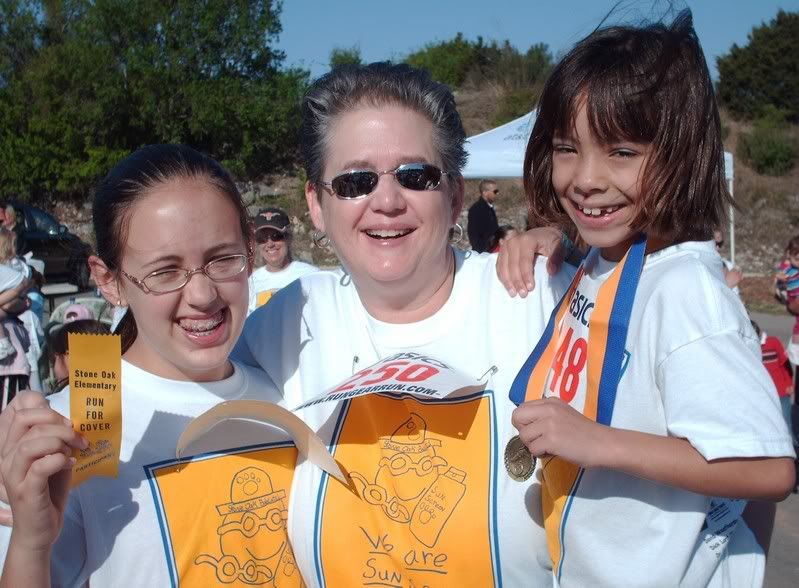 Call me "Yertle," we finished! First-place Julia in 34:50; Hannah and me in 1:03:12.


Today was kool. My Sketchers are komfy. My 12-year-old was kind (to stay with me)
My youngest can kick anyone's whatever.
And I am krazy. Yeah Baby - 5K's.
Posted at 08:20 am by beckyww
Permalink
Thursday, April 03, 2008
The parents of first-graders at our local elementary school are invited to a classroom "Reading Restaurant" one evening each spring. My first was with Lois, and being literal-minded, I thought the kids were reading to us while we shared snacks. My bad. There's no food, but it's way more fun than that anyway, thanks to their creative teachers. (I love having my kids in good public schools. I could never home school, because I am pro-life.)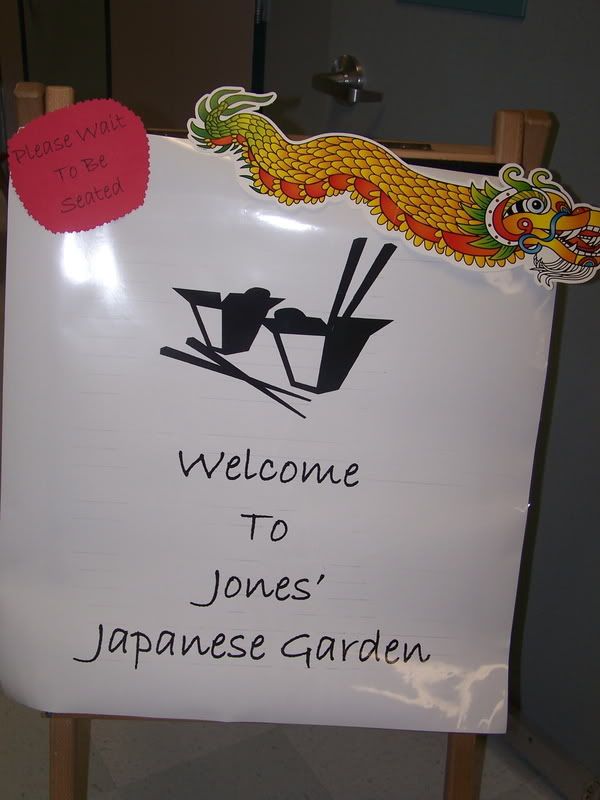 Each teacher created a restaurant theme. Julia's (sainted) Ms. Jones chose her "Japanese Garden." I remember Hannah's was Ms. Hernandez's Hacienda, and and Lois' was Ms. Satterwhite's Western Cafe. The kids go into the classroom as we parents queue outside the door, waiting for our party to be called. As I heard "Woodworth - party of one," somber-faced Julia emerged, extended her elbow to me and walked us to her table. Each classroom table was covered with a red butcher paper "cloth," and topped with a Chinese take-out container filled with uncooked white rice. Ms. Jones placed a small pile of white rice by each container; my maternal reflex stifled its desire to grab a dishrag and wipe it up.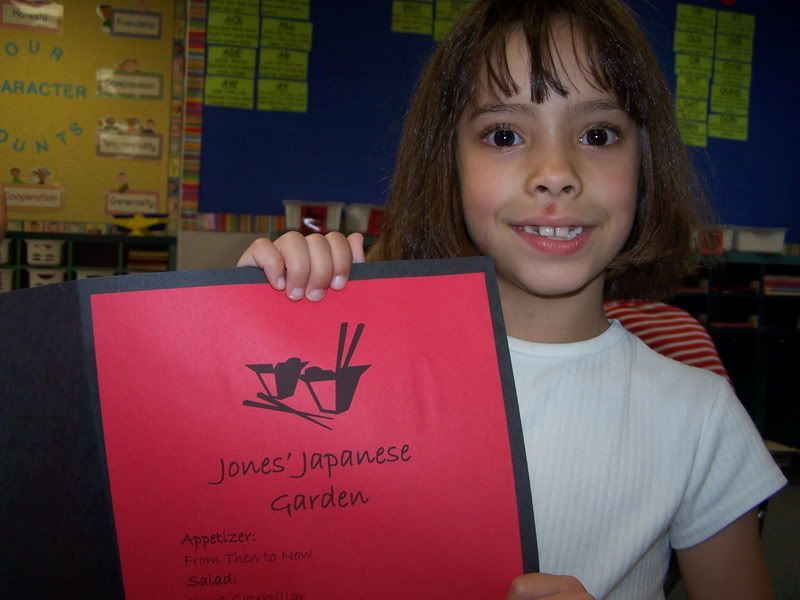 Our menu included four courses, which I had to order in sequence. Appetizer: "From Then to Now." Salad: "I'm a Catepillar." Main Course: "Guided Reading Book." Dessert: "My Family" and "Squiggle Books."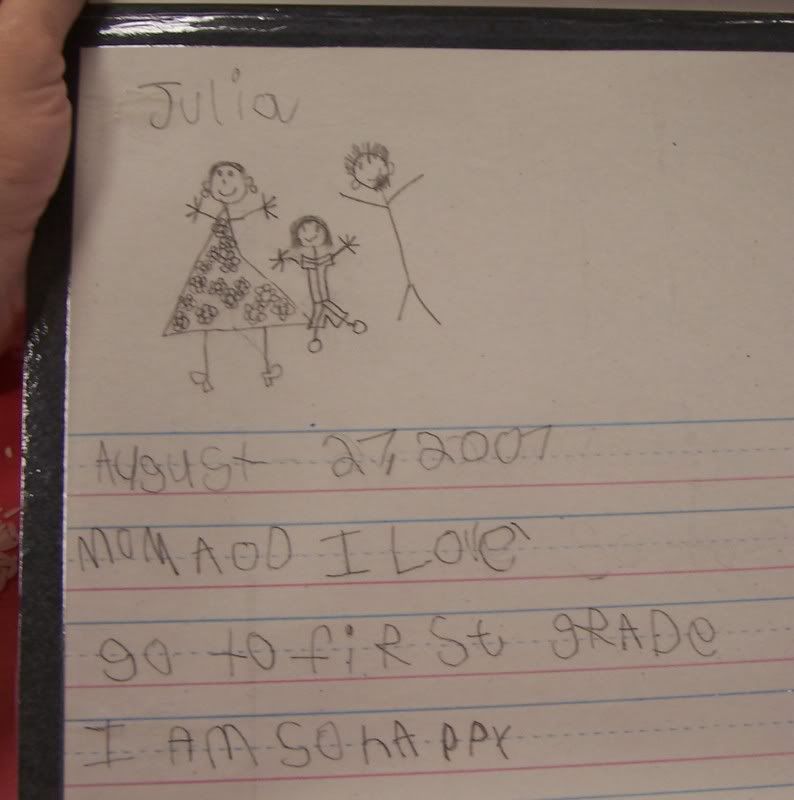 Julia's teacher helped each student create "From Then to Now." Look at this illustrated writing sample from the first month of school. Translation: "Mom Dad I love. I go to first grade. I am so happy."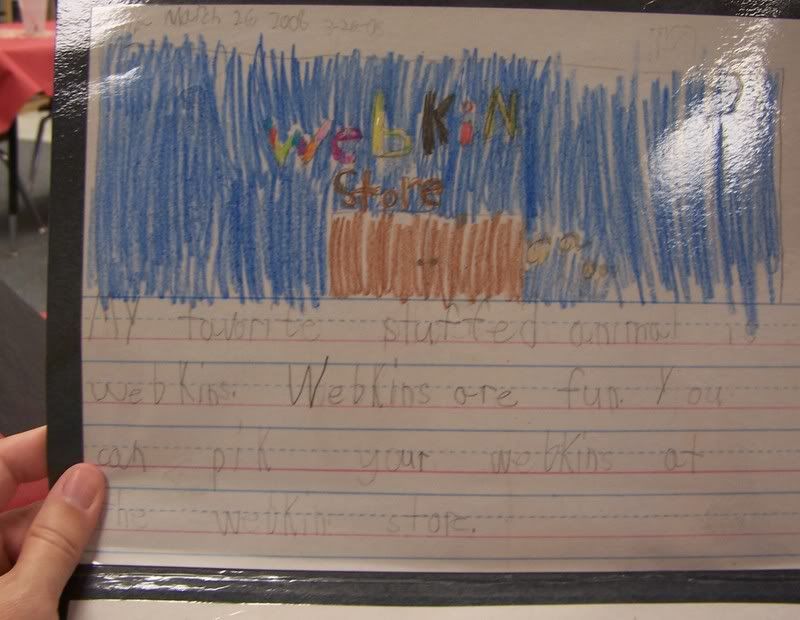 Now, wowsers - look at this one from last week. Translation: "My favorite stuffed animal is Webkins. Webkins are fun. You can pick your Webkins at the Webskins store." She and Hannah play Webkins online by the hour. This child who had never seen a keyboard two years ago logs herself in - enters her own codes - plays her own games.


Currently reading:
Franklin and Winston: An Intimate Portrait of an Epic Friendship
By Jon Meacham
Read Review
Posted at 01:57 pm by beckyww
Permalink
Sunday, March 30, 2008
Episode 7 of A Man & His Pond
Though only 15% of the 40 of us that voted thought he'd do it - Keith did get fish in the pond on Saturday, March 28! He, Hannah and Julia went to buy them early Saturday morning.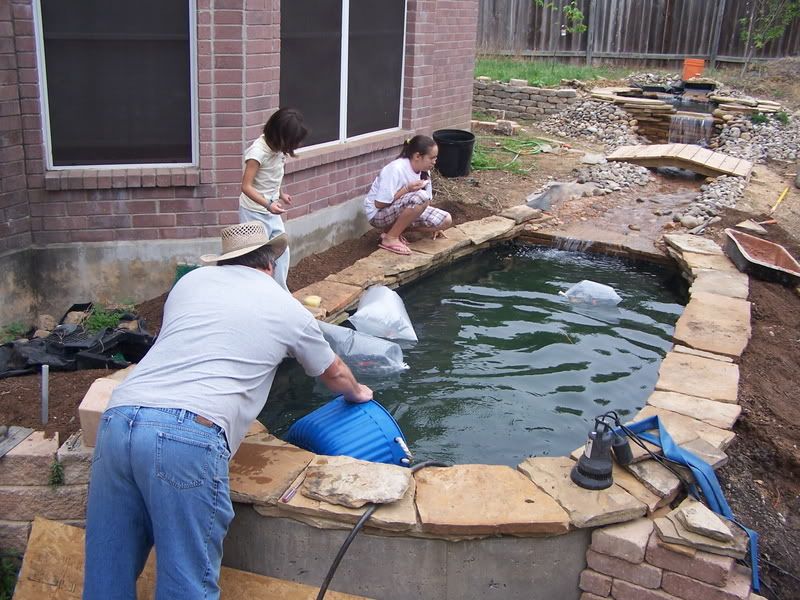 The koi arrived home in water-filled bags, which Keith placed in the pond for temperature acclimation. Hannah and Julia were allowed to pick out their own fish. Bart: Keith has forbidden me to show "Tortuga Giganta" until he's nestled in the landcaping (still to come.) So deep breaths!

Posted at 07:22 pm by beckyww
Permalink
Thursday, March 27, 2008
NEWSPAPER JUNKIE CONFESSES: "NINE DAYS NEWSPRINT-FREE"
Friends, Family Skeptical
San Antonio - Long acknowledged by friends and family as a newspaper junkie, a 52-year-old South Texas woman has confessed to being newsprint-free for nine days.
"I cancelled the
San Antonio Express News
last week," said Becky Woodworth, former jounalism student and devotee of the
AP Style Guide.
"I have not rustled a sheaf, folded a stack or trashed a crumple in seven days."
Friends and family remain skeptical. "We took a newspaper?" asked Rachel, 16, a
Myspace blogger
and sometimes
YouTube vlogger
. "I'll miss the Sunday funnies," acknowledged Lois, 14,
a noted illustrator
"With the help of a 12-step program, I'll make it," said Woodworth. "It's about 12 steps in any direction to a computer, and I can hit the news sites online." .
-end-

It's true. I cancelled the paper. Keith had urged me to cancel the left-leaning
San Antonio Express News
for years, but I'd resisted. One by one, my reasons crumbled. I saved money clipping the Sunday coupons....until I started buying so much as Costco. The kids needed a paper for homework....until they began searching their current events online. I knew so little about San Antonio landmarks, attractions, government, etc. ....until I acknowledged I basically ran in a grid from home-church-schools-work-Costco-HEB anyway, with any deviation requiring military planning far exceeding the capacity of print Mostly - I loved reading the paper on the
bus ride
downtown...until the carrier couldn't seem to deliver it before we had to leave for work.

Newspaper clippings are included in most family histories. Keith and I were surprised by our engagement mention in a gossip column.
I read newspapers - multiple newspapers - for decades. As a teenager and young adult, I always asked friends going out of town to bring me a paper from their destination. I paid for my mom's newspaper for many years, continuously "surprising" her with cards stuffed with banner lines (one banner line per month of renewal.) When I worked in Southwestern Bell External Affairs, I devoured both Houston papers cover-to-cover by 9 a.m. every workday as part of my job, carefully clipping any telecom references. I've delighted in the stray discovery of an article of interest to a friend, and startled at a familiar face staring from an obituary.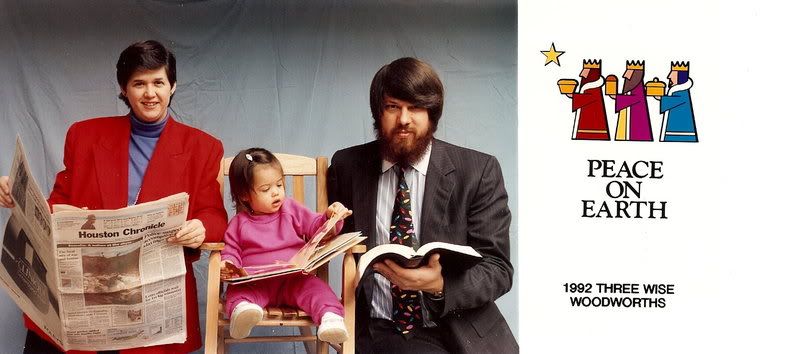 I perused the Houston Chronicle for our 1992 "Three Wise Woodworths" Christmas card photo.
I'll miss the newspaper. The kids think that's as crazy as the watch I wear (instead of reaching for my cell phone.) Or how I sometimes listen to a CD in the kitchen instead of plugging in my Zen. Or that I might rent a movie instead of downloading. Or - horrors - that I've been known to hand-write a note or place a call instead of dashing off a text.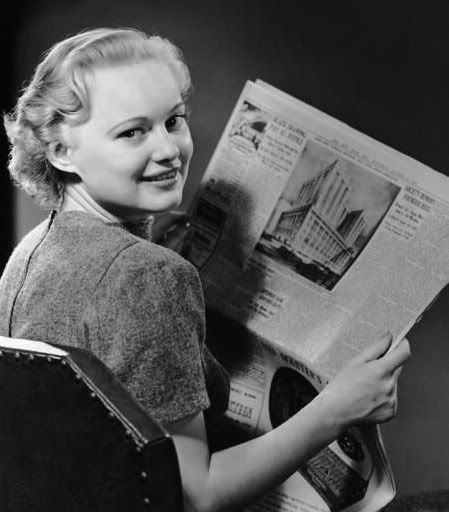 "Honey! They published my letter to 'Dear Abby!'"
One thing about a keyboard, though.
There's no messy ink to wash off your hands.
Posted at 05:26 pm by beckyww
Permalink