Sunday, August 31, 2008
As Hurricane Gustav whips toward shore, Baptist Family Services is assisting in the evacuation of the most vulnerable citizens in its projected path. Friday night, our
church
went on alert to begin staffing for the arrival of special needs evacuees. We knew they'd be from the Golden Triangle area (Beamont-Orange-Port Arthur), but we didn't exactly "who" or how many. Or - it turns out - actually when they'd arrive. Staffing for the shelter for Hurricane Katrina in 2005 was the first time I ever totally exhausted a cordless phone battery. Luckily, we'd replaced ours only last week.
Keith and Rachel were at the church from 11:30 p.m. last night until 11 a.m. this morning. The buses and ambulances begin arriving around 7 a.m. When I saw Keith for the first time today (around 8:15 am.). he was "glowing" in the heat and humidity of traffic control/unloading in the parking lot.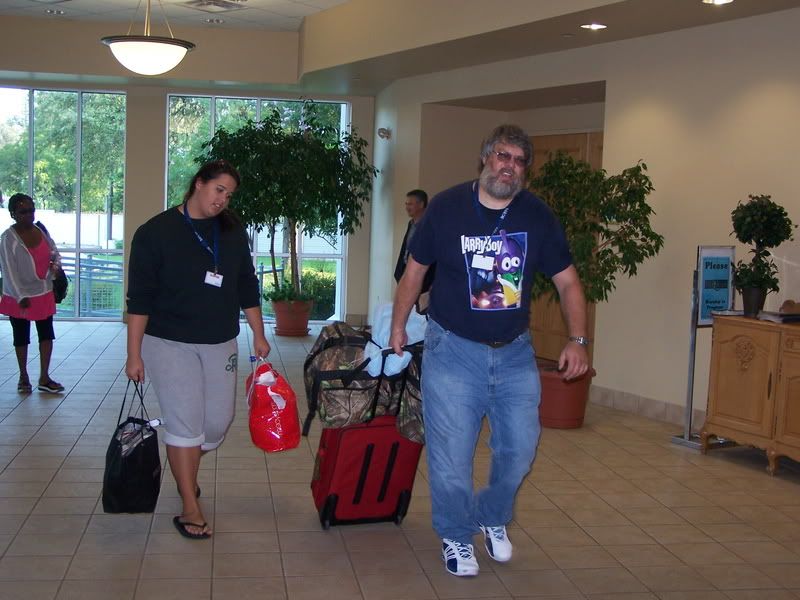 The church lobbywas a constant hub for unloading guests, luggage, linens, meals, medical supplies, etc.
Police officers assisted with security and confused guests. Oxygen tanks had to be wheeled out to fire trunks to be refilled.
The city health inspector ran his white glove around. The youth - who are meeting in the gym because of construction - were milling around, waiting for the sanctuary to be emptied from worship so they can have Sunday School. I had to pop into the sanctuary a few times to grab some young, strong arms and backs to help carry medical equipment and hot meals. So somehow....this sign...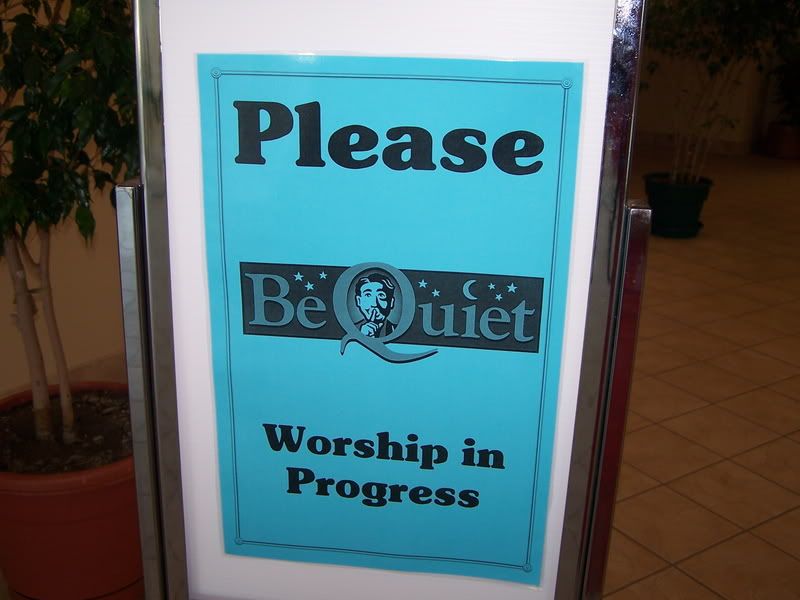 .....just cracked me up.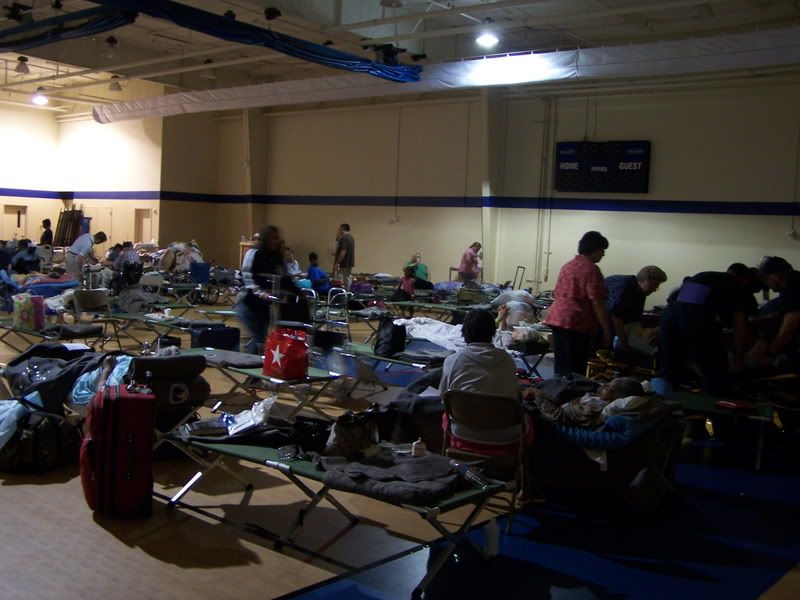 I've watched my girls play endless games of basketball in this gym. I've attended umpteen dinners and banquets in this gym. I've taken hundreds of pictures of youth events and VBS in this gym. But I have never seen this gym put to better use, or been prouder of our church family in it.
Matthew 25: 37 - 40: "Then the righeous will answer him, 'Lord, Lord, when did we see you hungry and feed you? Or thirsty and give you something to drink? When did we see you a stranger and invite you in, or needing clothes and clothe you? When did we see you sick or in prison and go to visit you?' The King will reply, 'I tell you the truth. Whatever you did for the least of these brothers of mine, you did for me.'"
Here is what I have noticed when asking people to help with something that is going to inconvenience them, or put them out of their comfort zones.
Really, really busy people are going to hmmm and hawwww for just a few seconds, maybe scrunch up their faces and look off in the distance. Maybe purse their lips and shut one eye. And then they're going to say something like, "Ummmm...yeah. Okay. I can make Thursday work. Put me down."
Other people are going to tell you their life story. Slowly. Culminating with excrutiating rabbit trails to "no." Which you knew when they started. Because pretty much, it's the same people that scrunch their faces and the same people that want to tell you their life story. Every time.
Not a fair judgment? Maybe not. Maybe so.
But it
is
what I've noticed.
Posted at 12:40 pm by beckyww
Permalink
Monday, August 25, 2008
I'm still in denial. This is the first day of the new school year, and there's a high school senior living here. How did that happen?!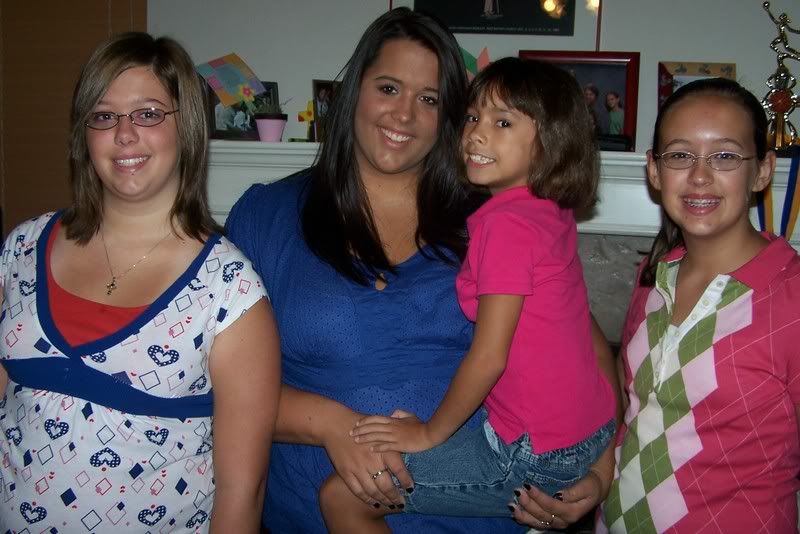 Lois - 9th grade (now w/glasses); Rachel - 12th grade; Julia - 2nd grade; Hannah - 7th grade. Julia wanted to wear her new blue school spirit shirt, but Rachel talked her out of it. "Julia, only dorks wear school spirit shirts the first day. Do you want the cool kids to turn you over into a trash can?" She gets lots of guidance.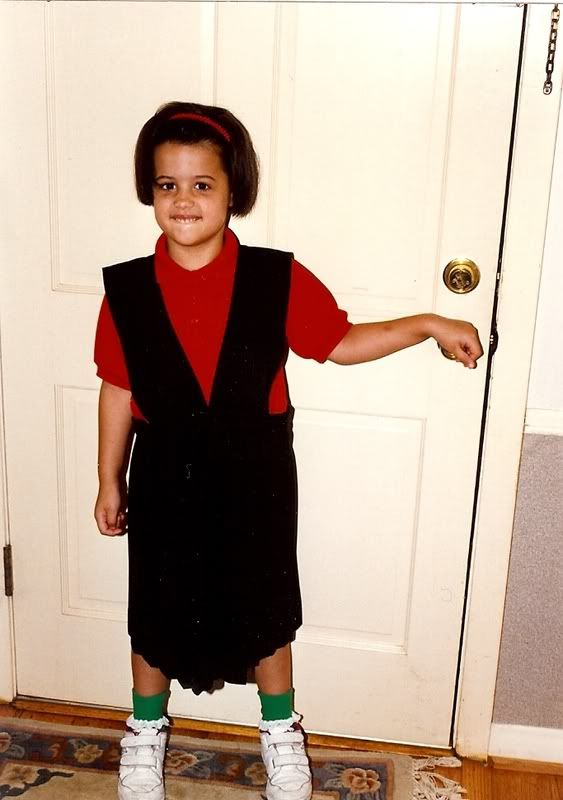 Rachel's first day of kindergarten in 1996. I cried. She didn't.
Lois got "a little lost" her first day in (the huge) high school. Rachel started her after-school job and, "It's work." (imagine that) Julia is coincidentally sitting next to the daughter of Ukranian natives and "Mom, she speaks Russian. Real Russian." Hannah started homework the minute she got home.
Rinse and repeat for the next nine months.
Posted at 05:06 pm by beckyww
Permalink
Thursday, August 21, 2008
Denial. Not just a river in Egypt.
School starts Monday.
I'm in total denial.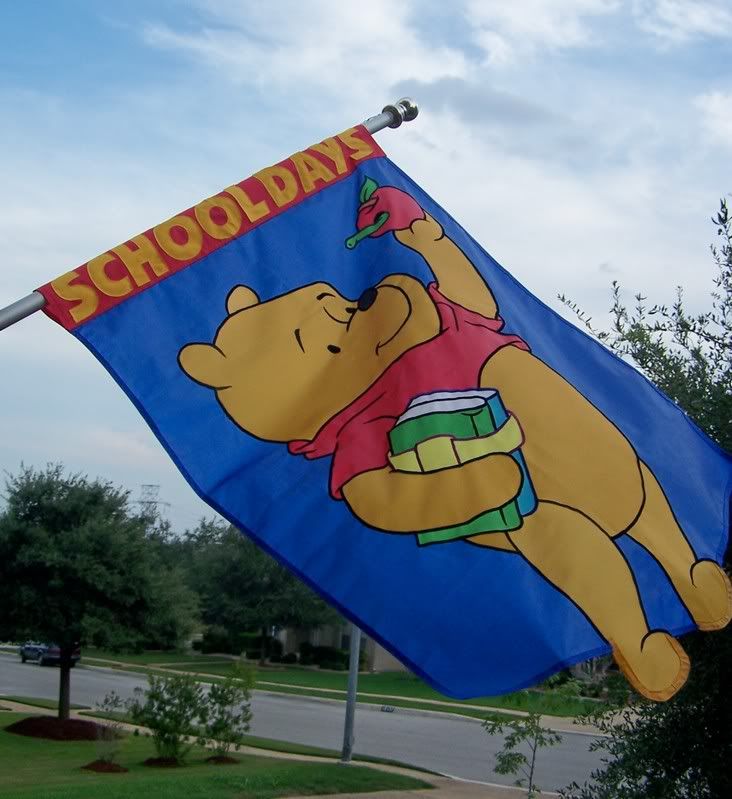 Yeah, Pooh. We know.
No more sleeping until 6 a.m. No more "just make two lunches and out the door." No more wondering where all the traffic is. No more shutting our door at bedtime because I really don't care who's still up and who's not. And no more quick dinners at the pool.
I took Julia to her school open house tonight. We did lots of hugging. Lots of labeling. And I brought home the first batch of dreaded school forms.
My return address labels are ready.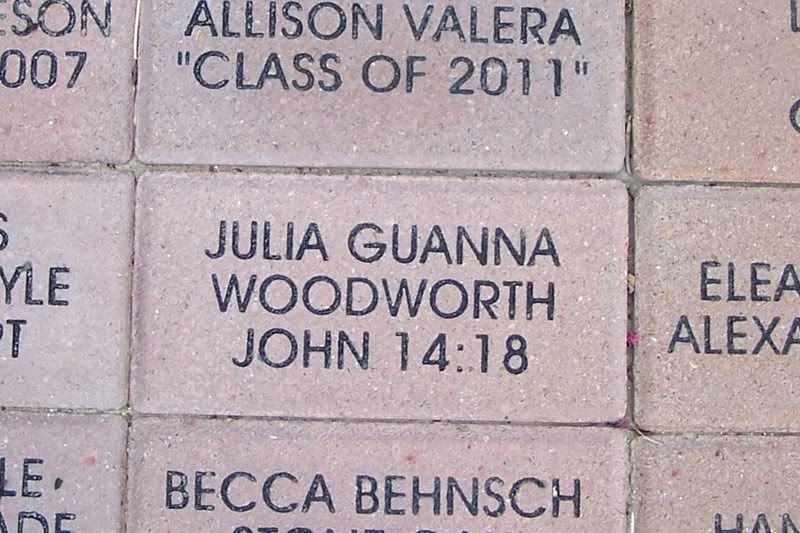 Julia's brick in the school entryway was laid over the summer. Moses' fellow
Hebrews were forced
to make bricks.
Joshua's army marched
and brought down Jericho's wall of bricks.
Paul described Jesus as a cornerstone.
So we decided years ago our school bricks would offer a biblical reference. Like Jesus' promise in John 14:18 - "I will not leave you as orphans. I will come to you."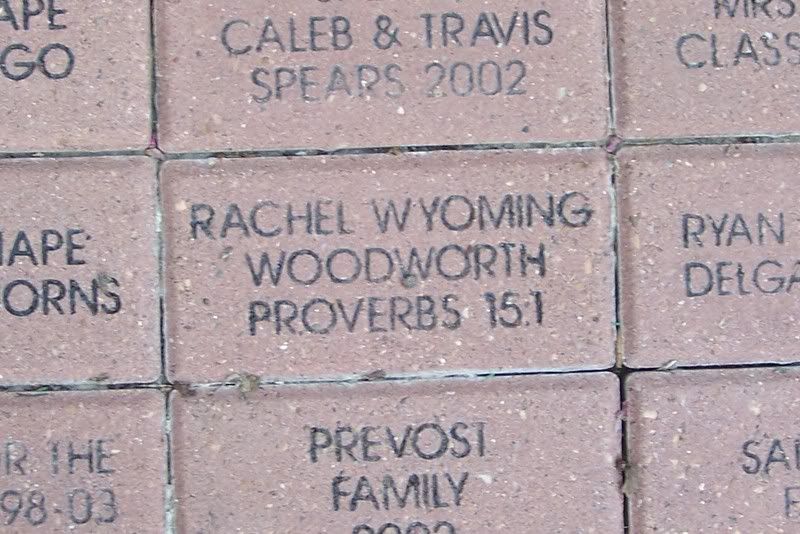 Rachel selected a very prophetic verse for her brick in 2001 - "A gentle anaswer turns away wrath, but a harsh word stirs up anger." She must have realized she was going to turn into a teenager one day and that I'd need to be reminded of this verse over and over. And over. Again.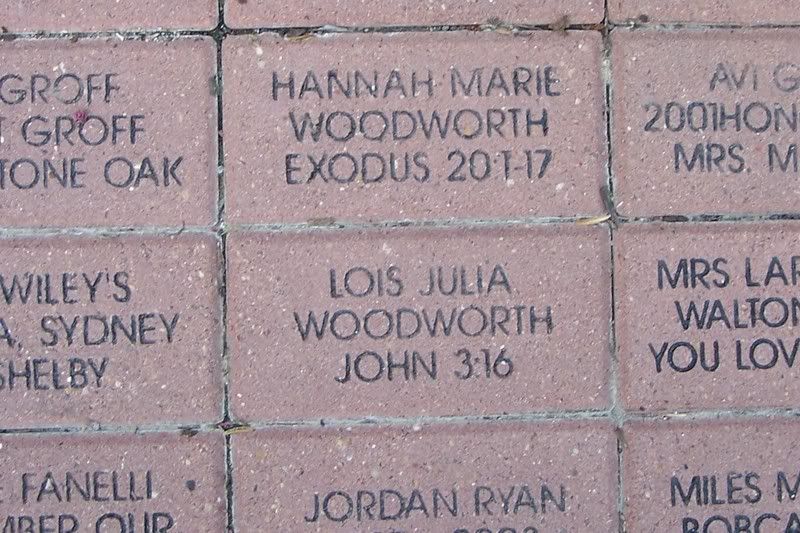 Lois is always one for the basics so in 2001 she chose - "For God so loved the world that he gave his only begotten son that whomsoever shall believe in him shall not perish but have everlasting life." Hannah selected the 10 Commandments. I remember when the girls had to memorize them for Pastor's Pals. The first four - relationship with God. #5 - relationship to parents. #6 - #10 are all those darned sins, which Hannah was having trouble memorizing in order. So she, Lois, Rachel and I formed a conga line and danced into church that Sunday night chanting, "Murder! Adultery! Steal! Lie! Covet!" They all got 'em right.
Tomorrow it's off to Fiesta Texas for one more day of water park fun.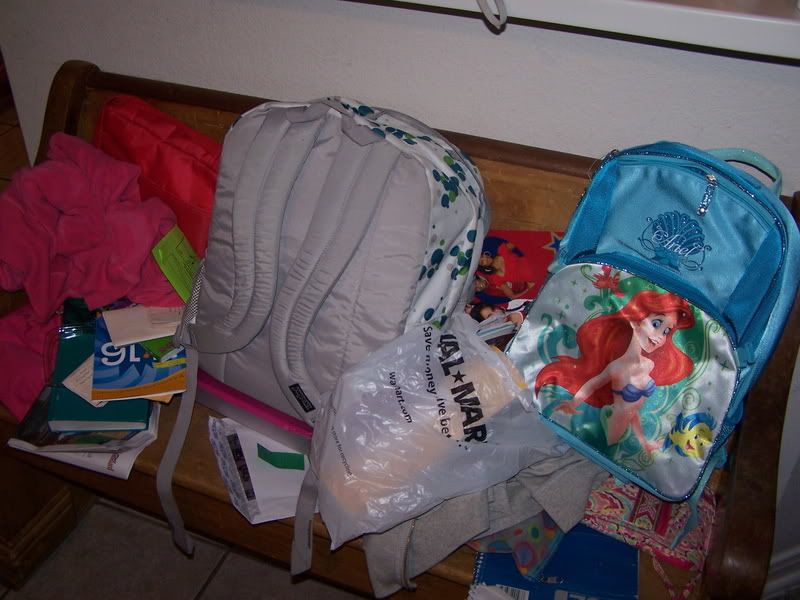 "Get thee behind me, school supplies!" 1st Rebecca 8:21
Posted at 05:20 pm by beckyww
Permalink
Tuesday, August 19, 2008
Rachel and Lois asked to hold a church youth girls slumber party. to welcome the incoming 7th graders - including Hannah - into their tribe. For some reason, I said "yes." The "party" part - yeah - I saw that. The "slumber" part - ummm - I missed it.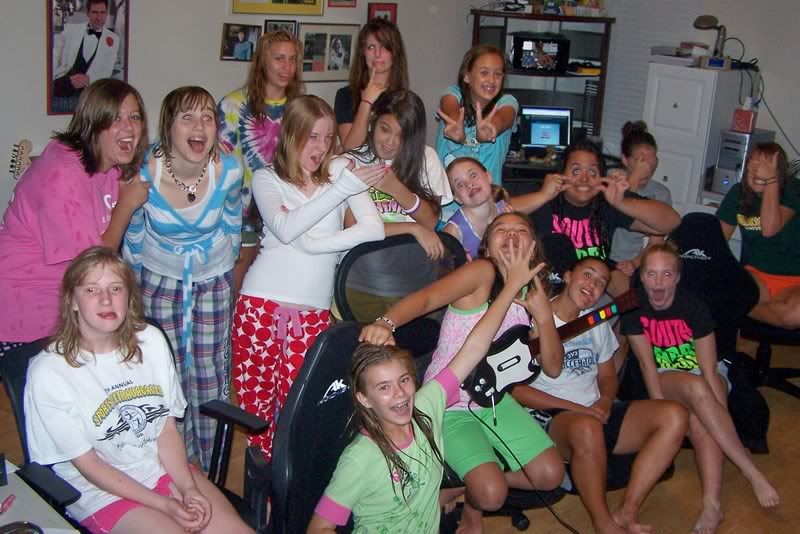 Sixteen girls, plus Julia. Most arrived in their swimsuits to invade the neighborhood pool. Remarkably - with all the clothes and junkola scattered about, only one item was left - a really nice blue striped beach towel. It's my door prize if no one claims it.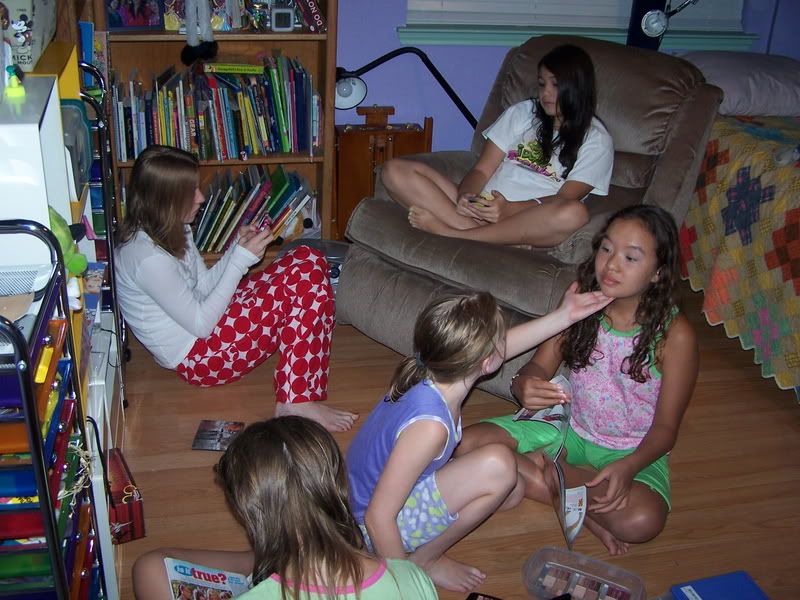 Youngest in Hannah and Julia's room for Make Up 101. Hannah's collection is less impressive than is Rachel's (thankfully.) They called Radio Disney often enough (estimated 200+ calls) that they actually made it on the air, as announced by the screaming herd of girls that crashed into our bedroom at 2 a.m. to shout about it. Keith muttered "Daughters," rolled back over, and promptly returned to sleep as I sat with the sheet clutched in my clenched fists and my heart pounding wildly, glad I took my bedtime blood perssure meds.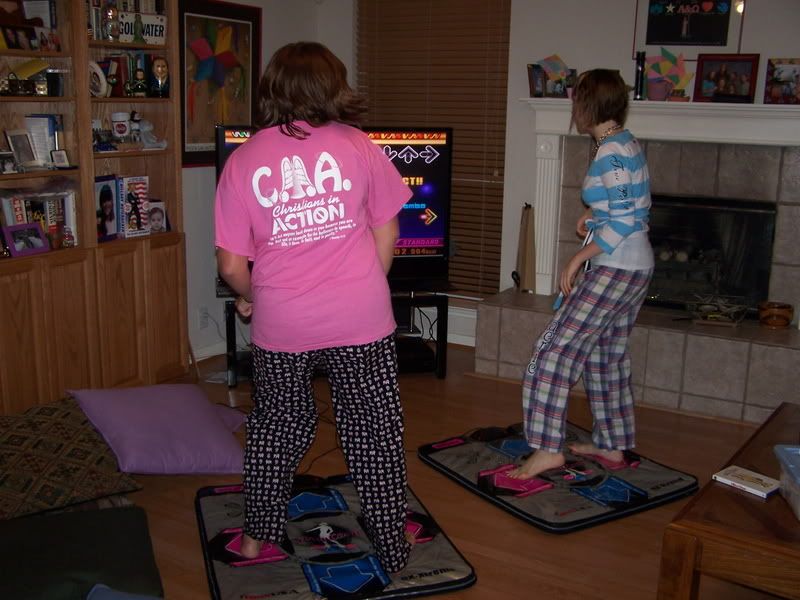 Dance, Dance Revolution for PS2 is the best money we ever spent. Our game is about five years old and how the mats have lasted is beyond me.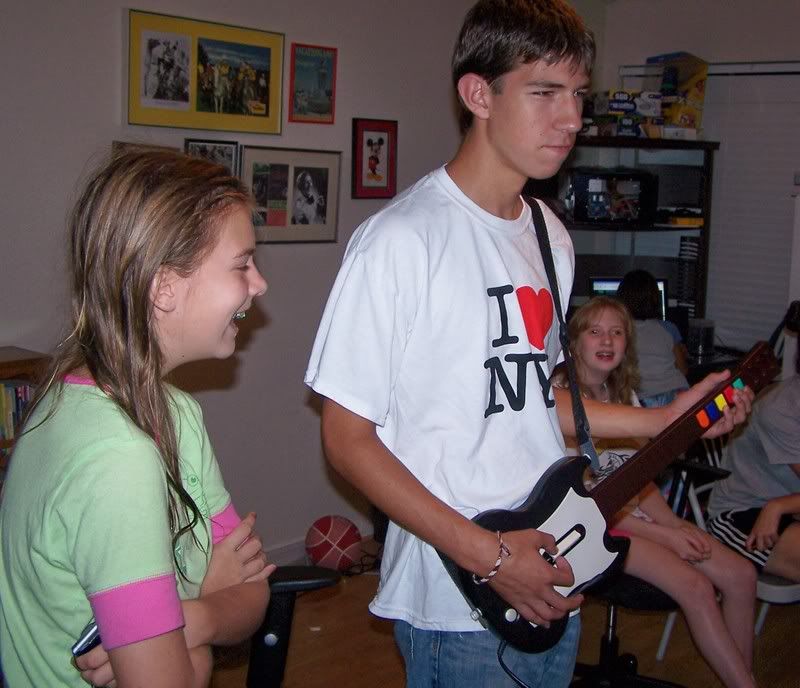 Joey - one of my faves - stopped by for some Guitar Hero action. Alas, poor Joey's house was wrapped in the wee hours - imagine that. Naturally, our high school girls knew nothing about it, sainted vessels that they are. Joey is the pastor's son, and I'm pretty sure that means whomever wrapped their house is going to hell.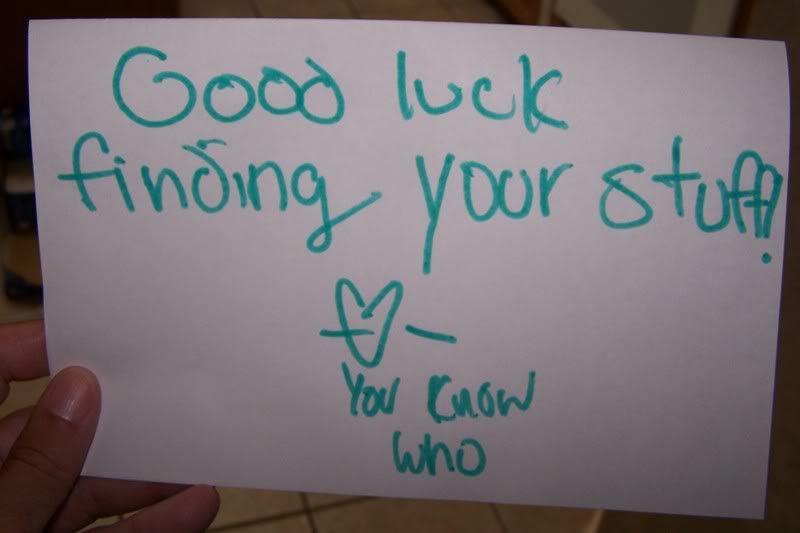 While the high school girls were "somewhere" - the younger ones hid all their stuff in retalliation for not taking them along. To wherever they went. Ahem.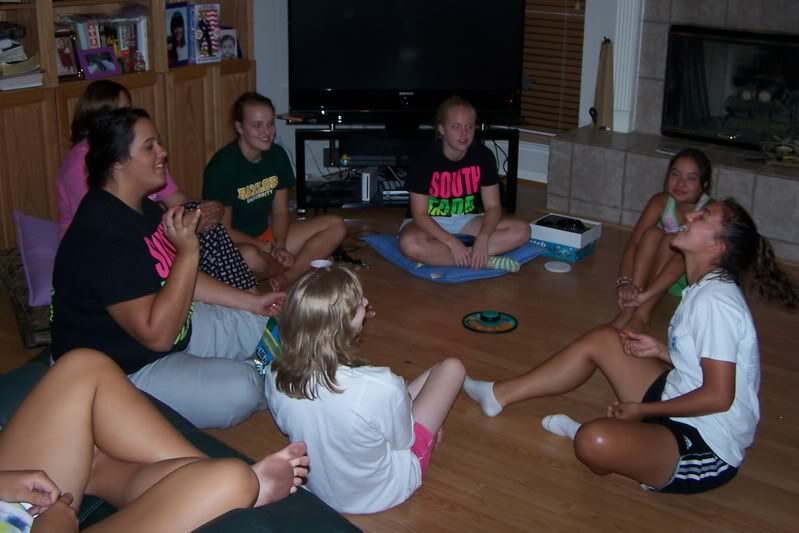 Throwing M&M's into each other's mouths - don't say these girls aren't skilled. And many can vote next year! What a comfort!


This coming weekend is Promotion Sunday at
church
where the kiddos move up a grade to match what they'll do in school the next day. For the incoming 7th graders, it's especially meaningful as they leave the children's department and move into Youth. Our children's minister started a neat tradition of parents collecting cards and notes of encouragement for their kiddos, to be given to them their last Sunday in the children's department. If you sent one to Hannah - thank you - she got hers on Sunday. And no, she wouldn't let me read them because, "Mom, they're private!" (sigh) So I can't find a pithy paragraph to share. However, I made her this card, so I can darn well share that.
I scanned photos of Hannah through the years at
church
stuff
and used
Shutterfly
to make her card. We moved to San Antonio and joined Shearer Hills when she was barely four. It's a shame I didn't have a picture of her licking the handrail of the balcony staircase, or bending over on the landing to flip her hem singing, "Shake Your Booty."


Slumber parties are rights of passage - just like promoting into another grade. Or trying make-up. Or wrapping houses. And as Keith and I hid out in our bedroom, watching snatches of
Ferris Bueller's Day Off
-
well, Ferris said it best. "Life moves pretty fast. If you don't slow down and look around, you might miss it."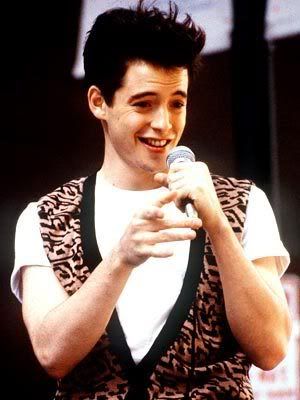 Danke schoen, Ferris - you are so right!
Posted at 05:20 pm by beckyww
Permalink
Thursday, August 14, 2008
Viewer's Choice of Titles
(Please Comment Your Choice)

Rachel and Hannah's Ulta-cellent Adventure

or Mamma Mia (I've Become)
or The True Story of My Lipstick



Posted at 07:46 pm by beckyww
Permalink
Sunday, August 10, 2008
One night last week, Julia crawled in bed with me and went to sleep in the crook of my arm, the top of her head nestled under my chin. and her arm resting across my chest. Keith woke us when he was ready to turn in. Before I resigned her to the nearby guest room, I stared at her face for several long seconds, soaking in its features and marveling not only at how peaceful she looked, but also how we got here - to a place that Julia would snuggle next to me to sleep.
Keith and I have known lots of adopted people, including some of our dearest friends and family members. But....they were all adopted as babies. Infants. Or - as we continually read the desires of potential adoptive parents on the user boards - "as young as possible."
That is so,
so
different
from adopting a six-year-old.
Rachel, Lois and Hannah never questioned my authority. When I told them, "Pick up those Legos or I'm throwing them away," they knew I possessed the authority to do what I said (and I pitched the Legos, too, BTW, the morning after I next stepped on one in the dark.) When I shot a blistering look across a church pew or a restaurant table, they snapped-to or faced the certainty of punishment. They might not have liked or agreed that they needed that punishment - but my God-given authority to met it out was never challenged.
Neither did I have to prove my love. Practically every breath of baby Rachel's was documented, photographed and shared with half of Houston. I laid on my left side in a hospital bed for 34 days to give Lois that critically-needed time to cook. During her 37 days in the NICU, I rocked and sang to her for hours daily (Keith said she would know the entire Baptist hymnal before she went home.) And Hannah - well, Hannah slept on my chest in my old recliner at least half of the nights of her first two years with her near-constant ear troubles. She would wake and fuss; I would soothe her, medicate her, whatever and we'd both drift back into a too-light sleep. Rachel, Lois and Hannah have always known that I loved them. I pray they always will.
But what did Julia know? She saw two big, funny-talking people coming from somewhere outside of St. Pete to take her away from every person and every thing she knew. She was told to call us "Mama" and "Papa," which she did - but what did it really mean? In retrospect, I think perhaps the bravest act I've witnessed in my life is her
walking out of Children's Home #47 wtih us.
She really didn't know what was ahead for her. But she put on those Old Navy jeans and light-up tennies and out she strode.
I give major kudos to
Buckner
(our agency) for insisting we prepare ourselves to adopt a school-age child. I have spoken and emailed with too many parents whose agencies did nothing to help them prepare. They read nothing - no books, no magazines, nothing. They spoke to no one who'd done it - they drew on no other family's wisdom., or asked the magic question, "What do you wish you had done differently?" They didn't join user boards - and I've said all along that we learned as much from the user boards as we did from
Buckner.
Their agencies didn't push them to engage an international adoption doctor to evaluate the child. Their agencies took a check - the couples took a child - Lord love them, now they've got that child.
When I talked to families that had done this, I got to where I could tell in the first two minutes if it was going to be a "yes, it was hard, but we're so glad we have him/her" or "it's been a disaster, it's destroyed our family" story. I heard plenty of both. And based on what we heard from those families, and the books, and the magazines, and our social worker, and the user boards - we got as equipped as we could be. Perfectly equipped? No. But equipped. With the sites on Fetal Alcohol Syndrome bookmarked on our laptop with which we traveled, and with which we sent pictures and video to our chosen International Adoption doctor. With a blanket we slept with for weeks to leave with Guanna-to-be-Julia on trip #1, so she would remember our smell (which is the most powerful sensual marker for children.) With toys to measure her skills, and a notebook to trace her feet for the shoes we needed to bring. With a list of questions to ask the orphanage director and orphanage doctor.
And - most useful - techniques to use to bring her closer to us. Because we needed them.
Julia didn't love us when she met us. Neither did we love her, other than in a sense of agape love. We loved the
idea
of her and were confident we could come to truly love her. But our first two weeks (in Russia) were not easy. In fact - she totally rejected me. My authority and my love (fake it till you make it) were forcefully and flagrantly dismissed. Keith was a man - both a novelty in orphanage life and an authority figure in Russian life. She took to him right away, including pushing away other children who got too close to him. But me? She was used to dealing with women and - as she has shared in bits and pieces - she hadn't always been treated well by them.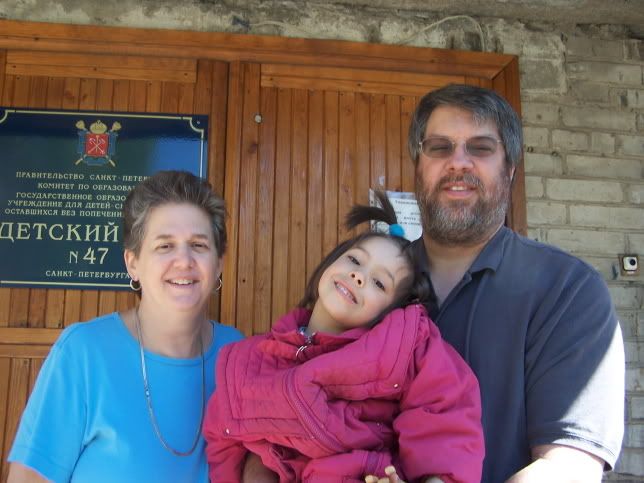 The day after court - May 11, 2006. Notice she is totally leaning on Keith. And away from you-know-who.
Julia wanted nothing to do with me. It took a 90-minute, screaming, back-arching holding session in the hotel room one afternoon until she would relax against me. (We knew of holding therapy from the books, and from other parents.) I sang hymns the entire time, not because they meant anything to her, but because they kept me from getting mad. At the end of that 90 minutes - when she lay spent in my arms, sweaty, red-faced, totally exhausted - our relationship began to improve.
Adoption is complete when the judge signs the papers. Attachment, however, takes time. The books say about two years for a school-age child. Keith and I think her attachment really cemented last fall, when she was so sick, after about 16 months home.
I can't speak to attaching to adopted infants, never having done that. But I can speak to attachment with an older child. To me, older child attachment is a lot like marriage. There's the ceremony. And then comes reality. Reality is that you're in a relationship with another person, including all their strengths and struggles. And both of you get to choose. You can accept each other's position in the family - or not. You can love each other - or not. But
both of you
get to choose. No one person has all the power. You're not Burger King. You don't get to have it your way.
When Julia leaps onto Keith for a tickle - when she asks Hannah to play a game, or Lois to watch a video, or Rachel to go swimming - and, yes, when she snuggles up against me and goes to sleep - she is choosing.
When I soak in her little face as she sleeps - I see those choices. And I sleep better, too.
Posted at 05:17 pm by beckyww
Permalink
Thursday, August 07, 2008
Keith's made pulled pork twice on
his Egg
this summer, both times to the rave reviews of eager diners. It was such a hit with our
Sunday School class
- we've deemed crunching on the crispy crust a spiritual experience.
Here's how to reach the next level of Nirvana: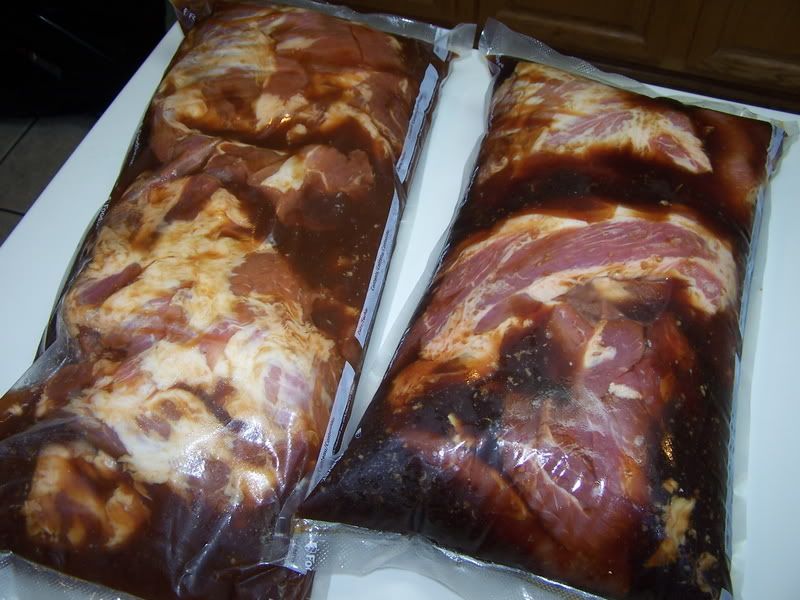 Four pork shoulders from Costco - about $53. Keith trimmed and cryo-vac'ed them in pineapple juice, t
eriyaki, ginger
and garlic for 28 hours.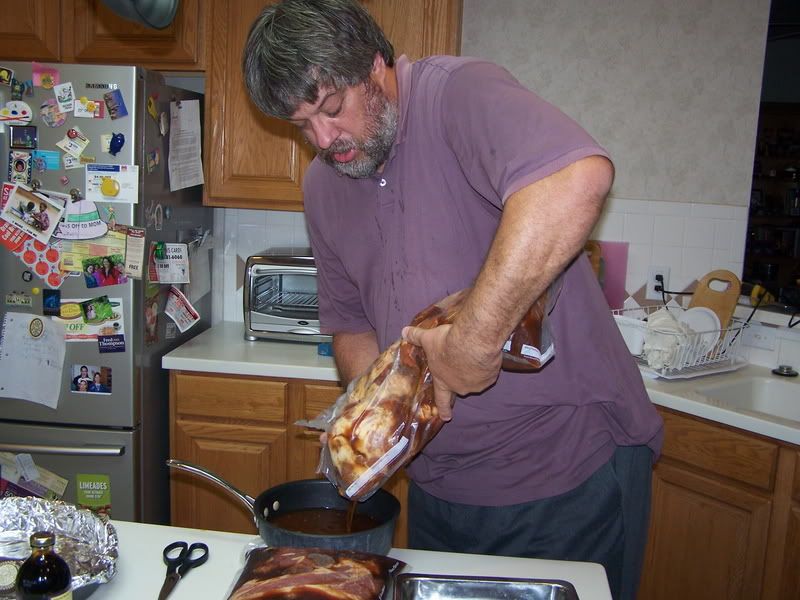 Now let's pour the pineapple juice marinate into a sauce pan, to be reduced (boiled) for meat sauce later.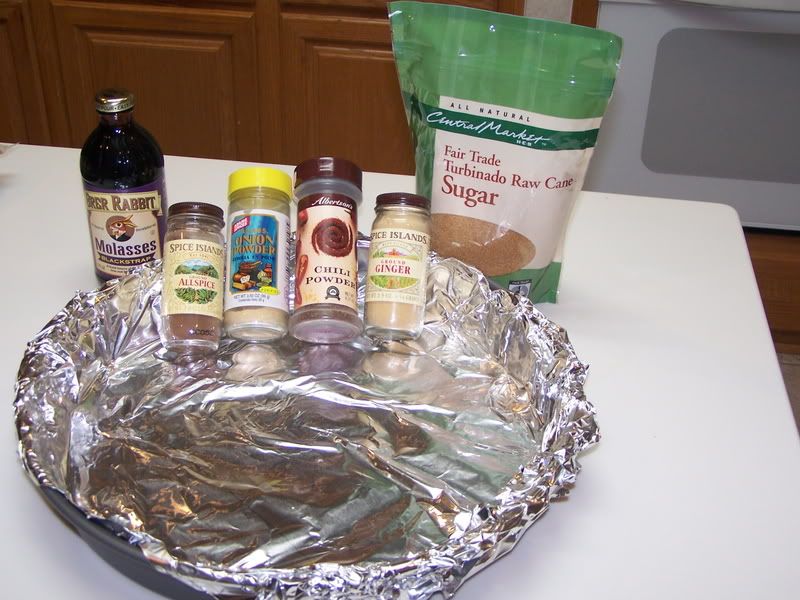 A foil-lined drip pan, to be filled with water while the meat smokes. And requisite seasonings including Allspice, Garliic Power, Chili Powder, Ginger, Turbinado sugar and Molasses. Not pictured: Kosher salt, because it took so long to find in the hurricane that is our pantry.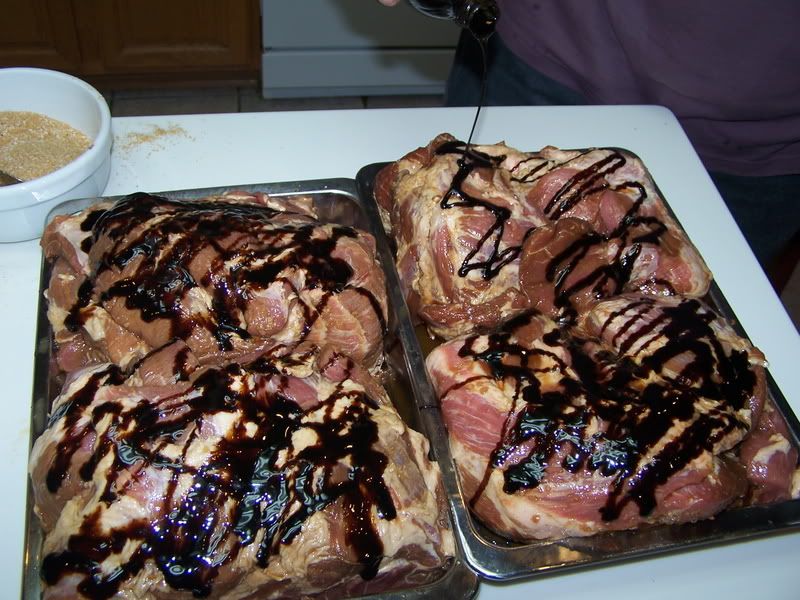 Drizzle molasses on those formerly piggly wigglies.....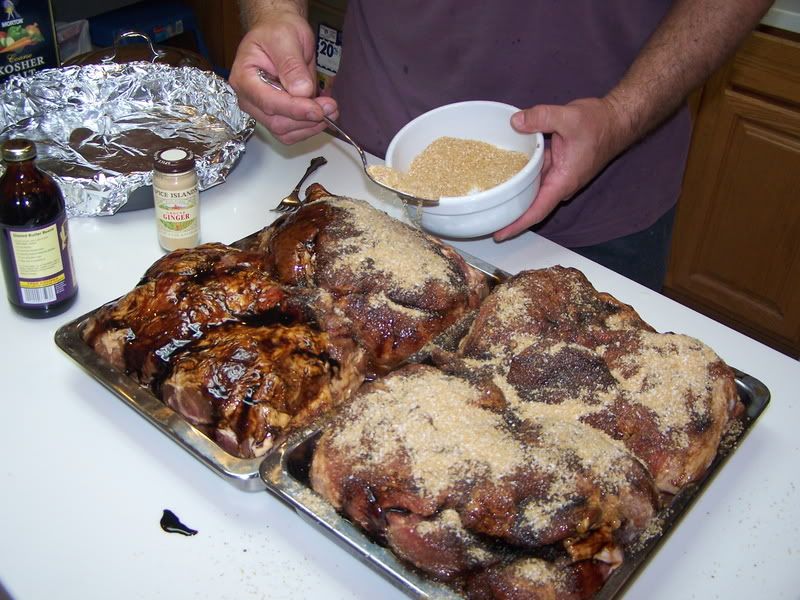 ....then cover them with the combined dry seasonings. Be generous.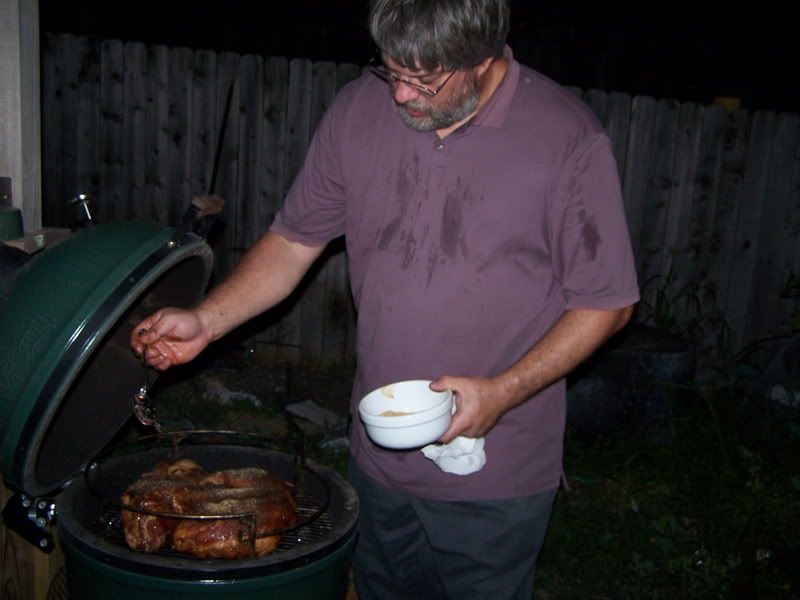 Now get them outside and
on the Egg,
which should be about 220 degrees. Put that water-filled pan under them to keep the pork moist and catch the dripping fat. And re-sprinkle with dry seasonings as necessary.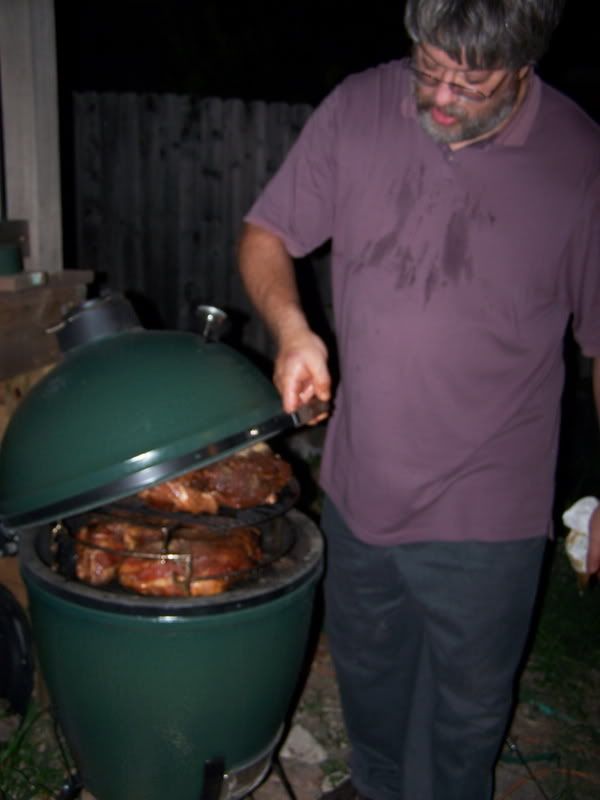 Four pork shuolders will just fit - 2@ layer. And use your own shoulder to close the top of the Egg.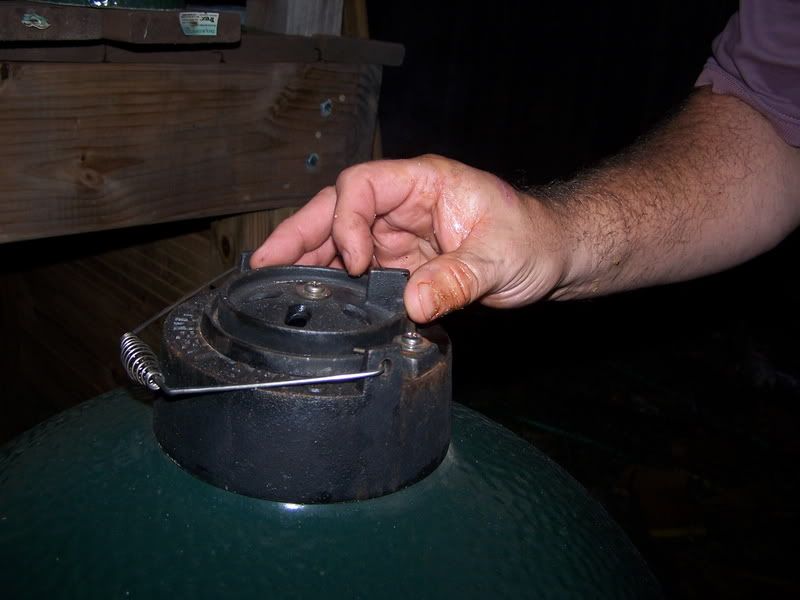 Vent that Egg - gotta have air for the slow-burning fire.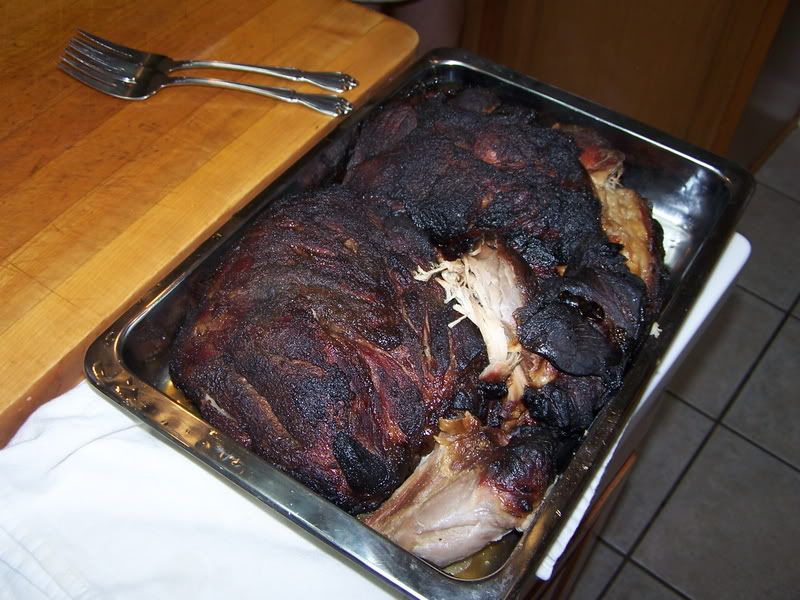 Seventeen hours later - the deliciousness that is Egg'ed pork, soon to be pulled pork with the help of elbow grease powering flashing tines. The fat has dripped out, leaving a sweet, crunchy crust hugging tender, moist meat. For extra goodness, swirl pulled pork in barbecue sauce - or better yet - the spicy marinate, now reduced into a syrupy glaze. Everybody wants a pull of that tangy crust between their teeth. Yummy!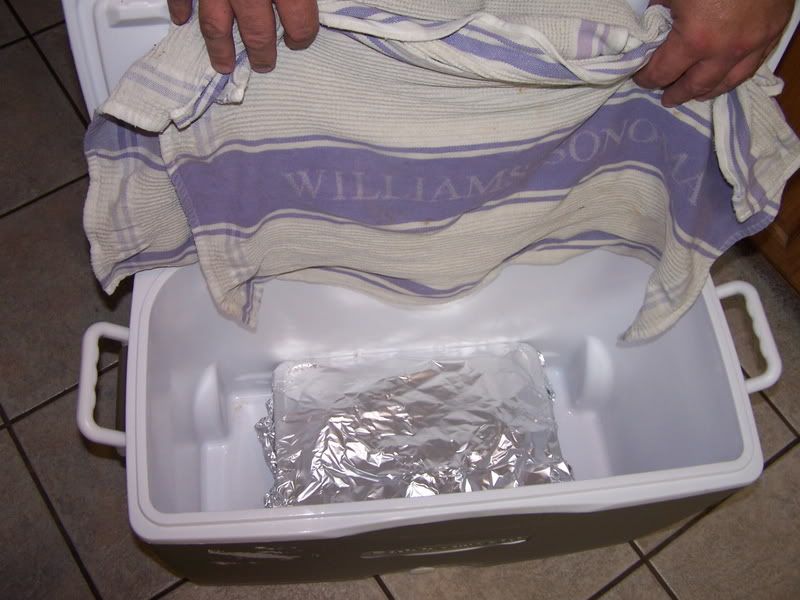 Transport in foil-wrapped pans, with layers separated by dish towels in a cooler. Assuming there's any left after everyone pulls and samples.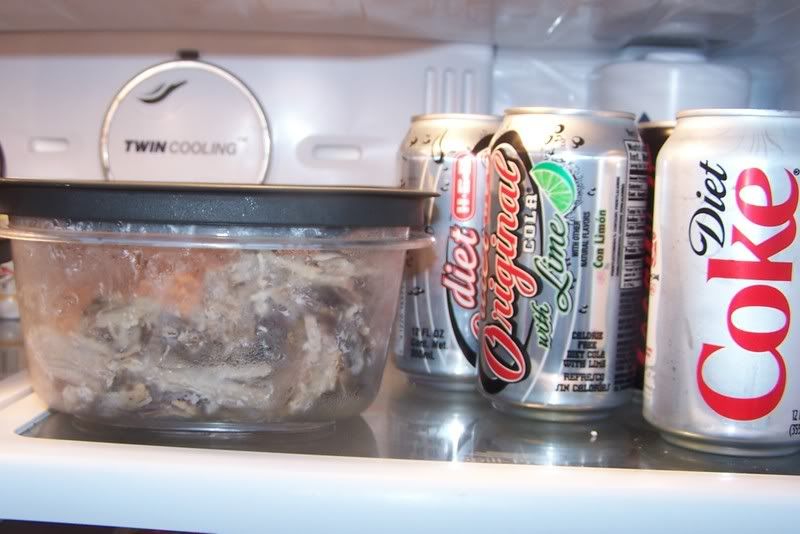 Five days later - this pitiful container holds all that remains of that porky goodness. We store it dry, and add the spicy (reduced) marinate before heating.
I'm hungry now.
Posted at 04:32 am by beckyww
Permalink
Tuesday, August 05, 2008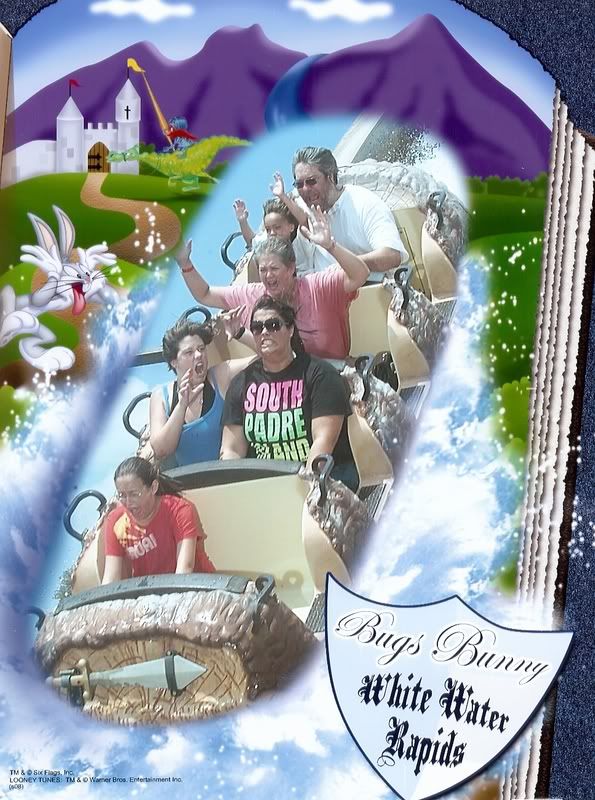 My Favorite Ride
- I'm not as brave as Julia, who is now tackling
Boomerang
- solo, or with Lois. I am content to wave. While I cower.

Better than peeling on pantyhose.
Better than sweating on the bus.
Better than cube farming.
Better than plodding on summer homework assignments.
Better than housework.
Better than yardwork.
Yes.
Better. Way, way better.
Posted at 05:14 pm by beckyww
Permalink
Sunday, August 03, 2008
Lois, somberly explaining to Julia that to get to eat at Chipotle tonight, she first had to go to church with the rest of us: "Jesus comes with the chips, Jules."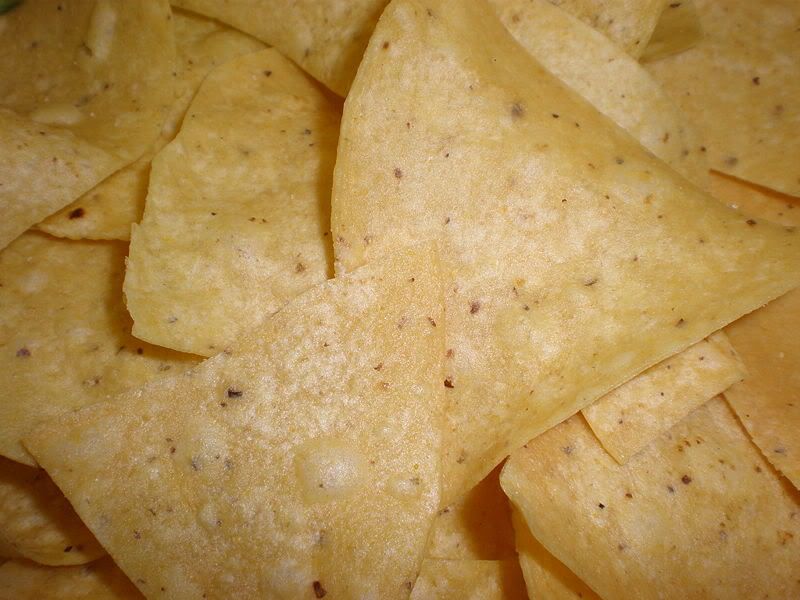 "Gracias, dios."
Posted at 07:09 pm by beckyww
Permalink
Friday, August 01, 2008
You're the Gourmet Around Here, Eddie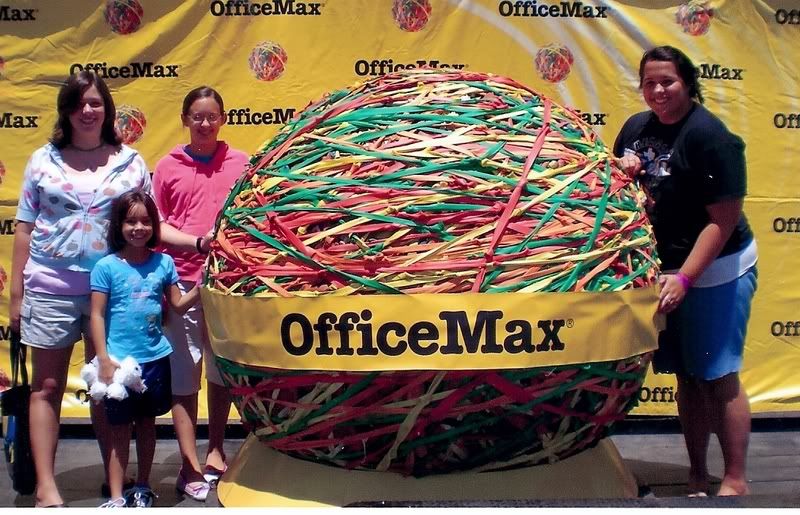 The world's largest rubberband ball bounced into San Antonio this week.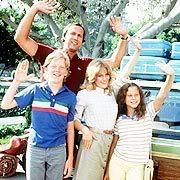 All I could think of was the Griswolds, enjoying their cross-country drive to Wally World in the old family truckster. Or as Clark said, "Hey, hey easy kids. Everybody in the car. Boat leaves in two minutes....or perhaps you don't want to see the second largest ball of twine on the face of the earth, which is only four short hours away?"


Yes, summer vacation is wrapping up. It's time to start thinking "school supplies." The girls are going shopping next week.
Maybe I'll have them grab me some Hamburger Helper for Cousin Eddie and Keith to grill.
Bye now. Enjoy these last weeks of no bedtime and dinner at the pool.


Posted at 06:30 pm by beckyww
Permalink