Monday, November 03, 2008
I've taken a vacation day to clean up and organize after a week of
Samaritan's Purse box
packing. Not that I need to.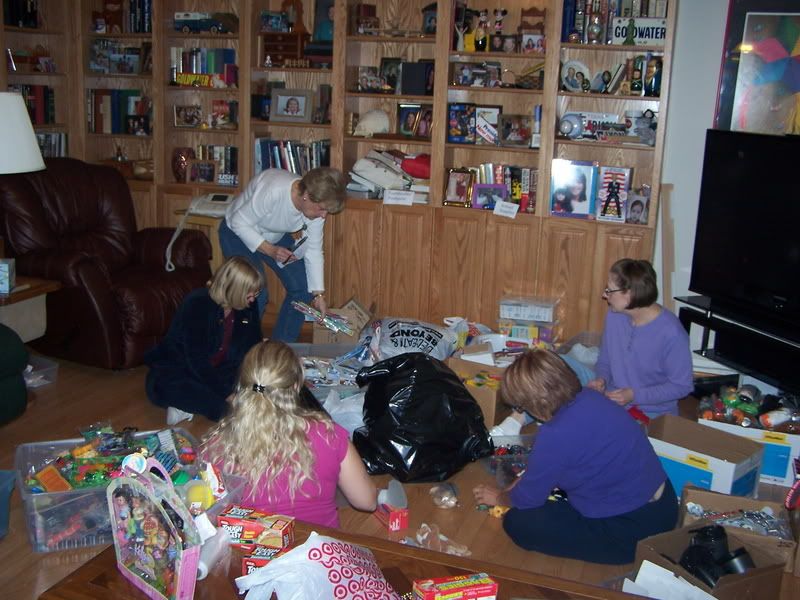 The fabulous
Women on Wednesdays
bible study class to which I belong came over to stuff knitted caps and Beanie Babies into Ziploc bags, remove toothpaste tubes and Matchbox cards from their boxes, etc. Johnnie, Marcie, Dorothy, Dana, Amy, Midgy, Linda and Melinda: Maybe we should study Proverbs next, like, 17:17 - "Friends always show their love." Because you are and you do.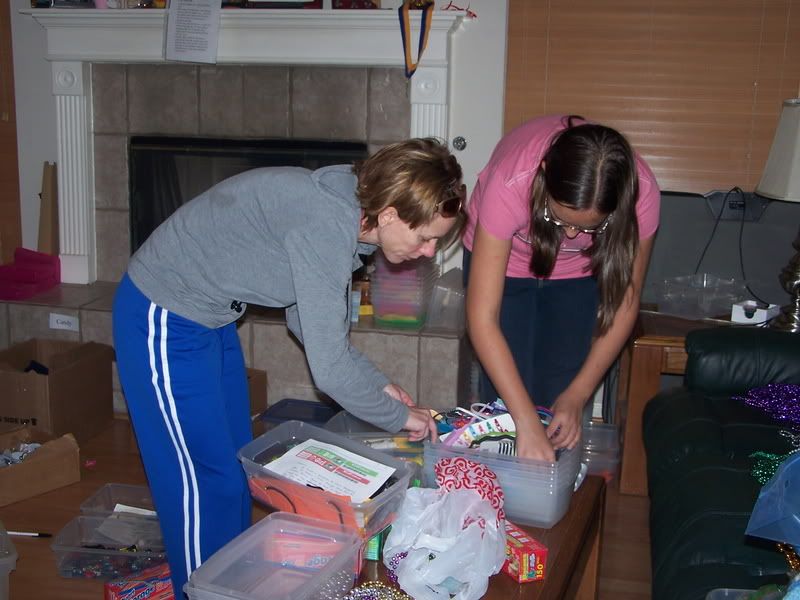 AT&T friend Renee has donated toys, shipping money and packing time for years. She and Hannah made sure boys ages 2 - 4 were represented in our batch of boxes.
That's a tough age to fill. Renee thought of what her son Arthur would like to receive; Hannah considered her cousin, Sweet Baby James. You pack a better box when you have an image of a child opening it - plus it's easier to pray for that child.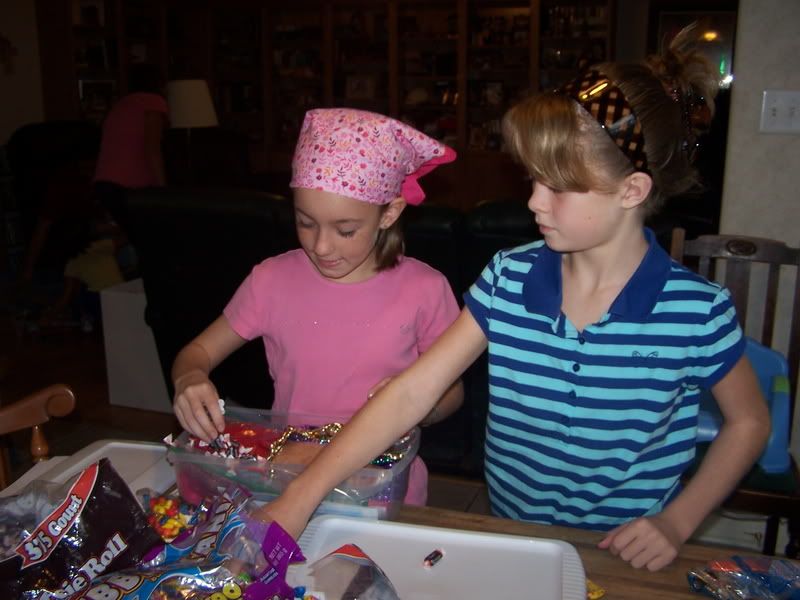 Renee's daughter Allison (left) had years of packing experience to offer as on-the-job training to her friend Hailey (right) . Haley's mom discovered that shipping funds can be
donated online
and denoted with pre-printed packing labels - love it! Too cool, Haley - come back next year!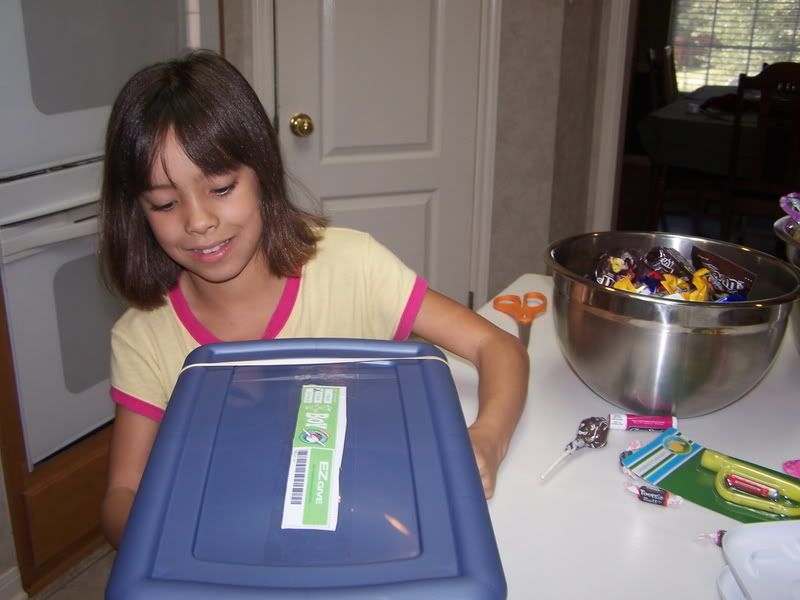 Julia was way, way more into the boxes this year. "Can I help? What can I do? Is this for the kids?" Rachel, Lois and Hannah all noticed and complimented her enthusiasm.
2006 - ummm
, every other question was, "Can I have this?"
2007 - better,
and she was real help - but she still asked for a few things for herself. 2008 - she didn't ask for a darned thing, and was a serious help, especially twanging rubber bands around the finished boxes. I am always entertained by people - always without children - who want to talk about how "naturally generous" or "inherently good" kids are. They are not! They're born totally selfish - that's how they survive as infants/toddlers....and in orphanages, too. They have to be taught to share by example and by doing.
Our box breakdown for 2008:
Ages 2 - 4 5 - 9 10 - 14
Boy
4
30
13
boxes
Girl 5 21 10
boxes
Yes, that's only 83 boxes - fewer than last year - which greatly disappointed the girls. And - truthfully - me a bit, too. But we've never aimed for a number.
Never.
We could have eked out several more boxes with just "stuff" but they wouldn't have been good boxes. We don't send junk. That box is a child's whole Christmas. They're going to be good. We trust that the 83 kids that get these boxes are the ones we were supposed to do them for.
"Firsts" this year:
- More boys' toys than girls' toys! Hooray for Happy Meals!
- A tote bag of some sort in every box, thanks to Shelley-the-online-coupon-shopper.
- A knit cap in every box, thanks to Keith's mom's flying needles.
- No skimping on lip balm, thanks to the 75% off sales at the Target Dollar Spot.
- Amazingly, wonderful friends donated all the shipping costs, plus some to spare. Keith and I were stunned by this generosity. I mean, jaw-dropped, "Are you sure?" bug-eyed kind of stunned.
While she was packing, Renee commented on how the box "inventory" changed year to year. Some years more school supplies, or gloves, or toys, or whatever. That's true. I'm never sure what we have until I start dragging it out. I know what I've bought, but I'm never sure what's in the boxes that show up at my desk or on my doorstep. So, while we're getting ready to pack, it's like Christmas for us, too - opening boxes of gifts. Being surprised. Ooo'ing and ahh'ing and picturing how it'll be used. Sharing the excitement of gift-giving.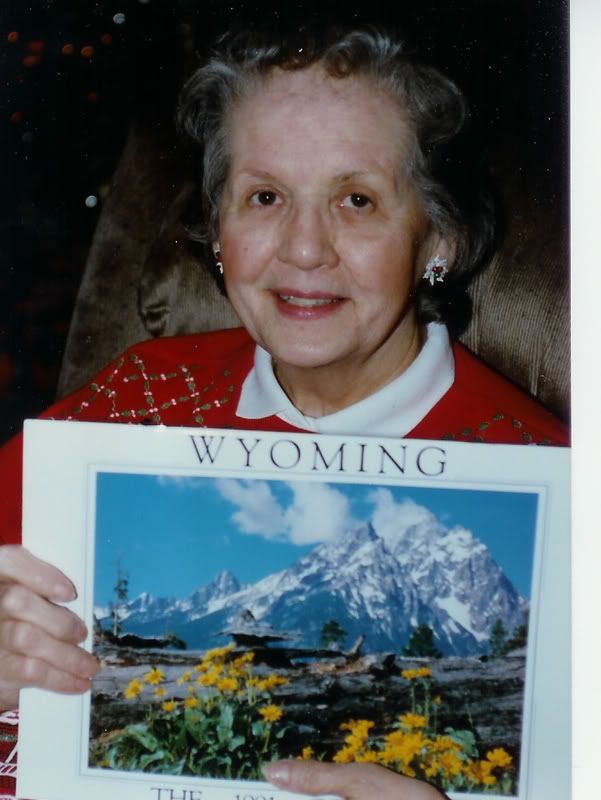 My mom Wyoming at Christmas, 1997
.
I always gifted her with Wyoming state schlock. My favorite was a hideous purple shot glass I found at a garage sale. She was a strict teetotaler. That shot glass now rests atop her bible in my den.
My mom always made us sit at the kitchen table Christmas night and write our thank you notes.
If you gave toys, money or time, please consider this your thank you note. It's not handwritten, but it is full of gratitude. And sealed with a prayer 83 times.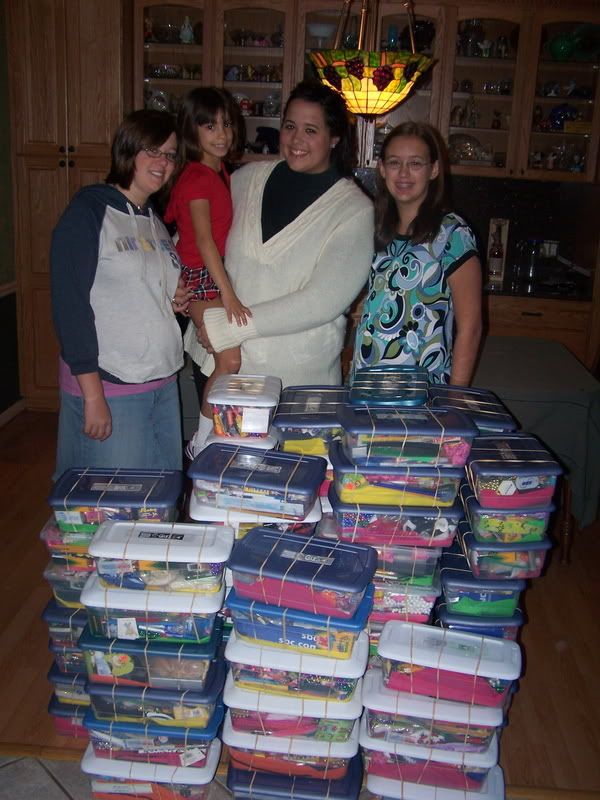 Posted at 11:52 am by beckyww
Permalink
Saturday, October 25, 2008
I've long said, "You can eat off my floors." That's not the same statement as "My floors are so clean, you can eat off them."
You might look in my kitchen and think, "Ugh. Mess."
My spice rack....oh, how I'd love to have them all in alpha order and grouped by sweet/savory. Never gonna happen. My middle name should be "Monk."
Or peek in the breakfast room, and think, "Yuk. More mess."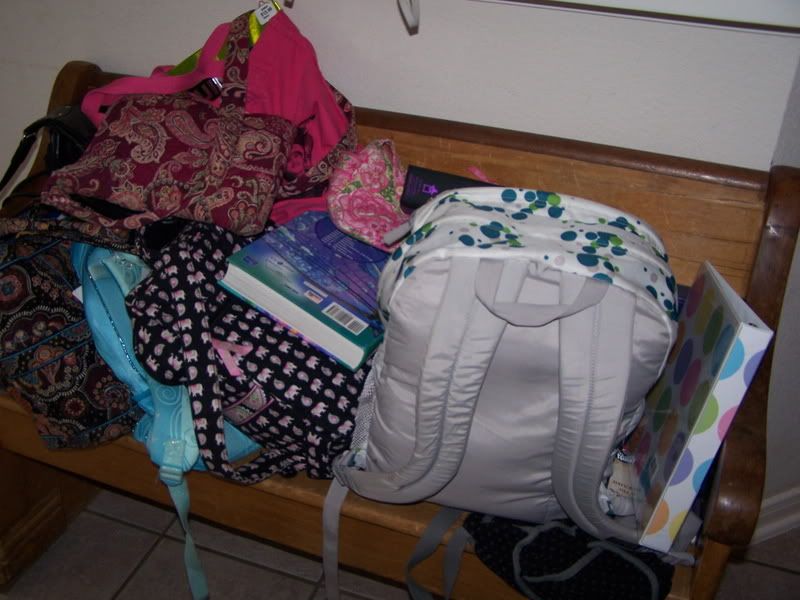 The church pew we bought when we were expecting Rachel. It held diaper bags for years. Now it holds jumbled backpacks, sweatshirts, purses and school books.
But walk a few steps into the den, and you'll
really
see some mess.
Hannah and I dragged out the year's accumulation of
Samaritan's purse stuff
today, getting ready to pack boxes as soon as the Halloween candy goes half-price next Saturday. Oh. My. Gosh. Lip balm, toothbrushes, knit caps, silverware sets, school supplies Happy Meal Toys - thanks to generous friends, we've got it goin' on.
Yes, it's a mess. But a happy one. I put away all the Halloween decorations, except the kitchen dish towels, the breakfast plates and the pumpkins the girls painted at
Fiesta Texas.
We need the room!
Posted at 03:43 pm by beckyww
Permalink
Thursday, October 16, 2008
Lately, I'm remembering the line in "Terms of Endearment" when Flap (Jeff Daniels) says to his mother-in-law (Shirley McLaine), "You always seem to forget your manners around me, Aurora."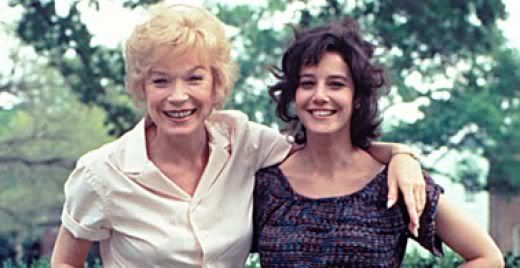 "You're not special enough to overcome a bad marriage" is my absolute favorite movie line. But that's for another time.
I think we've forgotten our manners this election. And in general.
Why is it necessary to attack a candidate's family? Or to print T-shirts describing a candidate in vulgar s*xual slang? Or to puff up and bellow, "Well, if So-and-So is elected, I'm leaving the country." Or to extend one's middle finger at a candidate's supporters?
We are
Americans.
We are not citizens of some sweltering banana republic where every pseudo-election galvanizes the rabid zealots before the reprisals begin.
I am certainly not a bastion of political correctness. Nor do I preach "tolerance" when an action is fundamentally morally wrong. But we're
Americans.
I don't have to agree with you about politics or religion or anything else. I just need to respect your right to have that opinion - no matter how wrong I think it is. I may not like what you believe. I may warn my children against it. I may circle with friends and pray that you change. I may not want you in my home because of it. I may give money to an organization to fight it. But because I am an
adult
- and an
American
- I am not going to spit, print. wear or wave vile epitaphs about you personally, your family or your belief.
Some of the filth being slung around reminds me of my children as toddlers, so frustrated with their limited grasp of concepts and language that "poo poo head" was a favorite comeback. Are we toddlers, stumbling stiff-kneed in a world so intimidating we can't be polite or rational?
It's like we - as a nation - have somehow forgotten the mornings
after
elections. No matter who wins or who loses, we are still
Americans.
We will get up November 5 and be glad or mad about the outcome. We'll shower with the same soap and get dressed in the same clothes and eat the same breakfast. We'll wave to the same neighbors and ride the same buses and dock the same laptops. And soon, we'll again be voting in the same polling places. And later voting
again
. And
again
.
Because this is
America
, and we self-correct.
We don't always get it right the first time. Plus the world around us changes. Technology. The nature of terrorism. Balancing our needs with those of others. But that's okay. We can change our laws - and our lawmakers - as times require.
We make those changes peacefully. No riots. No reprisals. No fear of the voting booth. No having to leave the country.
And no need of name-calling. Or vulgarity. Or filth.
Because there's a morning after the election.
And it can't come too soon.
Currently reading:
On Hitler's Mountain: Overcoming the Legacy of a Nazi Childhood (P.S.)
By Irmgard A. Hunt
Read Review
Posted at 05:34 pm by beckyww
Permalink
Tuesday, October 14, 2008
There's a sweet spot in motherhood I'm discovering more and more frequently.
My kids are better than me.
When they were little, i spent so much time holding back. Overlooking that double-jump in checkers. Not spotting the silver slug bug turning the corner. Clenching my jaw to keep from grunting, "Draw the card with the ice cream bar so we can finish this game already."
But often now, I just marvel. When Rachel sings, when Lois draws, when Hannah organizes, when Julia runs - I think, "Omigosh. They're better than me."
Two weeks ago, I found a small wooden board on my kitchen counter. I've been married to Keith for almost 19 years. I've scooted around entire wood shops in my kitchen, so I thought nothing of one measly board. Until Lois said, "It's mine. For school." Then I paid attention.
As we drove to
church
, she recounted her AP English assignment: Make the board board representative of yourself. Then explain it to the class.
Brain flash! I hurriedly shared my brilliant idea, amidst the backseat catcalls of "lame," "pathetic," and "
Michael Scott'ish
.' Drill five holes in the top edge of the board. Fill each hole with a different writing instrument representing the different phases of your life - crayon, pencil, pen,
art pencil
and - ta-da! - an empty hole, because you don't know what the future brings. Write your name across the front of the board in the style and medium representative of your different ages.
The laughter and groaning continued into the church parking lot. I thought: My offspring don't
understand
my great idea. So instead of ---mmmm----listening to the sermon, I sketched. Passed it down the row to Lois, who rolled her eyes and pointedly left it in the sanctuary on her way to Sunday School. I picked it up with maternal efficiency, just knowing she'd want it later.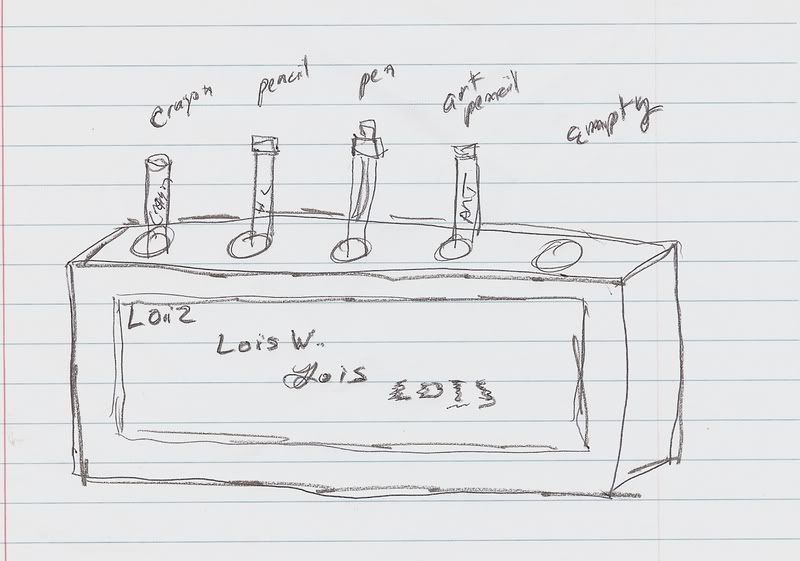 I even showed my sketch to my buds working the nursery, who were perhaps too quick to agree it was brilliant.
Did they really shut the door behind me? Was that LAUGHING I heard?!

Lois had her own idea. She and Keith cut the board into strips, then she built a bookshelf sporting items integral to her life. Books. Headphones. Fashion. Colorful posters on the sides and a warm blanket on top.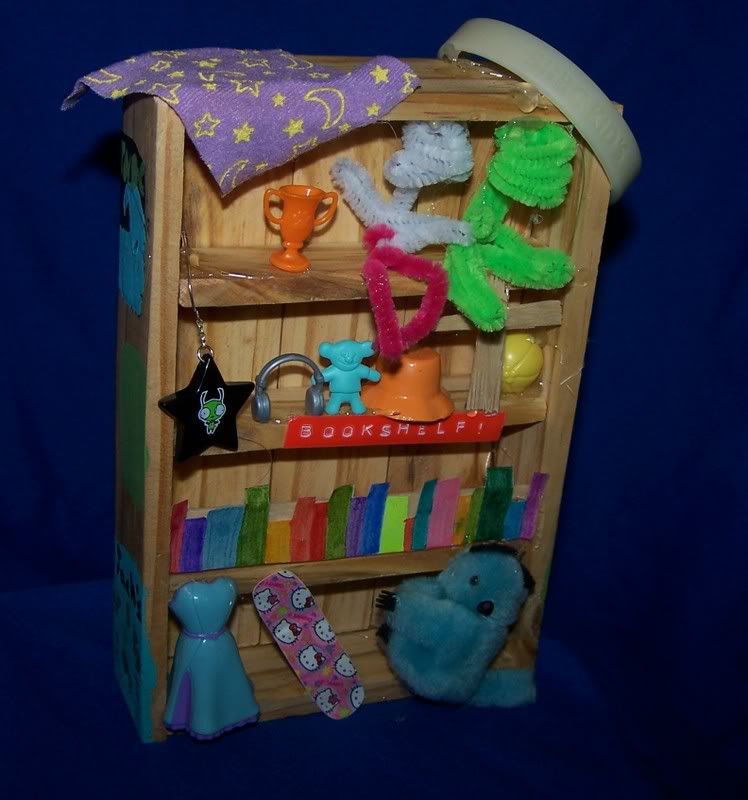 I'm not too sure about the Hello Kitty bandage at the bottom. Sometimes it's best not to know.
It goes to school for a grade on Thursday. Regardless of what she receives - the mark will be higher than what I would have gotten.
Because, yes - she's better than me.
And I'm glad.
What grade will she get? Feel free to post your guess in a comment below.
First, best guess wins an original Lois sketch. Of something. Unless you'd rather have one of mine. No one seems to want them. Sigh.
Posted at 07:23 pm by beckyww
Permalink
Sunday, October 12, 2008
We're skipping church this morning. Everyone is either going out of town (Keith and Hannah), or too tired (the rest of us.) What better way to acknowledge my sin than by blogging about our boo-tiful day yesterday?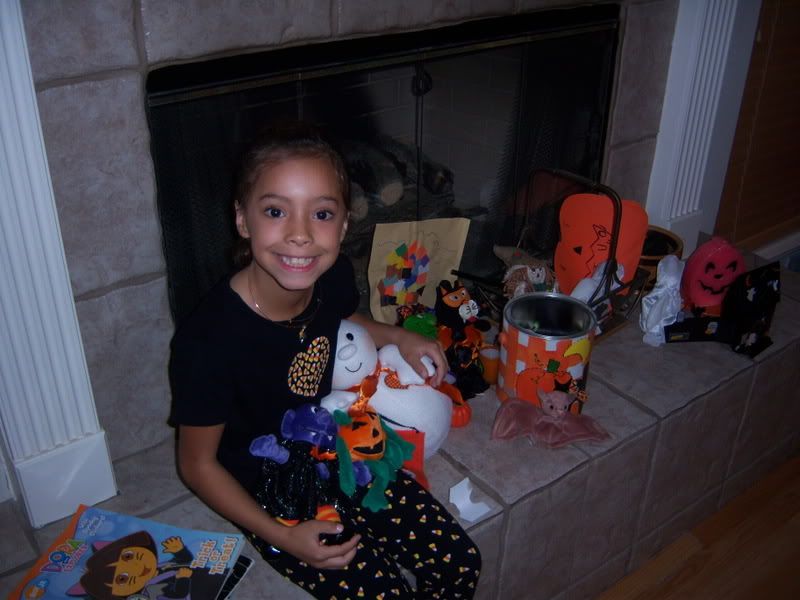 I've always admired folks who decorate beautifully. People like my sister can take knotted string, an apple core, broken spaghetti and crusty spray paint and create a stunning centerpiece in 10 minutes. I am not one of those people. I keep Rubbermaid boxes jammed under the stairs and spread the contents around the fireplace. The orange-topped boxes contain memories of Halloweens past - kids' crafts, Beanie Babies, stuffed animals and a few books. This is Julia's third Halloween home, and she was thrilled to discovered I'd kept some of her kindergarten and first grade crafts to display.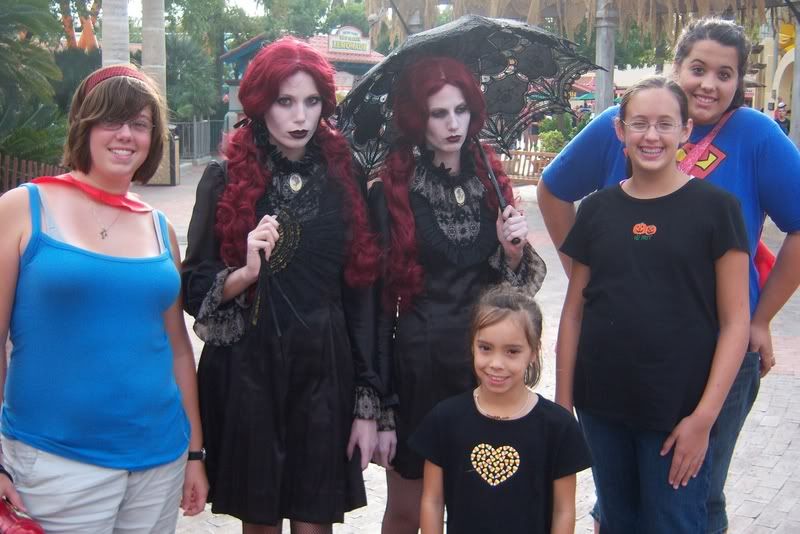 We headed to Fiesta Texas for
Fright Fest, and opened the gates at noon. Didn't leave until 9 p.m., which is why everyone is overtired today. Of all the characters roaming, I liked these ghastly twins the most. They never smiled. I took their stony countenance as a challenge, - kind of like the visitors who taunt the guards at Buckingham Palace, hoping to crack a smile. Nope. Shortly before we left, a ghoulish "convict" screamed and chased Rachel at least 100 yards through the Old West area. Her Superman cape was flying - her mouth was hanging open screaming back - her feet were flying, all while clutching the pumpkin she'd painted hours earlier. I have not laughed so hard in months. I hurt, I laughed so hard. People applauded, and I heard, "Man, that belongs on You Tube!"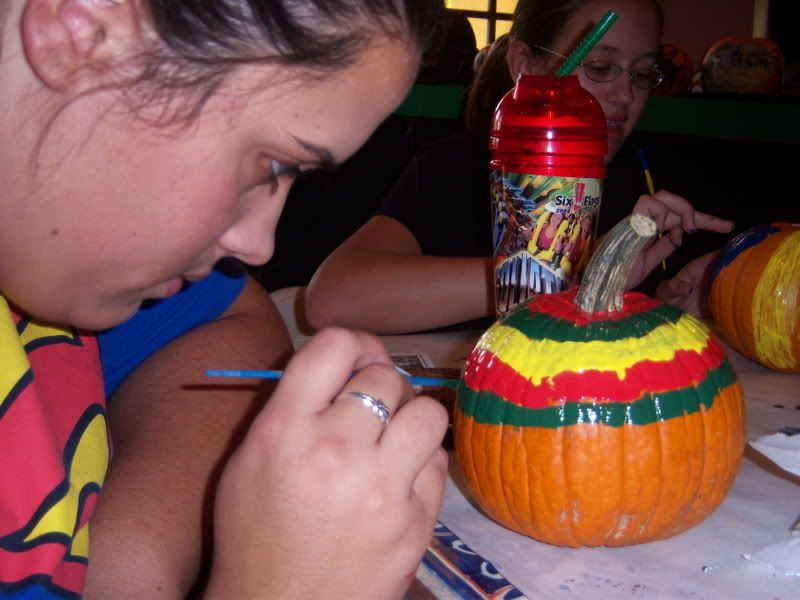 I don't play the Frugal Maternal Unit at Fright Fest. The girls feign great shock when I allow each to have her own soft drink, and I spring for extras like pumpkin and cookie painting. Rachel chose a "rasta" theme for her pumpkin. Lois - Lestat the Vampire. Hannah - a Hannah Montana theme.
Julia - a vampire with a sword in its head. (Child psychologist, anyone?) They're now gracing the fireplace mantle.
No, no, I won't save them for next year.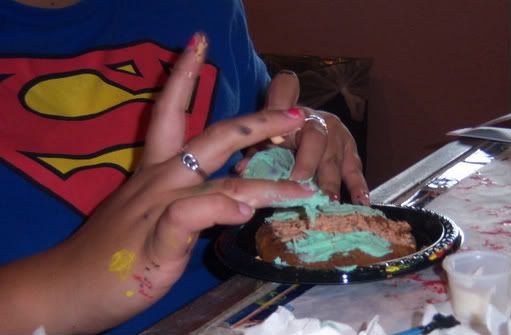 Rachel's cookie tasted a bit like paint. She's not sure why. Yes, she's a senior this year. And can vote next year. Comforted by that, are you?
Posted at 06:48 am by beckyww
Permalink
Friday, October 03, 2008
My brother David and I were always were fascinated by sci-fi. Anything odd. Futuristic. Will Robinson was our hero, and Rod Serling our mentor. We always wanted to know what was just down the hall and around the corner....in the Twilight Zone.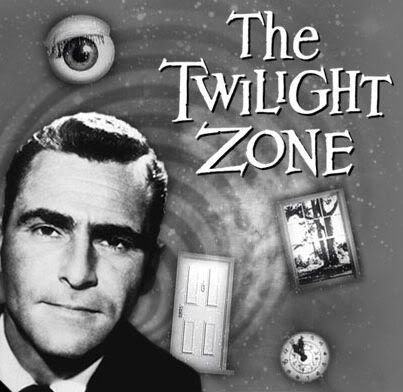 Mom dissed Rod as "just plain weird." which, of course, made the show that much more appealing.
I think that early ingestion of sci-fi inspired us to be forwarding-thinking, at least occasionally. Well, sometimes. Okay, rarely. Anyway...
I worked at Remco TV Rental through my five years at the University of Houston. I started as a "gofer" but because the company was rapidly expanding, I got to grow with it and try my hand at all sorts of marketing, HR and sales ventures. After the owner discovered I loved to read, he started flipping pamphlets, magazines and books on my desk with a "give me a one-pager" command. Oh. My. Gosh. Talk about throwing me in the brier patch! I was thrilled. I devoured stacks of opinions and studies about the future of television which - interestingly enough - was often tied to the future of telecommunications.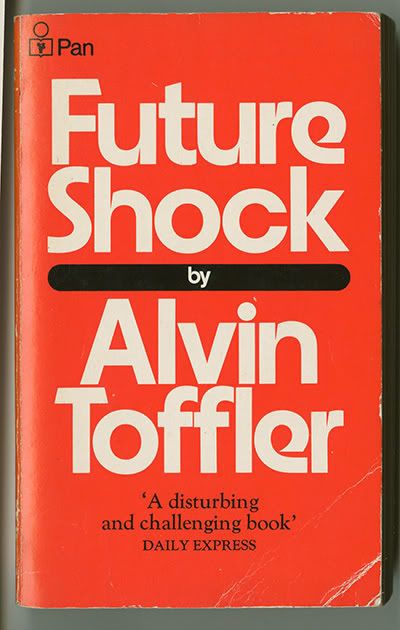 Future Shock was the first non-textbook, non-Bible I'd ever highlighted.
After graduation, I interviewed with several companies, and had offers from a few. But even though the jobs were what I wanted to do - write, create, organize - I couldn't get excited about them. I didn't care about insurance. Or personnel recruitment. Or mining. My reading convinced me that at some point in my life, there would be one telecommunications device in the home. TV -
with me
- would be part of it.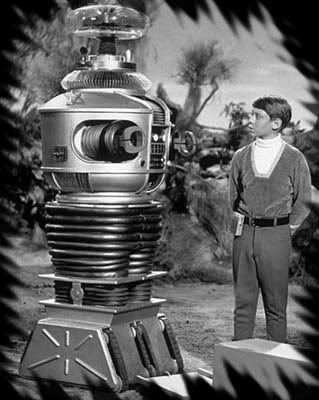 Danger, Will Robinson! Don't go to work in an industry you don't care about.
Al Gore hadn't invented the internet yet. I couldn't have told you "IP" from "Dr. Smith," but I knew that someone would build it, and we'd come.
I eventually interviewed with Southwestern Bell, and started there in 1979, just hoping to be some part of what I knew would come. Sometime. Somewhere in telecomm. It didn't come in 25 years of Training, Finance, External Affairs, Marketing, Sales Support, Sports & Events, Advertising or Online. But darned if it didn't emerge through a hand-picked team (including me) working on a new product called
U-verse
, a marriage of TV, internet and voice. The techies throw up when I say this, but to me, it's TV over the internet. And it's way cooler than anything else out there. And
I know
it's the way TV is going to be in the future.
Keith works on U-verse, too, and this week was happy for both of us as
Total Home DVR
launched in San Antonio. We were up early to check it out, with Keith snatching remotes and verifying our ability to record then watch in any room. The girls shared our excitement, so Rachel made this video. Yes, it's goofy. But so is she.
Posted at 08:59 pm by beckyww
Permalink
Sunday, September 28, 2008
I can tell we're back to normal, post-Ike. Why? Because I'm hearing, "It's not fair."
I've noticed when we have a mission as a family - when ministering to evacuees, or
filling Samaritan's Purse boxes
, or working in Vacation Bible School, or whatever - I don't hear "It's not fair" so often.
Julia's learned the "It's not fair" mantra from her sisters. She's grown a bit more (hooray!), so we've dug out the put-away, larger-sized clothing, and made a trip to Wal-mart for necessities. While at Wal-mart, I heard "It's not fair" when denying her a new DS game, Halloween bedroom slippers and a bag of circus peanuts.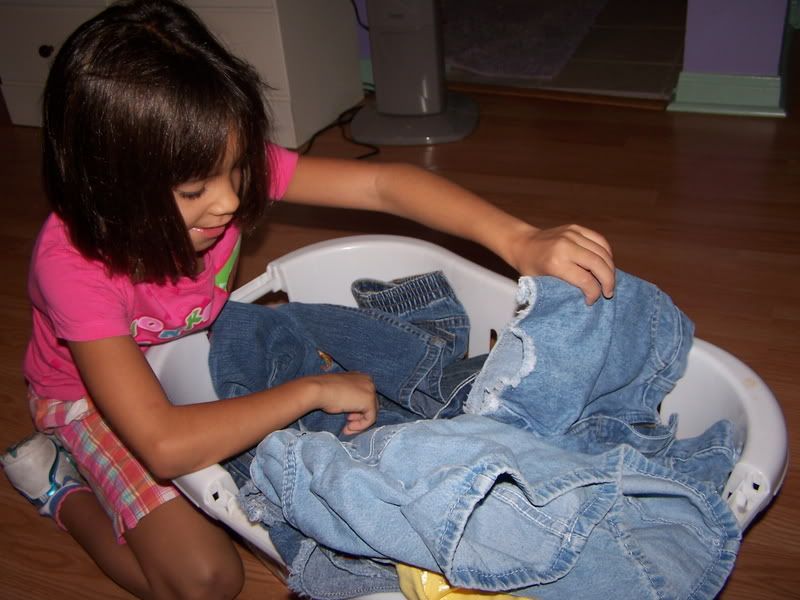 So thankful for friends with daughters who wear larger childrens clothing. There's such a size gap between Hannah and Julia - I'm not saving anything of Hannah's.
After we got home, I heard "It's not fair" from her sisters when asking them to stand at the stove and brown hamburger, take out the trash, carry in groceries and empty the dishwasher. When they dare tell Keith "it's not fair," he chants in a gravel-y voice, "Life is not fair. My dad is so mean." Then generally ladles on another chore. So he hears it less often.
These two weeks, we've had gas in our cars, air conditioning in our house, hot food on our plates and tap water in our glasses - unlike our friends and family in Houston. Not fair! There is no hole in our roof, nor dead fish rotting in our chain link fence, nor sand piled in our den, nor downed trees blocking our streets. Not fair!
When Julia says, "It's not fair" - Keith and I often exchange a quick, bemused look. No, life isn't fair. That's why she's here instead of in
Children's Home #47
.
Because "fairness" - while often desired - is not always something for which to be thankful.
Posted at 12:20 pm by beckyww
Permalink
Tuesday, September 16, 2008
Hurricane Ike.
There's the news.
Then there are the stories.
The story for my family:
Sarah, Joe and their two kiddos arrived Sunday from Pearland. Their power is now back on, so they're returning tomorrow. (Theirs is one of the few homes with power, because they're on a grid with some nearby businesses.) They've lost some fencing and have a hole in their roof. They have plenty of bottled water at home but - to be safe - they'll also take some from here. They'd tossed their fridge and freezer contents before they left.
My brilliant niece Sarah and her family arrived Sunday from Pearland. She's fixing spinach lasagna for dinner tonight. No, you cannot borrow her.
Sarah's hubby Joe supervised the 'hood in the cul de sac.
As far as I'm concerned - they can stay forever.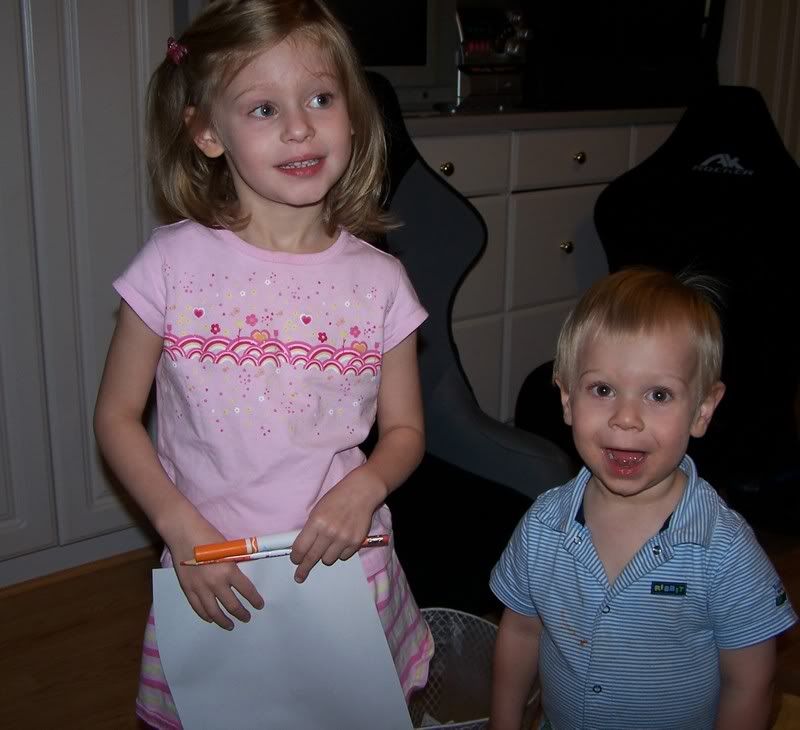 I'm practicing grandparenting on my great niece and nephew, Laura and James. My kids will tell you I'm a much better aunt than I am a mother.
My sister Judy and her husband Carl have no power. No home damage. They have a generator for their fridge and freezer which will run as long as their gas holds out. They've been sleeping on their patio to catch the breeze, which is great - until the mosquitoes start hatching. They have plenty of bottled water and food stuffs.
Keith's parents have a hole in their roof, and are also missing fencing. No power. Emptied the fridge and freezer. We are hoping they'll come here as soon as they find a temporary fix for the roof. Keith's brother Bruce - no power - also home repairs needed.
We've heard from a few friends. Thank God - no one hurt. But our good friends the Edwards in Pearland have a huge section of roof torn away, and their second story is threatening to collapse. They've gone to family in Beeville. Sandi has always made us so welcome and been such a good friend for so long.
My dear friend Konen who has generously loaned us her
Bolivar beach house
for a week each summer these many years found that abode on a google earth map. She thinks the house itself is standing, but is missing the deck at minimum. That's all she can really tell, and they're not allowing anyone into Bolivar yet. Bolivar was hit hardest of all communities. Most of it is simply not there. We have had some of our happiest memories as a family in that beach house. Grilling chicken sandwiches at the end of a sand-filled day. Watching the fireworks from the deck. Feeding the sea gulls on the ferry. I know the house itself is just "stuff" and I am thankful Konen's entire family is safe but still - it makes me sad to think it's so heavily damaged.
Saddest to me of all - I read in an email from the pastor of Westbury Baptist, which we used to attend, this news of my growing-up church in Houston:
The news isn't so good for a sister church. I heard from a fellow minister that SW Central Church of Christ suffered major storm damage. Keep those folks in your prayers. If you have time and the ability to volunteer to help them, your help would be appreciated.
I left a message at the home of that "fellow minister." Prayer they're getting right now. Wish it was more.
We've called other friends but gotten no answers. If anyone in Houston is reading this and we've not communicated - please "comment" below and tell us what's happening. And remember -
the door here is always open.
And that's our story.
I wish it was the end. But it's not. Because rebuilding Houston and the lives in it is going to take time.
Posted at 02:36 pm by beckyww
Permalink
Friday, September 12, 2008
Keep Moving, Ike - Keep Moving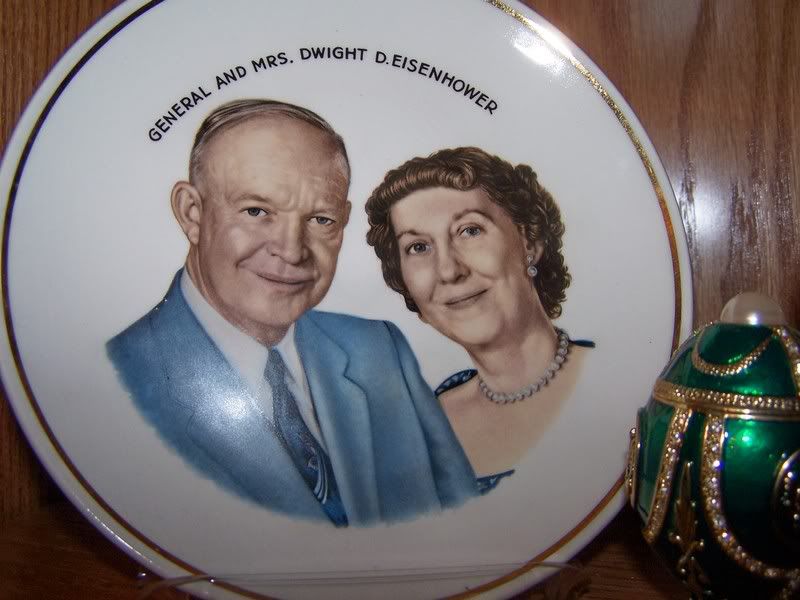 Sure, I like Ike - and this commemorative plate I bought in an estate sale.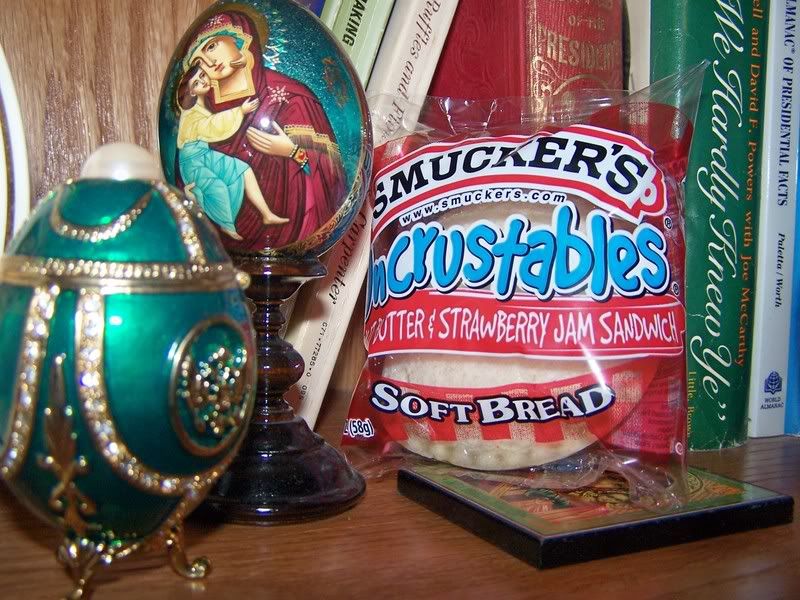 Though I was surprised - when taking this picture - to discover a near-exploding Uncrustable of unknown ownership hiding in plain site on the same shelf.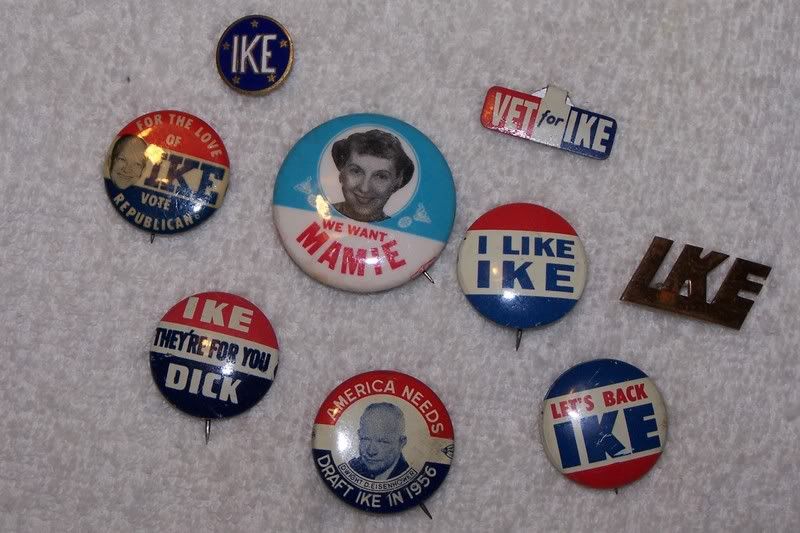 I like my Ike campaign buttons. I used to wear a item from my collection each day when I was younger, and always an Ike button on my birthday since he was President when I was born. A George Wallace button was sure to get me dismissed from jury duty, while my prize "No Third Term" pin brought puzzled looks from most. A poll worker tried to keep me out of the voting booth in 1984 because of my "JFK for the USA" black and white flasher. I solemnly broke the the news to her: President Kennedy was dead and therefore I wasn't promoting his run for office.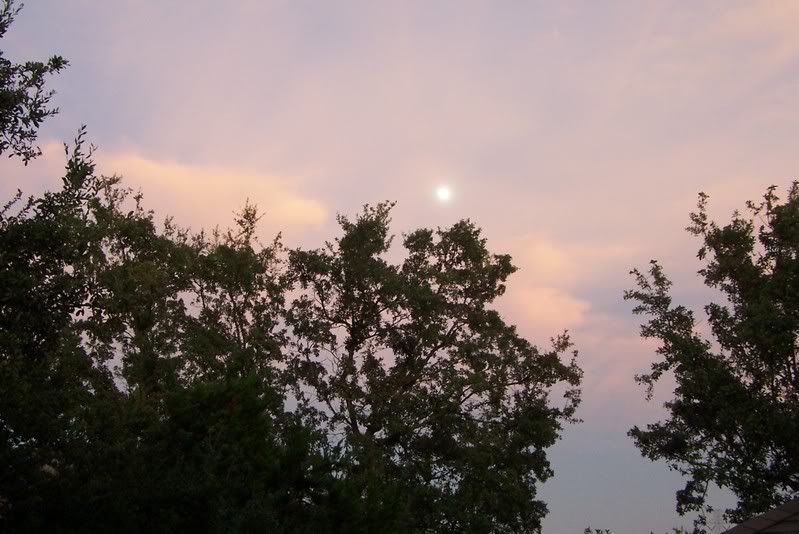 We have what Lois called an "Ike Sky" tonight. The air is heavy in San Antonio. As are many hearts.
Yep, sure, I like Ike - except for this week. Like much of the rest of Texas, we're sweating it out for our friends and family in Ike's path. Sarah's family is riding it out at Judy's house with some of Carl's extended family, and Keith's folks are staying in their house. If the power's out for days, our families will come here. We've got air mattresses, and Pizza Hut delivers.
Our church
is operating a special needs shelter again, so I've spent a lot of time online and on the phone this week. Our church family is amazing. Truly. To do what they do for strangers - well, it's humbling to be a member of this spiritual family. Keith, Rachel and Lois are napping right now, so they can go up and work the 12M - 6 a.m. shift.
We know Ike is a
bad
one. What we want is a
quick
one. Come on through Galveston and then Houston, Ike. Okay. We know you're coming. But keep moving, buddy. Don't stall. Don't stand still and keep dumping water on the unending miles of concrete. Just keep moving, Ike.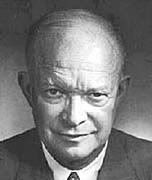 Move it!
Posted at 06:14 pm by beckyww
Permalink
Thursday, September 04, 2008
My brother David used to say, "This world is not built for one-offs." He would have known, being born with no arms or legs. His entire 42-year life was a dogged march of legless steps through narrow doorways in the gaping view of even more narrow minds.
I was five years old when David was born, the perfect age to enjoy a noisy, interactive doll. You can believe this or not. I never really saw him as different until a hot afternoon when I was maybe eight years old and we were playing shirtless somewhere with a full-length mirror. From the corner of my eye, I caught a mirrored reflection of him with his right arm stub and left arm flipper reversed, and it startled me. I gasped and reasoned, "That's why. That's why people point and stare."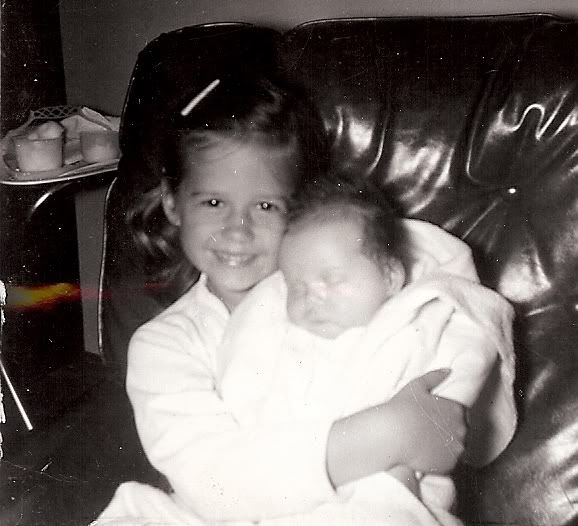 I was never big on dolls, except this squirmy one. Who later used to lick his one partial finger and swipe my glasses.


Having David affected our entire family. Every day of his life. And beyond. In many, many ways, not the least of which was that we could accept one-offs. People that were different - well, we might or might not like them. But we could accept them. Our range of experiences and associates was broader, even though our opportunities were him were more limited. I couldn't, for example, fit his wheelchair through the doors of most restaurants in Houston, but when we dressed for the midnight "Rocky Horror Picture Show" viewings, we'd share popcorn with whatever stoned patron plopped down next to us. (Muttering, "Hey, man, great costume....")
I've noticed time and again that people up close and personal with one-offs have a different attitude than those that haven't had that experience. They can't be too comfortable or complacent, and they are more willing to acknowledge responsibility to others. They know -
they know
- how fast circumstances can change. The car crash. The stray germ. The extra chromosone. The fluke circumstance. And yes - the baby. One minute you've got a nursery decorated and can't stop thinking of those cute little outfits and the next minute - you've got the human life nobody expected and in the dark hours of harsh truth, nobody would have chosen.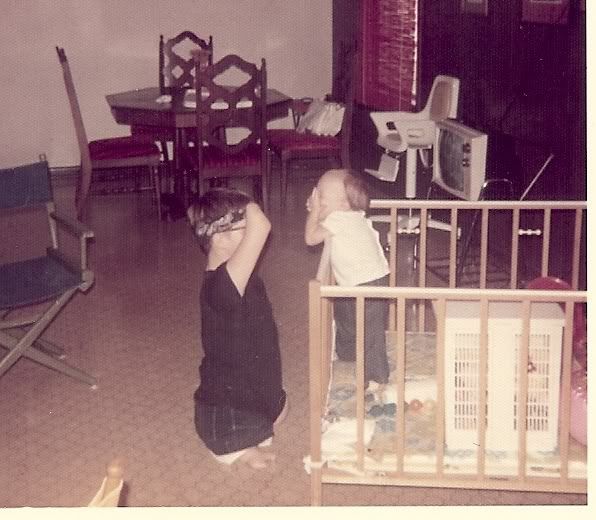 David playing peek-a-boo with toddler niece Sarah, who is 36 years old today with two toddlers of her own.
I think experience with one-offs - perhaps more than any single experience - defines who a person is, and what a person could be.
We high-fived as we cheered through Sarah Palin's speech last night. Loved every minute. I knew what she meant when she said, "To the families of special-needs children across this country, I have a message. For years, you sought to make America a more welcoming place for your songs and daughters." Yes, we tried. When Mom battled HISD to permit David and his classmates to eat lunch in the cafeteria and be allowed on the playground - she was trying. When Judy lugged David on her hip into every store in Sharpstown mall - she was trying. When Carl took him deer hunting - he was trying. When Keith picked him up for innumerable holidays - he was trying. When I pitched a fit with Southwest Airlines who wanted to refuse him entry on a plane - I was trying. I have friends with children who - God love them - have to try and try every day after grinding day.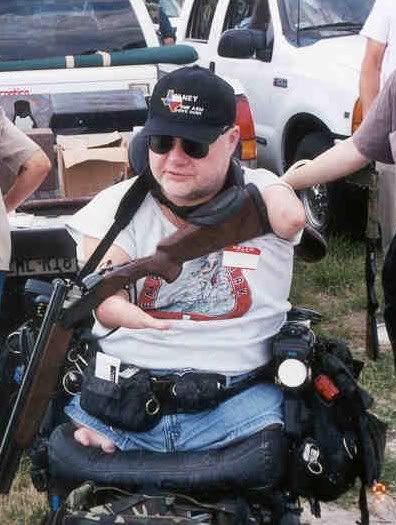 A no-armed, armed one-off...tread lightly....


I watched Sarah Palin's kids closely last night. Their hesitant smiles. Their clasped hands. Their straight-ahead eyes. Their neat clothes and crisp haircuts. Their interaction with each other. Dad handing their baby brother off to the youngest daughter. Oh, that baby brother.
I'd bet a buck that baby brother is going to define Sarah Palin's older children far more than will their mother's job.
She'll be vice president for a season.
He'll be their brother forever.
Posted at 01:52 pm by beckyww
Permalink