Thursday, March 05, 2009
We've just returned from the second grade school play, which was preceded by a mercifully brief PTA meeting (I had to gouge Keith when - as the meeting began - he softly groaned, "Make it stop. Make it stop.")
Julia was "Speaking Bug #12," a little lady bug. Seldom have I seen a insect portrayed to such depth.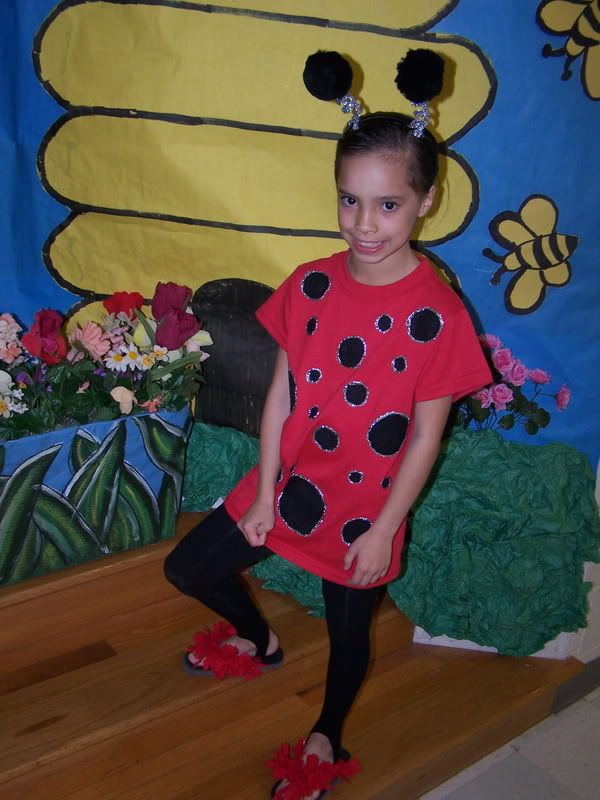 Fashion by Rachel: Antennas a la headband, glitter sticks and pom-pons. Red shirt with glitter-trimmed black circles. Black tights. Black flip-flops with red cloth fuzzed tie-ons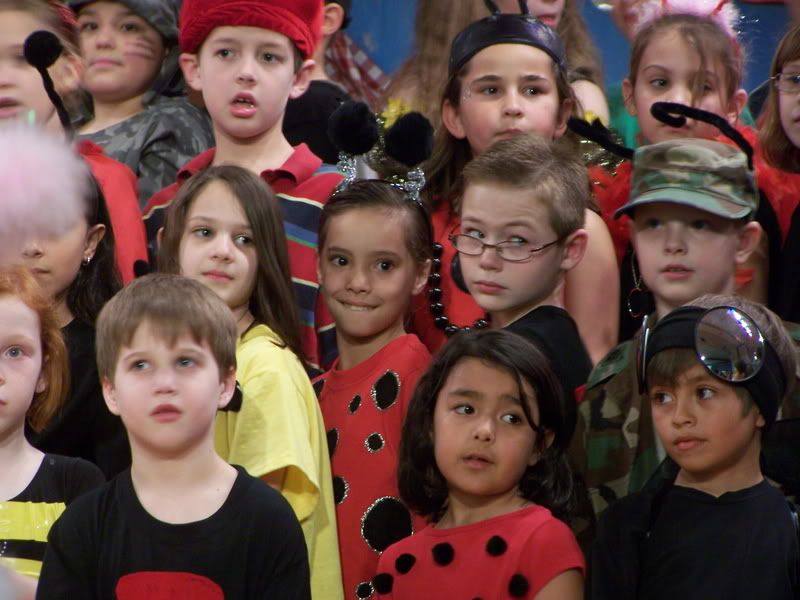 Army ants, bumble bees, love bugs, flies, moths, butterflies, even a louse, stink bug and maggot. But absolutely none cuter than our little lady bug.
For those who don't speak Lips2Microphone: "Before we go, I think it's time to get some free advice. The lady bugs are so refined, they know how to act nice."
My hands are sore from clapping. My left eye has a bit of a twitch from camera-squinting. I'm behind on laundry, the dishwasher needs to be unloaded and the breakfast table needs to be set.
But nothing is bugging me tonight.
That position in the family has been taken.
Posted at 06:38 pm by beckyww
Permalink
Sunday, March 01, 2009
Give Me Your Boys - er- Eyes
The middle school boys from our church camped out at our house this weekend for "Disciple Now." This year's theme was, "What if...." with curriculum developed around the lyrics to Brandon Heath's
"Give Me Your Eyes."
Rachel was in Galveston for a school function; Hannah and Lois were at their own host homes. Julia - of course - was in the big middle of all eight of our boys.
"Mom, they're in my room. I could just sleep on the floor next to them...."
Ha!
She could have eaten pancakes and waffles with Mom, Dad and leader Ross in the dining room but oh, no...
I don't remember any Brandon Heath tunes on the Rock Band menu, boys.
J
ulia was crazy to play but I reminded her we had guests. Sigh.
May I just say that I think the three silliest words in the English language are, "Not Dishwasher Safe?"
That's Lois and Hananh, second row from the top, on the left. They prounced their themed shirts "fly."
Give me your eyes for just one second
Give me your eyes so I can see
Everything that I keep missing
Give me your love for humanity
Give me your arms for the broken hearted
Ones that are far beyond my reach.
Give me your heart for the ones forgotten
Give me your eyes so I can see
And give me some more hands to finish all this laundry and clean-up.
Amen.
Posted at 05:55 pm by beckyww
Permalink
Monday, February 23, 2009
My bedside book now is
The Lost: A Search for Six of Six Million,
the account of a Jewish writer's search for the final fates of six relatives fallen victim to Nazi brutality. The author can really tell a story. I'm not Jewish, lost no family in WWII and yet I am captivated by this book.
I think his gnawing desire to know the details of what happened to his family strikes a widely-vibrating chord being hummed in social networking now. Why are so many people like me enmeshed in user boards, blogs, bulletin board sites, Facebook, etc?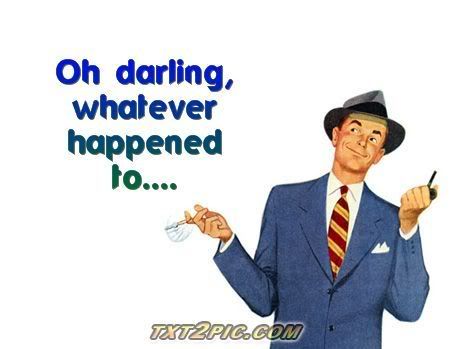 Just last week, I discovered both a long-lost first cousin and neighbor girl on Facebook. I've had no contact with either for 40+ years - yet now, I've emailed each of them and they've responded. I am particularly delighted to have heard back from my eight-years-older cousin Clyde, whom I remember as looking a lot like Judy, and having him say the childhood me was "just darling." It's been decades since my name and "darling" were used in the same paragraph.
My good friend Chris (from elementary school) showed me a letter he compiles annually for his extended family, where each household contributes a page about itself, then he emails it out. I was so impressed - and so interested reading it! - that I started a
user board for my mom's extended family
and plan to do the same thing for us later this year.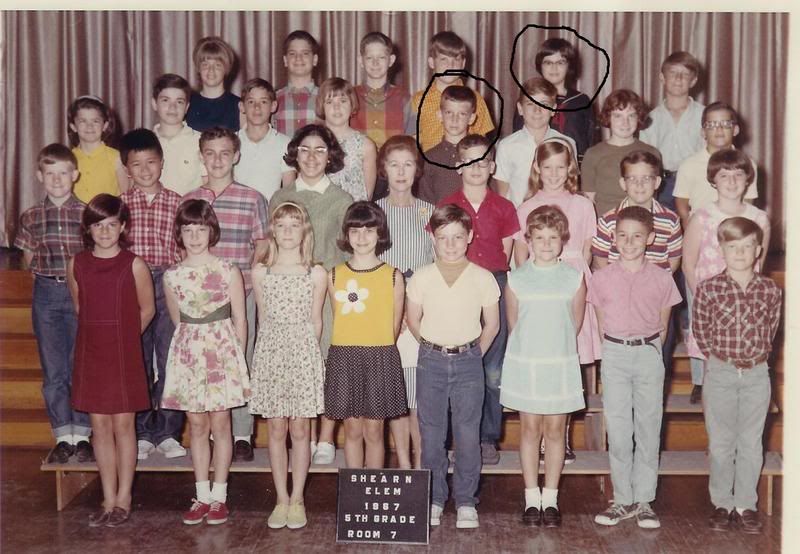 Thanks for the family letter idea, Chris. And really - I'm all over your beating me for class president. By one vote. When I'd actually worked on my campaign speech and you just winged it. Truly - all forgotten now, buddy.
But why? Why try to re-establish relationships, keep up with cousins, find old friends on Facebook or Myspace or user boards or whatever?
For me - it's because I hate losing people. I like most people, and love a lot of them. Losing contact seems like such a pale imitation of how we're supposed to live, especially with the tools we have available now. The second greatest commandment is
"Love your neighbor as yourself."
How do you do that if you don't know anything about your neighbor, whether he lived across the street 20 years ago, or is slurping Diet Coke over the cubby wall right now?
I think the desire to find what's lost in our lives is hard-wired into us. The lost sheep, the lost coin, the lost cousin, the lost friend, the lost days - we want them back. I think that's why people go to class reunions, and church anniversaries. I think that's why we sign yearbooks, and squint at photo albums. And why many of us drag out dusty boxes of mementos when the blues overshadow any living color.
I imagine one day Julia will start her quest to find what's lost to her, too. There's not much we can tell her - though every scrap of information we have and everything we've been able to surmise will be hers. She'll be googling and posting and mining with other adoptees on her own search for The Lost.
As the author I'm reading now illustrates so well - she'll eventually have to acknowledge what she's lost, however painful and time-consuming that might be.
Because then - and only then - will she be able to acknowledge what's she found.
Posted at 08:45 pm by beckyww
Permalink
Wednesday, February 18, 2009
Hustling out the door at work today to catch the bus - which we take to save money - I heard a few phrases droning from the lobby TV about auto makers needing "more bailout." Their pensions aren't secure, curse the luck. Of course, AT&T quit contributing to ours years ago.
I checked my 401K balance records today. too. It's back to where it was in August. August of 1999.
Driving home from the bus stop in my six-year-old mini-van with an expired extended warranty, I heard a bit about the $75 billion bailout for mortgage lenders. I confess I didn't listen to all of it, because I was mulling over a recent family discussion of the woman with six kids (no husband, no income) who used fertility treatments to give birth to octuplets - and now wants private donations in addition to her taxpayer welfare. Something tells me her medical bills are higher than the cost of the two 90-day prescriptions I mailed off today - though that $500+ will come right out of my pocket, and I doubt she'll pay a dime. The first few months of the year are always tighter, until we hit our deductible and co-pays kick in.
My government seems to think that I need to pay
$30,000 for a golf course
in Austin, and $5M for park trails here in San Antonio. Huh? That is the responsibility of the federal government - how?! I guess the marriage penalty we pay in federal income tax helps with that, right?
This year: Our family will take home less income and spend more on necessities than we have ever before.
So I have a question. A sincere question.
Where's
my
bailout? Who is running beside me with a microphone while I whine about no raise, higher medical deductibles and looming college costs? Who's worried that Keith will never retire with health benefits, and insurance doesn't cover things like Julia's asthma spacers?
Where's
my
bailout?
And where's
yours?
Posted at 06:50 pm by beckyww
Permalink
Sunday, February 15, 2009
We have a treasure hunt at home for Valentine's Day. I'm not sure exactly how that tradition started, but it's set in stone now. This year, Cupid had a PS3 World Tour set waiting at the end of the trail of clues. Rachel was out of town, and Hannah's still half-sick from rounds of viruses assailing us. (Our entire house needs to be boiled in Lysol.)
Lois and her faithful sidekick promptly claimed World Tour as their own, with Lois invoking Sibling Seniority to be drummer.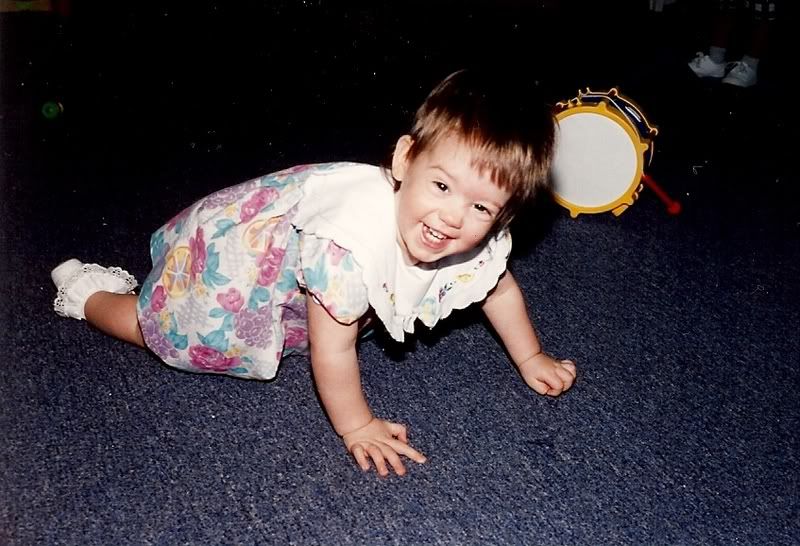 Never far from the toy drum in the church nursery (1995)....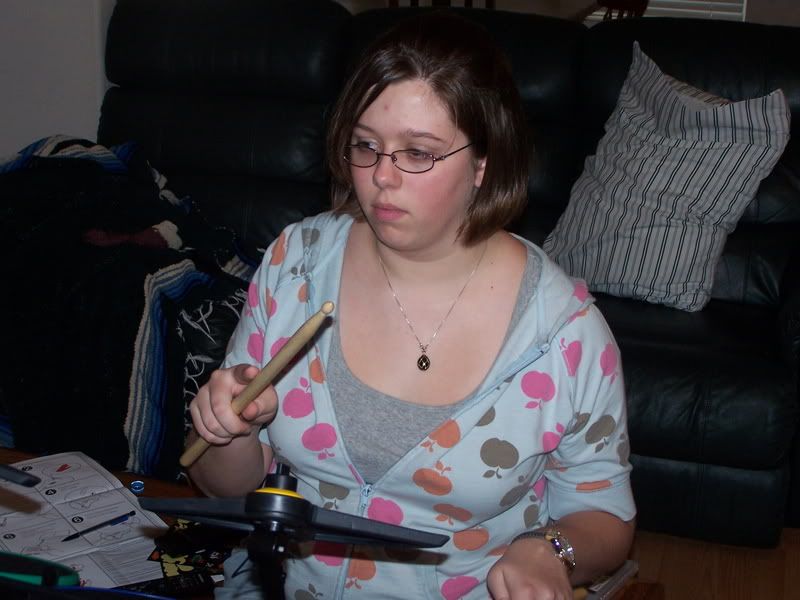 ...and now addicted to PS3 Rock Band. Ringo Starr and Alex Van Halen have nothing on her.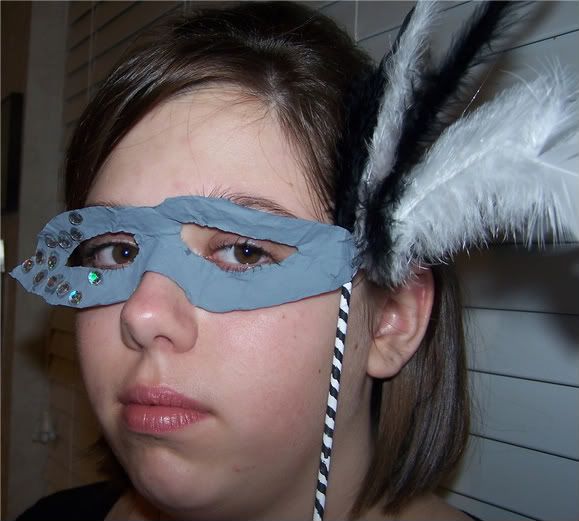 Though somehow, this papier mache mask she made for a school project this week reminds me more of Boy George.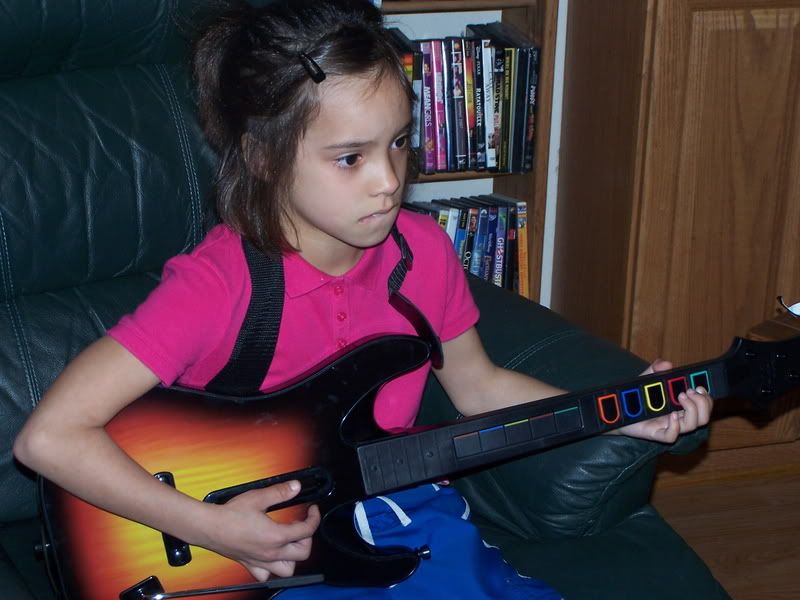 Expert Guitar Hero accompanist. Notice the look of total concentration. The girl is serious about her Nirvana.
Keith and I chuckle because many of their favorite songs were our favorites decades ago. When we sing along, they're horrified.
And the beat goes on....
Posted at 12:26 pm by beckyww
Permalink
Thursday, February 12, 2009
I always figured if I could truly live by these, I wouldn't need a savior.
But I can't.
And I do.
And Julia is - bit by bit, verse by verse - learning that lesson, too.
"....and a little child will lead them."
Isaiah 11:6
p.s. For now - #7 means showing your panties.
Posted at 05:18 pm by beckyww
Permalink
Sunday, February 08, 2009
Troy, Gabriella and the Kids from the 'Hood
Lois offered to help at Julia's "High School Musical" birthday party with the neighbor kids on Friday night and I said, "Oh, no, Lois - go to the dance with Jamie. It's okay. Rachel and I can handle it."
Then Rachel called. She was needed at her co-op teacher's house Friday night for some DECA work. So that left me with bingo, balloons and buttercream frosting for eight. Especially after Keith announced he had to work outside. Right now.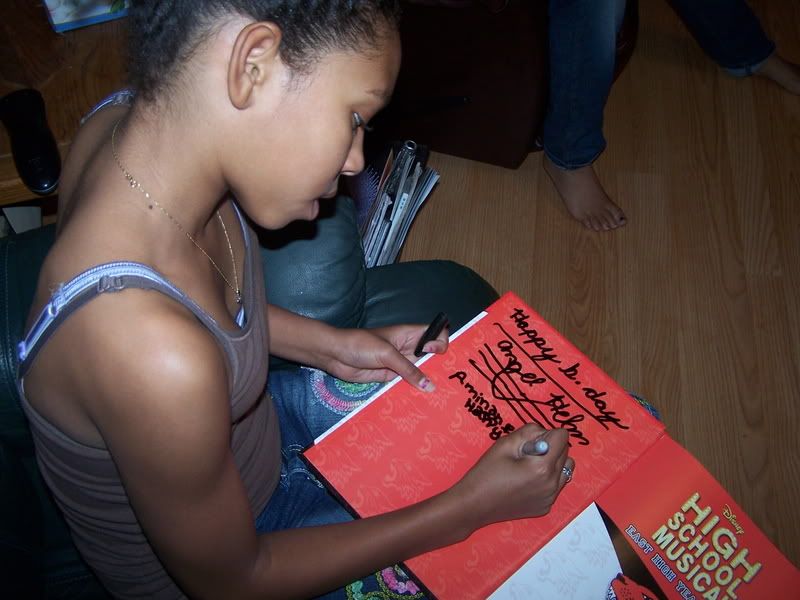 Much sneaking around and "shhh'ing" while everyone surreptitiously signed the High School Musiscal "Yearbook" that Hannah gave Julia.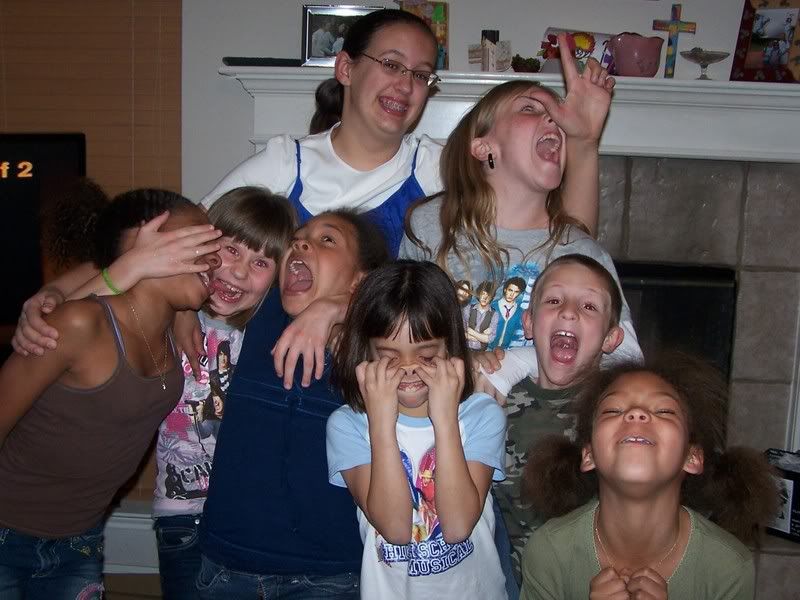 The kids belted out the lyrics to "We're All In This Together." Very. Loudly. Parker (the only boy) and Toni (front right) are Julia's very best friends. Parker is Julia's nemesis in the Star Wars sword battles in the cul-de-sac. In fact.....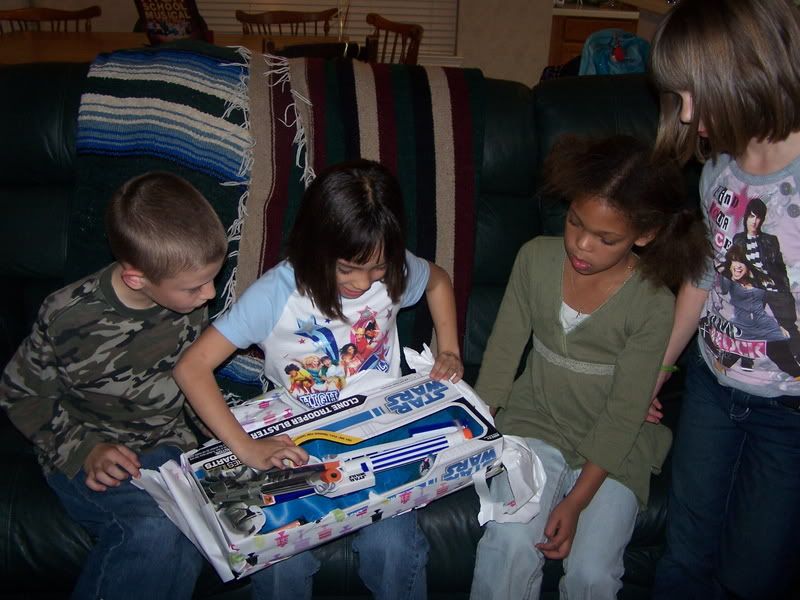 ...Look! Oh, wow! It's a second - and different - Star Wars sword! Who would have believed there are two models?!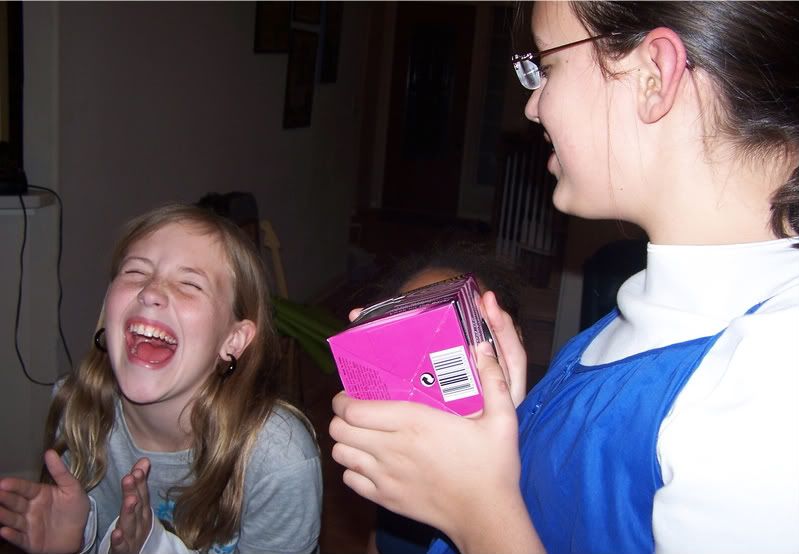 Crazy 8 Ball....another great gift especially if you ask it, "Will Julia marry Parker?"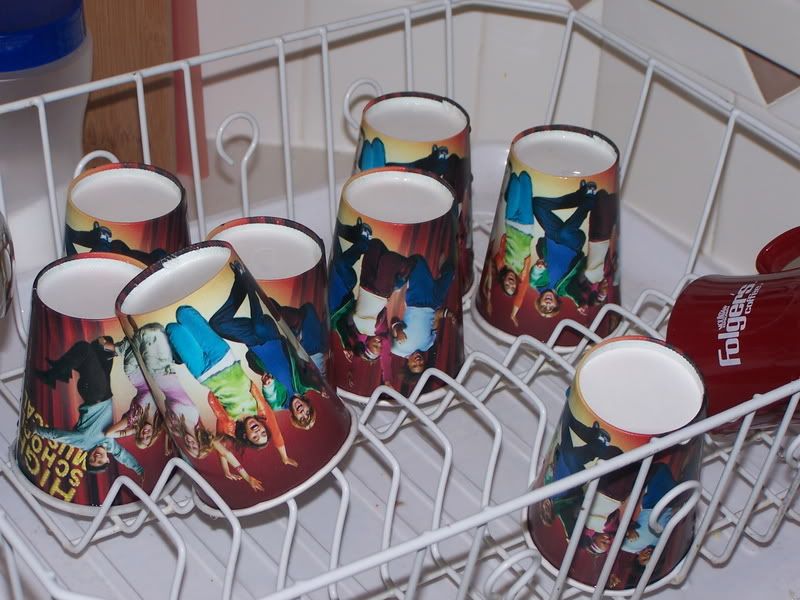 I forgot to buy two sets of eight paper cups - one set to fill with soda and accompany pizza, and the other (later) for cake. So while the kids were upstairs pounding out Guitar Hero, I hurried rinsed, dried and re-stacked the only eight themed cups we had. When Rachel saw this picture, she pronounced me "totally ghetto."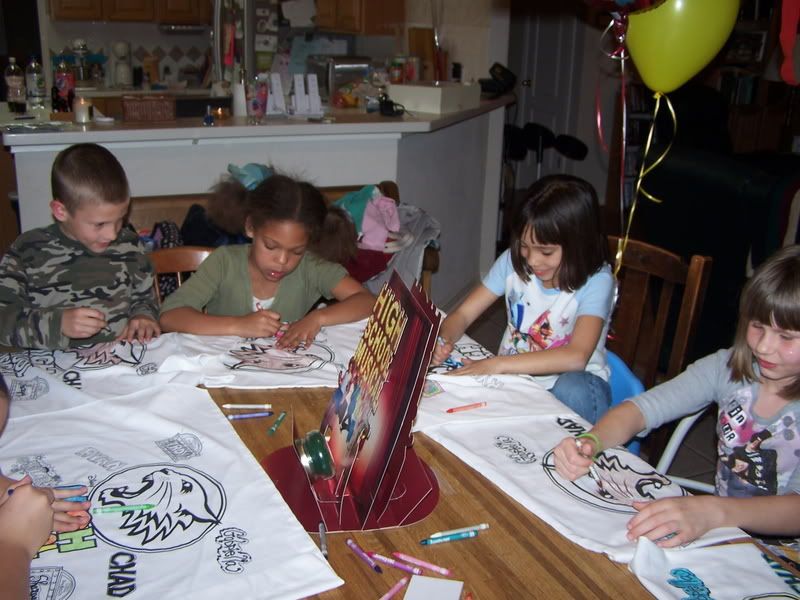 Coloring High School Musical pillowcases to take home - big fun! I was frantically sprinting to the utility room between activities to practice my mad ironing skills setting the designs.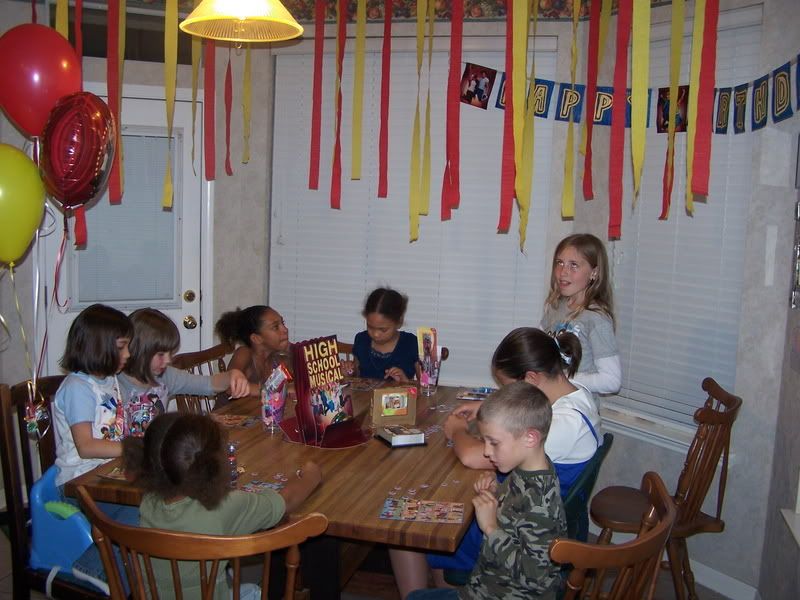 High School Musical bingo with fabulous prizes, thanks to the Target Dollar Spot. There's nothing much more fun for me than an hour alone in Target, just hitting the clearance caps. Kudos to Rachel and Hannah for decorations, as those top the list of the many things at which I fail.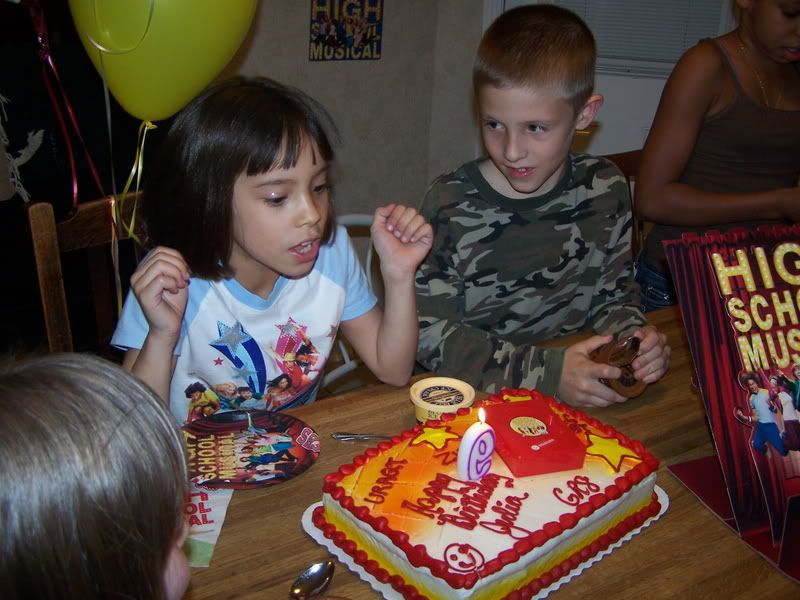 The ever-so-classic High School Musical locker cake. Make a wish, Julia!
Hard to believe my baby is nine years old. I've been debating dragging out the rule imposed on her sisters back in the day - "You get a birthday party every other year." But I dunno We have six lost birthdays with her, and it make me sad to think of no presents, no cake, no spanking, no "I'm so glad you were born" teasing and laughter for those first six years.
So - what the heck - I imagine we'll have a party again next year. After all:
Together, together, together everyone
Together, together, come on let's have some fun
Together, were there for each other every time
Together together come on lets do this right

Posted at 12:04 pm by beckyww
Permalink
Sunday, February 01, 2009
Back from the Birthday Date
Posted at 05:33 pm by beckyww
Permalink
Number 9, Number 9, Number 9
Julia turned nine years old today - big fun!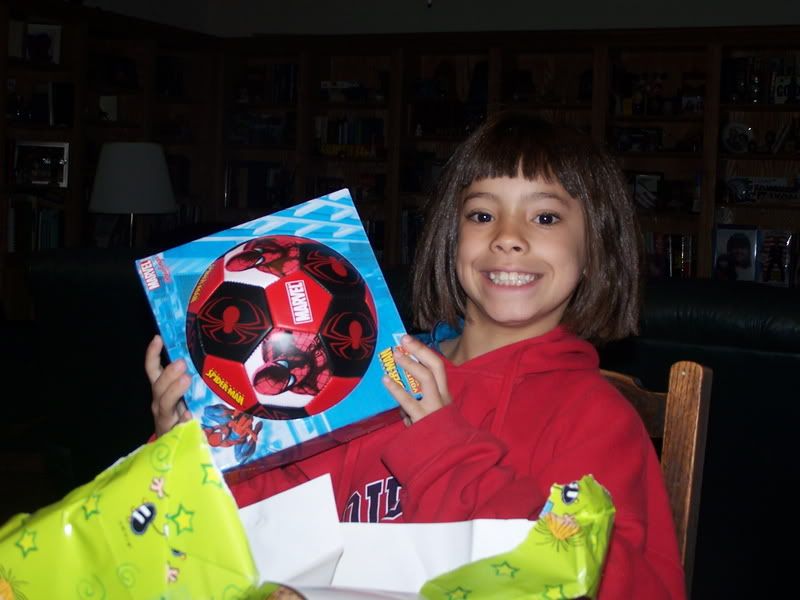 So bowling's not her thing, okay? A Spiderman soccer ball from the Edwards was taken out of its packaging the minute we got home from church. It's being kicked around by the kids in the cul-de-sac as I type.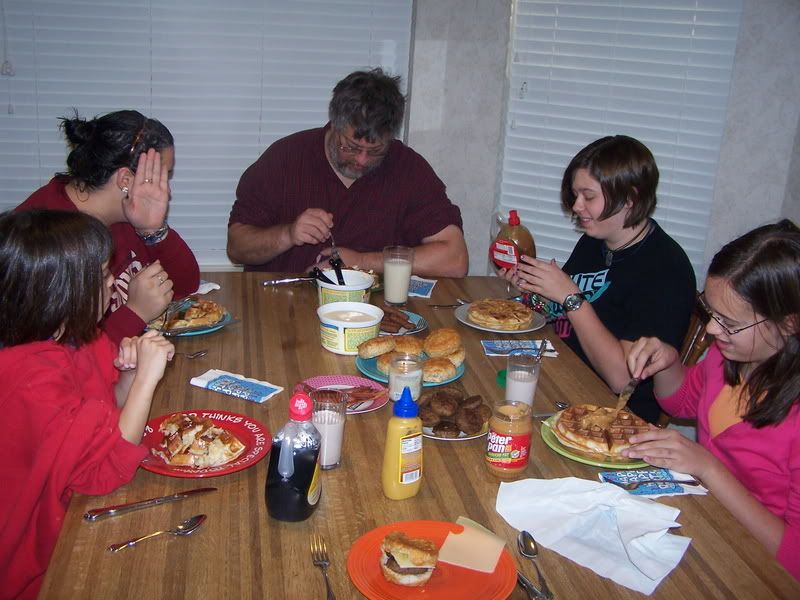 Dad's waffles for breakfast - ummm! Plus a sausage'n'biscuit for me, who cannot stand sweets in the morning. We went to late church so we'd have time to eat and clean up. Rachel - sans make-up - must, of course, hide her face like a felon.
Birthdays call for the red "You Are Special" plate (thanks again, Paula, for replacing the one we broke two years ago!) That's Rachel's oversized University of Houston sweatshirt Julia's wearing. She's taken to wearing one of Rachel's sweatshirts every night over her pajamas. Interestingly, having newly-adopted kids wear your clothes is a strategy for aiding attachment, according to the best adoption book I ever read, "Attaching in Adoption" by Deborah Gray. No, Rachel is not her parent, but Keith and I knew from the get-go that it was as important for Julia to attach to her sisters as it was to us because we were a unit when she came home. So I am not threatened by her wearing Rachel's sweatshirt instead of mine, or sitting in Rachel's or Lois' lap in church instead of mine. We all know I'm the maternal unit around here.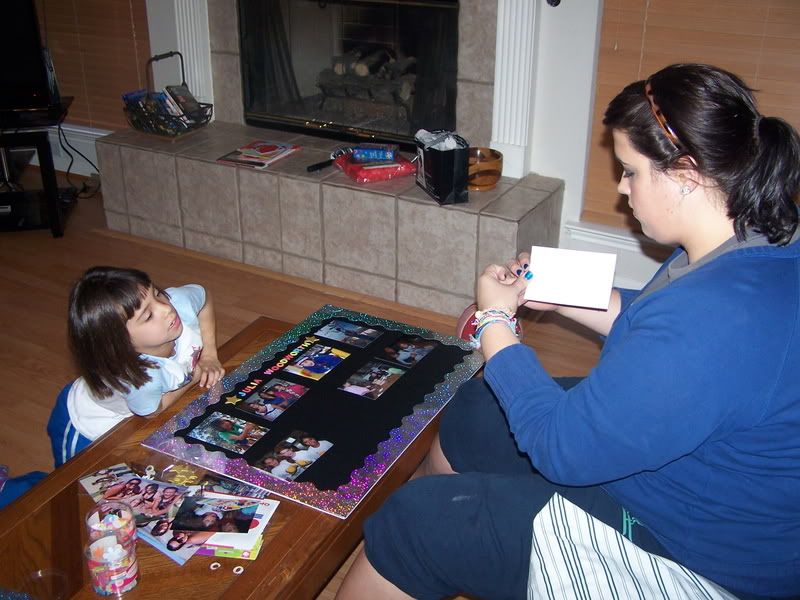 Elementary-age kids get to take turns being "Star Students" at school, with the teachers often timing their Star week near their birthdays. Julia is Star Student in her class this coming week. Thankfully, Rachel is crafty and offered to work with her on her Star Student board. (I am allergic to glue guns.) After Julia selected the pictures to use and composed the captions, she said, "This is taking forever. How about I go outside and play while you finish?"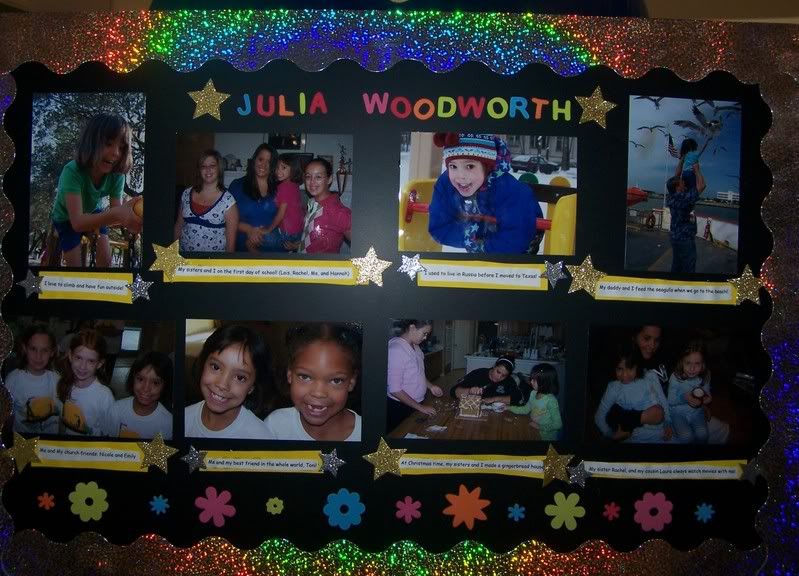 A work of art with pictures of her family, neighbors, church buds and cousin Laura. Plus my favorite picture of her in Russia - in the blue jacket and stocking cap, on the playground across the courtyard from the orphanage. The kids could see it, but were not allowed to play there. She was so happy to get to climb on the equipment. For me - that picture is her 'baby picture," and I treasure it. I took it on February 15, 2006, the day after we met her - almost three years ago, I can't believe it.
Tonight, she goes on her birthday date with her Daddy. She'll undoubtedly pick Chinese food (egg drop soup), and then to pick out her family gift (which I'm betting is a Star Wars sword.) Thursday, I'm reading a story to her class and taking donuts for an after-lunch treat. Then Friday, we're having her "High School Musical" birthday party with the neighbor kids.
My birthday was yesterday. Rachel asked me, "Mom, don't you feel you get shorted with one of your kids' birthdays the day after yours?" No! I love it. Gives us one more thing to share. Which is what families do, doncha know?
Posted at 12:38 pm by beckyww
Permalink
Tuesday, January 27, 2009
Here's a clip from Saturday- our #22 sinking a basket:


Posted at 04:08 pm by beckyww
Permalink