Thursday, April 16, 2009
Just in case you were wondering what Ted Nugent sounds like when he's playing the National Anthem at the home of Texas liberty - the Alamo.
Posted at 08:00 pm by beckyww
Permalink
Saturday, April 11, 2009
Easter weekend. And that means...
.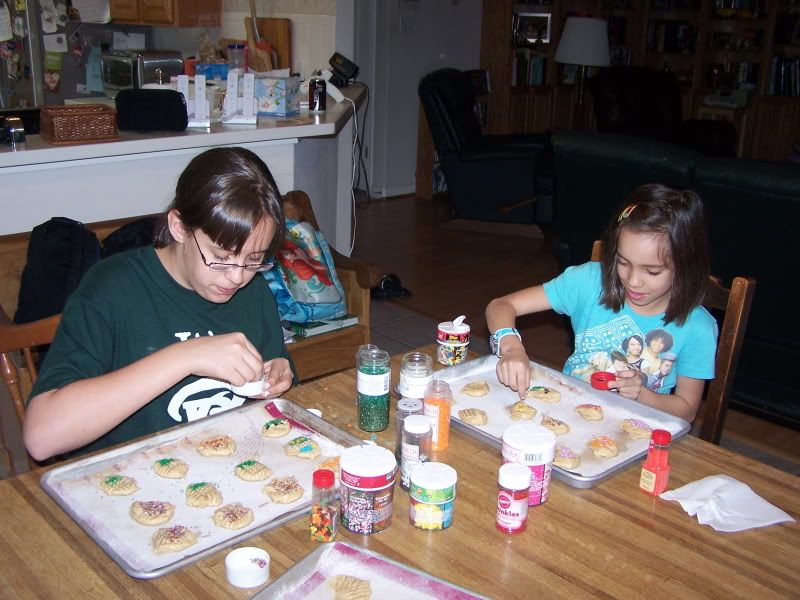 Lots and lots of cookies on Friday, with an assortment of sprinkles which - for some reason - included Batman and Sponge Bob. Had to finish the cookies before Saturday because Saturday means....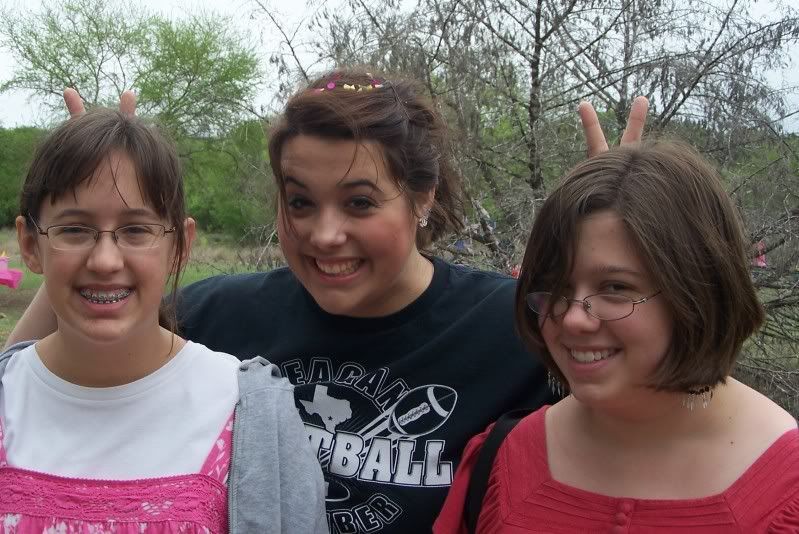 The church
Easter Egg hunt, with three goofy, bunny-eared hiders. While they were hiding plastic eggs (to be counted and redeemed for candy post-hunt), the little kids were busy which means....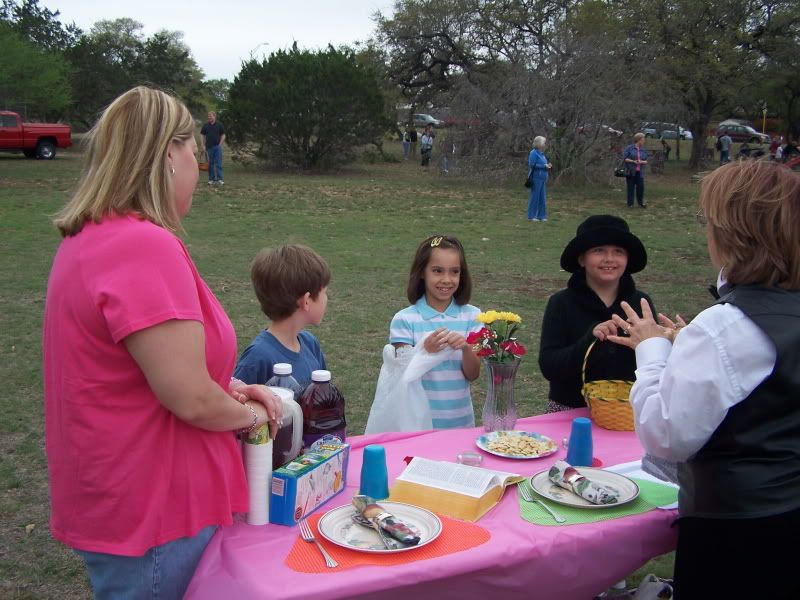 Learning about Jesus' last days, including the Last Supper and after which means...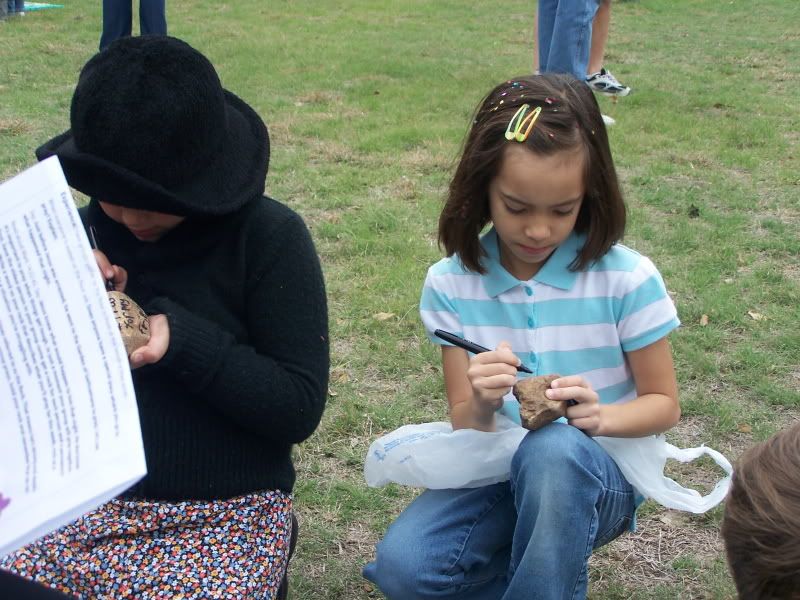 Praying the garden of Gethsemane, and writing the name of someone you pray for on a rock.
After several serious lessons are reviewed, it's time for a little fun and that means....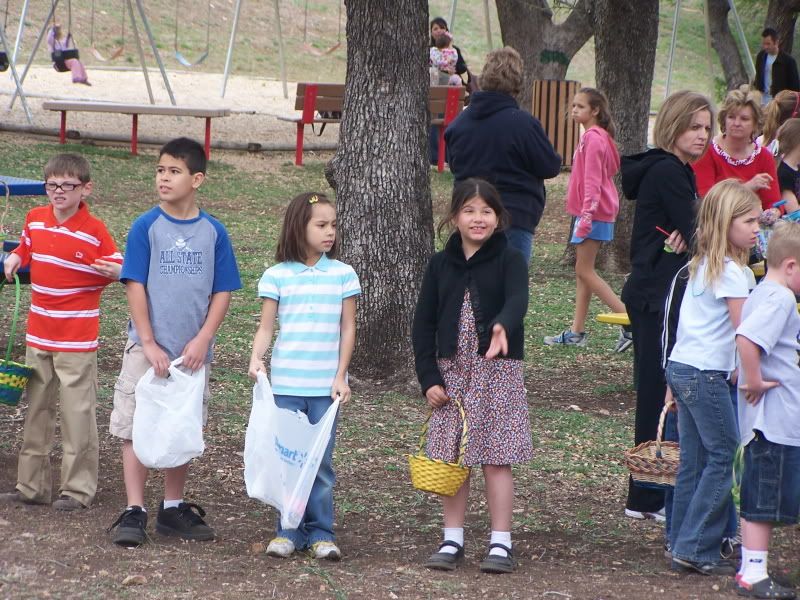 Lining up for the egg hunt. Julia has a basket but chose a plastic grocery bag because it's less likely to spill. Get ready...get set....and that means...

Go! Julia found a wooden egg, too, which got her a special Easter game as a surprise. And now it's almost time to leave, and that means....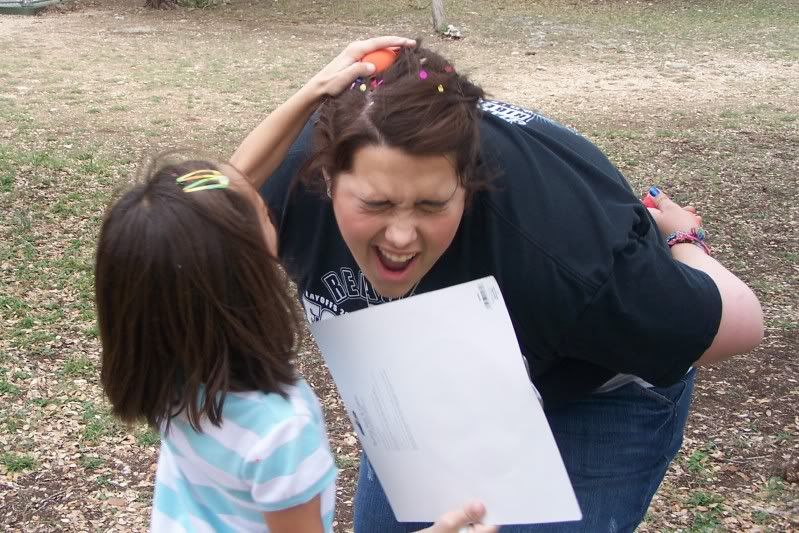 A little parting gift for a big sister. "Rachel - I need to show you something." Rachel fell for it - and got a headfulla cascarones for her naievte.



So Saturday is almost over. And that means it's time for Sunday.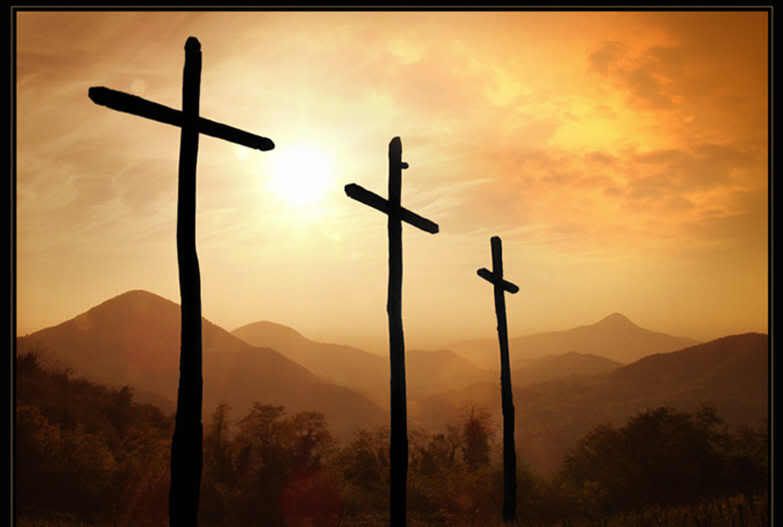 Please, Lord, do not ever let me forget the cross and the empty grave amidst all the fun and frolic.

Because that's what Easter really means.


Posted at 01:35 pm by beckyww
Permalink
Saturday, April 04, 2009
Here's some randomness on Serendipity Saturday. Nothing relates or really makes sense. Sort of like real life.
You will recall my progeny
dissing my 20+-year-old
lipstick last year. Today Rachel bought me a new lipstick, a gift which I accepted because my treasured lipstick case finally broke. So I will be utterly gorgeous at church tomorrow. Don't sit near us - I'll be such a vision of loveliness, your thoughts will not dwell on spiritual matters.
Posted at 03:32 pm by beckyww
Permalink
Sunday, March 29, 2009
Our church
recognized Julia and 40 other kiddos this morning for their "Pastor's Pals" bible memory work. With each grade level, the requirements are more stringent. For second grade, Julia
memorized the 10 Commandments
, the greatest commandments and a regular verse. When Rachel, Lois and Hannah were doing this, they always hoped the children's minister would add
John 11:35
to the list of eligible verses. Ummmm.....no.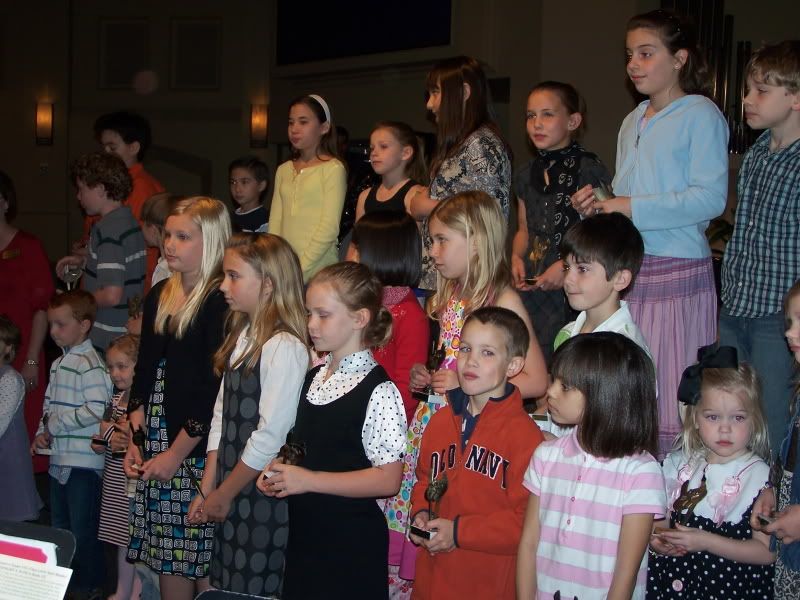 That's my girl - bottom row, second from the right When I go to heaven, God's giving me her beautiful glossy hair.

After church, the children's minister treated all the Pastor's Pals to Incredible Pizza. Rachel, Hannah and I went along for fun. Julia tried to act "cool" and distract me while Rachel seruptitiously salted her already over-salty mac'n'cheese, thinking Mom was too dumb to notice. Fail!

Rachel and Hannah demo'ed their mad hoop skills in quest for more tickets. Rachel gaves hers to Julia, who receemed them for a ball and some manner of tongue-dying candy. Hannah is now the proud owner of a gynormous Hannah Montana pencil.


Julia and I continue to slug away at a children's story bible every night. She gets so excited when she recognizes a story, or relates a story to what she's heard in Sunday School. Two weeks ago, I casually mentioned I was worried about something. Julia immediately scolded me with, "Mom, we're not supposed to worry. We're supposed to pray." When we started the read the story of Jonah traveling to Ninevah via whale gut, her face lit up and she stabbed the page telling me, "Mom, I know this story, Jonah wanted to get away from the Lord, but he couldn't - because God is everywhere." Well, yes. Yes He is.
I know many people would scoff at Pastor's Pals and bible story books. After all - bible story books are diluted, they're not the pure Word of God. And why should kids be bribed/rewarded to learn scripture? The knowledge itself should be its own reward. And I could have argued that position, too - before I had kids. And before I had a child that didn't hear a single bible story until she started learning English at age six.
Reality is that Pastor's Pals and bible story books are venues not only to teach Julia about God, but also to make me examine what I truly believe myself. If my faith is so etheral and jargon-packed that I can't explain it to a child...well, then, I really don't know what I believe. I just know the pretty words to spit up and hope no one challenges my pablum.
Julia told me at Christmas, "You are my Jesus teacher." But she's wrong about that. She's the one who's teaching me..
Posted at 02:18 pm by beckyww
Permalink
Sunday, March 22, 2009
Episode 9 of "A Man and His Pond"
The water is 60 degrees now. So the koi can be fed.

Notice the reflection at the water's edge. I am going to have fun with my waterproof Olympus this summer!


Posted at 05:36 pm by beckyww
Permalink
Thursday, March 19, 2009
Go Ahead. Try This at Home.
Julia is practicing to participate in the American Heart Association's
"Jump Rope for Heart."
Those whooshes you hear? Watch carefully. Those are "double unders." She's twirling the rope under her
twice
for each jump.
Posted at 05:09 pm by beckyww
Permalink
Friday, March 13, 2009
Now I Can Break Out the Whips and Chains
Nobody adopts accidentally. You might get pregnant accidentally, but you're sure not adopting accidentally. Sometimes - facing the mountain of paperwork, interviews, medical exams, background checks, etc., you wonder if you're ever going to adopt at all, or if someone 100 years from now is just going to stumble across your withered corpse hunched over a stack of paperwork clutching a blue-inked pen with your eyes forever frozen scanning the horizon for a notary.
A tiny fraction of that paperwork is a lengthy written personal evaluation done in preparation for a social worker visit. Keith is not keen on questions more personal than, "What's your name?" So imagine his delight when - in October, 2004 (Julia came home in May, 2006) - he and I each had to answer literally 18 pages of questions like, "Describe why you are not satisfied with yourself" and "What are your three main fears or concerns?" - all before our first social worker visit.
I had never before had any meaningful contact with a social worker. I'd met a few social work majors in college - generally people whom (to me) seemed to be trying to compensate for majorly messed up home lives of their own by trying to fix everyone else's. But here I was in October, 2004, chasing dust bunnies and mentally preapring for whatever else I might be asked by whom I pictured to be an 80-year-old drone in bi-focals and corrective shoes, eager to peer under my couch cushions.
Instead - our agency (Buckner) sent us Jennifer, a super-friendly, well-organized social worker from Ft. Worth, who specializes in adoptions. One of the first phrases out of her mouth, "I don't care about your dust bunnies. And I don't even look under my own couch cushions." I knew I liked her right then.
Jennifer did the required pre-placement family visits before Julia arrived home in May, 2006, as well as the required post-placement visits (monthly for six months, then on the year marks.) We actually looked forward to them.
Today was huge for us. Today was our last required post-placement visit. We're coming up on the three-year mark of Julia's adoption, and that's the last post-placement visit required by the Russian government. Jennifer flew in to ask a few more questions, check out the house, talk to all of us (individually and together) and share a pizza.
Everyone in the home has to be interviewed alone. Rachel told me later, "Mom, I told her how you beat me every night."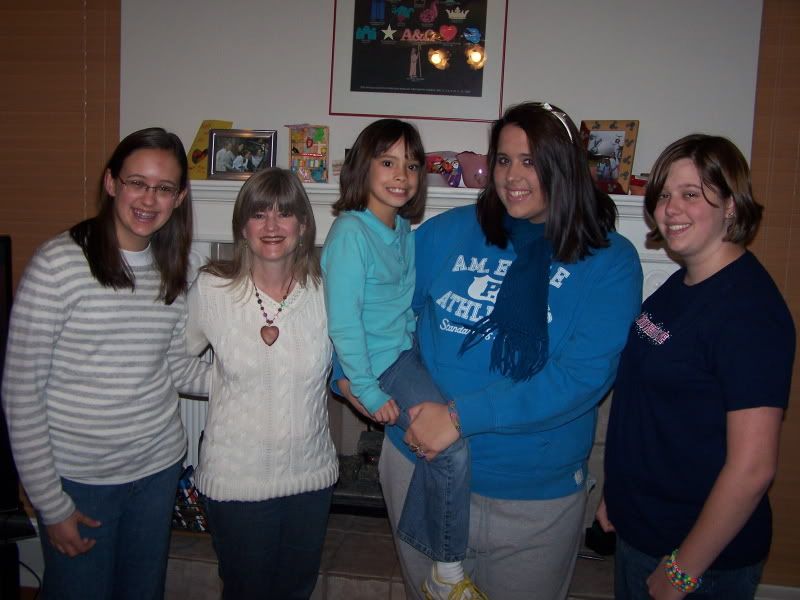 When we started in 2004, Jennifer was taller than Lois and Hannah. Not so much now.
So as soon as Buckner files this last report, stick a fork in us, we're officially "done" with what we owe the Russian government.
Of course, we'll never be "done" with what we owe Buckner. And everyone who helped us bring Julia home, like Jennifer - with whom I want to be friends for a long, long time.
But in the meantime - it feels good to be "done."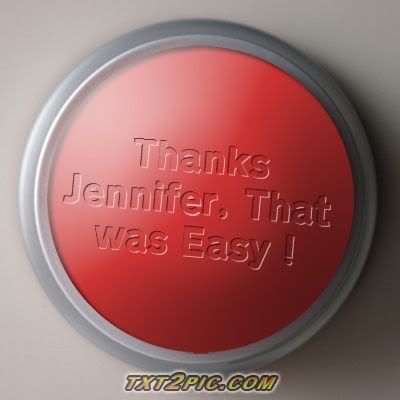 Posted at 07:33 pm by beckyww
Permalink
Wednesday, March 11, 2009
Spring Break weather has been warm and breezy - until today. The day we picked to go to Fiesta Texas. And we froze our ta-ta's off.
Note to parents: Let your kids go first. They dry the seat for you.
Posted at 02:29 pm by beckyww
Permalink
Monday, March 09, 2009
The purses.....the Talavera.....the dresses.....they were calling to us. "C'mere, girls....c'mon.....come back to see us....special price, just for you....best price for you, lady....come in, come in..."
So we answered the call this Spring Break weekend and headed to Progresso, just across the border in the all-important Rio Grande Valley area of South Texas that supplies most of our fruits and vegetables. And knock-off Prada bags. Keith found us a strict maximum-of-five-guests motel room for $89/night (including breakfast) so by packing light, stopping at Wal-mart to replace the pajamas he forgot, eating breakfast in shifts, sneaking in an air mattress and quickly shoving Julia in the closet or behind a sister whenever staff was around - we managed two nights in one room pretty darned economically.
I really push the girls to take securely-closing backpack purses. Leaves your hands free to signal, "That's too much!" The bridge between the U.S. and Mexico seems a lot shorter earlier in the day, when you're not toting 10 lbs. of Talavera and the morning breeze is still blowing.
Some of my happiest memories are of wandering Laredo with Judy and Sarah, and later with Keith and the girls - but no more. Drug lords have destroyed Laredo for decent people, including tourists, as they have with so many other border towns. While the girls were distressed at the soldiers manning armored vehicles and automatic weapons at the entrance to Progresso - I found them - and the signs scattered about that explained their presence - vaguely comforting. Maybe the Mexican government is serious about keeping criminals from taking over Progresso. They were certainly searching enough cars for drugs - and that's on their side of the border, apart from the checks on the U.S. side.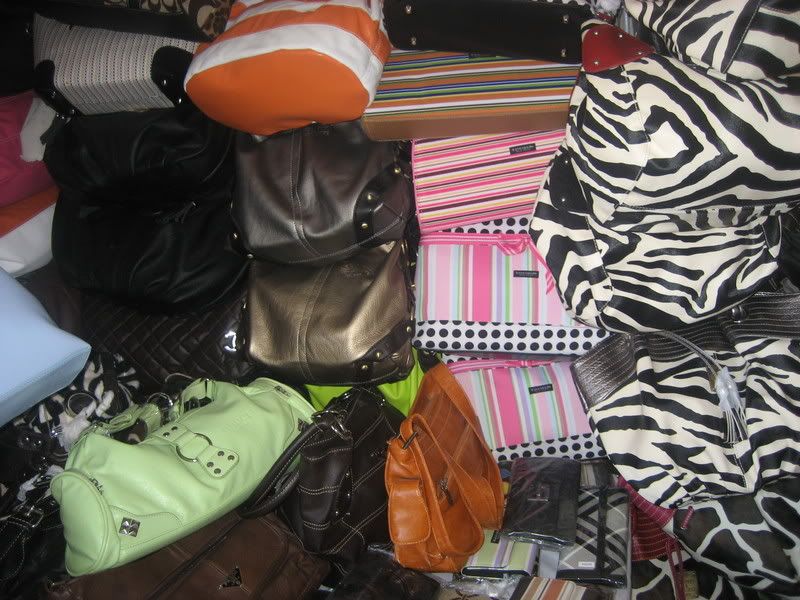 Rachel, Lois, Hannah and I all bought new purses. Prada, Chanel, Dooney & Burke and D&G were the most prevelant. - some Kate Spade - even a few Juicy, though they were way too high ($75) because of scarcity. Good quality, though, I'll say that. Our purses' average cost was about $20, with matching wallets going in the $5 - $10 range.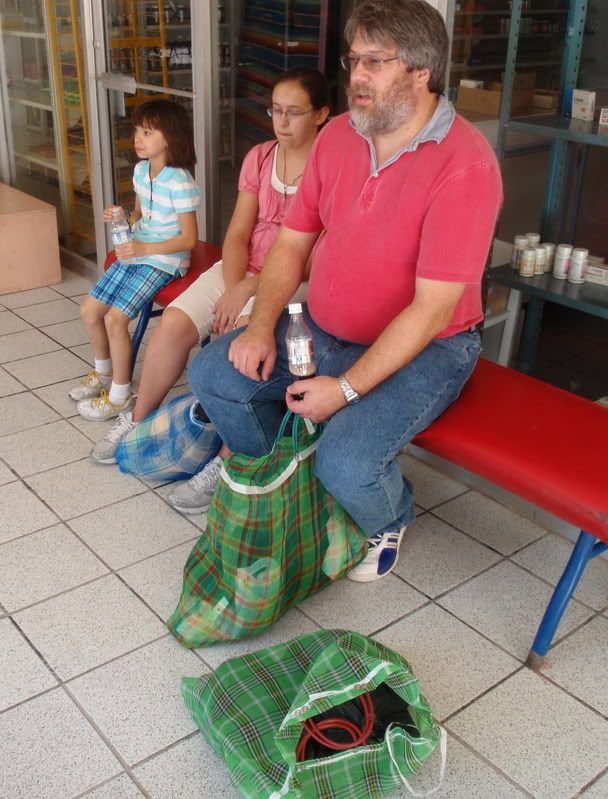 The heroes of any shopping trip in Mexico: Plastic-webbed shopping bags. They sell for about $1 - $2@. We've had ours at least 15 years, maybe longer - I'm not sure they can be destroyed. You can tell the experienced shoppers on the bridge walking over because they bring their own.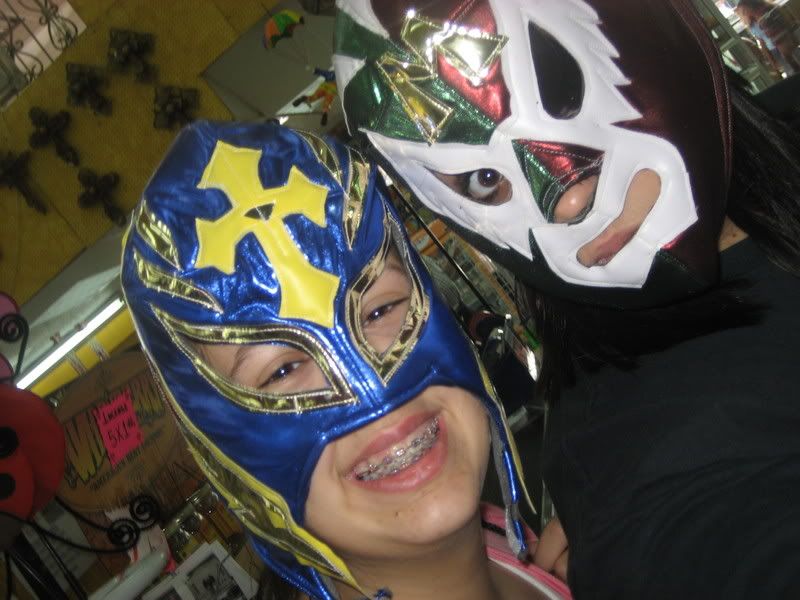 Hannah and Rachel, who lamented, "My lips wouldn't fit." Personally - not knowing whose lips had been masked before - I wouldn't have even tried it on.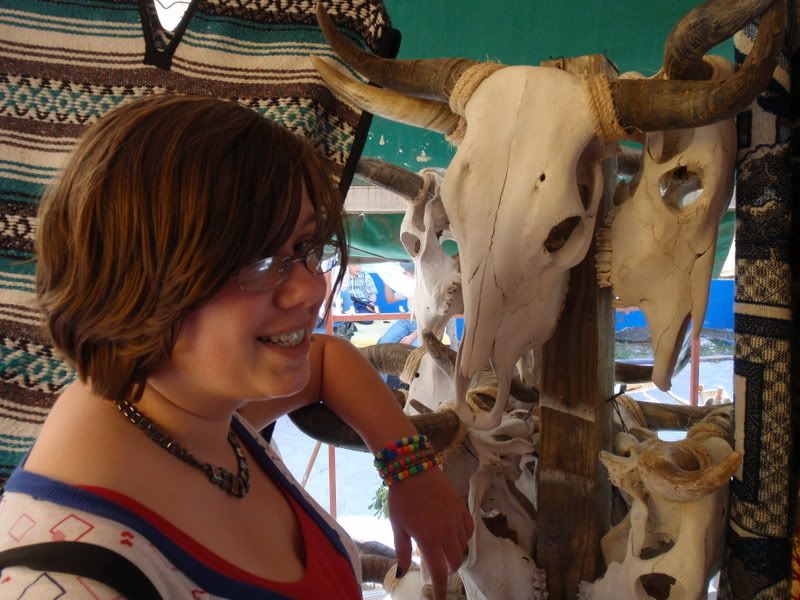 Question: "For my room?" Answer: "No."
Keith will - from time to time - catch a scene like this and mutter, "Stinks around here," meaning, "She's so spoiled." I generally respond, "What's your point?"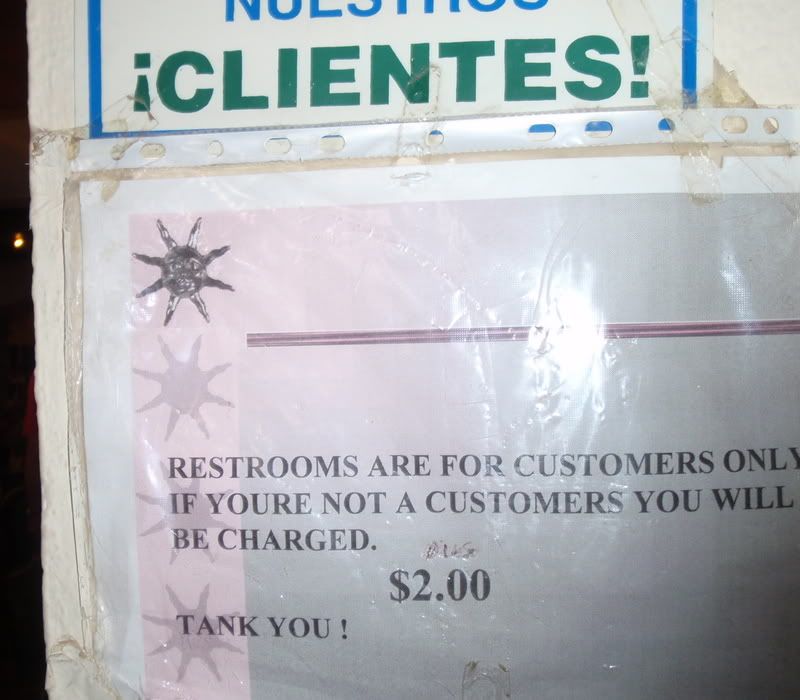 Lunch time! And tank you, too!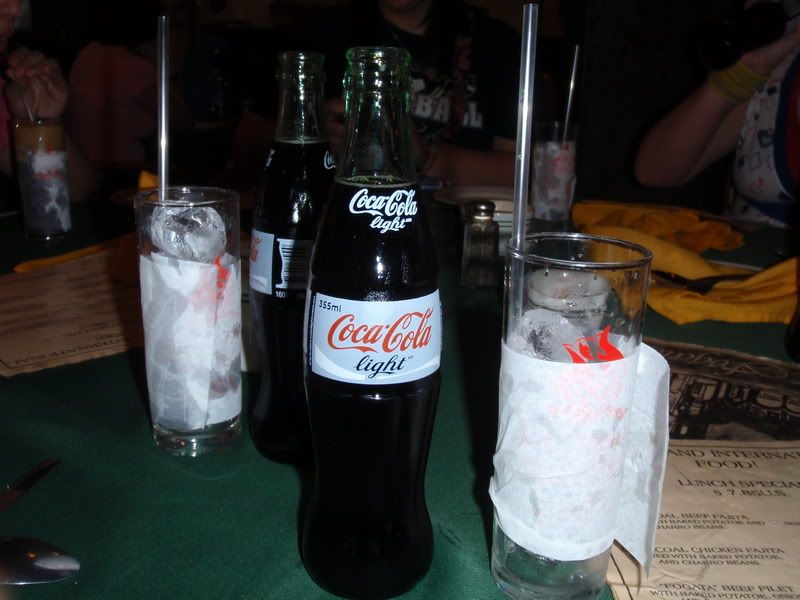 A cold bottle of Coca-Cola Light - the best! Fun to have a bottle instead of a can. Filtered ice cubes, of course - we always ask. Unfiltered could mean a very, very long night in el bano.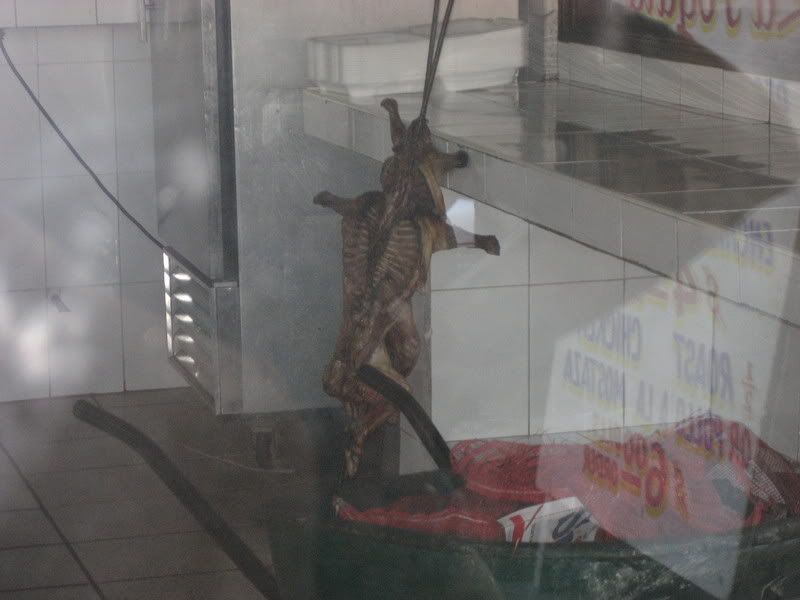 Cabrito, we think. Which we didn't order.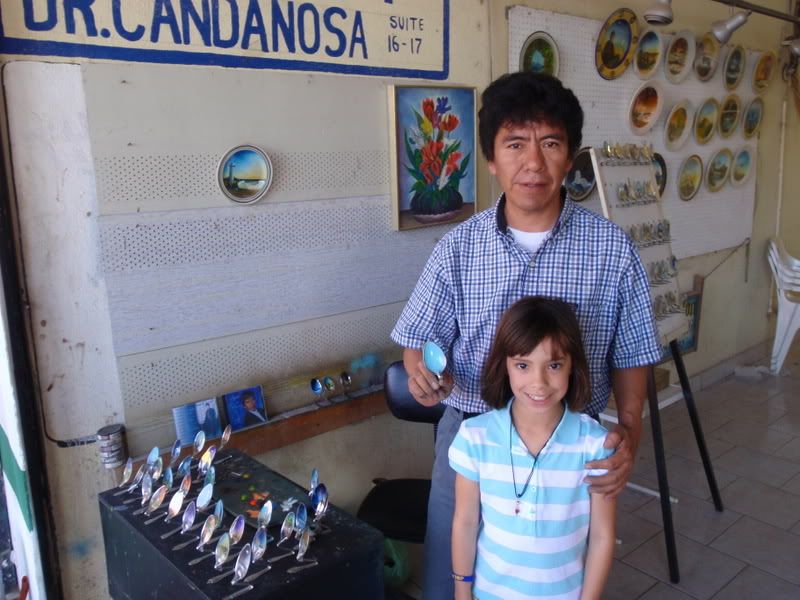 Julia was fascinated by this artist hand-painting scenes on the bowls of bent spoons and even asked to have this picture taken with him. I'm going to count the silverware when we unload the dishwasher tonight.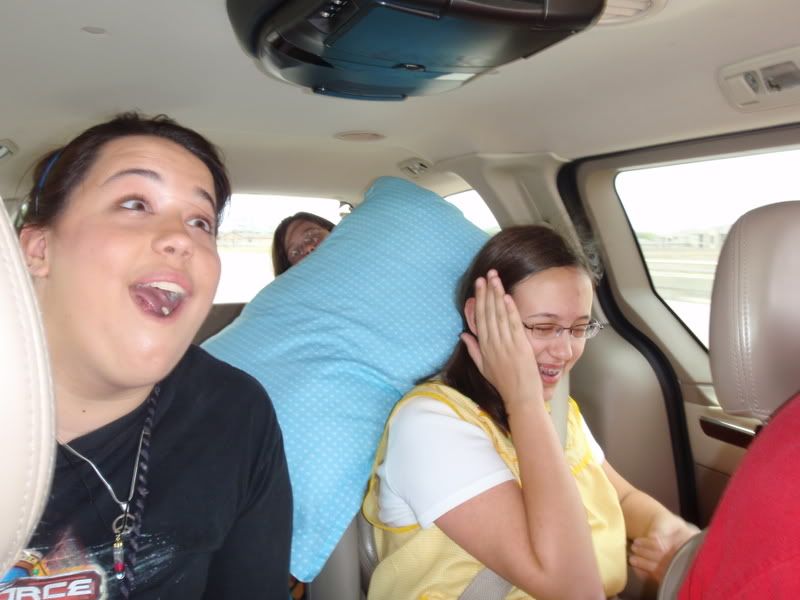 Car Wars. When you're trying to turn attention away from the fight you just started, break into "Jesus Loves Me" at top vocal capacity.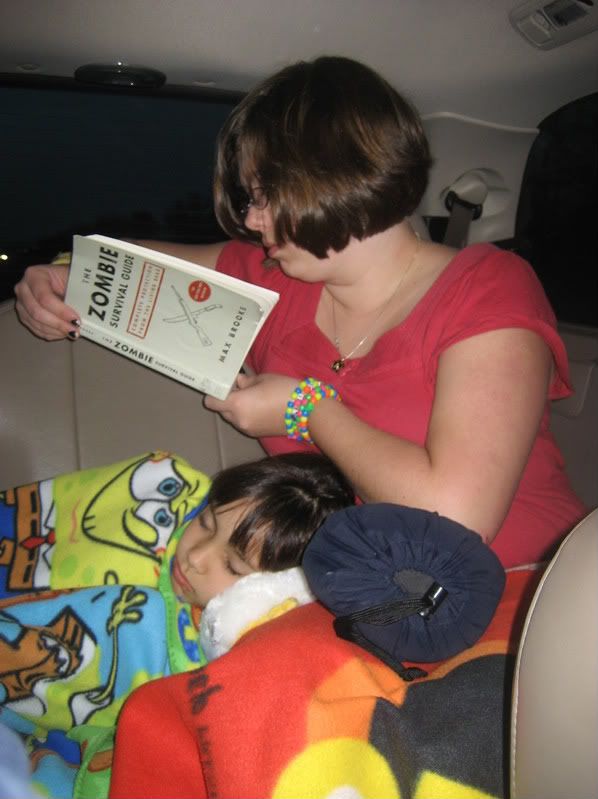 Lois can read in a moving vehicle, an activity guaranteed to have the rest of us reaching for the plastic bags. She's re-read the "Zombies Survival Guide" in preparation for the 2010 release of "World War Z," which she and I intend to see opening night. We both belong to Lost Zombies and maybe this summer, we'll finally make our own video to post. We meant to last summer, but what with battling the Solanum virus and all....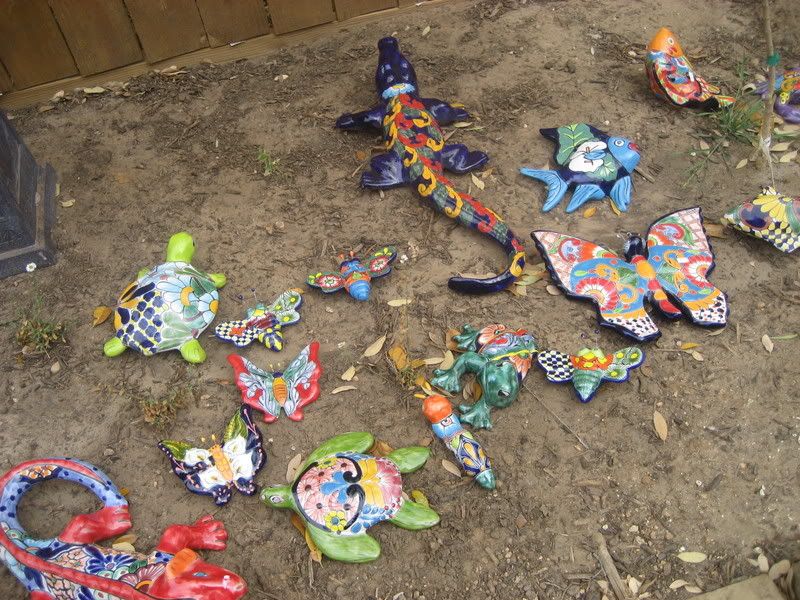 Home again! And Talavera critters waiting to join the herd on the back fence. The alligator was almost as challenging to tote across the bridge and pack for the ride home as was the snake five years ago. We bought two cheap ($3@) blankets, strictly for packing.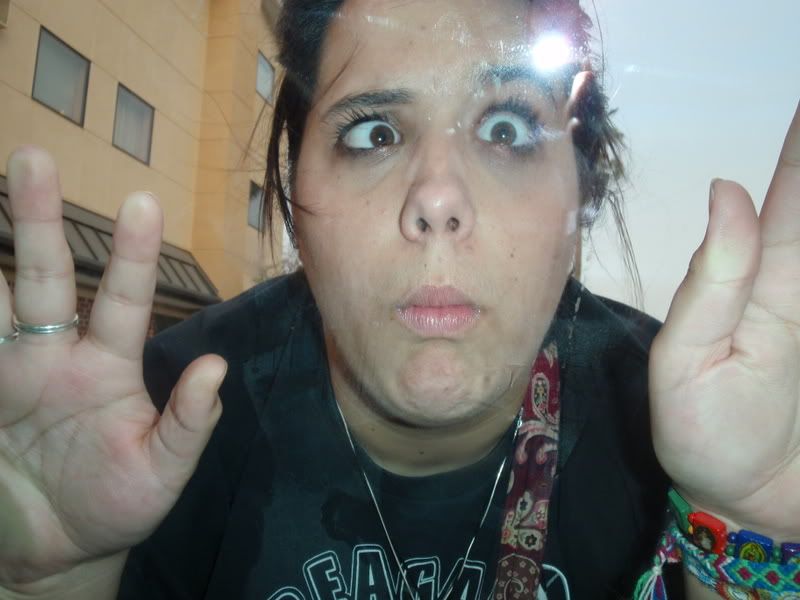 Hasta la vista, Progresso - see you next year?!
Posted at 12:55 pm by beckyww
Permalink
Thursday, March 05, 2009
We've just returned from the second grade school play, which was preceded by a mercifully brief PTA meeting (I had to gouge Keith when - as the meeting began - he softly groaned, "Make it stop. Make it stop.")
Julia was "Speaking Bug #12," a little lady bug. Seldom have I seen a insect portrayed to such depth.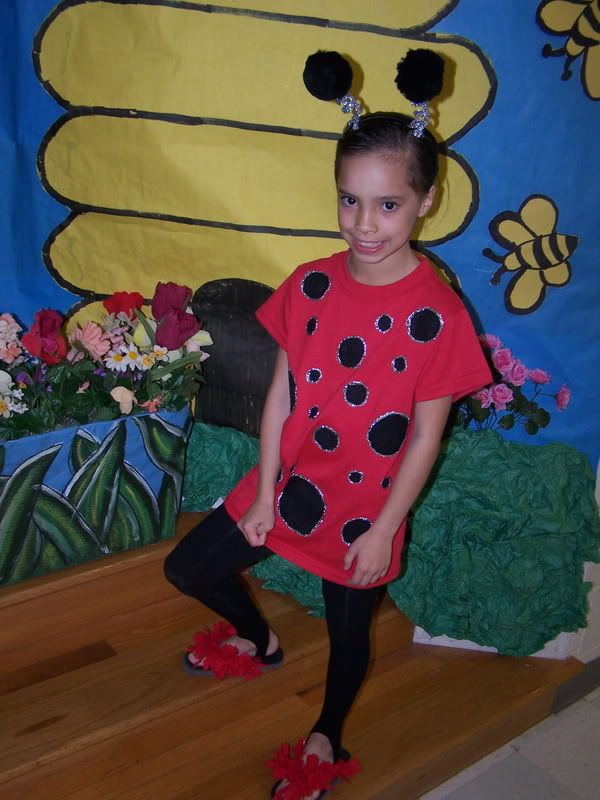 Fashion by Rachel: Antennas a la headband, glitter sticks and pom-pons. Red shirt with glitter-trimmed black circles. Black tights. Black flip-flops with red cloth fuzzed tie-ons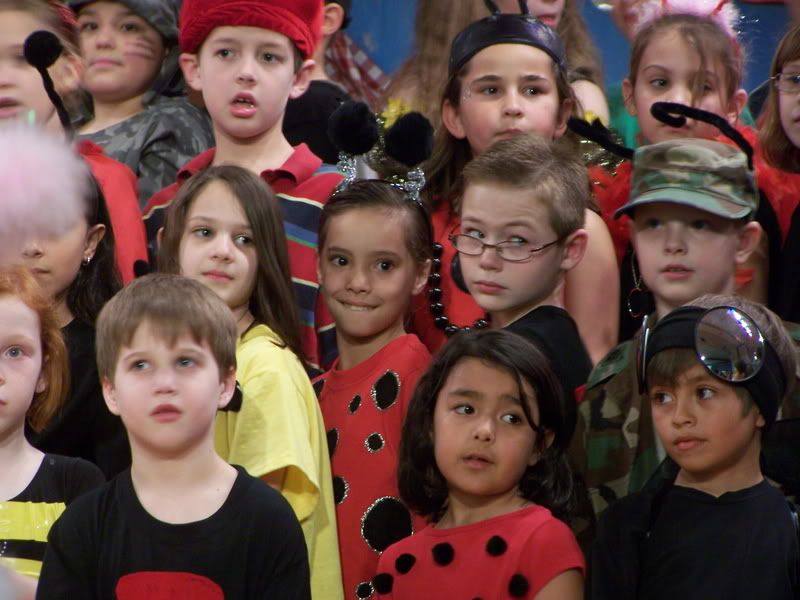 Army ants, bumble bees, love bugs, flies, moths, butterflies, even a louse, stink bug and maggot. But absolutely none cuter than our little lady bug.
For those who don't speak Lips2Microphone: "Before we go, I think it's time to get some free advice. The lady bugs are so refined, they know how to act nice."
My hands are sore from clapping. My left eye has a bit of a twitch from camera-squinting. I'm behind on laundry, the dishwasher needs to be unloaded and the breakfast table needs to be set.
But nothing is bugging me tonight.
That position in the family has been taken.
Posted at 06:38 pm by beckyww
Permalink