Tuesday, November 28, 2006
Lois turned 13 years old today. I am now the mother of two teenage girls. I'm not quite sure how this has happened.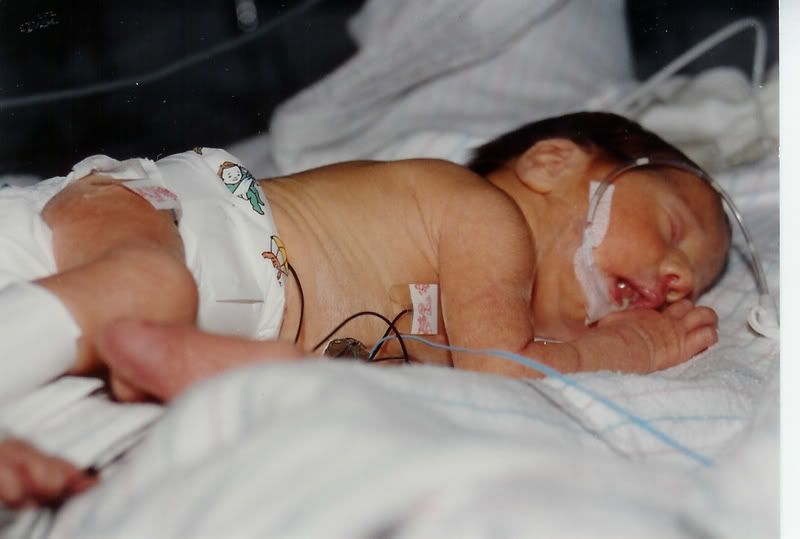 "Baby Wois" was born eight weeks prematurely with one collapsed lung, and the other not working. Keith enjoys reminding her that one of her many drips was milky white lipids, a.k.a., pure fats.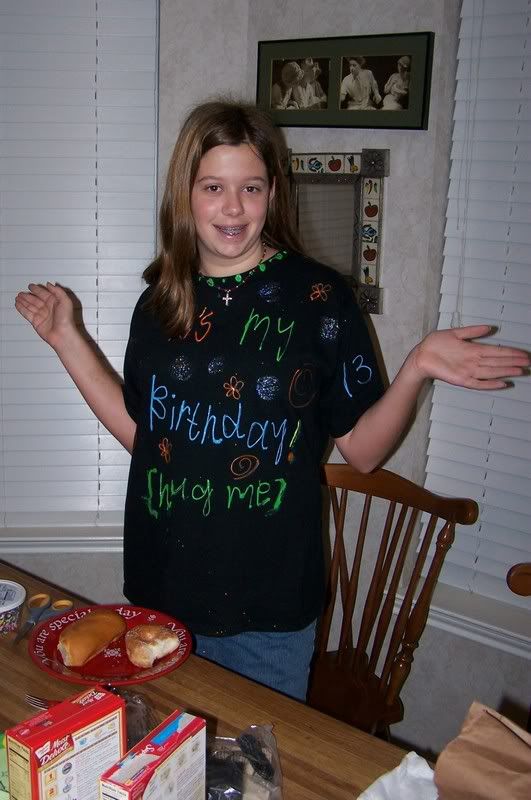 Rachel created Lois' "It's My Birthday - Hug Me!" custom shirt. Poor Keith has had a tummy bug and wasn't feeling up to making our traditional birthday pancakes, so instead he made a quick run to Shipley's for doughnuts and kolaches, with Lois' portion eaten from the red "You Are Special" plate. Unfortunately, no one else in our family will be special for awhile, because it met the tile floor after dinner (oops!) Hannah is really ticked because her 11th birthday is Friday. Oh-so-sympathetic Rachel has offered to write "You Are Special" in red marker on a Chinet plate for her - such a deeply touching gesture.
When we were first married, Keith was stunned at the (seemingly large) amount of paper goods, toiletries, etc. that I routinely purchased. As he stated so puzzledly, "I thought a 12-pack of toilet paper was a lifetime supply." As the mother of two (and counting) teenaged girls, I've made certain observations about life with them, such as:
There is no such thing as too many brands or bottles of shampoo.
Shoes. Everywhere.
If my make-up is missing, that means their supply is low.
Need a snack? Check inside the cushions of the recliners.
The phone is never for me.
"Teen pattern deafness" causes blank looks when phrases like, "Unload the dishwasher" are repeatedly intoned.
Panty hose. So much easier to unwrap a new pair to wash the used ones.
The cordless phone might be - where?
Eye rolls can be peformed to a degree that would appear physiologically impossible.
There may be wet towels on the floor, crud caked on the mirror and the sink may look like one at the Greyhound station....but our hair, ohhhhhhh, it's soooooo straight.
And finally - Sanitary products always drift to the bottom of the shopping cart, completely covered by layers of food items. (In a few years, I'll be buying them on a flatbed at Costco.)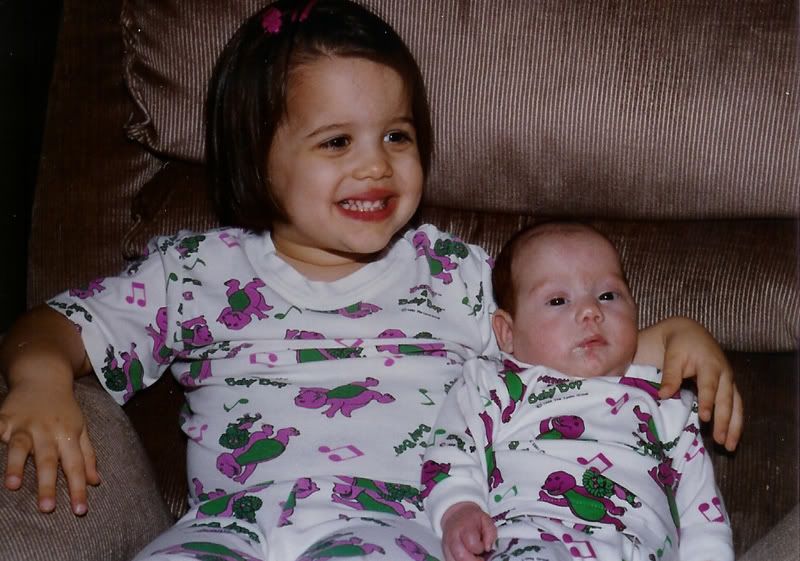 Barney was da man for years and years. We had regular Barney outfits, and "Dress Barnies," and of course the ever-popular Barney jammies.
I love them
They love me
But what happened to my baby?
15, 13, with two right behind
How long till I lose my mind?
Posted at 04:51 pm by beckyww
Permalink
Thursday, November 23, 2006
The fridge is full, the dishes are done and there's an uncut homemade pecan pie chilling in the freezer. Ahhhh! It's been a great Thanksgiving Day at Casa Woodworth.
For five years, we've hosted two Air Force recruits in training from Lackland Air Force Base on Thanksgiving. Rachel and I drive 32 mi. for "Operation Home Cooking" and wait about 90 minutes to go through the necessary gyrations to pick them up. The guys we've gotten have all been friendly, nice, helpful....but....we've always wanted girls.
This year - we got our wish.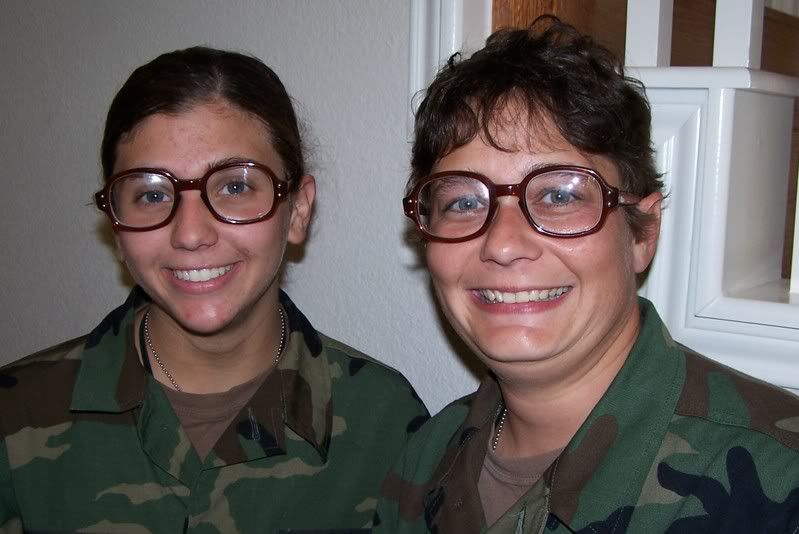 Salute! Amber-from-Pennsylvania and Sherry-from-Kentucky were special guests of honor. We all enjoyed their company - what great additions to the day. They'll be stationed at Lacklack after Basic Training and we're hoping to see them again, maybe next spring when they have more priveleges.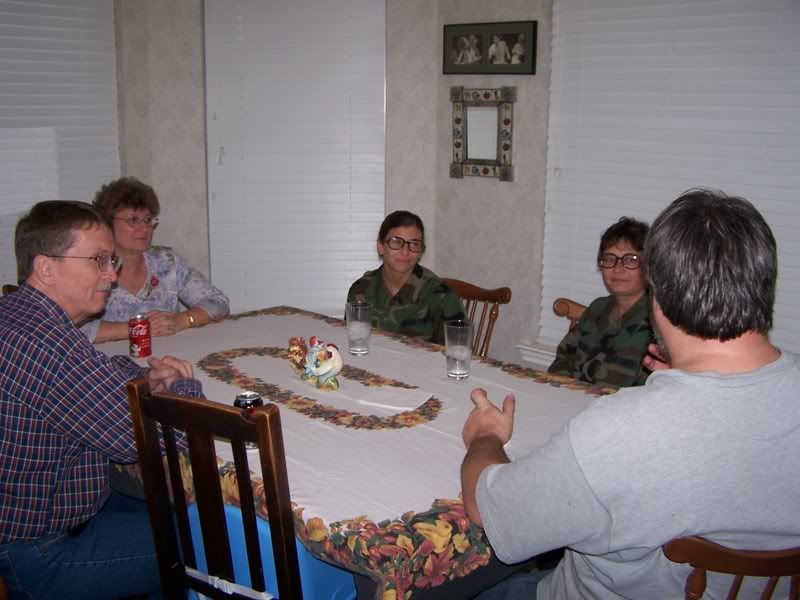 Keith explained the finer points of turkey frying to Sherry, Amber and our good friends John and Linda. You always want to invite John and Linda to your gatherings. They do dishes and bring gifts. Note Julia's empty booster chair next to Keith. She had headed off with her sisters to our bedroom to "TV watch" and sneak multiple chocolate dipped pretzels and cans of Coke.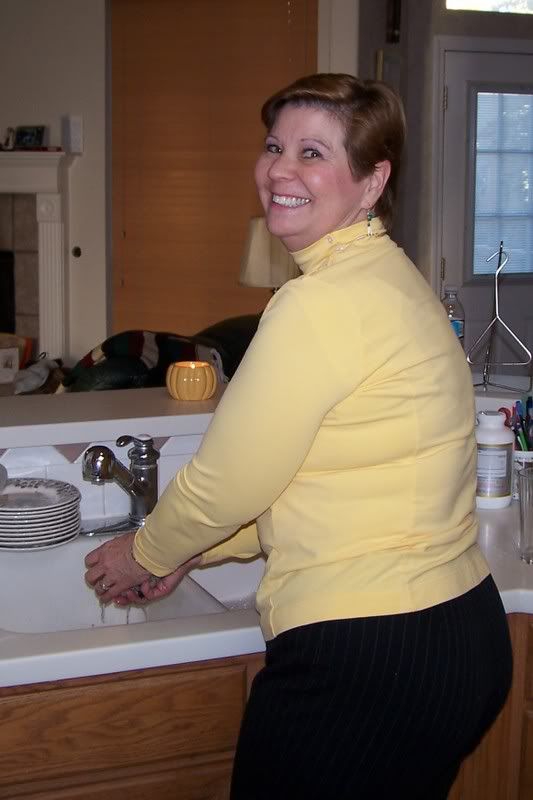 You also want to invite my good friend Shelley and her husband John to your gatherings. They also do dishes and return recruits to Lackland! Shelley and I have known each other since our Remco days, going back to 1977. We have to remain friends because we have way too much dirt on each other.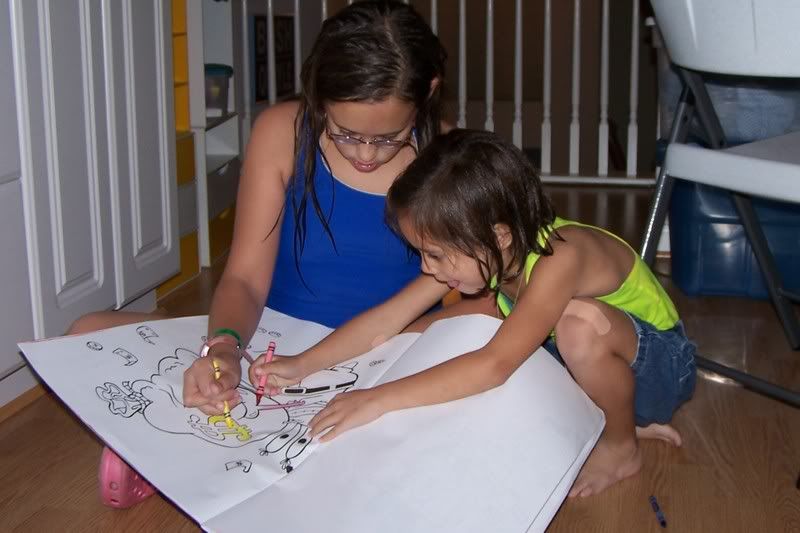 Our newest American and big sister Hannah are near me right now, coloring more pictures for the fridge. We have the best decorated fridge in San Antonio. They wandered down to a neighbor's home this evening to play in a hot tub with their friends. It's about 8 p.m., and a balmy 66 degrees.
My 10 fingers are dishwater-soaked, but I can still use them to tick off things for which I am most thankful. My wonderful husband. My four daughters, for one of whom this is her first Thanksgiving. Good food with the best recipes from generations of family. Living in a patriotic city like San Antonio, which proudly supports the military. Jobs that allow us to live in a house comfortable enough for friends and family to enjoy. Friends and family that know all about me, and love me anyway. A church home, not just a church building.
Tomorrow, I'll balance myself on the porch and switch out my Thanksgiving flag to a Christmas flag. We'll drag out the Christmas tree - candy canes to decorate it were excitedly purchased days ago. The girls will groan when I happiy slap a stack of holiday CD's in the kitchen. Julia will continue to verify the number of sleeps until the big day. (Honey, where's that Advent calendar?)
But for tonight - this night - I'm just thankful for today.
Posted at 04:50 pm by beckyww
Permalink
Saturday, November 18, 2006
We were soooo close.
The trickle of Play Station 3 consoles into the U.S. market has created a frenzy of buying activities for gaming fanatics. Of which we're not. But we're smart enough to know that a $700 PS3 bundle from Costco can be turned around and sold on e-Bay for $2,000. That $1300 increment could have made a very merry Christmas.
So when we found out Costco was selling a "limited number" online yesterday, Keith and I parked ourselves at different computers, attempting to snag that magic "one per family."
The site traffic was unreal. It would take minutes for a page to paint - if it didn't time out first.
Keith and I attacked with three windows each. We each (eventually) made it this far - to the product page;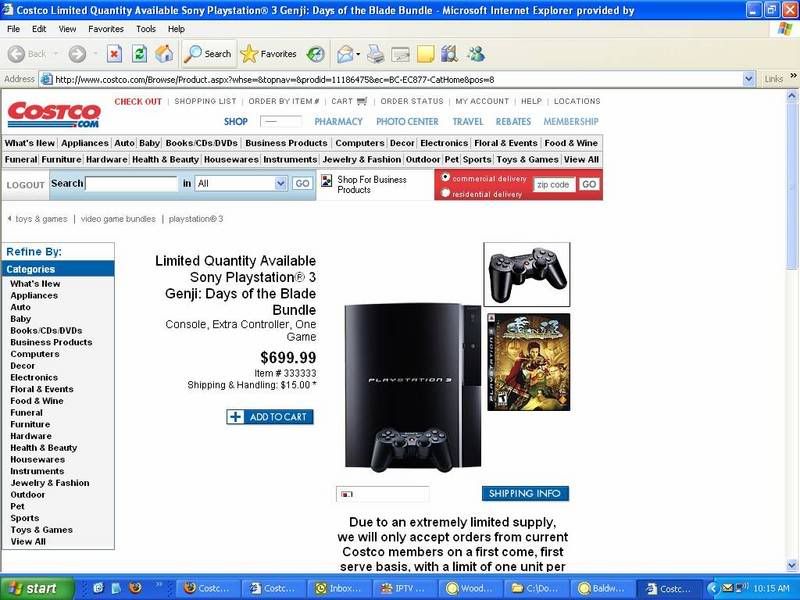 Keith actually got a bundle to add to cart. We were yelling encouragement to each other. I thought - Omigosh, he's got one! He's actually got one.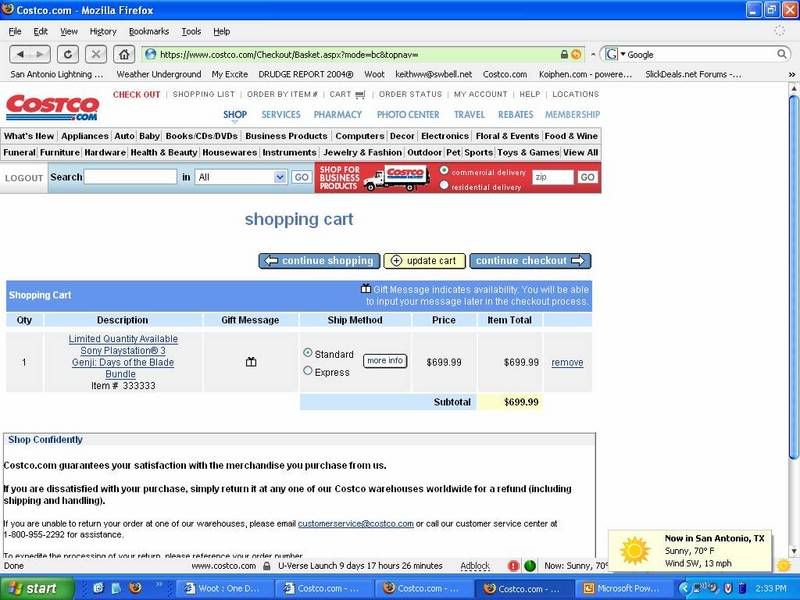 False hope. (big sigh)
Even though he got the bundle to add to cart, the check-out was hosed. In fact, the site itself crashed almost immediately thereafter, and stayed down for hours. He called later, hoping a friendly Costco rep would gurgle, "Oh yes, Mr. Woodworth - it's in your cart, it's yours. Feel free to check out just as soon as our lame technicians who sure should have anticipated the traffic load manage to resuscitate our site."
Instead, he heard a canned response about "limited number" and "first come, first serve," blah blah blah.
Well, darn.
We've had a PS2 since Christmas 2000, when it hit the market. To get it here, Santa used a 6'5" bearded helper. This unnamed Santa's helper had broken his foot the month before, tripping on one of Hannah's sippy cups. He was on crutches, and in pain. And it was drizzling as he spent the night - all night - with several dozen newly-made friends on the sidewalk outside of Best Buy, clutching his coveted number and awaiting the door opening. I drove by on the way to work and delivered two fried egg sandwiches and a Diet Coke to sustain him those last few hours.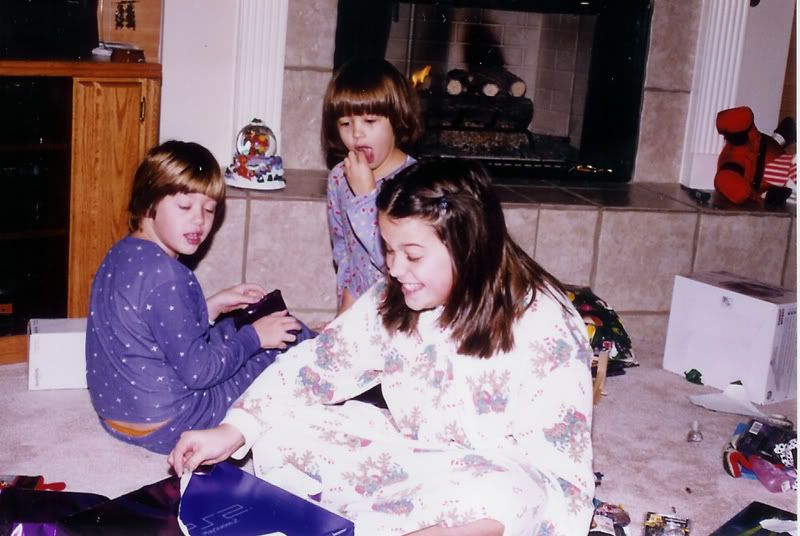 Christmas 2000 - PS 2 Arrives at Casa Woodworth
PS2 is a focal point of our game room. Two-mat Dance Dance Revolution (DDR) is the favorite game of slumber parties. Lois and her friends compete at Kingdom Hearts. When we have the middle school boys over for a weekend of Disciple Now each spring, we always tell them to bring their favorite PS2 games.
Julia is very into "Spyro" and "Cool Boarders." It didn't take her much time to learn the controller. If it's got a screen, she's in love with it.
So, no extra $1300 for us this holiday season. Guess we'll have to switch to Plan B.....ski masks, convenience stores......
But boy, we were close. Sooooo close.
Posted at 01:46 pm by beckyww
Permalink
Sunday, November 12, 2006
From the time we started our first load (of many loads) of adoption-related paperwork, Keith and I talked about Parent Dedication. We had dedicated ourselves to Christian parenting with babies Rachel, Lois and Hannah. For more than two years, we've been looking forward to doing this with with our "new girl," too.
Six Woodworths before the service with our pastor, Dowell. Julia doesn't call him "Brother Dowell" or "Doctor Loftis" or any similarly noble title. She refers to him as "Catherine's Papa," Catherine being our much-loved summer babysitter.
Baptists don't sprinkle babies. We trust that as children - or adults - grow in faith, they will make personal salvation decisions and present themselves for believers' baptism (immersion). So we don't think parents can make faith-affecting decisions for children.
We do think we can make faith-affecting decisions about ourselves, though. We can promise "To the best of our ability, to teach our child the importance of Christian values that are taught from the Bible. To give our child the opportunities to pattern their life in keeping with the foundations of the Christian faith. To continue to grow and nurture our own relationships with Jesus Christ in order to give our child the best model possible."
Yes, that we can do. Hence, "Parent Dedication." The focus was on the four children (three babies and Julia), but the promises were all about Keith, me and the other six parents.
It's all about me! "We have made promises to God and to each other, let us now ask our Heavenly Father to help us to be committed to these promises."
This was a long-anticipated day for our family, and we wanted to share it with the friends who've helped us most along the way. We have been blessed with many good friends who have performed countless services for us the last two years, but today we focused on the friends who made it possible for us to travel to Russia twice this year. We call them the "Julia Delivery Team."
The "Julia Delivery Team" worshipped with us this morning, then came over for an All-American lunch of hotdogs, hamburgers and apple crisp.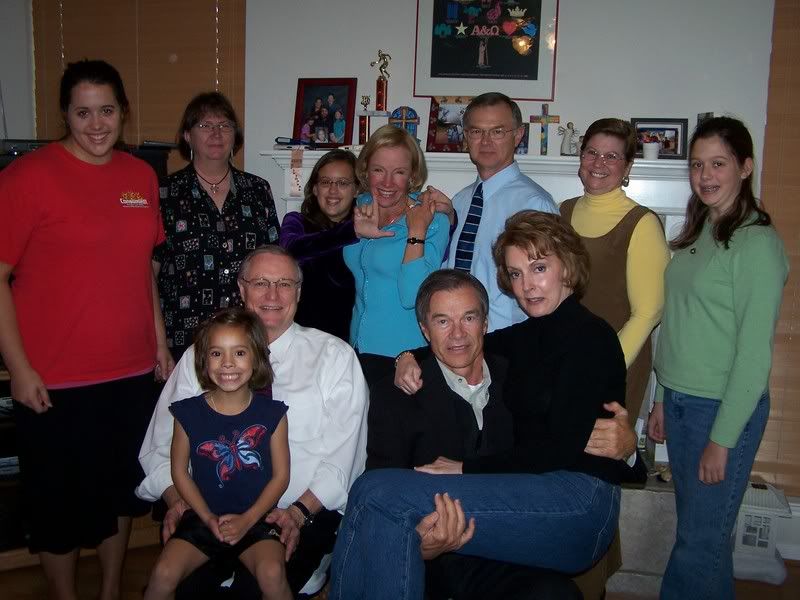 The Julia Delivery Team! No need to boil water. Back Row, l - r: Rachel, Paula, Hannah, Vicki, Dan, Shelley and Lois. Front Row, l-r: Julia, John, Larry and Mary Anne. Paula and Dan did at least half of our apostille chores in Austin. Vicki and Larry kept the girls for a week of our second trip. Mary Anne kept them for our first trip. Shelley and John kept them the weekend of our mandatory two-day seminar, plus pinch hit on our trips, did a ton of notary work, picked us up at the airport and made Julia a lovely keepsake book. My brilliant niece Sarah in Pearland also kept the girls for a week of our second trip, however, she's expecting my next great niece in February, and is reluctant to travel. (Yes, I've decided it's a girl and I've even named her "Rebecca Judith." Just sings, doesn't it?!)
Earlier this week, Julia was practicing had new-found handwriting skills. She'd ask Hannah how to spell a word, and then she'd write it. I really wasn't paying attention (ummmm....not exaclty Christian parenting....) until I realized she wasn't copying what Hannah wrote. Hannah was spelling the word verbally, and then Julia was writing it herself. Other than asking for help on the letter "h" in "'Rachel," she composed every word. I was amazed. She's been home less than six months.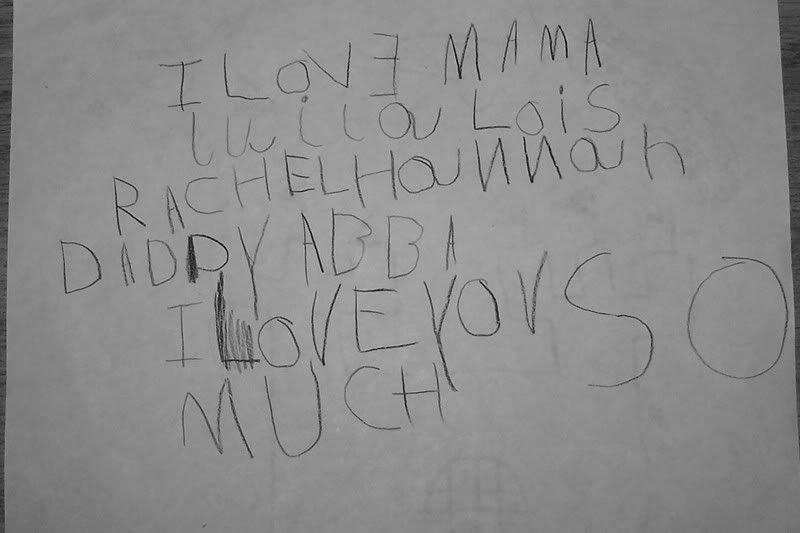 "How you spell this, Hannah?"
Julia's "I love...." statement sounds a lot like one of the promises that was rolling around my head - if not on my tongue - in church this morning. "I love Keith Rachel Lois Hannah Julia. I love you so much."
I will always love you.
And that's a promise.
Posted at 06:16 pm by beckyww
Permalink
Tuesday, November 07, 2006
Stick a fork in us, we are done! Thanks to generous friends, we filled 70 plastic shoeboxes for Samaritan's Purse this year. The girls and I agreed - We had the best "stuff" for ages 2 - 4 and ages 10 - 14 that we've ever had. Every box is completely filled - no rattles, no holes.
This was, of course, Julia's first year to pack a shoebox, and the process was...ummmm...."interesting" for her. She started off wanting every toy for herself. Then she edged into compromising - "Mama, just three. Just three toys." I repeatedly explained that these boxes were for children who had no toys while she had many toys, only to have her counter with, "Yes, but I don't have this toy." Eventually, she got into the swing of packing, with the occassional surreptitous sneaking of especially tasty leftover Halloween candy.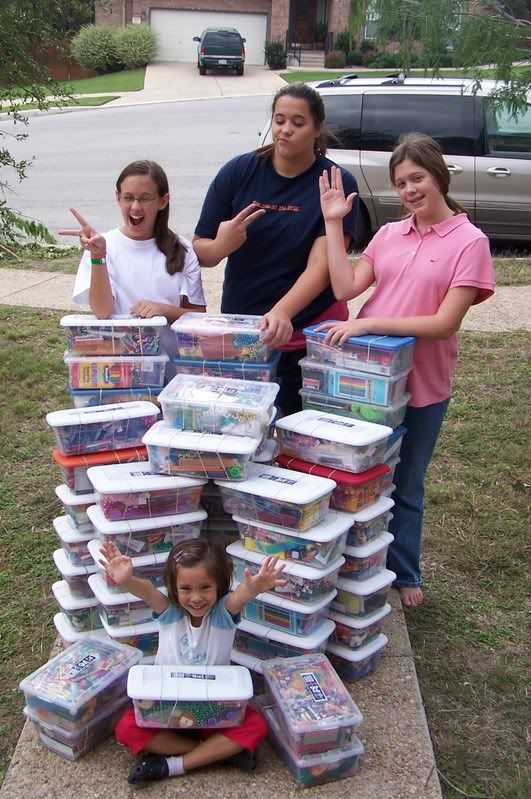 Where will these boxes go? We don't know, but we prayed for them to make children happy. We know that one made it to Bosnia in the mid-90's.
In addition to working on boxes this weekend, we went to cheer for Lois - 10th Chair Alto in the Region Choir workshop and subsequent performance. Though the choir was filled with 250 of the best middle school voices in south Texas, naturally I could distinguish Lois' resonating alto when they sang, "Let There Be Peace on Earth, and Let It Begin With Me."
So North Korea is still flexing its nuclear muscles. Loved members of our church are still dodging bullets in Iraq. Putin continues to rebuild the Iron Curtain decree by decree. We're still enduring everything short of a body search to board a plane. Everything we drive and live in is alarmed. I walk with my keys in my hand in parking lots, and constantly count noses when we're out and about.
But let there be peace on earth.
And let it begin with me.
Posted at 04:49 pm by beckyww
Permalink
Sunday, November 05, 2006
Other than a neighbor girl, Julia has her first-ever friend over today - Julie, from her kindergarten class. She asked for Julie to be able to come over, and I was only too happy to make that happen. Making friends is a huge social step for Julia.
They are leaping and twisting behind me right now, playing Vampire Power Rangers. Now, Rachel was a huge Power Rangers fan. I consider myself fairly PR fluent, and I don't remember any Vampire Power Rangers. I certainly don't remember any PR feathered attire. Goes to show how bad my memory is, I suppose.
Juia is the Red (Vampire) Power Ranger; Julie is the Yellow (Vampire) Power Ranger. Can you tell?
Julia misses her friends in Russia, particularly her friend "Jeema." This week, she looked at me earnestly and said, "Mom, you need a boy." Startled, I responded, "Julia, I have four daughters. What would I do with a boy?" She raised her eyebrows and responded coquettishly, "You would like Jeema." I told her I hoped Jeema had a family of his own now. And I hope he does. Or at least some other friends who can touch him with their hands as well as hold him in their hearts.
I've been thinking a lot about my friends this week, too, as the girls and I have started filling Samaritan's Purse boxes for this year. I think about the friends who brought gifts to my 50th birthday party. Friends who have helped with shipping - shopped the clearance aisles - friends in Houston, Dallas and Austin who have mailed boxes here - friends who came over yesterday to pack - firends who asked their dentists for much-needed toothbrushes and toothpaste. Friends whose children saved their unopened Happy Meal toys all year for children that would be happy with any meal.

And when I think about those friends, I think: Wow. You're not the Red Rangers or the Yellow Rangers, but you are most certainly powerful. Because you're touching the Julias and Jeemas all over the world.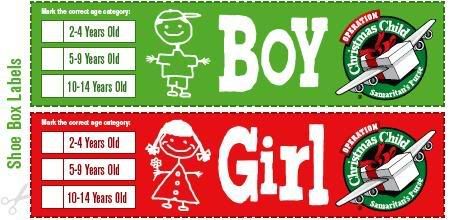 It's not too late to pack a shoe box! And I must get back to packing ours.
Posted at 01:14 pm by beckyww
Permalink
Tuesday, October 31, 2006
Rachel the Superman Impersonator, Lois the Vampire, Hannah the Devil and Julia the cheerleader are now roaming the streets of the Glen of Stone Oak, extorting candy from the neighbors.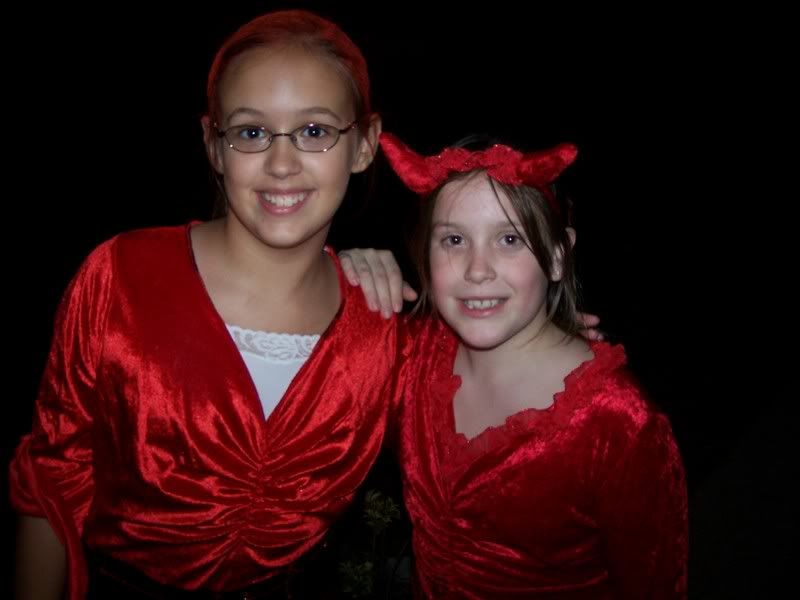 A devilish fashion emergency! Hannah's friend Torie knocked on our door similarly attired.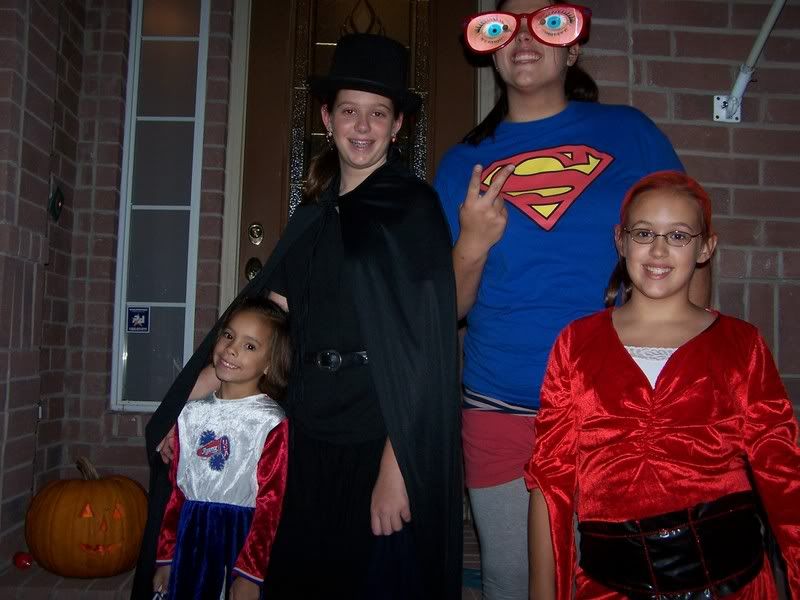 "When you get to my door, tell them Boris sent you."
Personally, I'm still trying to get past the trauma of having had to dress as Fred Flintstone when I was in the fifth grade because it was the only costume that fit.

Halloween.....Yabbbaa Dabbbba Dooooo!
Posted at 04:23 pm by beckyww
Permalink
Saturday, October 28, 2006
Our church hosts an annual Fall Festival - not a Halloween carnival, mind you - on the Friday preceding October 31. It's a ton of cotton candy-spun fun for everyone. Adult Sunday School classes staff game booths for the little cowboys, farm animals, angels and super heroes, with every child the winnah of a handful of candy.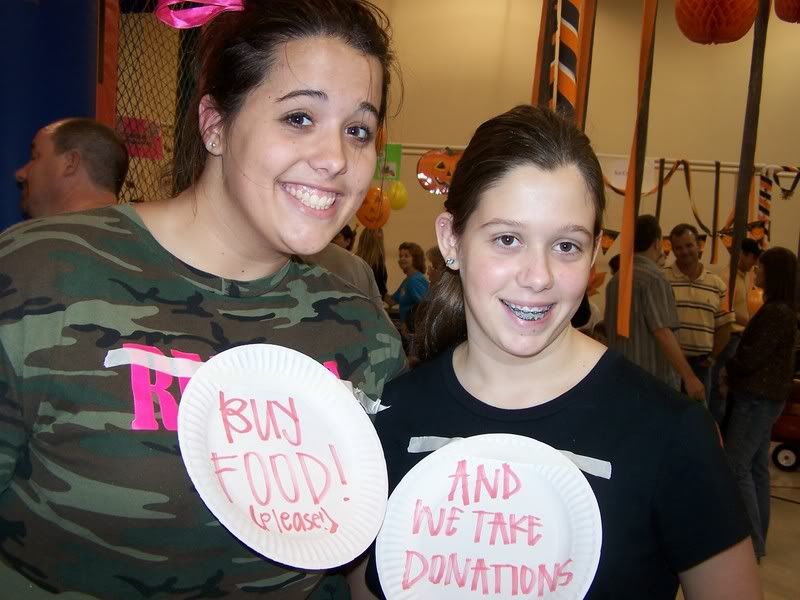 Our church youth sell Fall Festival junk food, with profits going into their individual camp funds. Next year, Lois will be going to youth camp, too. Cha-ching, cha-ching, she and Rachel will be working every fundraiser. You can...ummm....take that to the bank.
Even American-themed cheerleaders need to eat. Most cupcakes contain colors not occurring in nature - sort of like spray-on hair colors.
Eye can't believe this is candy.
The Fall Festival really puts us in the mood for Halloween. I won't open our Costco-sized bag of candy until the big night, because, amazingly, I've noticed when opened early, it tends to "evaporate." (Special note for San Antonio friends: If you have leftover non-chocolate candy that you don't want, and you can give it to me before Saturday, 11/4, we will happily include it in our Samaritan's Purse boxes. I'm going to have to go to Wal-Mart and buy a ton of it Thursday or Friday.)
Rachel, Lois and Hannah will be accompanying Julia on her first trick or treat night. She chose an American cheerleader costume, after we steadfastly refused to consider Spiderman and Superman. We think the pom-poms finally sold her. We know when she figures out she gets candy by knocking on a door, that doors will be knocked!
So who knows who might be knocking on your door Tuesday night, hmmmm?
Posted at 02:19 pm by beckyww
Permalink
Sunday, October 22, 2006
Here Comes The Bride - Twice
Our clan - or parts of it - attended two weddings yesterday (Saturday), a first for us.
Keith and Lois attended the mid-day nuptials of his AT&T friend Jerral at a small Baptist church while I managed the homefront in preparation for our evening soiree.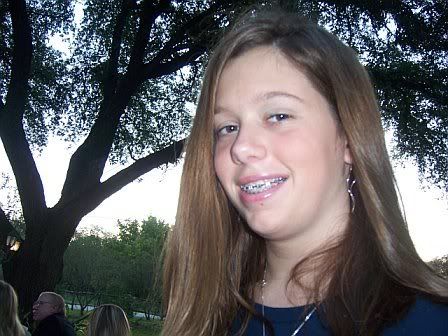 Hannah accused Lois of accompanying Keith to the mid-day wedding to get out of helping unload groceries. Any truth to that? Ummm...maybe.
I had everyone napping when Keith and Lois arrived home in the late afternoon. I knew we'd be out late for the outdoor wedding of David and MIss Melinda, one of Hannah's favorite former Sunday School teachers. The girls and I have been living vicariously through their wedding plans.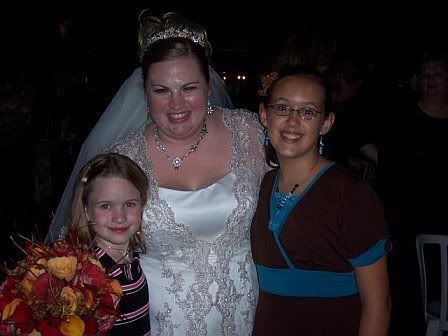 Best friends Bailey and Hannah distributed programs at Miss Melinda's outdoor wedding. They made their jewelry the night before at Hannah's early birthday party. We do Hannah's (12/1) and Lois' (11/28) birthday parties in October because of so many conflicts during the holidays.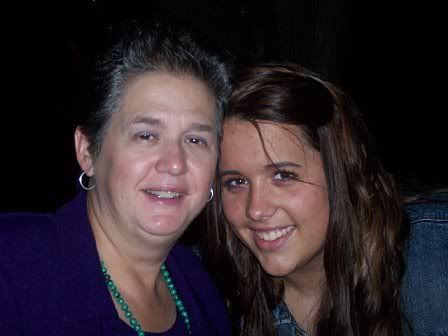 Rachel has largely replaced me as the family photographer. Fine by me. She is way more talented than her mother, and she knows it. As she told me last night, "Mom, sometimes I see bits of creativity in you, but most of the time, no." (sigh)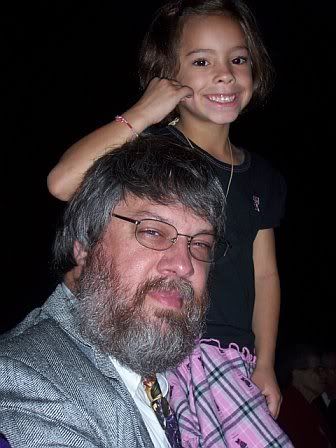 Sitting in the last row of an outdoor wedding and you're only 42" tall? No problem! Climb up on the shoulders of 6'5" Papa. Great view.
I know one day it'll be our girls getting married. I hope their work friends and church family come to rejoice with them. Rachel mentally selects and changes her bridesmaids monthly. Lois says she wants some kind of "flamethrower action" instead of traditional candles. Hannah offers a running fashion commentary on every wedding dress and and accessory she sees. This was Julia's first wedding, so, no plans from her just yet.
Keith says when they're all married off, we're moving and not leaving a forwarding address. Ha! What he doesn't know: I've already started naming our grandchildren.
Posted at 02:39 pm by beckyww
Permalink
Friday, October 13, 2006
Sneezy, Grumpy, Bashful, Dopey, Doc....Abba & Beast?
I live by a long-standing rule which I espouse with fervor:
I DO NOT DO MAINTENANCE ITEMS THAT DON'T CALL ME "MOMMY."
I don't do indoor plants.
I don't do yard work.
And I certainly don't do animals.
I don't even like animals. I really don't. Unless they're sauteed with some butter and a little garlic.
I spotted an animal here last night, though, scurrying behind Keith's chair as I related the surprising news that Rachel and Lois had pierced their own ears' cartilage. I thought it was a mouse. Keith suspected the truth and summoned Rachel to our bedroom to explain, and catch the rodent. We heard a rambling, disjointed story about how she was keeping this dwarf hamster overnight for a friend and somehow it got out blah blah blah blah, nose growing by the moment.
Over the course of 24 hours, the bizarre truth has emerged.
A friend of Rachel's gave her two male dwarf hamsters three weeks ago. She and Lois had been keeping them in shoeboxes in their rooms. The first Sunday they had them, they took them to church - in their purses - and showed them off to their Sunday School classes (sworn to secrecy.) Rachel assured me they were "really careful" while they played with them in the sanctuary, during worship.
If I had known that - they would have met Jesus in person as soon as I could have snatched them up by their carefully-straightened hair.
They moved the shoe boxes around to wherever they thought I wouldn't be, including depositing them in the attic one weekday when I was home all day. It's a wonder the hamsters didn't cook. (And together, they wouldn't make one good bite.)
On the way home from Costco, I was thinking of where we could turn them out. There are still a few empty lots around. But as I walked in the house, Julia ran to greet me, breathless with excitement, chattering a mile a minute and clutching little "Beast."
They played the Julia card.
(sigh)
I guess we have two dwarf hamsters now.
And still four girls that call me "Mommy."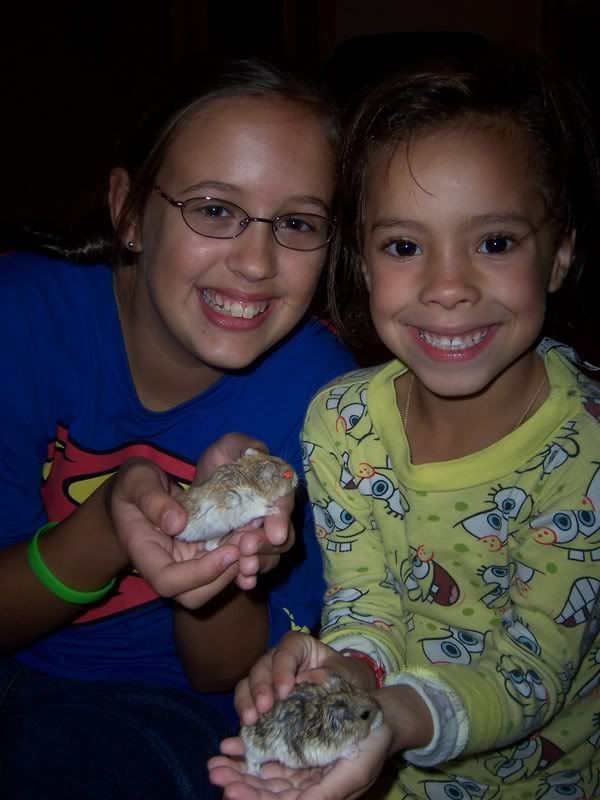 Hannah holding Abba; Julia holding Beast - named, as Rachel says, for his "fearsomeness."
Posted at 08:21 pm by beckyww
Permalink