Tuesday, September 26, 2006
Turn me Loose, I Hear e-Shopping Music
Sam's, Costco and Target in San Antonio all have Christmas decorations displayed now. Yes, we use the same calendar you do - and yes, it's September 26 here, too.
(sigh)
So....since our thoughts will soon be turning to holiday shopping, I thought I might share a few online purchasing tips. I don't pretend to hold the Master Online Shopper title, though I work for the one who should hold it - my boss, Sharon Durham. Sharon invented the joyful challenge, "Let's trick the shopping cart by..."
I'm sure you'd agree: Only the most desperate shopping emergency should catch you paying full price online.
After you're finished purusing these hints, please post a comment to add your own.
1. Shop the auction sites. Everyone knows eBay, but have you ever shopped the Sam's Auction Site? I look at it every day, just to see what's there. Good deals, and their shipping is very reasonable. And a successful bid is $1 over the next-highest bid. So, for example, if you bid $20 maximum on an item, and the next-highest bid is $15 – you get it for $16.
2. Another hint with Sam's – Check their stuff in the dark clearance corners of their b&m (bricks and mortar) stores. That will given you a hint of what is online or what's going online. Warning: YMMV (Your Mileage May Vary.) And remember - Every b&m item with a price ending in "1" is below their cost.
3. If you're going to buy somehing on auction, first froogle it or pricegrabber it to check its retail price. If you really want it, bid about 2/3 of the going price. If you can wait, bid about ½ of retail. Don't get it at the price you want? Watch for it to come around again, in fact, search for it.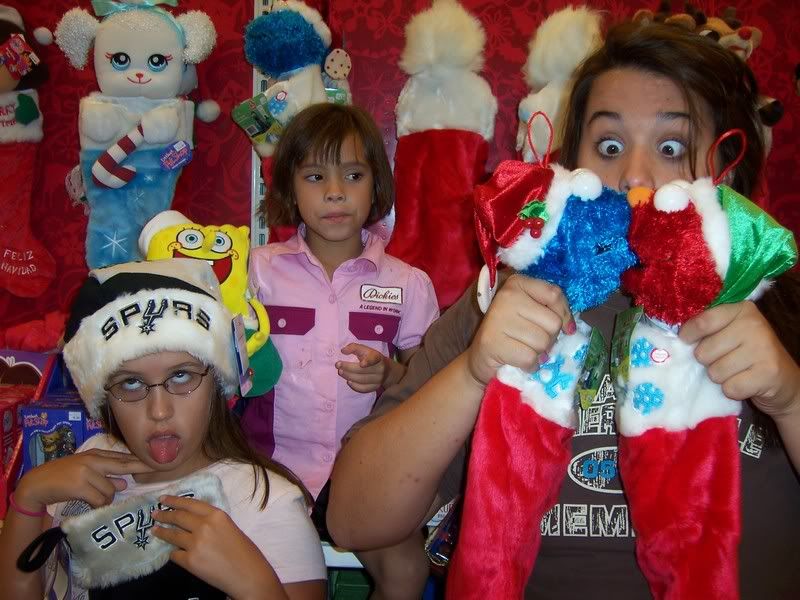 Tonight at Target....September 26....what's up with this?!
4. Look at the one-day, one-item sites. See lists of them at http://onedaydeals.blogspot.com/ and http://www.froomb.com/ We've bought from Daily Zort, Midnight Box and Woot! These deals change every day and quantities are limited, so, be quick. Overstock and buy.com also have daily deals now.
5. Never ever ever buy off a retail site without first looking for discount codes at a site like Naughtycodes, or Spoofee or Slickdeals.
6. If you find a good discount code and want to use it more than once and the site won't let you, create a new email address/account name and just establish a new account to use it. For example: I found a great free shipping code for Shutterfly. Used it Saturday. Then wanted to use it again Sunday. Shutterfly wouldn't let me. So I just opened up a new account with a different email address. If you want a new email address and you have Yahoo! - go into your account and create some. Or create them at hotmail or whatever. If the site has cookied you, you may have to "sign out" and then log back in with your new user name/email address/account name.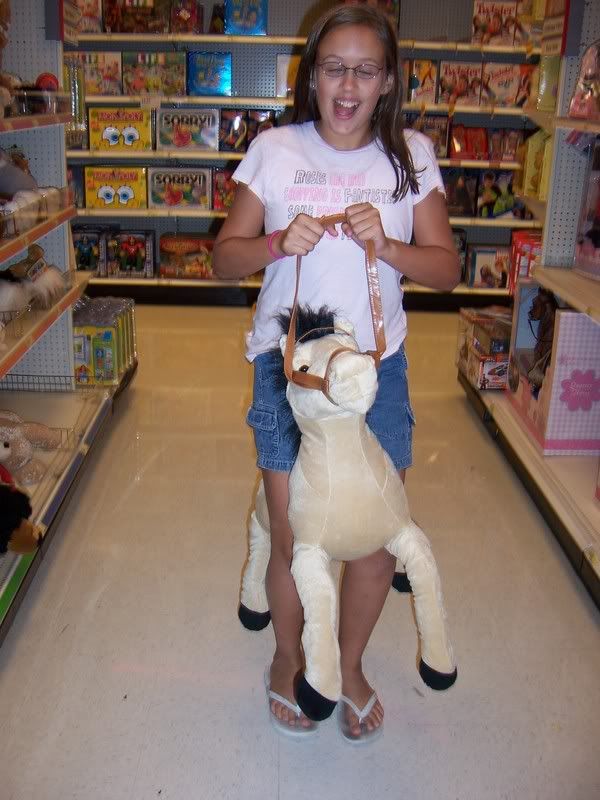 Never pony up full price online! And be sure to share your favorite online shopping tips in a comment below. Just click the "comment" box and share your smarts. Gitty-up now!
7. Watch those shipping costs. They can kill the deal. Overstock uses DHL to ship, and they're generally pretty stinky – but the charge is only $3.95 per order, or less for media. Hard to beat a piece of furniture delivered for $3.95. Smartbargins can be good if you're ordering several items, but not if you're ordering just one or two things because their shipping is a flat $9.95 per order. Right now, I have a great free ship code for Smartbargains - www.smartbargains.com/bzz. Penney's exorbitant shipping has run off many customers, including me. Often online merchants will offer free shipping with a minimum purchase, like $50 or $75. Examine your shopping cart to see if you could perhaps add one item and hit free shipping at a lower cost than paying the shipping.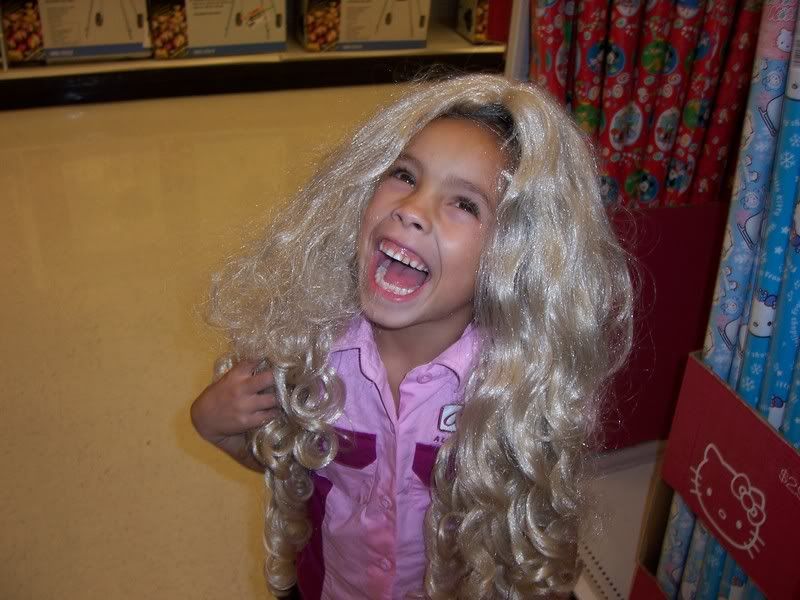 Shipping costs can be very hairy, doncha know....
8. Enroll in permission marketing for sites at which you buy regularly. Check their privacy policies first to ensure they don't sell or rent addresses. You want to enroll for their coupons and discount codes. Free ship codes are the bomb.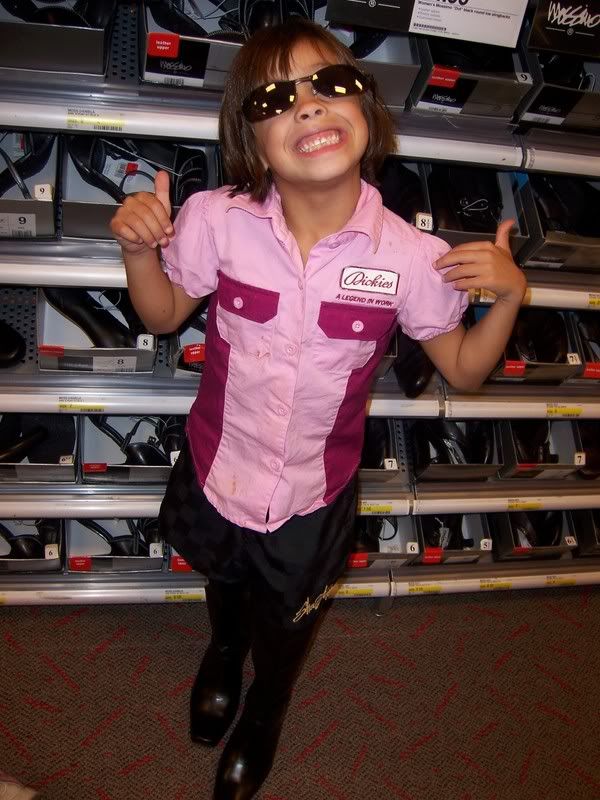 Hey Amazon....You've got mighty big shoes to fill! Amazon has a Friday sale every week, of course, but they seldom feature sizzlers. Where do you find your really good deals online? Post that bit'o'knowledge in a comment below.
9. When you get permission marketing emails from merchants with good discount codes, don't delete them, even if you don't think you want them. Drop them into a file and keep them for awhile, just in case you (or a friend) need them. This is the e-equivalent of attaching coupons to your fridge w/magnets.
10. If you do get a really good discount code – share! Post it to Naughtycodes or Slickdeals or whatever site you use to find most of yours. And while you're at it, post your favorite online shopping tip in a comment below.
11. Enroll in a click-thru program that rewards you. And be consistent in clicking through from that site. I established an account at Upromise 2.5 years ago and have several hundred dollars in it now, and all I've done is click through from Upromise to all the places I buy online anyway – Eddie Bauer, B&N, Shutterfly, Cardstore, etc. Yes, it's nickels and dimes – but accumuluated, they add up. Example: Last week, our renewal for Nickelodeon magazine arrived. Hmmm...let's see. Do I write them a check and get no incentive? Or do I go to Upromise, click through to magazines.com and renew online for the exact same price of $19.95 – but I get 30% of that deposited in my Upromise account? I'll be taking the 30%. Keith is a fan of My Points, and he clicks through from that site to do purchases. You get points for reading their emails, and points for click-thru purchases. Points can be redeemed for gift certificates - and he has.
12. If you do establish a Upromise account (and you should!), get their credit card. Not because you need another credit card, but because periodically they have really good promotions with its usage. BTW, Upromise dollars do not have to be used for college. That's just their marketing hook. The dollars are yours, and you can withdraw them any time for anything. Or free free to ping me about assigning them to Julia's college account, because we are way behind for her!
13. Eating out? First check www.restaurant.com. And don't buy a restaurant.com certificate without looking at Naughtycodes first, because there is always a discount code lurking out there.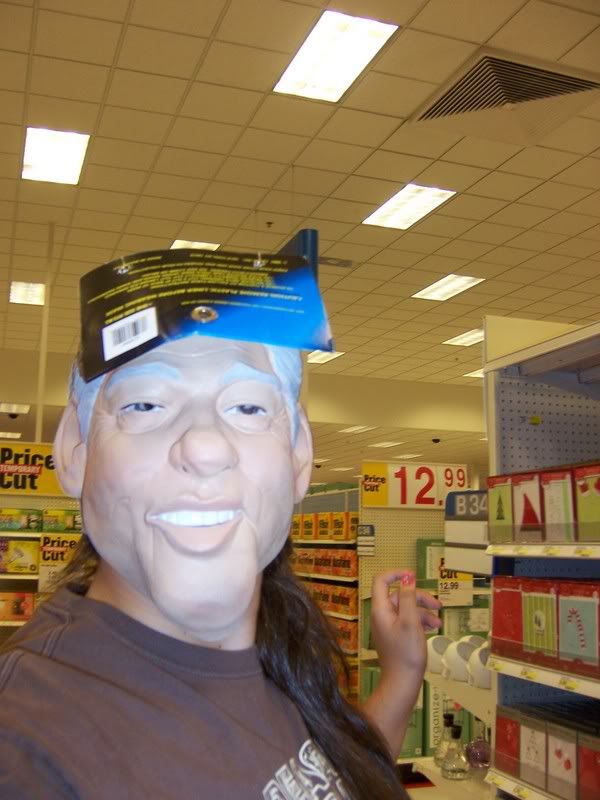 I did not pay full price for that woman, Monica Lewinsky....
13. Online classifieds at www.craigslist.com are pretty darned interesting.
14. You know how crazy the malls are on Black Friday, the day after Thanksgiving? Don't go without a plan, and make it here: http://blackfriday.gottadeal.com
Whew! So know you know everything I know.
Please - post something you know in a comment. Let's share! Because there are only 88 shopping days left until Christmas.
Ho-Ho-Ho....Post a comment!
Posted at 07:59 pm by beckyww
Permalink
Thursday, September 21, 2006
So when you're driving home from Wednesday night prayer meeting....
And your eldest child removes her camera, hiding in her purse.....
And there's just a really good car dancing tune on the radio.....
What'd ya do?
We think you bring s**y back! Yeah! Them other boys don't how to act.
So you - sitting there - yeah, you! Dance with us now! C'mon.
Posted at 05:19 pm by beckyww
Permalink
Wednesday, September 20, 2006
Julia is bringing home more and more writing samples. Today's work was especially nifty, because I just love lists: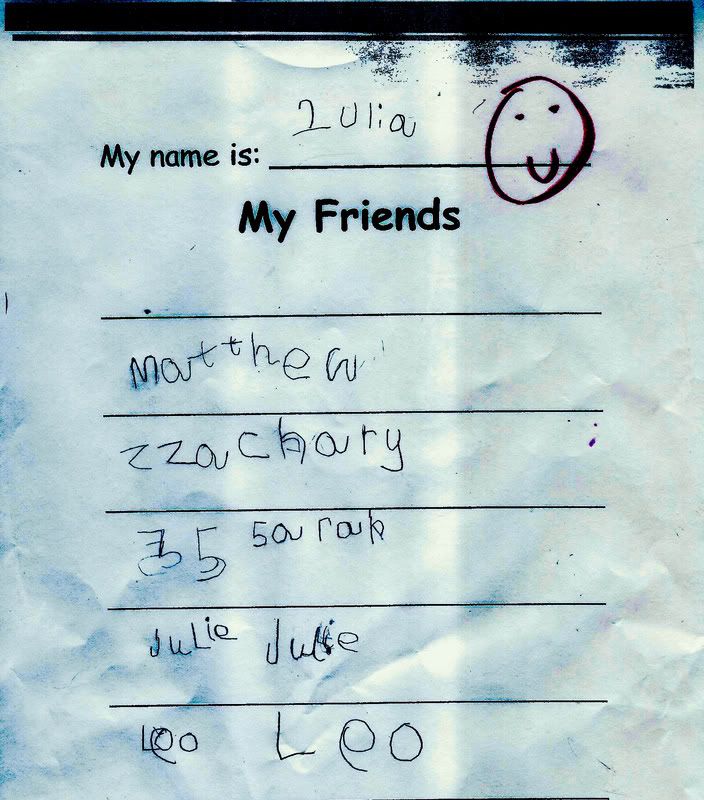 Julia's "My Friends" list - Matthew, Zachary, Sarah, Julie and Leo. Not bad for a child writing exclusively in Cyrillic a few weeks ago. Wait until Julia learns that "Tejas" means "The Friendship State."
I'm not sure there was any particular order to Julia's list. Which leads me to think - if I were going to compose a similar list, how would I order it? Where would I start? We've always been blessed with great friends, including those who helped when we needed it most. When I was in the hospital for a month having Lois - before she was hospitalized a month. When we moved to San Antonio. When Keith was traveling and I badly needed that second set of adult hands. When we were engulfed in the murky grief of losing people we loved dearly - dear friends were there. And most recently, during our 21-month paper pregnancy and dual-trip delivery with Julia, we had friends pitching in everywhere, including staying with Rachel, Lois and Hannah.
(sigh)
I do love lists. All kinds. For groceries, for packing, for gifts, for cards, for schedules and activities. I've even been known to laminate a list or two. But I'm glad I don't have to make one like Julia had to create. Because I'm not sure where I'd start. And I know I wouldn't want it to end.
Andrew Gold might have sung it best:
Thank you for being a friend
Traveled down a road and back again
Your heart is true, you're a pal and a confidant

I'm not ashamed to say
I hope it always will stay this way
My hat is off, won't you stand up and take a bow


So just like Julia's teacher, to the friends I would list - and I am thankful I don't have to - I say:
Posted at 02:06 pm by beckyww
Permalink
Sunday, September 17, 2006
My sister Judy, niece Sarah and great niece Laura are in from Houston this weekend, and we've had a wonderful catching-up time. Julia met Sarah and Laura when she first came home (Sarah kept Rachel, Lois and Hannah for one week of our second trip to Russia), but hadn't met Judy before.
Julia and Laura are close to the same size and have played ball, Legos, flashlights, chase, monsters and best of all - dogs. Basically, they crawl around on the floor barking and panting, waiting for Hannah to come put them in their "cage" (a.k.a., a laundry basket being pulled by a belt from a Halloween costume.)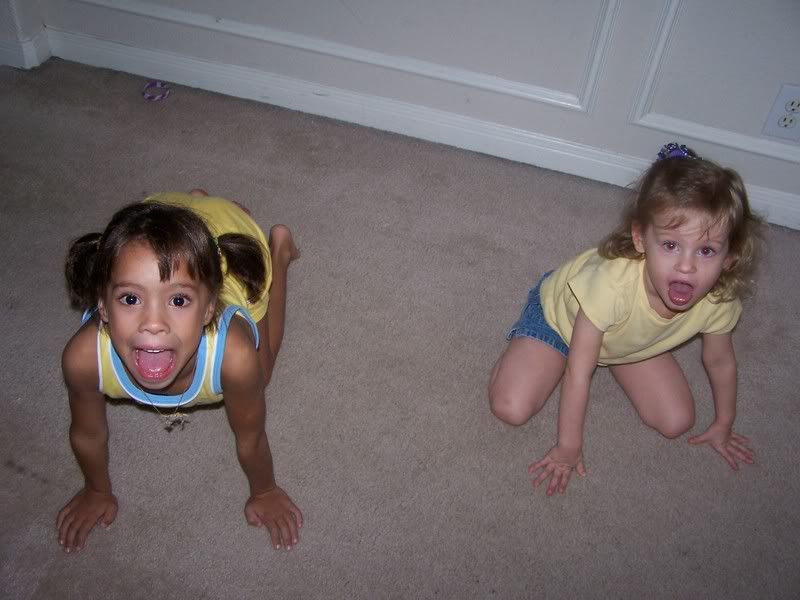 Arf-Arf! Julia and Laura are first cousins once removed. I didn't spend years readin' Faulkner fer nuttin'. Their playtime is the closest this home with come to housing dogs, because I don't do maintenance items that don't call me "Mommy."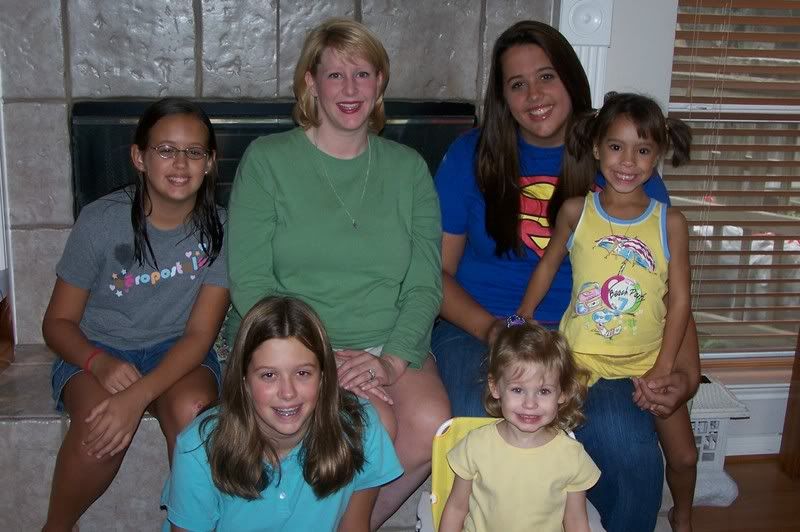 Clockwise from left: Hannah (10), Sarah, Rachel (15), Julia (6), Laura (2) and Lois (12). Next year, one of them will be holding Sarah's #2, whom I've recommended be named "Rebecca." A little awkward if it's a boy, but hey....
They have to leave tomorrow, and I'll just hate it. The house will be way too quiet. Email and phone calls are not a substitute for plopping your feet on the coffee table and slurping some Diet Coke.
Our mom never had an electric dishwasher while we were growing up. "God gave me two dishwashers. Their names are Judy and Becky. Get in there."
My mom (Wyoming) had three sisters (Arizona, Oklahoma and Nevada). For days after a visit with one of them, she'd stare off into space while working in the kitchen. She'd jump when the phone would ring, expecting it to be an announcement of safe arrival home. She'd look at old pictures and sigh a lot.
Now I know why.
Rachel & I Just Finished:
My Sister's Keeper: A Novel
By Jodi Picoult
Read Review
Posted at 12:19 pm by beckyww
Permalink
Wednesday, September 13, 2006
Julia is Star Student this week in her class, a weekly rotating honor for her 22 kindergarten peers.
Star Students get to display a classroom poster about themselves. Most have baby and toddler pictures affixed to them. (yawn) Rachel - the creative force in our house - decided we'd do "something different."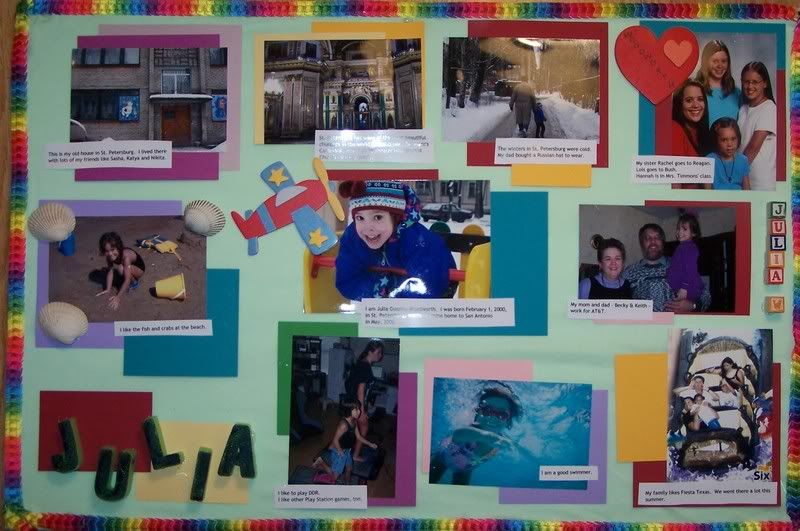 Rachel covered Julia's Star Student board with green cloth and trimmed it in rainbow braid. We glued 3D objects to give it depth - shells, foam letters, wooden art, mini blocks, etc. When she presented it to the class, Julia explained each picture, dwelling on the Fiesta Texas shot. Special thanks to Vicki for hauling the board to school, saving it from certain doom on the school bus.
The parents of Star Students are invited to read to the class, and participate in Show & Tell. Tuesday, Keith took his Russian hat, hidden in a bag. The first two clues ("It came from Russia. It's made of fur.") were elusive, but the third - "You wear it on your head" - nailed it for the scholar who correctly guessed it was a hat.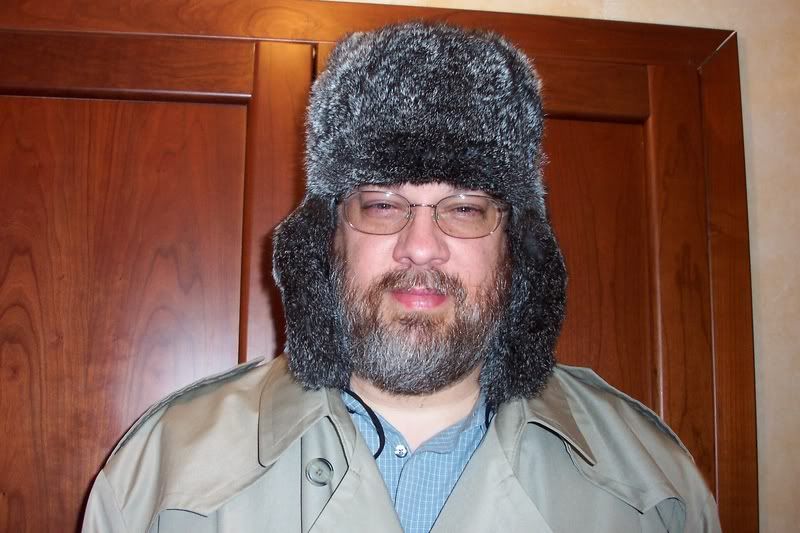 Keith, a.k.a., Boris - admire it again by clicking here.
Keith read a Russian fairy tale (in English) to the class, and showed them a book of Russian fairy tales in Cyrillic. Julia called out the Russian alphabet to her friends.
Not to be outdone....I snagged Julia and I lunch at Sonic today, and we ate together in the school cafeteria. The mother in me continually offered napkins to sticky little faces being wiped on shirt sleeves.
Sonic's "chicken y fries" is the bomb, especially when followed by two bananas.
After lunch, I read her class two epic thrillers - The Berenstein Bears On Vacation, and Tom.
Now I feel like doing a little singing:
Twinkle, twinkle Little Star
How glad we are you've come so far
Home at last, and doing well
What you'll be, time will tell
Twinkle, twinkle Little Star
How glad we are you've come so far

Posted at 11:54 am by beckyww
Permalink
Sunday, September 10, 2006
The girls and I attended an hour-long American Girl activity and story telling at Barnes and Noble today.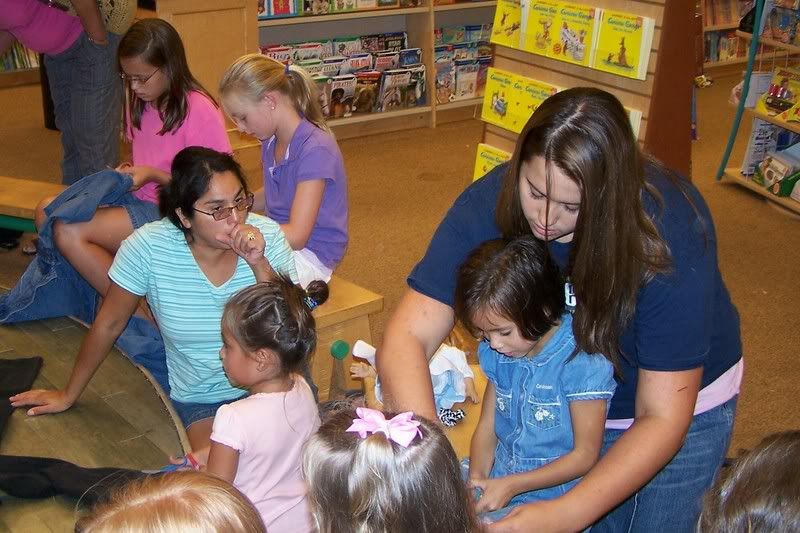 Hannah (pink shirt) and Julia (assisted by Rachel) created cute little denim purses from old jeans pockets. There were no exasperating sighs, swear words or spilling of glue, which is how you know I did not participate.
Lois quickly distanced herself from all things "doll" and took off for the anime section.
A Julia Original! Now, if it were 50X larger and black, her Aunt Judy would fight her for it.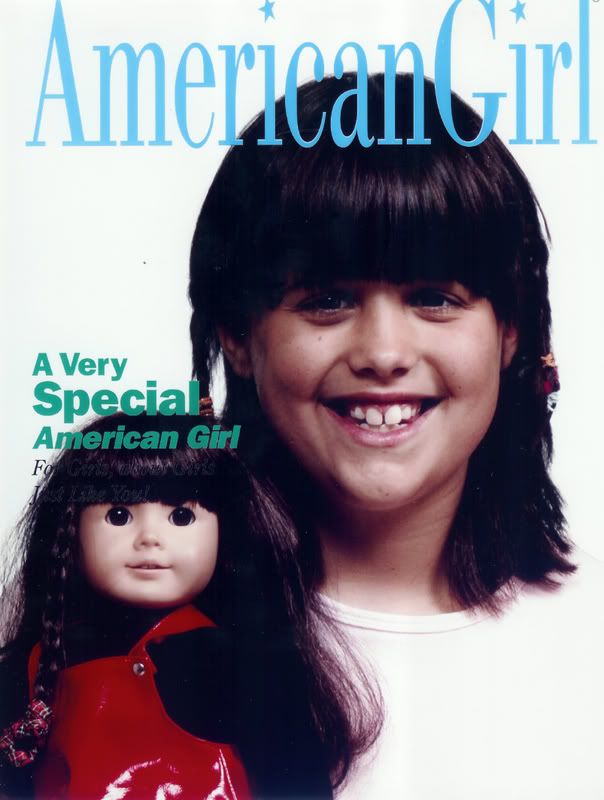 Rachel's souvenir from American Girl Place in Chicago, circa 2000.
Like the buttons and sequins being selected and glued, girls of every size, shape and color giggled their way through the craft
It occurred to me as I watched them - this is how it should be. No one asked about anyone's religion or socio-economic background. No one moved because she didn't like the skin color, T-shirt fabric or hair ribbons of the girl sitting next to her. Everybody shared, and in the end, everybody went home with a clever creation for which she was responsible.
This is how it should be, because this is America.
Tomorrow is the five-year anniversary of 9-11 and like millions of others, I will wear red,white and blue on this Patriot's Day. I will ensure our American flag is hanging proudly. And I will reflect pensively on flying into Love Field on 9/11/01. I heard dozens of cell phones ringing as they were switched back on post-flight. I saw the second tower hit as I clustered with hundreds of others around the too-small televisions in the boarding areas. And when a police officer told me to hurry out of the vehicle boarding area, that the Pentagon had just been hit - I thought: I want to be home. Right now.
I'd like to hear where you were on 9/11. Please post a comment below. I'd like to read them all. And remember.
Because I, too, am an American Girl.
Posted at 01:45 pm by beckyww
Permalink
Thursday, September 07, 2006
Tonight at dinner we noticed Julia humming to herself and picking off crunchy noodles from her salad.
We all stopped eating our homemade feta and purple onion pizza to examine her handiwork.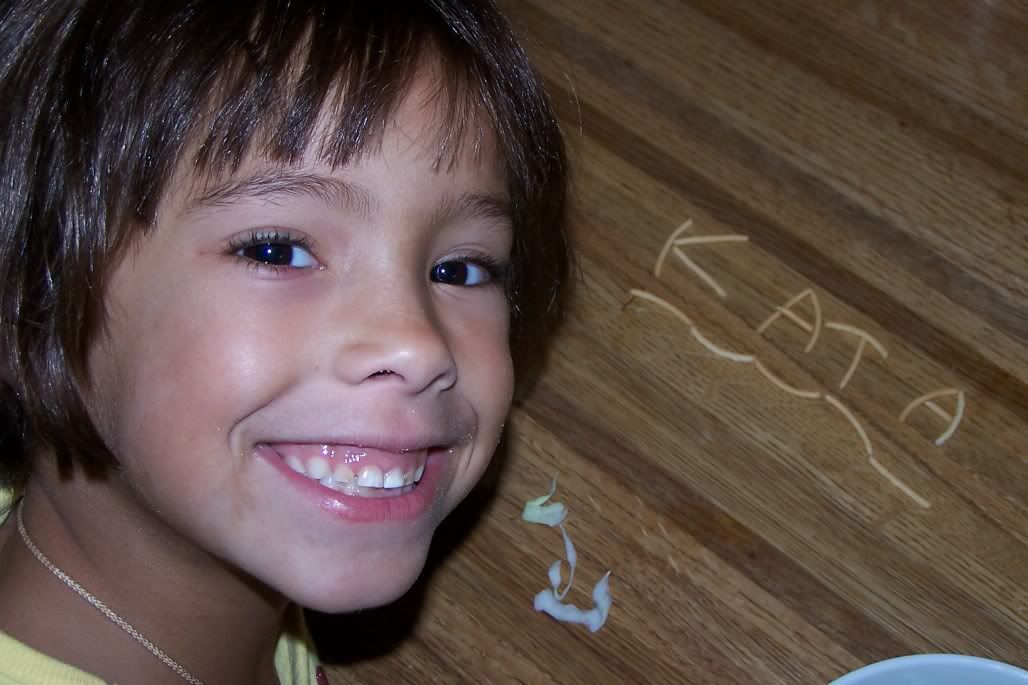 Surprise! Julia told us Kata (I had spelled it "Katya") was her friend in Russia.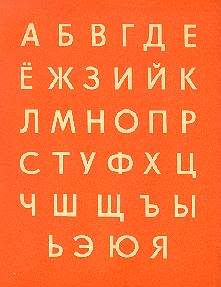 Next time won't you sing with me?
I'd always said the Russian and English alphabets weren't similar at all.
Guess I will have to eat my words.
Especially if they're spelled with crunchy noodles.
Posted at 05:14 pm by beckyww
Permalink
Monday, September 04, 2006
Julia's been really interested in a wedding picture we have displayed in the hall, so, today, I dragged out the whole album. We flipped through the pages, identifying friends and family she's met - and, unfortunately, too many she will never meet on earth.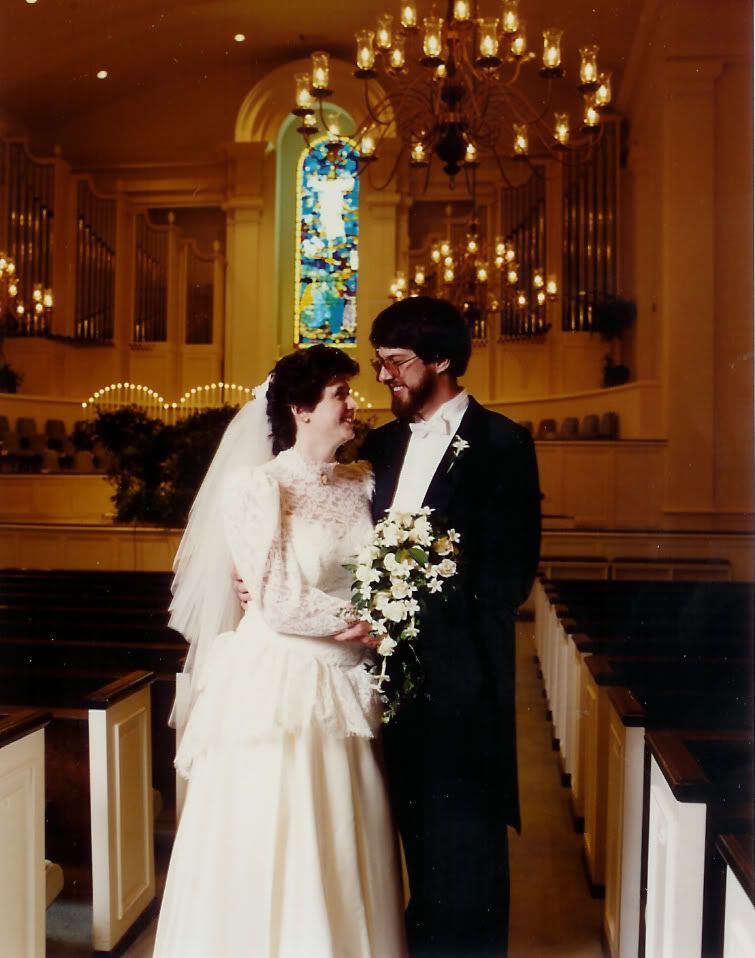 November 18, 1989 - I say it was the week before Thanksgiving. Keith says it was the week after Armistice.
I didn't tell the family stories about our wedding, awaiting a time when her language skills and kindred interest are more keen. Rachel, though, piped up with, "Mom, tell her you were saving to go to Egypt when you met Dad, but instead, you spent the money on your wedding."
Well, yeppers, that's true - and I'll be sure to tell her about that some time. That bit of lore will probably be framed in a whole presentation called, "Your Mother Used to Be An Interesting Person."
I was. I used to travel - India, the Far East, Venezula, Canada, Mexico, Trinidad & Tabago - often weekends to see friends, just for fun. I used to read books. All kinds of books. Novels, sci fi, history, poetry, philosophy, science, religion, essays. It was nothing to knock down three or four books in a week. I used to cook exotic dishes because they were exotic. I went places simply to take pictures - tons of them. I was a pretty good volleyball setter on the Thursday night church league. I used to love Tuesday nights, when a group of us single adult church of Christ'ers would get together simply to sing acappella until our voices cracked. I saw every movie I wanted to see, enjoyed season tickets to the symphony and if Jerry Jeff Walker was in town - baby, I was there.
As Stephen King illustrates in the Dark Tower series (books I used to read) - the world - my world - has moved on. A more recent book summarized this transition very well - Who Moved My Cheese? Who changed what I want? Who decided that I would rank finishing the laundry right up there with a Sunday afternoon at the symphony?
I think I did.
I don't need a first-run movie with pricey refreshments when I can have one of our family movie nights with junk food in front of a U-verse pay-per-view. I don't miss the symphony since I've got the Bush Middle School Choir. And why would I travel to shoot pictures of flowers, cemeteries, conventions and museums when the four most gorgeous kids in the world are smiling right in front of me?
And why would I need Egypt when I've been to Russia - twice.
My cheese got moved, all right. Now it's displayed on an end cap at Target, with a big red clearance sticker slapped on it. And if I can buy it with a coupon - and if my kids are chattering around me - and if Keith is home waiting to unload the car - I'm mighty happy.
Posted at 03:07 pm by beckyww
Permalink
Wednesday, August 30, 2006
Rain, Rain, Go Away - NOT
After a months-long drought - it rained. A fast, furious late-afternoon rain, depositing about 1/4" of precious moisture on our crunchy brown lawn.
I was in line at Costco when it started. To hear the adults buzzing - you would have thought it was the Second Coming. Or (God forbid) another 9/11. Shoppers were walking to the doors just to stare at it. Everyone was giddy, chatting with equally-thrilled strangers. As I walked out to my car, I thought - Omigosh, look, there are water splotches on my dress. And they're gorgeous!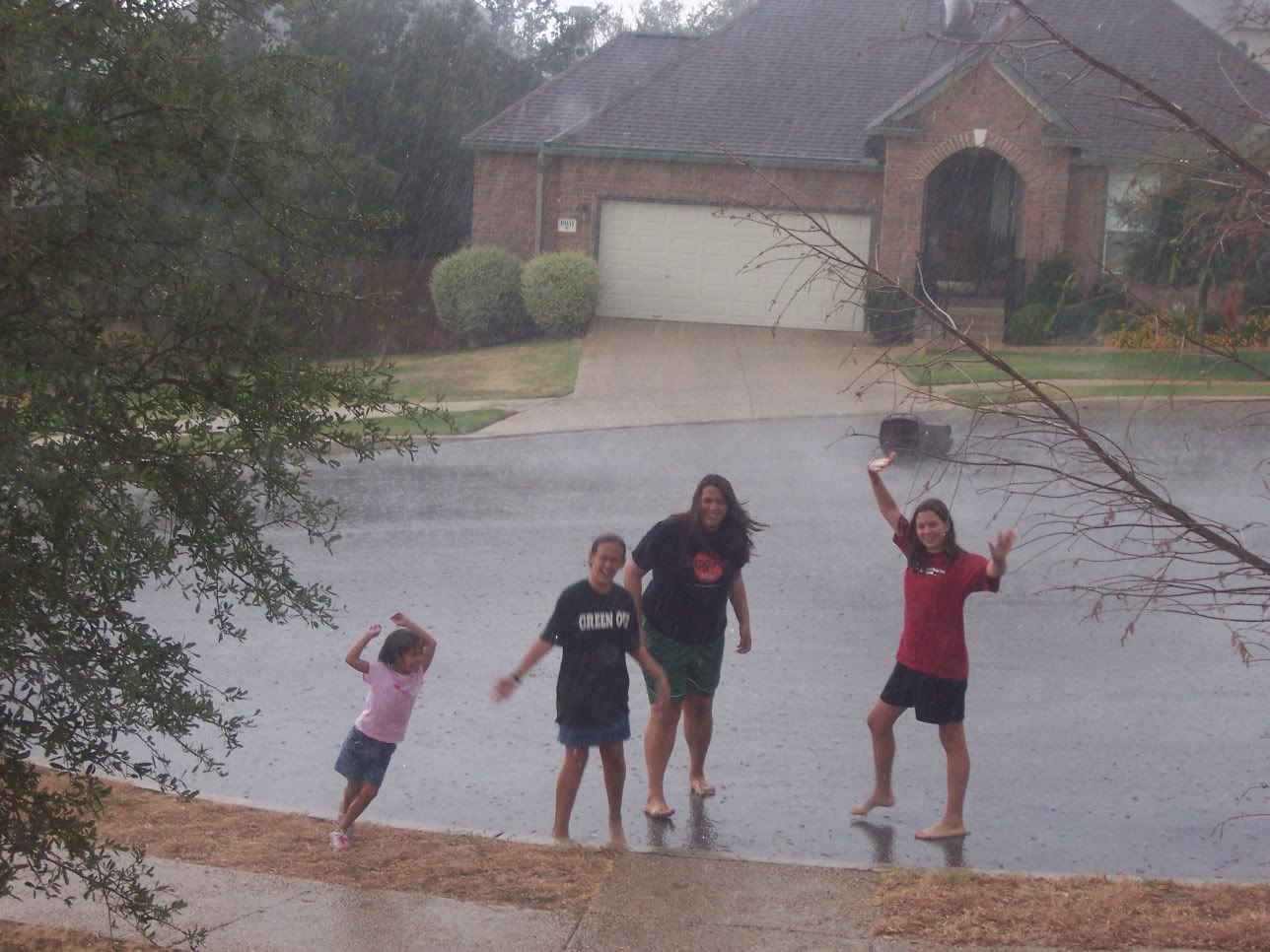 Note the grass - or lack of - in our yard. Water restrictions for homes over the Edwards Acquifer have forbade landscape watering, though we suspect our across-the-street neighbors have....ummm....perhaps not heeded such edicts.
I drove up to four barefoot, soggy, giggly girls frolicking in our cul-de-sac. I'm sure our neighbors all think we're off our meds.
Several of our fellow bus riders have been joking for weeks that we need to do a rain dance while we're waiting on the #6 Express each morning. I'm all for it - I'd like a few more evenings of the wet stuff. Come kick off your shoes and join us.
Posted at 05:14 am by beckyww
Permalink
Friday, August 25, 2006
Itchy Cream - More Than Skin Deep
Julia asked me an interesting question this week as I was applying hydrocortisone cream to her eczema. She told me her friends Nikita and Jeema in Children's Home #47 also had itches, so, could they come live with us and we could put itchy cream on them, too?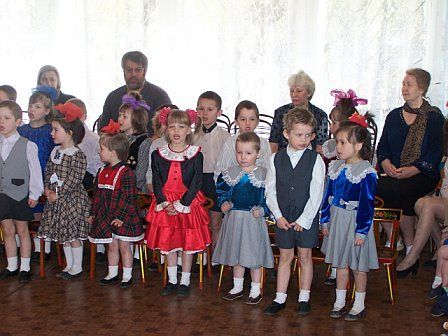 That's Guanna-to-be-Julia on the far right, joining a patriotic chorus at Children's Home #47
I took a deep breath and said no, they could not live with us, but we would send them some itchy cream. That lame response did not satisfy and she was obviously struggling to ask me "why?" I quickly flipped on Sponge Bob so that "Who lives in a pineapple under the sea?" would replace her thoughts of where her friends lived.
Now, to keep from becoming a(n even) big(ger) fat(ter) liar, I need to send Buckner a check and hope some of it goes to buy hydrocortisone cream for Children's Home #47.
But in the meantime – the question rolls around in my head. And my heart.
Why can't Nikita and Jeema – or other kiddos like them - live with us?
There are so many "reasons." Omigosh yes. So many. We already have four kids. We're too old. We have a "girl" house. We haven't paid off Julia's adoption yet. We can't juggle more responsibility. We worry about college for the four we have. Keith's truck won't hold us all and the van is one seat away from being filled. We can't afford more time away from our jobs.
So many good "reasons." All accurate. But none truthful.
Because the truth is that I'm too selfish. I can't put Keith in that category – he is the single most generous man I've ever known, and the kiddos in Children's Home #47 really got to him. I think he'd make sacrifices to fold a few more into our family.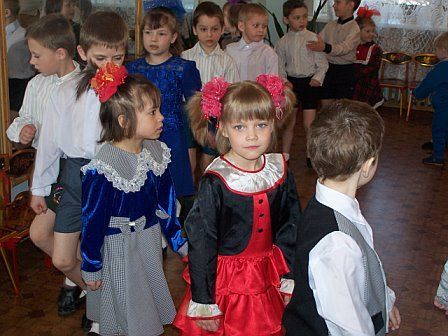 This little blonde - Katya - really worked at getting Keith's attention, including grabbing his leg and forcing him down onto a couch so she could talk to him, sing for him, etc. Guanna-to-be-Julia pushed her away saying, "That's my papa."
But me? I'd rather have a 2002 minivan than drive an unairconditioned clunker. I'd rather eat stuffed salmon from Costco than, say, soup with bits of meat. I'd rather buy paperback books than take the time and trouble to borrow them from the library. I'd rather have my own digital camera, MP3 player, computer and printer/scanner than share with my kids.
So my "rathers" define my actions. And my actions define who I am.
Jesus said, "Then you will know the truth, and the truth will set you free."
And the truth is I am is someone who tries to justify myself by sending a check for itchy cream.
I don't know that this sad fact makes me any "better" or any "worse" than anyone else.
But instead of truth making me feel free – I'm feeling frighteningly tethered to possessions, only some of which I'll share.
Like itchy cream.
Posted at 06:42 pm by beckyww
Permalink