Saturday, May 20, 2006
Truly, Toto - There's NO Place Like Home!
After 27 hours of too little sleep and too much caffeine, we made it home!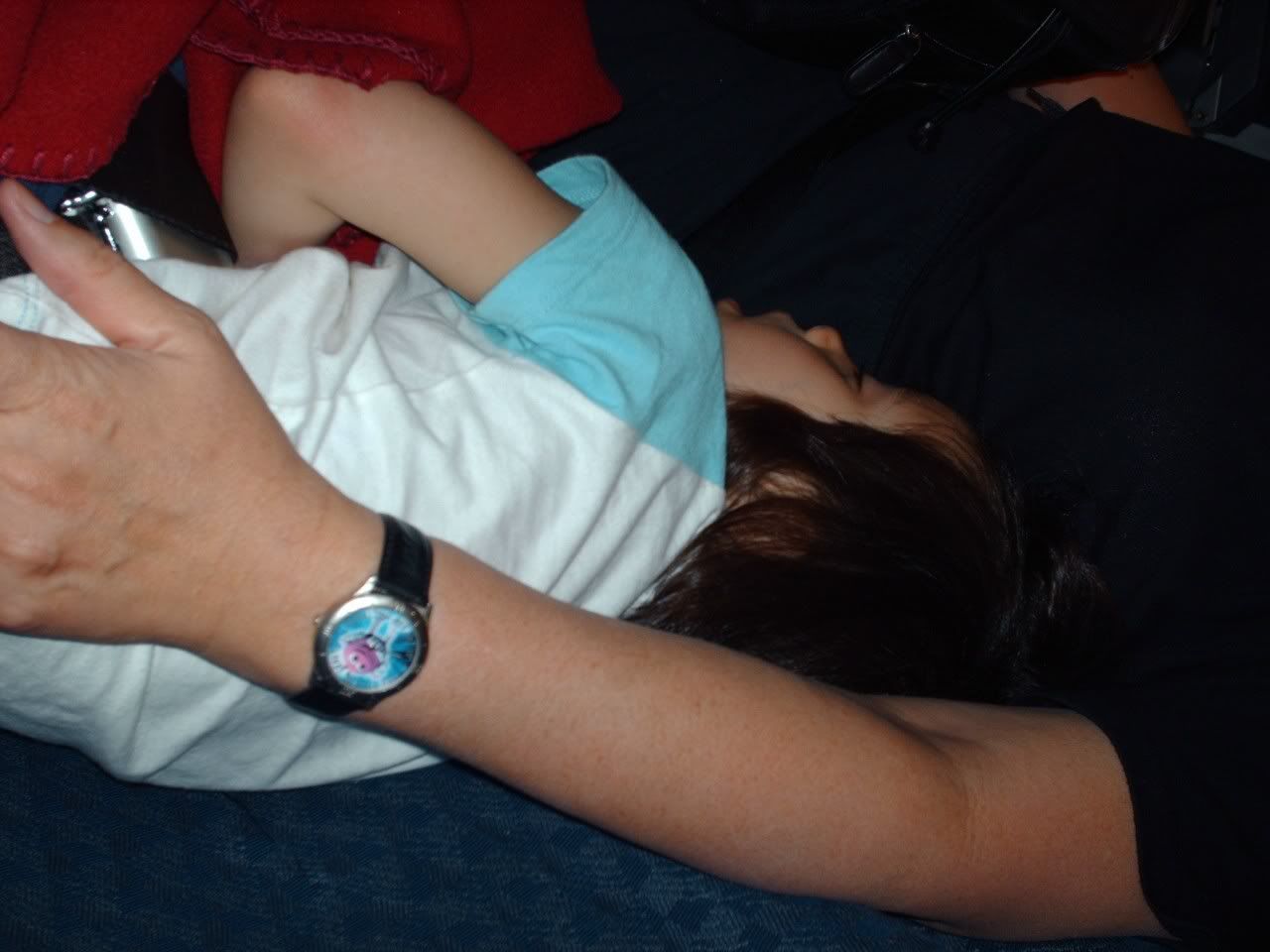 Julia became a U.S. citizen at this instant - when the American Airlines' plane's wheels touched the ground in Dallas around 3 p.m. Thursday. She had finally fallen asleep around 2 p.m., after having been awake and big-eyed 20 hours. We did not awaken her for the special moment. As we left Moscow, she was singing a song about transportation with the word "machina" (car), "choo-choo," and motor noises. We had to stop at every window in the Moscow airport to look at the planes on the runways.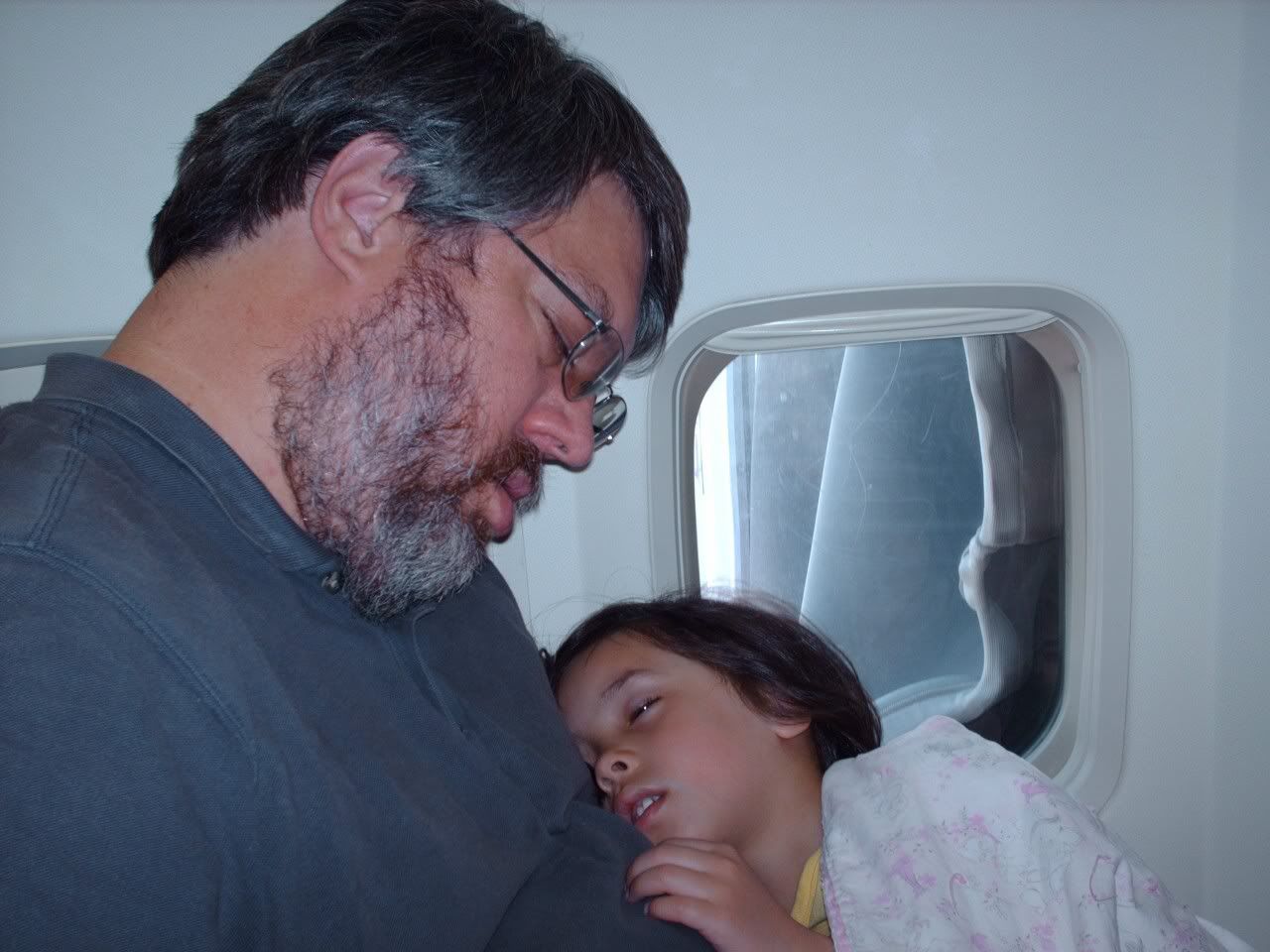 We carried her through the Dallas airport asleep, before boarding a Southwest jet home to San Antonio. No, I did not carry Keith, too. Our other option was to spend the night in Dallas and continue on American Airlines Friday morning - nyet!
Shelley and John provided a royal pick-up service at 8 p.m. Thursday evening, complete with red, white and blue flowers, and a banner greeting. They even brought a dolphin toy for Julia. Julia had no objection to being strapped in her car seat, and in fact, seemed to recognize "Mama's machina" from the pictures we'd reviewed numerous times.
As we drove up the street, we pointed to the house saying, "Julia's dom (house)." Her eyes were too big already to tell if she understood or recognized it from the pictures.
We had warned Rachel, Lois and Hannah - No screaming, even "happy" screaming. No loud noises. No "rushing" Julia. They greeted her sweetly and quietly. I showed her around the house and pointed out many of the pictures we have scattered of her. She didn't make a sound. My niece, Sarah, and her daughter, Laura, had been here all week, taking care of the girls and cooking some good ole American food for us. Julia had eaten only a few bites all day and I was anxious to get something - anything! - in her. A quick bath - some good buttered noodles for dinner - lots of rocking - and off to bed.
She got more sleep than we did on the planes, because she awoke bright and cheerful at 4:30 a.m.yesterday. And other than one two-hour nap, she ran strong all day. She went from room to room, bringing me objects to name and admire, and then carefully returning them. She discovered the Polly Pocket motherload in the game room cabinets. She looked at her clothes before making her selection.
She loved the slide at swings at the neighborhood park. We went in the morning, before it got too hot. She drank plenty of water. I'm thinking Texas heat is going to be a shock to her system. We'll have to ensure she stays hydrated.
Rachel, Lois, and Hannah played Legos with her last night - big fun!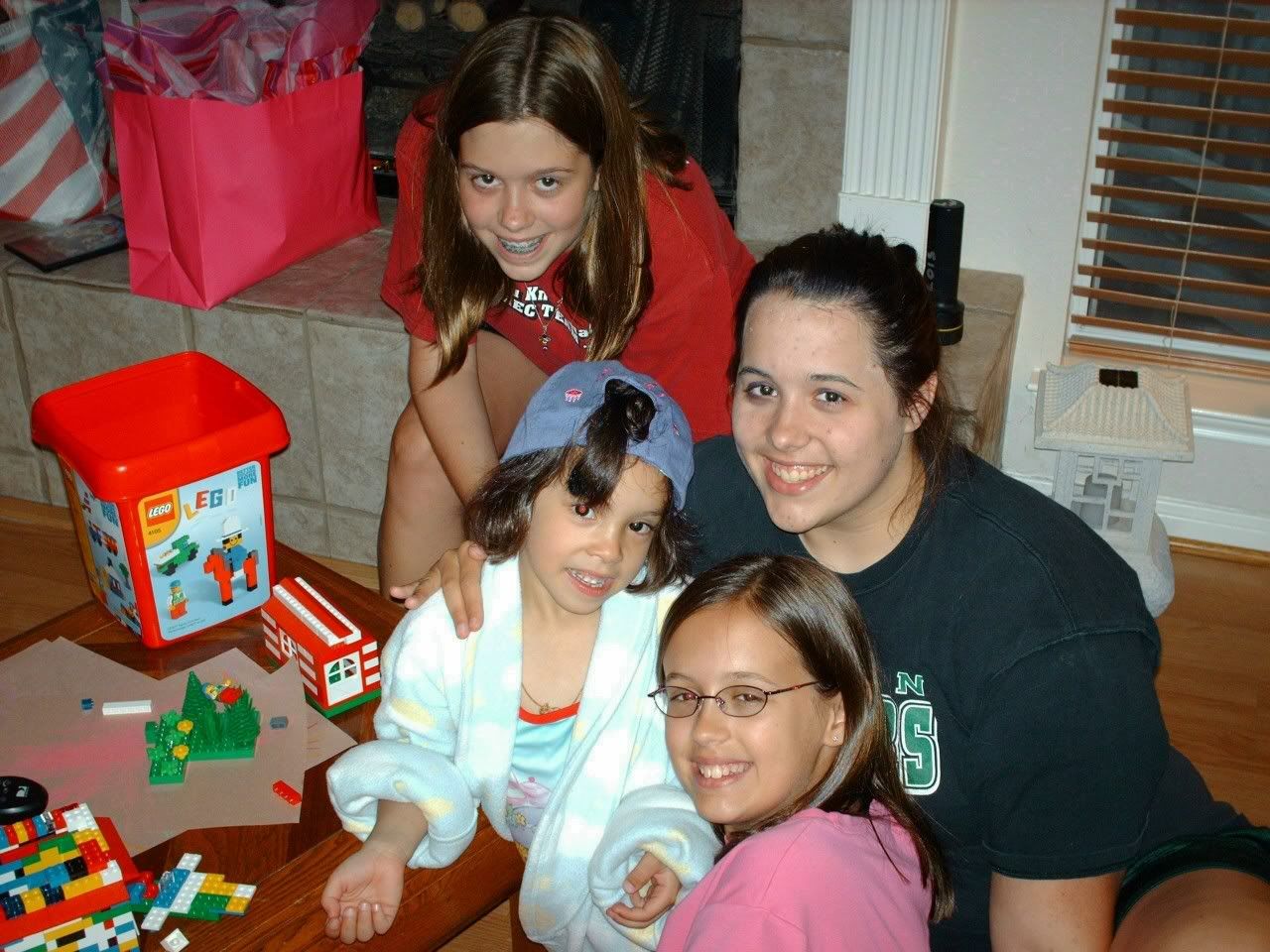 Four 'Lil Woodworths - Finally!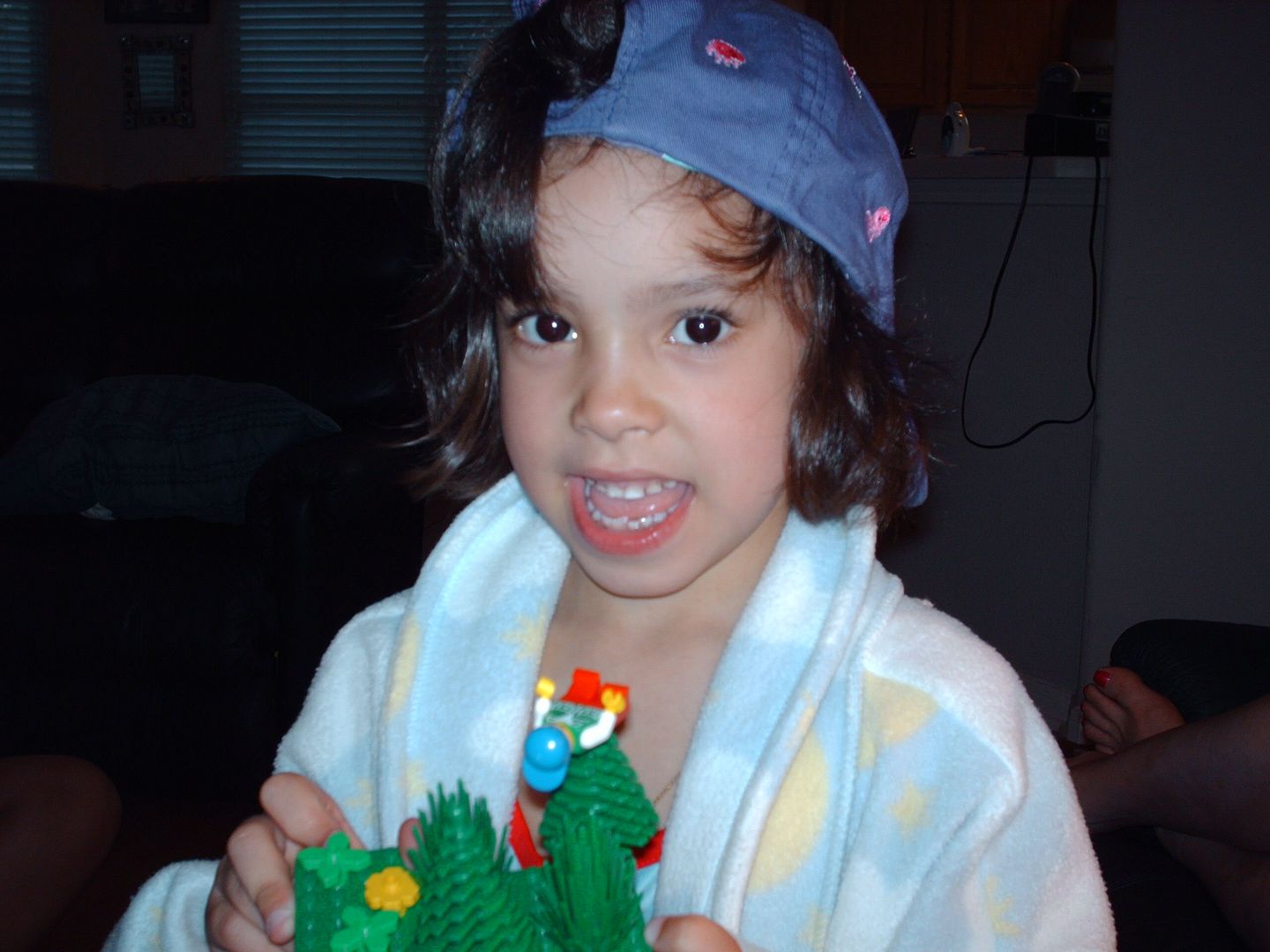 I'm thinking Lois has lost her Sponge Bob cap....
Hannah and Julia are sharing a room with bunkbeds, though they slept in the bottom bunk together Thursday and Friday nights. Hannah says Julia awoke at 4 a.m. today (I, alas, did not) to get a drink of water. She returned to bed all chatty. Hannah decided to teach her to count, using the bed slats above them. Julia is now counting to six in English! Yes, she is. I know she can count at least 10 in Russian because she did it for us numerous times. But we think counting to six in English so soon is pretty darned special.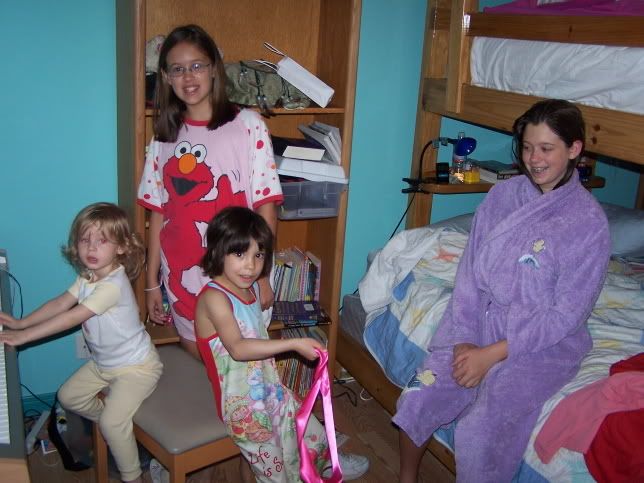 This morning (Saturday) - Sarah's Laura on the keyboard, accompanied by vocalists Hannah and Lois, and Julia dancing with a sash. Sarah and Laura left at 9 a.m. to return to Houston; we miss them already.
Julia discovered yesterday that she likes Cheerios. They had told us that she didn't like milk, but, in the orphanage, they boiled it (gross!) I splashed some nice cold milk on her Cheerios; she liked that fine. So I gave her half a cup, and she drank it. This morning she had a bowl of Cheerios, and three small bowls of cantelope. We know from Sarah's good dinner last night that she also likes mashed potatoes and peas. She didn't care for strawberries, and wouldn't try Sarah's meatloaf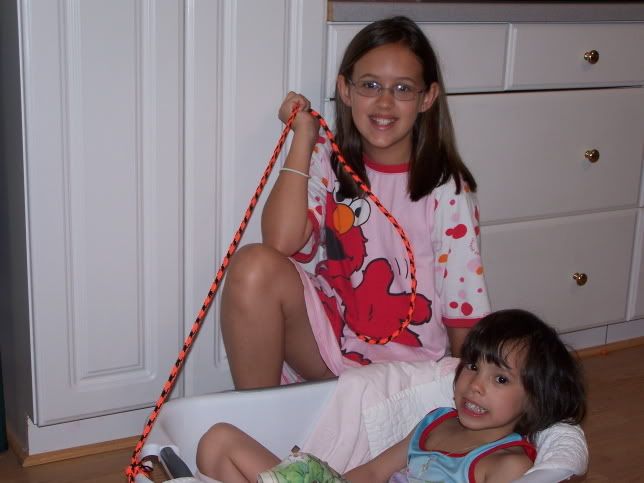 This morning - Hannah and Julia playing "dog." Enjoy it, girls, that's the only "dog" allowed around this "dom"....
She loves balls - any kind of ball. And she loves to bounce them! Fortunately, we live in a cul-de-sac, because bouncing inside is "nyet." Again. And again.
We sure appreciate the calls, emails and cards - be patient with us as we'll be slow to respond. In addition to getting Julia on a schedule (which does not include 4 a.m. wake-up times), Keith and I are also readjusting to CST. Julia also has a round of dental, doctor and school appointments to complete this upcoming week, which is also the last week of school. We sitll have a bushel of mail to go through, and the suitcases aren't all unpacked. Big kisses to Sarah for working on laundry all day yesterday.
It is so good to be home. With ALL our girls.
Posted at 06:48 am by beckyww
Permalink
Wednesday, May 17, 2006
Since we are planning to leave Russia tomorrow, we wanted to share a few views of Moscow.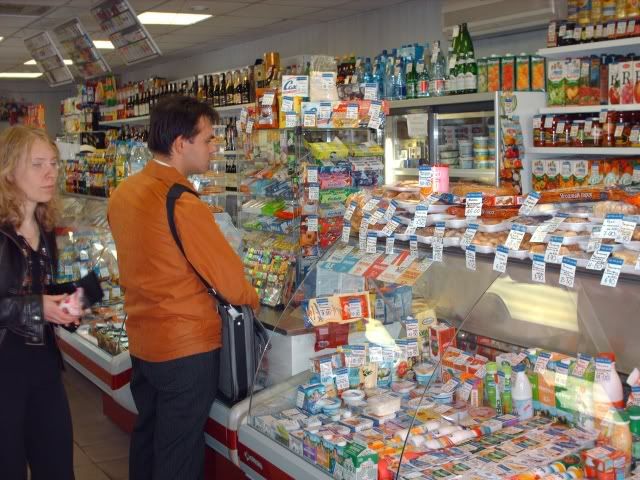 A view of the local HEB'ski. Keith, Julia and I have really enjoyed the variety of European cheeses and the Russian chocolate available. Keith has been popping antibiotics for some chest crud so he's been chowing a daily yogurt, too, which is full of fruit and grains. We've learned to drink our Coca-Cola Light warm.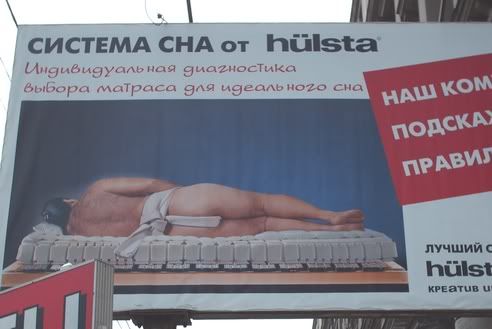 And what a view! We're thinking this bad boy may need some sweet, sweet $.97 tighty whities from Wal-Mart.
So, your kids want to view The Wild? It's been in theaters worldwide a month and on DVD here just as long. Julia is watching it now - 100 rubles ($4) from a street vendor. Let's just say it was sans - ummm - all that silly plastic wrapping.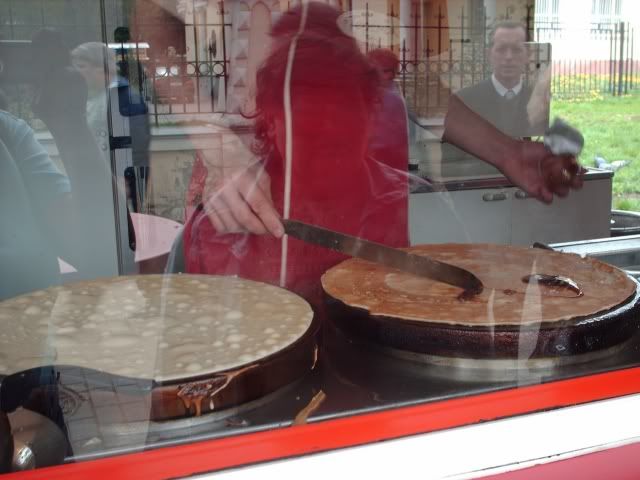 A view through a window at our favorite Russian fast food being made - huge, folded-over thin pancakes filled with most anything. We've had ham and cheese, mushrooms, apples and caramel, honey, butter, mystery meat - all good. The batter is poured on griddle #1 and butter-brushed before flipping to griddle #2 for filling. Then it's folded over into a multi-layered triangle and served piping-hot, wrapped in paper. About 50 - 75 rubles ($2 - $3.) Food is very expensive here; we'll walk a long way to find one of these vendors. Fooz-naw! (tasty)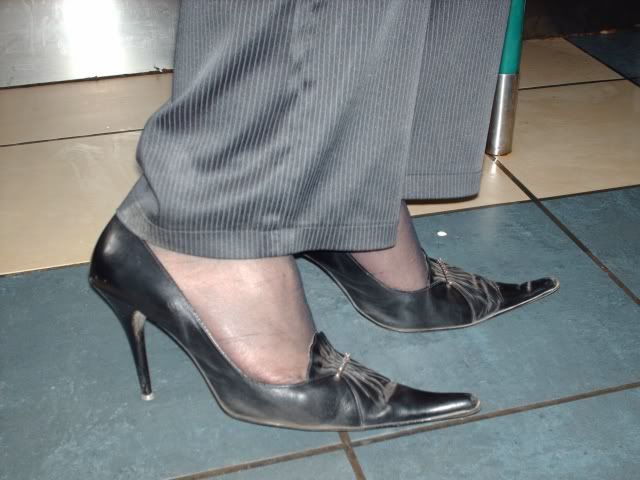 A view from the floor of Mikhail D's. (Yes, Keith was embarrassed and walked away.) Russian women put Imelda Marcos to shame. You've never seen such spiky-healed footwear. I'd be in the hospital if I tried walking in their shoes on these uneven, cobbled streets. Keith and I speak in code when there's a pair worth a google - "SA" - "Stiletto Alert."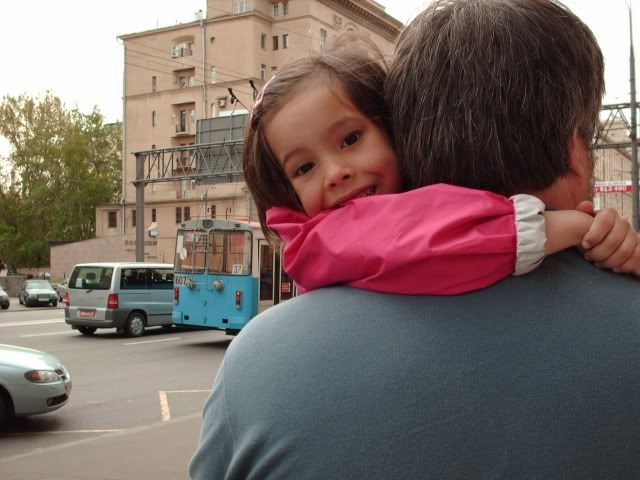 Finally - Miss Julia's favorite view from any street in Moscow.
Dos Vadanya! We'll e-speak again from SA Town. I am clicking my (stiletto-less) heels together right now....there's no place like home, there's no place like home, there's no place like home......
Posted at 03:45 am by beckyww
Permalink
Tuesday, May 16, 2006
Russia, known as the Slavic Motherland. Russia, known as the Bear. Russia, known as CCCP.
We think....Russia, known as "Hurry Up and Wait."
How many times have you said, "I can't wait." Well, if you were here, you sure could. Because there's often nothing to do except wait.
Yesterday we hurried up....and waited for Julia's travel documents to be processed at the American Embassy. Today her documents were hurried to the Russian Embassy, where we now wait...wait...wait for them to be sorted, stamped, stapled and stacked before we can leave the country. We're supposed to retrieve them tomorrow evening, and we'll be able to leave Thursday morning. We're still not sure which day we will arrive home. We may or may not have to spend Thursday night in
Dallas (groan.)
When we lounge around a small hotel room with an even smaller but highly energetic six-year-old, well, the view often looks like this.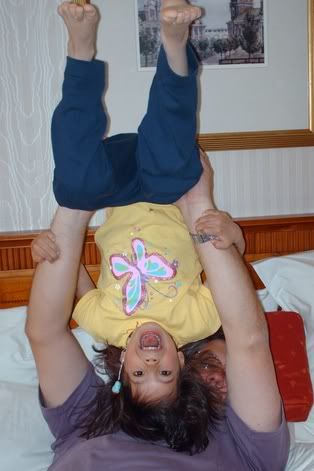 So sore-shouldered Keith decided we were going sight-seeing, this time along Arbor Street, an eclectic mix of shops, statuary, kiosks and kooks. Arbor Street was once home to the famous Russian poet, Aleksandr Pushkin. Several statues memoralize life and work, including this one of him and his wife, Natalya. "In 1837, falling into greater and greater debt amidst rumors that his wife had started conducting a scandalous affair, Pushkin challenged her alleged lover, Georges d'Anthès, to a duel which left both men injured, Pushkin mortally. He died two days later." Or, in the immortal words of Mae West, "She done him wrong."
Julia has one art appreciation criteria - Can it be climbed?
Tomorrow we are sticking close to the hotel room, sorting through laundry (Clean enough to wear home? Did something die in that shirt? Why is it sticking to the hangar?) readying tickets and passports, stuffing plane snacks and "sock" (juice) boxes in our carry-on, etc.
We know we can't say, "We can't wait to see Rachel, Lois and Hannah" - because we have to do so.
But Russia - We can sure think it.
Posted at 08:07 am by beckyww
Permalink
Monday, May 15, 2006
It's a Small World After All
Keith and I know the names of exactly four residents of St. Petersburg, all Buckner-affiliated. St. Pete is an eight-hour train ride from Moscow, a city of 10M inhabitants.
So today in Moscow, whom do we see among the 10M? Yes, one of the people we know from St. Pete! While eating lunch in the Starlight Diner - in walks Natasha from St. Pete, here soliciting a donation from Lincoln Motors for orphanages in St. Pete. To say we were stunned would be an understatement.
Naturally, we had to visit with Natasha bit before we left for the American Embassy to register Julia for U.S. citizenship. (She's a citizen when the wheels of our plane touch U.S. soil, BTW.) And whom did we meet in the Embassy? One of the scores of adoptive parents we've grown to know these 22 months on the adoption.com Russian Adoption Parent Board! We heard the mother calling to three-year-old "Summer," and I thought, "That sounds familiar. How many parents are naming their daughters 'Summer?'" So I asked where she was from, which was Georgia, and then I knew for sure and blurted, "You're RainyinGA from adoption.com!" She knew us as beckyww and keithww; we had a happy time comparing notes.
There were 20 - 25 families waiting with their kiddos in the Embassy office. A few older than Julia; most younger, none younger than 14 months since the rules have changed. Far more boys than girls. At least three families with much older children at home now refilling an empty or soon-to-be-empty nest. Several families with sibling sets. At least two families on their second Russian adoption trip. One two-year-old boy wearing a blue sweat suit that his mother informed me cost $150 at the nearby mall. He'd thrown up on his clothes in the car; they dashed in the mall to buy "something simple" to wear to the Embassy. "Wow, stuff is expensive here," commented the mother. We agreed that we prefered to shop at our American fashion center - Target.
Before we left the Starlight Diner, Natasha asked Julia what she liked best about Red Square: Lenin's Tomb, the beautiful grounds, the Kremlin, the young Pioneers demonstrating, etc.? Julia's answer? "The fountains." Yes, the child is half monkey (climbing fiend) and half fish (water entranced). Here's a picture of her splashing in a fountain outside the Starlight diner today.
It's a world of laughter, a world of tears Its a world of hopes, its a world of fear
Theres so much that we share That its time we're aware
Its a small world after all
Thank you, Walt. We agree.
Posted at 05:33 am by beckyww
Permalink
Sunday, May 14, 2006
Happy Mother's Day from Moscow! My day has been like the hot chocolate we had earlier today – bittersweet. After 22 months, we are happy to have custody of Julia. But I miss Rachel, Lois and Hannah terribly. Keith feted me with cards the girls made before we left. Generally
Sharon
and I play the games cum cards Hannah stuffs in my briefcase as surprises for the workdays.
Sharon
, sorry, you're missing her "Feliz Dia De Madres" drawing game today.
My real Mother's Day will start the minute our plane lands sometime later this week (Thursday, we think) in San Antonio. Shelley, if you're late, I'm hitchhiking.
We all enjoyed our first cup of the popular hot chocolate sold in cafes – Julia especially so. It's much, much thicker than our cocoa. It's more like melted semi-sweet chocolate chips with a bit of milk mixed in. The demitasse spoon can almost stand upright in the cup. Hannah and I make a terrific homemade pound cake. I kept picturing it drizzled over that.....warm and steamy.....served on our Mickey Mouse dessert plates...in front of the TV for one of our family movie nights....with the kids scattered on their floor pillows and a nicely scented candle burning on the kitchen table and Rachel offering to brush my hair......sniff-sniff.....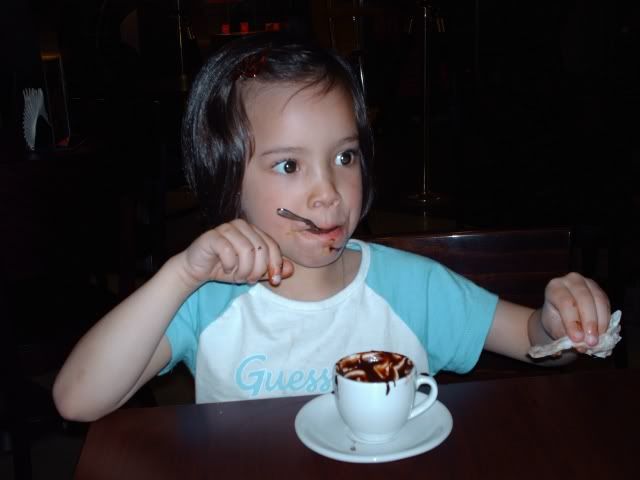 Eating the chocolate was a full-body experience - face, hands, eyelashes, elbows...
We joined a throng of tourists to view "the dead guy," as Keith so poetically described Lenin's preserved body. No cameras or cell phones allowed. We descended stone stairs in a dark and humid hallway ("Not so fast, Keith!") before entering a dimly-lit raised walkway around the body, encased in glass. Somber armed guards at attention in every corner. Frosty temperature. Deathly quiet. Really creepy. I kept expecting Lois to sneak up behind me and yell, "Boo!"
Later we toured the Kremlin grounds, which are huge and perfectly manicured. As we walked across the square where executions used to routinely occur, I couldn't help but think of the blood and tears that had washed those cobblestones and flowed into those flowerbeds. That elderly woman ahead of us, so pensive – did she lose someone here? That man waving his hands and earnestly speaking to two young boys – was he relating some important family history? We were surprised by the presence of the large and lovely 15th century Assumption Cathedral adjoining that terrible courtyard. Did any butchers ever see irony in the acts performed in the shadows of those beautiful onion domes, with frescoes of the ultimate mother – the Madonna - looking on? Maybe no more so than when I sin wearing the cross that Konen gave me years ago.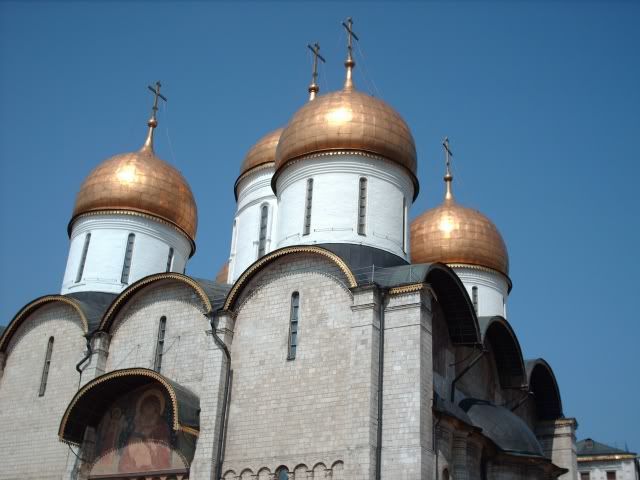 The Assumption Cathedral (1475 - 79) was the country's central place of worship, where the Russian Tsars and Emperors were crowned.
I'd like to send a special Mother's Day wish to Vicki today, as she has cared for our kiddos this week. Next time I see her, I'll be looking for that halo around her head, because she's definitely qualified for sainthood this week with Scouts, Storytelling, Bush choir chaperoning, cake decorating, a trip to the mall, etc. I am profoundly thankful for 26 years of her friendship. And a second Mother's Day wish to my good friend Shelley, who has stood "at the ready" to help at any time. Really, she's been doing that for the 30 years I've known her. She attended Hannah's 4th grade Talent Show this week – now folks, that's love. And a final special Mother's Day wish to my brilliant niece Sarah, who'll be coming from Houston tomorrow to keep the girls until we get home. More importantly, she'll be bringing two-year-old Laura with her to stay with them- and nothing brightens a room like Laura's laugh.
Mother's Day is a uniquely American holiday. So best wishes to all you mamas from this unique American celebrating in Mother Russia.
Sing to the Motherland, home of the free
Bulwark of peoples in brotherhood strong.
O Party of Lenin*, the strength of the people,
To Communism's triumph lead us on!
*a.k.a., "The Dead Guy"

Posted at 09:34 am by beckyww
Permalink
Saturday, May 13, 2006
Red2 (That's Red Square, People)
Our Buckner translator drove us to Red Square today. We toured St. Basil's Cathedral, a marvel of 500-year-old architecture.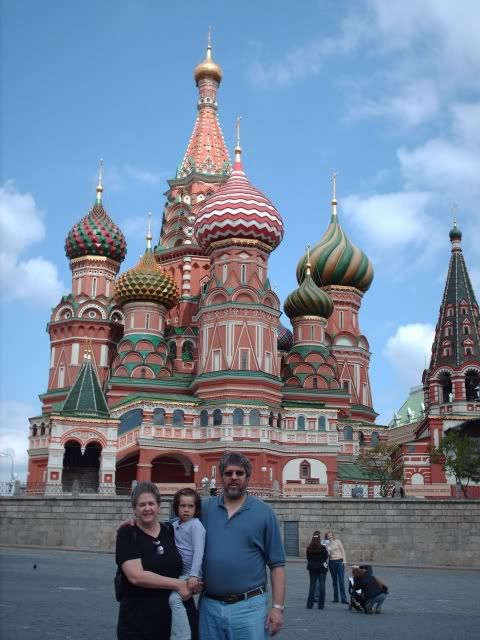 Shearer Hills Baptist It Ain't....
We stopped in a working Russian Orthodox church, the Kazan Cathedral, to light candles. Juia knew knew not only to light the top wick but also to light the bottom wax to affix the candle to the holder. She was baptized Russian Orthodox last year by a priest who visits the children's home monthly. While we will encourage her to make a believer's profession in Jesus Christ, we also respect what she's been taught to date.
Julia joined a group of children throwing coins over their shoulders while standing in a fixed stone compass on the grounds of Red Square. As they throw the coins, they make traditional wishes that they be able to return to this spot one day. I noticed an elderly babushka behind the children, quietly collecting the coins in a plastic sack (which cost one ruble at any store, BTW.) I'm thinking the Babushka Collective might have originated that tradition.
North, South, East or West - Throwing Stuff is Always Best!
As you've probably noticed - we're able to post pictures again. Keith bought a cheapie digital because as he rightly stated, "We're only going to be here once." He also got a cord to transfer pictures from his cell phone. Here's one of her on the St. Pete to Moscow train night before last.
Choooo-Choo...zzzzzzzzzzzzzz.......................
Moscow is believed to have been founded in 1147 by Prince Yury Dolgoruky. It now boasts a population of 10M, including two misplaced Texans and one very small Russian. We are hoping to see more of the city tomorrow, before the hustle and bustle of Embassy appointments on Monday and Tuesday.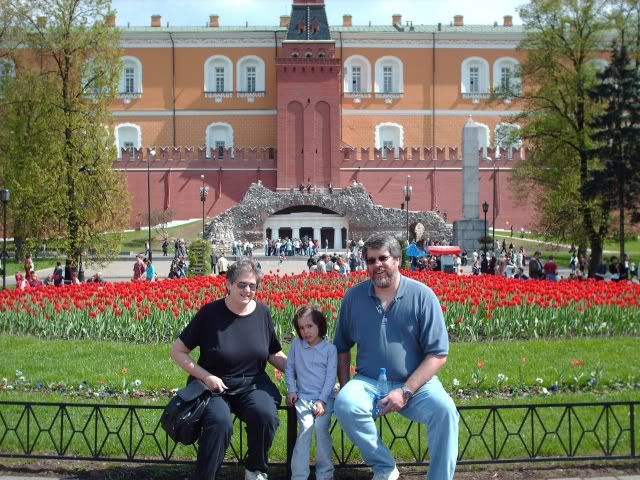 The Kremlin grounds are a riot of exquisite color. We tried to get in today, but workers were on a lengthy "coffee break." We hope to get in tomorrow.
Posted at 08:38 am by beckyww
Permalink
Friday, May 12, 2006
Let's Face It - Bubble Baths Rock
We arrived in Moscow early this morning, having taken the electric sleeper train from St. Pete. The sleeper train is sort of like a giant moving barbecue smoker - low, constant indoor heat; guys with beer bottles standing around; and smoke residue everywhere. If you're old enough to walk in Russia, you're old enough to smoke. One of our Buckner workers told us there were two types of restaurant sections here - smoking, and chain smoking.
Julia was seemingly unaffected by it. After no nap and hours of crying, she fell asleep before we left the station, and slept soundly all night.
Watching the countryside zoom by the windows was very cool, especially with the full moon. Unfortunately, our digital camera went kaput. We're hoping it's the battery. We're getting a new one tomorrow.
We got her American Embassy-approved physical in Moscow today, then collapsed at the hotel for a 4.5 hour nap, badly needed by all three of us. She began whimpering when she awoke. I think it's those "sleepy times" that remind her most that she's no longer in her "dom" (home.) A snack and cartoons before a good evening walk chased the blues away. We found a park with play equipment and $2 hotdogs maybe 1 mi. away - liking that.
Julia's first bath last night was very entertaining - for all of us. At first, she refused to get in the water with a repeated "nyet nyet nyet." I expected this reaction, and quckly lifted her in and plopped her down with a "da da da." She looked very surprised - the water was nice and warm. She loved the bubble bath. Stuck her face down in the water (there are swimming lessons in her future.) She had a lot of caked-in dirt, so, we changed out the water and added more bubbles. Tonight I had no trouble getting her in the tub.
Tomorrow we're seeing Red Square. We're hoping Lenin's body isn't out for a cleaning - we'd like to see that, too. If our digital camera isn't working, we may break down and buy a disposable print camera (shudder.) Sunday is up in the air. We're going to talk to our Buckner workers tomorrow and see how fast we can get the U.S. Embassy paperwork done, and getting her registered at the Russian Embassy. Kind of a drag being here for a weekend. Moscow is more expensive than St. Pete with none of its charms. It's way more Soviet and much less European. Though Keith will find interesting things to see and do within walking distance of the hotel, I know that. He always does. He is about 10' from me, ironing wet jeans to speed their drying. We're not so much "staying" here as "camping" here.
Live a little this weekend. Try some bubble bath. Go ahead - put your face down in it.
Posted at 11:50 am by beckyww
Permalink
Thursday, May 11, 2006
Goodbye, Hello and the Tears In Between
We said goodbye to the eight other children in Guanna-Now-Julia's pod today with two cakes, juice boxes and lots of presents for everybody. Some of the presents included pens and pencils enscribed, "Guanna Is Your Friend in Texas." The big hits were dolphin necklaces, Matchbox cars ("Machinas! Machinas!"), mini Etch-A-Sketches, Play Doh and dolphin-themed pencil sharpeners.
We dressed Guanna-now-Julia in her choice of clothing: Old Navy jeans with flowers on the bottom, a Guess shirt & sweatshirt (gotta love that Sam's clearance), pink socks and - wonder of wonders - light up tennis shoes. We left the too-big socks and underwear (wasn't sure exactly what size to buy) and two pairs of light-up shoes that didn't fit.
She stomped her feet all through lunch to see the lights.
Her friend Dimitri offered the group's "wishes" for her - to be happy, to be healthy, to remember Russia, to love her sisters and obey her grandmother.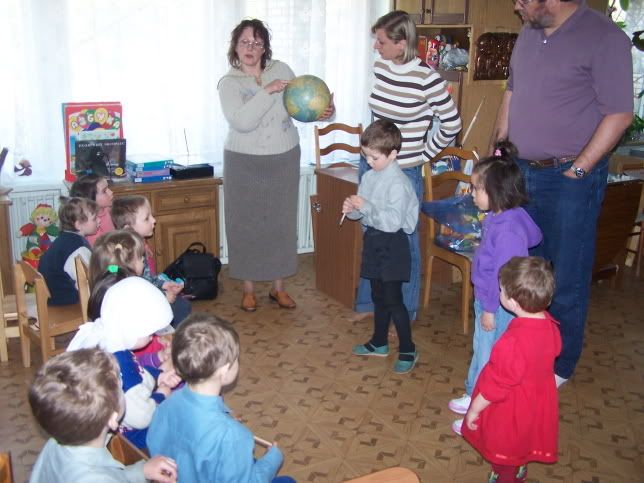 "Guanna is going to the United States with Mama and Papa."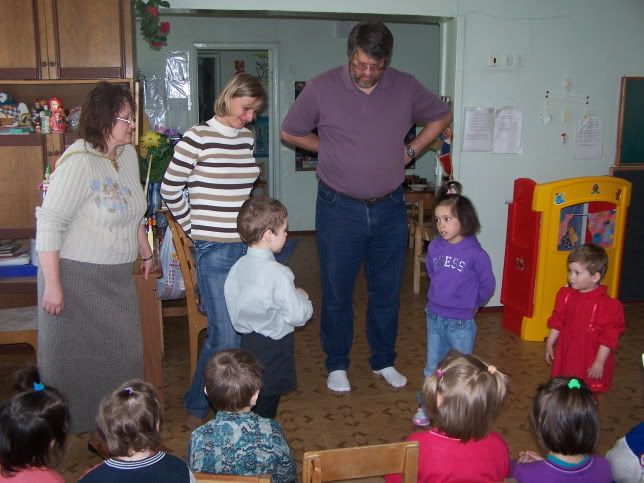 "Remember Russia. Be happy."
The orphanage director - who left her sick bed yesterday to testify for us - inscribed a book of Russian fairy tales for her, and talked to her before we left. Much hugging; many good wishes; those transcend all language barriers.
We have had a teary afternoon since the translator left. I am so glad. We called the translator after about an hour of constant sobbing to ensure there wasn't anything physically wrong - she spoke directly to Guanna-now-Julia. We'd figured out potty and juice ("sock") but she was so upset. It was what we wanted it to be - she missed her friends, she missed "home." Good. That is so normal. That is so desired. We'd been saying since we first started reading about adoption that we wanted her to cry her eyes out when she left the orphanage. And she has. And she will again. And we are glad. And we will just deal with the tears as they come - because they should. She bonded to them, she can bond to us. It would only be scary if she weren't crying.
Sometimes you have to say "goodbye" before you can really say "hello." Eventually, you will remember Russia. And be happy.
Posted at 06:12 am by beckyww
Permalink
Wednesday, May 10, 2006
Keith and I had been snapping some miscellaneous photos around St. Pete, planning to blog them "later." Hopefully - there's not much "later" here in St. Pete. So here goes.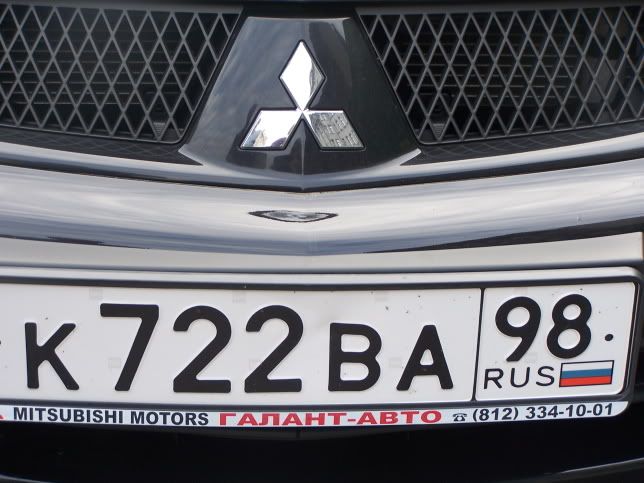 None of the license plates we saw contained Cyrillic letters, only letters also found in the Western alphabet. We theorize it's because of international traffic laws - it'd be hard to issue an APB on "K 722 squiggle hook thingy A."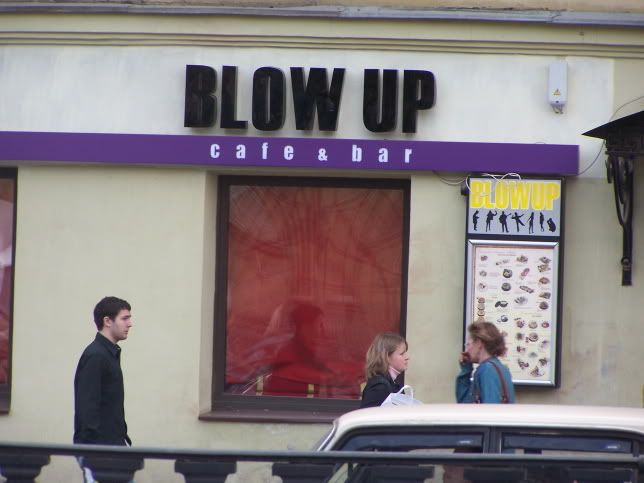 Owned by Checkans?
Hey AT&T Folks: USSR Telecom! High Ruble Voice Beer-Enabled?
Vegetarians, a.k.a......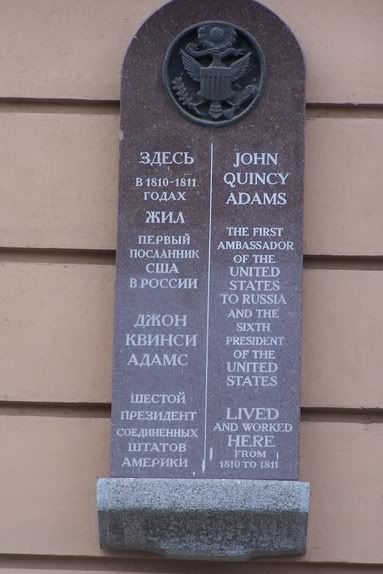 Remember, Rachel says we're pathetic history nerds, so we were fascinated by this tidbit.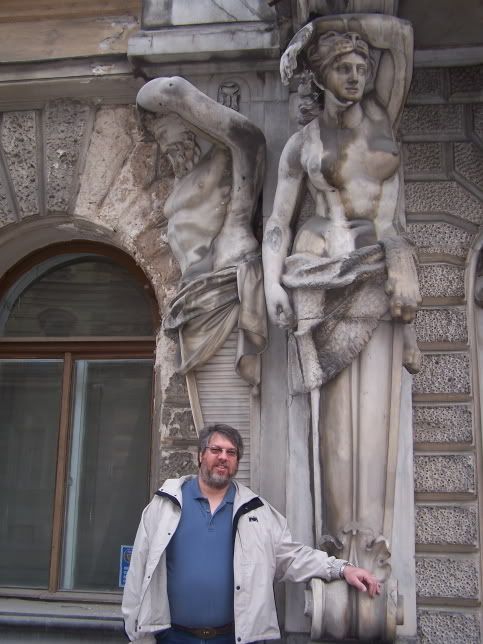 Finally - Keith is all about the voluptuous - ummm - art work. Yes, that's it, art work.
Posted at 07:50 pm by beckyww
Permalink
I'm Yippee! Everybody do the WAIVE!
The four couples ahead of us in court did not have their 10 days waived. We did! The judge took into account (1) Guanna's medical needs and (2) Guanna's educational needs (i.e.,getting registered in and ready for NEISD.) We weren't really sure what she decreed, even after it was translated. We had to wait until our advisor here told us what the decree meant. We were weak with relief.
Of course, we know the real reason our wait was waived. God is good. He answers prayer.
Our Buckner representatives here are so well-organized and so well-connected - we're talking about leaving St. Pete for Moscow late tomorrow night! We already have our adoption certificate, and Guanna's new birth certificate showing us as parents. That took time, hence, why da blog is running so late.
We're taking a train to Moscow. We have much to do w/the American Embassy. But we should be home next week.
Please - friends and family - meet JULIA GUANNA WOODWORTH, dob 2/1/00, adopted 5/10/06 in St. Petersburg, Russia: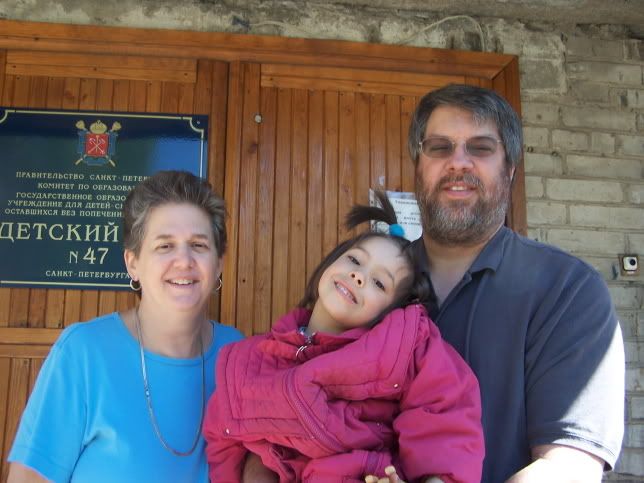 Three Woodworths Here in St. Pete - Three in San Antonio Anxiously Waiting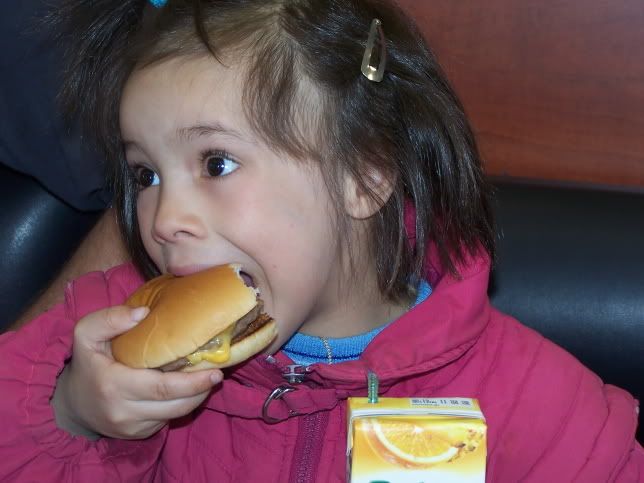 Mmmm....I'm thinking this beats "soup with bits of meat."
Tomorrow - we party with her friends at Children's Home #47 at 11 a.m. Then we begin the journey home. And the real adventure begins!
Thank you for your prayer support these last few weeks. And special thanks to everyone who's been behind us the last 22 months.
I will not leave you as orphans; I will come to you. John 14:18
Posted at 07:30 am by beckyww
Permalink