Thursday, May 11, 2006
Goodbye, Hello and the Tears In Between
We said goodbye to the eight other children in Guanna-Now-Julia's pod today with two cakes, juice boxes and lots of presents for everybody. Some of the presents included pens and pencils enscribed, "Guanna Is Your Friend in Texas." The big hits were dolphin necklaces, Matchbox cars ("Machinas! Machinas!"), mini Etch-A-Sketches, Play Doh and dolphin-themed pencil sharpeners.
We dressed Guanna-now-Julia in her choice of clothing: Old Navy jeans with flowers on the bottom, a Guess shirt & sweatshirt (gotta love that Sam's clearance), pink socks and - wonder of wonders - light up tennis shoes. We left the too-big socks and underwear (wasn't sure exactly what size to buy) and two pairs of light-up shoes that didn't fit.
She stomped her feet all through lunch to see the lights.
Her friend Dimitri offered the group's "wishes" for her - to be happy, to be healthy, to remember Russia, to love her sisters and obey her grandmother.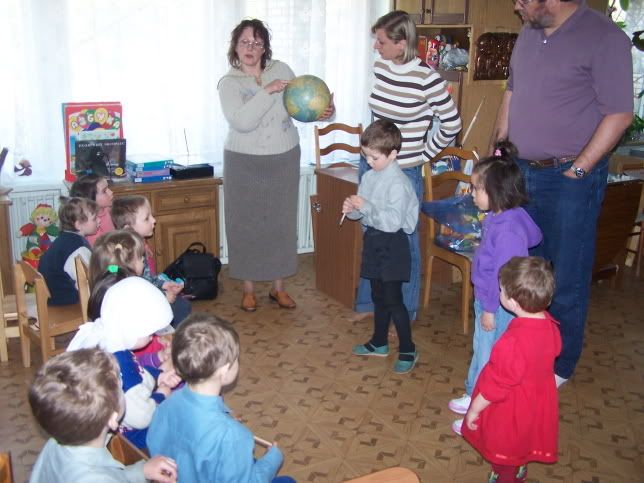 "Guanna is going to the United States with Mama and Papa."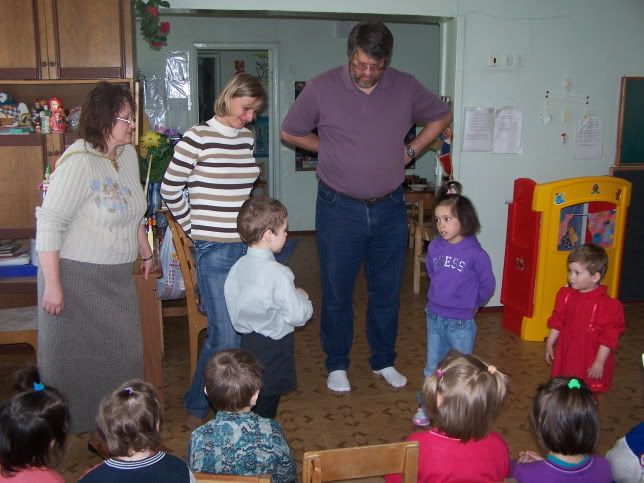 "Remember Russia. Be happy."
The orphanage director - who left her sick bed yesterday to testify for us - inscribed a book of Russian fairy tales for her, and talked to her before we left. Much hugging; many good wishes; those transcend all language barriers.
We have had a teary afternoon since the translator left. I am so glad. We called the translator after about an hour of constant sobbing to ensure there wasn't anything physically wrong - she spoke directly to Guanna-now-Julia. We'd figured out potty and juice ("sock") but she was so upset. It was what we wanted it to be - she missed her friends, she missed "home." Good. That is so normal. That is so desired. We'd been saying since we first started reading about adoption that we wanted her to cry her eyes out when she left the orphanage. And she has. And she will again. And we are glad. And we will just deal with the tears as they come - because they should. She bonded to them, she can bond to us. It would only be scary if she weren't crying.
Sometimes you have to say "goodbye" before you can really say "hello." Eventually, you will remember Russia. And be happy.
Posted at 06:12 am by beckyww
Permalink
Wednesday, May 10, 2006
Keith and I had been snapping some miscellaneous photos around St. Pete, planning to blog them "later." Hopefully - there's not much "later" here in St. Pete. So here goes.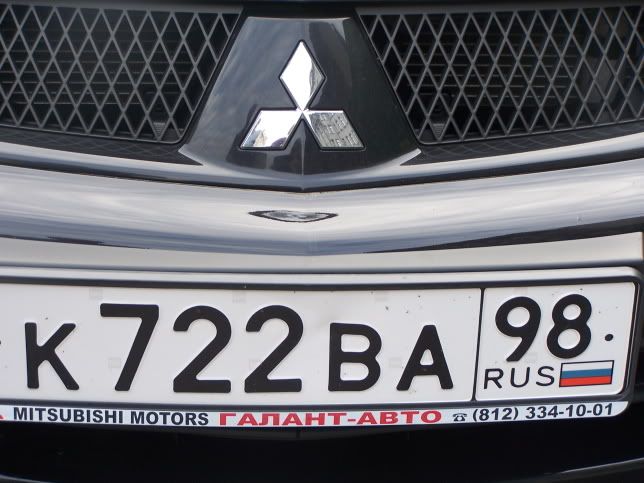 None of the license plates we saw contained Cyrillic letters, only letters also found in the Western alphabet. We theorize it's because of international traffic laws - it'd be hard to issue an APB on "K 722 squiggle hook thingy A."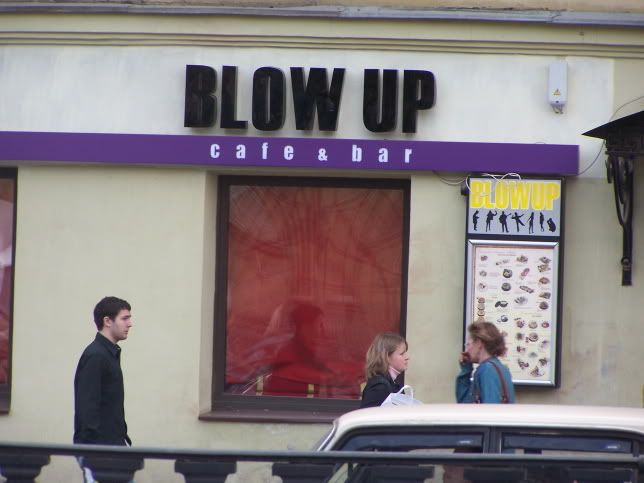 Owned by Checkans?
Hey AT&T Folks: USSR Telecom! High Ruble Voice Beer-Enabled?
Vegetarians, a.k.a......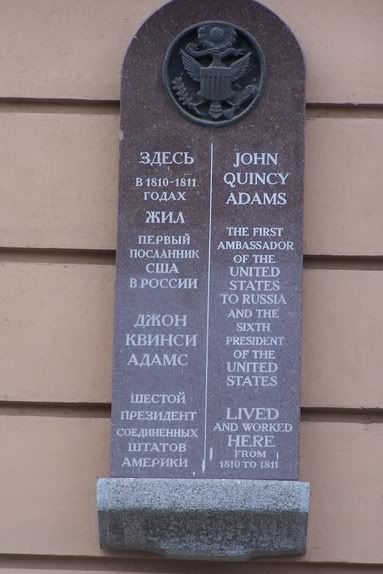 Remember, Rachel says we're pathetic history nerds, so we were fascinated by this tidbit.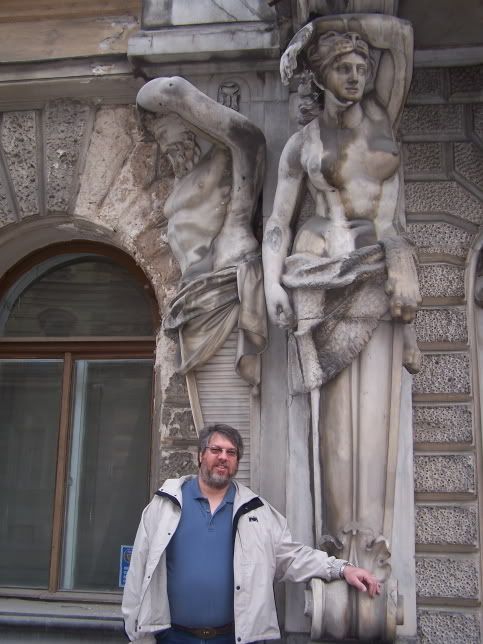 Finally - Keith is all about the voluptuous - ummm - art work. Yes, that's it, art work.
Posted at 07:50 pm by beckyww
Permalink
I'm Yippee! Everybody do the WAIVE!
The four couples ahead of us in court did not have their 10 days waived. We did! The judge took into account (1) Guanna's medical needs and (2) Guanna's educational needs (i.e.,getting registered in and ready for NEISD.) We weren't really sure what she decreed, even after it was translated. We had to wait until our advisor here told us what the decree meant. We were weak with relief.
Of course, we know the real reason our wait was waived. God is good. He answers prayer.
Our Buckner representatives here are so well-organized and so well-connected - we're talking about leaving St. Pete for Moscow late tomorrow night! We already have our adoption certificate, and Guanna's new birth certificate showing us as parents. That took time, hence, why da blog is running so late.
We're taking a train to Moscow. We have much to do w/the American Embassy. But we should be home next week.
Please - friends and family - meet JULIA GUANNA WOODWORTH, dob 2/1/00, adopted 5/10/06 in St. Petersburg, Russia: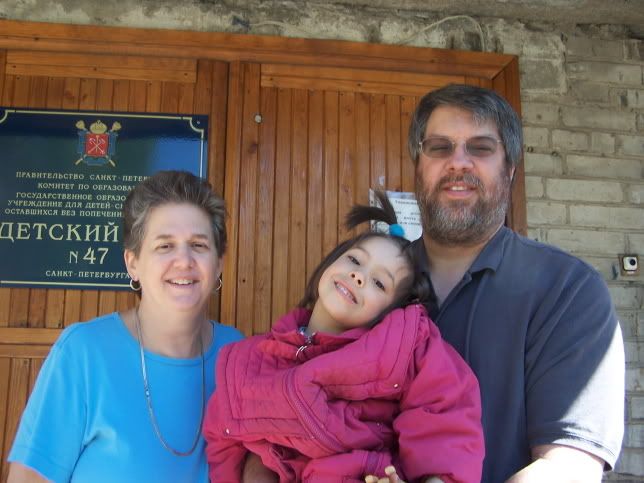 Three Woodworths Here in St. Pete - Three in San Antonio Anxiously Waiting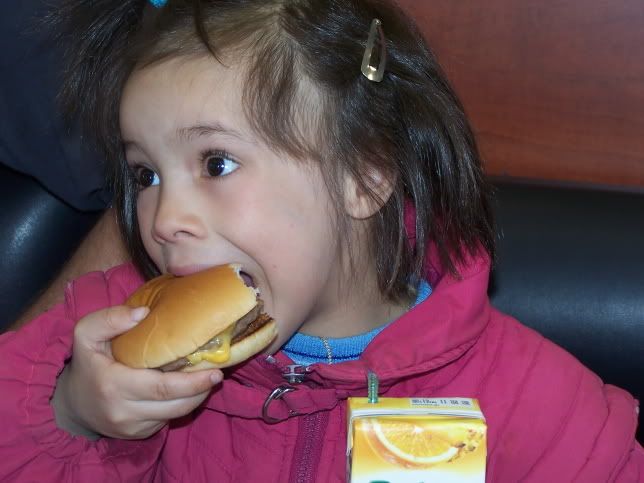 Mmmm....I'm thinking this beats "soup with bits of meat."
Tomorrow - we party with her friends at Children's Home #47 at 11 a.m. Then we begin the journey home. And the real adventure begins!
Thank you for your prayer support these last few weeks. And special thanks to everyone who's been behind us the last 22 months.
I will not leave you as orphans; I will come to you. John 14:18
Posted at 07:30 am by beckyww
Permalink
Tuesday, May 09, 2006
The Victory Day fireworks tonight were very cool. I took this photo showing the horizon of St. Isaac's around 11:30 p.m. - no tripod, no special setting, it was still light enough.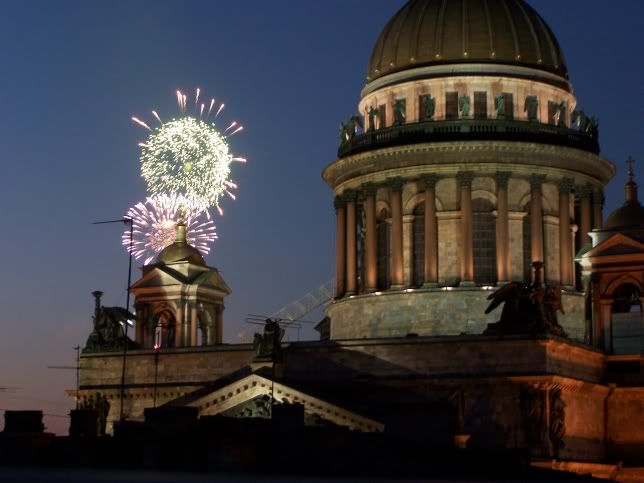 St. Isaac's is the third largest church in the world. It will hold 10K standing (as is customary in Russian Orthodox services) worshippers.
Keith was fascinated by the silhoutte of this goose on a nearby bulding. The goose was seemingly not affected by the boom-boom-boom all around us.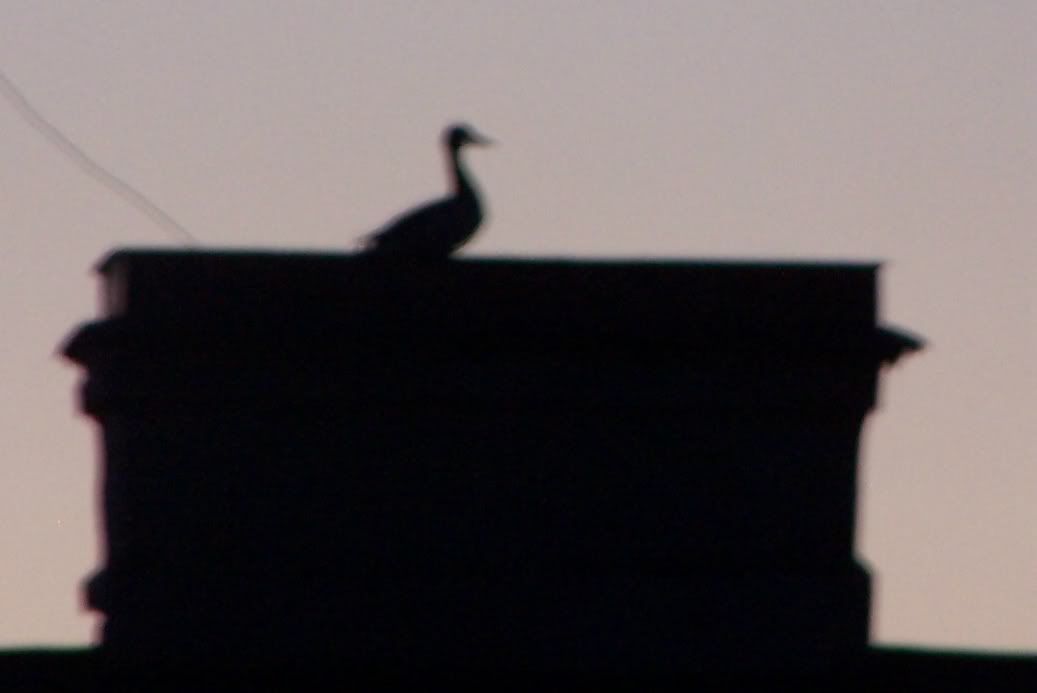 We're quackers about St. Pete!
I think the frantic preparation to travel, preparing to leave our jobs, nine time zone changes, emotional upheaval, etc. caught up with us today. Keith and I have each taken three naps. Given two minutes, I could have been sound asleep at any point today. We were both content to watch the fireworks without "working" at anything. We're headed to bed for a good night's sleep before court tomorrow at 12N. Please be praying the judge waives the 10 days so we can begin bonding to Guanna and get her home quickly. Please.
Fireworks are fun. Family is forever.
Posted at 12:42 pm by beckyww
Permalink
White Nights and Red Dawn
Keith and I took a quick walk at 10:30 p.m. last night, just to experience St. Petersburg's White Nights. That's often the time we're walking in San Antonio, but flashlights are required at home. Not so here. We could see perfectly well in the dusky light near St. Isaac's Cathedral. "St. Petersburg is the world's most northern city with a population over 1 million, and its stands at such a high latitude that the sun does not descend below the horizon enough for the sky to grow dark."
To contrast with the White Nights, this morning we joined thousands of other Victory Day celebrants in a Red Dawn at the Palace Square adjoining the Hermitage. Every branch of the military was parading with officials'a'plenty, bands, flags and banners. For history buffs (or pathetic nerds, per Rachel) like ourselves - the sights and sounds were thrilling.
Late tonight - long after our visit with Guanna-to-be-Julia - we'll watch the Victory Day fireworks, which are touted to be more lavish than those used in the annual 4th of July celebration in New York.
White nights - red dawn - we've had a colorful 24 hours.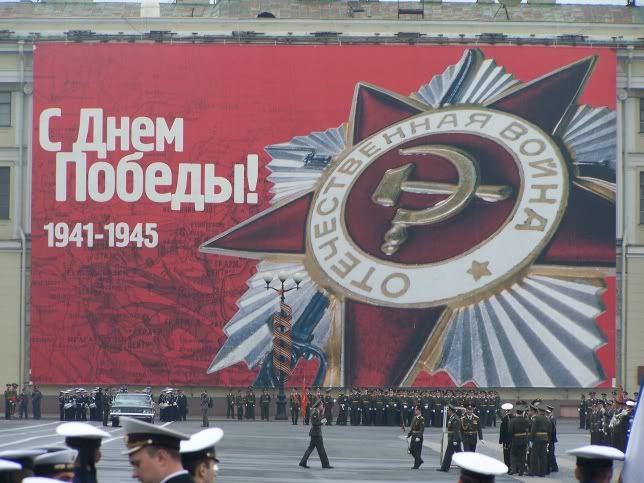 WWII - A particularly brutal era for Russia in general and St. Pete specifically
Grateful citizens offered red carnations to WWII veterans - wish I'd known earlier, we'd have been carrying a few to proffer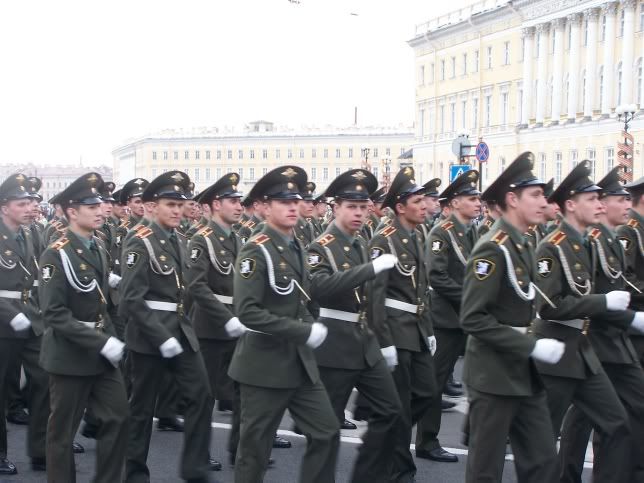 Steel-toed boots sound really sharp on concrete, particularly accompanied a drum's harmonic rat-tat-tat.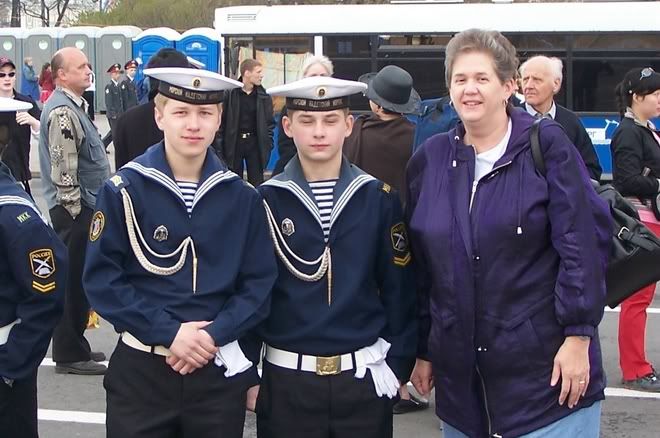 Hanging around with sailors - next thing you know, it's beer for breakfast and a few sweet, sweet tats....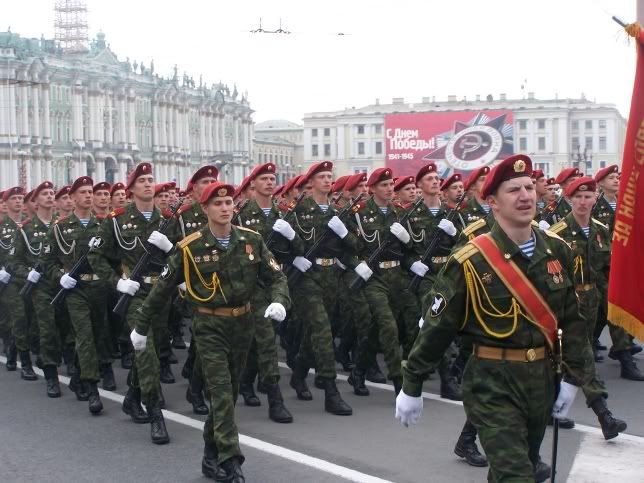 Photographer Keith hurried out of the way of the Marines, speculating, "I think they'd run right over me." Da, Keith, da.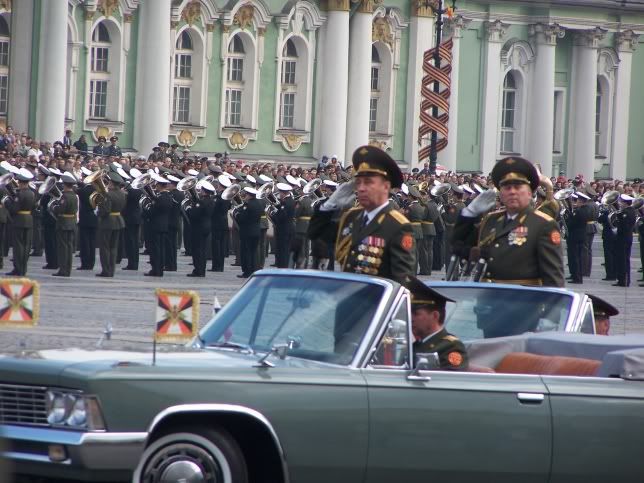 We had no idea of the identity of these officers, but those chests of fruit salad commanded salutes by all.
Posted at 12:48 am by beckyww
Permalink
Monday, May 08, 2006
What a great week to be in Russia! Tomorrow, May 9, is Victory Day, celebrating the defeat of Nazi Germany during WWII. Victory Day is particularly important in St. Pete, where brutalized residents eventually triumphed after a gruesome 5.5 month siege called "...bitterest battle of attrition ever fought. The Russians lost 1 million men in its defense (some sources say 2 million), and said later they would have sacrificed thrice that many to keep the Germans from advancing. Stop them they did. In hand-to-hand fighting so horrific that no other account in the annals of warfare exceeds it, the Red Army handed the fabled Wehrmacht its first major defeat, and signaled to the rest of Russia and the world beyond that it just might be possible to stop Hitler."
Wow. One of the reasons we're not speaking German today is because of the bravery and tenacity of the people of St. Petersburg. The grandparents of one of our Buckner workers survived the siege. Printed op ed pieces and the quiet conversations of ordinary citizens all acknowledge a sobering fact: We are slowly losing many of the "greatest generation," and we must not forget their sacrifices.
It's an emotional week here, with patriotic tunes and a smidgeon of Glenn Miller blaring from shops. Citizens are wearing striped ribbons showing their national pride, with teenagers sporting faux military attire. We've seen scores of smartly-uniformed soliders and sailors preparing for the big parade tomorrow.
And Children's Home #47 celebrated today, too. Not publicly, perhaps, but with the same grateful acknowledgement of personal sacrifice for a greater good.
Guanna-to-be-Julia walked quicky to Keith - arms extended - as we entered their play area today. She knew we were coming, and had been watching for us. She remembered us, all right! She and her friends were dressed in their very best clothes, assembling for their own Victory Day celebration. We enjoyed a quick reunion before she hurried to file into the Music Room. We were invited to stay for the 30-minute program, joining the 40 children and four adult workers.
While I can't publicly post a picture of Guanna-to-be-Julia, the music teacher did allow me to take her picture.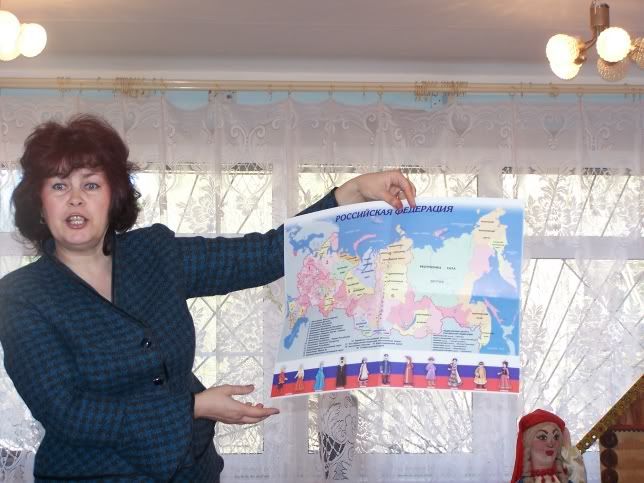 LIstening to the music teacher, I experienced "I don't understand a word you're saying but I understand exacly what you mean."
The kiddos responded to prompts and direction to tell the story WWII in poems and songs. The teacher walked from intriged child to intrigued child, showing two very small bits of bread, the daily ration for a solider during the siege. She used colored flags and physical activity to represent the heroes of the siege:
Orange flags for the navy, with swimming motions and puffed cheeks
Yellow flags for the army, with tongue-clicks imitating horse hooves on pavement
Blue flags for the airforce, with arms mimicking wings and a motor-mouth sound
And finally - the red flag for victory, with jumps and shouts of "hooray"
The chidren sang a variety of strident marching songs, followed by a game of musical chairs to patriotic music - which Guanna-to-be-Julia and another little girl won. Keith and I, of course, clapped enthusiastically.
I've never seen a better-behaved group of six and seven-year-old children. And if you'd seen them in person and looked squarely into their (mostly blue) little eyes - your hearts would break as you tried to figure out how you were taking one or two home with you. They all react so strongly to Keith. Me? I'm just another woman, and they're around women all day long. But "Papa?" Omigosh, he's a big deal - literally and figuratively. The little girls try to engage him in conversation, the little boys wave to him and try to show him things. They all darted their eyes, attempting to make eye contact with him (and not incur the correction of a nearby adult.) I thought several times, "I wish we could take you, and you, and you, and you. But we are here for Guanna-to-be-Julia. I hope your parents come for you." Because what was missing in that room was more clapping - by parents. The whir of movie cameras and the clicks of camera shutters - belonging to parents. The quietly proud "Didn't she do well?" comments - among parents. The hurried stuffing-a-bulletin-in-your-purse-with-a-child's-name-printed action - by parents. The "You did so well! Let's celebrate at Sonic!" offer - from parents.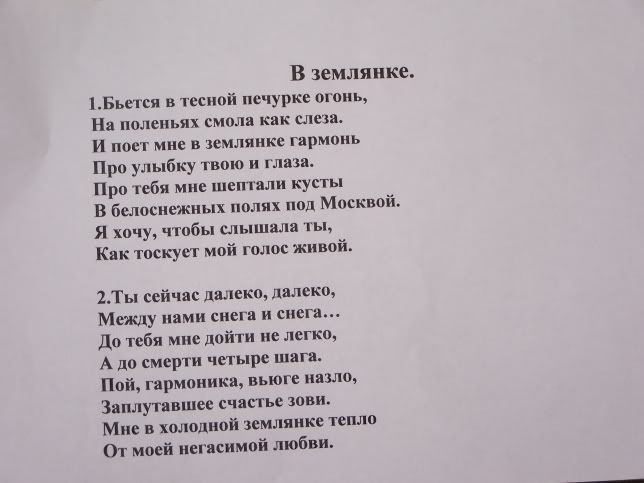 C'mon now, everybody sing along....
After all that activity....what better than following it up with change of clothes and a trip to McDonalds?! Guanna-to-be-Julia impressed the heck out of us by remembering how to get there and no, she hadn't returned since her first trip to Mikhail D's with us in February. She also remembered the building was yellow, and marched right up to the counter when we entered. We asked our Buckner worker (Masha) to tell her she didn't have to eat everything offered - but - she ate all but two bites of her Happy Meal cheeseburger, all of her fries and juice ("sock") and two of Masha's chicken nuggets.
We had to stop by a nearby playground on the way back (natch!). When I tried to give her a boost or a helping hand, Masha quickly informed me that she was saying, "I can do it myself." And she could. The child has upper body strength to spare.
She loves the "high places" - the top of the Jungle Gym, the jerk of the see saw, the arc of the swing and being held by Keith. Walking back into Children's Home #47, she thrust up her arms to Keith and said, "Papa, I can't walk" - LOL! But with two split flights of uneven stairs featuring many broken spots in the concrete, Keith wisely declined to transport her back to the common area for her afternoon nap.
Through Masha, Guanna-to-be-Julia invited us back "as soon as possible." I believe that's tomorrow, after the Victory Parade.
I got a kiss on the cheek - my first. She doesn't seem to know how to hug, though she does not stiffen or pull away when given one. She is more than willing to be held by either of us, a good thing in a car with no seat belts jerking around in major metro traffic.
We talked a bit about our trip home. She is fascinated by the sound and blur of commuter trains. We're not sure she's seen an airplane, though she's seen pictures of them. We told her she would get to ride on a train and an airplane to go home - she thinks she'll like that. We told her we were going to go swimming a lot this summer, because her new hometown is very hot. She likes to swim (or at least play in water) and at some point, has visited the Baltic Sea. She asked for the name of her sandwich; we told her "hamburger," and that Papa made them often at home. She's excited about trying those. She knows she has three sisters - she held up three fingers - and she wants to meet them. We told her they were very anxious to meet her, too.
The last song in the children's Victory Day program was entitled, "Everybody Wants Peace" - certainly a longed-for setiment in the midst of the shock and brutality of war. But as they sang it, I thought: Yes, everybody does want peace. The emotional peace of knowing that someone loves you. The shared peace of a family protecing each other. The physical peace of enough to eat and enough to wear. And the spiritual peace of knowing not only about God, but also knowing God.
Thursday night, hundreds of parents and guests will applaud the Bush MIddle School choir as they close their end-of-school performance with "The Lord Bless You and Keep You." You remember the scripture, from Numbers 6?
24 "The LORD bless you
and keep you;
25 the LORD make his face shine upon you
and be gracious to you;
26 the LORD turn his face toward you
and give you peace." '
All the middle schoolers will have had good dinners, and they'll be clothed in their choir uniforms. They will hear the boisterous clapping of and see the proud faces in the audience. After the concert, they'll hear plenty of compliments, and the lines at Sonic and Baskin-Robbins will be long ones. And they will be at peace.
So, as my friend Konen tells me - "Peace be with you." And - today especially - my heart echoes, "And to all the kiddos in Children's Home #47."
Posted at 07:48 am by beckyww
Permalink
Sunday, May 07, 2006
ZDRAHST-woo (a.k.a., "Hello"
Keith and I are now in our room in St. Pete. The weather is gorgeous - cool, sunny, just beautiful. He's foraging in the neighborhood for a currency exchange office before purchasing a few much-needed Diet Cokes and bread. Peanut butter and jelly sandwiches are tonight's pieces de resistance. I'm nesting - putting away clothes, papers, toys, snack foods, etc. in our one smallish bedroom. (Note to Sharon: NIce appointments! It's a "cotton" Marriott fer shure.) My very favorite rolling bag got completely destroyed between Zurich and St. Pete, along with some of its contents. Keith thinks it went airborne. Not a tragedy in the great scheme of things, since the flight was plenty bumpy and we managed to stay airborne.
We've already met with our local Buckner workers. The small mountain of paperwork we've assembled over the last 22 months is now a larger mountain of translated paperwork here. They're preparing us for court at 12N on Wednesday....that's 3 a.m. CST, in case anyone experiences insomnia and feels the need to pray that our 10 days are waived......
We will get to see Guanna-to-be-Julia tomorrow. She knows we're here. She's happy we're going to be a family, but sad about having to leave her friends. That thrills us. If she's bonded to them - she can bond to us. We know that she will have to mourn losing those friends she's with 24 x 7, and admist the doctor's appointments, registering her for school, learning English, getting her used to "family" - we'll help her through that mourning. She'll have to fully realize what she's lost before she can appreciate what she's gained.
Earlier today - when my M&M wrist watch was reading "Sunday morning" - I had my own silent praise and worship session on the plane using music on my Rio. A few lyrics from Chris Rice really hit me -
And like a newborn baby
Don't be afraid to crawl
And remember when you walk
Sometimes we fall...
This whole journey has been a walk of faith, and believe me, time has crawled. If our 10 days isn't waived and we "fall" for the duration.... we'll make the best of it. It's 10 more days for us.
It's Guanna-to-be-Julia's whole life.
Posted at 06:50 am by beckyww
Permalink
Wednesday, May 03, 2006
Take a good look. This is our last photo or ourselves as a family of five.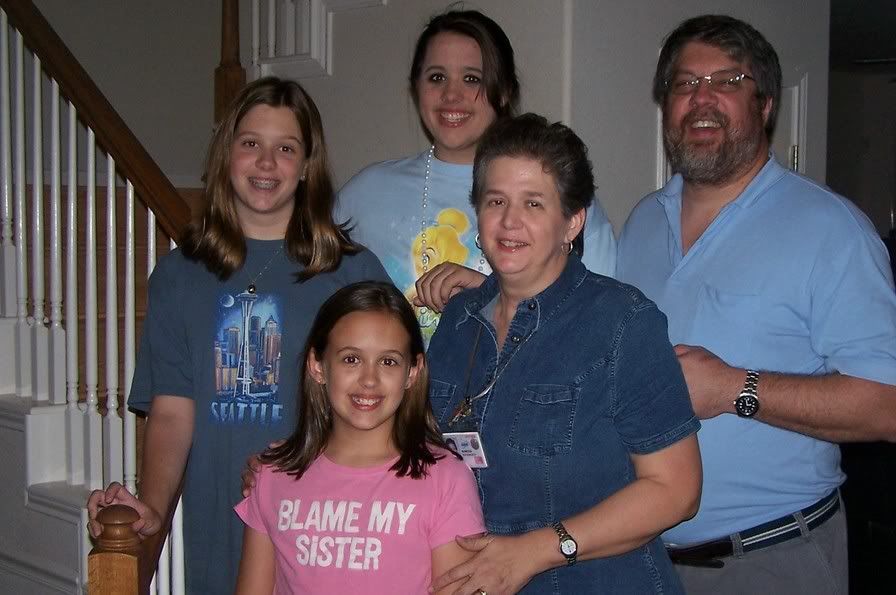 Keith and I leave Saturday for St. Pete to adopt Guanna-to-be-Julia. Our court date is Wednesday, May 10. Please be praying our 10 waiting days are waived so we can bring her home soon. And then I can post a picture of the six of us.
That sounds so strange - the "six" of us. Six. More than five. Siete. "Shehst." Half-dozen. One of three identical digits Rachel believes is birthmarked on Hannah's scalp. One short of the Windstar being full. One too many for the truck. The number of years we've been in San Antonio. And also the age of Guanna-to-be-Julia.
Of course, we weren't always five. First just the two of us - when dinosaurs ruled the earth. Then along came Rachel, or, as Keith called her with the pointy knot on her head, "Alien Baby." Toss in a 5-week hospitalization for both Lois and me to get her here safely. And finally - squeeze 11 lbs., 6 oz. of newborn Hannah, and stir.
Plus One - 1991 Plus Two - 1993 Plus Three - 1995
When I was in high school, we all had to slow dance to "One is the Loneliest Number." Remember that? Shhhhhhhhh. Be quiet. Listen. You can hear the melody being whispered now. It's in Russian. And it's slowly wafting out of Children's Home #47, drifting over Europe, crossing the Eastern Seaboard right into my head - and heart.
So be still - and listen. Do it now. Time is short. Because one plus five adds up to a whole new tune.
Posted at 07:22 pm by beckyww
Permalink
Friday, April 28, 2006
....and we're getting ready to go. Keith installed a court countdown clock on our computers - I know it's 11 days, 2 hours and change until we're in court. We leave a week from today - omigosh, we're not packed! (Go ahead, Konen, say it - my packing list isn't laminated, either.) But we're getting there.
Keith is concentrating on getting us there - tickets, Visas, hotel accomodations, maps, the I-600A - all the "point A to point B" stuffola.
You don't "just go to Russia." You secure a "letter of invitation." You request a visa. You have to show reservations to leave the country. You have to prove you can support yourself in the country. You have to document where you're staying, and what you're planning to do while you're there. You think Russia - or any other sane country - would tolerate this idiocy about illegal immigrants' "rights"? But I digress.
I'm concentrating on getting the home front covered - childcare for three kids in school, Scouts, choir, clubs, etc. for 12 - 20 days. Both of us are tying up loose ends at work and have requested unpaid time off - kind'o'scary. I've not been without a full-time paycheck since I graduated from high school, other than a couple of weeks on half-pay after having Lois. I said goodbye to my boss Sharon today - she's in Chicago next week, and of course we leave Saturday - I won't see her again until June 5, and I'll miss her.
We're using our guestroom as a staging area for snack foods, orphanage gifts, caretaker gifts, our own clothes, etc. We want to take as few clothes as possible. Woolite and hotel bathtubs are my friends.
Of course, we're preparing for Guanna-to-be-Julia personally, too. I'm putting in my car seat this weekend (she's six years old, but she's little). I strapped a booster seat to a kitchen chair last weekend. And yes, the girls and I have bought just a few little things.
I bought this one-piece hoodie in November of 2004, shortly after we submitted our dossier. Unbelievably....it's a 5T, which is what I believe she is going to wear.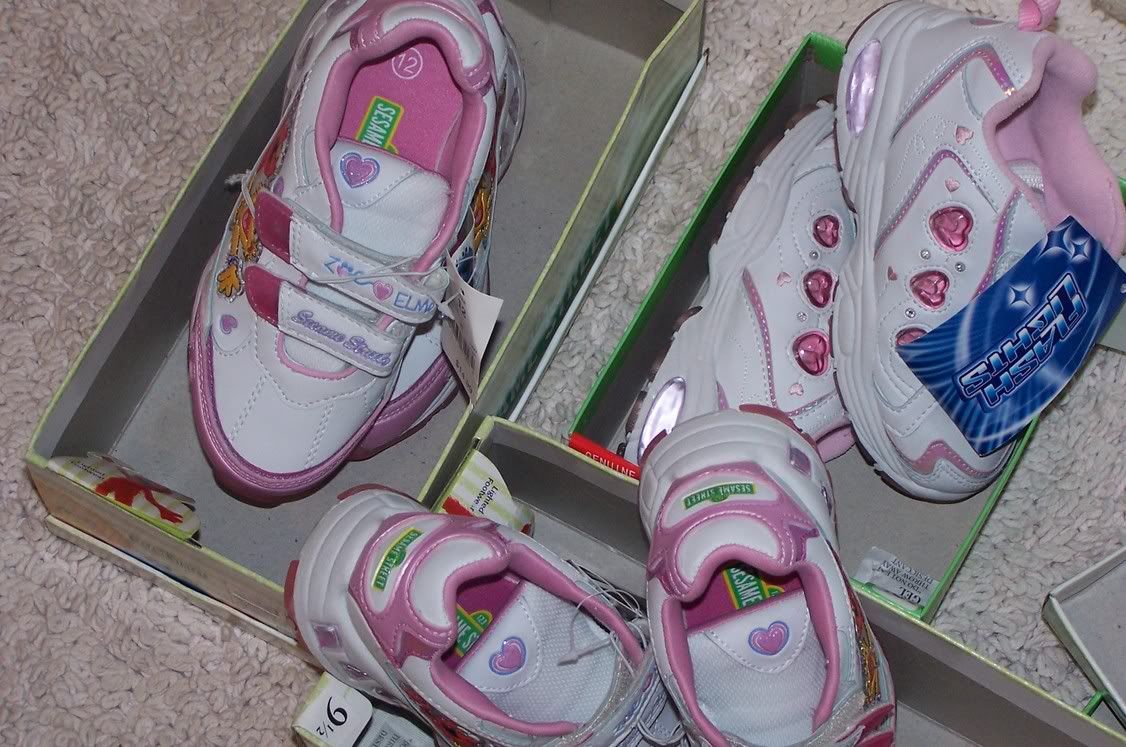 We bought three pairs of light-up sneakers. I think the 10.5 pair will fit, though we'll take the 9.5 pair and the 12 pair just to be safe. We'll leave the other two pairs at Children's Home #47.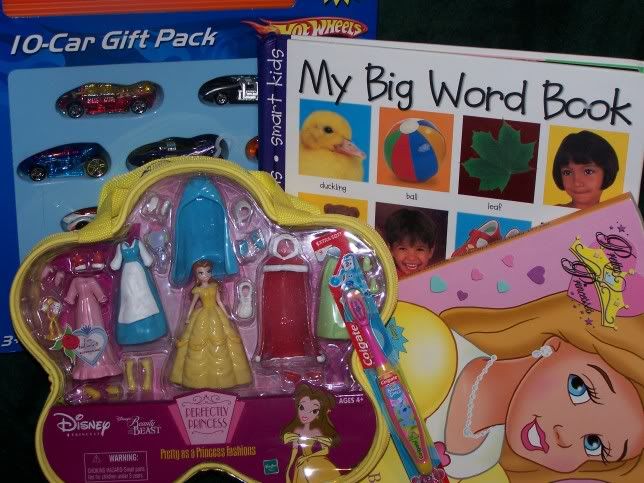 And toys and books - oh yeah! A package of "machinas" - Matchbox cars - I didn't see any small cars in the Children's Home and I think she'll like them. She seemed to like all things mechanical. Some more small "kuklas" - dolls. Coloring books and crayons. A terrific "My Big Word Book" from cousin Sarah - we'll start looking at that our first evening in the hotel. Toothbrushes - they were neither in evidence physically in the Children's Home, or by the look of the black on her teeth.
She has a floor pillow in the den with her name on it, stacked among those personalized "Rachel," "Lois," and "Hannah." There's a yellow "Julia" embroidered on an aqua Nemo towel in the bathroom she will share with Lois and Hannah. She told us her favorite books were stories "about the bear," a series of Russian fairy tales. We bought a book of those tales in St. Pete, plus a lovely set of nesting dolls, a few religious icons and CDs of Russian Orthodox cantors.
No, we don't speak Russian and no, she doesn't speak English - but we do have "cheat sheets" scattered about the house that contain dozens of useful phrases like, "Zdes bol-eet?" - "Does it hurt here?" And one we may need if Rachel doesn't learn to turn down that stereo, "Po-che-moo tea kree-cheesh?" - "Why are you screaming?" Keith and I have Russian adoption MP3s on our Rios but I confess he has been the more diligent student. I have nyet ear for languages.
We have antiobiotics, scabies cream and clear Benadryl a'plenty for her, plus a small pharmacy for ourselves crammed into a Ziplog bag. Keith and I have been poked, prodded, measured, evaluated and examined at least six times in the last 18 months to keep our required medicals current, as well as innoculated against everything that can grow in a petri dish.
Please, please be praying that our 10 days is waived so we can bring Guanna-to-be-Julia home quickly.
Her room - to be shared with Hannah - is ready. Her clothes are ready. Her family is MORE than ready. The court date is set. It's time to go.
Posted at 09:59 pm by beckyww
Permalink
Saturday, April 22, 2006
....two 6' women sit in a photo booth? Answer: Any darned way they can.
Lois, Hannah and about 20 of their church friends recently completed their bible memory work for the spring and were feted to a Mr. Gatti's celebration today. Rachel and I quickly found the photo booth and jammed ourselves in it to create a B&W masterpiece - no "small" task for us, I assure you. I feared my purse was permanently embedded under my left armpit, and Rachel's jutting size 13 (men's) Converse sneakers tripped half the kidlets running by. I am hoping the feeling returns to my right size by evening.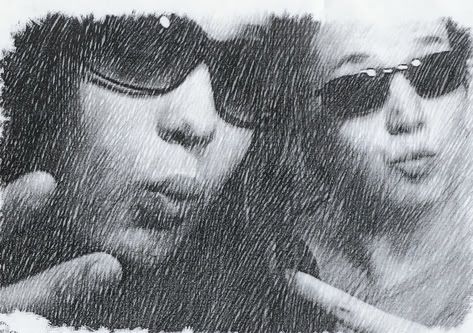 What it do, Shorty?
Other "masterpieces" from Rachel this week - all verbal -
Parodying a country western song- a music genre she loathes - in a twangy voice: "I hit a dead dog, stuck a candle in it, called it a birthday cake and gave it to mah son, his name is 'Johnny.'"
Teasing Lois about a techno song on the radio: "That sounds like a gay nightclub." Lois: "How do you know about gay nightclubs?" Rachel: "Shhh!"
The girls and I playing Scrabble, and her trying to play letters MQIDAR. "Mom, it's a medicine - and you need some."
Scrunching up her face while wearing one of Keith's old white dress shirts and a pair of his old glasses: "I've some got some sweet, sweet calculator action in this pocket."
And my favorite - Wednesday night, when we had to skip church and our usual Subway dinner because I had a late conference call: "First you take us away from God. Then you feed us leftovers."
If you've not experienced enough of her artistic ability, see her blog. If the flash makes you a little queasy, try a dose of Mqidar.
Posted at 01:25 pm by beckyww
Permalink