Sunday, March 30, 2008
Episode 7 of A Man & His Pond
Though only 15% of the 40 of us that voted thought he'd do it - Keith did get fish in the pond on Saturday, March 28! He, Hannah and Julia went to buy them early Saturday morning.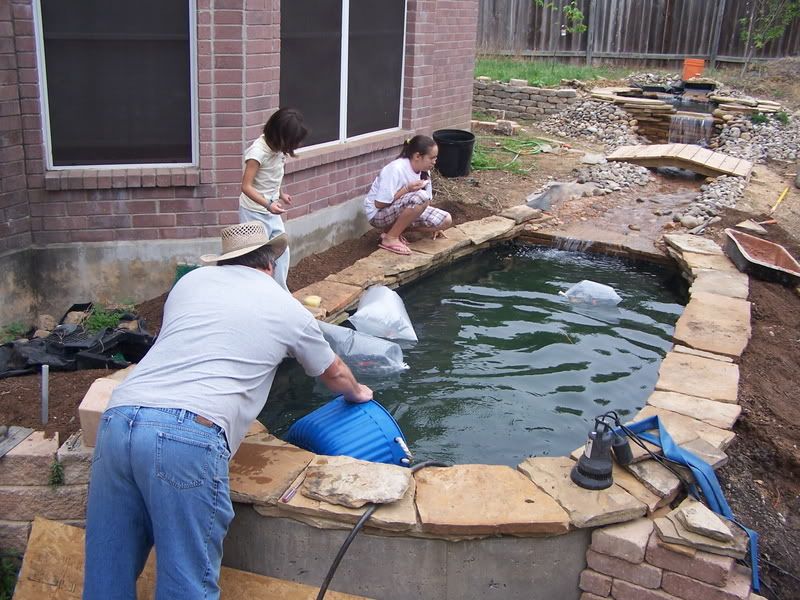 The koi arrived home in water-filled bags, which Keith placed in the pond for temperature acclimation. Hannah and Julia were allowed to pick out their own fish. Bart: Keith has forbidden me to show "Tortuga Giganta" until he's nestled in the landcaping (still to come.) So deep breaths!

Posted at 07:22 pm by beckyww
Permalink
Thursday, March 27, 2008
NEWSPAPER JUNKIE CONFESSES: "NINE DAYS NEWSPRINT-FREE"
Friends, Family Skeptical
San Antonio - Long acknowledged by friends and family as a newspaper junkie, a 52-year-old South Texas woman has confessed to being newsprint-free for nine days.
"I cancelled the
San Antonio Express News
last week," said Becky Woodworth, former jounalism student and devotee of the
AP Style Guide.
"I have not rustled a sheaf, folded a stack or trashed a crumple in seven days."
Friends and family remain skeptical. "We took a newspaper?" asked Rachel, 16, a
Myspace blogger
and sometimes
YouTube vlogger
. "I'll miss the Sunday funnies," acknowledged Lois, 14,
a noted illustrator
"With the help of a 12-step program, I'll make it," said Woodworth. "It's about 12 steps in any direction to a computer, and I can hit the news sites online." .
-end-

It's true. I cancelled the paper. Keith had urged me to cancel the left-leaning
San Antonio Express News
for years, but I'd resisted. One by one, my reasons crumbled. I saved money clipping the Sunday coupons....until I started buying so much as Costco. The kids needed a paper for homework....until they began searching their current events online. I knew so little about San Antonio landmarks, attractions, government, etc. ....until I acknowledged I basically ran in a grid from home-church-schools-work-Costco-HEB anyway, with any deviation requiring military planning far exceeding the capacity of print Mostly - I loved reading the paper on the
bus ride
downtown...until the carrier couldn't seem to deliver it before we had to leave for work.

Newspaper clippings are included in most family histories. Keith and I were surprised by our engagement mention in a gossip column.
I read newspapers - multiple newspapers - for decades. As a teenager and young adult, I always asked friends going out of town to bring me a paper from their destination. I paid for my mom's newspaper for many years, continuously "surprising" her with cards stuffed with banner lines (one banner line per month of renewal.) When I worked in Southwestern Bell External Affairs, I devoured both Houston papers cover-to-cover by 9 a.m. every workday as part of my job, carefully clipping any telecom references. I've delighted in the stray discovery of an article of interest to a friend, and startled at a familiar face staring from an obituary.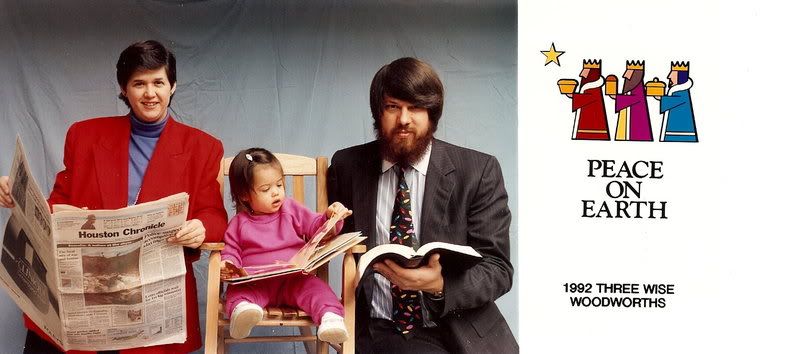 I perused the Houston Chronicle for our 1992 "Three Wise Woodworths" Christmas card photo.
I'll miss the newspaper. The kids think that's as crazy as the watch I wear (instead of reaching for my cell phone.) Or how I sometimes listen to a CD in the kitchen instead of plugging in my Zen. Or that I might rent a movie instead of downloading. Or - horrors - that I've been known to hand-write a note or place a call instead of dashing off a text.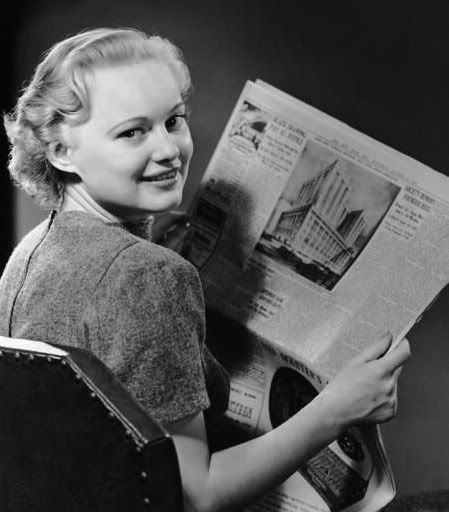 "Honey! They published my letter to 'Dear Abby!'"
One thing about a keyboard, though.
There's no messy ink to wash off your hands.
Posted at 05:26 pm by beckyww
Permalink
Tuesday, March 25, 2008
Rachel and Lois have discovered Windows Movie Maker.

Both have cameras.

Be warned.

They made a strange little film about Dairy Queen that I declined to post, instead hoping for Cannes to discover it. Then tonight - this two-minute marvel about McDonalds in Wal-mart.

I swear - we really do eat meals at home.

Really.


Posted at 06:39 pm by beckyww
Permalink
Saturday, March 22, 2008
As early as it's been in nearly a century...
it's still Easter! Easter is my favorite holiday. Christmas sure doesn't mean anything without it.
Before our Good Friday service. Julia sat in Rachel's lap most of the half-hour, with Rachel quietly whispering to her. Julia was very interested in her (baptized) fellow first graders who were taking communion. "They have Jesus in their hearts?"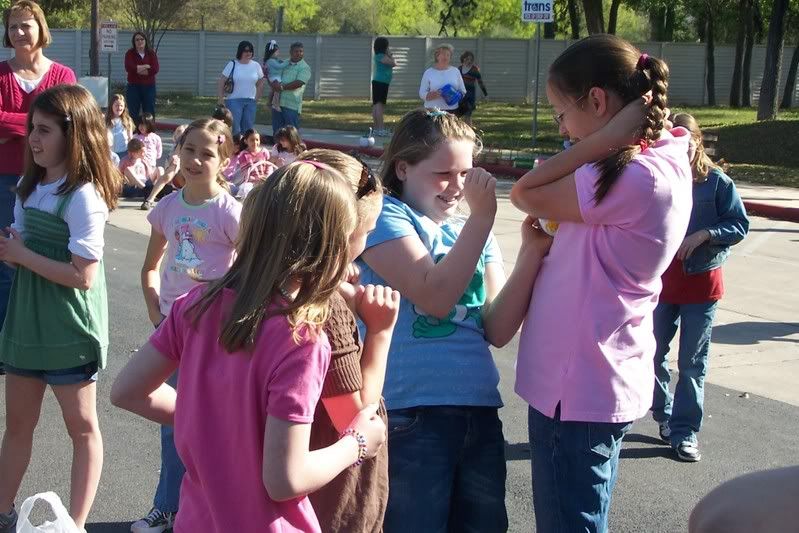 Today's egg hunt at
church.
This is Hannah's last year (6th grade) to hunt eggs/play games (sniff). Ever try passing eggs with your elbows? Tougher than it looks, she assured me.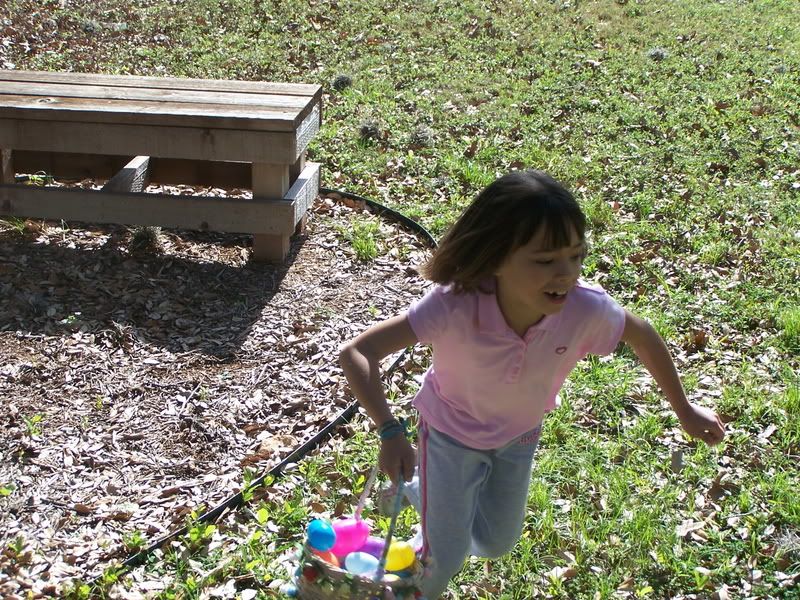 Julia yelled as she flew by, "Mom, I need a bigger basket!" We have candy'a'plenty on our counter. And wrappers in my van.


Rachel supervised the pre-teens. Lois and her goofy friend Sam got in the egg-tossing game at the end. That's Hannah's pink polo and braid in the foreground. The yoke was on Rachel, after Lois....ummm...came out of her shell!



Posted at 02:56 pm by beckyww
Permalink
Sunday, March 16, 2008
Episode 6 of A Man and His Pond
The pond now has not just water - but
running
water, coming from the bog and down the stream bed.
Posted at 11:05 am by beckyww
Permalink
Monday, March 10, 2008
The girls (none too graciously) and I have been drudging along doing our twice-annual household cleaning - the real kind of cleaning, where you shovel out the dark corners of your closets and wipe the funk off the baseboards.
We ran across Julia's Leap Frog Phonics toy, which was recommended to me by my friend Sharon when we were working to get Julia home. For 18 months, Julia and I played with this board almost every night. We started by choosing letter sounds and playing (singing) little songs. Then we identified letters that accompanied sounds. We worked up to spelling three-letter words. Finally, she was creating three-letter words with a scornful, "That's so easy." We've not used it for months.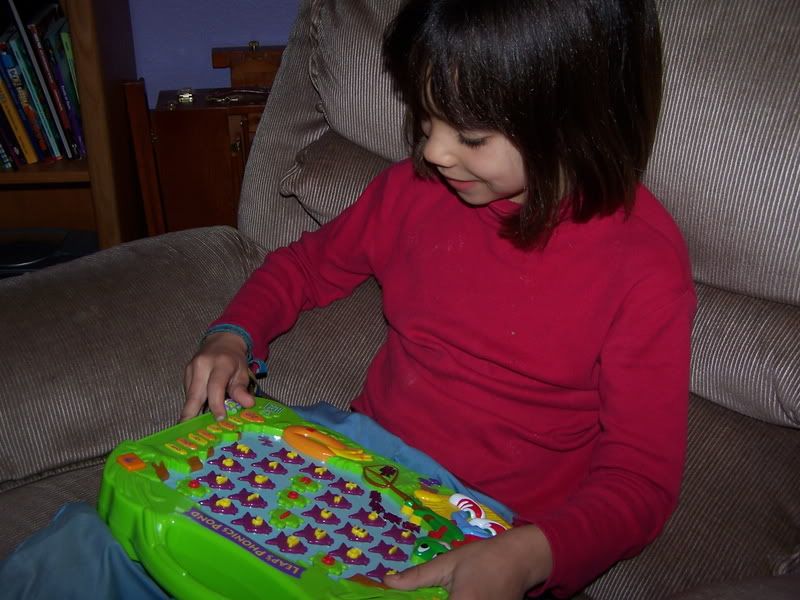 Our spelling three-letter words is now at an "end." (sigh)
I asked Julia if we could give it to her one-year-old cousin, James as she lovingly fingered this forgotten favorite toy. "You 'member how you used to spell with me? You 'member how I did not know my letters?' Sing that Jimmy song again. You 'member that song?" After a few songs and some happy 'membering, she said, "Mom, Baby James does not know how to spell. We will give it to Baby James."
Memory can be a strange place. I like to visit Memory, but I hope never to live there. I hope I always have something or someone on the horizon to which to look forward so I am not anchored in the past, a prisoner of my own synapses.
What I have noticed the last few years is that I dwell at lot less on unpleasant memories. It is not that I deny unhappy events occurred. I'm not Scarlett with a "I'll think about that tomorrow" philosophy. It's like the memories themselves have morphed. Their edges are blurred, not sharp. They can't cut anymore. And because they're blurred, I have to squint and twist and turn a bit to get them in view, so I see more of what I want to see.
Rachel and I went to Indiana in January, 2007 to visit family. My cousin Joyce gave me a priceless treasure - a picture of my original famly taken by her dad. My mom holding David, Hawaiian-shirted Dad, cat-glasses Judy and me - in one photo - taken on our driveway in 1961, a few months after David's traumatic birth. I had no idea a picture of the five of us even existed. I'd never seen one. Not ever. Judy hadn't either. And there we were - basking in a glorious black and white California sun.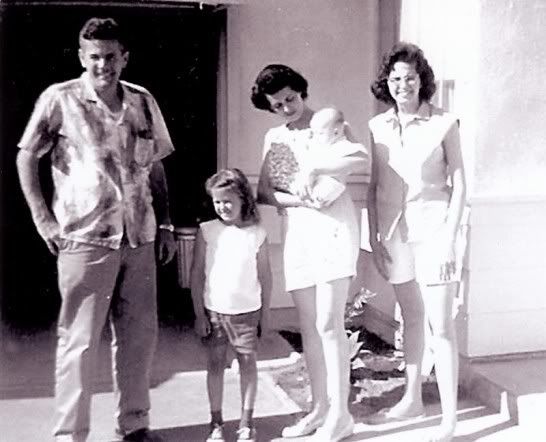 I'm the cute one.
If I'd been given that picture any time before the last couple of years, I guarantee I would have been mired in sadness. Just looking at it would have stirred up so many unhappy memories - I wouldn't have gotten past those. I would have shoved that picture in a drawer, fingering it from time to time while repeating questions with no answers.
As it is - I was glad to get it, and surprise Judy with a framed copy for Christmas.
I think this morphing memory is a gift from God. I truly do. I know other women who have experienced the same gentle blurring. I don't know why we've been granted this gift, except that in Philippians, Paul exhorts us to "Forget(ting) what is behind and strain toward what is ahead." Perhaps as long as we have something to "strain toward," the sands of time grind down the sharp edges of memory, and God allows us squint at the images and see what we want to recall.
I'm know Julia - like most of us - has a few deeply rooted memories that occassionally trouble her. As she and her sisters mature, my prayer is that they see enough to "strain toward" that they are not imprisoned by their memories. And if they discover something special - like a treasured game, or an unusual photo - that they can share it happily with those they love.
Posted at 04:47 pm by beckyww
Permalink
Thursday, March 06, 2008
Our family is gifted. Believe it or not.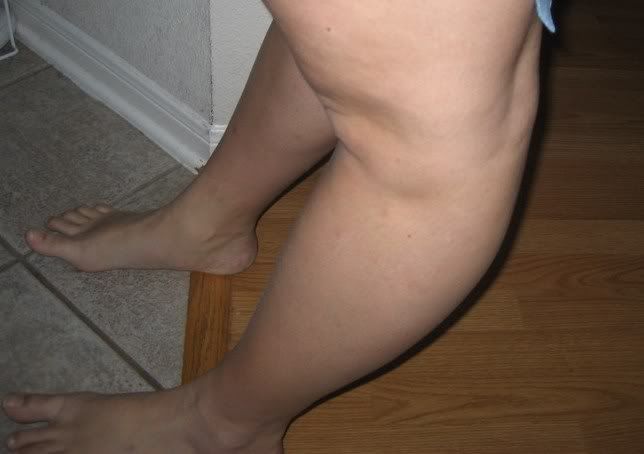 Rachel can bend her knees backwards. But wait - grab a set of Gensui kitchen knives - that's not all
My dad and brother could also wiggle their ears. I was always envious. Classy earrings from Mexico. At least one of the four pairs jammed on those lobes.
Lois, Hannah and I can bend our thumbs and hook them under our knuckles. Note Lois' oh-so-fine Mexican bracelet.
.
I'm thinking these fine photos for their college aps. Hannah can curl her tongue (recessive trait) and Lois can turn hers totally upside down. I vividly remember (the first and last time of) sticking my tongue out at my Uncle Jim. I was 13. He grabbed it and pulled.
But(t) Julia....oh, Julia......
Posted at 05:12 pm by beckyww
Permalink
Sunday, March 02, 2008
Julia received her Pastor's Pals medal today for bible memory work. She's the fourth 'lil Woodworth to be recognized. The other kids in first grade had to memorize eight verses; our (wonderful) children's minister Ms. Reby allowed her to memorize only four. Reby recognized that each verse was going to present a language struggle. I think next time, we'll be ready to participate more fully. But this time, I was majorly thankful we made it through four.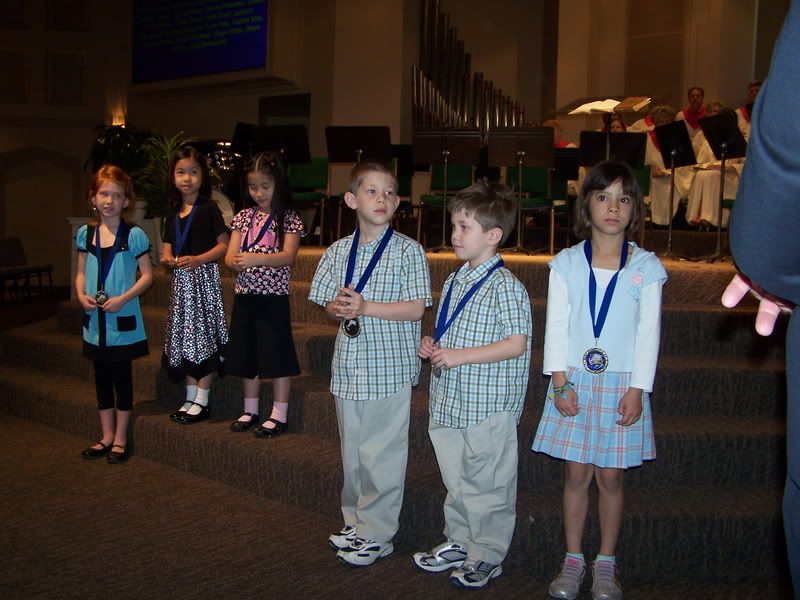 Early service deer-in-the-headlights look.


We hustled home after Sunday School so Keith could work on the pond. Julia and I went out later to join 32 other Pastors Pals for a celebratory lunch at Incredible Pizza.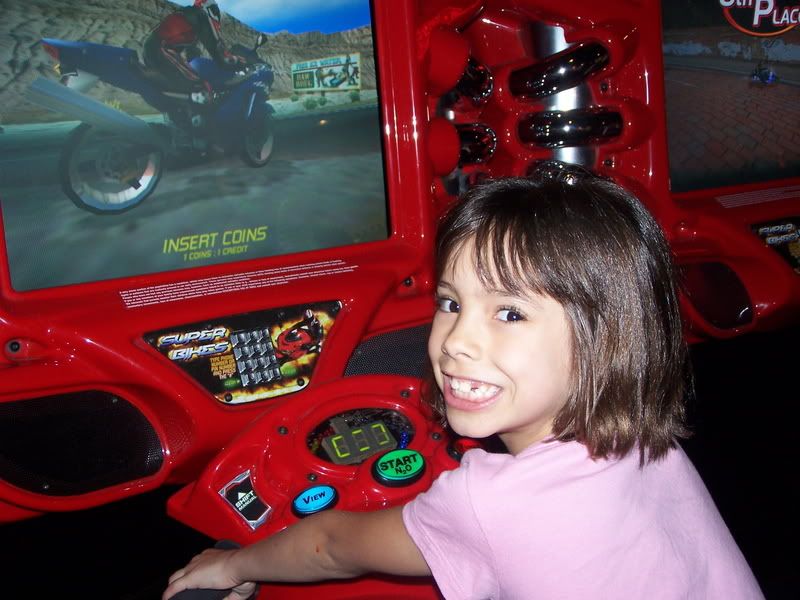 Video games at Incredible Pizza....way more her "speed." If it's got a screen, she's in love with it.
Our pastor preached on family today - how our earthly family (as well as God's family) has definite members, each with priveleges and responsibilities. Families value each member and take care of their own. As he spoke, Julia did her usual move-from-lap-to-lap, draw-in-a-notebook routine, the words just a gentle buzz in her ear. She could do that because she has an earthly family who hopes that one day she will choose to join God's family, with all its priveleges and responsibilities. That will be a happy day, and one of which we've dreamed since first we met her. I don't know when she'll make her decision, or what will prompt it. I just know there's a verse I memorized that tells me....
Train up a child in the way he should go, and when he is old, he will not turn from it. Proverbs 22:6
Posted at 06:55 pm by beckyww
Permalink
Monday, February 25, 2008
We took off to Mexico for our annual "purses and earrings" jaunt this weekend. We used to go to Laredo - l-o-v-e-d Laredo - but the whole drug-lords-with-automatic-weapons thing turned us to the valley crossings near MacAllen.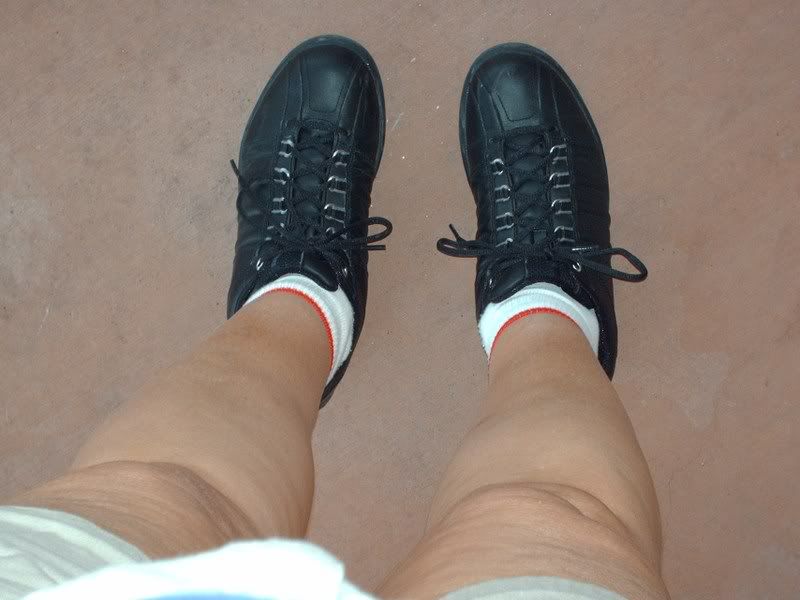 The girls poked fun at my new. ultra-svelte Sketchers walking shoes, perfectly designed to navigate congested, uneven sidewalks. Jealous. That's what they were. Just plain jealous. We spent Friday evening wandering Reynosa - no fun. Too many snowbirds - too many fixed-price Wal-Marto-type stores.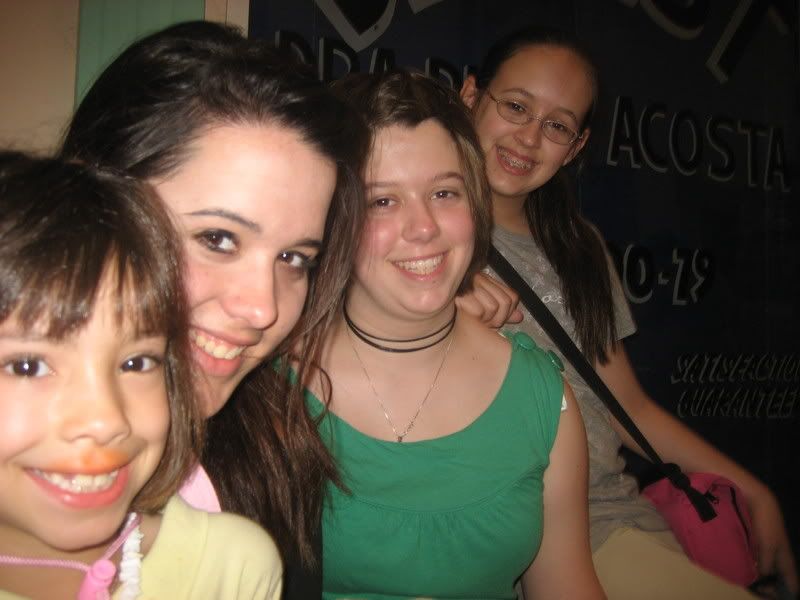 Quatro hermanas in Progresso, where we scooted Saturday. Plenty of snowbirds there, too, but fewer proportionately. Lots more stores. Note Julia's orange mustachio, the result of sugary orange soda (which mean Mamacita does not buy at home.)
Different hats, different countries - 2 years, 1 week and 2 days apart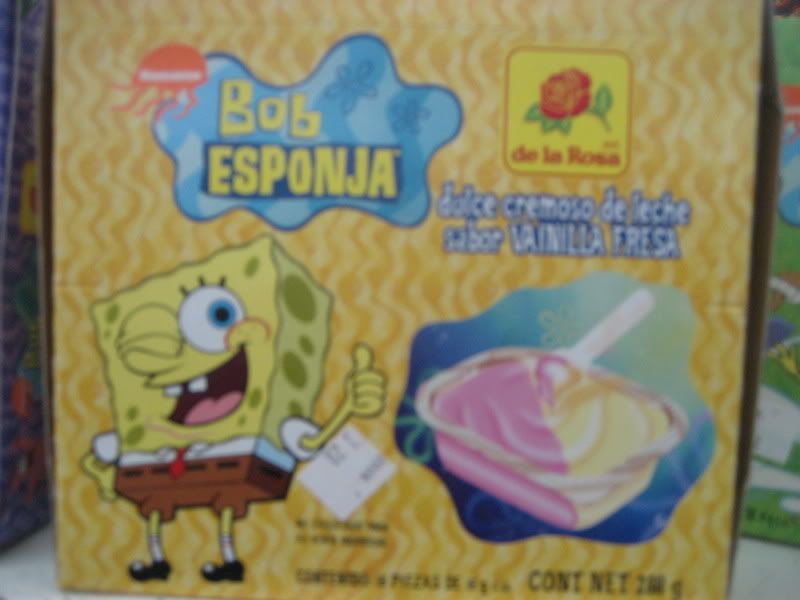 Hungry? How about some Bob Esponja creamy goodness? The girls love this mush. They swiped it out of the individual containers with their fingers, not realizing little plastic spreaders were included. But what the heck - all that stuff under their nails - a snack for later!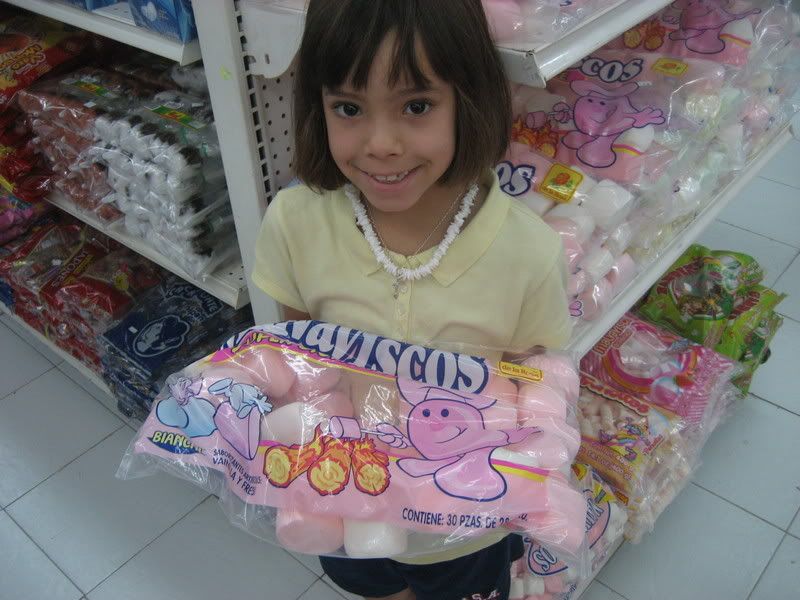 I'd never seen fist-sized marshmallows before. Fortunately, we bought none.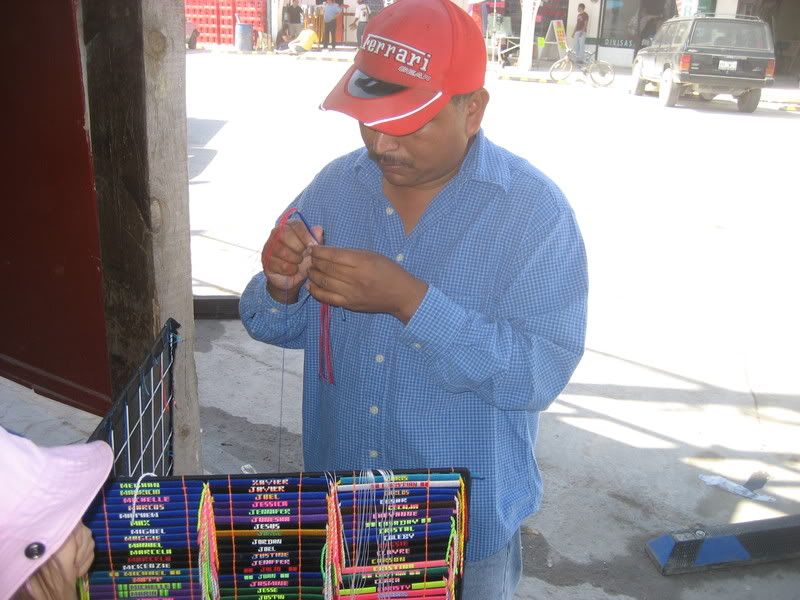 The tie-on name braclets are sold everywhere, but surprisingly, "Julia" wasn't to be found. "Lois" never is, and Rachel coveted a "Wyoming." So for $14, we got a custom-made "Julia," :"Lois," and "Wyoming," plus a pre-made "Hannah." This guy was really fast. Took him about three minutes to whip one out. And while we were waiting on the bracelets....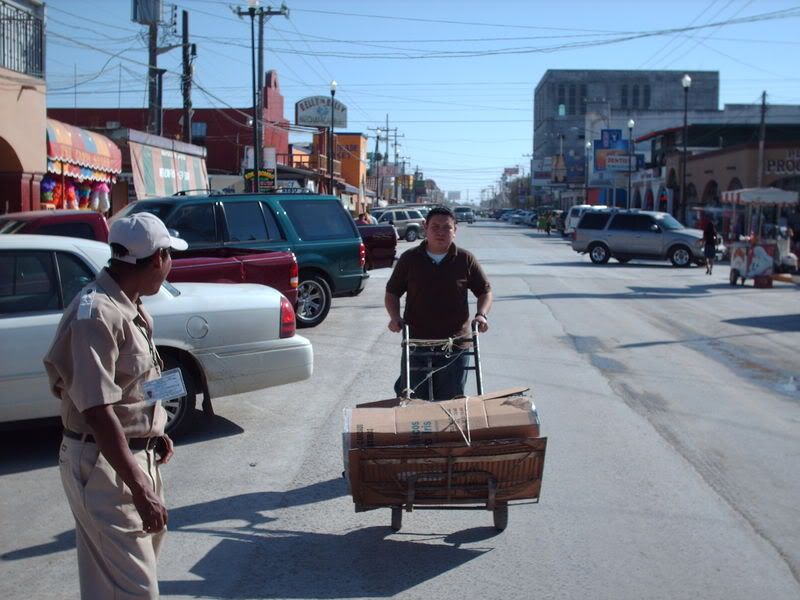 .....Keith bought a gynormous terra cotta turtle "for the pond." Started off at $90. By the time we were finished, it was $60, and the owner got an associate with a green card to walk it across the border (to our car) for us. When I post pond pictures again, expect to see it.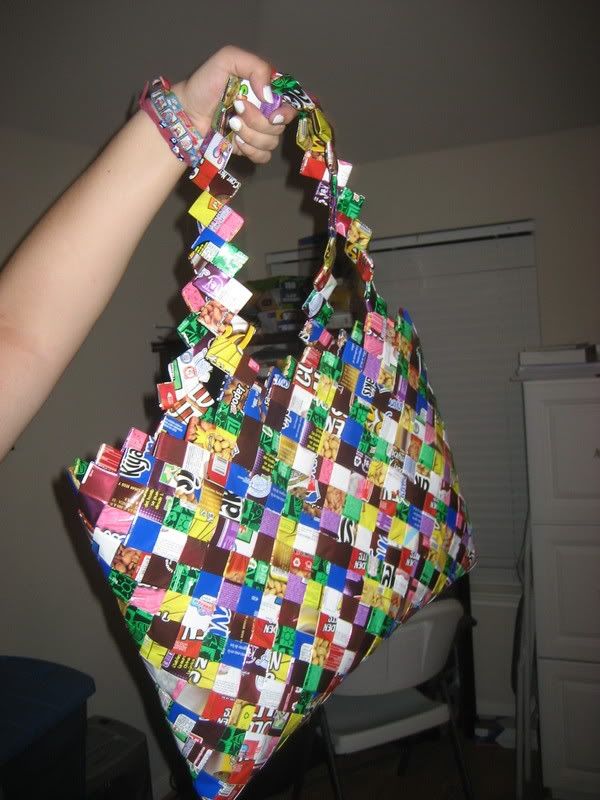 Our mostest favoritest purchase - wrapper purses and wallet. This satchel-sized ("Judy-sized") bag belongs to Rachel. Lois and Hannah got smaller sizes. We waited until we found the best selection, then bartered a deal for three bags and a wallet - $60 total. I think I could have gotten him down $5 lower but I was embarassing Keith.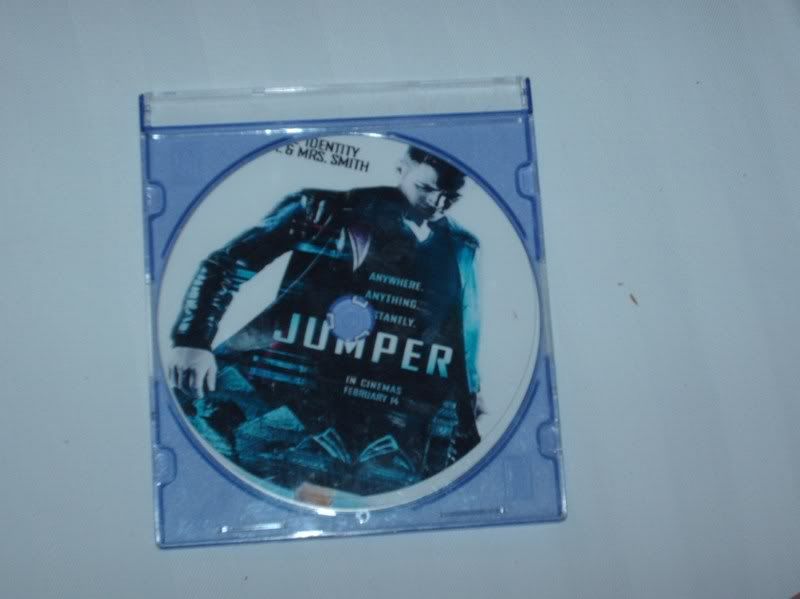 Wanna see "Jumper?" Us too! $5. Special price for you, lady.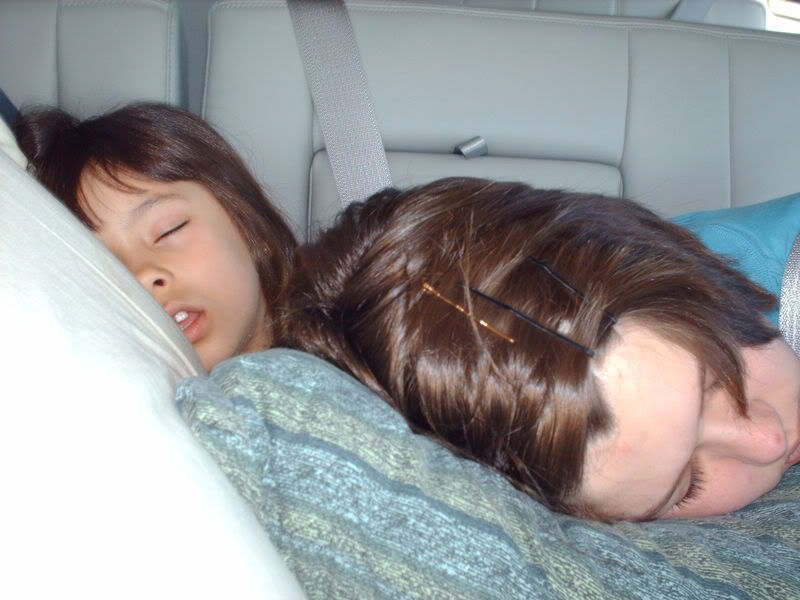 Dramamine for everybody ensures a quiet ride home. It's this mother's little helper.
Quotes from the weekend:
Lois, describing some scene from a movie: "It's so cute. Like kittens drowning in ice cream."
Keith, trying to determine the way to the border: "The sun rises in the east. It's mid-way on the horizon." Hannah: "It's by the Burger King."
Lois, describing her friends at school: "I'd really hate to be around anyone like myself because then I'd know how really annoying I am."
Rachel: "So what do you call a foot doctor? A p*dophile?"
Keith, listening to Julia sing "Island in the Sun" in the back seat: "So - she's taking art in middle school?"
Rachel, explaining why she likes Mexican candy so much: "It's got the most salt and lead."
Lois, after I said I was sure that with enough training, I, too, could create a name braclet in three minutes or less: "No, Mom, you'd set it on fire and walk away."
Rachel to Hannah, who was announcing every minute that she needed a pit stop: "I don't want to hear childbirth noises back there."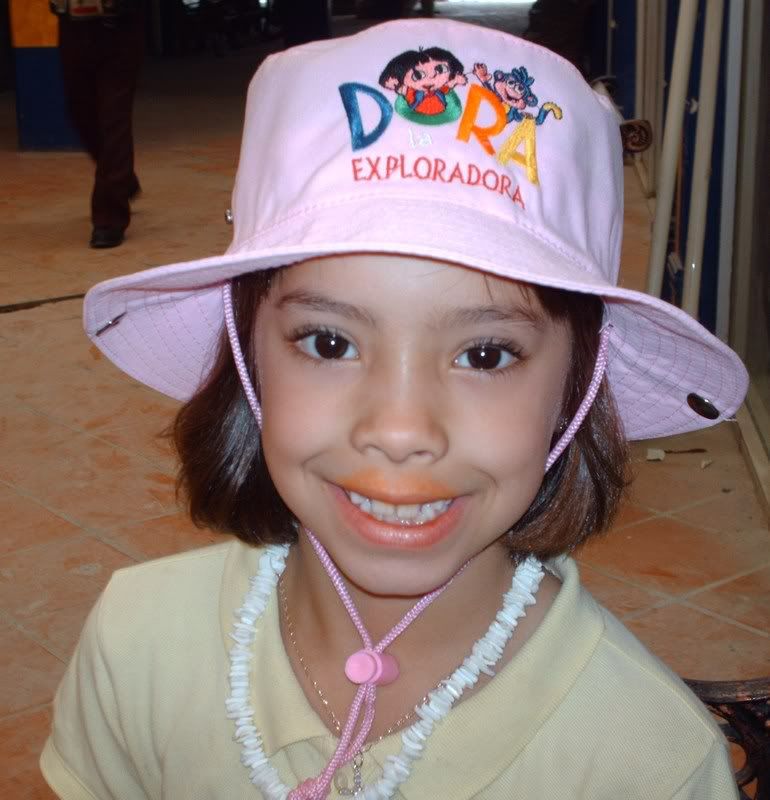 "Adios!"
Posted at 08:09 pm by beckyww
Permalink
Tuesday, February 19, 2008
The (sainted) Ms. Jones - Julia's teacher - is good about sending daily work home for parental perusal. Tonight I discovered this gem nestled between "take away" and "days of the week" worksheets.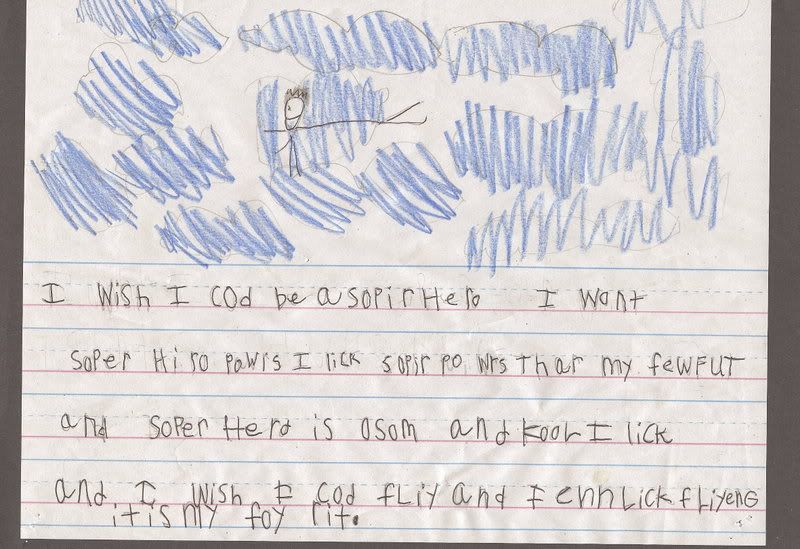 Translated by Lois: "I wish I could be a super hero. I want super hero powers. I like super hero powers that (are) my favorite(s) and super heroes are awesome and cool. I like and I wish I could fly and I even like flying it is my favorite."
I loved Superman comic books when I was a kid (until, of course, my mother made good on her promise to "take care of them" if I didn't put them away neatly.) Boff! Kapow! David and I were glued in front of the TV for "Batman." My instant messenger icon at work is Elastigirl, a.k.a., "Mrs. Incredible."

Elastigirl fits a working mother of four, doncha think?
I mean, who hasn't fantasized about having Super Hero powers?
Inquiring of the familial units, I found:
Hannah would like to be "Super Pretty."
Lois wants the ability to turn the blood of her enemies into crayons. I delved no deeper.
Rachel would like to read minds. Starting with mine. Which - many days - would not be the most wholesome or endearing of activities.
Keith would like heat vision. I hopefully added, "To finish welding pipes for the pond?" I must have seemed too eager, for he replied, "No. To cook whenever and wherever I wanted to." (sigh)
I was debating which power I'd like when Rachel offered her opinion. "Mom, you'd like the ability to stop time. So you could just stop everything and get some laundry done. or do a lot of office stuff before we ever got up." YES! That is exactly what I'd like. So I guess maybe she already has her power, because she read my mind.
What would you like? Hmmmm?
Posted at 05:08 pm by beckyww
Permalink