Sunday, January 11, 2009
My brilliant niece Sarah, her husband Joe and their two kiddos visited from Houston this weekend. Laura (5) and Julia (8) are close to the same size and behave like typical cousins - best friends one minute, arch rivals the next.
Beats a slimy bar of Ivory, doesn't it?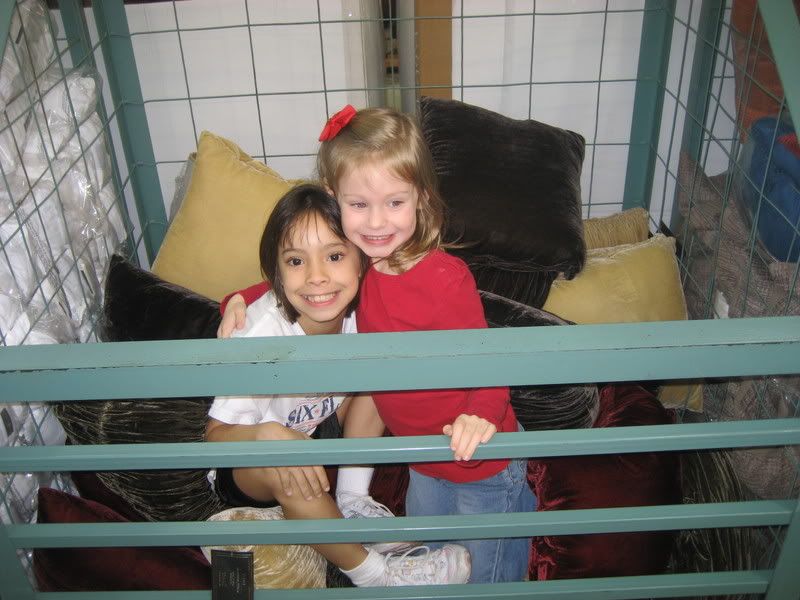 Rachel tossed them into the pillow bin at Costco. I'm sure the store personnel were appreciative.
Laura attached herself to Hannah, to the point of allowing Hannah to feed her, carry her, cuddle her in a blanket, etc. Julia snorted and rolled her eyes at every display of their mutual affection.
Their McDonalds Happy Meal toy dogs came pre-named "Juliette," which prompted Laura to counter, "Well, I'm naming mine Lauraette."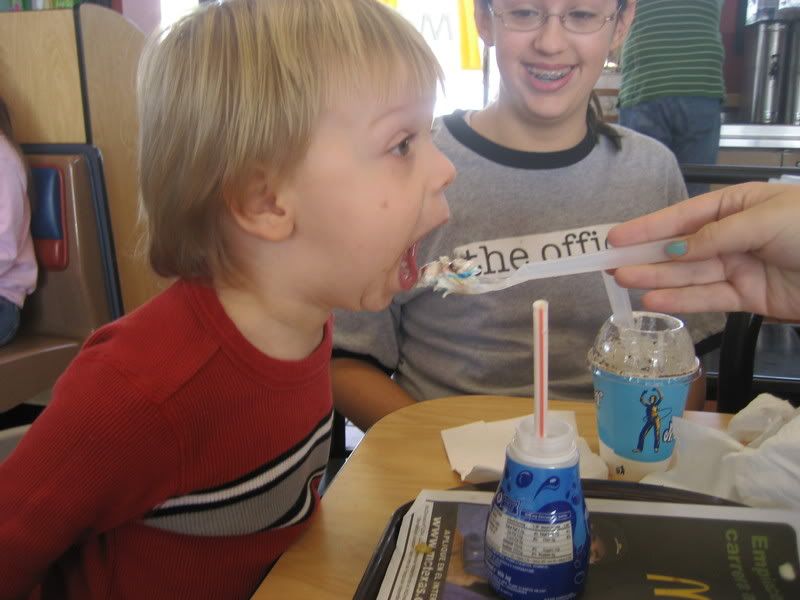 James - almost two - uses two words constantly - "Snack" and "Ball." A perfect world would have ball-shaped snacks.
Or snack-flavored balls.
Julia will - from time to time - ask about people she sees in photographs around the house. I will explain, "That's my mother" or "That's my brother" - people that will never be her grandmother, or her uncle. And I wonder - as she matures - how will I tell her stories about objects from obscure people with whom she does not share a genetic history? Will I point to the three scarred, charred china plates in the corner cabinet and say, "Those were pulled from the burned home of my father's grandparents?" Or will I say - as I do to Rachel, Lois and Hannah - "Those were pulled from the burned home of your great-great grandparents?"
Her family now is the people she knows - us, Keith's parents and brothers, my sister's family including Sarah's kiddos. Not names on a tree, but people she can talk to and touch. As she said tonight in her prayers, "I love all my family, even my cousins."
Family is in genetics for sure. Julia had a "first mother," and there is simply no denying that. Nor would I want to.
But family is also in other places.
Like the behind the suds in the tub. And in the pillow bin at Costco.
Posted at 06:07 pm by beckyww
Permalink
Saturday, January 03, 2009
Episode 8 of "A Man and His Pond"
When
last we left
"A Man and His Pond," Keith was introducing his koi to their new, watery home.
He's made major progress since March, including replacing the back fence, which looked like this yesterday (yawn):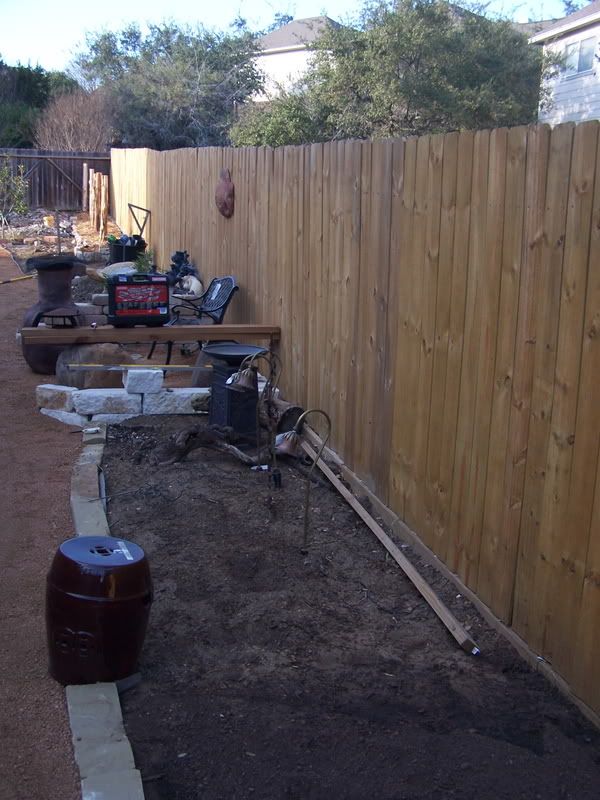 Boring!
But now today - wow! Finally! These whimsical terracotta creatures have been buried in blankets in our cedar chest for four years.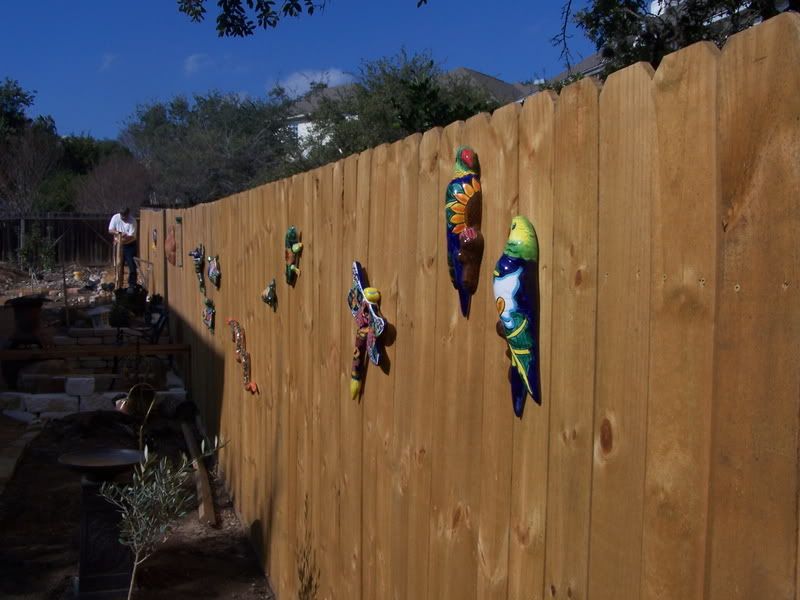 Parrots, frogs, lizards, a dragonfly, a moon and sun - and a huge snake that I personally carried across the border at Laredo, when it was still safe to go there
.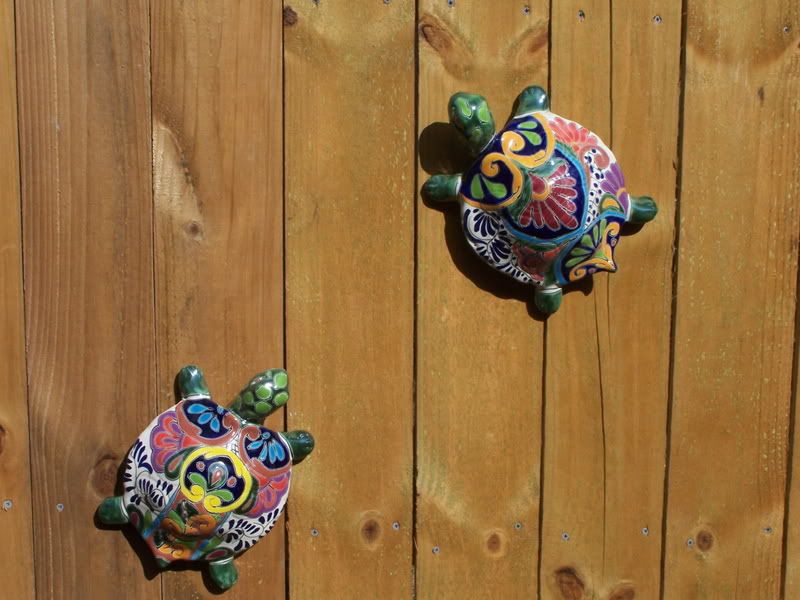 My favorites - the turtles. But watch the video. You'll see we both have a thing for turtles.
Posted at 06:27 pm by beckyww
Permalink
Thursday, January 01, 2009
You Do What You Have To Do
I've always liked hanging out with people better than myself. Fortunately, they're easy people to find. Smarter - happier - more godly - prettier - quicker - better organized - deeply generous - people.
I marvel at many of my friends who make such differences at food banks, hurricane shelters, free clinics, Sunday Schools, student mentoring, etc. And now I have friends online who absolutely blow me away. They work in Russian orphanages, or create crafts to benefit orphans, or raise money to provide clean drinking water in Africa. These are regular women. No big red "S" on their camis. They are not infused with super powers, or great wealth. They just decided to do something that mattered.
My mother also did much that mattered. The older I got, the more I marveled at what she'd managed to do. And when I would question or recount an incident or accomplishment to her, she'd simply say, "You do what you have to do."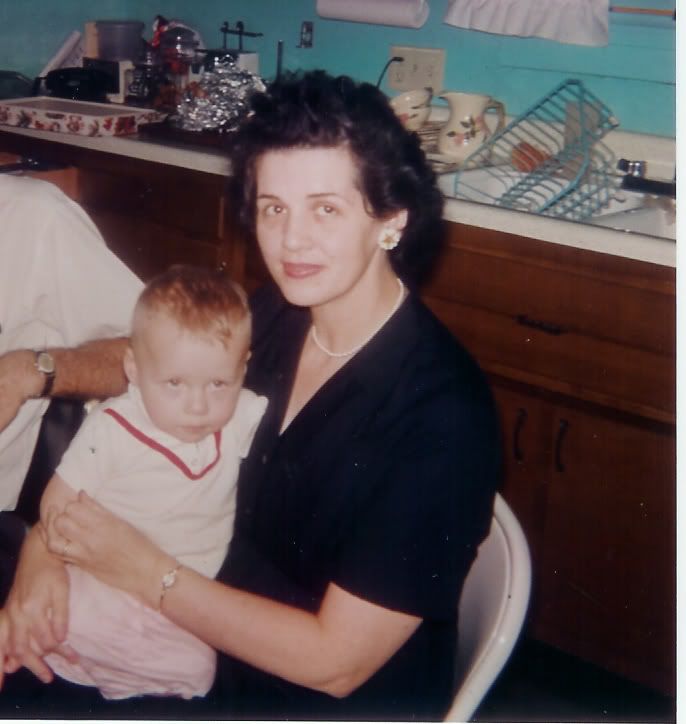 Mom with David - a big part of what she had to do
What we decide we have to do is a choice, of course. My friends whom I admire so much have defined their choices. They teach and preach and reach deep into souls and far out to the world because they choose to do so. If you try to discourage them, or they hit roadblocks, they'll still find ways to do what they have to do.
I'm not big on new year's resolutions. But at this start of 2009, I feel the need to really consider what I have to do. Because as my mom said, "You do what you have to do."
And it's all about how you define that "have."
Posted at 04:40 pm by beckyww
Permalink
Tuesday, December 30, 2008
Because a city worker opened the hydrant in our cul-de-sac just now. And this is Texas. So we can.


Posted at 12:38 pm by beckyww
Permalink
Wednesday, December 24, 2008
Posted at 07:13 pm by beckyww
Permalink
Sunday, December 21, 2008
Now showing on our kitchen table....
Julia's has always wanted to make a gingerbread house. So we are. Right now.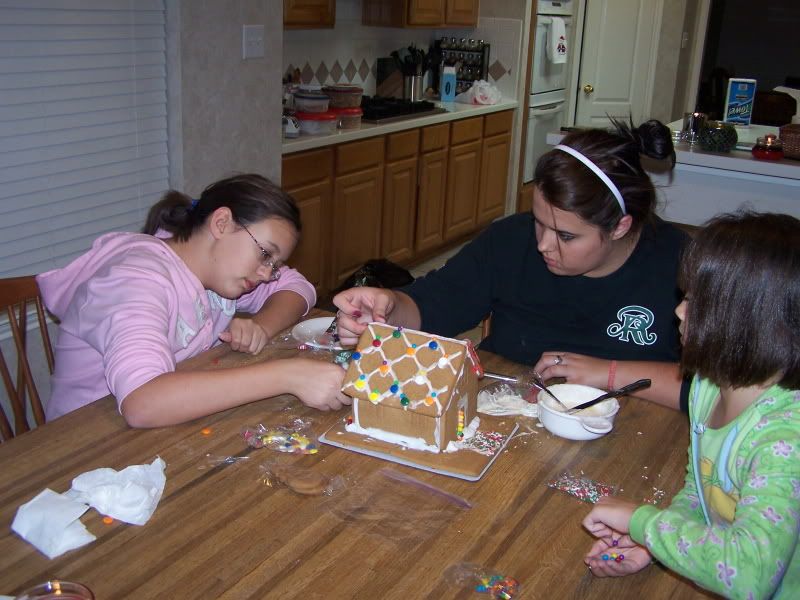 Costco had these kits out in September, so you know it's freeessssh!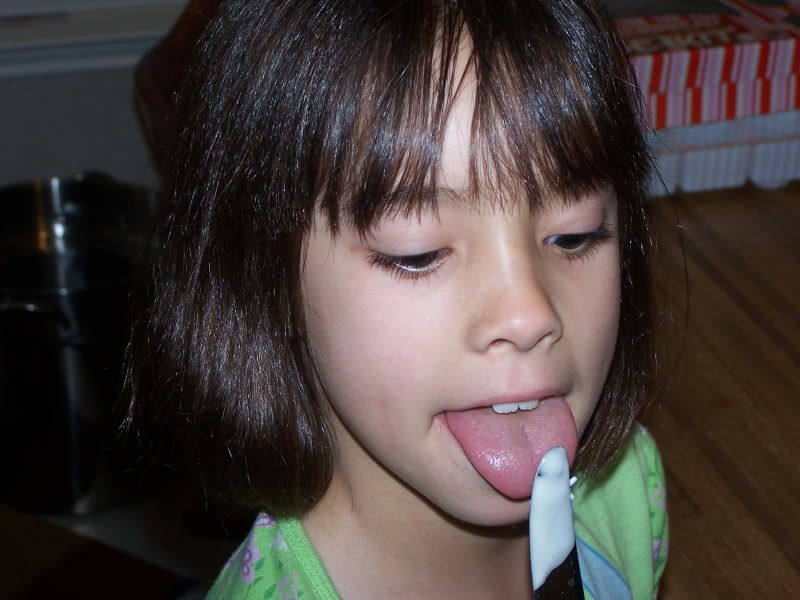 Hannah's peppermint-flavored icing is really pretty good. She's learned cookie and cake-making/decorating from the best - her daddy.
Highlights last night at Fiesta Texas' "Holiday in the Park," which is always a lot of fun.
Posted at 06:17 pm by beckyww
Permalink
Saturday, December 20, 2008
Dashing. Rachel and me.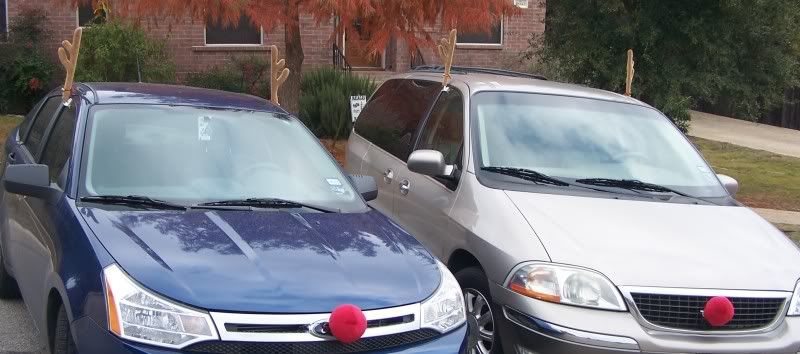 Ho-ho-ho!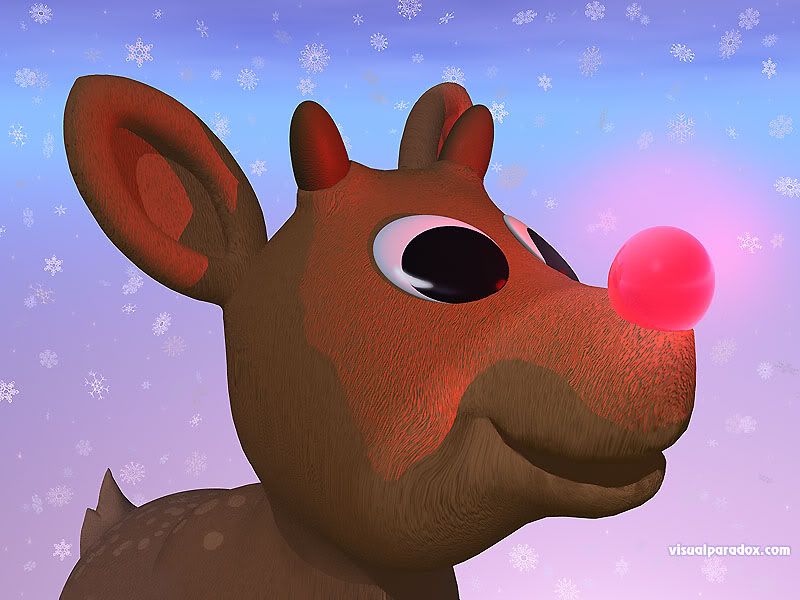 All of the other drivers laugh but none call us names - we hope. And if the weather holds, it will be a foggy Christmas Eve. C'mon over for a reindeer game of Trivial Pursuit. I broke down and bought a new table-top edition, replacing my original 1983 version. Maybe I can memorize the Sports and Leisure questions before I have to play Keith, who tromps me on those.
Posted at 11:48 am by beckyww
Permalink
Saturday, December 13, 2008
I have classy friends. And often when I visit their homes during the holidays, they explain the themes of their Christmas trees. "Angels we've collected on our travels." "Everything in purple." "Antique snowmen." "The children's tree has unbreakable ornaments, while the tree in the front room shimmers in Waterford crystal snowflakes."
Sigh.
Our tree is done in Woodworth. From the lighted Tinkerbell topper (thanks, Sharon!) down to the lovely hand-made tree skirt (thanks, Jean!) - our tree is just us. Sunday School crafts. Sciene Fair and volleyball ribbons. Pictures. Classroom gifts. Sparkly package decorations. A small stocking my grandmother made me.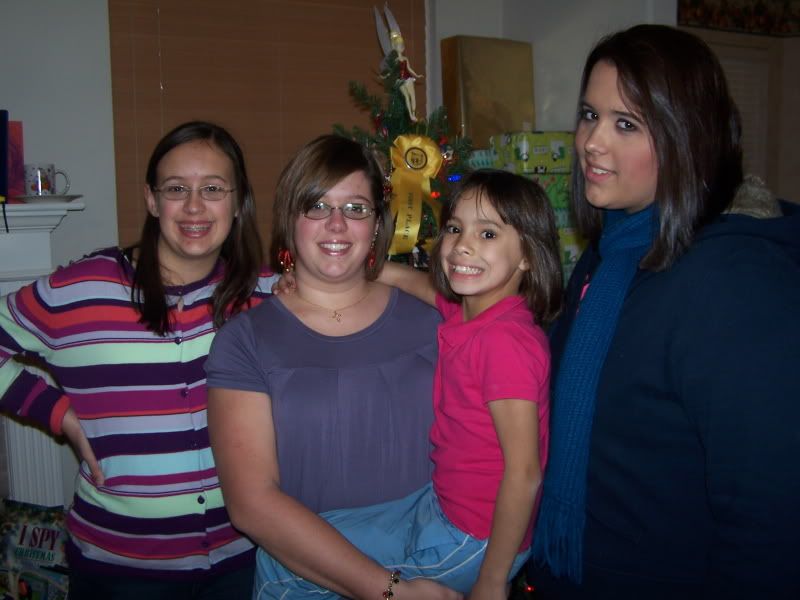 Hannah, Lois and Rachel are tall enough now that Tinkerbell barely peeks over.
Posted at 08:43 pm by beckyww
Permalink
Wednesday, December 03, 2008
When Keith and I entered the world of international adoption, we immediately joined scores of user groups, our favorite being the Russian Adoption board on
adoption.com.
At the American Embassy in Moscow, we surprisingly recognized and joyfully visited with
another family from that board
.
Monday, "Irina" - a mom and social worker in St. Petersburg - posted a general "I lurk here" kind of message. Being polite, I was one of several who posted a "nice to meet you" return message. My board signature always contains a link to this blog.
I thought no more of it.
Tuesday, I had a Private Message from Irina in my adoption.com inbox. In a city with 10,000 children living in 100 orphanages, Irina had visited Children's Home #47 and recognized Julia from the photos of this blog! Here's part of her private message:
"I came to them in 47 DD and saw Julia very small! I have its some photos - if want, I can send you them on an e-mail!"
If want....IF WANT??? I picked up my jaw and shared my real email address immediately. Within hours, pictures popped in my email inbox.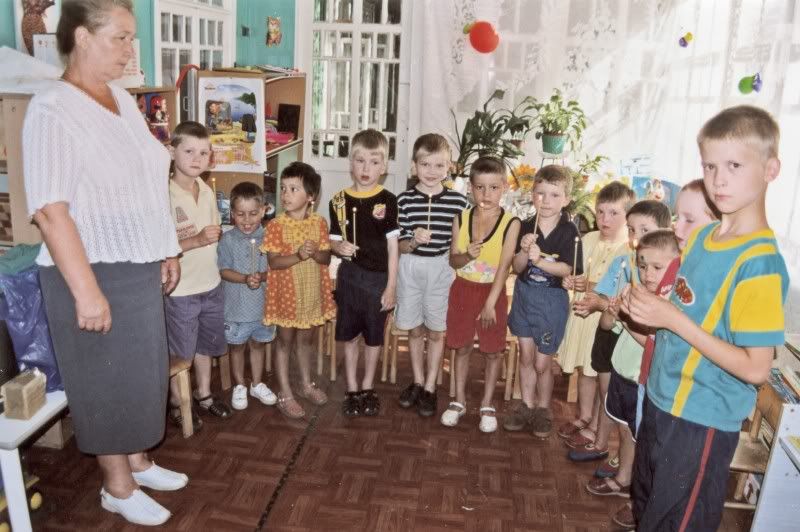 Julia's the cutie in the orange dress. I'm guessing she's age four or five here.
The children are standing in a common area between the school/play room and the dorm.
We dressed Julia right here
before we took her hands and walked out of Children's Home #47. In retrospect, I marvel at the courage she displayed.
I've lived six times as long and have never displayed half as much courage as she showed walking away from everyone and everything she knew.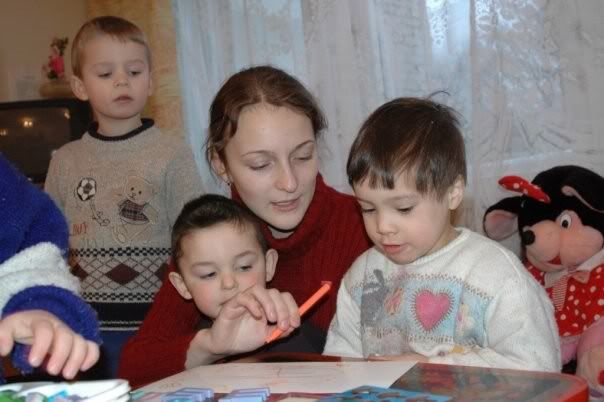 I'm guessing she's age four here, which is when she came to Children's Home #47. Can you hug a picture? Can you fold a blanket around it and promise to love it until the day you die? I long to do so.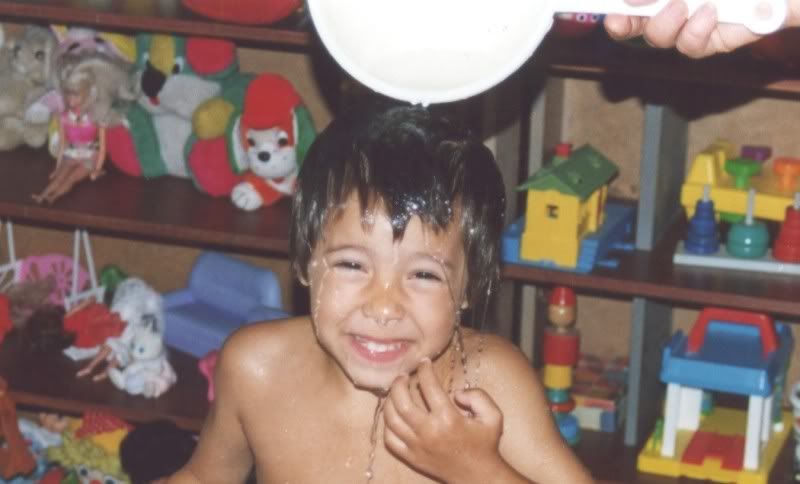 Russian Orthodox baptism via kitchen pan at age five. We knew a priest visited monthly. Julia remembers our lighting candles in Moscow's Kazan Cathedral. I think the priest either brought candles to light, or she had visited a church at some point earlier, because she knew to drip wax on the base, then insert the candle. (I sure didn't know it!)
Keith and I are thrilled to have these bits of her past to share in the future.
The web surfer in me says, "Oh, what a wonderful coincidence - that Irina would make the leap from a user board posting to sending us these pictures."
The business person in me says, "Wow. Here proves the value of social networking."
But the real me - the "me" that's buried way down deep - knows it was what my friend Johnnie calls "a God wink."
He loves the little children, you know. All the children of the world.
Posted at 06:32 pm by beckyww
Permalink
Monday, December 01, 2008
Come right on in. It's the holidays, doncha know?
Of course it's in black and white....and old-fashioned Christmas, as it were....
Posted at 05:55 pm by beckyww
Permalink