When Keith and I entered the world of international adoption, we immediately joined scores of user groups, our favorite being the Russian Adoption board on
adoption.com.
At the American Embassy in Moscow, we surprisingly recognized and joyfully visited with
another family from that board
.
Monday, "Irina" - a mom and social worker in St. Petersburg - posted a general "I lurk here" kind of message. Being polite, I was one of several who posted a "nice to meet you" return message. My board signature always contains a link to this blog.
I thought no more of it.
Tuesday, I had a Private Message from Irina in my adoption.com inbox. In a city with 10,000 children living in 100 orphanages, Irina had visited Children's Home #47 and recognized Julia from the photos of this blog! Here's part of her private message:
"I came to them in 47 DD and saw Julia very small! I have its some photos - if want, I can send you them on an e-mail!"
If want....IF WANT??? I picked up my jaw and shared my real email address immediately. Within hours, pictures popped in my email inbox.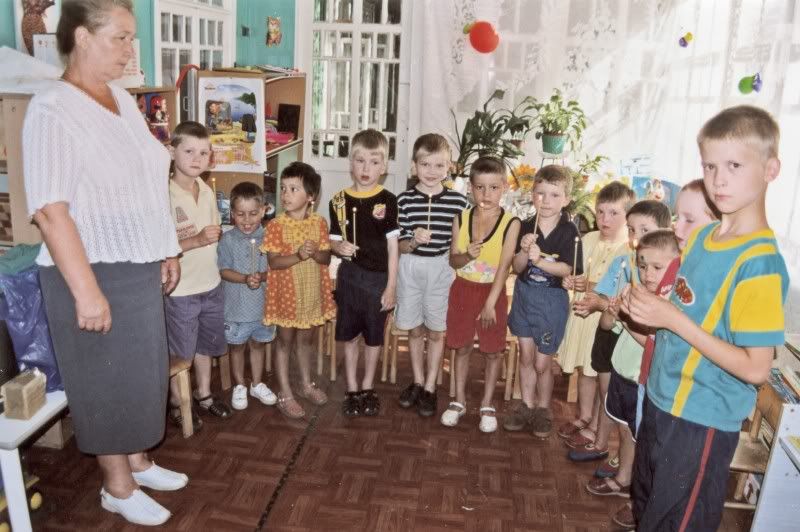 Julia's the cutie in the orange dress. I'm guessing she's age four or five here.
The children are standing in a common area between the school/play room and the dorm.
We dressed Julia right here
before we took her hands and walked out of Children's Home #47. In retrospect, I marvel at the courage she displayed.
I've lived six times as long and have never displayed half as much courage as she showed walking away from everyone and everything she knew.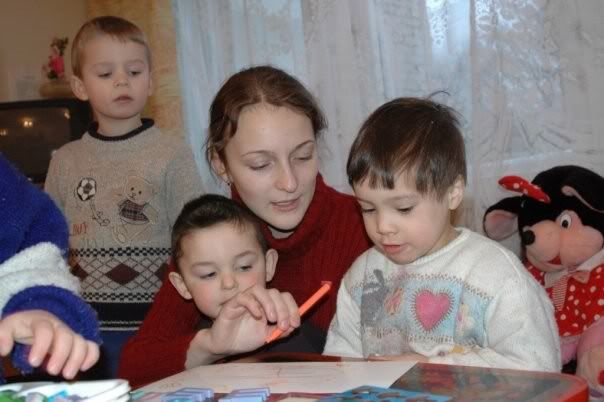 I'm guessing she's age four here, which is when she came to Children's Home #47. Can you hug a picture? Can you fold a blanket around it and promise to love it until the day you die? I long to do so.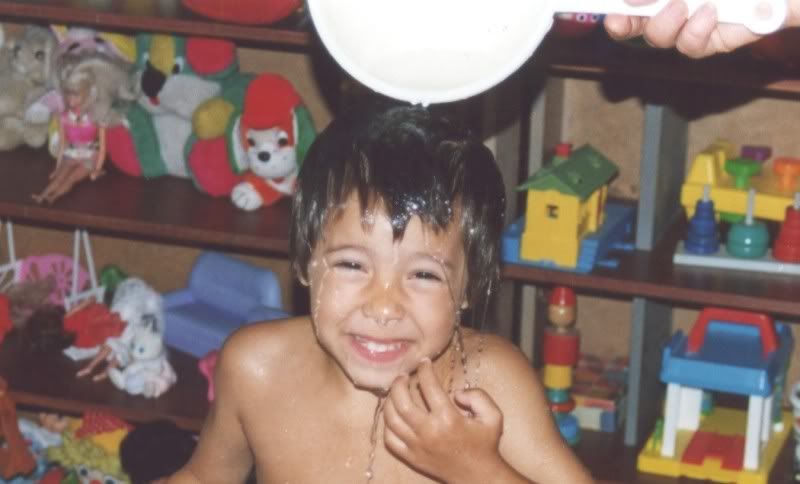 Russian Orthodox baptism via kitchen pan at age five. We knew a priest visited monthly. Julia remembers our lighting candles in Moscow's Kazan Cathedral. I think the priest either brought candles to light, or she had visited a church at some point earlier, because she knew to drip wax on the base, then insert the candle. (I sure didn't know it!)
Keith and I are thrilled to have these bits of her past to share in the future.
The web surfer in me says, "Oh, what a wonderful coincidence - that Irina would make the leap from a user board posting to sending us these pictures."
The business person in me says, "Wow. Here proves the value of social networking."
But the real me - the "me" that's buried way down deep - knows it was what my friend Johnnie calls "a God wink."
He loves the little children, you know. All the children of the world.
Posted at 06:32 pm by beckyww
Permalink