Our church
recognized Julia and 40 other kiddos this morning for their "Pastor's Pals" bible memory work. With each grade level, the requirements are more stringent. For second grade, Julia
memorized the 10 Commandments
, the greatest commandments and a regular verse. When Rachel, Lois and Hannah were doing this, they always hoped the children's minister would add
John 11:35
to the list of eligible verses. Ummmm.....no.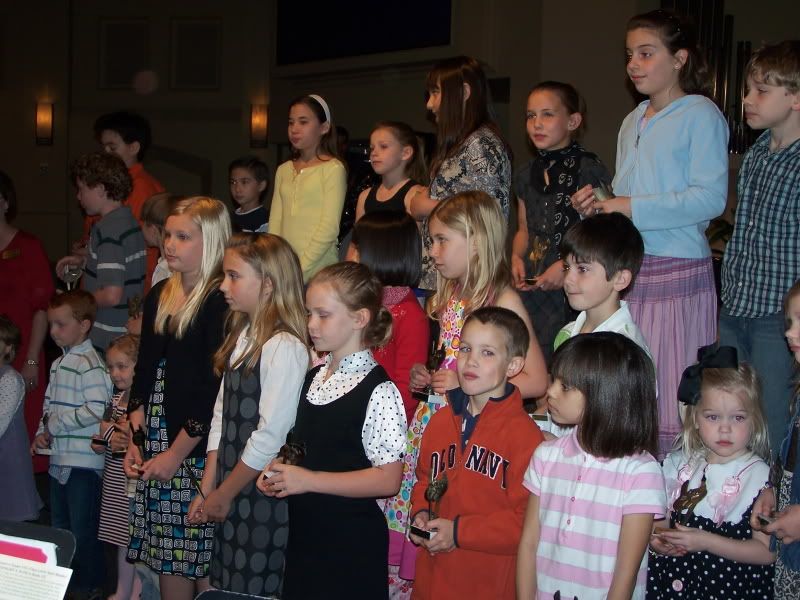 That's my girl - bottom row, second from the right When I go to heaven, God's giving me her beautiful glossy hair.

After church, the children's minister treated all the Pastor's Pals to Incredible Pizza. Rachel, Hannah and I went along for fun. Julia tried to act "cool" and distract me while Rachel seruptitiously salted her already over-salty mac'n'cheese, thinking Mom was too dumb to notice. Fail!

Rachel and Hannah demo'ed their mad hoop skills in quest for more tickets. Rachel gaves hers to Julia, who receemed them for a ball and some manner of tongue-dying candy. Hannah is now the proud owner of a gynormous Hannah Montana pencil.


Julia and I continue to slug away at a children's story bible every night. She gets so excited when she recognizes a story, or relates a story to what she's heard in Sunday School. Two weeks ago, I casually mentioned I was worried about something. Julia immediately scolded me with, "Mom, we're not supposed to worry. We're supposed to pray." When we started the read the story of Jonah traveling to Ninevah via whale gut, her face lit up and she stabbed the page telling me, "Mom, I know this story, Jonah wanted to get away from the Lord, but he couldn't - because God is everywhere." Well, yes. Yes He is.
I know many people would scoff at Pastor's Pals and bible story books. After all - bible story books are diluted, they're not the pure Word of God. And why should kids be bribed/rewarded to learn scripture? The knowledge itself should be its own reward. And I could have argued that position, too - before I had kids. And before I had a child that didn't hear a single bible story until she started learning English at age six.
Reality is that Pastor's Pals and bible story books are venues not only to teach Julia about God, but also to make me examine what I truly believe myself. If my faith is so etheral and jargon-packed that I can't explain it to a child...well, then, I really don't know what I believe. I just know the pretty words to spit up and hope no one challenges my pablum.
Julia told me at Christmas, "You are my Jesus teacher." But she's wrong about that. She's the one who's teaching me..
Posted at 02:18 pm by beckyww
sharon


March 30, 2009 03:34 AM PDT



Sweet
votemom


March 29, 2009 07:53 PM PDT



so very wonderful.
Name


March 29, 2009 07:26 PM PDT



wow LOOK at my intense face.
....... NOT attractive.

i know, i play games like my life depends on me winning.

IM IN IT TO WIN IT BABYYY!!!
bns


March 29, 2009 06:01 PM PDT



I am often amazed at Laura's grasp and the questions she asks. She also wows me regularly with understanding "like a little child" reminding me how I should live like Jesus. My favorite recent question was if I thought Cinderella's mean step-sisters had Jesus in their hearts. An excellent question and some great thinking on her part as well as a reminder of how we should and shouldn't act when Jesus is in our hearts :) We had a lot of fun talking that one through!