You Do What You Have To Do
I've always liked hanging out with people better than myself. Fortunately, they're easy people to find. Smarter - happier - more godly - prettier - quicker - better organized - deeply generous - people.
I marvel at many of my friends who make such differences at food banks, hurricane shelters, free clinics, Sunday Schools, student mentoring, etc. And now I have friends online who absolutely blow me away. They work in Russian orphanages, or create crafts to benefit orphans, or raise money to provide clean drinking water in Africa. These are regular women. No big red "S" on their camis. They are not infused with super powers, or great wealth. They just decided to do something that mattered.
My mother also did much that mattered. The older I got, the more I marveled at what she'd managed to do. And when I would question or recount an incident or accomplishment to her, she'd simply say, "You do what you have to do."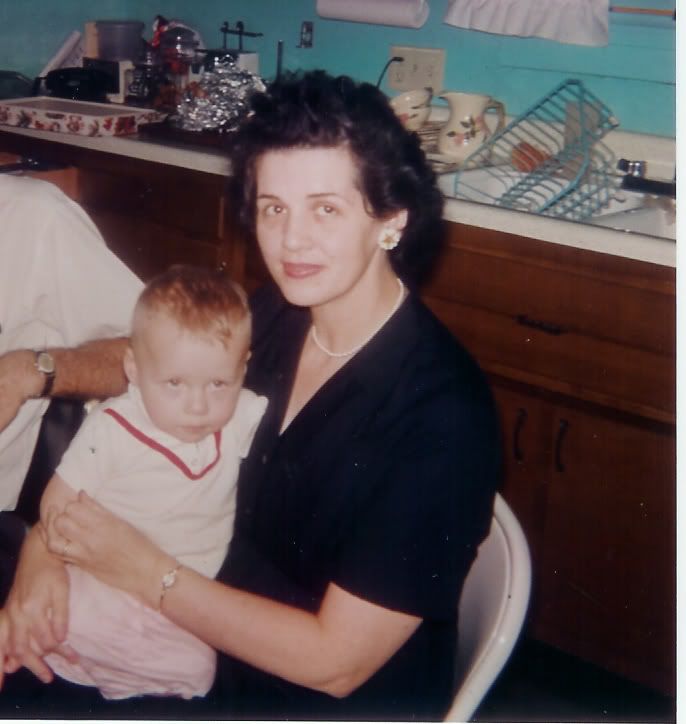 Mom with David - a big part of what she had to do
What we decide we have to do is a choice, of course. My friends whom I admire so much have defined their choices. They teach and preach and reach deep into souls and far out to the world because they choose to do so. If you try to discourage them, or they hit roadblocks, they'll still find ways to do what they have to do.
I'm not big on new year's resolutions. But at this start of 2009, I feel the need to really consider what I have to do. Because as my mom said, "You do what you have to do."
And it's all about how you define that "have."
Posted at 04:40 pm by beckyww
Kaitlin


January 2, 2009 06:39 PM PST



Agree with Lisa .... you definitely inspire. Beautiful pic of your mom.
Kaitlin


January 2, 2009 06:38 PM PST



Agree with Lisa - you definitely inspire. What a beautiful pic of your mom.
rachael


January 1, 2009 06:43 PM PST



Yeah, I second Lisa S. Your year after year committment to the Operation Christmas Child project is very inspiring! Plus, I can only hope that when my kids are teenagers, I can be as smartly sarcastic and cool as you are when dealing with teenagerdom. So, yeah, I guess I want to be like you too! Can you feel the love?

Happy New Year!
Lisa S


January 1, 2009 06:05 PM PST



Ummm...ok, Becky you are amazing and I try to be like you.