I've long said, "You can eat off my floors." That's not the same statement as "My floors are so clean, you can eat off them."
You might look in my kitchen and think, "Ugh. Mess."
My spice rack....oh, how I'd love to have them all in alpha order and grouped by sweet/savory. Never gonna happen. My middle name should be "Monk."
Or peek in the breakfast room, and think, "Yuk. More mess."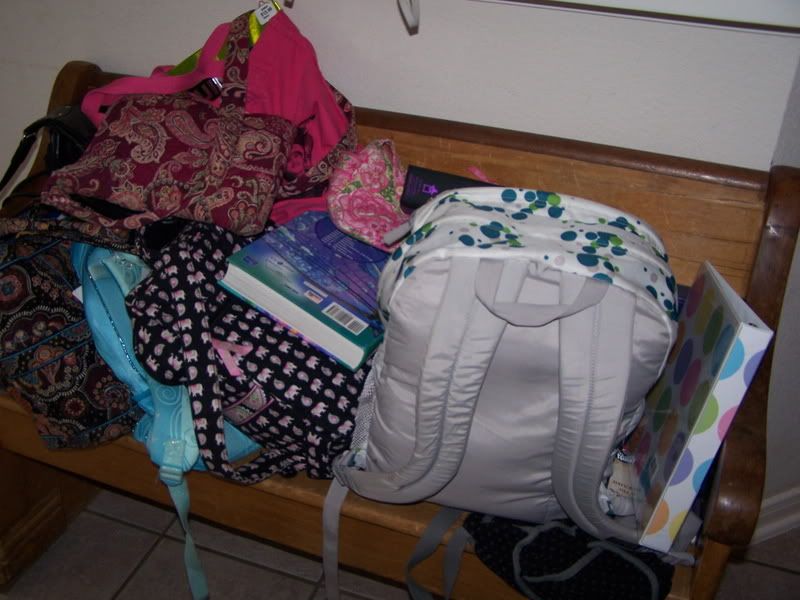 The church pew we bought when we were expecting Rachel. It held diaper bags for years. Now it holds jumbled backpacks, sweatshirts, purses and school books.
But walk a few steps into the den, and you'll
really
see some mess.
Hannah and I dragged out the year's accumulation of
Samaritan's purse stuff
today, getting ready to pack boxes as soon as the Halloween candy goes half-price next Saturday. Oh. My. Gosh. Lip balm, toothbrushes, knit caps, silverware sets, school supplies Happy Meal Toys - thanks to generous friends, we've got it goin' on.
Yes, it's a mess. But a happy one. I put away all the Halloween decorations, except the kitchen dish towels, the breakfast plates and the pumpkins the girls painted at
Fiesta Texas.
We need the room!
Posted at 03:43 pm by beckyww
rachellll


November 1, 2008 08:13 AM PDT



so i pretty much have to assume, by reading this blog, that you are a huge nerd.
yep.
my mom is definitely a freak.
kate


October 28, 2008 07:59 AM PDT



My spices are alphabetized. So are my dvd's.

If you need more shipping money, let me know. I'll paypal you!

Rachael


October 26, 2008 03:24 PM PDT



The kids and I are going to do some Samaritan's purse boxes this year too! Will be much smaller scale than your operation, but they are very excited about it and I think it will be good for them. They are each going to spend their own money to make one shoe-box for a child their age/sex.
Hey Jude


October 25, 2008 08:27 PM PDT



Now WHY I wonder would anyone want spices in alphabetical order? That would take all of the guesswork out of finding a particular spice --- deciding if it's over 10 years old --- and then finding another one at the back of the cabinet that you like better. TOO MUCH organization --- that's what's wrong with the world!
hannah


October 25, 2008 06:21 PM PDT



i dont think it is that messy