Hurricane Ike.
There's the news.
Then there are the stories.
The story for my family:
Sarah, Joe and their two kiddos arrived Sunday from Pearland. Their power is now back on, so they're returning tomorrow. (Theirs is one of the few homes with power, because they're on a grid with some nearby businesses.) They've lost some fencing and have a hole in their roof. They have plenty of bottled water at home but - to be safe - they'll also take some from here. They'd tossed their fridge and freezer contents before they left.
My brilliant niece Sarah and her family arrived Sunday from Pearland. She's fixing spinach lasagna for dinner tonight. No, you cannot borrow her.
Sarah's hubby Joe supervised the 'hood in the cul de sac.
As far as I'm concerned - they can stay forever.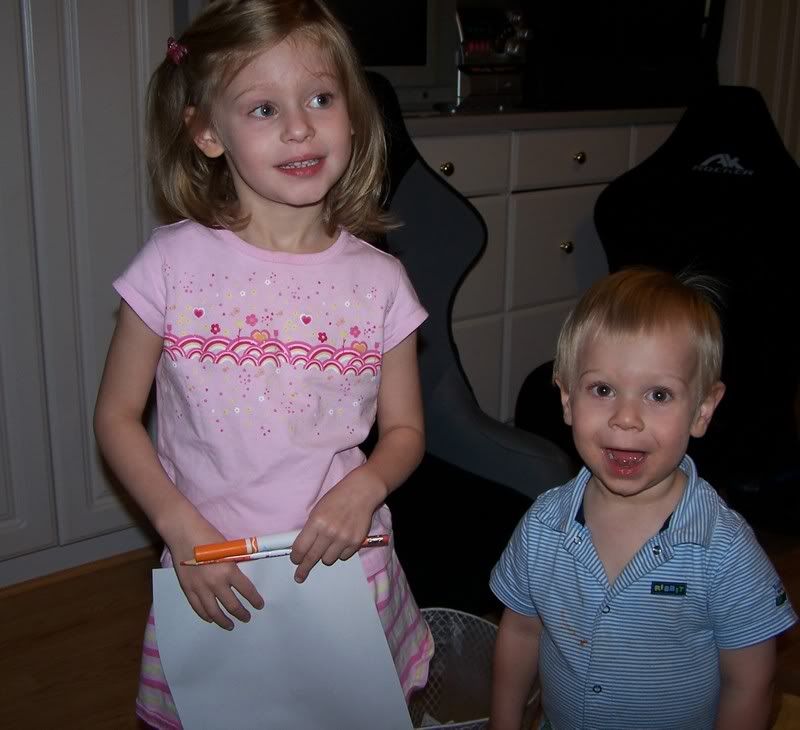 I'm practicing grandparenting on my great niece and nephew, Laura and James. My kids will tell you I'm a much better aunt than I am a mother.
My sister Judy and her husband Carl have no power. No home damage. They have a generator for their fridge and freezer which will run as long as their gas holds out. They've been sleeping on their patio to catch the breeze, which is great - until the mosquitoes start hatching. They have plenty of bottled water and food stuffs.
Keith's parents have a hole in their roof, and are also missing fencing. No power. Emptied the fridge and freezer. We are hoping they'll come here as soon as they find a temporary fix for the roof. Keith's brother Bruce - no power - also home repairs needed.
We've heard from a few friends. Thank God - no one hurt. But our good friends the Edwards in Pearland have a huge section of roof torn away, and their second story is threatening to collapse. They've gone to family in Beeville. Sandi has always made us so welcome and been such a good friend for so long.
My dear friend Konen who has generously loaned us her
Bolivar beach house
for a week each summer these many years found that abode on a google earth map. She thinks the house itself is standing, but is missing the deck at minimum. That's all she can really tell, and they're not allowing anyone into Bolivar yet. Bolivar was hit hardest of all communities. Most of it is simply not there. We have had some of our happiest memories as a family in that beach house. Grilling chicken sandwiches at the end of a sand-filled day. Watching the fireworks from the deck. Feeding the sea gulls on the ferry. I know the house itself is just "stuff" and I am thankful Konen's entire family is safe but still - it makes me sad to think it's so heavily damaged.
Saddest to me of all - I read in an email from the pastor of Westbury Baptist, which we used to attend, this news of my growing-up church in Houston:
The news isn't so good for a sister church. I heard from a fellow minister that SW Central Church of Christ suffered major storm damage. Keep those folks in your prayers. If you have time and the ability to volunteer to help them, your help would be appreciated.
I left a message at the home of that "fellow minister." Prayer they're getting right now. Wish it was more.
We've called other friends but gotten no answers. If anyone in Houston is reading this and we've not communicated - please "comment" below and tell us what's happening. And remember -
the door here is always open.
And that's our story.
I wish it was the end. But it's not. Because rebuilding Houston and the lives in it is going to take time.
Posted at 02:36 pm by beckyww
Name


September 26, 2008 08:39 AM PDT



hmmm... my first comment didn't post.

thinking of you guys (you guys being all the people affected by ike) often.
Debbie


September 18, 2008 07:18 PM PDT



I'm so glad you are all okay and your family. Such a horrible mess. I'll add the church to my prayers in the recovery.
Gibsons in Pearland


September 18, 2008 06:20 AM PDT



We are sooooo blessed. Without power for 3 days, but only fence/back door damage. I've so much enjoyed getting to know my neighbors. I'll miss them now that power is on and we go back INSIDE. We've had children coming in and out since all the doors are open. We had games laid out all over and children would come in, plop down, and begin playing. Not with MY children, but with their friends! Even had a dog come in to visit one day. God is so good to provide the cooler weather. There are still so many with NOTHING... Keep praying!
Kim


September 17, 2008 03:46 PM PDT



All is well in Richmond. Lost power for a day..other than that we were spared.

Love you!
Kimothy
Corrina (Becky's co-worker)


September 17, 2008 11:33 AM PDT



Wow, what a weekend in Houston. Makes you appreciate the small luxuries in life. My husband, dog, and I all slept in our closet too, as it was the only room without windows. We didn't get to board up, so all night long I was worried sick everytime I saw one of our windows practically "inhale and exhale" (I thought they were going to bust any moment from the force of the wind). They never did, thank goodness, and we got power back Monday night.

We had to drive near Katy to buy gas & groceries. Today, AT&T advised there are 4 company buildings where employees can get 10 gallons of gas, bottled water, and ice. They also provided breakfast muffins and boxed lunches...very considerate. Good luck to all fellow Houstonians who are now rebuilding.
rachael


September 16, 2008 05:55 PM PDT



We got a ton of rain up north here too! Several of our neighbors flooded their basements, but we were okay this time around.

Glad you all are okay down South -- all the people anyway. Sounds like a lot of "stuff" damage though.
hannah


September 16, 2008 05:54 PM PDT



hi good job on the blog mom
BNS


September 16, 2008 05:32 PM PDT



For those of you interested, I am not for hire :) I graciously and happily provide my services for free food and rent whenever I need to evacuate Pearland which amazingly enough has been twice in two years (Ike and Rita). For the rest of you however, my services aren't cheap and the spinach lasagna recipe doesn't come easy! (That's a bit of a joke - Becky has it and I am happy to pass it on. For you "Steel Magnolia" fans, "It freezes beautifully!"

Seriously, we couldn't be more blessed to always know that whenever and for however long we always have a home in San Antonio. We are very, very, very blessed indeed.
Lisa and Paul


September 16, 2008 05:07 PM PDT



We're fine. No storm damage. We were without power for only two days and had a generator (now loaned to a friend without power). Overall, not bad. Wouldn't do it again for anything though. Now comes the hard part - no school this week for Pearland!
Teresa


September 16, 2008 05:03 PM PDT



We are very,very lucky. I crawled into a tiny closet at 11 p.m. with my flashlight and a book (which remained unopened). After taking 2 Tylenol PM to avoid panic and settle my nerves, I slept through EVERYTHING! When I woke up at 7:30, I asked Rick "Why are the lights on?. Did Ike come through?" We only lost our fence. At work, we have the employees of the Wachovia (formerly A. G. Edwareds) branches in Galveston, Katy, and Champions now camping out with us. Our Galleria office never lost power either!
lisa


September 16, 2008 04:50 PM PDT



sadly my parents in IOWA got more rain from ike then we did
Allie


September 16, 2008 04:32 PM PDT



We have heard from Nezi and she is back in Friendswood, no power but small yard damage.